From the towering mountains of Sapa to the rural, rolling hills of Ha Giang, Vietnam has something for everyone. Whether you're looking for an adventure or a peaceful retreat from city life, these two places have everything you need to explore and expand your horizons.
Sapa is known as one of the most beautiful hill stations in Southeast Asia, with its stunning rice terraces, lush valleys, and traditional villages – it's no wonder why this area draws thousands of tourists each year. Meanwhile, Ha Giang offers a more natural experience with its untouched forests and breathtaking landscapes.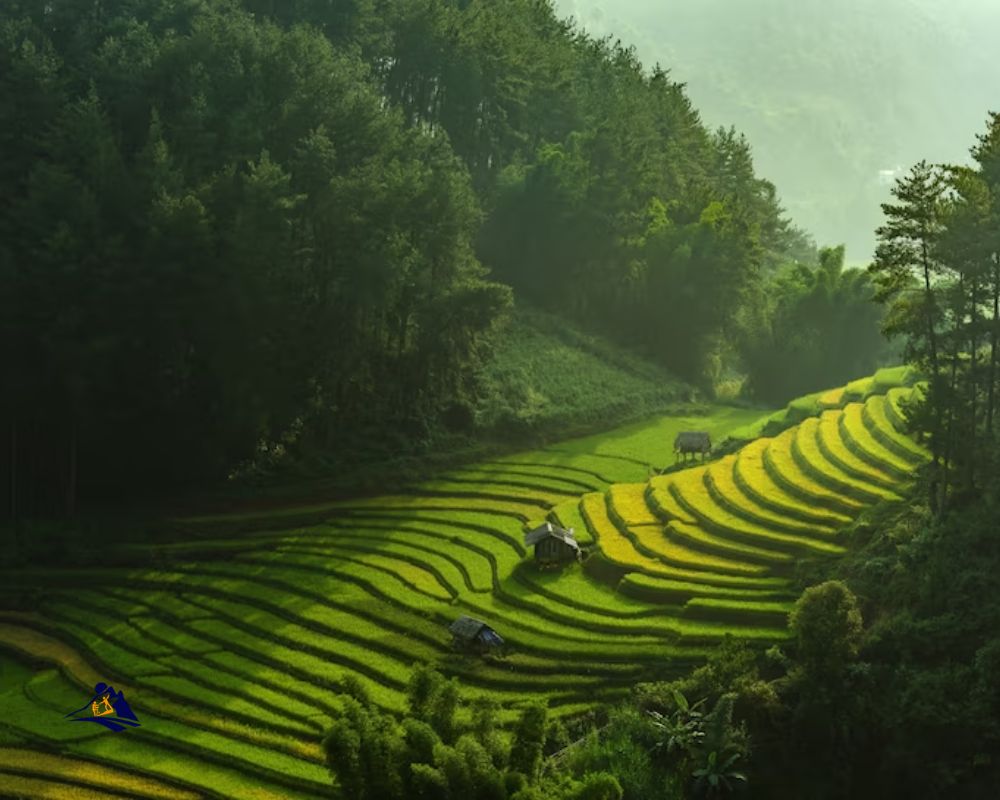 No matter which destination you choose, there's no denying that both locations offer travelers an unforgettable journey through some of Vietnam's best attractions. So if you're ready to get out into the world and discover new cultures and sights, come join us on our exploration of Sapa and Ha Giang!
Overview Of The Regions
Vietnam is home to two of the most beautiful regions in Southeast Asia – Sapa and Ha Giang loop. Located in the far north of Vietnam, these lush and picturesque areas offer travelers a unique opportunity for exploration. With stunning mountain vistas, traditional hill-tribe cultures, and plenty of outdoor activities, it's no surprise that both Sapa and Ha Giang are some of the top destinations for tourists visiting Vietnam.
Sapa lies on the western edge of the Tonkinese Alps, near China's Yunnan Province. It offers visitors an array of cultural experiences with its colorful minority villages set amidst rolling hillsides filled with terraced rice paddies. The climate here is generally mild year-round making it ideal for trekking or simply exploring by foot. Additionally, there are opportunities to explore ethnic markets and visit many nearby waterfalls.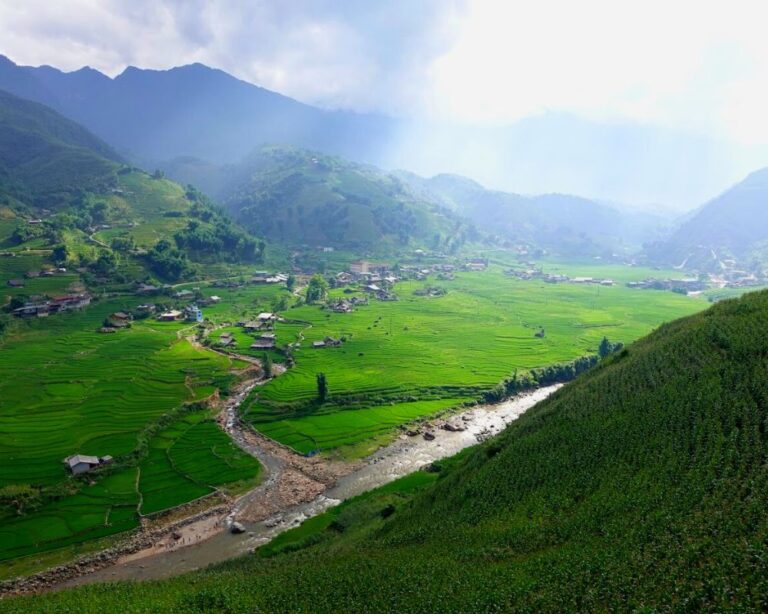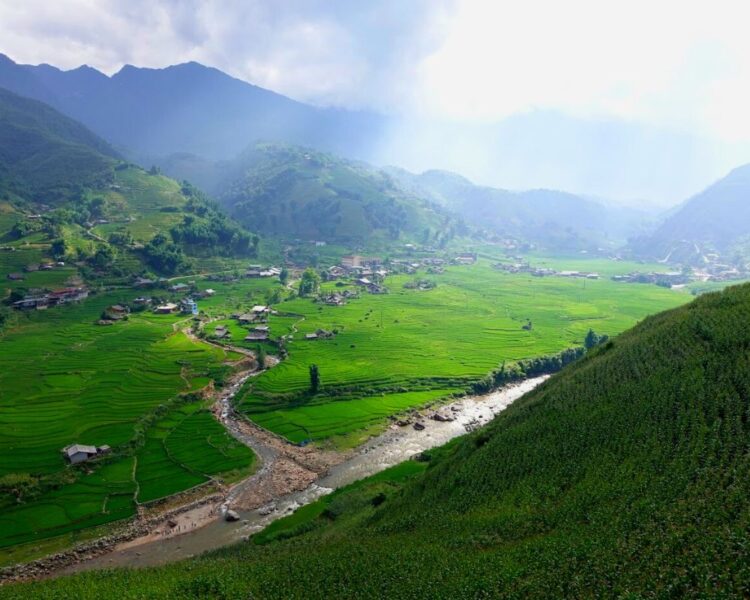 Ha Giang sits further east than Sapa, close to the Chinese border. This area has incredible natural beauty including towering limestone mountains steeped in cloud mists as well as sweeping valleys dotted with remote hamlets. Due to its altitude and location, this region has relatively cool weather even during hot months which makes it perfect for camping under starry skies or just taking in the fresh air from high mountaintops.
These two distinct regions have much more to offer than what meets the eye; each one providing visitors with unforgettable experiences amid breathtaking landscapes and friendly locals alike. From culture-rich farms scattered across vibrant green fields all over Sapa to majestic mountainscapes sprinkled throughout Ha Giang – there is something special waiting around every corner in both of these amazing Vietnamese provinces. Onward we move now into a look at geography and climate…
Geography And Climate
Sapa and Ha Giang are two unique regions in Vietnam. Both possess distinct geography and climates that make them attractive to travelers.
Sapa is a mountainous region located in the northwest of Vietnam, near the Chinese border. Its climate is humid and subtropical, making it an ideal place for outdoor activities such as hiking or camping. The highest peak in Sapa stands at 3143 meters above sea level and consists of rugged terrain with lush forests and rice terraces winding through its valleys.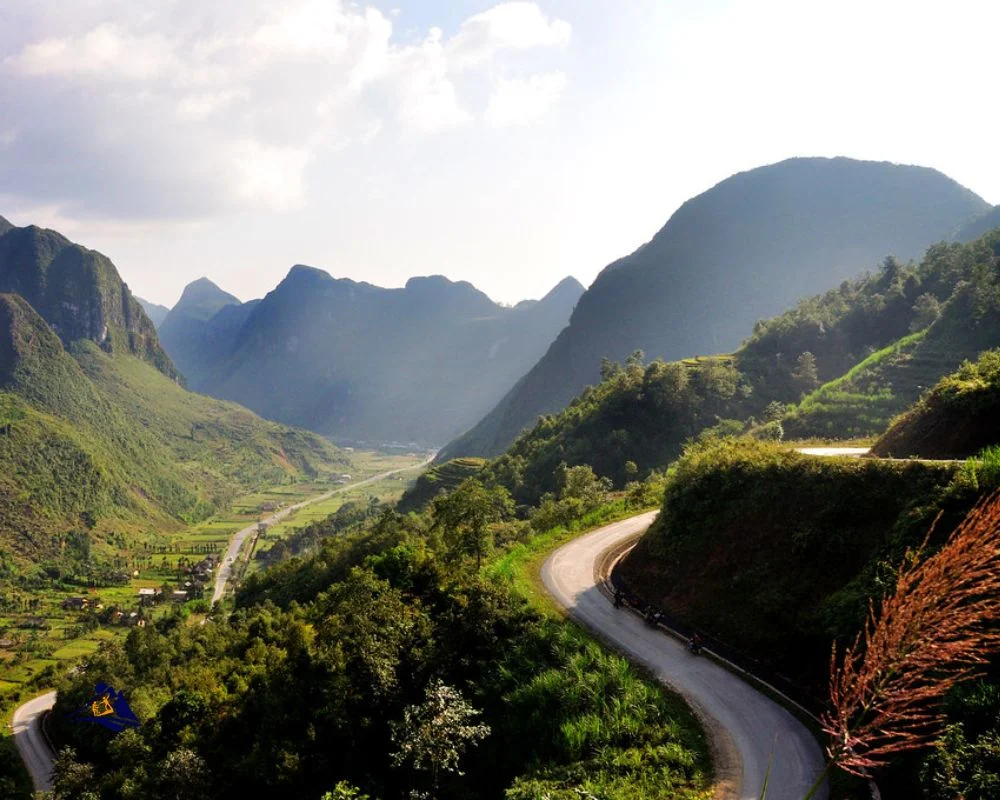 Ha Giang lies in the extreme north-eastern part of Vietnam, also near China's border. It has a humid subtropical climate with hot summers and cold winters; temperatures can drop below zero during winter months. This province is known for its stunning landscape – consisting of rocky plateaus, limestone mountains, caves, rivers, and waterfalls – which provides visitors with spectacular views from every angle.
Overall, both Sapa and Ha Giang offer incredible landscapes for anyone looking to explore the outdoors in Vietnam's northern provinces. With their contrasting climates and geological landscapes, each offers something special to those who venture there. Moving into the next section about tourist attractions promises even more surprises from these amazing locations!
Tourist Attractions
Traveling to Sapa or Ha Giang Reddit is like discovering a secret box full of captivating wonders. From trekking through lush forests and along mountain paths, to visiting ancient caves, temples, and bustling markets, these two destinations offer an abundance of opportunities for exploration and adventure.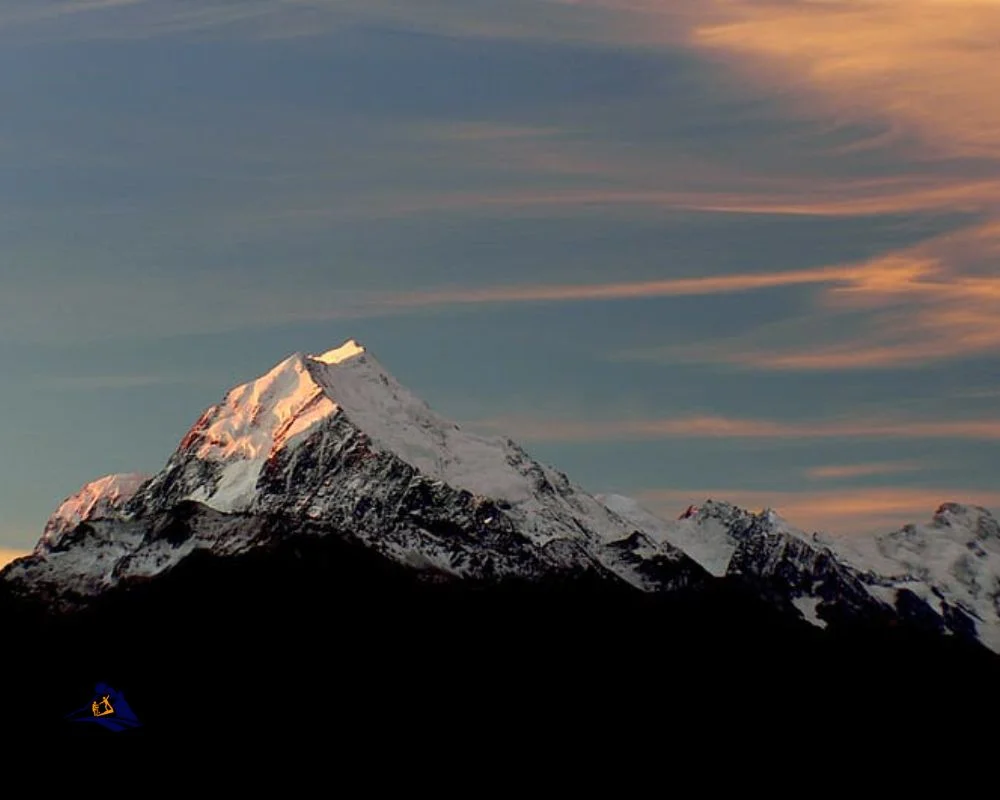 Let's start with the natural beauty that awaits in both places. In Sapa, visitors can take leisurely hikes around Fansipan peak – the highest point in Indochina – or explore the many waterfalls dotting the landscape including Thac Bac (Silver Waterfall) and Love Falls (Thac Tinh Yeu). For those looking for something more extreme, there are plenty of challenging treks to be found which will reward you with breathtaking views at every turn. Meanwhile, if it's the culture you're after then head over to Ha Giang where you can visit traditional villages dotted throughout valleys as well as colorful local markets where locals sell their wares from foodstuffs to handmade crafts. Be sure not to miss out on exploring Ma Pi Leng Pass – one of the most spectacular roads in Vietnam! There are also several cave systems here such as Dong Van Karst Plateau Geopark and Lung Cu Flag Tower Cave which are worth a visit. And don't forget about tranquil pagodas hidden away in secluded areas offering moments of peaceful reflection among nature.
When traveling between these two amazing destinations, experience all the wonderful sights they have to offer before settling down into your accommodation option for some restful respite.
Accommodation Options
Continuing our journey as tourists in Vietnam, we now come to the topic of accommodation options. Whether you are looking for a luxurious hotel stay or a budget-friendly homestay experience, there is something for everyone in Sapa and Ha Giang! Here are three great options:
Hotels in Sapa: If you want an unforgettable vacation experience with all the amenities that a 5-star hotel can offer, then check out one of Sapa's many hotels. From spa treatments to fine dining restaurants, these establishments will make sure your trip is as comfortable and enjoyable as possible.
Hostels in Ha Giang: For those who prefer a more affordable option, hostels provide basic accommodations at reasonable prices. These cozy little places are perfect for backpackers who don't need too much luxury but still want access to the city's attractions. You'll find plenty of friendly staff here ready to help you have an amazing time while exploring Ha Giang.
Homestays and Guesthouses in both destinations: This is where travelers get immersed into local life. Spend some days living side by side with Vietnamese locals and learn about their culture firsthand. Most homestays include activities such as cooking classes so you can be part of everyday life while also getting to know the area better!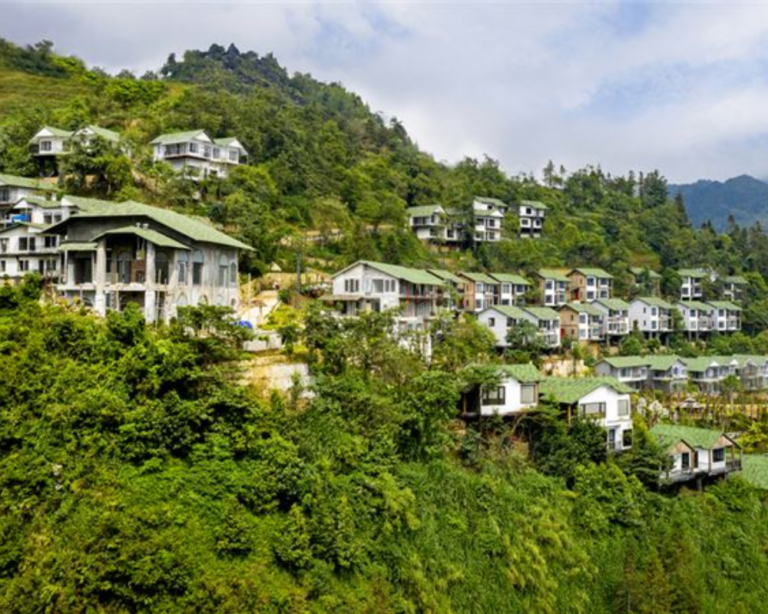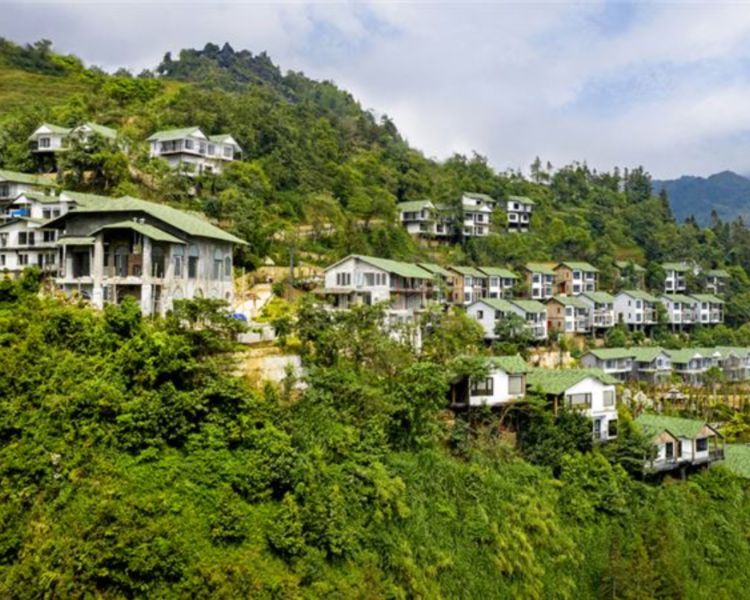 No matter what type of accommodation suits your needs best, there is something for everybody when it comes to lodging during your trip to Sapa and Ha Giang. With this decision made, it's time to move on to the next exciting stage – food and dining experiences!
Food And Dining Experiences
When it comes to food and dining experiences, Sapa and Ha Giang offer a unique set of flavors. | Local Dishes | Ha Giang Food | Sapa Cuisine ————- | ————-| ———–| Traditional Vietnamese dishes with an ethnic twist | Pho Bo (Beef Noodle Soup) | Com Lam (Bamboo Rice) | Bun Cha Ca (Fish Vermicelli Soup) Indigenous flavors from the local culture | Banh Ran Trung Op La (Egg Pancake on Hot Plate)| Thắng Cố Bánh Đa Mít (Cassava Cake With Jackfruit)| Xôi Tàu Yên Ngây (Peanut Sticky Rice).
Restaurants serve up the traditional fare as well as fusion specialties in both cities. In Sapa, you can find ethnic restaurants that blend French colonial cuisine, Chinese-influenced recipes, and native Hmong cooking styles for a truly unique experience. Meanwhile, in Ha Giang, many small eateries are serving classic Vietnamese staples like bun cha ca or com lam. Either way, diners have the opportunity to try indigenous flavors such as banh ran trung op la or thắng cố bánh đa mít. And no visit is complete without trying xôi tàu yên ngây – a tasty treat made of sticky rice topped with peanuts!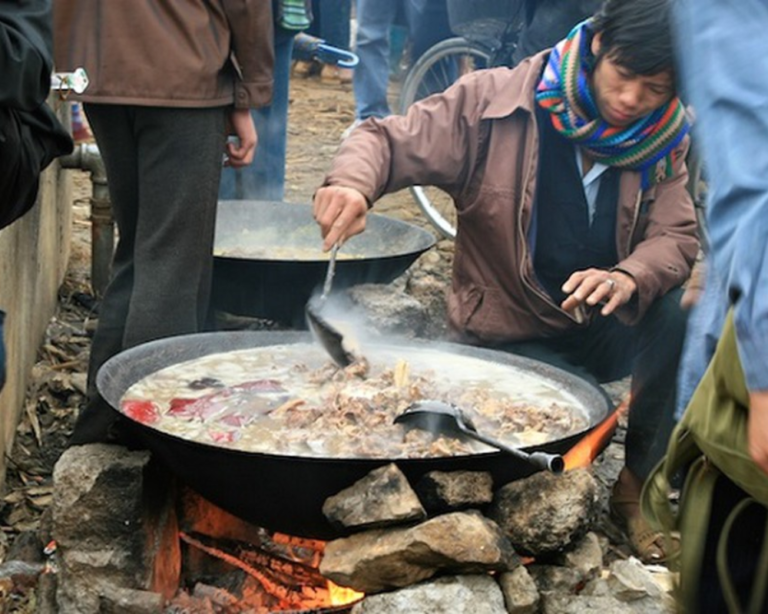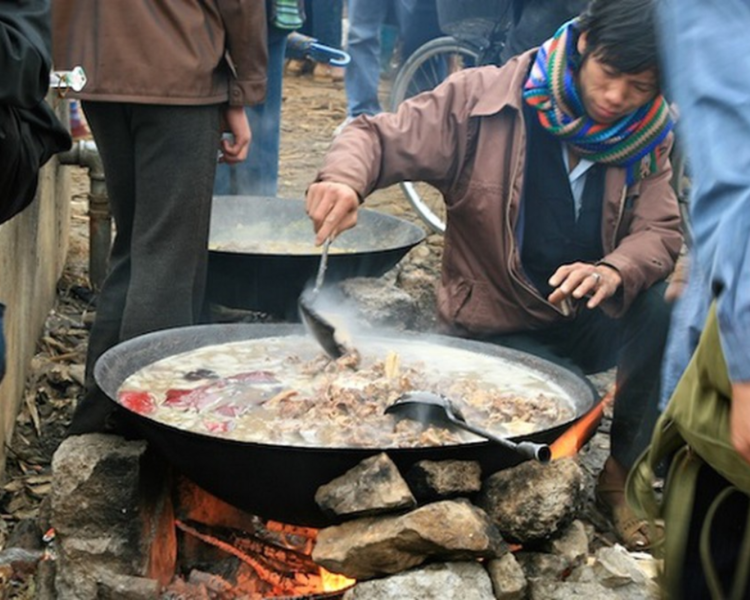 The vibrant streets of both towns provide plenty of opportunities for travelers to sample delicious regional foods and explore exciting new culinary experiences. Whether you're looking for a casual street vendor meal or something more upscale, Sapa and Ha Giang have something for everyone's taste buds. From tantalizing local dishes to exotic fusion cuisines, visitors will be sure to find something that satisfies their craving for adventure and exploration. So come hungry – these two cities promise unforgettable meals steeped in flavor and cultural richness!
Shopping opportunities abound in both destinations offering tourists everything from souvenirs to clothing items at reasonable prices. For those seeking even greater bargains, however, exploring the markets gives one the chance to bargain shop while also taking in the sights and sounds of everyday life among locals.
Shopping Opportunities
With over 800 shopping centers, retail stores, and local markets, Vietnam is a shopper's paradise. Even the most discerning shoppers will find something to suit their tastes in this country – from specialty shops offering handmade crafts to souvenir stores overflowing with trinkets of all kinds.
The majority of cities have at least one large-scale shopping center, ranging from modern malls featuring international brands to traditional Vietnamese street markets where you can haggle for bargains of all kinds. For those looking for something unique or exclusive, there are several high-end boutiques scattered around Saigon and Hanoi that offer everything from designer clothes to luxury jewelry.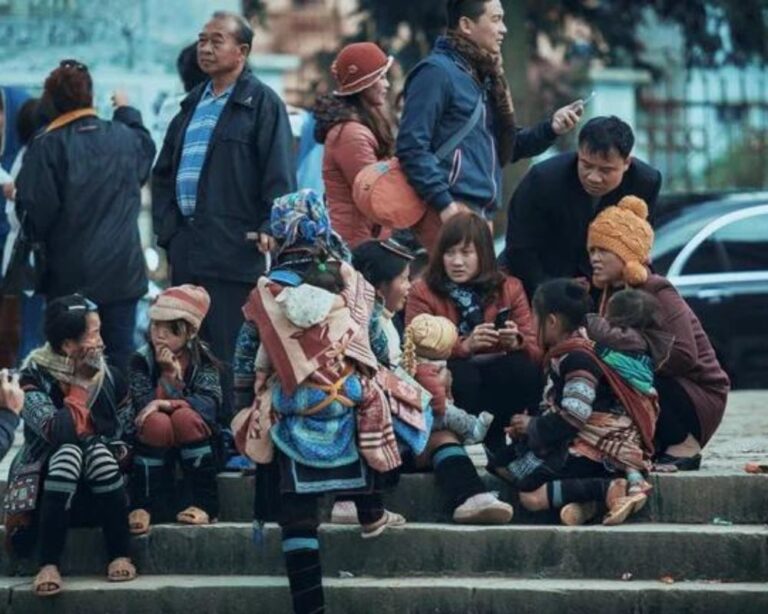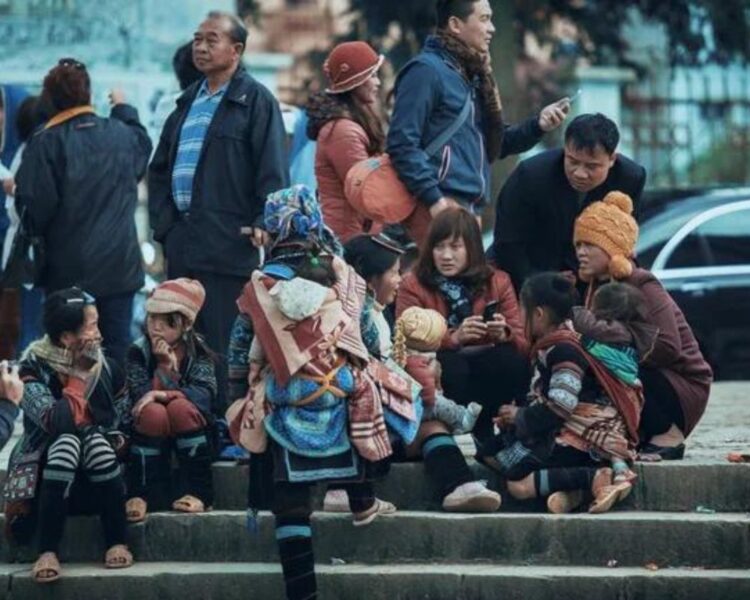 Though both cities boast an impressive array of shopping opportunities, Saigon offers more variety when it comes to finding quality goods at competitive prices. Whether it's souvenirs or electronics, visitors will be sure to find what they need at reasonable rates in this bustling metropolis.
Having explored the many options available throughout the country, travelers should now consider how best to access them.
Transportation Accessibility
When it comes to transportation accessibility, Sapa and Ha Giang have much in common. Both towns offer a range of transport options for travelers looking to explore the region. From buses and minivans to motorbikes and bicycles, there are plenty of ways to navigate each location quickly and easily.
However, when comparing the two destinations side-by-side, some distinct differences become apparent. In terms of public transport, Sapa has an extensive network of well-maintained roads connecting it with nearby cities, making it relatively easy to access other parts of Vietnam. On the other hand, Ha Giang is located in a more remote part of the country which means that its road infrastructure is not as developed or accessible as its neighbor's. This can make getting around the area more difficult if you don't have your form of private transport.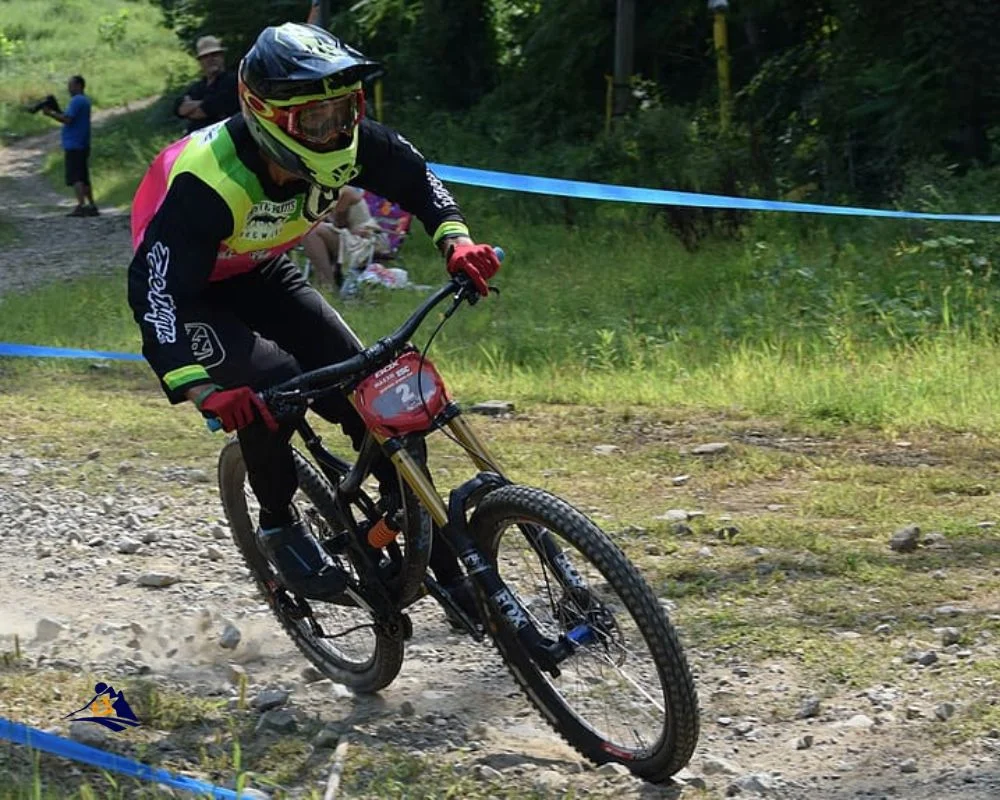 In addition, both locations boast a variety of rental services offering tourists everything from cars and scooters to mountain bikes – ideal for those who want to take on their adventure without relying on public transport networks. However, due to Ha Giang's remoteness, these rentals come at a premium price compared to what's available in Sapa so be sure to factor this into your budget before setting off!
With all factors considered, traveling between these two Vietnamese gems presents a unique set of challenges depending on personal preferences and budgets – but whatever route you choose will no doubt provide an unforgettable experience! Safety considerations should always be taken into account when planning any trip; let us now discuss this further…
Sapa 1 Day Tours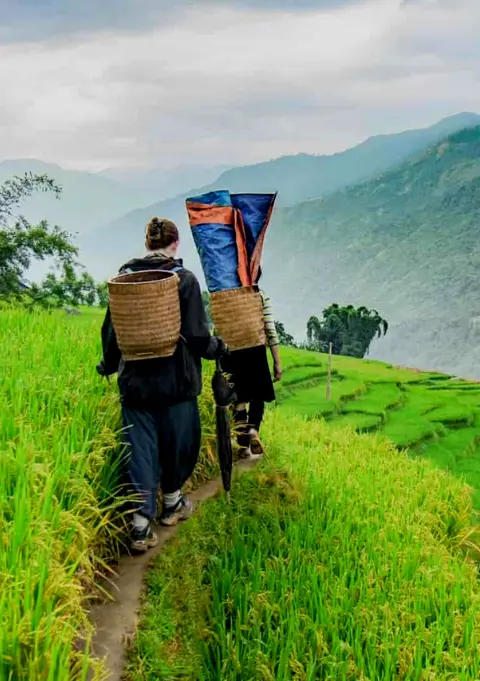 1 day experience
Moderate to challenging
Cultural immersion & active adventure
Rice fields, valleys & villages
​Private tours
Vegan-friendly
Sapa 2 Day Tours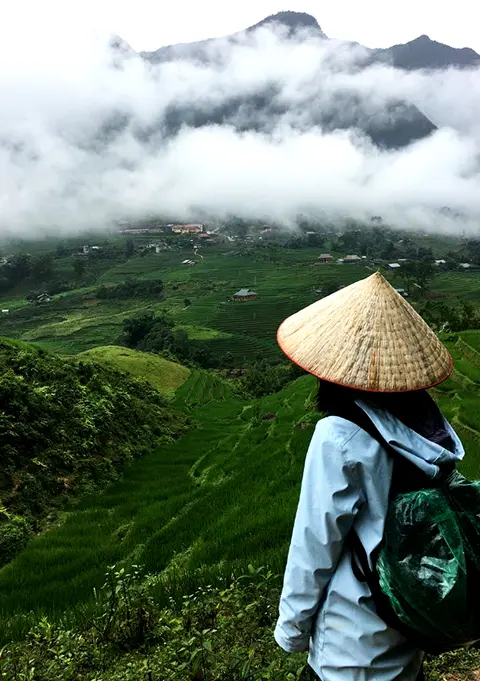 2 days 1 night experience
Moderate to challenging
Cultural immersion & active adventure
Mountains, valleys, rice fields and villages
​Private tours
Vegan-friendly
Sapa 3 Day Tours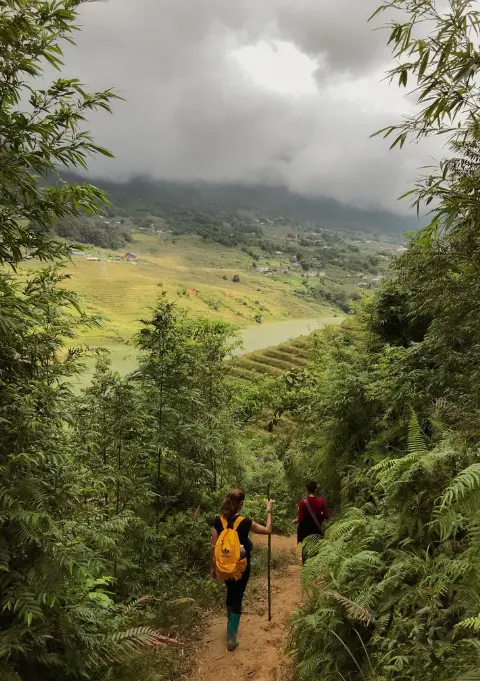 3 days 2 night experience
Moderate to challenging
Cultural immersion & active adventure
Mountains, valley, rice fields & villages
​Private tours
Vegan-friendly
Sapa 4 Day Tours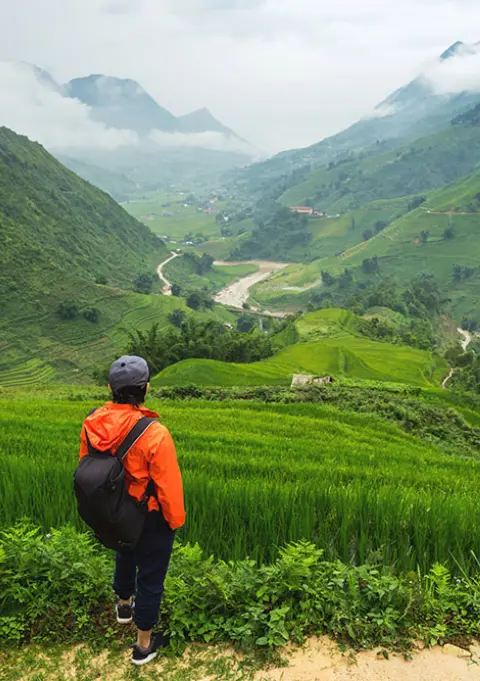 4 days 3 night experience
Moderate to challenging
Cultural immersion & active adventure
Mountains, valleys, rice fields & villages
​Private tours – Less Touristic
Vegan-friendly
Safety Considerations
When it comes to safety considerations, travelers must take into account the risk factors of each area. Sapa and Ha Giang both have their unique characteristics that should be considered when deciding on where to go.
Sapa is located in the northern province of Lao Cai and has become increasingly popular among tourists over the past few years. It has many safety measures in place such as increased security patrols and stricter local laws regarding crime rates. Tourists should also familiarize themselves with travel warnings issued by the Vietnamese government before visiting this region.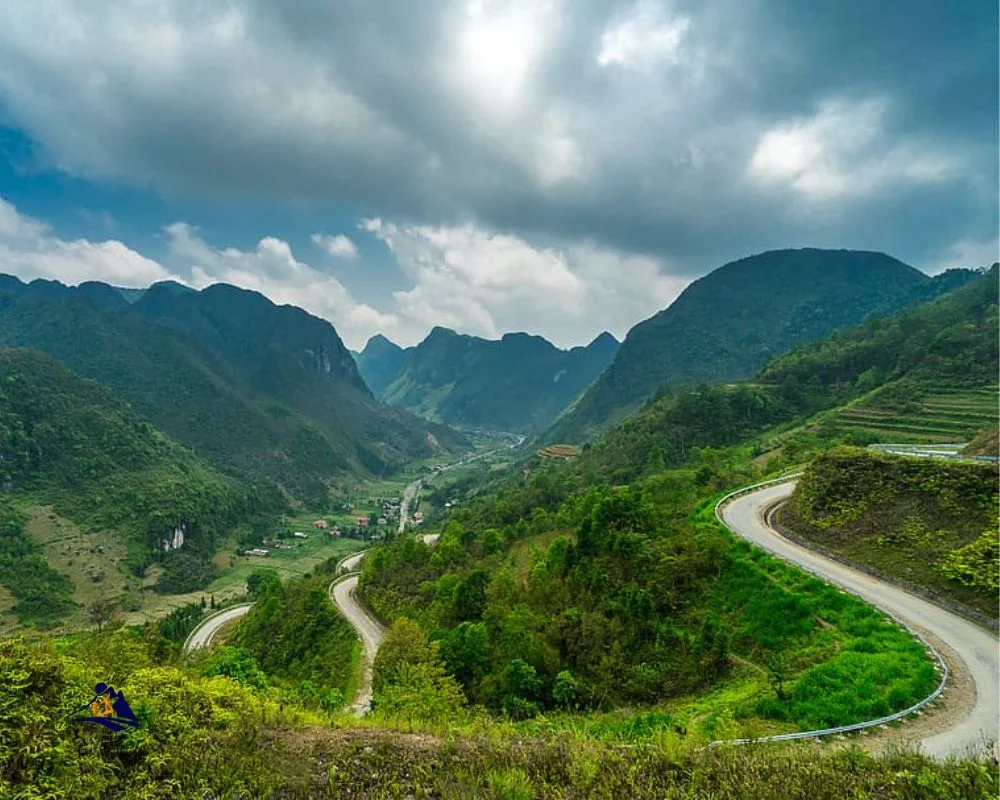 Ha Giang is situated in Northeastern Vietnam and offers some stunning views of mountains, valleys, rivers, and limestone peaks. However, due to its location and remote nature, visitors may face some risks when traveling here. The roads are often narrow and winding which can make for dangerous terrain, so caution must be taken when driving around these areas. Additionally, crime rates tend to be higher than in other parts of Vietnam so extra care should be taken when out at night or engaging in any activities unrelated to sightseeing.
Sapa 1 Day Tours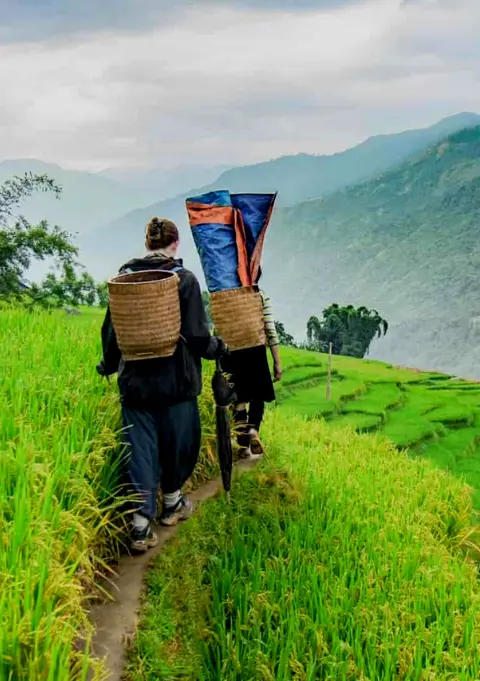 1 day experience
Moderate to challenging
Cultural immersion & active adventure
Rice fields, valleys & villages
​Private tours
Vegan-friendly
Sapa 2 Day Tours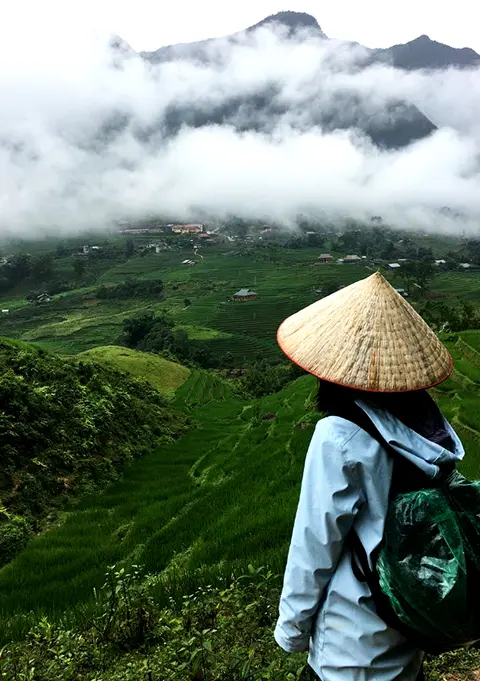 2 days 1 night experience
Moderate to challenging
Cultural immersion & active adventure
Mountains, valleys, rice fields and villages
​Private tours
Vegan-friendly
Sapa 3 Day Tours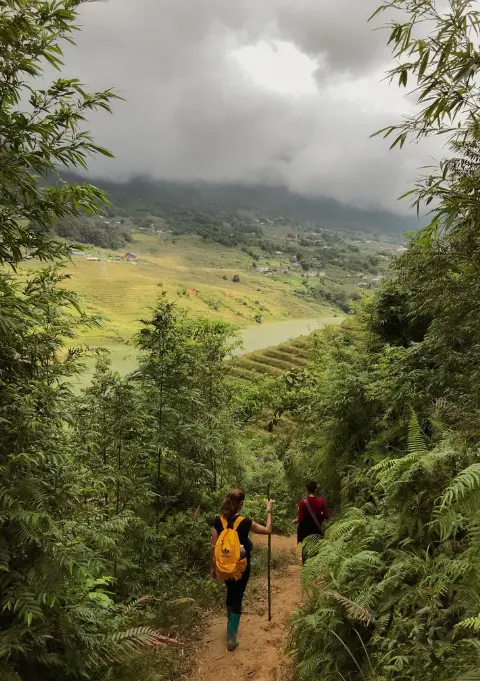 3 days 2 night experience
Moderate to challenging
Cultural immersion & active adventure
Mountains, valley, rice fields & villages
​Private tours
Vegan-friendly
Sapa 4 Day Tours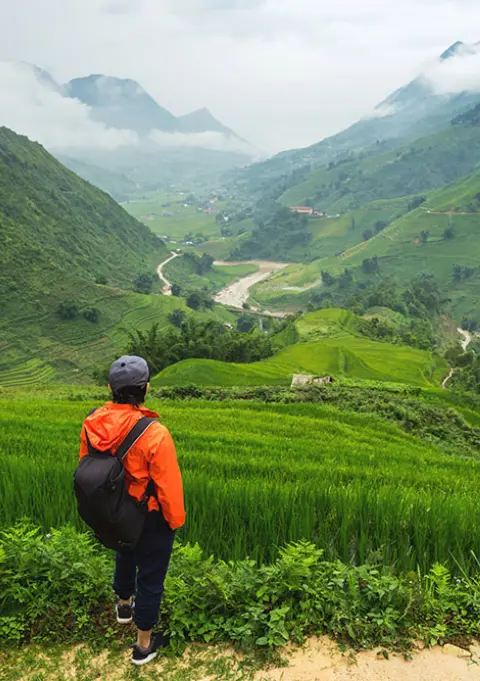 4 days 3 night experience
Moderate to challenging
Cultural immersion & active adventure
Mountains, valleys, rice fields & villages
​Private tours – Less Touristic
Vegan-friendly
Overall, travelers must always keep their wits about them no matter where they go to stay safe during their trip. With proper planning and research before departure, visitors will surely enjoy all that Sapa or Ha Giang has to offer without putting themselves at unnecessary risk. Now let's compare the cost associated with each destination as we move on to our next section.
Cost Comparison
Traveling to Sapa or Ha Giang is an experience like no other. For the adventurous traveler, both places are incredibly picturesque and offer a unique glimpse into Vietnamese culture. But when it comes to cost, which destination offers more bang for your buck? Let's take a closer look at the price comparison of each place.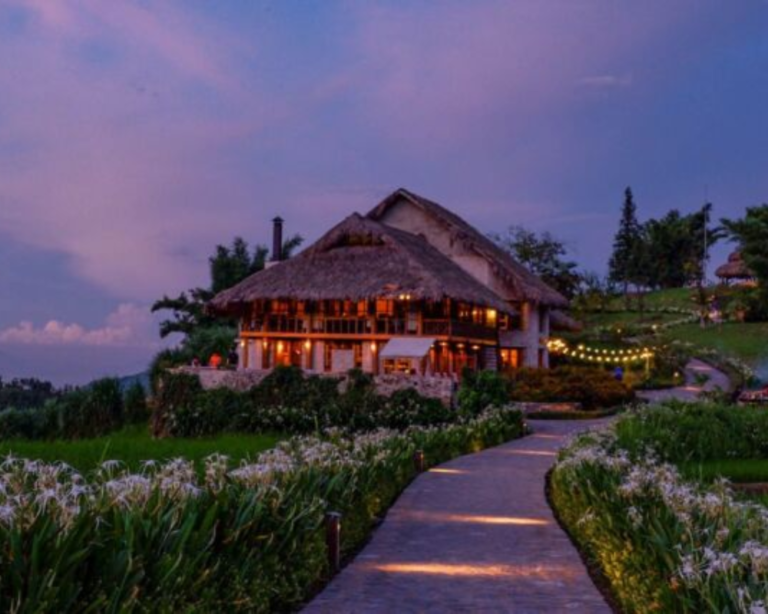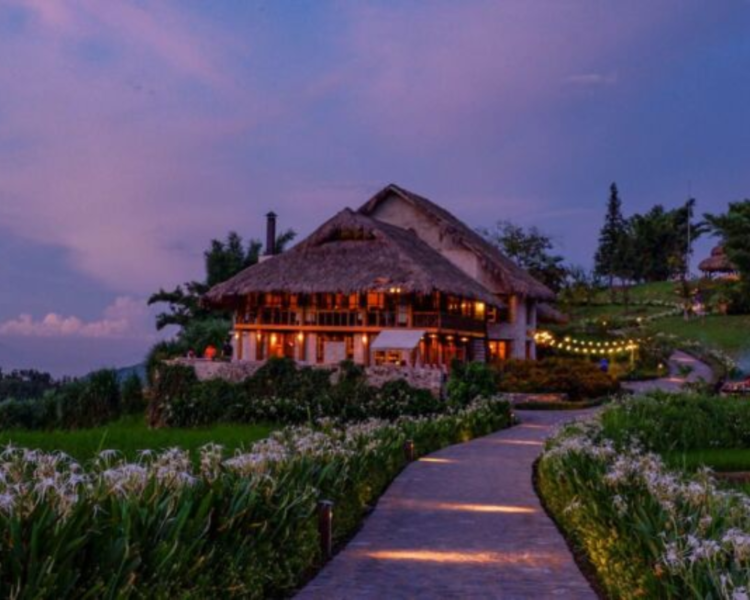 When it comes to accommodation costs in Sapa, prices can range from $30-100 USD per night depending on where you stay. In Ha Giang, however, hotels run around half that amount with rooms ranging between $15-50 USD per night. Food expenses also vary significantly based on what type of cuisine you prefer. Street food vendors in Sapa typically charge around USD 2 while restaurants will bump up the price to about USD 7 per meal. In Ha Giang, street food averages around 50 cents and restaurant meals come out to approximately $ 4-USD 5 per dish. When it comes to shopping for souvenirs and gifts, expect prices similar to those found in Hanoi (about one-quarter less than most Western countries).
Overall, both destinations offer great value given their rural location and cultural appeal; but if cost is your main factor consider heading over to Ha Giang first as the lower cost of living makes traveling there more budget-friendly than Sapa. With these facts in mind let us now explore how our two chosen locations differ culturally.
Sapa 1 Day Tours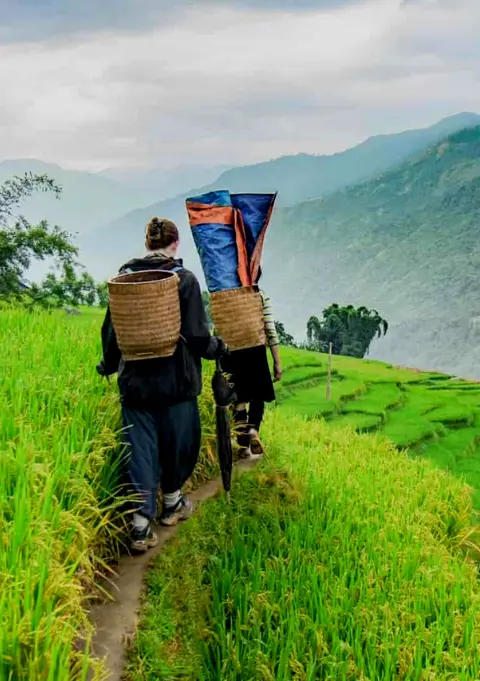 1 day experience
Moderate to challenging
Cultural immersion & active adventure
Rice fields, valleys & villages
​Private tours
Vegan-friendly
Sapa 2 Day Tours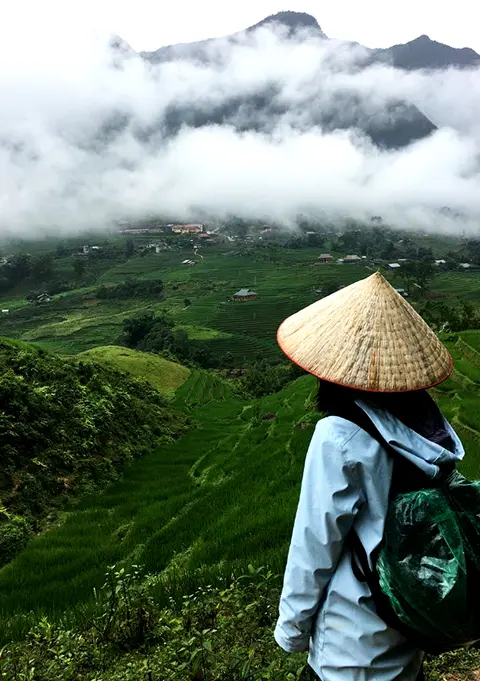 2 days 1 night experience
Moderate to challenging
Cultural immersion & active adventure
Mountains, valleys, rice fields and villages
​Private tours
Vegan-friendly
Sapa 3 Day Tours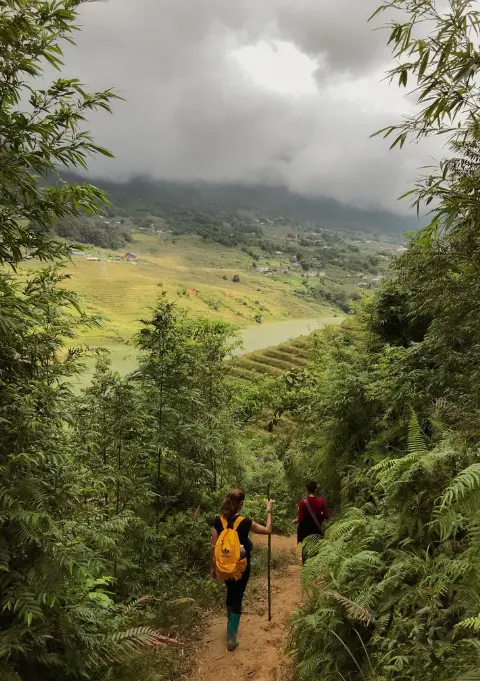 3 days 2 night experience
Moderate to challenging
Cultural immersion & active adventure
Mountains, valley, rice fields & villages
​Private tours
Vegan-friendly
Sapa 4 Day Tours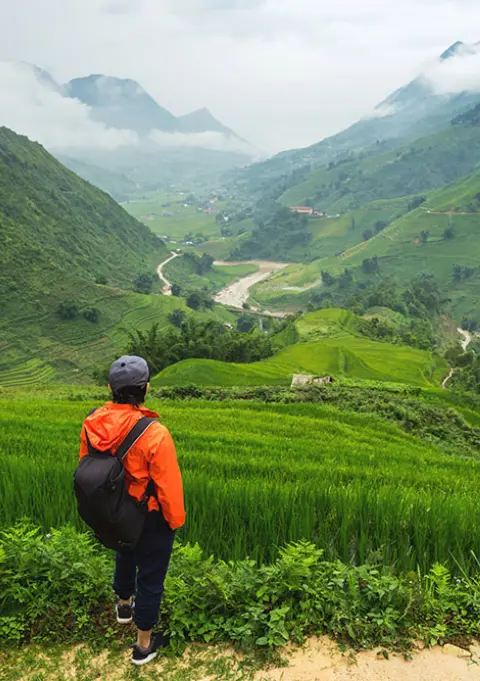 4 days 3 night experience
Moderate to challenging
Cultural immersion & active adventure
Mountains, valleys, rice fields & villages
​Private tours – Less Touristic
Vegan-friendly
Cultural Differences
Sapa and Ha Giang are two regions of Vietnam with distinct cultural differences. These range from language variations to traditional customs, religious diversity, and ethnicities.
The people of Sapa speak a variety of different languages such as Hmong, Dao, Tay, or Kinh. Meanwhile, the people living in Ha Giang predominantly speak Vietnamese, but there is also a minority who speak Nung. Both areas have their own unique culture which has been handed down through generations over centuries. The locals proudly preserve their cultural heritage by practicing traditional customs like festivals for special occasions or rituals for celebrating particular events.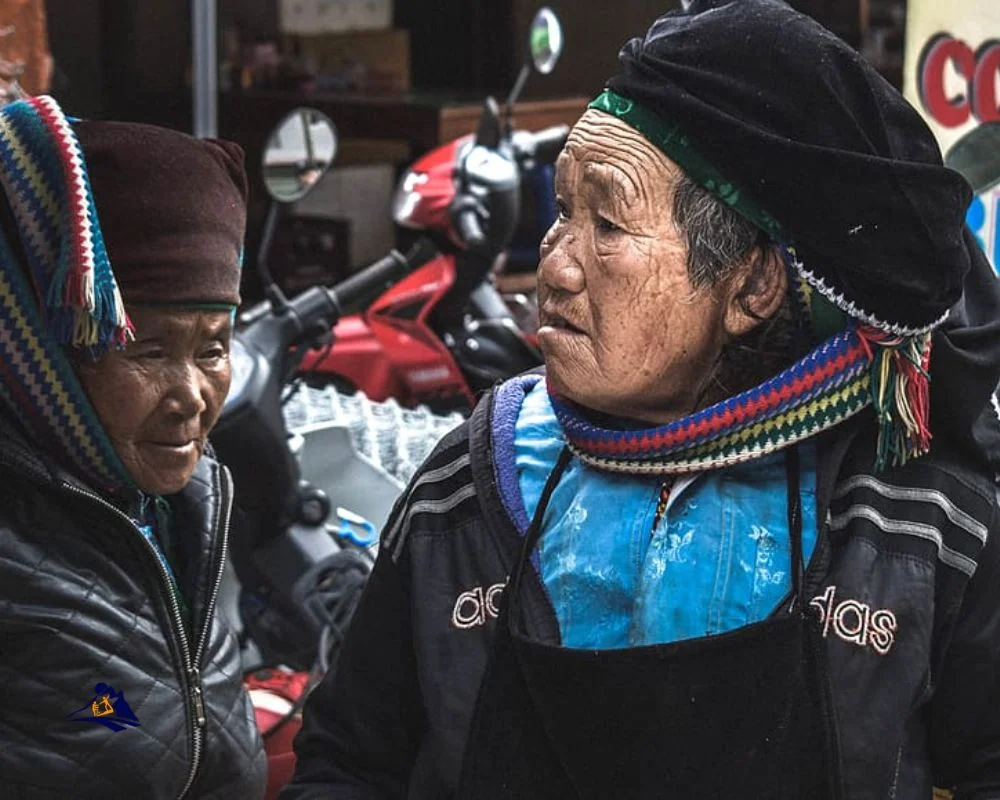 Religion plays an important role in both communities with Christianity being prominent in Sapa while Buddhism is more prevalent in Ha Giang. Furthermore, each region boasts its mix of ethnicities including Mong, Tho, and Lo Lo peoples among others. This further adds to the fascinating array of cultures that can be found throughout Vietnam today.
These two regions offer travelers plenty to explore when it comes to discovering diverse cultures and traditions – something sure to capture any visitor's imagination! From exploring colorful markets filled with local delicacies to taking part in rural ceremonies surrounded by spectacular landscapes – visitors will undoubtedly find themselves captivated by the vibrant atmosphere these two places have to offer.
Sapa Or Ha Giang – A Comparision Frequently Asked Questions
What Is The Best Time Of Year To Visit Either Region?
Are you looking for the best time to visit either of these incredible regions? If so, then look no further. Both Sapa and Ha Giang offer a unique experience depending on what season you choose to travel! To help make your decision easier, here is an overview of the tourist season in each area.
If you're searching for lush mountainscapes and rolling hillsides with vibrant colors that will take your breath away, then head to Sapa during the dry season from October-April. The weather at this time is cool and comfortable, making it perfect for trekking or exploring ancient villages nearby. During the peak months of December-March, travelers can enjoy clear skies and warm sunshine ideal for taking picturesque photos along its many trails.
Ha, Giang's beauty also peaks between November-May when the air remains fresh while temperatures are milder than other times of year – great news if you plan on doing some hiking or biking through limestone caves! From June-August there isn't much rainfall which makes traveling around more feasible; however, be aware that July & August tend to get quite hot so bring plenty of water. As well as this, avoid visiting during September since heavy rains may cause flooding throughout the region.
No matter which period you decide upon both areas have something special to offer visitors – stunning views that will stay with you forever! So grab your camera and start planning your unforgettable trip today!
Are There Any Special Festivals Or Events Held In Either Region?
If you're looking for an unforgettable experience in Vietnam, then it's worth considering a visit to either Sapa or Ha Giang. Both regions offer vibrant festivals and events throughout the year that offer visitors insight into local culture. From celebrations of traditional farming practices to religious ceremonies, there are plenty of opportunities for exploration on both sides.
Sapa is home to some of the most famous festivals in Vietnam. The region celebrates the 'Buffalo Fighting Festival' which commemorates the victory against Chinese invaders centuries ago. This festival usually takes place in April when villagers come together to watch buffaloes fight each other while wearing colorful costumes. Other popular festivals include the 'Rain Prayer Festival', where locals pray for rain during drought season, as well as the 'Flower Blossoming Festival' which celebrates spring with various activities such as singing, dancing, and hiking around the area.
Ha, Giang has its own unique set of festivities too! One of these is called 'Dao Thanh Doong Fair' which occurs every four years at different spots along Ma Pi Leng Pass – this event sees participants from all over northern Vietnam compete in games & activities like tug-of-war and buffalo fighting. Additionally, travelers can witness several smaller events like 'Tay Long Song', where members of the Tay ethnic group gather together for spiritual worship and prayer rituals; or the 'Loi Ru' ceremony which involves offering food offerings to ancestors and gods praying for peace and luck.
No matter what time of year you plan your trip to Sapa or Ha Giang, there will be something special awaiting you. Whether it's witnessing Buffalo Fights or joining in on Loi ru ceremonies – you'll find yourself immersed in authentic cultural experiences that will leave lasting memories for years to come!
Are There Any Outdoor Activities That Can Be Done In Either Region?
Ah, the great outdoors! It's a call to adventure that many of us cannot ignore. For those who are looking for outdoor activities in either Sapa or Ha Giang Vietnam, there is much to explore and enjoy. From trekking through lush green valleys to camping beneath starry night skies, one can easily find an abundance of fun activities in both regions.
For starters, why not try some hiking? With its rolling hills covered with rice paddies and limestone cliffs dotting the landscape, Sapa offers plenty of spots for hikers of all skill levels. In Ha Giang, you'll be treated to spectacular views from high mountain trails as well as a chance to experience the rich history and culture of this beautiful region. If cycling is more your style, then both places have dedicated pathways perfect for exploring by bike.
No matter what activity you choose, it's hard to deny that there is something special about being surrounded by nature while taking part in these activities – especially if you're lucky enough to spot some local wildlife along the way! To ensure you get the most out of your time spent outdoors here are three tips:
– Pack snacks so you don't end up getting too hungry during your hike or ride
– Remember sunscreen and bug spray – even on cloudy days
– Have a plan but also leave room for spontaneity; some of the best adventures happen when we least expect them!
So whether it's experiencing breathtaking scenery while trekking or admiring vast forests while camping – make sure you take advantage of all these amazing outdoor opportunities! Both Sapa and Ha Giang offer unique experiences that will stay with you long after your trip has ended.
What Is The Average Cost Of Tour Packages To Either Region?
Exploring a new destination is always an exciting experience, especially when it involves two unique places like Sapa and Ha Giang. But before you can explore these regions, you must first make sure that your tour packages are within budget. So what's the average cost of these packages?
When comparing tour costs between Sapa and Ha Giang, there are some factors to consider such as duration, services included in the package, time of year, and mode of transportation. Generally speaking though, both areas offer affordable packages for those on a budget.
For example:
Sapa Tour Packages
– Luxury tours tend to start around USD 400 per person for 3 days/2 and nights
– Mid-range trips can range from $100 – USD 200 per person for 2 days/1 night
– Budget travelers can find deals starting at around USD 50 per person for 1 day/night
Ha Giang Tour Packages
– Luxury tours typically begin at around USD 450 per person for 4 days/3 and nights
– Mid-range trips usually come in at around $150 -USD 250 per person for 3 days/2 nights
– Affordable options start at approximately USD 60 per person for 2 days/1 and night
These prices may vary depending on the season and other variables but they give you an idea of how much you'll be spending on average if you decide to take a tour package in either area. Whether you're into luxury or low-cost travel, both Sapa and Ha Giang offer something to fit every traveler's needs! So why not seize this opportunity to escape your everyday life and discover something new? With amazing sights waiting to be seen and unforgettable experiences awaiting your arrival – now is the perfect time to book a trip!
Are There Any Special Medical Precautions To Consider When Visiting Either Region?
A journey to a foreign land can be filled with excitement and thrill, but it's also important to consider the health of those embarking on such an adventure. When looking at Sapa or Ha Giang as potential tour destinations, travelers should take into account any special medical precautions that may be necessary.
The mountainous terrain between these two regions has its inherent risks, from altitude sickness in Sapa to increased exposure to sunlight during hikes around Ha Giang. Heat exhaustion is another danger for visitors in the summer months, so staying hydrated and applying sunscreen are essential for maintaining one's well-being throughout the trip.
In addition, travelers should come prepared with basic first aid items like band-aids and antiseptic wipes. It's also wise to bring along over-the-counter medicines such as ibuprofen and antihistamines just in case they become needed while exploring either region. Other tips include:
– Research local doctors or hospitals beforehand if possible
– Make sure vaccinations are up to date before traveling
– Check specifically for diseases endemic in both areas
– Bring your medications if you have any chronic conditions
– To sum up, taking some simple steps before visiting either Sapa or Ha Giang can go a long way towards ensuring a safe and enjoyable experience abroad. With enough planning ahead of time, travelers can rest assured knowing their health is well taken care of when venturing through Vietnam's breathtaking countryside!
Conclusion
To sum up, if you're looking for a truly unique experience in Vietnam then both Sapa and Ha Giang are must-visit destinations. Depending on the time of year you visit, you can expect to find different kinds of activities and festivities that will give your trip a bit of variety. When it comes to outdoor activities, there's something for everyone – from trekking through lush valleys to exploring caves with ancient artwork. As far as cost is concerned, tour packages range depending on the length and type of accommodations offered. Finally, be sure to consult with your doctor before visiting either region so that you can make sure any special medical precautions are taken care of before travel.
No matter which destination you choose Sapa or Ha Giang, you'll be rewarded with stunning views and an unforgettable experience! From being surrounded by rolling rice fields and picturesque mountainside villages in Sapa to discovering magnificent waterfalls deep within nature reserves in Ha Giang – each location offers its charm and beauty. So why not explore them both? You won't regret it!
Travel shouldn't have to break the bank though – budget wisely and plan so that you get the most out of your journey while still staying within your means. After all, one of the best parts about traveling is taking back memories that last a lifetime – no amount of money can buy those!
Sapa 1 Day Tours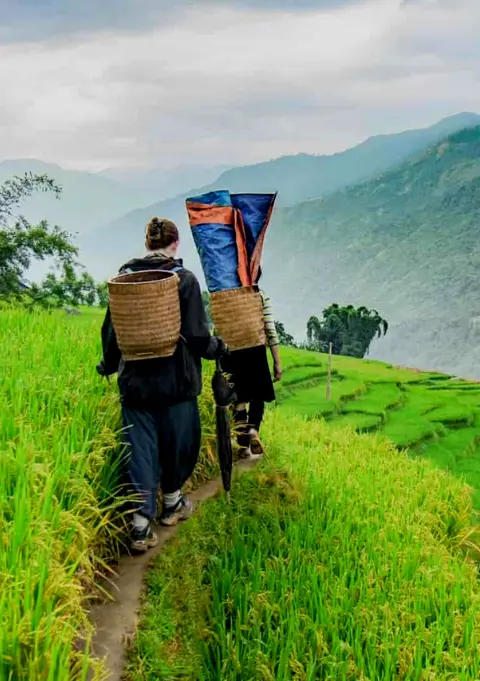 1 day experience
Moderate to challenging
Cultural immersion & active adventure
Rice fields, valleys & villages
​Private tours
Vegan-friendly
Sapa 2 Day Tours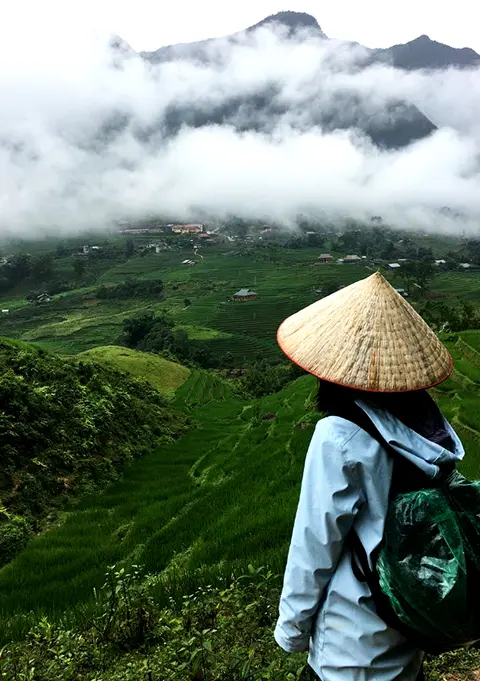 2 days 1 night experience
Moderate to challenging
Cultural immersion & active adventure
Mountains, valleys, rice fields and villages
​Private tours
Vegan-friendly
Sapa 3 Day Tours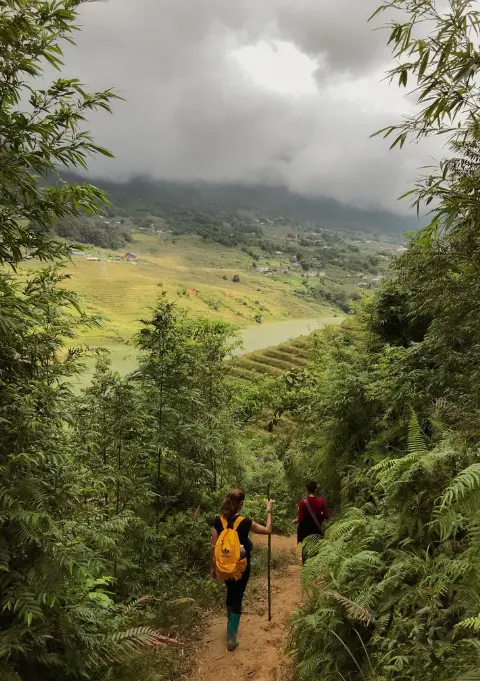 3 days 2 night experience
Moderate to challenging
Cultural immersion & active adventure
Mountains, valley, rice fields & villages
​Private tours
Vegan-friendly
Sapa 4 Day Tours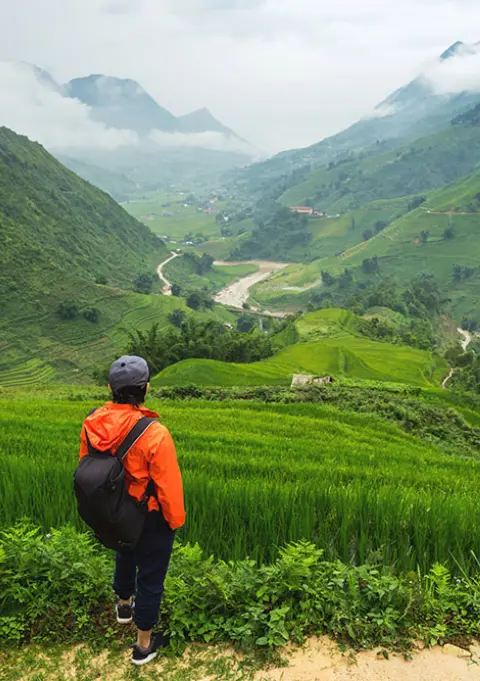 4 days 3 night experience
Moderate to challenging
Cultural immersion & active adventure
Mountains, valleys, rice fields & villages
​Private tours – Less Touristic
Vegan-friendly