Rice Terraced Fields & Homestay Experience– 2D 1N​
In this tour, Trekkingtoursapa's guide will take you to visit 5 different villages of the Hmong, Giay and Red Dao ethnic minorities.
The tour will give you the chance to enjoy fantastic mountain landscapes as well as to see Sapa's biggest river and valley. You will also see the famous rice terrace fields and learn more about the culture, customs, and traditions of the three main different ethnic minorities in Sapa.
Our tour guide will also introduce you to Hmong's unique marriage traditions, rice fields, work and house building techniques, and much more!
Reasons to book this experience
01. A local private guide: A Local guide in a private tour only get your needs focused, and has enough time to answer all your questions.
02. Private guided visit to 3 different ethnic minority villages in Sapa.
03. Adventurous mountain trekking up to 1.800 m above sea level.
04. Enjoy visiting the bamboo forests as well as Vietnam's most famous rice terraces – ideal photo shooting scenery.
05. Meeting the country's most representative animals such as the water buffalo.
06. Meet good people and eat good foods.
Day 1: Sapa – Y Linh Ho – Lao Chai – Ta Van (15 km or 6.5 hours)
The tour starts at 9 am. Our local guide will meet you at your hotel in Sapa Town or in front of the local main church. 
After a brief introduction, you will be taken 2km down to Cat Cat's road, a well-known village of the Hmong minority. From there, you will be reaching the hanging bridge of Muong Hoa river and then continue uphill into the mountains and through a bamboo forest. 
From there, you will get the chance to admire some of the biggest and most beautiful rice terraces in Vietnam as well as enjoy the majestic mountain view on top of the Hoang Lien Son mountain. 
You will then head down to Y Linh Ho village and have lunch at a small, traditional restaurant ran by a local Hmong family. 
After the break, you will make it to Ta Van, a village of the famous Giay minority, where your local host family will welcome you. 
You will then have some time to rest, take a hot shower, and get ready for your dinner – if you want, you will also have the chance to take part in an informal cooking class!
Day 02: Ta Van – Giang Ta Chai – Sapa (12km around 5 hours)
Enjoy a cup of hot coffee or tea and discover your homestay's surrounding area and the nearby rice fields. After breakfast, you will be retaken uphill into the mountain till the waterfalls of Giang Ta Chai. 
You will then enter the Red Dao area where, together with your local guide, you will learn more in detail about their culture and daily life. 
After a short visit at a Red Dao family, you will then head back to the waterfalls by taking an alternative trail and across a second hanging bridge. 
You will then have your lunch in Giang Ta Chai village at a small, local restaurant run by a Hmong family. After the break, our bus will be waiting for you, and you will then head back to Sapa Town.
Price details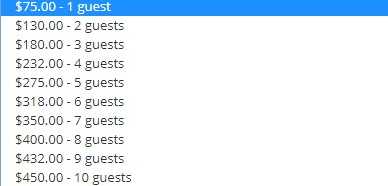 Pickup
From your hotel in Sa Pa or in front of Sapa main Church.
Drop Off
In your hotel in Sapa or Sapa center
The tour will

NOT

include
01. If you have a big bag or a big suitcase, no worries. I have a store in Sapa where you can leave your luggage when you arrive as well as take a shower before you leave Sapa. Then you can bring a small bag while trekking.
02. We can arrange a bus or train for you from Hanoi – Sapa and back Hanoi. If you need any helps with the service, please contact us for more information.
03. The tour starts at 9 am, ends at around 3 pm
Personal Travel Specialist
Dedicated travel specialist
Handpicked Accommodation (Homestay)
Best location & price
Flexible Meal Plan
Tickle your taste buds
Private Guide and Car
Hassle-free tour experience
Adjust the physical activity
We can adjust the difficulty of all of our hikes to your wishes and abilities.
Responsive Customer Service
24/7 care
7+ days prior tour start date: 100% reimbursement of the tour price (no cancellation charges)
6 to 2-days prior tour start date: 25% reimbursement of the tour price
1 day prior or same day of tour start date: no reimbursement
Trekking Tour Sapa owned by a team of Hmong ethnic minorities in Sapa. We use our local knowledge to create hiking, trekking, and motorbike tours for those wanting to discover the best and most beautiful areas of Sapa. We were born and raised in this region which helps us to show you places that many companies else may not be able to provide.
Locally & Minority Owned
Benefiting the local Black H'mong and neighboring ethnic tribal people.
Authentic
Get the real Sa Pa Experience.
Ethical Tribal Visits
Preserving the culture of the H'mong and other ethnic minority peoples.
Ecological
See the beauty of Sapa and help to preserve its beauty for generations to come.