Ah, Sapa weather – a topic that's sure to bring out the wanderlust in all of us! The irony of it is that although we daydream about this magical place and its perfect climate, the reality can often be quite different. From blistering heat waves to bone-chilling cold snaps, the unpredictable conditions here can make even the most intrepid traveler think twice before planning their next trip. But fear not! I'm your friendly local Sapa weather reporter and I'm here to give you an inside scoop on what to expect when visiting this exciting destination. So put away those heavy winter coats and get ready for some fun in the sun – because with me around, you know exactly what kind of weather will greet you upon arrival!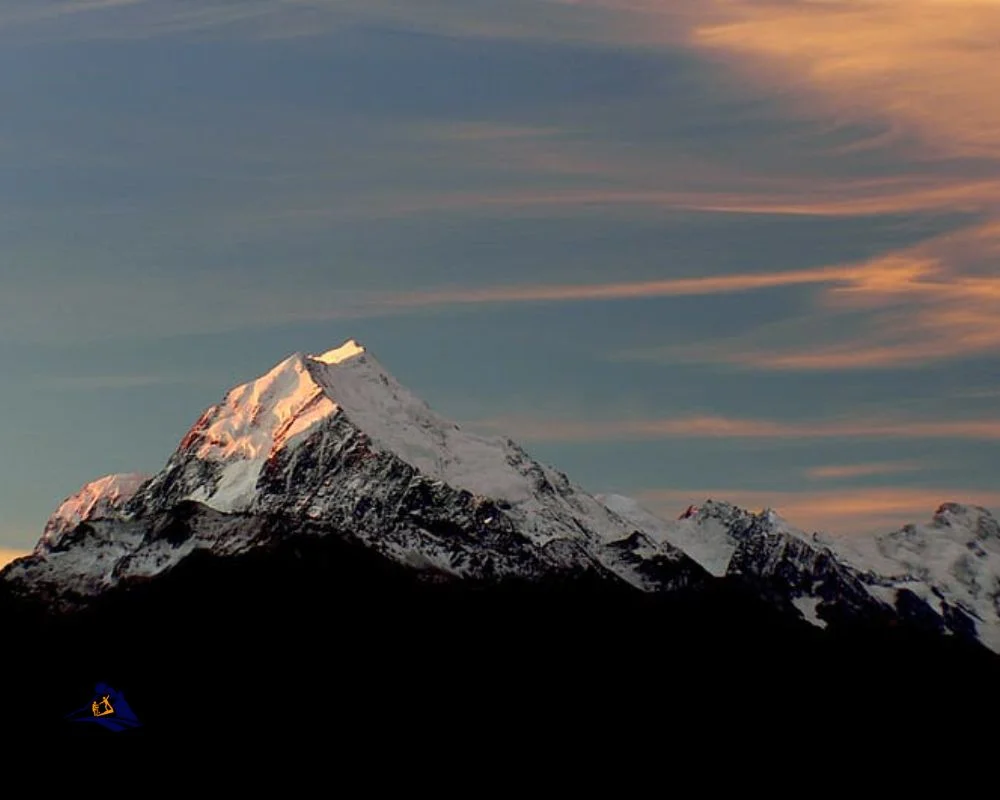 Overview Of The Weather In Sapa
Sapa, Vietnam is renowned for its lush valleys and mountainous terrain. It has a temperate climate, making it an ideal place to visit all year round. In this article, I'm going to give you an overview of the climate conditions in Sapa – including temperature ranges and weather patterns.
Climate change has had an impact on temperatures in recent years but generally speaking, we experience four distinct seasons here with temperatures ranging from very cold during winter months down to milder levels during summer months. During spring and autumn, there are periods of rain as well as sunny days but overall the amount of rainfall decreases gradually towards the end of each season as temperatures become warmer.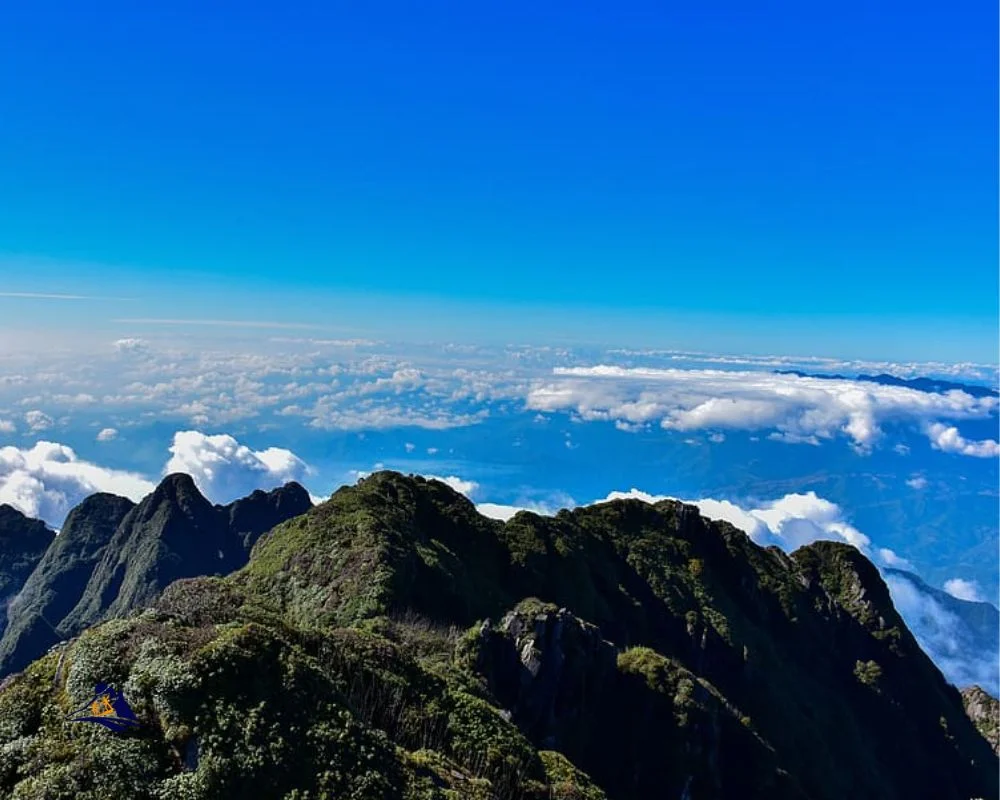 The average annual temperature throughout Sapa remains relatively constant at around 16°C (60°F). The humidity level also stays around 70-80% which helps keep things cool even when temperatures rise higher than usual. This makes Sapa quite comfortable for visitors looking for a great holiday destination no matter what time of year they choose to visit! Now let's take a look at average temperatures in more detail…
Average Temperatures
The average temperature in Sapa is like a roller coaster ride – one day it's hot and the next you need your winter coat. Here are four things to know about what to expect when visiting Sapa:
The temperature range can vary from 45°F- 81°F, so pack accordingly!
Temperature averages typically stay between 50°F- 65°F during most of the year.
During the summer months, temperatures tend to climb up into the mid-70s while winters usually hit their peak at around 57°F.
Record temperatures have been recorded as low as 28°F and as high as 103°F since records began in 1872.
No matter what time of year you visit, be sure to bring some layers because you never know what kind of weather awaits you in Sapa! With all this information on hand, you should now be able to better prepare for your trip by packing appropriately for both hot and cold days alike. As we transition into discussing rainfall patterns, keep these tips in mind so that you're well-prepared no matter what mother nature throws your way!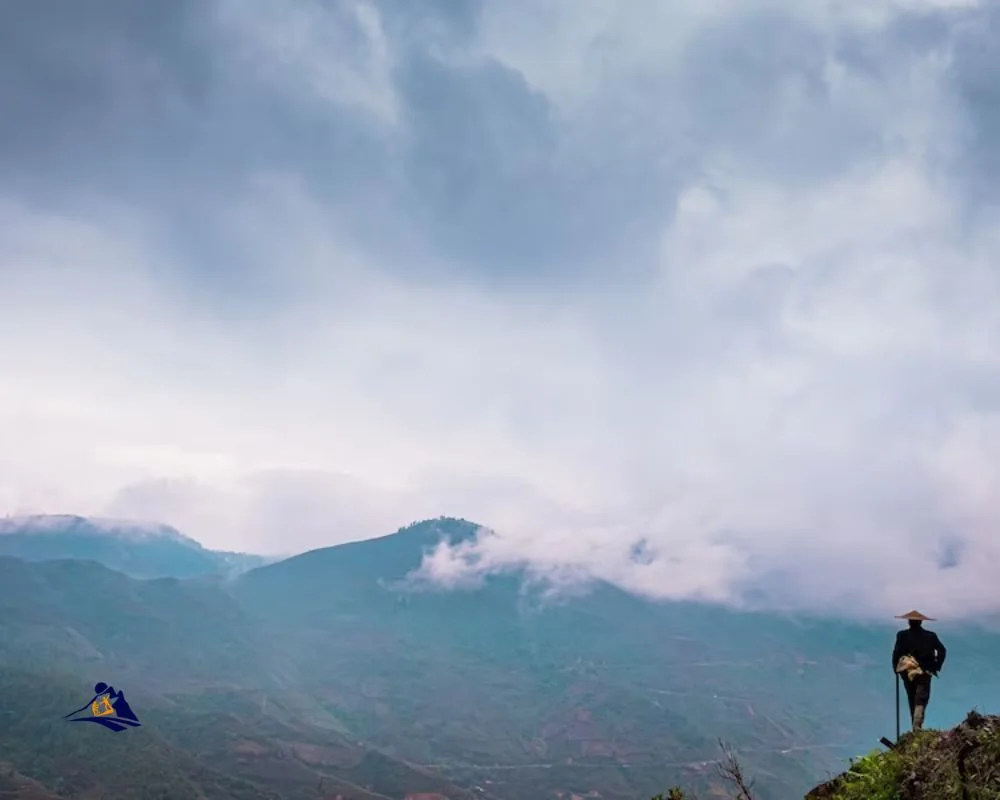 Rainfall Patterns
Sapa's rainfall patterns are diverse and fascinating. With its varying terrain, the area experiences a broad range of precipitation frequencies, amounts, trends, seasonality, and variability.
Rainfall frequency in Sapa is typically higher during the monsoon season from May to September when temperatures average around 24°C (75°F). During this time it rains an average of 21 days per month with up to 2 inches of rain falling each day. The remaining months see lower levels of rainfall with only 8-10 rainy days on average throughout October – April.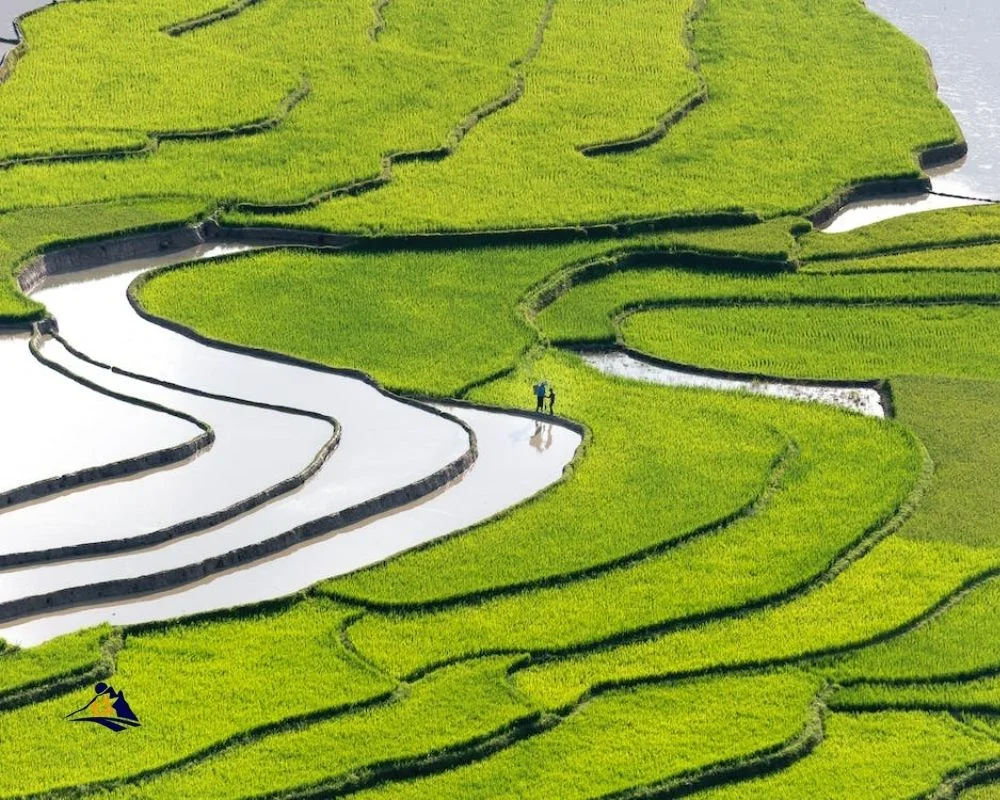 The amount of total rainfall varies dramatically across the region. Areas close to the mountains such as Y Ty experience higher annual totals than areas closer to the coast such as Lao Cai which receives far less rain overall. Rainfall tends to peak in August and decrease towards late autumn before rising again in December and peaking once more in March or April.
Rainfall variability also plays a huge role in Sapa weather patterns. While some parts may receive heavy downpours for hours at a time, other locations just miles away may be dry for weeks on end. This makes predicting exact rainfall totals nearly impossible but can create quite interesting scenarios where one side of town may be experiencing flooding while another remains completely free from precipitation entirely!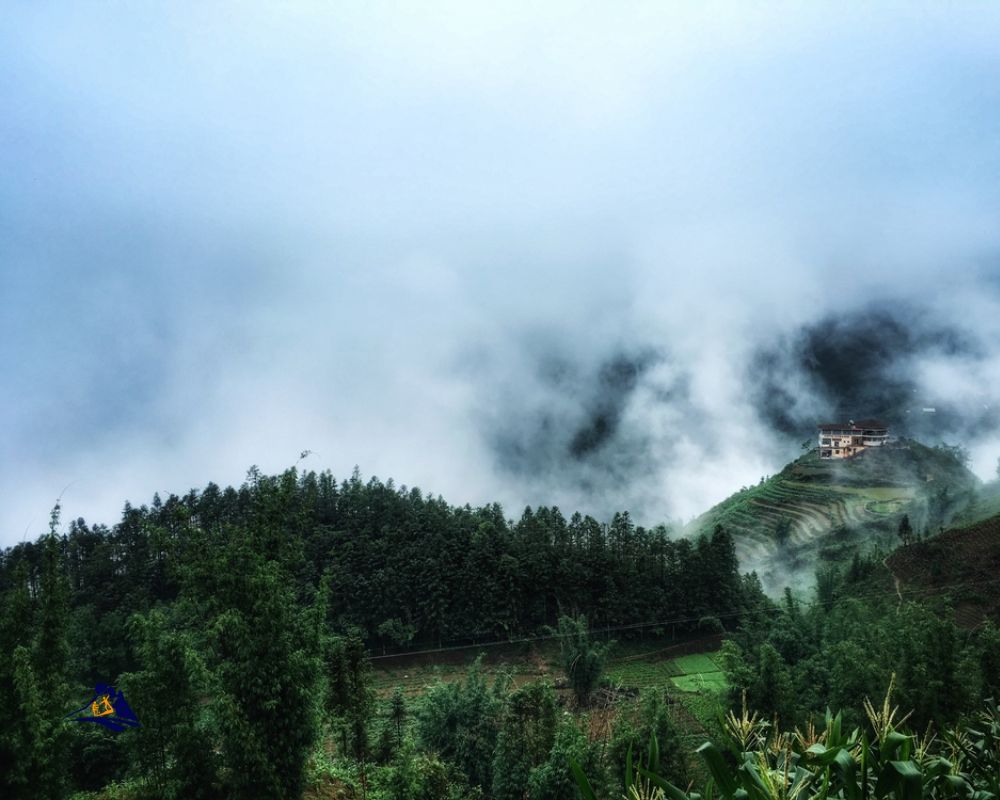 With these unique characteristics in mind, it's clear why many people flock to Sapa during monsoon season – not only will they have delightful weather conditions but plenty of opportunities to witness Mother Nature's power firsthand! Looking ahead into monsoon season brings optimism that we'll all get the chance to enjoy some much-needed respite from the summer heat!
Monsoon Season
The monsoon season in Sapa is one of the most unique and captivating times for visitors. The anticipation builds with each passing day as the clouds darken the sky, signaling the imminent arrival of torrential rains. As days grow longer and temperatures rise, locals prepare for a time of heightened flooding risks and wet weather conditions.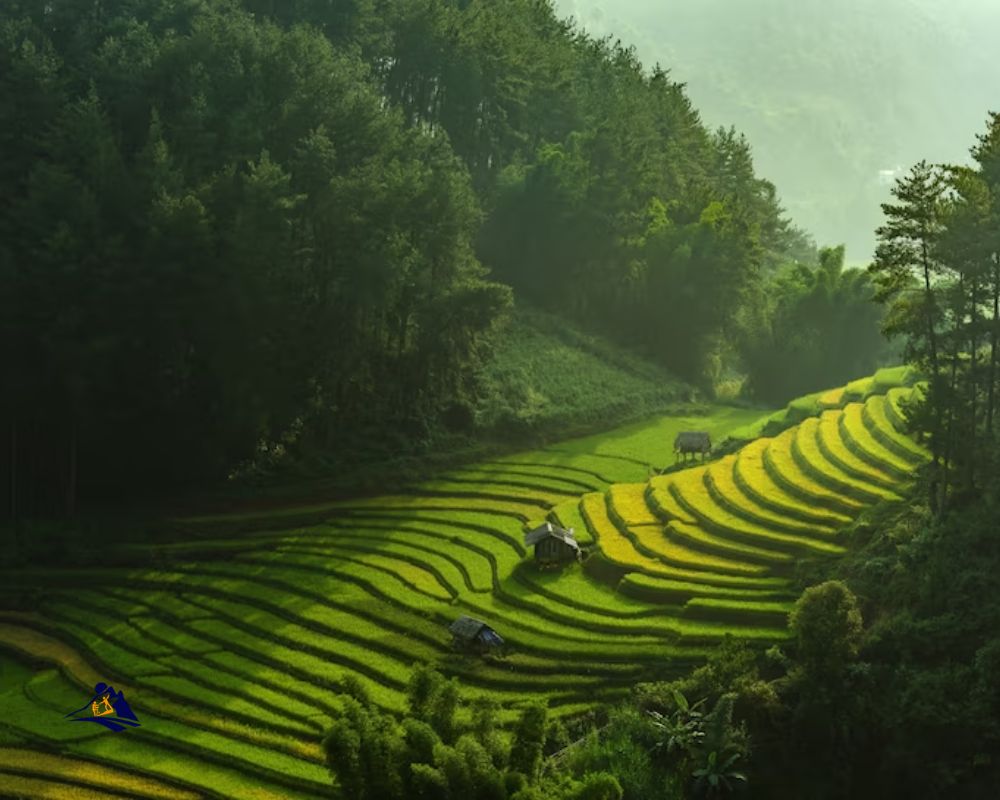 The monsoon rains bring life to the region; they also bring disruption to daily routines. We often hear stories from people whose lives have been affected by seasonal floods or landslides caused by heavy rainfalls. However, there are still those who remain optimistic about this period because it brings relief to areas that experience drought during other seasons.
For some tourists, this is just another part of their holiday adventure: getting up close and personal with nature's power while experiencing its beauty first-hand! With proper preparation and local weather forecasts, you can make sure your stay in Sapa is safe during the monsoon season.
Local Weather Forecasts
Welcome to Sapa, Vietnam! It's a beautiful place full of cultural and natural wonders. Today I'm here to talk about the local weather forecasts. With summer just around the corner, travelers need to be prepared and know what to expect.
The climate in Sapa is typically subtropical with temperatures ranging from warm to hot during the day and cool at night. The average temperature throughout the year ranges between 20-25 degrees Celsius (68-77F). During monsoon season, there are heavy rains that can last up to two months at a time. This brings humidity levels higher than usual which affects outdoor activities as well as daily life routines in general.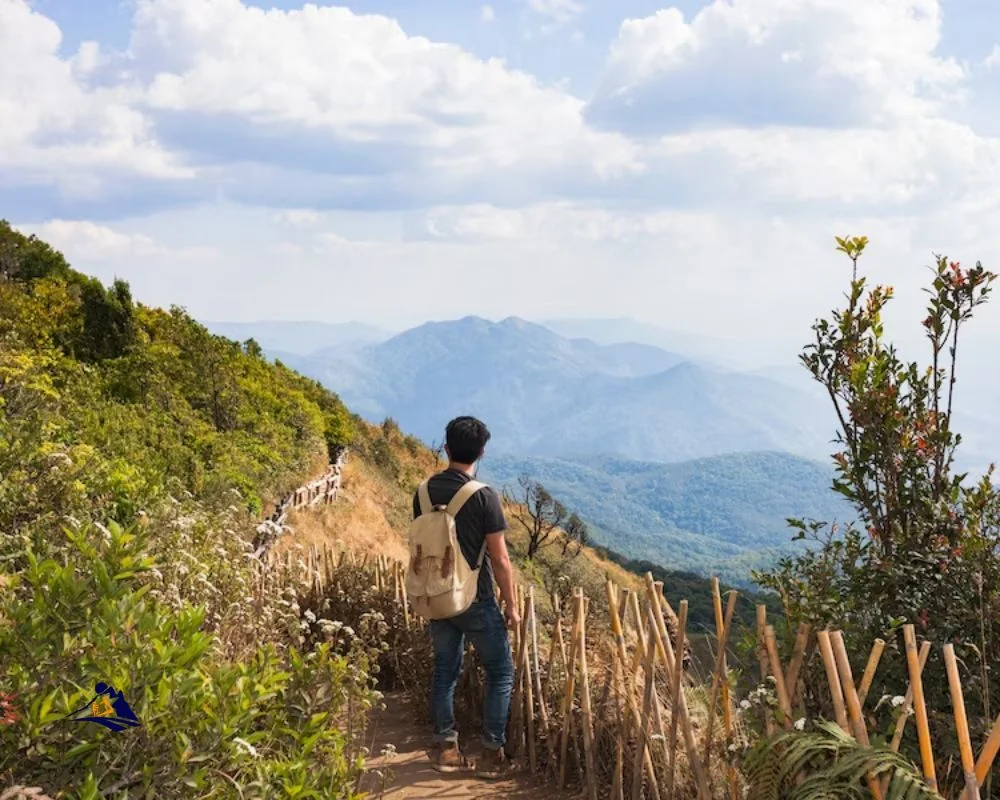 As far as forecasting goes, you can find reliable sources online such as Accuweather or Weather Underground for your area forecast including current conditions and future predictions. While these services provide accurate information on temperature and precipitation trends, they don't always account for other variables like wind speed or air quality which could affect your trip plans significantly if not taken into consideration. Knowing this ahead of time will help you make better decisions when planning activities outdoors so you can have an enjoyable experience without any surprises along the way.
Sapa 1 Day Tours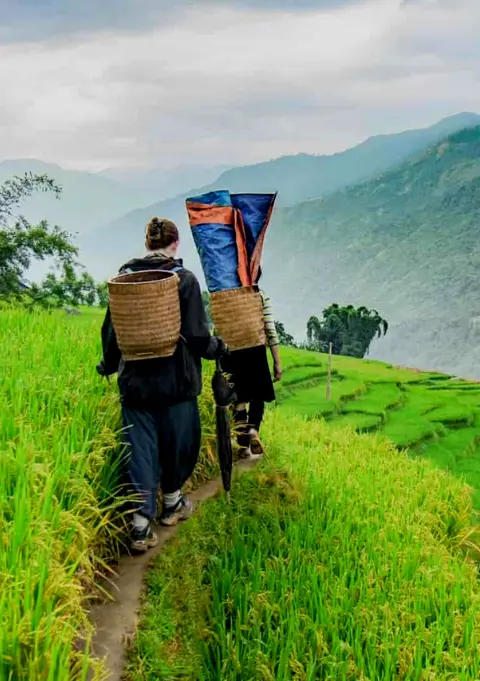 1 day experience
Moderate to challenging
Cultural immersion & active adventure
Rice fields, valleys & villages
​Private tours
Vegan-friendly
Sapa 2 Day Tours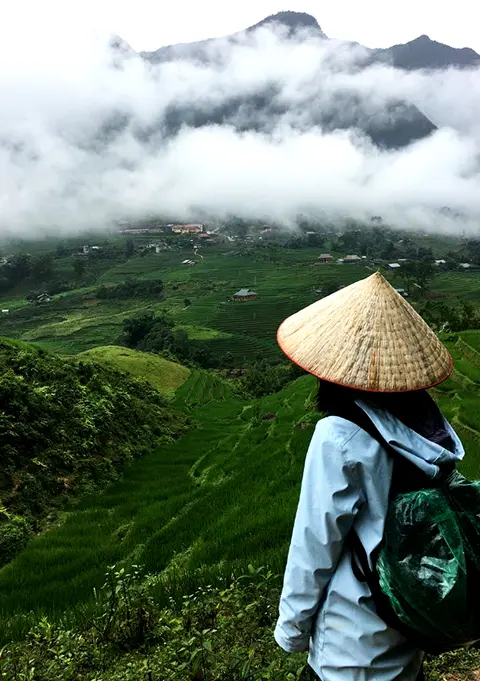 2 days 1 night experience
Moderate to challenging
Cultural immersion & active adventure
Mountains, valleys, rice fields and villages
​Private tours
Vegan-friendly
Sapa 3 Day Tours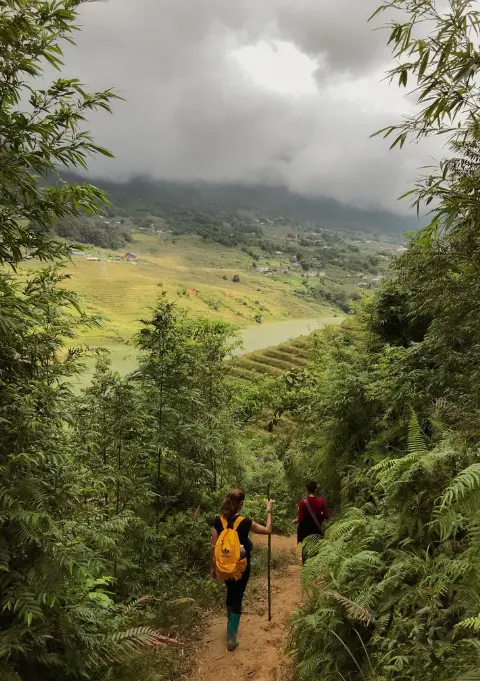 3 days 2 night experience
Moderate to challenging
Cultural immersion & active adventure
Mountains, valley, rice fields & villages
​Private tours
Vegan-friendly
Sapa 4 Day Tours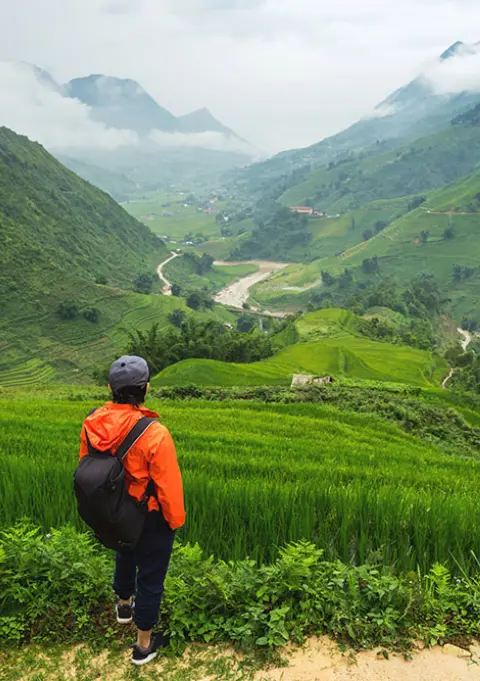 4 days 3 night experience
Moderate to challenging
Cultural immersion & active adventure
Mountains, valleys, rice fields & villages
​Private tours – Less Touristic
Vegan-friendly
Now let's move on to discussing some of the more extreme weather-related hazards that may come up while visiting Sapa.
Weather-Related Hazards
From flash floods to fierce winds, sapa's weather-related hazards can be a force to be reckoned with. As the climate continues to change and extreme weather grows increasingly common in our area, understanding how to protect ourselves from these natural disasters is essential for staying safe.
First off, rainfall flooding can cause significant damage if not monitored carefully. Keep an eye on local news reports and watch out for warnings of high water levels or potential landslides in areas prone to erosion. Additionally, strong winds can bring down power lines or uproot trees that could land on your property. Make sure you have plenty of supplies ready at home in case of any unexpected situations.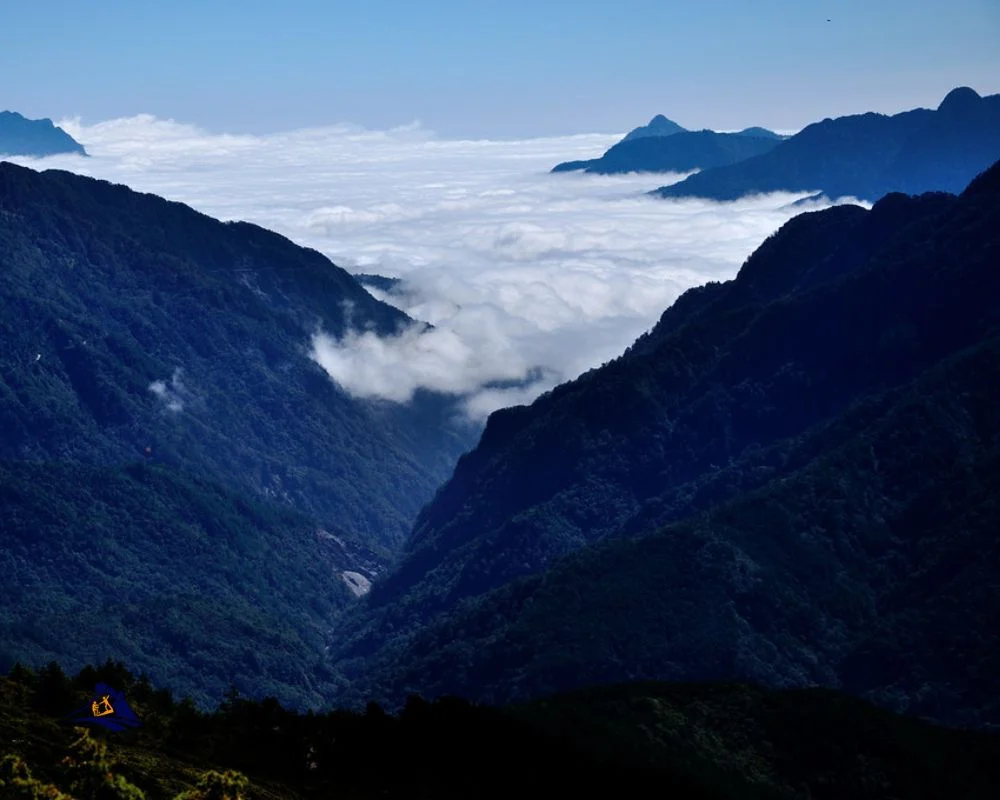 Finally, it never hurts to plan when it comes to harsh weather conditions like hurricanes or tornadoes – stock up on canned goods and other essentials so you're prepared should they strike during storm season. With this knowledge in hand, we'll soon move on to clothing recommendations as part of preparing for bad weather!
Clothing Recommendations
Now that we've discussed the hazards of weather in Sapa, let's talk about how to dress for success! Here is a handy table of recommended items:
| Item | Temperature-Sensitive | Windproof/Waterproof |
| --- | --- | --- |
| Headgear | Sunhat or beanie | Windbreaker |
| Upper Body | Lightweight shirt and a fleece sweater | Waterproof jacket |
| Lower Body | Jeans or lightweight trousers | Rain pants |
| Footwear | Hiking shoes or sandals | Waterproof boots |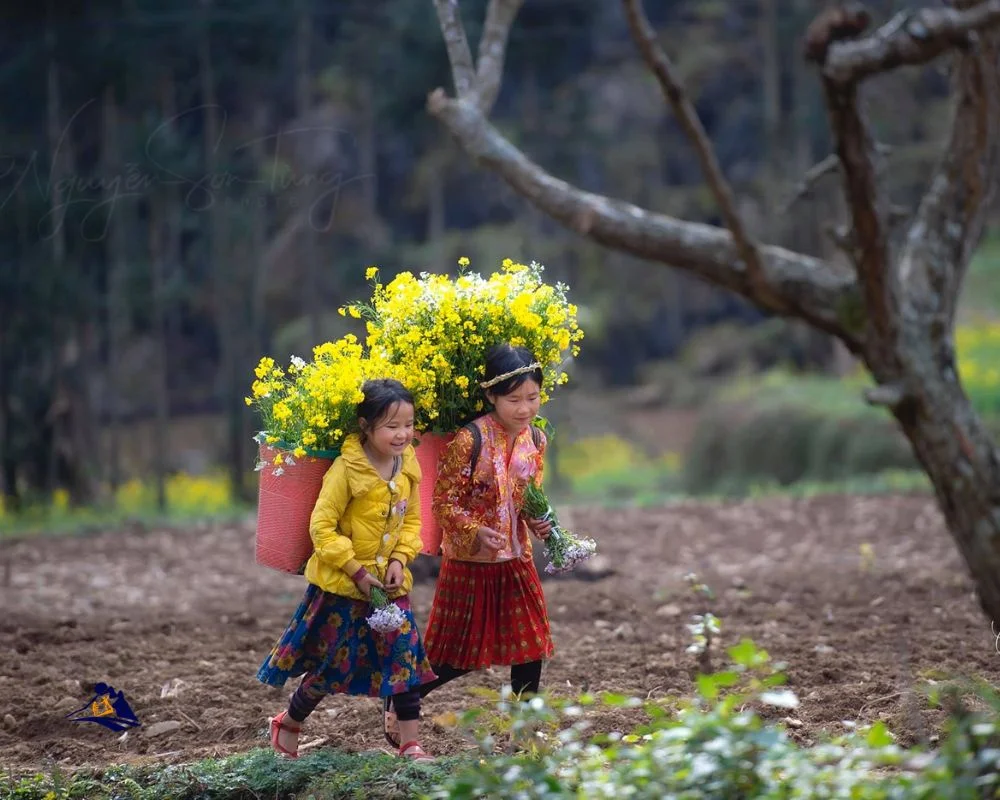 It is important to layer your clothing so you can easily adjust it as temperatures fluctuate. A windproof and waterproof jacket will help keep you warm if the temperature drops suddenly during your stay in Sapa. And don't forget to pack some comfortable waterproof shoes for those unexpected rain showers.
With these simple tips, you'll be prepared for whatever Mother Nature throws at you during your visit. Now, let's discuss when is the best time to visit Sapa!
Best Time To Visit
If you're looking to visit Sapa, the best time to go is during the dry season. From late September through mid-April, this is when temperatures are mild and rainfall is minimal. During this ideal time of year, visitors can explore all that Sapa has to offer without worrying about unfavorable weather conditions like heavy rain or extreme heat.
The climate in Sapa changes drastically with each season; summer months tend to be hot and humid while winter brings cooler temperatures and an occasional snowfall. However, no matter what sapa season you plan on visiting, make sure you pack appropriate clothing for the forecasted weather. When it comes to planning your trip, remember that early spring (Weather in Sapa in March/April) offers some of the most spectacular views due to its blooming wildflowers and lush hillsides.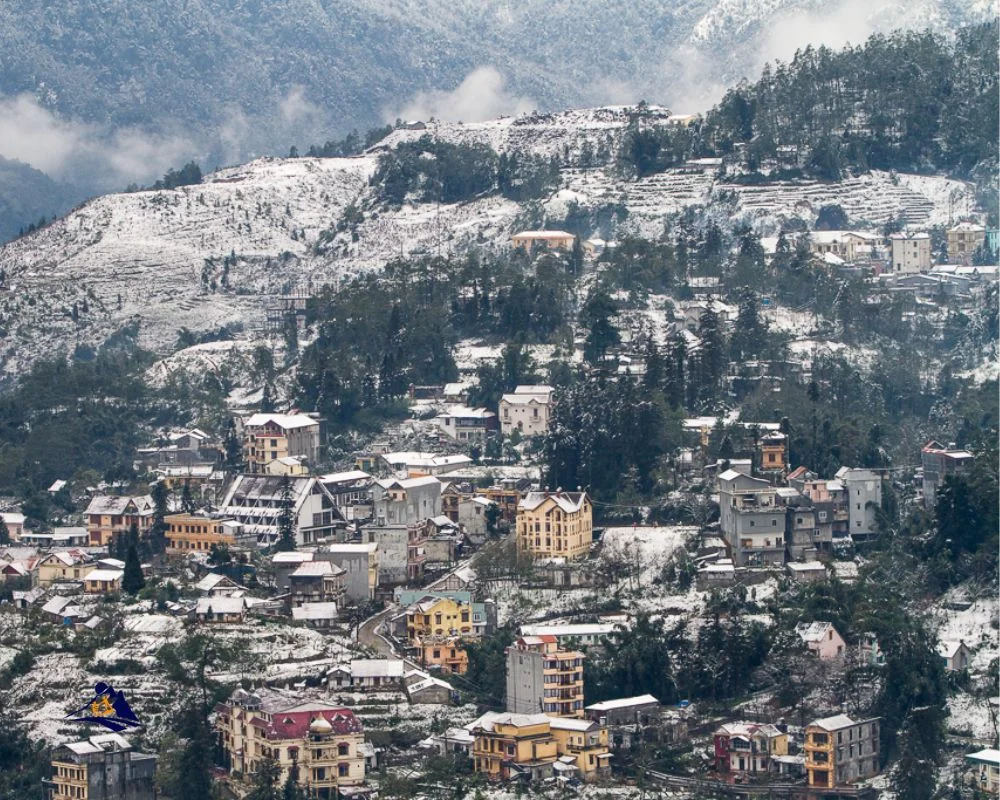 Whether you're looking for a romantic getaway or an adventurous outdoor experience — there's something for everyone at this remarkable destination! With beautiful terrain and plenty of activities to choose from, now is the perfect time to start planning your next vacation in Sapa. So don't wait any longer – book your trip today and enjoy everything that this stunning region has to offer! Onward then: let's take a look at the wonderful range of outdoor activities available here…
Sapa 1 Day Tours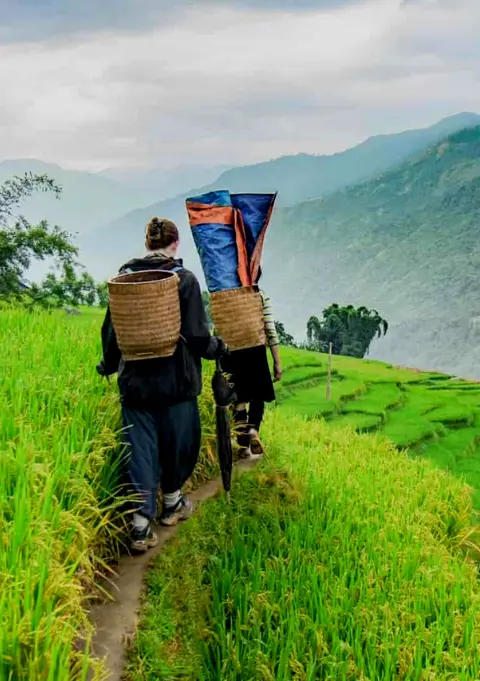 1 day experience
Moderate to challenging
Cultural immersion & active adventure
Rice fields, valleys & villages
​Private tours
Vegan-friendly
Sapa 2 Day Tours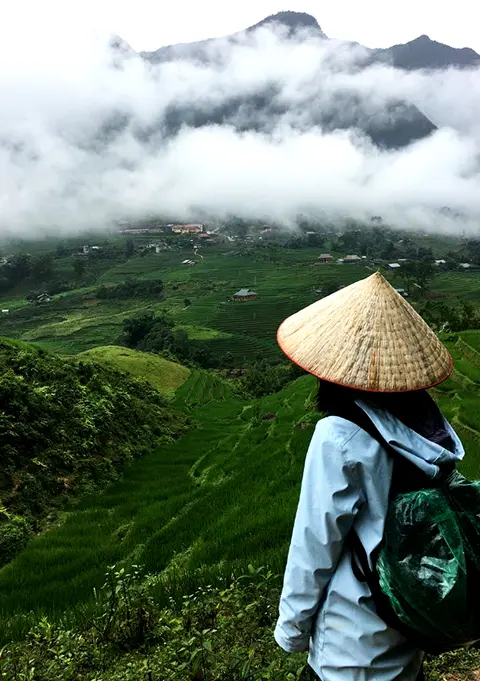 2 days 1 night experience
Moderate to challenging
Cultural immersion & active adventure
Mountains, valleys, rice fields and villages
​Private tours
Vegan-friendly
Sapa 3 Day Tours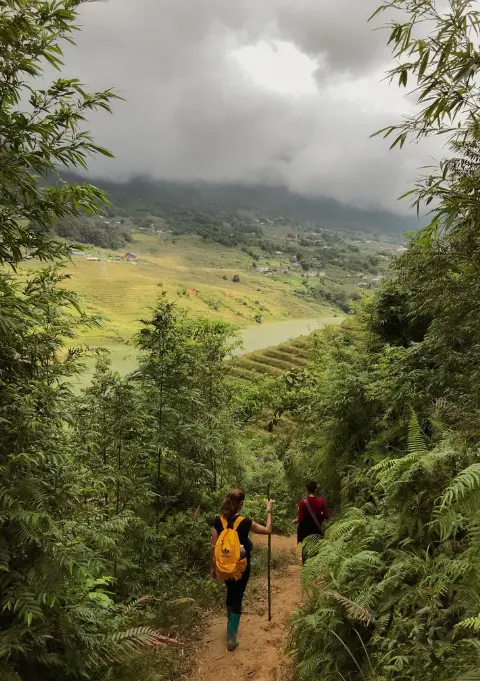 3 days 2 night experience
Moderate to challenging
Cultural immersion & active adventure
Mountains, valley, rice fields & villages
​Private tours
Vegan-friendly
Sapa 4 Day Tours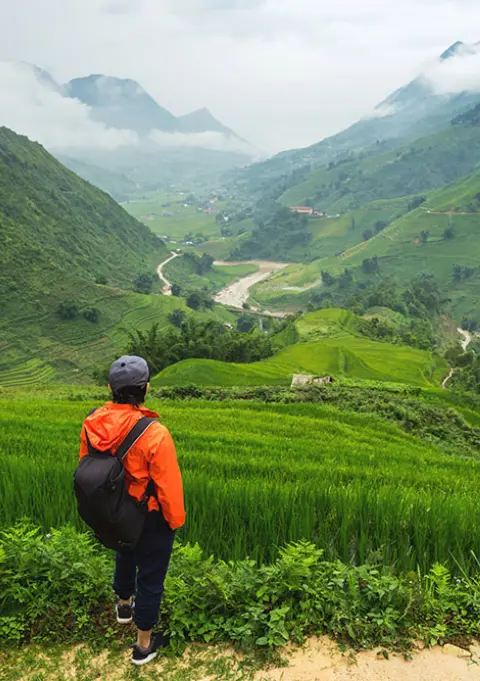 4 days 3 night experience
Moderate to challenging
Cultural immersion & active adventure
Mountains, valleys, rice fields & villages
​Private tours – Less Touristic
Vegan-friendly
Outdoor Activities
For those of you who are looking for an outdoor adventure in Sapa, get ready! From hiking to cycling and camping to birdwatching, there is something here for everyone. Let's take a look at what outdoor activities await:
Hiking: With its dramatic landscapes, lush valleys, and majestic mountains, Sapa offers some incredible trails perfect for any level of hiker. Whether you're out on a stroll or tackling the more challenging terrain, this is one experience that should not be missed.
Cycling: The winding roads around Sapa offer breathtaking views and plenty of opportunities for cyclists to explore the countryside. Pack your bike and hit the open road; with so many routes available it'll be easy to find one just right for your skill level.
Camping: There are several campsites located throughout Sapa where visitors can pitch their tents and spend the night under the stars. Enjoy nature in all its beauty while taking part in activities like fishing or canoeing during the day before retiring to your cozy campground in the evening.
Birdwatching: For those interested in spotting birds native to Vietnam, Sapa has plenty of them! Visit nearby lakes and wetlands where dozens of species can be seen up close – from waterfowls like herons and egrets to raptors such as eagles and kites flying overhead.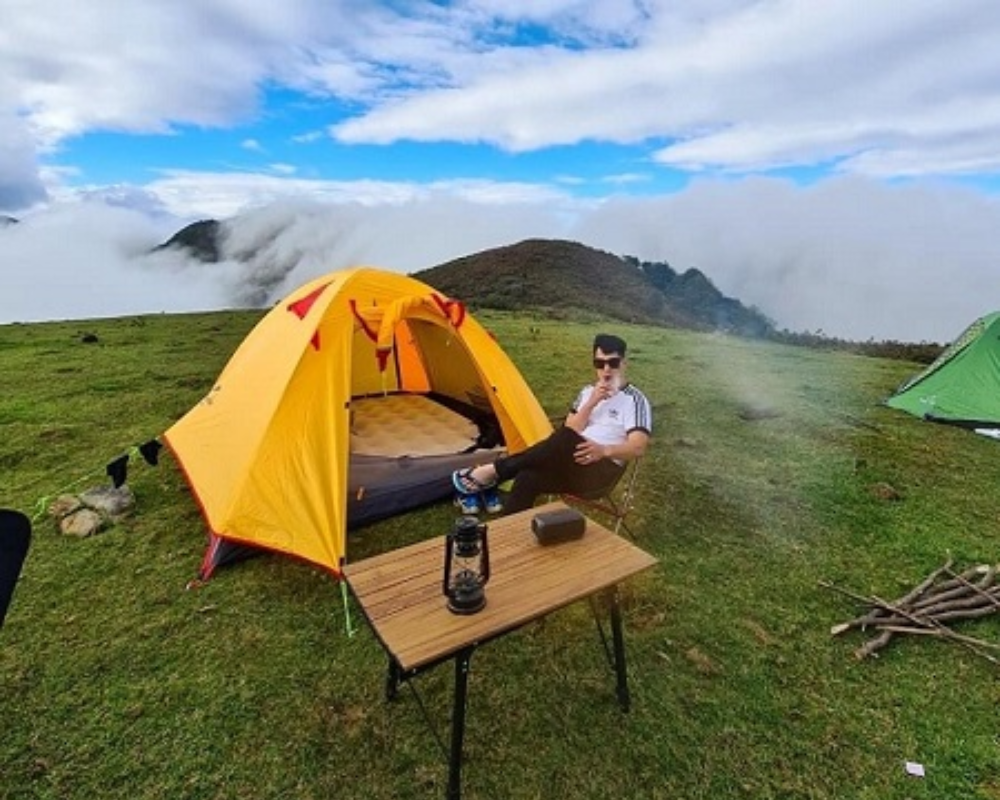 And if kayaking is more your thing then doesn't worry – there are also various locations offering guided tours along rivers or across lakes so you can enjoy stunning vistas while paddling away into the horizon.
No matter which activity you decide upon – or even if you choose none at all–embracing nature through exploration will provide lasting memories that won't easily be forgotten!
Sapa 1 Day Tours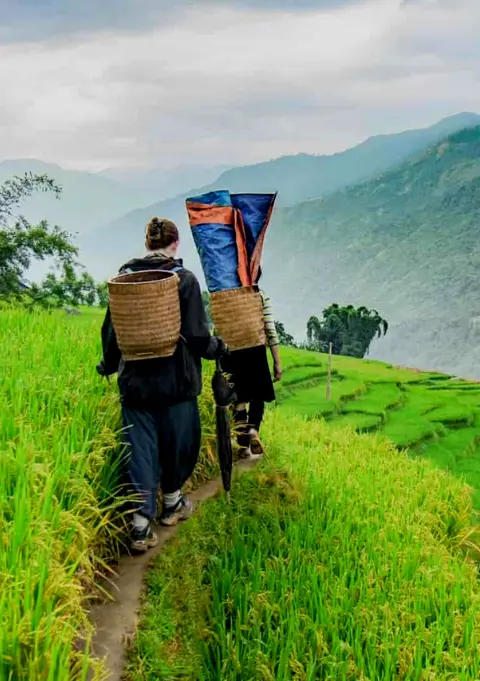 1 day experience
Moderate to challenging
Cultural immersion & active adventure
Rice fields, valleys & villages
​Private tours
Vegan-friendly
Sapa 2 Day Tours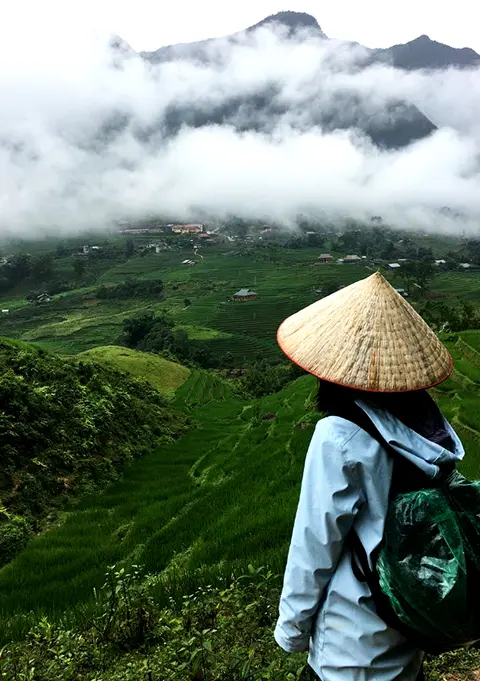 2 days 1 night experience
Moderate to challenging
Cultural immersion & active adventure
Mountains, valleys, rice fields and villages
​Private tours
Vegan-friendly
Sapa 3 Day Tours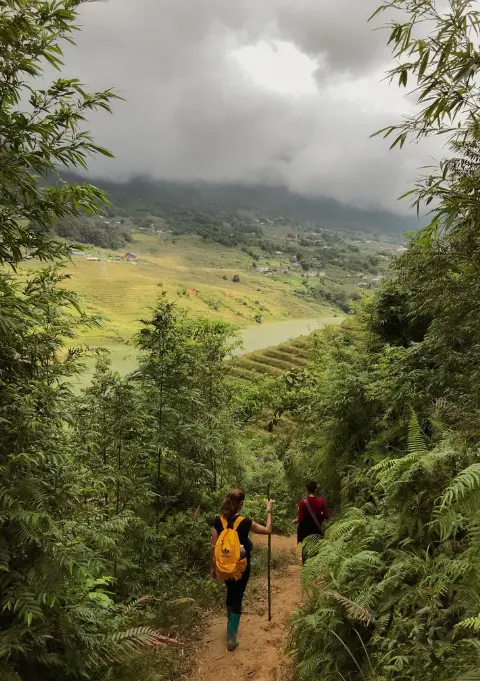 3 days 2 night experience
Moderate to challenging
Cultural immersion & active adventure
Mountains, valley, rice fields & villages
​Private tours
Vegan-friendly
Sapa 4 Day Tours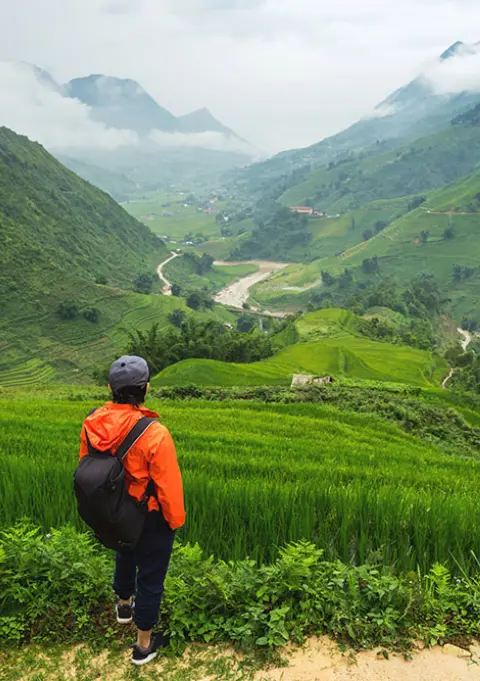 4 days 3 night experience
Moderate to challenging
Cultural immersion & active adventure
Mountains, valleys, rice fields & villages
​Private tours – Less Touristic
Vegan-friendly
Overall Tips For Visiting
When visiting Sapa, it's important to be properly prepared for the weather. This means having clothing and gear that can handle rain, wind, cold temperatures, and even snow in some areas! Here are a few tips on how to make sure you're ready for whatever Mother Nature throws your way:
| Tip | Description | Example |
| --- | --- | --- |
| Check Weather Advisories | Be aware of any potential storms or extreme weather conditions during your trip by checking local advisories before heading out. | Visit www.weather.gov/sapa-travel-advisory for updates on current weather conditions in the area. |
| Pack Appropriate Clothing & Gear | Bring along items like hats, scarves, gloves, waterproof jackets, boots, and other warm layers depending on the season you're traveling in. Dress in layers so you can adjust as needed when the temperature changes throughout the day. | Investing in quality base layer materials such as wool or synthetic fabrics will help keep you comfortable while traveling through different climates. |
| Stay Hydrated & Energized | Make sure to bring plenty of water and snacks with you wherever you go – dehydration is always a risk when exploring new places! A pocket-sized energy bar or trail mix also provides an extra boost when trekking long distances over hilly terrain. | Choose lightweight foods that won't take up much space but still provide essential nutrients for energy production and recovery after physical exertion. |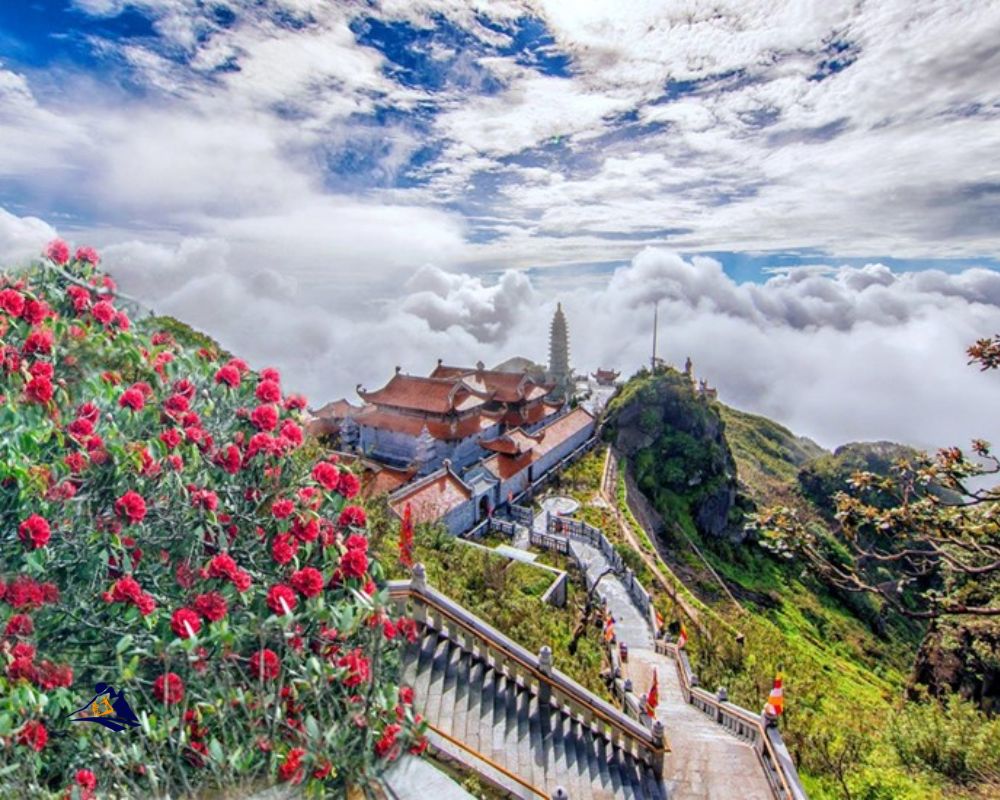 Sapa offers visitors many wonderful experiences; however, it pays to be mindful about staying safe from bad weather when planning your travels there! Be prepared ahead of time with proper clothes and equipment so that surprises don't ruin your adventure – happy trails!
Sapa Weather Frequently Asked Questions
How Much Does Accommodation Cost In The Area?
Are you looking for the perfect place to stay in Sapa? You're not alone! Many visitors come here every year seeking accommodations that fit their budget and needs. When it comes to accommodation costs, there are a variety of options from local lodging to luxury hotels.
The price range varies depending on where you decide to stay while visiting this beautiful region. From basic homestays to five-star resorts, there's something for everyone when it comes to sapa accommodation. Some travelers may prefer staying at a hotel with all the amenities such as swimming pools and spas while others may want a more rustic experience by choosing one of the many local guesthouses. Regardless of what type of lodging you choose, you can find reasonable prices throughout the area.
As an experienced reporter in Sapa who has taken countless trips around the region, I've seen some great deals on hotels or even just rooms for rent in small villages surrounded by rice fields and mountain views. No matter your preference for atmosphere, culture, or comfort level – whether it be traditional Vietnamese cuisine or western food – there will always be hotels in Sapa offering amazing discounts and packages if you know where to look.
So don't let worries about accommodation costs stop you from experiencing everything this breathtaking landscape has to offer! With a little research and planning, you'll be sure to have an unforgettable vacation in Sapa without breaking the bank.
Is There Public Transport From Major Cities To Sapa?
Are you looking for a way to get from major cities to Sapa? Public transport is an excellent option, and it's also one of the most cost-effective ways to travel. But what are your options when it comes to availability and costs? Let's explore!
When it comes to public transport, several routes connect major cities with Sapa. Depending on where you're coming from, these can range from bus services or even train rides. Prices vary depending on which route you choose, but generally speaking they tend to be quite affordable. That said, some routes may require additional fees due to any distance traveled.
For those who prefer more convenience when traveling between major cities and Sapa, private services such as taxis or car hire might be worth considering – though this will come at a higher cost than regular public transport. The good news is that prices can be negotiated in advance so you know exactly how much money you'll need before embarking on your journey.
No matter which type of transportation you decide upon, getting from major cities to Sapa doesn't have to break the bank. By doing research ahead of time and taking advantage of discounts whenever possible, finding the right mode of transport for your budget should be easy!
Are There Any Local Cultural Events To Attend?
If you're looking to experience the unique culture of Sapa, then there are a few local festivals and cultural events that you won't want to miss. From traditional dances and music performances to mesmerizing markets filled with tasty treats, attending some of these attractions will certainly be an unforgettable experience!
At the same time, there are plenty of other activities available in Sapa that can help you learn more about its fascinating history and traditions. Take a tour of the area's famous pagodas or explore centuries-old villages tucked away in the mountains. For those seeking an even more immersive experience, try your hand at mountain climbing or take part in one of the many outdoor activities on offer such as trekking or hiking.
Whichever way you decide to go about exploring Sapa, it is sure to provide a wealth of experiences for anyone who takes the time to visit this beautiful corner of Vietnam. With so much diversity in terms of both natural beauty and cultural attractions, it's no wonder why people from all walks of life come here year after year. So why not join them? You won't regret it!
What Is The Local Currency And How Can I Access It?
Ah, the perennial struggle of accessing money in a foreign land! For those visiting Sapa, Vietnam, this is no exception. If you're looking to spend your hard-earned cash in the local economy, then knowing what currency they use and where to get it is an absolute must. But don't worry – with our sapa weather reporter here to guide you through this process, acquiring local currency will be easier than ever!
For starters, let's look at which type of currency is accepted in Sapa: Vietnamese Dong (VND). As this isn't widely used or accepted outside of Vietnam, it can often be difficult to find places that carry VND when traveling abroad. However, if you know where to look and what long-tail keywords to search for, finding access to VND should not be a problem.
The good news is there are plenty of options available for obtaining VND once you arrive in Sapa; from banks and ATMs located around town up to online exchanges which allow for international transfers directly into your account. Not only does this make getting hold of some local currency quick and easy, but also means you won't have any trouble spending it while out exploring the city. So whether your main goal is sightseeing or shopping – having access to VND will ensure nothing stands in your way!
No matter how much or little of the local currency you need during your visit, understanding how best to obtain it can save time and hassle as well as help keep costs down. With a bit of knowledge and preparation under your belt before arriving in Sapa, even something like dealing with money should feel like second nature. Now go forth travelers — adventure awaits!
Are There Any Health And Safety Risks I Should Be Aware Of?
When it comes to traveling, there are a lot of factors that need to be taken into account. One of these is understanding the health and safety risks associated with your destination. Sapa in Vietnam is no exception – although this beautiful region has much to offer its visitors, there are still certain things you should consider before embarking on your journey.
Here are some key points to keep in mind when considering travel safety in Sapa:
– Understand local culture and customs
– Pay attention to weather conditions and updates
– Research possible health risks such as altitude sickness or infectious diseases
– Stay aware of potential safety hazards like slippery roads or wildlife encounters
– Check for any security warnings issued by the government or other reliable sources
As a sapa weather reporter, I'm here to let you know that while visiting this stunning part of the world can bring about amazing experiences and unforgettable memories, travelers need to take note of all the necessary precautions before their trip. From researching local customs to being aware of the latest weather forecasts, taking the time to understand how best to protect yourself from any potential danger will ensure that your experience remains both safe and enjoyable.
To make sure you get the most out of your travels, remember to stay informed about what kind of health and safety risks may exist in Sapa so you can enjoy everything this incredible place has to offer without putting yourself at unnecessary risk.
Conclusion
Thank you for joining me on this journey through the beautiful and unique Sapa region. From its stunning natural beauty to its vibrant local culture, there is so much to explore here.
Accommodation in the area ranges from budget-friendly hostels to luxurious villas, making it accessible for all types of travelers. Public transport is available from major cities such as Hanoi and Ho Chi Minh City, allowing visitors to get around easily and safely. There are also plenty of cultural events taking place throughout the year, including festivals and performances that offer an insight into life in this corner of Vietnam.
Finally, we have discussed the local currency – Vietnamese Dong – and how best to access it while traveling in Sapa. Be sure to familiarise yourself with any health and safety risks before embarking on your trip too – but don't let those potential worries put a damper on your experience! With an abundance of breathtaking sights and sounds awaiting you in Sapa, I'm sure it will be a truly magical adventure.
Sapa 1 Day Tours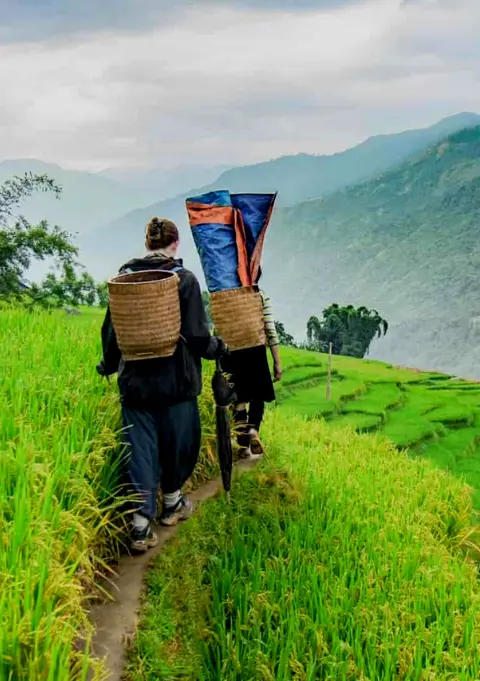 1 day experience
Moderate to challenging
Cultural immersion & active adventure
Rice fields, valleys & villages
​Private tours
Vegan-friendly
Sapa 2 Day Tours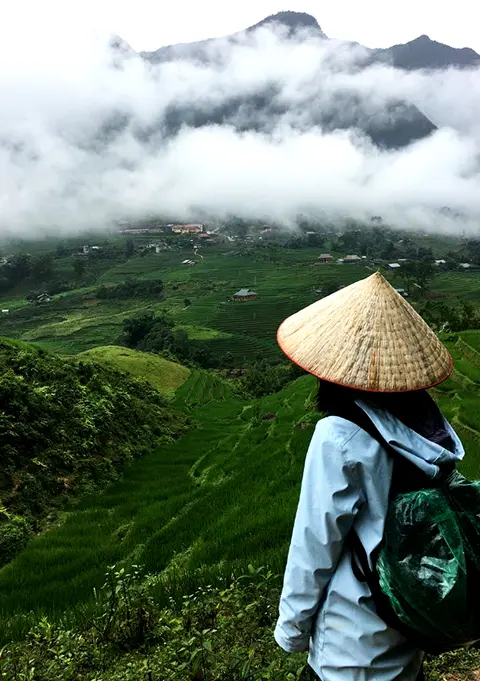 2 days 1 night experience
Moderate to challenging
Cultural immersion & active adventure
Mountains, valleys, rice fields and villages
​Private tours
Vegan-friendly
Sapa 3 Day Tours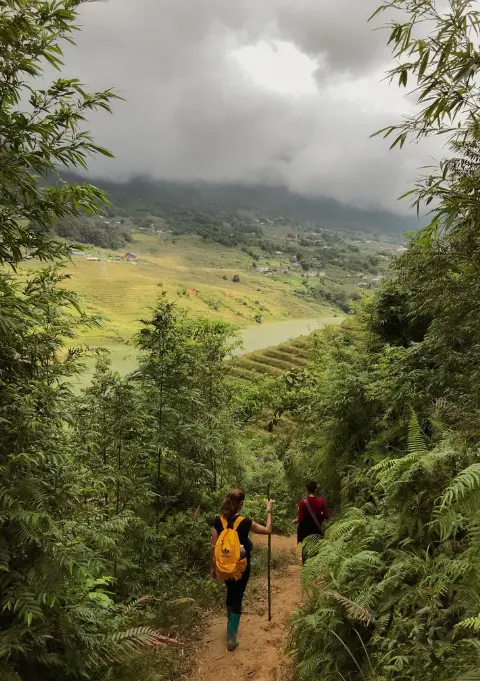 3 days 2 night experience
Moderate to challenging
Cultural immersion & active adventure
Mountains, valley, rice fields & villages
​Private tours
Vegan-friendly
Sapa 4 Day Tours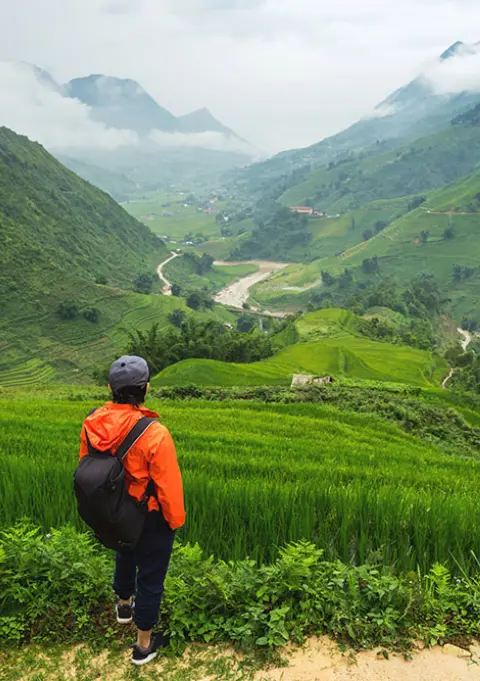 4 days 3 night experience
Moderate to challenging
Cultural immersion & active adventure
Mountains, valleys, rice fields & villages
​Private tours – Less Touristic
Vegan-friendly