Discover the best of Sapa
I'm sure you'll love Sapa, Vietnam. This beautiful spot, surrounded on three sides by the Hoang Lien Son mountain range, is a must-see for anyone visiting Vietnam.
You'll regret missing this gorgeous spot. A guided motorbike tour is the best way to see Sapa quickly and cheaply. 
This is a fun way to see Sapa's sights. From this vantage point, you can take in the valley's breathtaking scenery and walk through the surrounding forests to see how the locals live. 
This article examines the motorbike tours available in Sapa and offers tips for making the most of your trip. We hope this post is helpful. Continue reading to learn about Sapa's beautiful offerings.
Check Out "Best Sapa Motorbike Tours" Below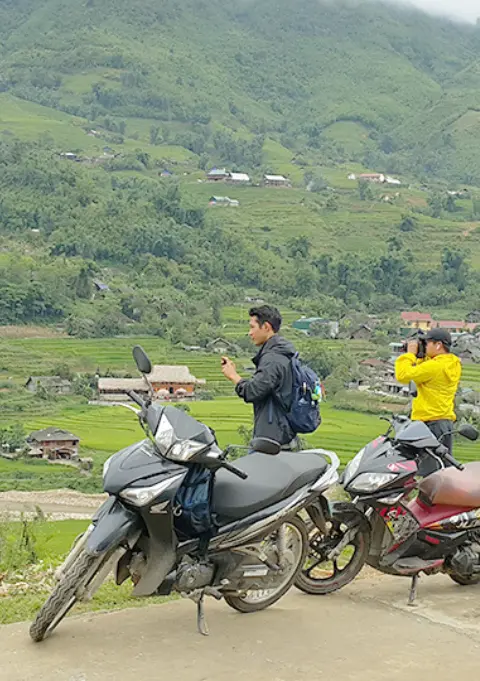 📅 1 day motorbike tour
🎗️ Motorbike experince
From: 75USD
3 reviews ⭐⭐⭐⭐⭐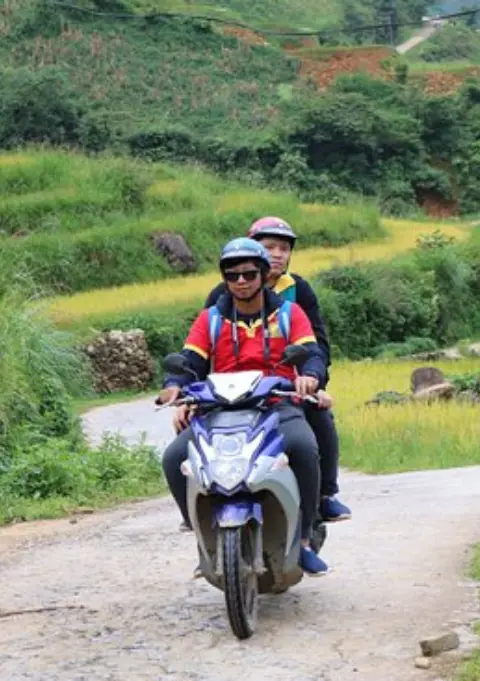 📅 2 days 1 night
🎗️ Motorbike experince
From: 70USD
2 reviews ⭐⭐⭐⭐⭐
Sapa motorcycle tours explained
.Motorbike trips are a unique way to see Sapa, Vietnam's breathtaking beauty. If you hire a guide in Sapa, you can learn about the indigenous people and navigate the mountain roads. You'll also see a beautiful panorama. 
This is your chance to learn about everything Sapa offers while having life-changing experiences.
You'll have good memories for life from trips like motorcycling through Sapa. You can go on an adventure through the twisting roads, enjoy the scenery, and find hidden jewels. 
You'll get near to nature and learn about Sapa's culture. In Sapa, you'll have both opportunities. A knowledgeable guide will help you make the most of your time at your destination.
You'll see more of Sapa on a motorbike tour than you thought possible in such a short time. 
The town is spread out. You can explore new locations and activities because you can go where a car can't. 
You'll have more freedom. You'll learn about the region's history and culture while admiring its natural beauty. You'll love this.
A motorbike tour of Sapa is the best way to see as much as possible and have an unforgettable experience. 
You will have the chance to get a deeper understanding of the region's culture and feel the excitement of navigating the winding mountain roads if you have the assistance of an experienced guide. 
This will be the case for both of these activities. During your time in Sapa, you should be ready to have several life-changing new experiences and learn about the location's finest.
When Going on a Motorcycle Trip, Here Are Some Things You Should Get Ready For
Are you interested in exploring Sapa and all it offers interestingly and uniquely? If so, we have the perfect tour for you. If this describes, you need to consider going on a journey on a motorcycle. 
Suppose you decide to go over the mountains of Sapa on a motorcycle. In that case, you will have the independence and flexibility to discover the breathtaking landscape, find the hidden gems, indulge in the delectable local cuisine, and understand the local culture.
If you take a motorbike trip to Sapa, you can get away from the crowds and enjoy the area's rural valleys and villages. 
You can witness uncommon flora and animals and take in the region's beautiful beauty as you travel through the mountains on winding roads. 
You can do all these things as you make your way through the mountains. 
You will get to try some of the area delicacies served at the local restaurants and cafés you visit along your trip. These establishments may be found throughout your route. 
In addition, you will get the chance to learn about the intriguing history and culture of the area.
A motorbike is an excellent means of transportation when you need to go a short distance or move quickly throughout the city because of its small size. 
Not only are they an inexpensive mode of transportation that is good for the environment, but they also give the freedom and flexibility necessary to explore the region and venture off the usual path.
This is because they allow the ability to carry everything needed within the vehicle. In addition, you will get the opportunity to take in the scenery of the surrounding area while also experiencing the rush of adrenaline that comes with driving on the twisting mountain roads.
Consequently, if you are seeking a manner that is both thrilling and unique to learn about the attractions of Sapa, going on a motorbike trip is the ideal option for you to take into consideration, and it should be the first choice that you make when faced with this choice. 
In addition to the freedom and flexibility that comes with traveling by motorcycle, you will also have the opportunity to learn about the local culture, witness the breathtaking mountain scenery, and sample some fantastic regional cuisines. All of these things will be available to you while you are there. 
Taking a motorbike trip in Sapa is the best way to ensure that you have an adventure that will be ingrained in your memory for the rest of your life.
What do you prepare for the Sapa Motorbike Trip?
When you tour Sapa on a motorbike, you will get the opportunity of a lifetime to get an up-close and personal look at this one-of-a-kind destination in Vietnam. 
This is a once-in-a-lifetime experience that you will never forget. The lessons learned from this incident will not be repeated. There are various things to see and do in Sapa, such as the colorful culture of the hill tribes and the breathtaking views of the terraced rice fields. 
Sapa is located in the northwest of Vietnam. The hill tribes and the rice terraces are two of the numerous attractions, and activities visitors may enjoy while in Sapa. 
However, before you start your journey on your motorcycle, you must take the necessary steps to ensure that you will have a pleasant and risk-free ride. Only then will you be able to make the most of your time on the road. If you fail to do so, there is a risk that a potentially terrible scenario may develop.
Wearing protective gear when riding a motorcycle is the most important thing you can do to safeguard your head and face and your whole body. 
This is the only most crucial thing that you could accomplish. If there is an accident, this will lower the probability that anybody will get a significant injury as a direct consequence of the occurrence. 
Keep your attention on well-traveled roads known to be safe for motorcycle riding. These are the roads you should prioritize. Another significant consideration that must be given your full attention is this one. 
Always be on the lookout for other people, animals, and cars that could be on the road, and make sure that you stick to all of the regulations that stringently govern traffic. Also, make sure that you don't speed.
In addition, to guarantee that you can find your way about the region, you should always have a map or a GPS device with you. 
This will ensure that you can navigate your way around. This will guarantee that you stay calm while traveling through the mountains and assist you in staying on the correct path so that you remain aware of the situation. 
In addition, as a piece of parting advice, keep in mind that you are giving yourself plenty of opportunities to relax along the way, in addition to ensuring that you get enough to eat and be hydrated. 
Make it a point to keep these critical criteria in mind. You can have complete confidence that your motorbike tour of Sapa will be enjoyable and free of any potential dangers.
Top 10 Best Place To Visit in Sapa
The following is a list of the top ten finest sites to visit in the region while taking a motorcycle journey through Sapa:
1. Fansipan Mountsin:
Mountain Fansipan is the highest peak in the Indochina region, with an altitude of 3,143 meters above the mean sea level. The mountain known as Fansipan may be found in the Southeast Asian nation of Vietnam. You can take a motorbike ride up to the peak, providing you with the most beautiful views, or you may use a cable car to get to the top of the mountain. Either way, the journey will be an unforgettable experience.
2. Silver Waterfall: 
The Silver Waterfall is one of Sapa's most well-known tourist destinations. It is located in the middle of the town. It is situated amid the town's central business district. A trip on a motorbike will save you the most time and money on petrol when you are trying to visit the waterfall inside Hoang Lien National Park. Vietnam is the host country of the park.
3. The region around the Muong Hoa valley:
The stunningly beautiful Muong Hoa Valley may be found in the middle of the journey between Sapa and Fansipan. It may be located right in the heart of the mountain range. It is generally accepted that this particular spot is among the most beautiful that can be seen in the surrounding region. A guided motorcycle trip of the valley is one of the finest ways to take in the breathtaking scenery of the surrounding area, and the tour should be conducted by an experienced professional.
4. Cat Cat village:
The Cat Cat Village is a traditional settlement that is located near the city of Sapa and is inhabited by members of an ethnic group that is considered to be a minority. A tour of the town on a motorcycle is an excellent way to get acquainted with the history, customs, and culture of the people who live in the area around the city.
Village of Ta Phin: Village of Ta Phin is home to the Red Dao people and is a fantastic site to study the distinctive culture of the hill tribes that can be found in Sapa. The village of Ta Phin is also a nice place to go shopping. The community of Ta Phin is also known by its alternative name, the Red Dao Village. By visiting the hamlet on a motorcycle, which will take you past some breathtaking scenery and historic structures along the route, you could get a decent sense of what it's like to live there.
5. Ta Van villages:
The Hmong people have decided to set up their houses at Ta Van Village, near the international line separating Vietnam and China. Taking a tour of the hamlet on a motorcycle is one of the most efficient ways to learn about the Hmong people's traditions and ways of life, which are highly distinctive. If you want to learn more about these elements of Hmong culture, you should do so.
7. Ham Rong Mountain
The proximity of Ham Rong Mountain to Sapa has contributed to its rise in popularity as a destination for a wide range of outdoor activities, including climbing and trekking. An adventure up the mountain on a motorcycle provides an excellent chance to take in the breathtaking panoramas of the surrounding area, which can be found in the immediate proximity of the mountain's peak.
8. Bac Ha Market:
Bac Ha Market is a bustling public square and marketplace. The name of the market comes from the name of the town in which it is situated. It is a lot of fun and exhilarating to take a market tour on a motorcycle since it enables you to soak in the vibrant atmosphere and shop for souvenirs simultaneously. Assuming a market tour on a motorbike is an excellent way to make memories.
9. Ta Giang Phin:
The hamlet of Ta Giang Phin is around 28 kilometers away from Sapa town, at the base of the towering Ngu Chi Son mountain, also referred to as Buddha's fingers mountain. Various culturally distinct ethnic minority tribes call the hilly region of Ta Giang Phin their home. 
After one hour, one can reach the territory of the Ta Giang Phin hamlets. This can be accomplished by traveling through an uninhabited region covered in dense rainforests. Its thick rainforest and towering mountains characterize this. No people live here.
10. The Y Ty Village:
Y Ty is an example of a traditional Hmong settlement that may be found in the upper altitudes of Sapa. The Hmong people have a long and glorious history in their homeland, and one of the most effective ways to learn about the cultural heritage of the Hmong people is to take a tour of the hamlet on a motorbike. This is one of the most successful ways.
Tips for Choosing the Right Motorbike Tour
Suppose you are interested in sightseeing in Sapa and want to take in the region's breathtaking scenery. In that case, consider booking a trip on a motorbike. 
This is one of the most exciting and enjoyable ways to take in all Sapa's natural splendor. 
However, before you go on your vacation, it is essential to ensure that you have completed all of the required preparations to guarantee that your voyage will be one that you will survive and enjoy. The only way to know that your trip will go according to plan is to wait until then. 
When planning a motorbike trip that will provide you with the most delightful experience possible, it is essential to keep the following points in mind.
Before commencing your tour of a new location, you must become acquainted with that location's geography and climate. 
First things first. You must choose a motorcycle that is appropriate not just for the terrain but also for the climate of the location that you will be riding through on your trip. This is because various motorcycles' capabilities vary, and you want to ensure you get the most out of your ride by maximizing its potential. 
You need to conduct some research on the many styles of motorcycles that are available to buy right now, and after that, you should choose the model that is going to be of the most assistance to you on your journey.
The second thing you need to do is do a thorough inventory check to ensure that you have all the safety gear and clothing essential for your journey. 
This includes a protective helmet, gloves, and anything else you may need for reasons relating to safety. Before you even get on the bike, you need to check that the rented motorcycle is in pristine shape and has had all the necessary maintenance.
To recap, while making plans for your trip, ensure that the first day of your vacation begins at an ungodly hour in the morning. 
By doing so, not only will you be able to escape the heat of the middle of the day, but you will also be able to spend as much time as possible taking in the sights and sounds of the site, which will allow you to get the most out of your experience there.
We Arrange Your Train Tickets, Hanoi – Lao Cai – Hanoi
Trekking Tour Sapa can book train tickets for you only with advanced payment. We cannot arrange tickets within 48 hours of planned departure.
# Train from Hanoi to Lao Cai
Every night multiple overnight trains leave from Hanoi Trainstation to Lao Cai Trainstation. You can choose for a either a hard sleeper (6 berths in one cabin) or a soft sleeper (4 berths in one cabin). Early in the morning you arrive in Lao Cai Trainstation. From Lao Cai train stations, it is a 1 hour drive by minivan or private car to get in Sapa. Please contact us for the actual prices of the traintickets and departure times.
# Train from Lao Cai to Hanoi
A minibus or private car will pick you up in Sapa in the afternoon (about 4pm) and bring you to Lao Cai Trainstation. Here you will have time for a dinner. Multiple overnight trains leave for Hanoi Trainstation. Early in the morning you will arrive in Hanoi. Please contact me for the current prices of the traintickets and departure times.
We Arrange Your Bus Tickets, Hanoi – Sapa – Hanoi
From Hanoi you can take a sleeping bus from Hanoi to Sapa and back. We woud be happy to help you arrange a busticket. Please contact us for actual prices and departure times of the different busses. 
Sapa Motorbike Days Tour Price
| | | | |
| --- | --- | --- | --- |
| Pax | 1  pax | 2-3 pax | 4-6  pax |
| Price | US$95 | US$80 | US$75 |
Suppose you and your passenger adhere to these guidelines for safety while riding a motorcycle around Sapa. In that case, you can be assured that the experience will be both enjoyable and risk-free for you and your passenger. 
What exactly are you going to be anticipating the most in the future? Get out there and discover this excellent location by visiting the top attractions that it has to offer so that you can get a feel for what it has to give and what it has to provide you with.
I am confident you will have a fantastic experience in Sapa, Vietnam! Anyone interested in adventure while they are in the country they will never forget should take advantage of the opportunity to see this beautiful spot bordered on three sides by the Hoang Lien Son mountain range. If you do miss the opportunity to see this beautiful spot, you will regret it. 
The best way to see all Sapa offers in the shortest amount of time and for the lowest possible price is to take a guided motorbike tour. 
This is also one of the most entertaining ways to see everything Sapa offers. You will not only be able to take in the breathtaking scenery of the valley from this vantage point, but you will also be able to enjoy a peaceful walk into the surrounding forests and get some understanding of how the inhabitants live their lives. 
We hope that you find this post informative and valuable! Continue reading if you are interested in learning more about the beautiful things that Sapa has to offer and if you want to find out more about them.