Are you a beginner traveler looking for the perfect Sapa easy trekking experience? Look no further! We've got the top 5 best Sapa Easy trekking for beginner travelers that will give you an unforgettable journey and leave you feeling free. From beautiful landscapes to cultural experiences, these treks are ideal for anyone wanting to travel without breaking a sweat.
If you're longing to explore all of what Vietnam has to offer, then our list of dreamy destinations can take you there. Whether it's your first time in this stunning country or if you've been on many trips before, we guarantee each of these treks will provide something new – and equally exciting – every step along the way. So grab your bags, strap on those hiking boots, and let's get exploring!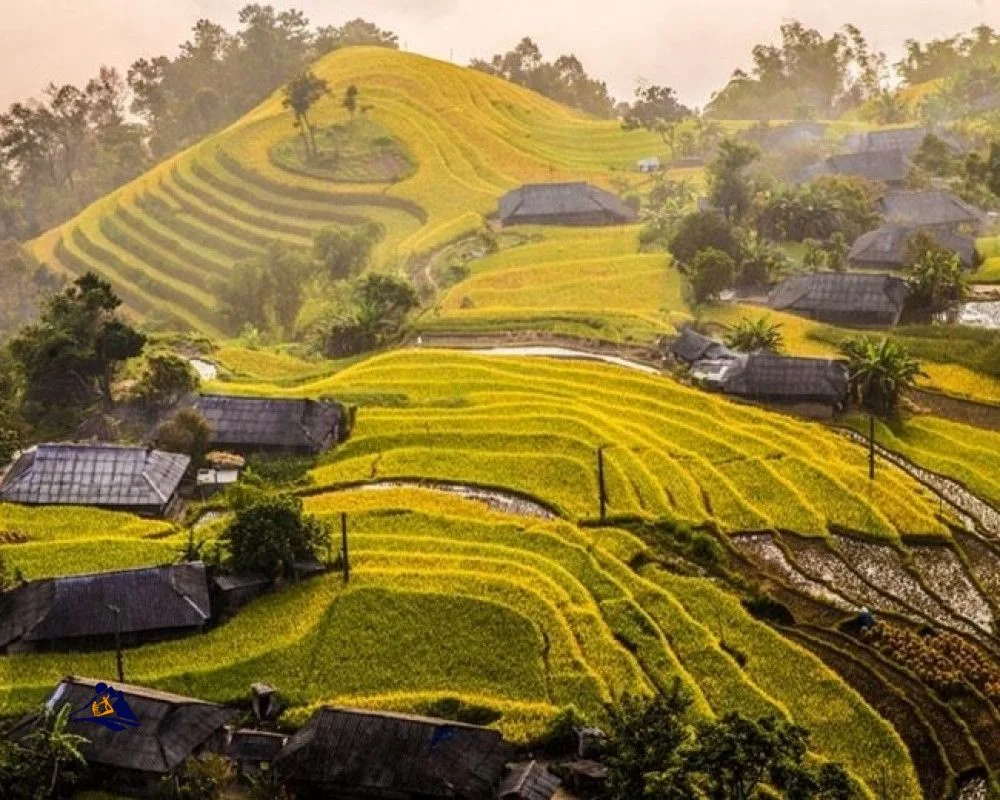 With endless opportunities available to create lasting memories, these five treks promise fresh views around every corner and unique interactions with locals who'll share their stories with you – giving your travels a personal touch. You won't just be taking home souvenirs from this trip; instead, you'll have collected amazing experiences that will stay with you forever. Let's dive into our top 5 best Sapa Easy Trekking options for beginner travelers!
Overview Of Easy Sapa Trekking
Sapa is a must-visit destination for beginner travelers who are looking to explore the beauty of Northern Vietnam. Trekking in Sapa offers an unforgettable experience, with easy treks that make it perfect for those new to the activity. From rustic trails to spectacular views, there's something for everyone here!
For trekkers wanting to get a taste of what the area has to offer without too much difficulty, Sapa Easy Trekking is ideal. There are several routes available and all can be completed within one or two days. The terrain varies from gentle slopes to slightly more challenging hills and mountains. Along the way, you'll have plenty of time to take in stunning landscapes and learn about local culture and customs from experienced guides.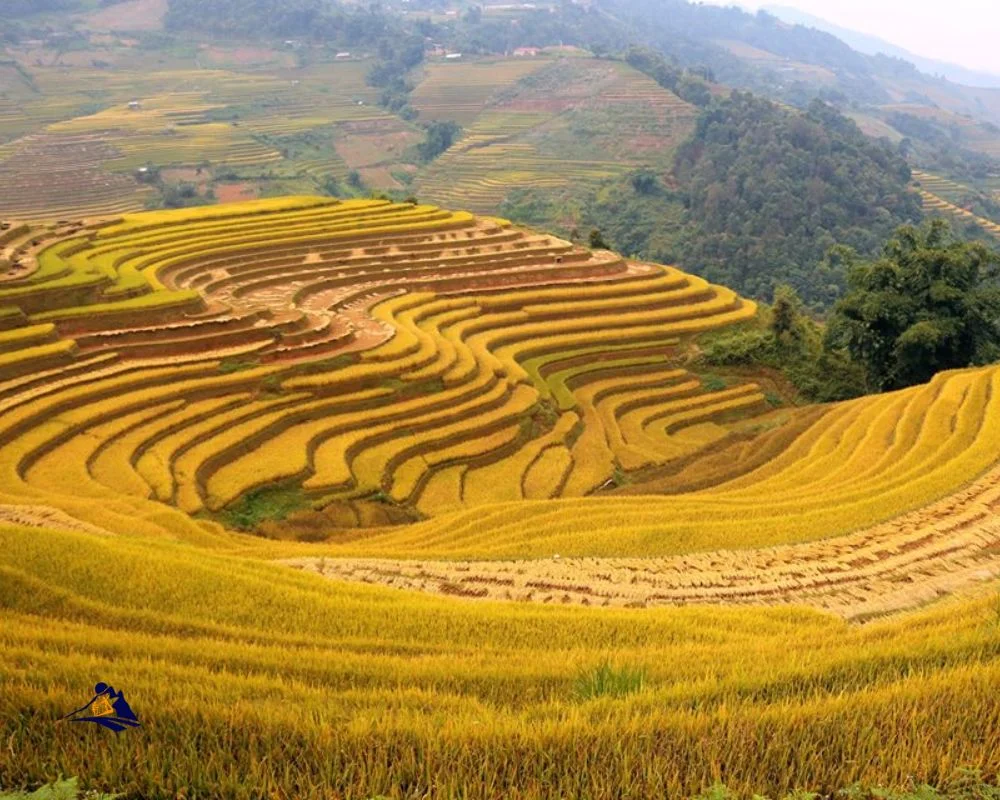 Whether you're a first-time visitor or returning traveler, Sapa Easy Trekking will provide memories that last a lifetime. With its friendly people and beautiful scenery, this region should be on your itinerary when visiting Vietnam! Let's dive into what you need to pack before embarking on your journey…
What To Pack For Beginner Travelers To Experience The Best Treks In Sapa
Are you ready for an adventure? Whether it's your first or hundredth trek, packing the proper supplies is key to any successful journey. When preparing for a beginner trekking trip, five essential items should never be forgotten: hiking shoes, weather protection, snacks and supplies, trekking clothes, and backpack essentials.
*Hiking Shoes: Choose footwear that offers comfort as well as support on uneven terrain. Look for waterproof materials to keep feet dry in wet conditions.
*Weather Protection: From sun hats to raincoats, bring clothing layers that will protect you from extreme temperatures and unexpected storms.
*Snacks & Supplies: Be sure to pack enough food and water for energy along with basic first-aid equipment—just in case!
*Trekking Clothes: Select lightweight pieces made of breathable fabrics like nylon and cotton blend material so you can move freely without being weighed down by heavy garments.
*Backpack Essentials: A quality bag designed specifically for outdoor activities must include adjustable straps and pockets to store necessary items such as maps and digital devices safely during hikes.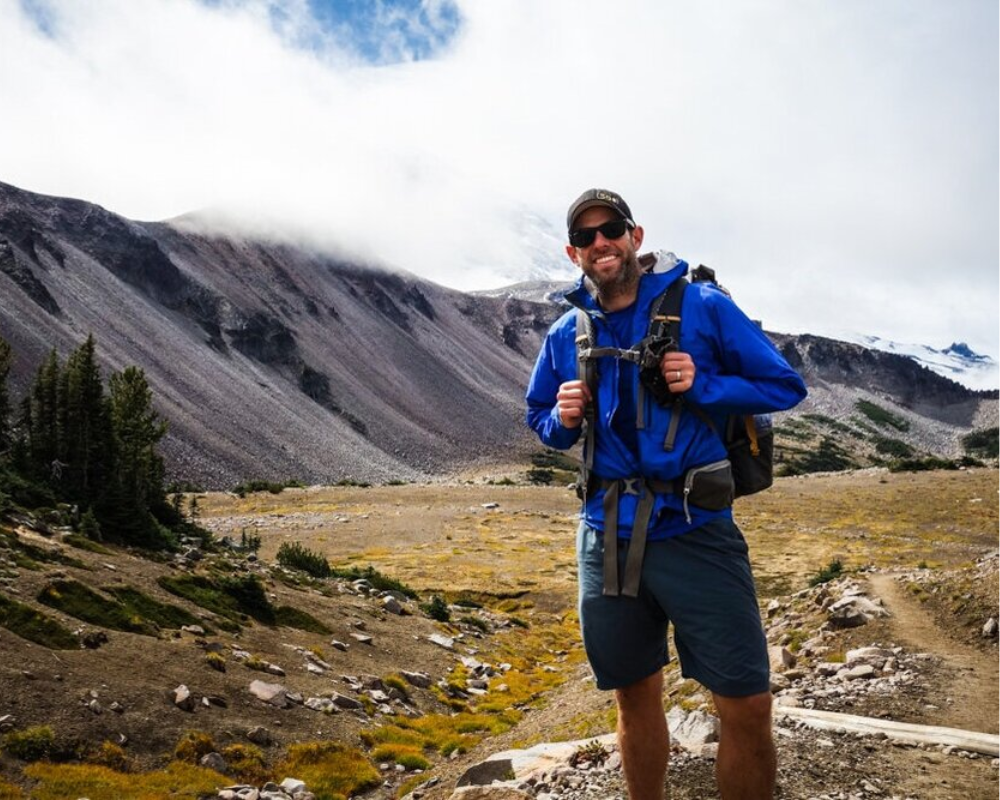 With all these necessary items packed away securely before taking off on your next venture into nature's playground, you'll have everything needed to embark on your own life-changing experience. Now let's get going towards Cat Cat Village Hike!
Cat Cat Village Hike Trekking Tour Sapa Review
For beginner travelers looking for a Sapa easy trekking experience, Cat Cat Village is the perfect place to start. This village, located in Sapa Valley in Northern Vietnam, is home to the Black Hmong ethnic minority and provides stunning views of mountains and rice fields. The hike from nearby Sapa Town to Cat Cat Village is an enjoyable journey that takes around two hours one-way and is suitable for all levels of hikers.
The highlight of this trekking route is the spectacular view of the cascading Cat Cat Waterfall at the end of your journey. Along the way, you'll also have chances to meet locals selling handmade items such as jewelry or textiles made by members of their community. Additionally, you can hear more about local legends and customs while observing traditional Ta Van homes perched on hillsides along your path.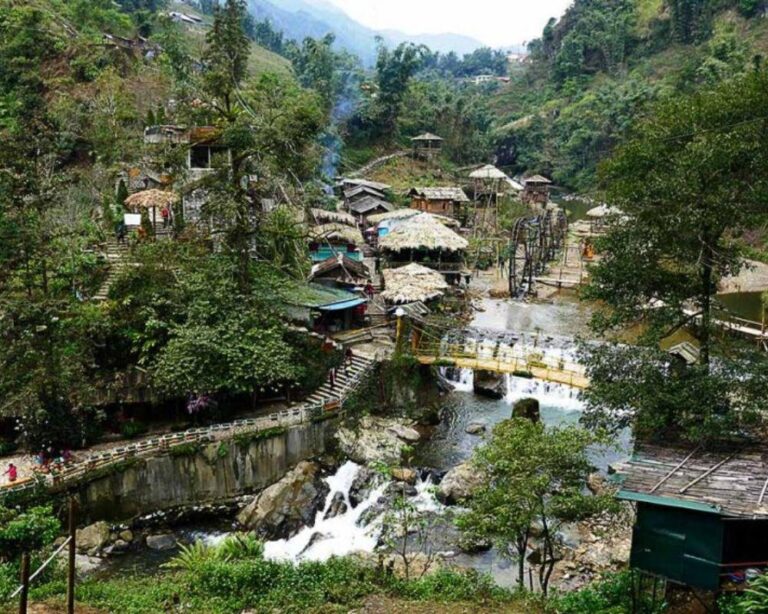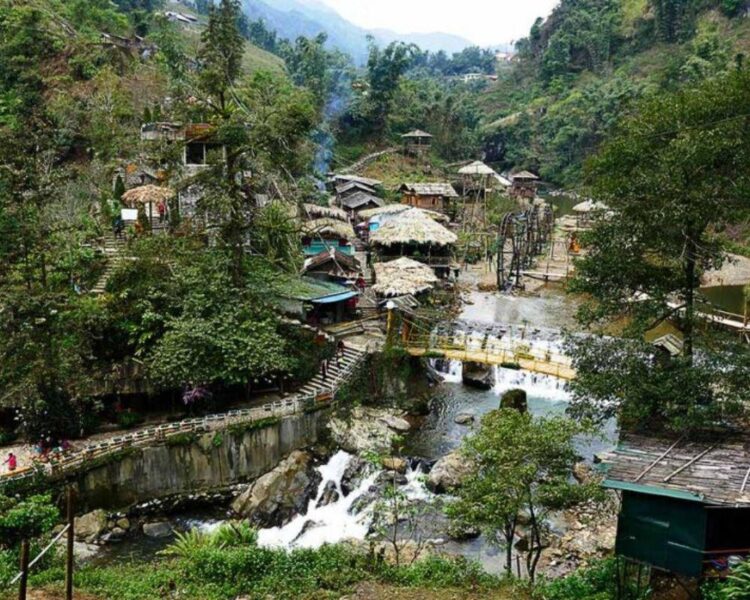 At Cat Cat Village itself, you will find plenty of opportunities to take picturesque photos with its beautiful scenery before heading back down the trail again – a great way to wrap up your first Sapa easy trekking adventure! With many other villages like Ta Van nearby, there are plenty more adventures waiting for budding travelers eager to explore this unique region further.
Sapa 1 Day Tours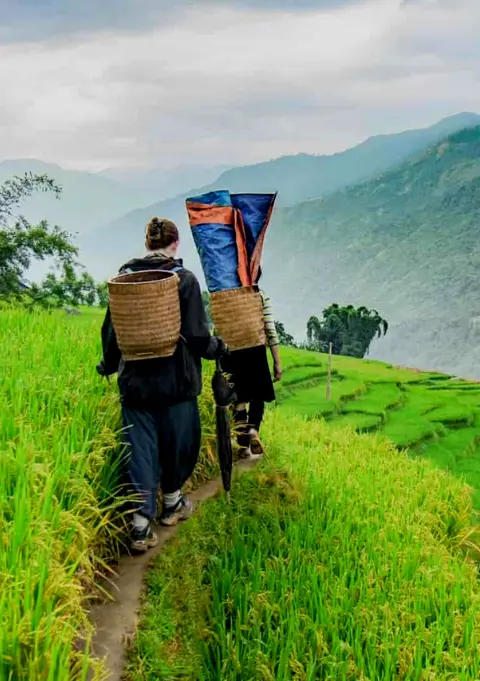 1 day experience
Moderate to challenging
Cultural immersion & active adventure
Rice fields, valleys & villages
​Private tours
Vegan-friendly
Sapa 2 Day Tours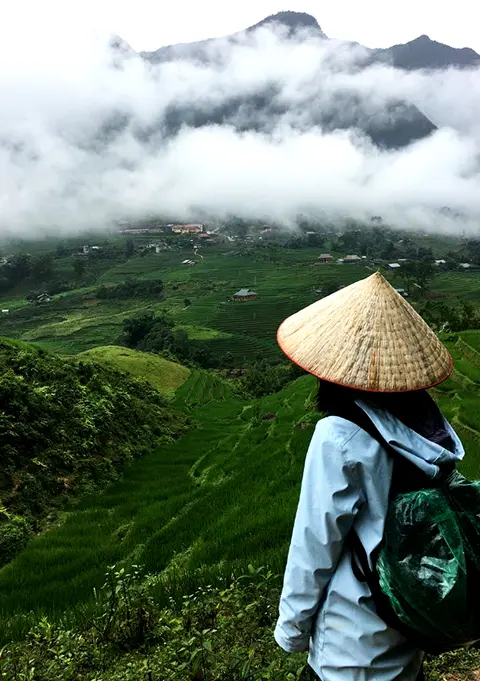 2 days 1 night experience
Moderate to challenging
Cultural immersion & active adventure
Mountains, valleys, rice fields and villages
​Private tours
Vegan-friendly
Sapa 3 Day Tours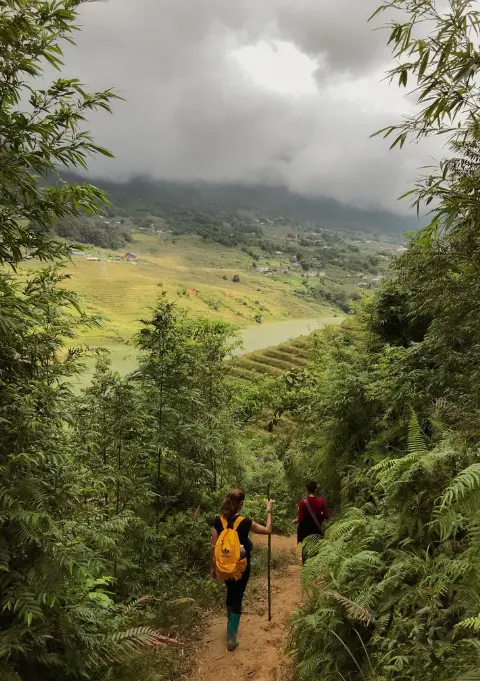 3 days 2 night experience
Moderate to challenging
Cultural immersion & active adventure
Mountains, valley, rice fields & villages
​Private tours
Vegan-friendly
Sapa 4 Day Tours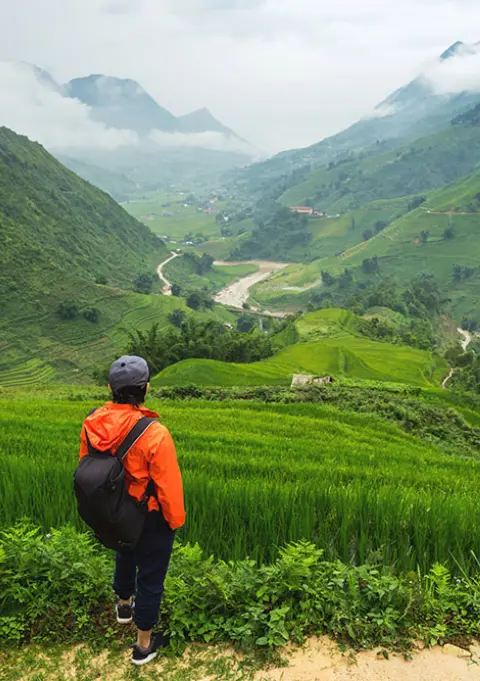 4 days 3 night experience
Moderate to challenging
Cultural immersion & active adventure
Mountains, valleys, rice fields & villages
​Private tours – Less Touristic
Vegan-friendly
Ta Van Village Hike
Ta Van Village Hike is one of the most popular easy trekking routes for beginner travelers in Sapa, a small mountain town located in north-western Vietnam. With an average elevation of 1,800 meters above sea level and breathtaking views over stunning terraced rice fields, Ta Van offers visitors a unique insight into traditional rural life. The village itself consists of two distinct ethnic minority groups: the Red Dzao and the Black Hmong people. This 3-4 hour hike takes you through some of the most picturesque landscapes imaginable – from lush bamboo forests to rugged mountainsides with captivating hilltop views.
The route begins at Cat Cat Village and ends at Giang Ta Chai village, where you can enjoy lunch surrounded by local families before heading back down towards Sapa Town via Y Linh Ho Village. Along the way, you'll be able to take advantage of opportunities to learn about the culture, history, and customs of these fascinating communities while also discovering hidden waterfalls and observing wildlife up close. Moreover, this trekking route is particularly noted for its vibrant wildflowers growing along the path – making it a must-see spot during springtime!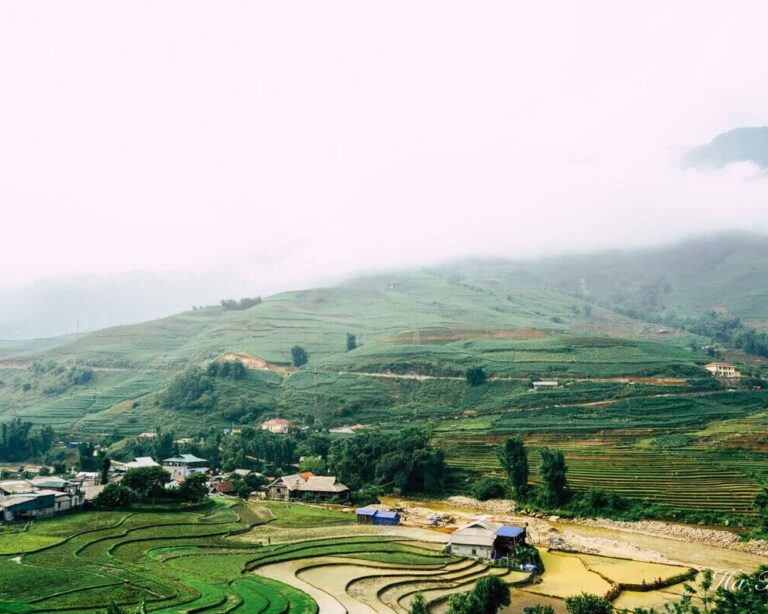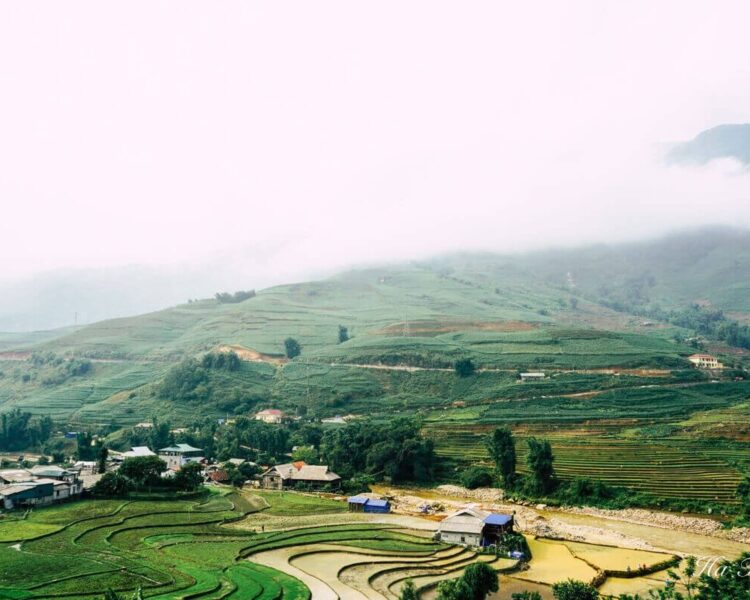 If you're looking for an easy but rewarding experience when visiting Sapa then Ta Van Village Trek should be on your list. It's perfect for those who are short on time yet still want to get off the beaten track and explore more remote areas that aren't usually accessible by car or bus. Plus with its relaxing atmosphere and gentle inclines, this adventurous day trip has something for everyone – so why not give it a try?
Y Linh Ho Village Hike
Y Linh Ho Village Hike is a great option for beginner travelers looking to experience trekking in Sapa. This easy 2-3 hour hike offers stunning views of the surrounding mountains and valleys, as well as glimpses into rural life in the area. The route starts at Y Linh Ho village, where you can observe locals going about their everyday activities. You'll then make your way up through terraced rice paddies before reaching the top of a hill that provides spectacular vistas of the region.
The terrain on this hike is relatively straightforward, though there are some steep sections along the way. With frequent stops to take photos and admire the scenery, it's an excellent choice for those who want to get out and explore without committing too much time or effort. Plus, by making this trek you're supporting local communities and helping preserve traditional ways of life in Sapa.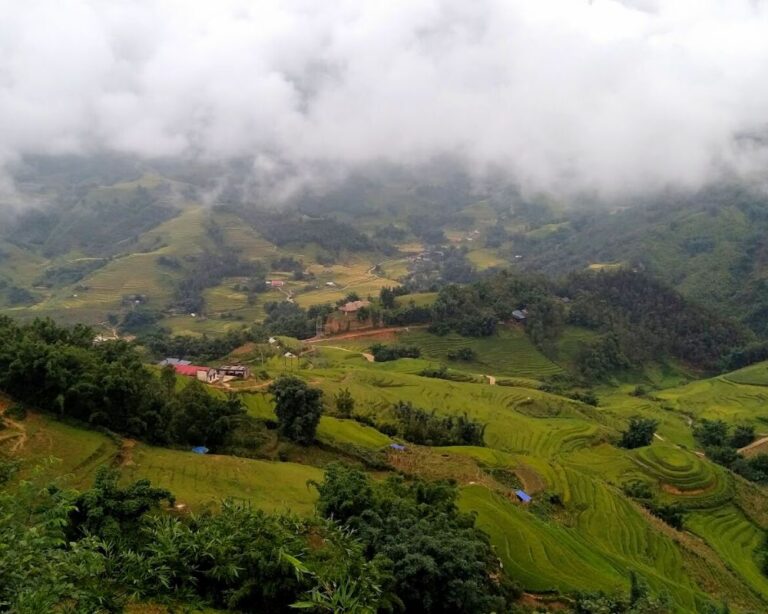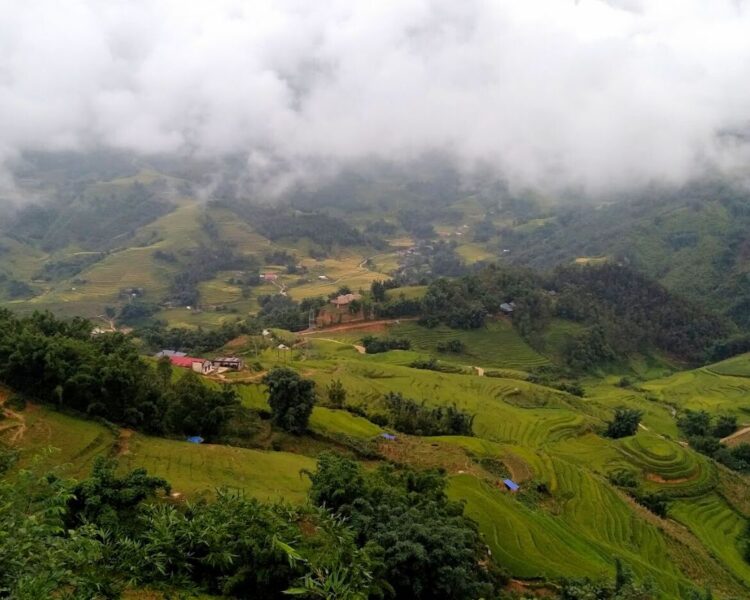 As with any hiking expedition, be sure to wear proper footwear and bring plenty of water. It may also be wise to hire a guide if you don't have prior knowledge of the landscape. But overall, Y Linh Ho Village Hike is an easy trek that promises rewarding experiences for even novice hikers! Moving on from here we explore Lao Chai Village Hike – another prime destination for beginner travelers seeking adventure in Sapa…
Lao Chai Village Hike
Picture yourself waking up in the morning, ready to start your Lao Chai Village Hike. You take a deep breath of fresh air as you take in the stunning views of lush green valleys and cascading waterfalls that accompany the trekking trail. The sun is shining and birds are chirping joyfully as you set off on this incredible journey.
The Lao Chai Village Trek is an easy but rewarding hike perfect for beginner travelers looking to explore and escape their daily routines. The 12-kilometer-long route takes travelers through peaceful villages, winding rivers, terraced rice fields, and towering mountains with breathtaking views at every turn. Along the way, you can enjoy traditional cuisine such as sticky rice cooked over open fires by local villagers who will welcome you into their homes.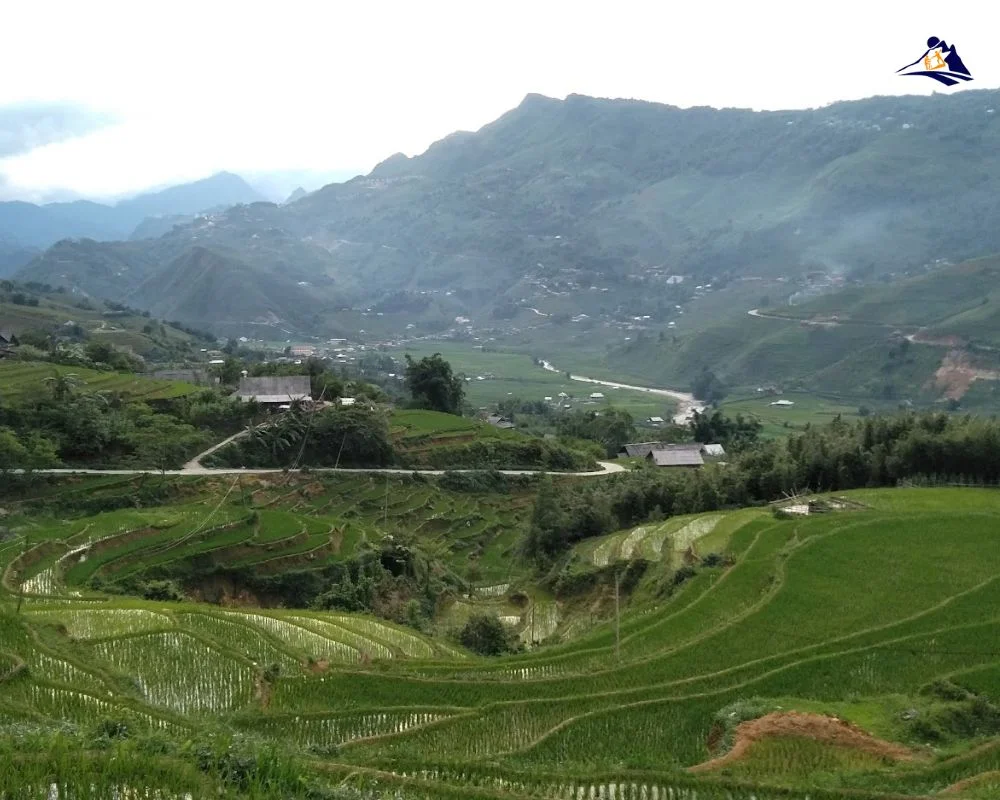 At the end of the Lao Chai Village Hike Trail lies a hidden gem – Ta Van village where you can relax and soak in some of Vietnam's most beautiful sights while also enjoying great hospitality from locals eager to share stories with visitors. This unique itinerary gives hikers plenty of options when it comes to exploring nature without having to worry about advanced technical skills or navigating roads less traveled. Whether you choose a guided tour or decide to go solo, there's something special waiting for everyone around each bend of the Lao Chai Village Trekking Tour!
Sapa 1 Day Tours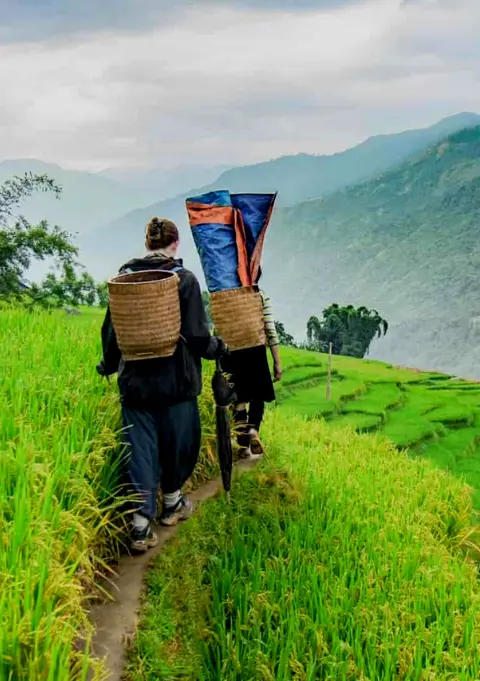 1 day experience
Moderate to challenging
Cultural immersion & active adventure
Rice fields, valleys & villages
​Private tours
Vegan-friendly
Sapa 2 Day Tours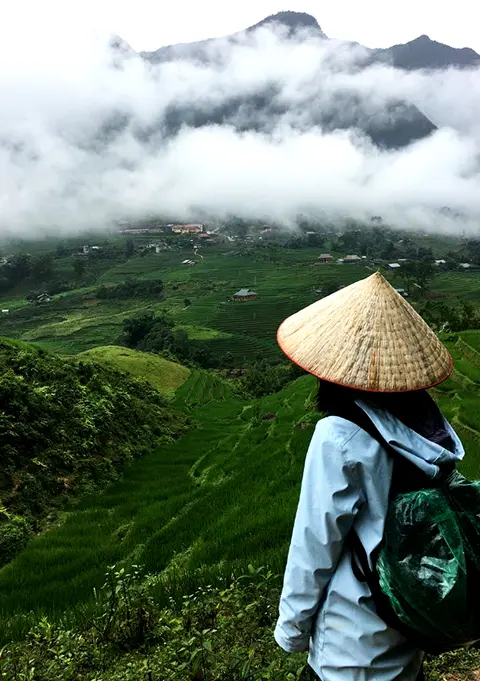 2 days 1 night experience
Moderate to challenging
Cultural immersion & active adventure
Mountains, valleys, rice fields and villages
​Private tours
Vegan-friendly
Sapa 3 Day Tours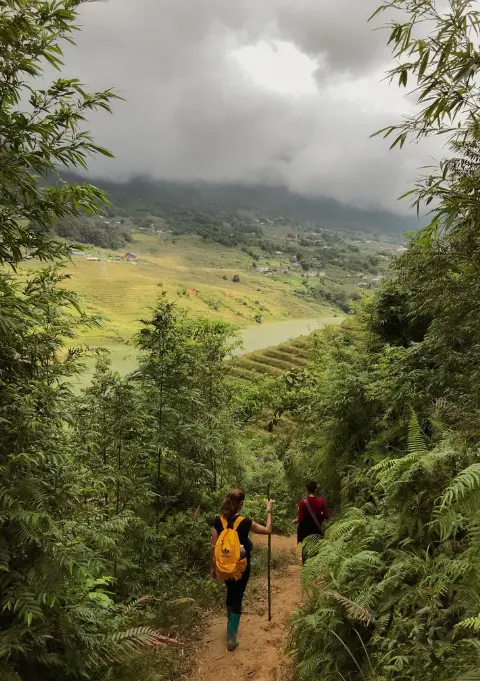 3 days 2 night experience
Moderate to challenging
Cultural immersion & active adventure
Mountains, valley, rice fields & villages
​Private tours
Vegan-friendly
Sapa 4 Day Tours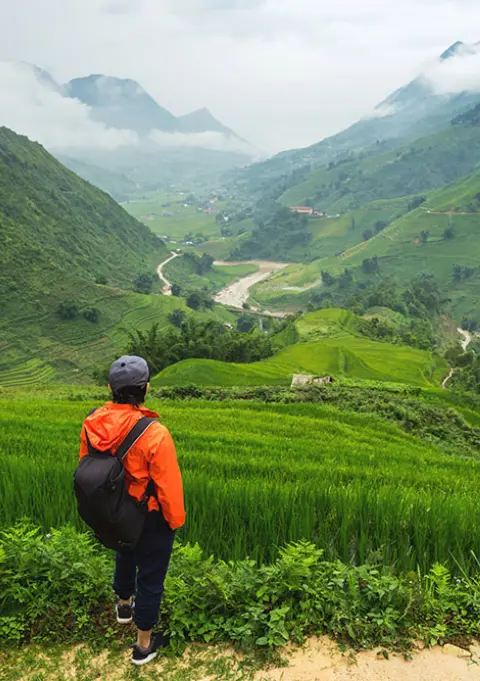 4 days 3 night experience
Moderate to challenging
Cultural immersion & active adventure
Mountains, valleys, rice fields & villages
​Private tours – Less Touristic
Vegan-friendly
Top 5 Best Sapa Easy Trekking For Beginner Travelers Frequently Asked Questions
What Is The Difficulty Level Of Sapa Easy Trekking?
When it comes to trekking in Sapa, one of the most frequently asked questions is about the difficulty level of these treks. For beginner travelers looking for an easy trekking experience, there are a few factors that will help you determine which ones are suitable for your needs and abilities.
The difficulty level of Sapa trekking can vary greatly depending on the length and terrain. Generally speaking, though, even short distances can be quite difficult if they involve steep climbs or descents. Beginner travelers should look out for signs such as:
Steep uphill sections
Rocky paths
Extended periods of walking without breaks
If any of these features sound intimidating, then it may be best to opt for more leisurely routes with flat ground and plenty of rest stops along the way. While this type of trekking won't provide the same thrill as tackling more challenging trails, it's still an enjoyable and rewarding experience nonetheless!
Plus, taking things at a slower pace allows you to appreciate all that nature has to offer – from majestic mountain peaks to lush green forests. Here are some great tips for getting started on your journey:
Start small – begin with shorter trails before attempting something longer and more strenuous
Pack light – make sure you have everything you need but don't overload yourself with too much gear
Bring friends – having someone by your side always makes a difference when exploring new places. So whether you're after an adrenaline-filled adventure or just want to take in some breathtaking scenery – Sapa easy trekking offers something for everyone! With careful planning and preparation, anyone can enjoy their time under the sun while discovering this beautiful region.
How Much Time Should I Allocate For The Sapa Valley Trail?
When it comes to trekking in Sapa, how much time should you allocate for the journey? It's an important question that beginner travelers ask when considering trekking in this beautiful area. The amount of time needed depends on the difficulty level of the trek and which route you choose.
For easy treks, such as those available to beginners, most people recommend allocating between 4-6 hours for the entire journey. This will give you enough time to enjoy your surroundings while still being able to complete the hike comfortably. However, if you are planning a longer or more challenging trek then you may need up to 8 or even 10 hours depending on factors like terrain and weather conditions.
No matter what type of Sapa Trekking experience you're after, make sure to factor in extra time so that you can take breaks along the way and soak up the scenery without feeling rushed. You want your trip to be enjoyable and stress-free – not hurry! Additionally, always be prepared with plenty of food and water since these hikes can take several hours at a time. That way, you won't run out of energy halfway through your adventure!
Trekking is one of the best ways to explore Sapa's stunning landscape; however, you must allow yourself plenty of time during your trip to get the most out of your experience. If planned properly, a beginner trekker can easily enjoy a rewarding day spent outdoors exploring nature's beauty!
What Is The Best Way To Get to Sapa?
Exploring the remote and beautiful mountains of Sapa is a dream come true for many travelers. Getting to Sapa can be tricky, however, with limited options available to those who want to explore this incredible region. With that in mind, here's how you can get there:
Take an overnight train from Hanoi – This is the most popular way to travel to Sapa as it allows plenty of time for rest before trekking. Plus, it's very affordable!
Fly into Lao Cai airport- There are now direct flights from Hanoi to Lao Cai which make getting to Sapa much quicker and more convenient than ever before.
Use a tour operator – Tour operators offer organized transportation services from Hanoi or other nearby cities like Halong Bay. They also provide experienced guides who know all the best spots on your trek around Sapa.
As a traveler looking for an adventure in Sapa, researching different ways of getting there will help ensure you have the best possible experience when you arrive. From overnight trains and flights to hiring a tour guide or hopping on a bus – each option has its advantages and disadvantages depending on budget and preferences. It's worth considering all your options carefully before making any decisions so that you can find the perfect solution for your journey.
Whatever method you choose, don't forget to take some time out along the way to appreciate this amazing part of Vietnam; after all, getting there should be half the fun!
Are There Any Specific Safety Considerations When Trekking In Sapa Vietnam?
Trekking in Sapa, Vietnam offers an amazing experience. But before you embark on a trek through the incredible countryside of this beautiful region, it's important to understand the safety considerations involved. Being aware of potential risks that come with trekking in Sapa and taking necessary precautions can help ensure your journey is as safe and enjoyable as possible.
One of the most important tips for trekking safely in Sapa is to be prepared for any situation. Make sure you bring all essential items such as water, food, sun protection, maps, and navigation tools. It's also important to inform someone about your planned route so they know where you are at all times. This will enable them to contact search & rescue teams if needed. Additionally, it's best to plan your trip around daylight hours when visibility is greater and keep an eye out for areas that may have been affected by landslides or other dangerous conditions caused by weather events like heavy rainfall.
It's also recommended that travelers check local laws and regulations related to security measures within the area they plan on visiting. For example, certain parts of Sapa require visitors to hire guides or stay on designated trails while trekking – something which should always be taken into consideration when planning a trip there. In addition, familiarize yourself with basic first-aid techniques such as CPR just in case an emergency arises during your adventure.
Safety is paramount when setting off on a trekking adventure, but don't let fear stop you from exploring some of nature's greatest wonders! With proper preparation and awareness of sapa trekking safety tips and risk management strategies, travelers can enjoy their time spent outdoors without worrying about potential hazards. So get ready for your next great escape; take the necessary steps towards ensuring maximum safety so that nothing can stand between you and an unforgettable journey!
Are There Any Special Permits Required To Do The Sapa Trekking Tour?
When it comes to trekking in Sapa, there are some permit requirements that you should be aware of before setting off on your journey. It's important to understand the regulations and fees associated with obtaining a trekking permit for Sapa so that your experience is as stress-free as possible. Knowing what permits you need, how much they cost, and where to get them can help make sure your trip goes smoothly.
The first thing to consider when looking into trekking permits for Sapa is the type of permit required. Depending on the length of time you plan to stay in Sapa and the activities involved, you may require different types of permits such as an overnight or multi-day pass. You will also want to check if any special permits are needed for restricted areas or national parks that may fall within your route.
Costs for trekking permits vary depending on various factors including duration and seasonality but typically range from $10-$20 per day for most routes. Additionally, many tour companies offer package deals that include all necessary permits at discounted rates. When researching these packages it's essential to ensure that all appropriate permits have been obtained before departure – otherwise, this could lead to delays or even fines during your travels!
No matter how long or short your trip is, doing research ahead of time is key in order not only to avoid costly penalties but also to ensure a safe and enjoyable experience while exploring the stunning landscape of Sapa on foot. Taking the time to understand permit requirements can save potential headaches down the line and help make sure your adventure lives up to its full potential!
Conclusion
Trekking in Sapa is a great way to get up close and personal with nature. It offers an exciting opportunity for beginner travelers to explore the beauty of Vietnam's northern region while having some fun along the way. The trails are easy enough for most people, but it still requires physical fitness and stamina to complete them without getting too tired out.
Overall, I would highly recommend anyone looking for a unique experience in this part of the world to try their hand at Sapa Easy Trekking – you won't regret it! As they say, "A journey of a thousand miles begins with one step" – so why not take that first step today? With proper preparation and planning, your journey will be both safe and rewarding.
So what are you waiting for? Pack your bags, lace up your shoes, and let's go trekking in Sapa! All it takes is one small adventure to unlock a lifetime of memories.
Sapa 1 Day Tours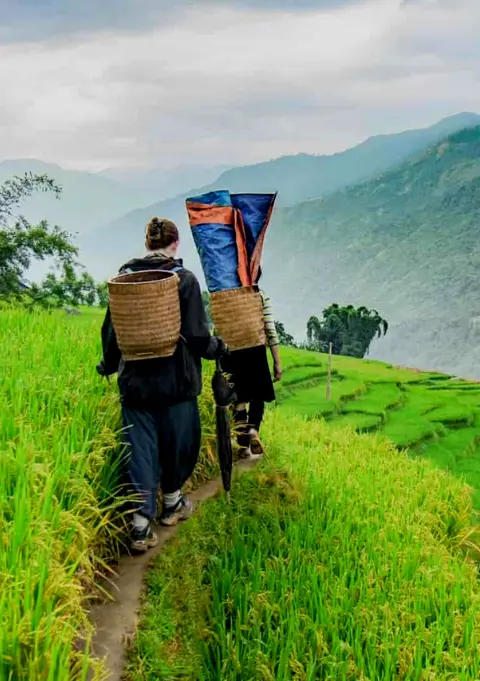 1 day experience
Moderate to challenging
Cultural immersion & active adventure
Rice fields, valleys & villages
​Private tours
Vegan-friendly
Sapa 2 Day Tours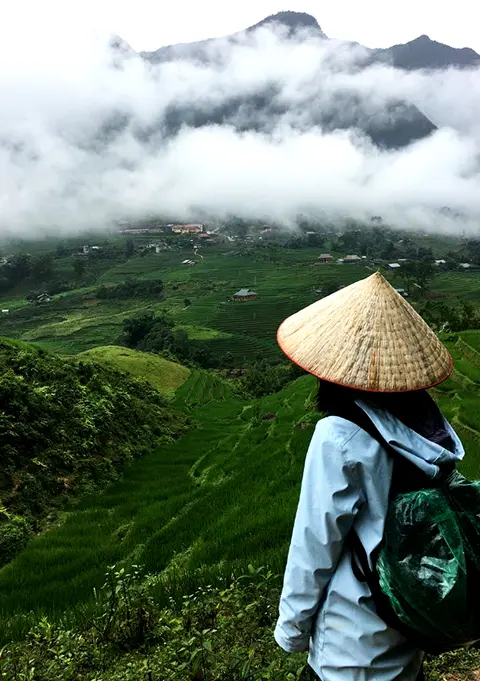 2 days 1 night experience
Moderate to challenging
Cultural immersion & active adventure
Mountains, valleys, rice fields and villages
​Private tours
Vegan-friendly
Sapa 3 Day Tours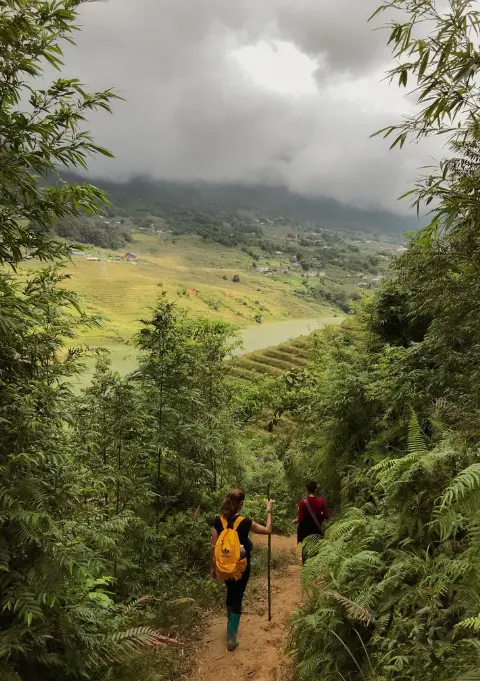 3 days 2 night experience
Moderate to challenging
Cultural immersion & active adventure
Mountains, valley, rice fields & villages
​Private tours
Vegan-friendly
Sapa 4 Day Tours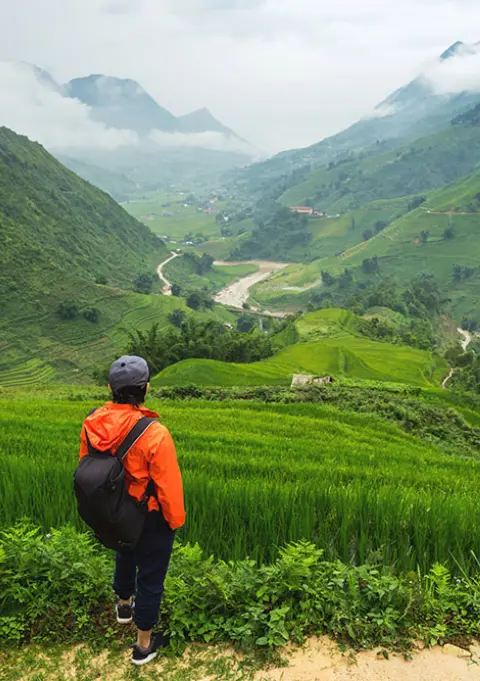 4 days 3 night experience
Moderate to challenging
Cultural immersion & active adventure
Mountains, valleys, rice fields & villages
​Private tours – Less Touristic
Vegan-friendly