Trekking Sapa is a form of tourism that young people love because of its challenge and freedom of experience. If you come to this land to play, please immediately discover some Sapa trekking cheap tips that Trekking Tour Sapa brings below.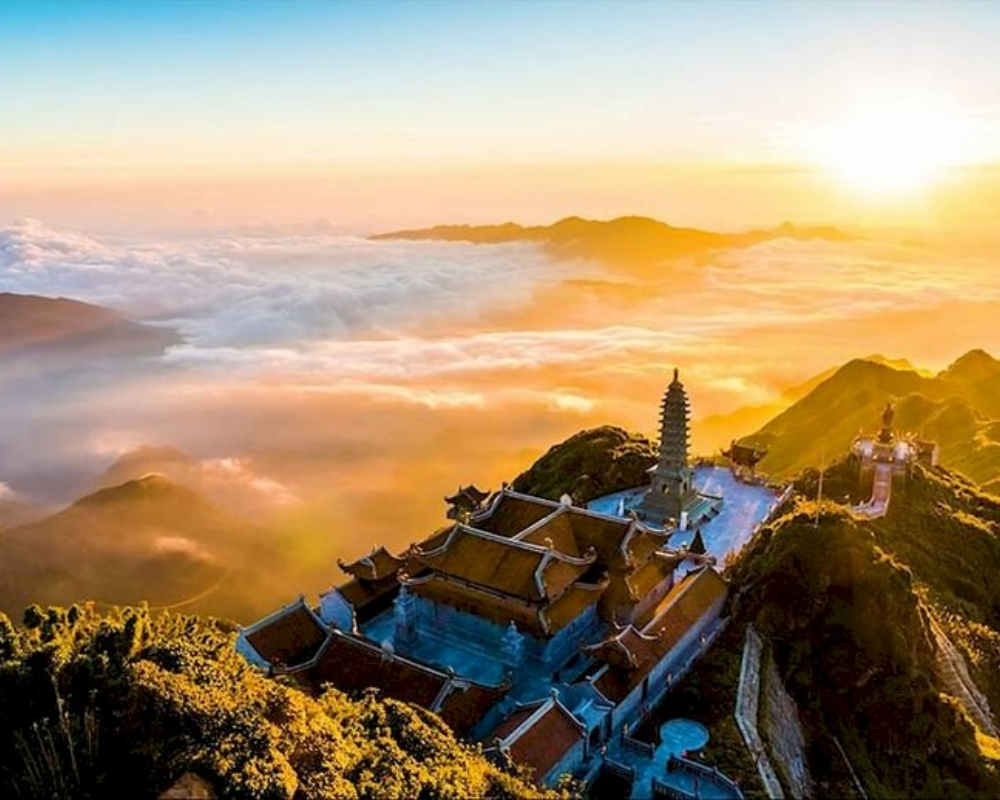 When should I travel to have the best treks in Sapa?
Sapa in Spring with see flowers blooming (February to May of the solar calendar)
This is the season that many tourists consider the best to enjoy the sun, wind and fresh air of the highland mountains. Spring in Sapa is full of flower forests, peach blossoms, plum blossoms and thousands of flowers blooming all over the hillsides, halfway up the slopes, the valleys, the mountainside or the roads on the town are full of flowers. , all will be the most beautiful and colorful picture you can see when traveling to Sapa in the spring.
If you want to come to see the cherry blossoms, please research carefully before going because the weather is different each year, peaches will bloom earlier or later than previous years, so you may not have the opportunity to admire a masterpiece. of creation. You should go from February to April, or at the latest the first week of May because that is the most beautiful time, at the end of May the flowers will start to wither, no longer keeping the full flavor.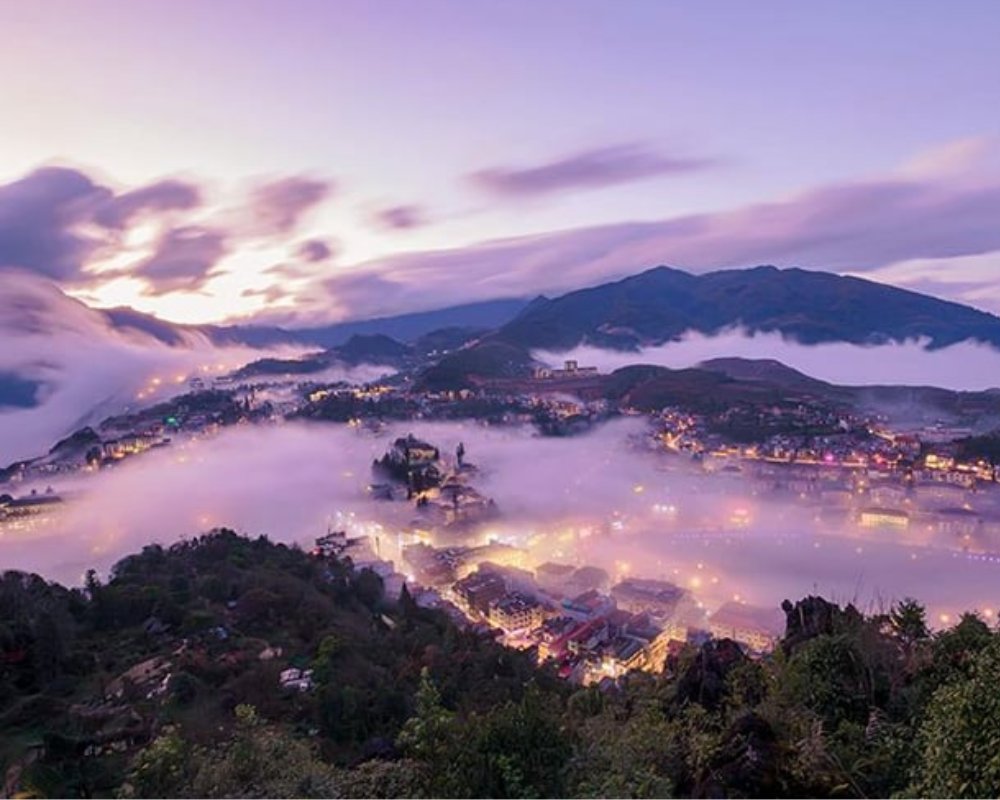 From March to May, the weather is extremely cool and pleasant, the night is dry, the morning is so cloudy that when staying in the hotel room, visitors can also feel the clouds flying indifferently. right in front. In addition, this is the time when people start sowing seeds, you can admire the green rice fields on the majestic terraces. From April to May, ethnic minorities will plant rice on those terraced fields, the scene of rice transplanting, the idyllic labor of local people is very beautiful, tourists and paparazzi love to go in summer. this and the ripe rice season.
There is a note for you: Because it is not yet the water season of Sapa, the stream will dry up and the waterfall will have very little water.
Go to Sapa to avoid the heat and see the terraced fields in Summer (June – August of the solar calendar)
With a country with a tropical monsoon climate like Vietnam, the summer is harsh, the heat is like burning skin, but in Sapa, the air is much softer, it's like a city. miniature temperate of Europe. In Sapa, there is only one rice crop of 6 months, people sow seedlings around early May, in July, the rice turns green and is much higher. The terraced fields seem to be wearing a new green shirt.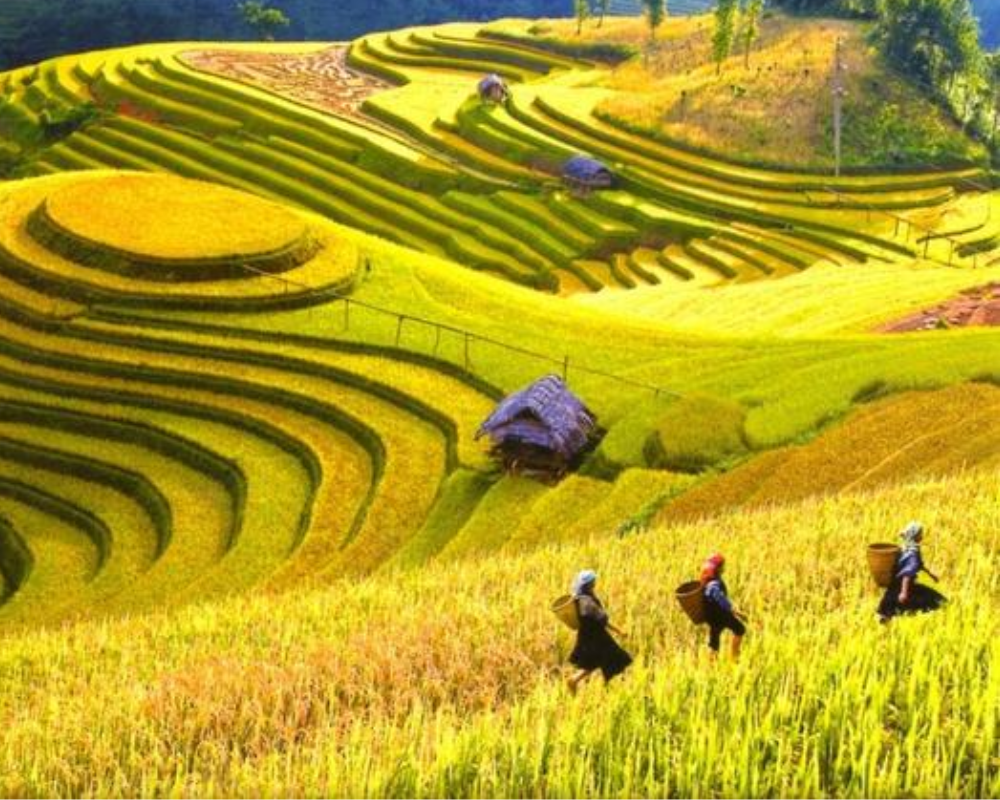 Besides, in this season, the fields of vegetables as well as other fresh vegetables also come to the harvest season, Sapa gradually transforms from the bright, pink colors of peach blossoms, roses, plum blossoms… To the green, fresh color of vegetables and young rice, visitors will indeed be able to open their eyes to the green colors everywhere of Sapa. Going to Sapa in the summer to avoid the heat is a wonderful thing, the air is really cooler, the eyes looking at the green colors also make us more comfortable and feel fresh.
Go to see Sapa in the golden color of ripe rice in Autumn (September to November of the solar calendar)
At this time, the rice begins to ripen, the scenery of Sapa "stirs" again, turning to a brilliant yellow color, embracing the Northwest mountains and forests. If you want to go on vacation with your family, combined with going to see rice, you should come around July–September, if you come in October–December, the weather may have turned cold, cold and foggy. This is also the water season in Sapa, so the waterfall will flow strongly, very majestic and lively.
The ripe rice season is in September and October, when Sapa is golden in every angle, this is the time when many tourists traveling to Sapa share that they like it the most. However, you should go in the middle or the end of September, because in October, there are many places where the harvest has been completed, so it will not be as beautiful and you cannot admire the shiny golden color of the new rice like at the end of September.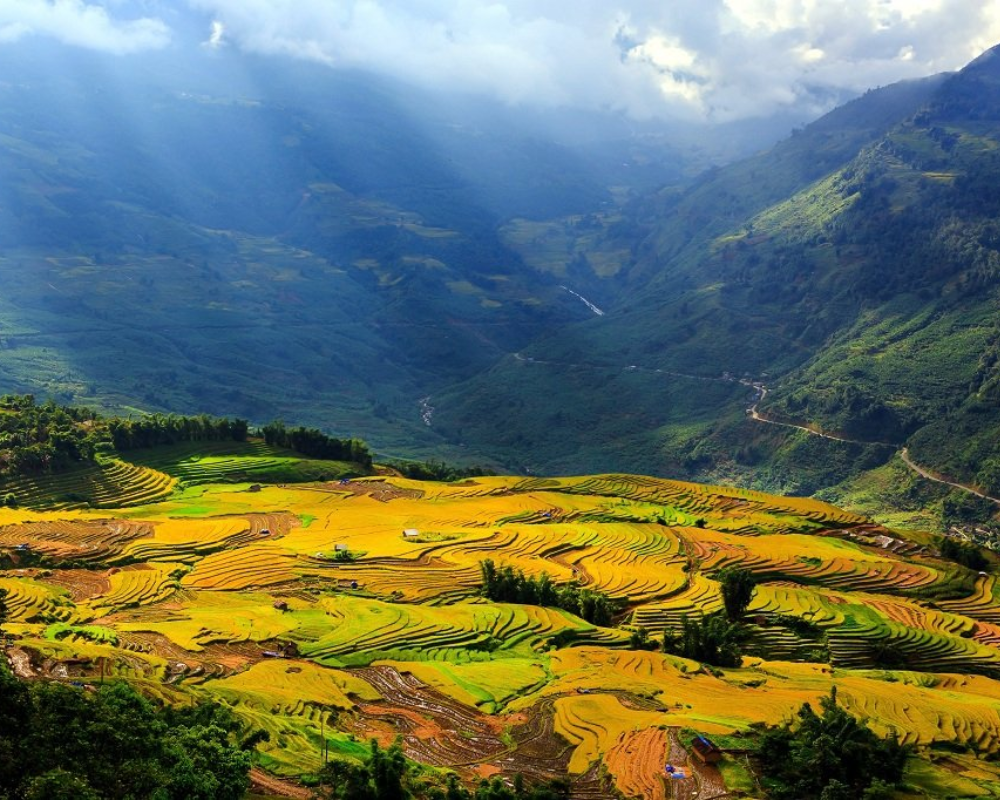 September to November is a beautiful season to travel to Sapa because besides the beautiful autumn colors and golden ripe rice, the atmosphere is also pleasant: golden sunshine, dry weather, moderate cold. During the day, visitors can see Muong Hoa valley, admire the terraced fields and go trekking down Ta Phin village, at night can go for a walk and enjoy delicious food in Sapa.
If traveling to Sapa by self-sufficiency at the end of November, it is winter at this time, the weather is quite cold but not bitter. In the morning, the whole town floats in the clouds, the air is fresh and peaceful.
Sapa 1 Day Tours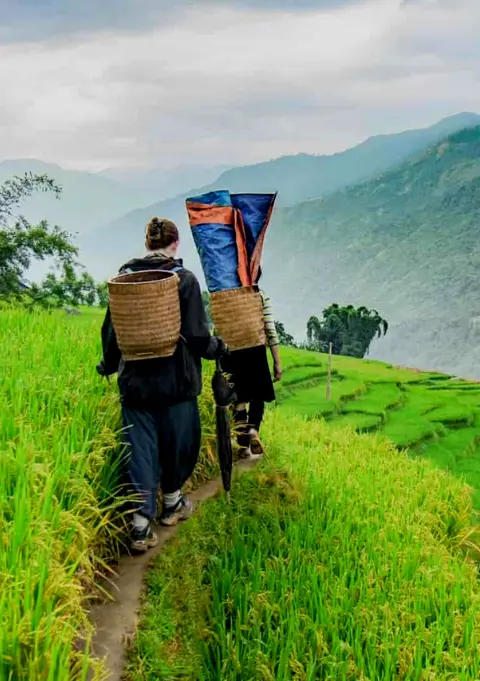 1 day experience
Moderate to challenging
Cultural immersion & active adventure
Rice fields, valleys & villages
​Private tours
Vegan-friendly
Sapa 2 Day Tours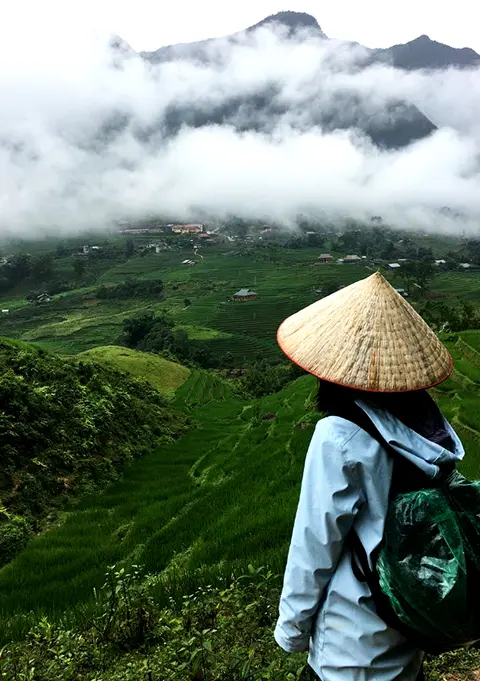 2 days 1 night experience
Moderate to challenging
Cultural immersion & active adventure
Mountains, valleys, rice fields and villages
​Private tours
Vegan-friendly
Sapa 3 Day Tours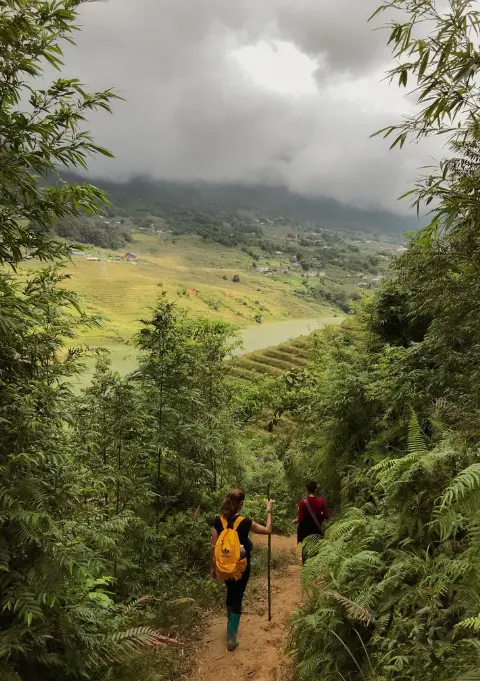 3 days 2 night experience
Moderate to challenging
Cultural immersion & active adventure
Mountains, valley, rice fields & villages
​Private tours
Vegan-friendly
Sapa 4 Day Tours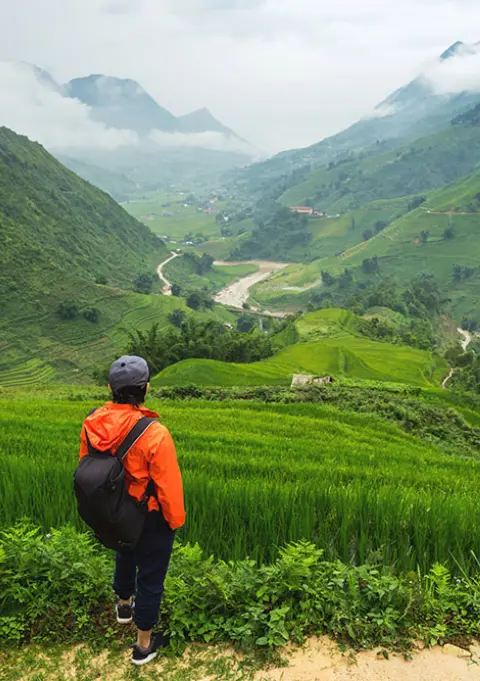 4 days 3 night experience
Moderate to challenging
Cultural immersion & active adventure
Mountains, valleys, rice fields & villages
​Private tours – Less Touristic
Vegan-friendly
Go to Sapa to watch the snowfall in Winter (December to February of the solar calendar)
Who said Vietnam doesn't have snow? Who says a tropical country will never snow? That's why nature is extremely favorable to Sapa when it snows in winter. In recent years, the weather has been harsh, so Sapa almost always has snow. In winter, the whole town of Sapa is like floating in clouds, mist and snow. Snow falls white, covering all creatures, houses, even up to half a meter thick, covering the landscape with a white space that makes the scene both bleak and surprisingly beautiful. We cannot determine the exact day when it will snow, so if you want to go to Sapa to see the snow, you have to watch it continuously on TV, radio or contact the locals (where your hotel is located). settled in)…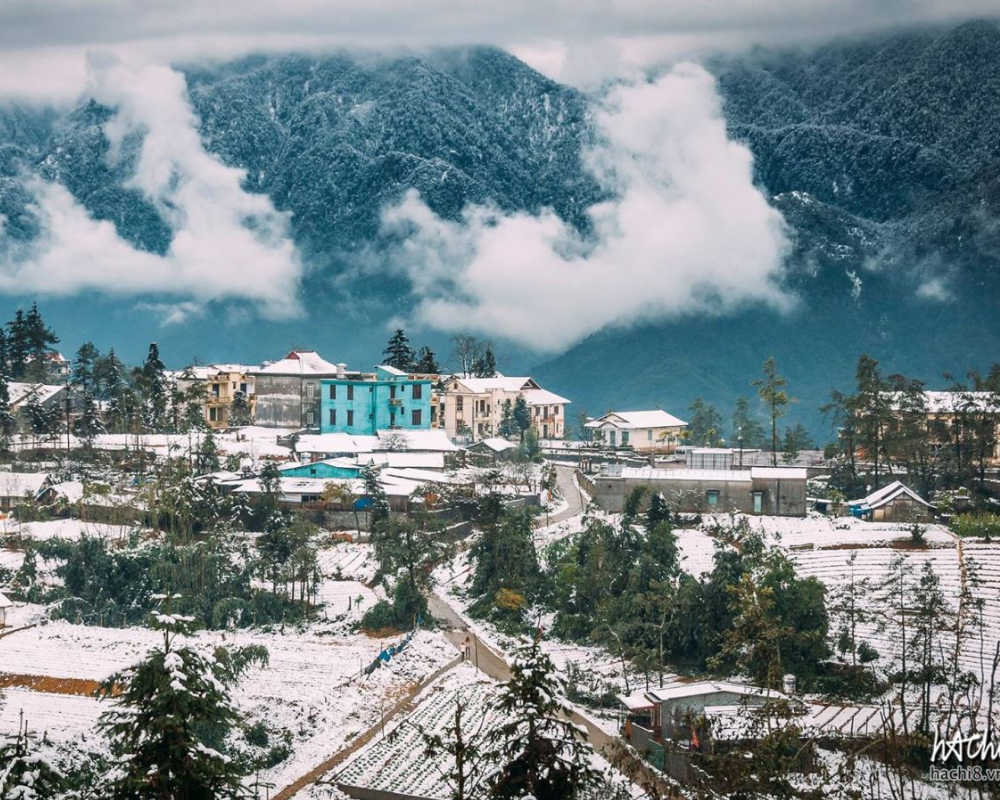 From December to February, Sapa is very cold, especially at night, can appear ice and sometimes snow. This is also the cherry blossom season. At this time, many young couples want to witness the romance of the snowy scenery, watch the forest peach blossoms shyly in the wind and dew as well as the dawn in the high valley in the early morning, so they came to Sapa at this time. this time. It will be an experience that is hard to find anywhere else in Vietnam. However, this time in Sapa is very crowded with tourists, so it is often very crowded and the price of services is very expensive.
How to get to Sapa?
Currently, the transportation system is increasingly developed, so moving to Sapa becomes quite easy and convenient. You can choose from a number of vehicles such as passenger cars, trains, motorbikes, personal cars, airplanes, …
For places near Sapa, it is quite easy to move. However, for tourists living in remote provinces such as the Central or the South, it will be more difficult. Therefore, you need to move to Hanoi first, then you can continue to Sapa.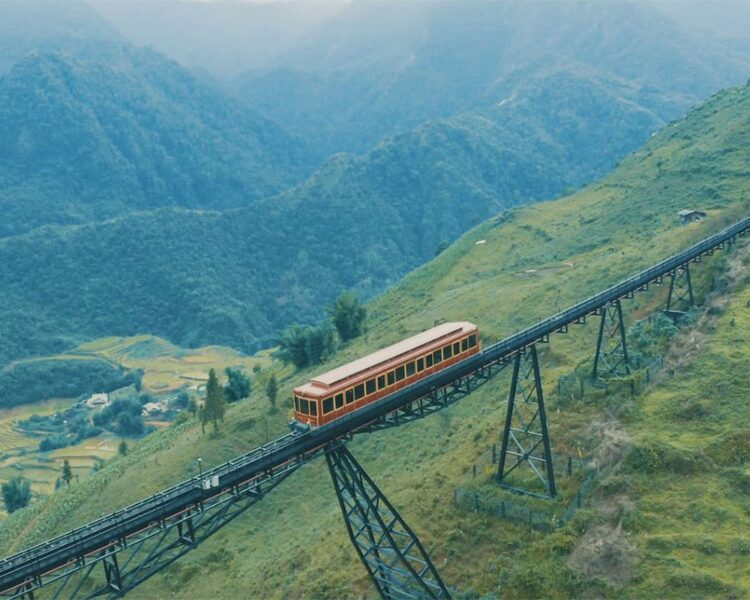 Sapa trekking cheap notes :
Understanding of the trekking route (Both Sapa 1 day trek or many days trek)
Many people keep asking: what is trekking? What makes it different from other types of tourism?
In fact, trekking will give you a free experience like "phiding". However, it is a bit different, it is hiking or climbing. Using the main means of transportation is the feet. At the same time, discover new places in a specified period of time.
Therefore, a thorough understanding of the trekking route will help us know exactly where to start and stop? From there, ensure the best for the following factors. In this preparation step, you will not be able to lack a map, a compass or a phone with GPS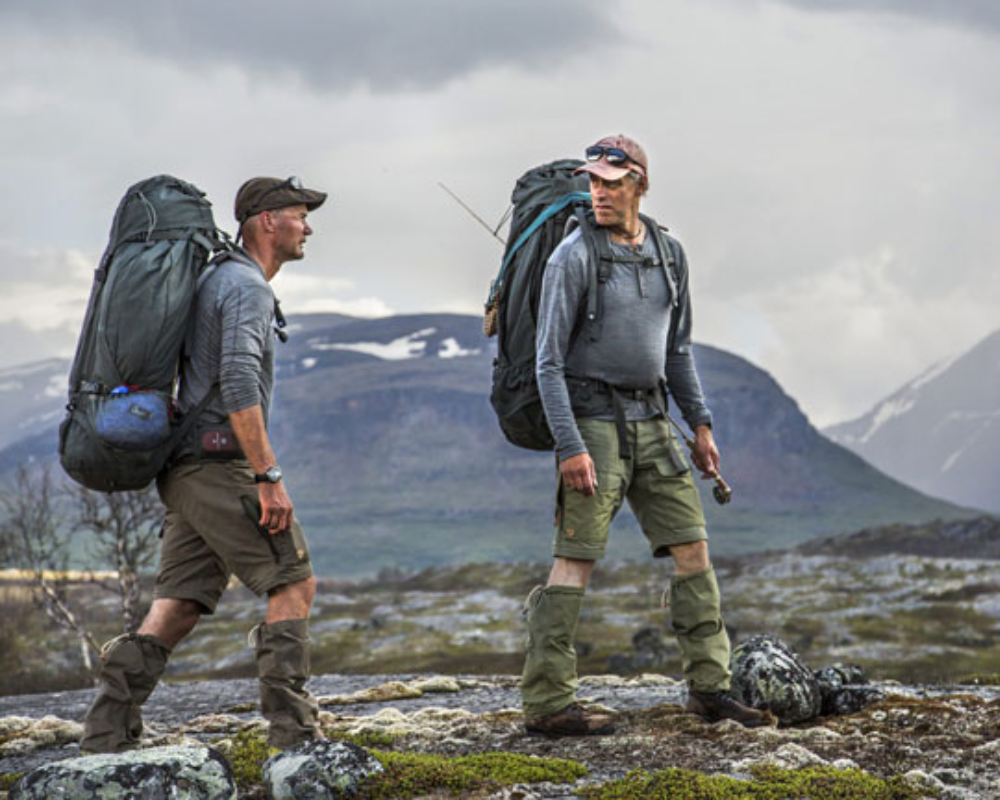 Equip the necessary trekking skills
According to Trekkingtoursapa, trekking experience, you need to equip some suitable skills such as:
– Movement skills when going trekking
Not just like walking, but trekking is an intense activity in complex terrain areas, so it takes a lot of energy.
Therefore, you need to know how to go to always maintain your endurance until you reach the finish line.
During the ride, you should pay attention to maintain a normal speed. And regulate long, deep breaths, especially when climbing uphill and downhill. If you feel overwhelmed and can't move anymore. Please stop to rest for a while. However, do not rest for too long. Because it will cause the muscles to be cold, prone to cramps, muscle tension.
In the process of climbing the steep slopes, according to the trekking experience of Vi Vu, you should follow the zigzag path. You should use an auxiliary device such as a trek stick to gain momentum to step forward. If you don't have a stick, you can stick to the rocks and tree trunks to get a fulcrum to climb up, to save more effort.
When going downhill, your body will tend to rush forward, which is easy to fall. Therefore, you need to walk so that the feet' soles are inclined, the body is slightly stooped and keep the backpack in front of the base.
For steep slopes, you should turn towards the opposite side of the slope. Then use your hands to hold on to it to climb down. When climbing, it is important to note 3 fulcrums: one hand with two legs or one foot with two hands. Also, remember to use your other hand (or foot) to find a lower fulcrum.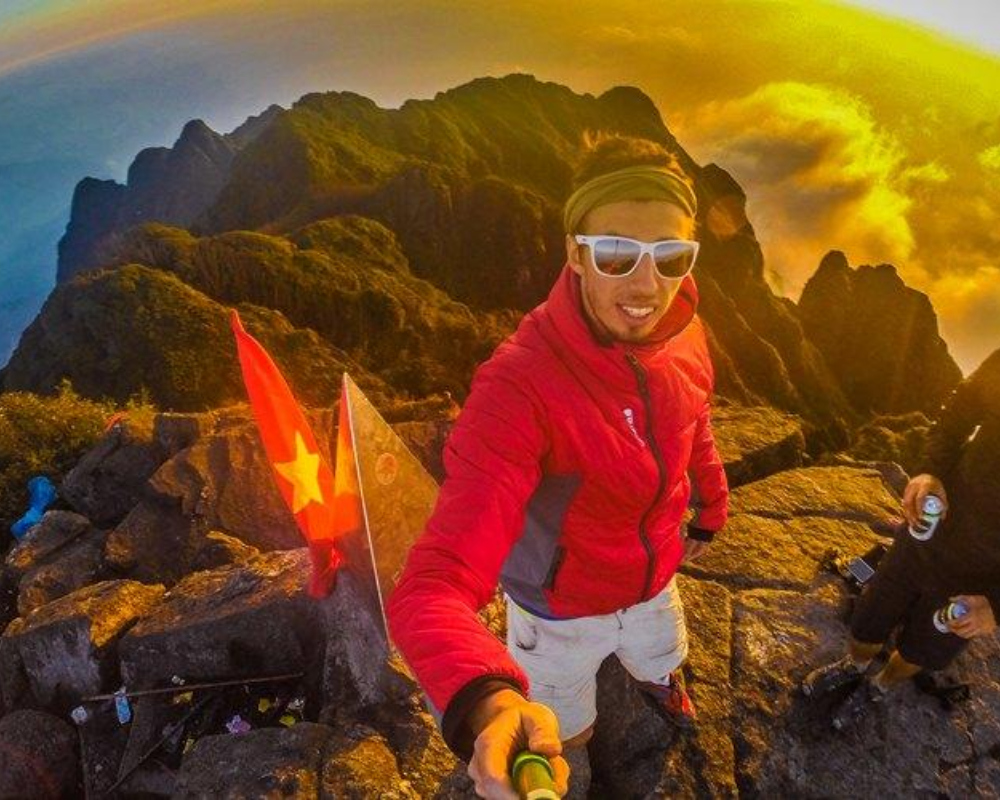 – First aid skills
Including: how to compress limbs when dislocated, how to bandage wounds or stop bleeding… All will be luggage to make your trip safer.
– Skills to handle situations when lost in the forest
In fact, no one wants this incident to happen during trekking. However, if you risk getting lost in the forest, according to our detailed trekking experience from A-Z. You should not panic or panic, but stay calm.
Do not move too much to avoid burnout. You can sit back to determine the direction, light a fire to create smoke, make loud sounds (not scream to avoid losing strength)… Or leave signs on the road you have passed to wait for people to come. rescue.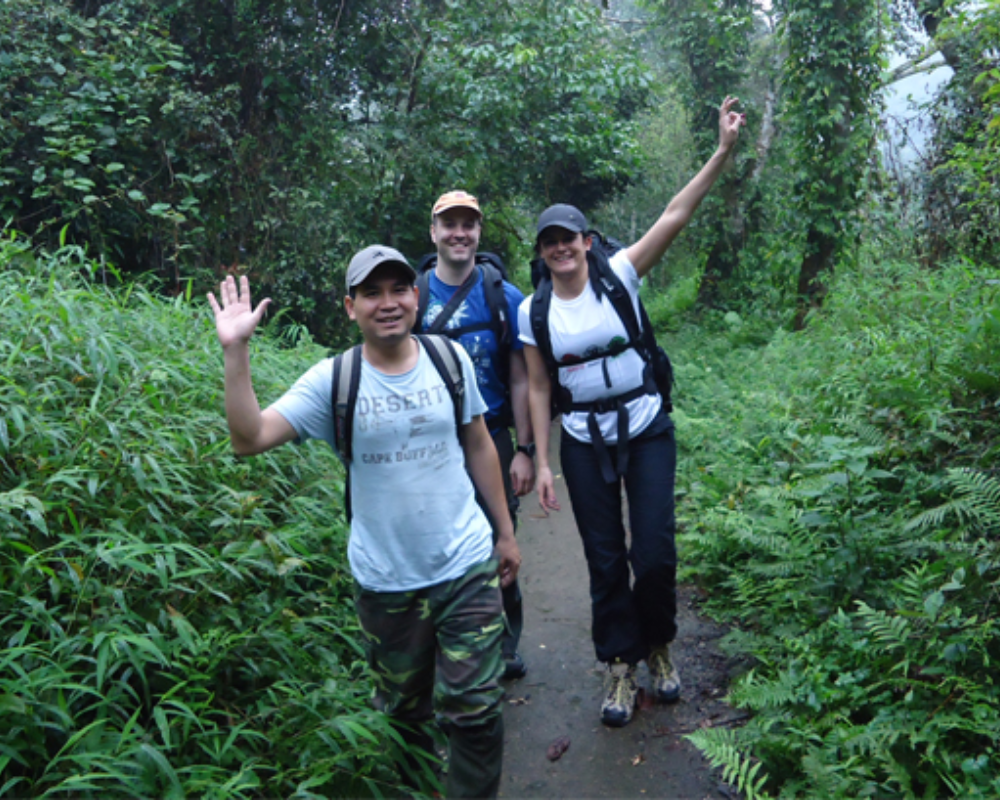 Always give priority to roads leading to trails or rivers or streams. Limit going to the road with dense trees, it is difficult to determine the direction.
– Skills in using positioning devices and devices
This is one of the necessary skills for Vietnam trekking trips in general or trekking experience in particular. Because the trekking route always has complicated terrain. Therefore, in your backpack, there should be familiar items and devices. These can be mentioned as: map, compass, GPS, … Let's explore, learn how to use these tools to be able to apply when needed!
Fansipan Hiking 1 Day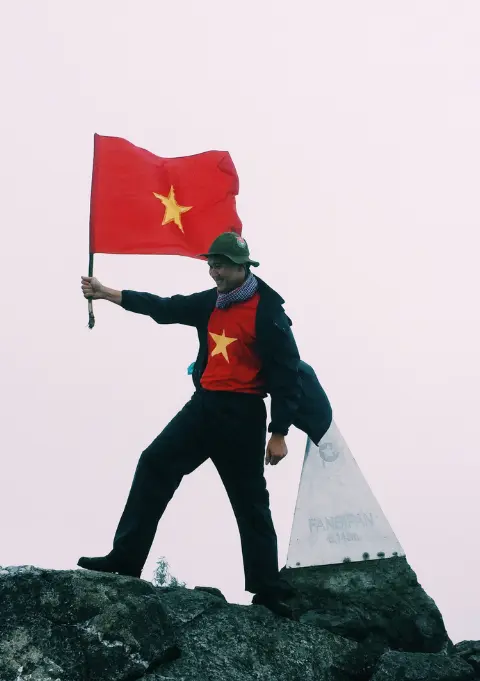 1 day fansipan experience
Moderate to challenging
Cultural immersion & active adventure
Visit Fansipan, highest mountain of Indochina
​Private tours
Vegan-friendly
Fansipan Trekking 2 Days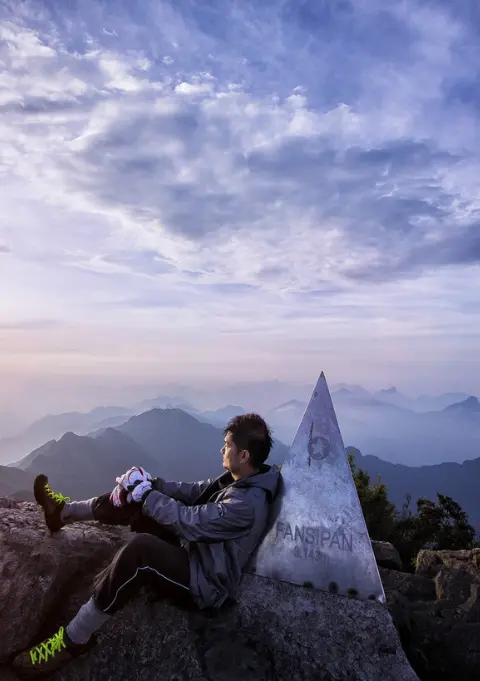 2 days 1 night fansipan experience
Moderate to challenging
Cultural immersion & active adventure
Visit Fansipan, highest mountain of Indochina
​Private tours
Vegan-friendly
Buy Cable Ticket Online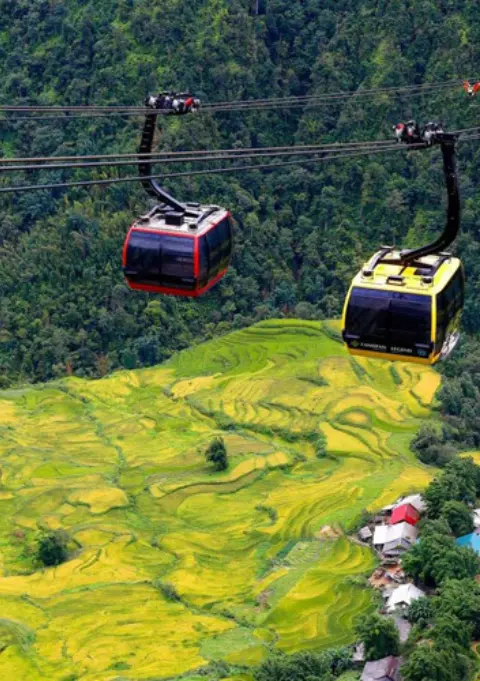 [QR Code] Buy Fansipan Cable Car Tickets Online
Non-refundable
Present your e-voucher
Fixed-day ticket
Admission with voucher
Check the weather
Not only trekking, but in any travel, you also need to check the weather before going. Because this is the factor that helps you have a safe and dangerous journey. At the same time, it will determine the health and how to prepare trekking gear…
For example, hot weather will make the body tired due to a lot of exercise. Rain or wet weather will reduce the speed of movement, increase the possibility of slipping, falling …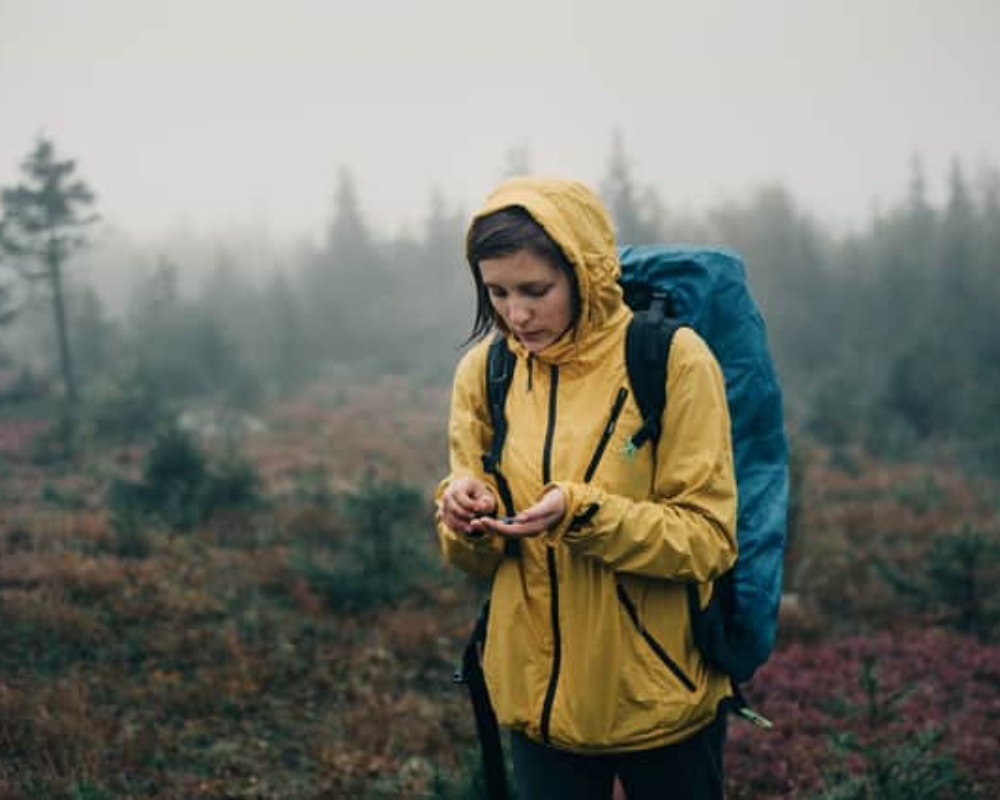 Choose the right clothes and accessories
Not only physical, skill or mental preparation, but the necessary luggage of a trekking trip also needs necessary items such as:
– Clothes
You should wear cool, stretchy clothes to absorb quickly. Limit wearing jeans because the material is not suitable, causing heat and difficult to sweat. On the way of trekking through the forest or wet areas, you should wear long pants to limit being bitten by insects, snakes or scratched by plants and trees.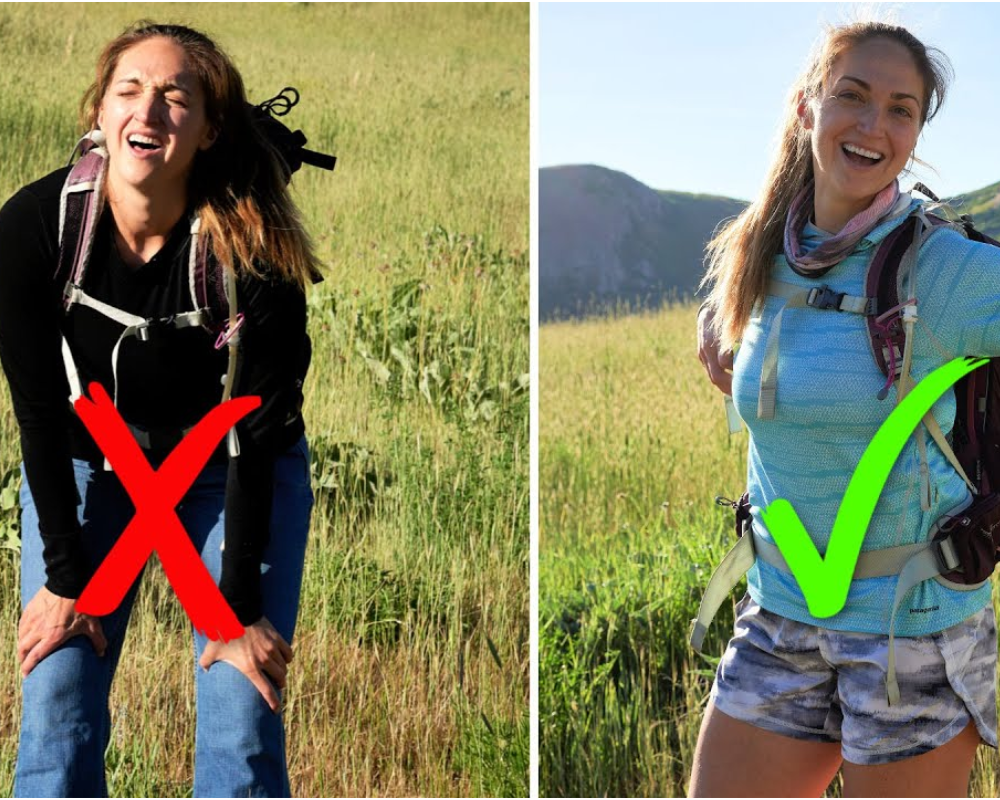 Best Assistant For Your Trek
– Trekking shoes
According to the full trekking experience from A-Z of many people, you should bring shoes that fit your feet (or have only walked 1-2 times). At the same time, choose shoes with good friction, elasticity, adhesion, smooth lining, comfortable and non-restrictive.
In addition, it is recommended to bring an extra pair of honeycomb sandals or sandals to replace when camping…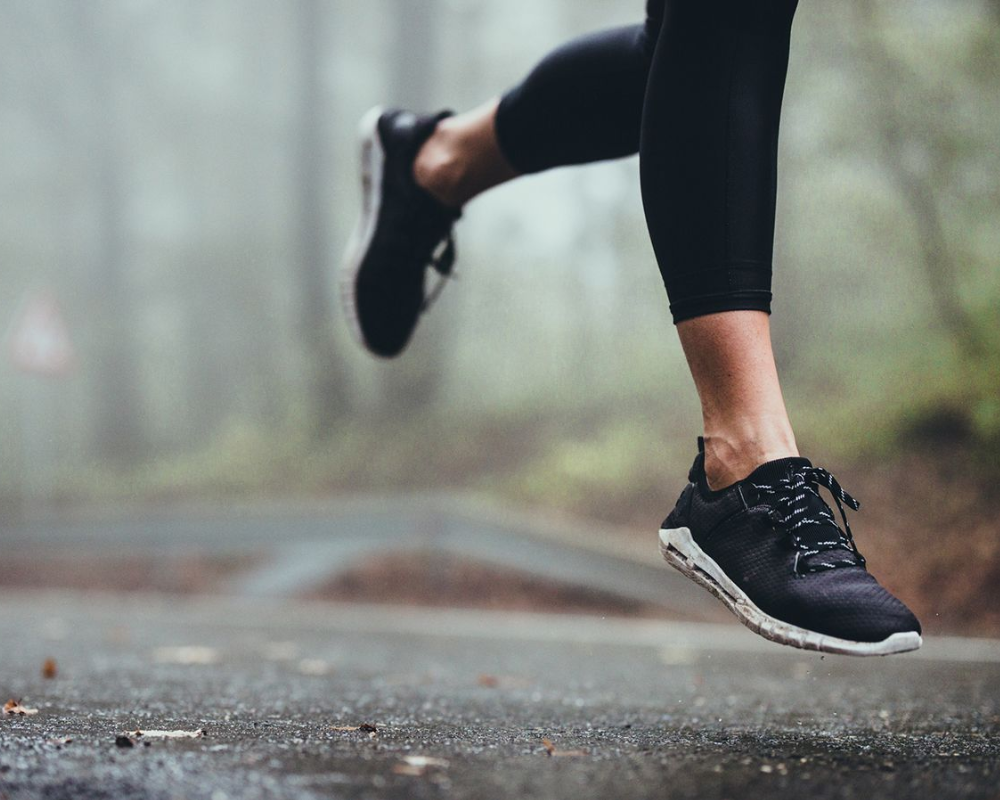 – Water and food
In every trekking trip, there can never be a shortage of food, food or drink. Some of the food you can bring are dry food, instant noodles, sausages… However, depending on the conditions and terrain, we should prepare the right amount.
– Backpacks, bamboo sticks, flashlights…
It seems that everyone knows, a good backpack is an extremely close companion of long journeys. During trekking trips, you should choose a backpack of the right size and suitable for your body. Do not carry too large a backpack because it will make you lose strength and difficult to move.
In addition, it is necessary to equip a trek stick to reduce the possibility of a foot trip or a flashlight to illuminate when it is dark…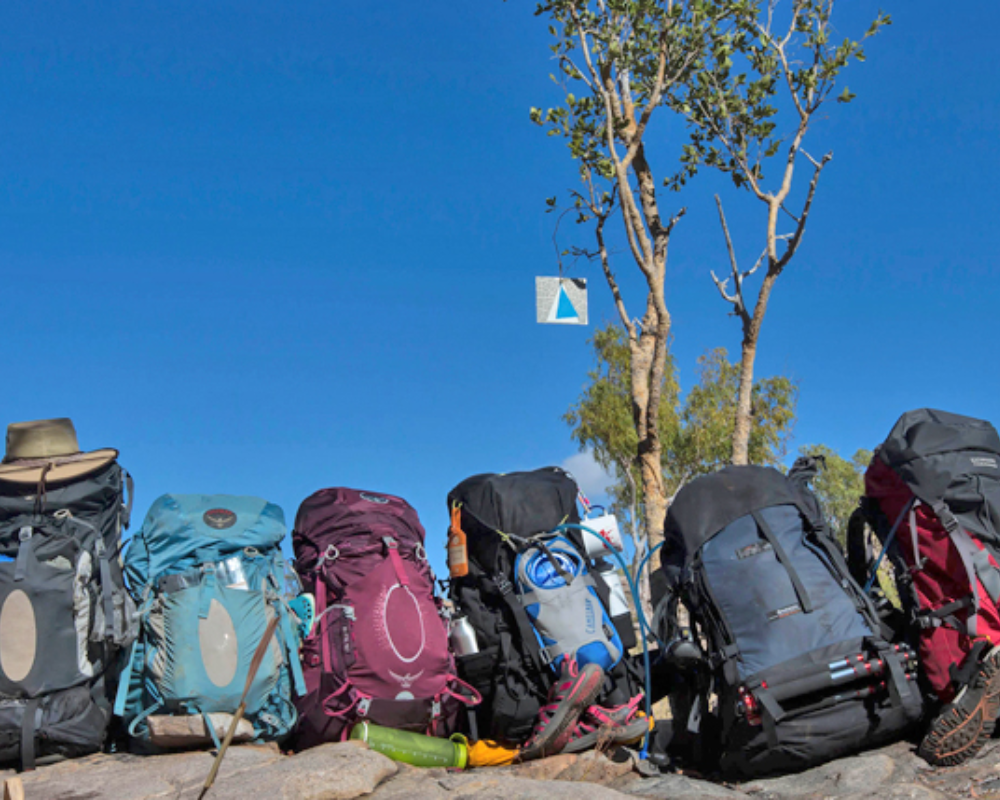 – Basic medical first aid equipment
No matter how you prepare for travel, you can never be without a basic medical first aid kit. You should bring necessary medical supplies such as special medicines, flu, fever, bandages, cotton … To prevent unforeseen risks such as scratches when crossing the forest, wading streams.
– Identity papers + money
Some people's trekking and climbing experience said that it is the same in any travel. Carrying identification documents and money is essential. Because in some places like the National Park or the ranger station will often ask you to show records.
However, do not bring too much money or jewelry, valuable items.
Tips for trekking in Sapa without a guide:
After you have carefully prepared for the trekking trip, you should not ignore some important notes as follows:
When moving, always stick to teammates, so that they can support each other in case of trouble easily. According to trekking experience or climbing experience, you should not separate to go alone, especially when crossing streams and mountains.
Do not litter indiscriminately, but always keep the natural landscape as clean as it was in the beginning.
Always have the support and help of a local guide or group leader. For those who are new to trekking for the first time, it is best to book a tour.
Because it is a form of active tourism, participants need to prepare themselves for the best health and fitness.
The trekking tour is not suitable for people with a history of diseases of blood pressure, heart, asthma, epilepsy, etc.
Not only that, make sure your mentality is stable during the trip to enjoy great experiences when trekking in Sapa.
This is some information for your Sapa trekking trip. If you want a more convenient way for your travel, contact us right now!
Is trekking in Sapa difficult?
Sapa trekking requires a lot of walking up and down the hills, therefore, you need to be very prepared to avoid getting too exhausted. A regular trek is about 12-15km a day, and it often lasts about 7-8 hours. However, these difficulties aren't like when you are climbing a mountain, as the roads here are not that bad.
Can you trek in Sapa without a guide?
Except for trekking to Fansipan Peak, you do not require a guide for many of the treks in Sapa. Fansipan Peak is a very challenging hike that will take up to three days to complete. The trek requires an experienced local guide and porter who know the route and possible conditions.
How many days in Sapa is enough?
Because of the 6-9 hour journey to get here, a day trip is not recommended. One night and two days is certainly enough time to experience the Sapa area, trek down through the rice paddies and villages, visit the rural villages and more heavily touristed Cat Cat, and massage.
Is it worth it to go to Sapa?
The rice fields are definitely worth a visit! Sapa is an incredible place that everyone should have the chance to visit. With its stunning scenery and friendly people, it's easy to see why Sapa is such a popular tourist destination.
What are Hiking Tours in Sapa good for avoiding crowds?
If you want to stay away from crowds, you can consider to take part in some private trekking tours in Sapa. There are many companies that privide private tours for group, family or even one person
Which places provide the best hiking & camping tours in Sapa for groups?
Sapa has so many places to go trekking. Some popular tours is Fansipan peak, Cat Cat village, Ta Phin Village,……
How Long Is The Trek In Sapa?
For trekking alone, it is recommended that one full day is enough. But if you don't want to miss an opportunity to discover a new lifestyle as well as totally unwind experiencing the beauty of nature, then a 3-day-2-night trip will be perfect.
Sapa 1 Day Tours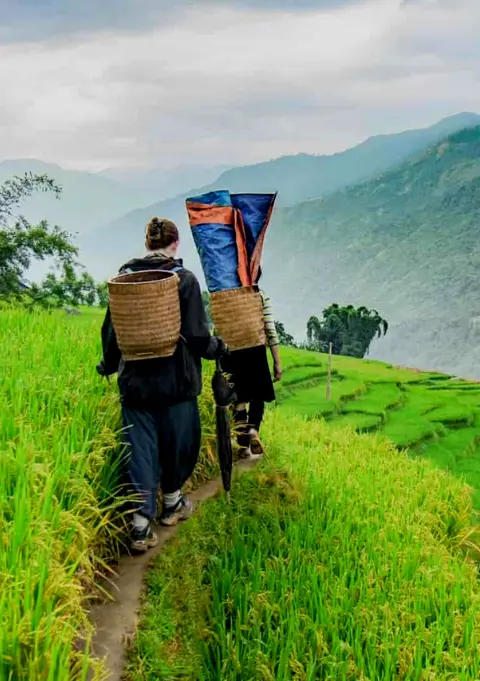 1 day experience
Moderate to challenging
Cultural immersion & active adventure
Rice fields, valleys & villages
​Private tours
Vegan-friendly
Sapa 2 Day Tours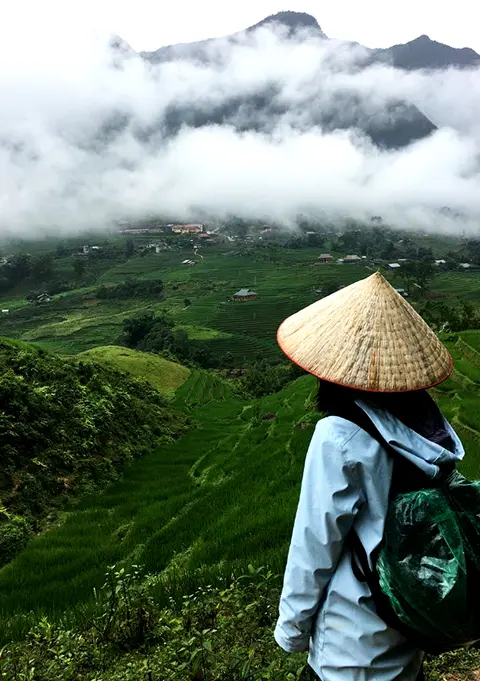 2 days 1 night experience
Moderate to challenging
Cultural immersion & active adventure
Mountains, valleys, rice fields and villages
​Private tours
Vegan-friendly
Sapa 3 Day Tours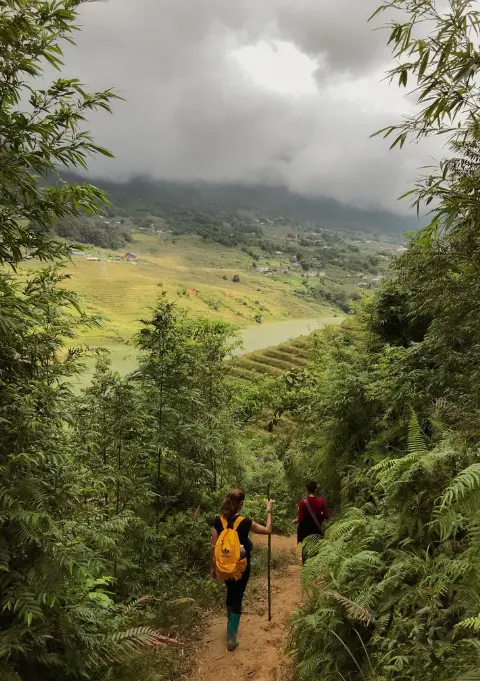 3 days 2 night experience
Moderate to challenging
Cultural immersion & active adventure
Mountains, valley, rice fields & villages
​Private tours
Vegan-friendly
Sapa 4 Day Tours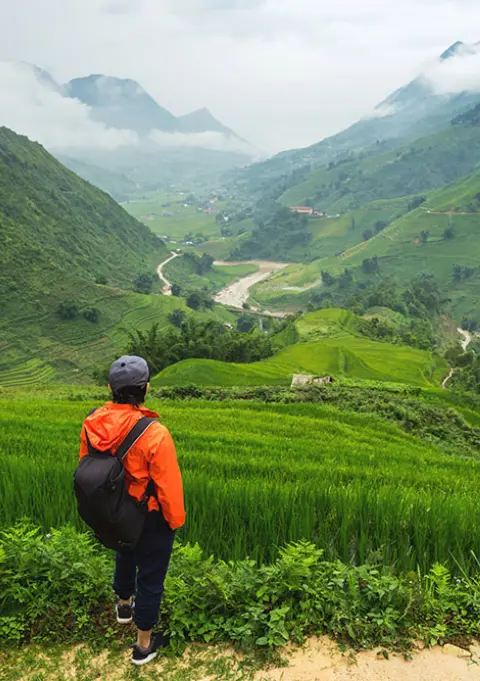 4 days 3 night experience
Moderate to challenging
Cultural immersion & active adventure
Mountains, valleys, rice fields & villages
​Private tours – Less Touristic
Vegan-friendly