Sapa Trekking in Winter is an adventure of a lifetime! If you've ever dreamed of running away to the hills, then this is your chance – and what better time to do it than winter? I recently had the opportunity to explore Sapa's rugged terrain during its coldest months, and let me tell ya: it was worth every minute. From awe-inspiring views to unforgettable moments of exploration, here are my top reasons why trekking Sapa in winter should be on your bucket list.
The first thing that comes to mind when thinking about trekking in winter is the breathtaking landscape. Snowcapped mountains rise from lush valleys below and provide a stunning backdrop for any activity. As we hiked along trails winding through rice paddies and past traditional villages, it felt like stepping into another world entirely – one filled with beauty, culture, and a sense of freedom that can only come from being surrounded by nature.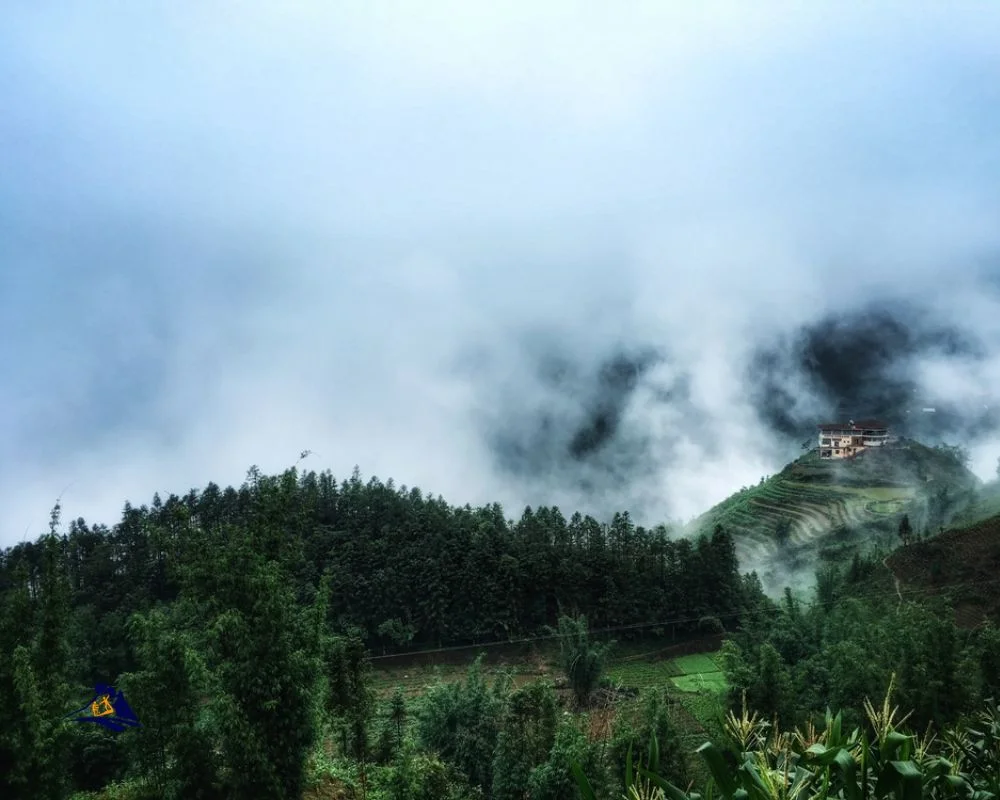 If you're looking for an adrenaline rush, there's no better place than Sapa during the winter months. With temperatures dropping as low as 0 degrees celsius at night (and sometimes even lower!), the air was crisp and invigoratingly fresh. This made for perfect conditions for tackling some more challenging treks – think scaling icy cliffs or jumping over frozen streams! No matter how tough things got though, our group always managed to make it out unscathed… well mostly anyway 😉 …with a sense of accomplishment and pride in what they had achieved.
Overview Of Sapa Vietnam
Sapa is a stunning mountain town in northwestern Vietnam, known for its vibrant culture and breathtaking views. It's nestled into the Hoang Lien Son mountains and surrounded by rice terraces that have been carved out of the landscape over centuries. A trip to Sapa can be an incredible adventure, full of exploration, discovery, and cultural immersion.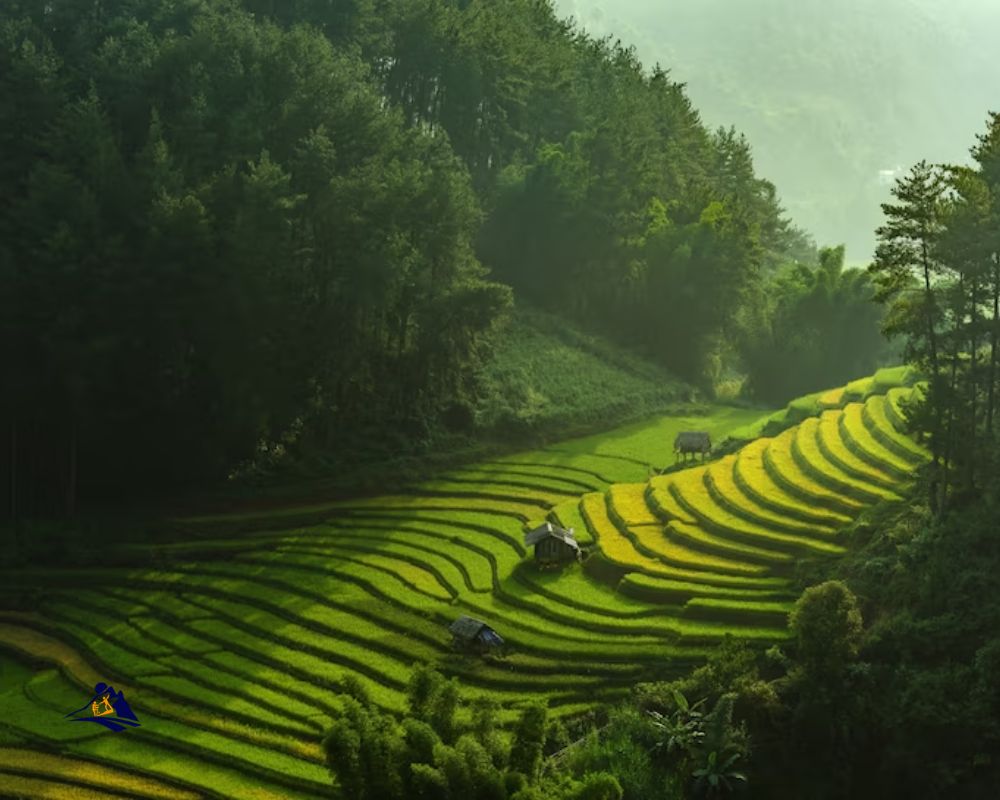 The best time to travel to Sapa is during winter when temperatures drop below freezing point at night and snow-capped peaks dot the horizon. Trekking through Sapa in winter offers spectacular views of cascading waterfalls, lush green valleys, and towering limestone karsts. The nearby villages offer glimpses into traditional hill tribe cultures where ancient ways of life remain unchanged since generations past.
From visiting local markets to taking cable cars up Mount Fansipan or trekking along winding trails beneath rolling hills, there are plenty of attractions for visitors looking for an unforgettable experience in this picturesque corner of Vietnam. With such diversity on offer, it's no wonder why so many people come from near and far to explore the natural beauty of Sapa each year! And with perfect weather conditions throughout the winter months, now is the ideal time to embark on your journey here.
Winter Weather Conditions
Trekking in Sapa during winter can be a thrilling experience, but it also comes with some unique challenges. The cold temperatures and snowfall require trekkers to take extra precautions for their safety.
Sapa has an average temperature of 10°C (50°F) from November to February, making it one of the colder places in Vietnam. Winters are usually humid and foggy, so bring layers that you can remove or add as needed throughout the day. Snow is rare, though there have been instances when up to 20 cm fell in December. If you are planning on visiting Sapa in winter, keep tabs on the weather forecast before your trip and prepare accordingly.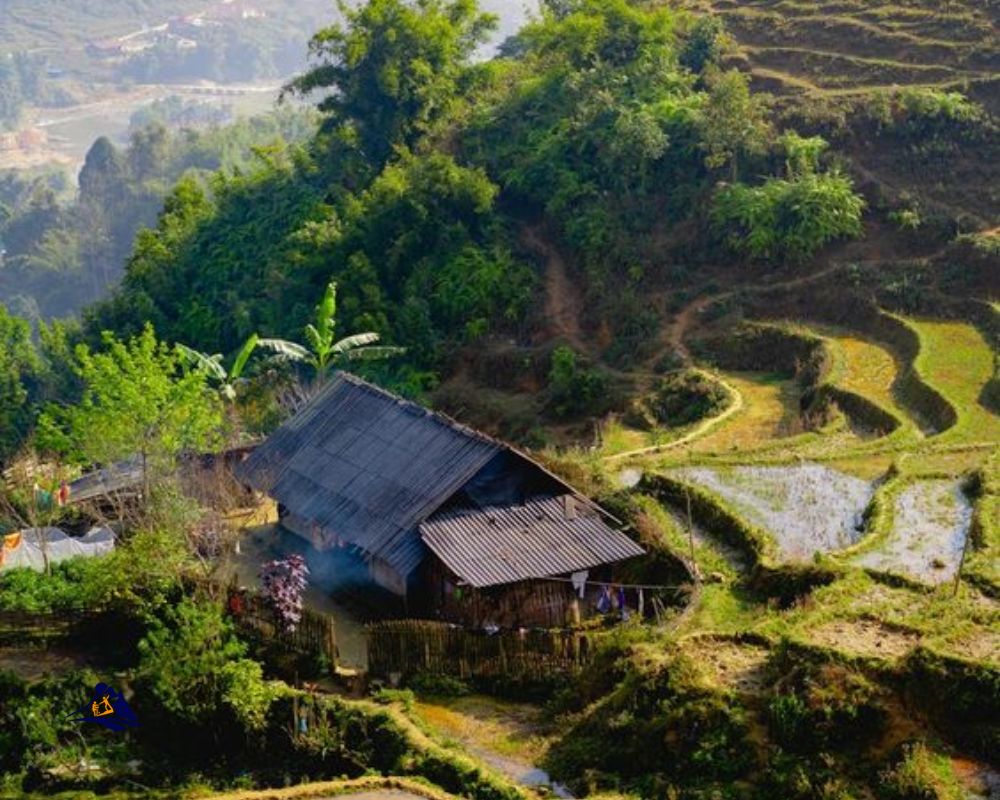 When trekking through Sapa's mountains during winter, make sure you wear warm clothing and waterproof boots or shoes with good grip. Bring along hats and gloves too if possible – these will help protect against frostbite should conditions become extreme. It's also important to carry enough water even though you might not feel thirsty due to the cold weather; dehydration can still occur anytime! Lastly, pay attention to local trail signs at all times – they will provide useful tips about avoiding unsafe areas such as rock slides or icy patches.
These considerations aside, having the right gear is essential for staying safe while trekking in Sapa during wintertime. In the next section, we'll cover what equipment and supplies are necessary when embarking on a journey like this.
Essential Gear And Supplies (Especially For Those Who Trekking In Sapa Without A Guide)
When trekking in winter, having the right gear and supplies is essential. I can't stress this enough – you don't want to be unprepared for a cold winter hike! The first thing you need is hiking boots with good traction and insulation. You should also wear multiple layers of winter clothing and keep your extremities warm with gloves, hats, and scarves. Trekking poles are vital for stability on snow-covered or icy paths. Finally, make sure to pack plenty of snacks and water in a hydration pack so that you stay nourished during your long hikes.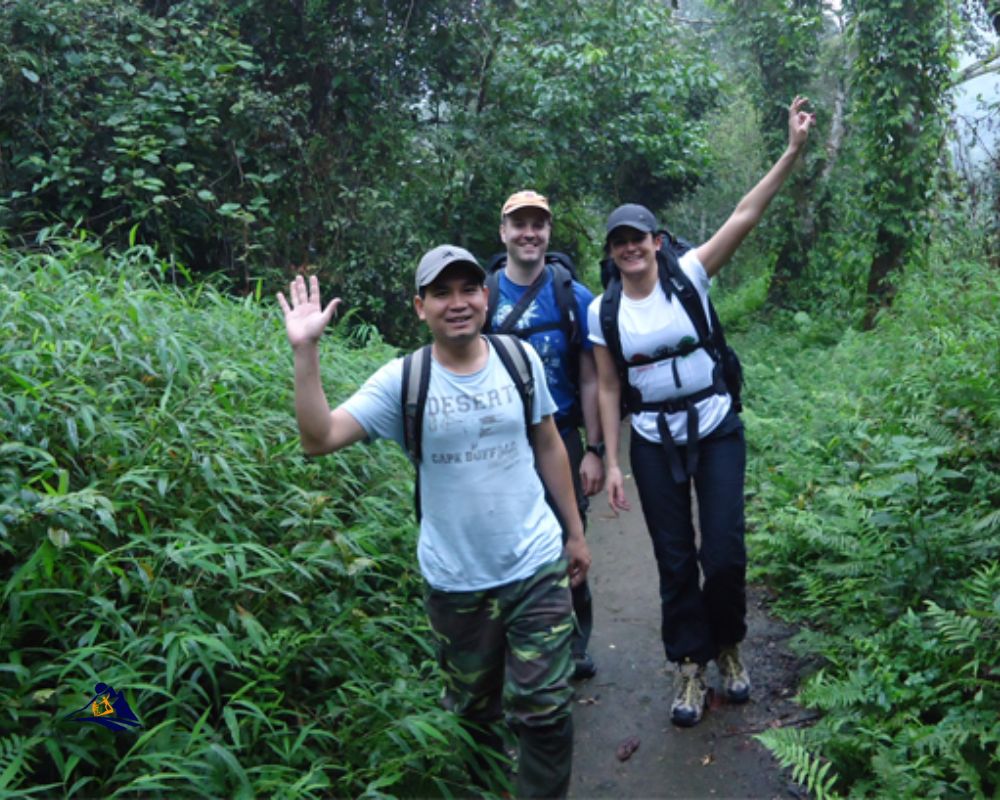 It's important to have all of these items before starting your journey into the hills. Make sure they're comfortable because if not, it could ruin your whole trip! Additionally, depending on the length of your trek, you may wish to bring additional items like binoculars or a compass as well as other necessities such as toiletries and sunscreen. With these essentials packed up and ready to go, you'll be prepared for anything mother nature throws at you while trekking in winter! Now let's move on to safety tips for trekking in winter…
Safety Tips For Sapa Hiking In Winter
When it comes to winter trekking in Sapa, safety should always be top of mind. It's easy to get carried away with the excitement and enthusiasm for outdoor adventure, but proper preparation and precautions are essential for a safe and enjoyable experience. To ensure you have a smooth journey, here are some vital tips and tricks on how to stay safe when Sapa trekking in winter.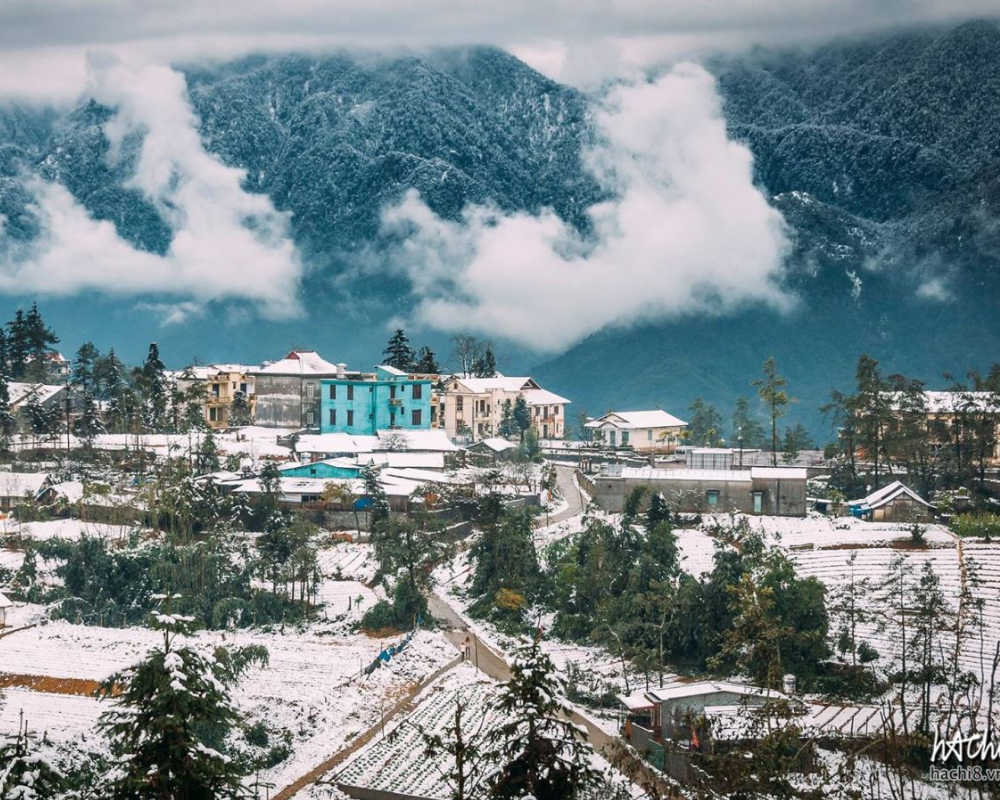 First off, make sure you're adequately outfitted with warm clothing, including hats, gloves, and multiple layers of clothes that can be easily removed or added depending on your level of activity. In addition to this, bring along appropriate gear like snowshoes or crampons (for icy trails) as well as extra batteries for head torches – just in case! Additionally, before embarking on an expedition into the wilds of Sapa during winter months, check weather forecasts as conditions can change rapidly at higher altitudes due to cold fronts or strong winds. This will help you plan accordingly so that you don't get caught out by unexpected weather changes while en route.
Finally, no matter what trail you decide to explore in Sapa during the winter season (or any other time), never go alone – always travel with someone who is familiar with the local terrain and knows the risks associated with such activities. By taking these simple steps ahead of time, you'll increase your chances of having an amazing – yet safe – Sapa trekking experience this winter!
Sapa 1 Day Tours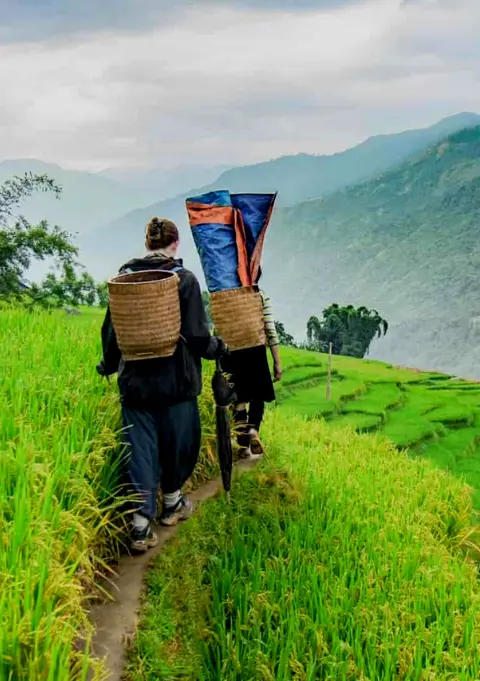 1 day experience
Moderate to challenging
Cultural immersion & active adventure
Rice fields, valleys & villages
​Private tours
Vegan-friendly
Sapa 2 Day Tours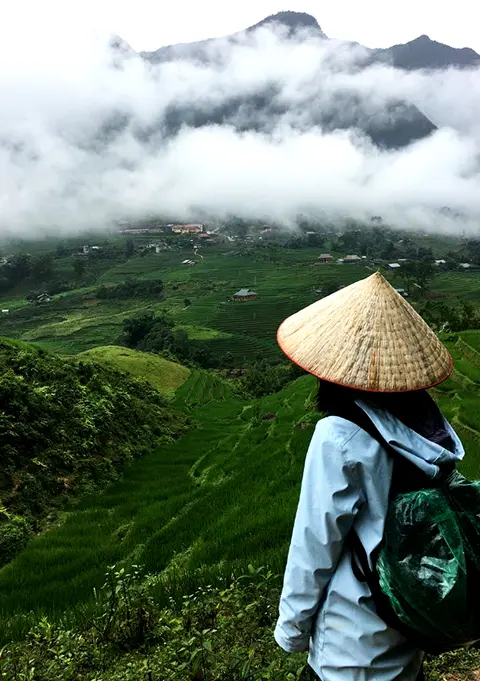 2 days 1 night experience
Moderate to challenging
Cultural immersion & active adventure
Mountains, valleys, rice fields and villages
​Private tours
Vegan-friendly
Sapa 3 Day Tours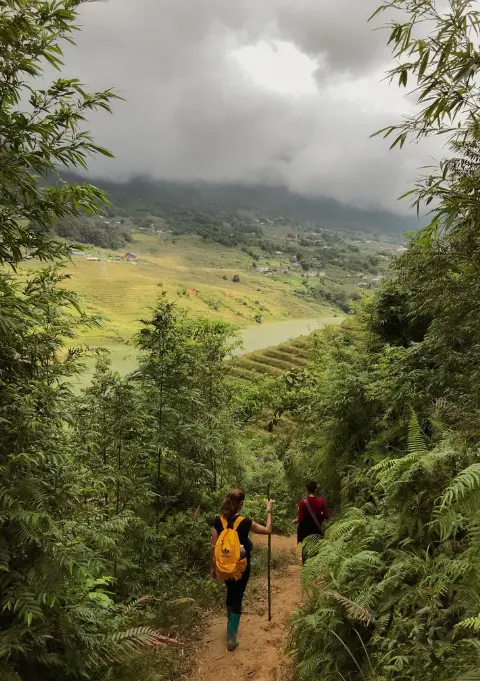 3 days 2 night experience
Moderate to challenging
Cultural immersion & active adventure
Mountains, valley, rice fields & villages
​Private tours
Vegan-friendly
Sapa 4 Day Tours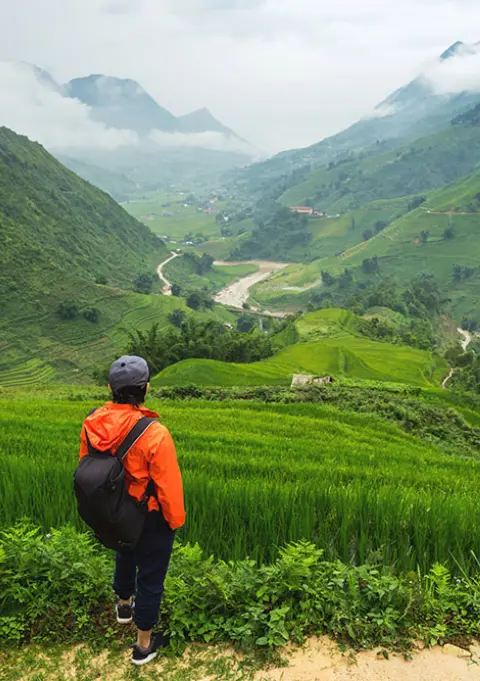 4 days 3 night experience
Moderate to challenging
Cultural immersion & active adventure
Mountains, valleys, rice fields & villages
​Private tours – Less Touristic
Vegan-friendly
Popular Trails To Explore Sapa In January and Sapa In March
Hiking in Sapa during winter is an experience like no other. With plenty of hiking routes to explore and breathtaking mountain peaks, it's the perfect place for a thrilling adventure.
Whether you're looking for an off-the-beaten-track journey or something more relaxing, some trails cater to all types of hikers. For example, if you want to get away from the hustle and bustle of city life, take a trek through the many villages around Sapa – each one with its unique charm. You'll find some incredible views as you traverse winding paths up steep hillsides and make your way down into lush valleys. Plus, don't forget to bring along your warmest gear as temperatures can dip below freezing!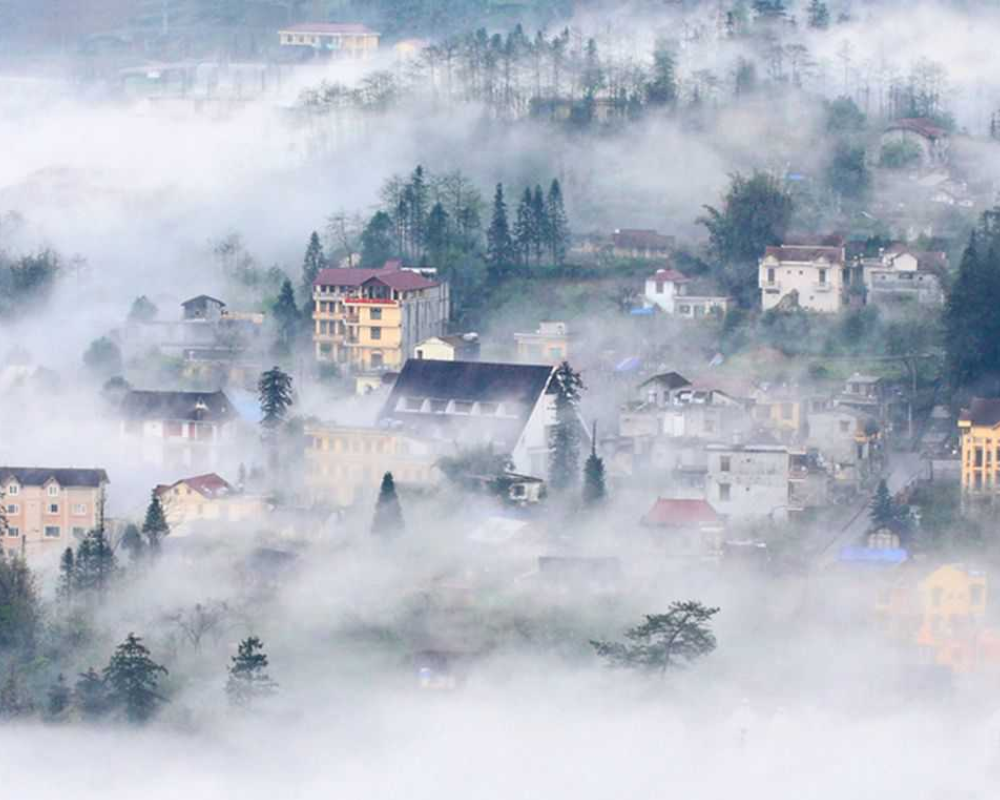 If you're feeling adventurous, why not challenge yourself by taking on one of the higher mountain peaks? The summit trail offers stunning views and opportunities for wildlife spotting at every turn. Plus, this type of hike provides excellent exercise and allows time for peaceful reflection amidst nature's beauty.
As you plan your next winter escape to Sapa, keep these popular trails in mind – they will help ensure you have an unforgettable experience full of exploration, relaxation, and discovery. Ready for accommodations and services? Let's move on!
Where To Stay In Sapa – Hotel And Homestay in Sapa
Sapa trekking in winter offers travelers a chance to explore the stunning scenery and culture of Northern Vietnam. With accommodations, services, and tour guides on hand, visitors can embark on their journey with confidence and ease.
If you're looking for lodging options during your trip, there are plenty of places to stay both near town and in rustic villages within the Sapa valley. Most offer winter packages tailored to fit every budget. From cozy homestays nestled between terraced rice paddies to chalets perched atop hillsides providing spectacular views – you'll be sure to find something that suits you!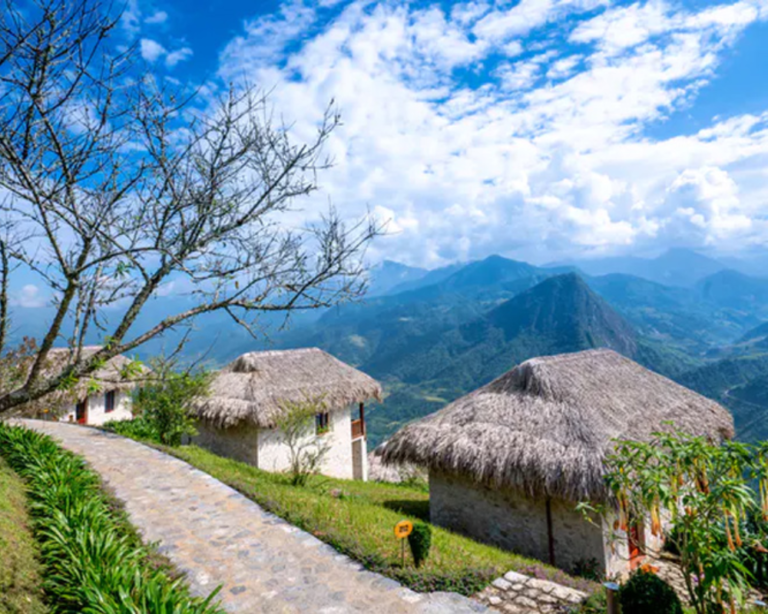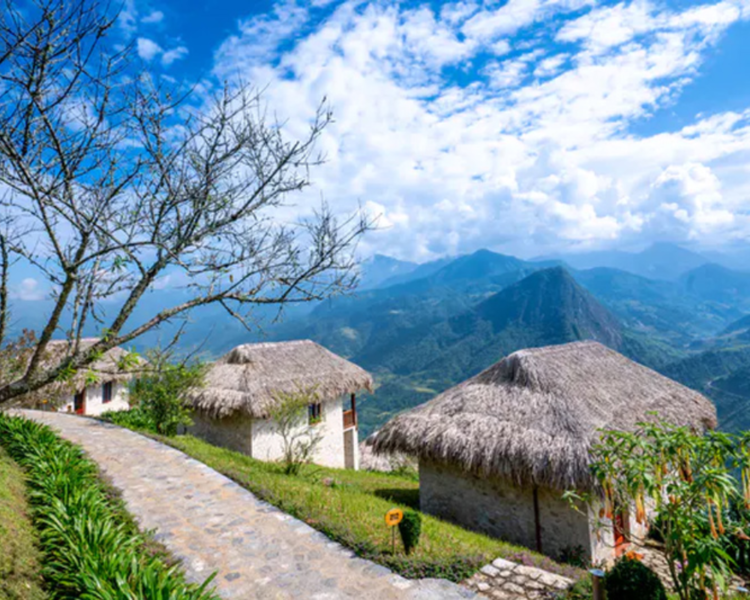 The same goes for trekking services; whether you're a first-timer or a seasoned hiker, experienced guide teams are available to help make your experience as enjoyable as possible. They will provide route advice, equipment information, and safety tips so that your adventure is seamless from start to finish.
No matter what type of traveler you may be, set off into the wilds of Sapa this winter season knowing everything has been taken care of – all that's left is for you to discover its beauty!
Sapa 1 Day Tours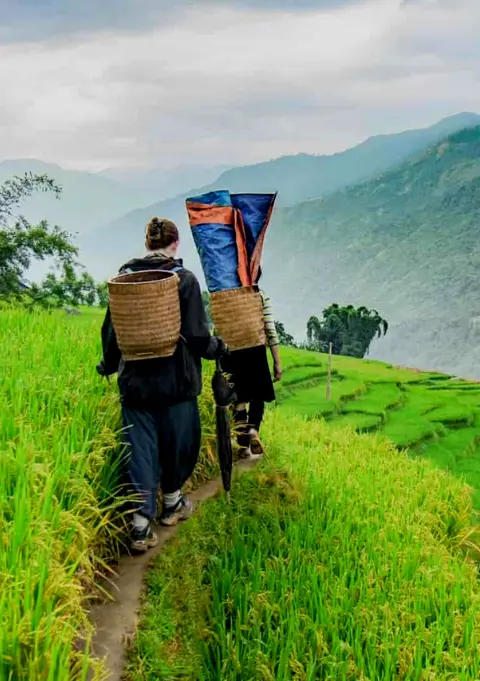 1 day experience
Moderate to challenging
Cultural immersion & active adventure
Rice fields, valleys & villages
​Private tours
Vegan-friendly
Sapa 2 Day Tours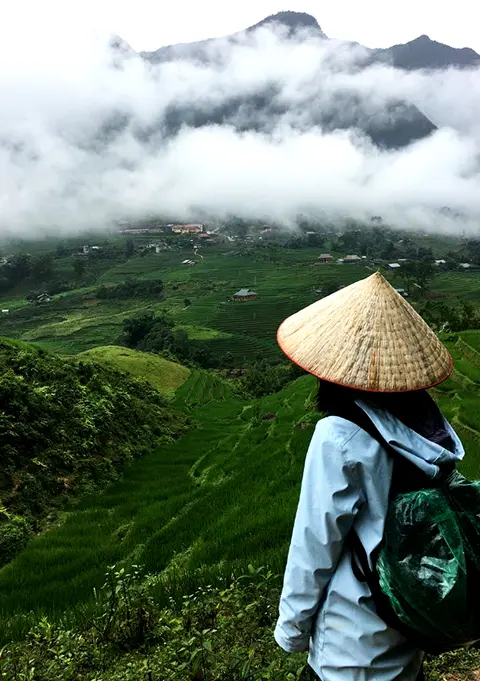 2 days 1 night experience
Moderate to challenging
Cultural immersion & active adventure
Mountains, valleys, rice fields and villages
​Private tours
Vegan-friendly
Sapa 3 Day Tours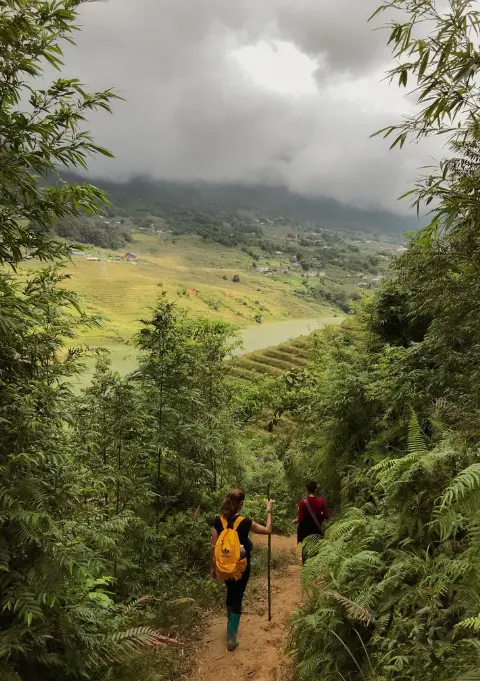 3 days 2 night experience
Moderate to challenging
Cultural immersion & active adventure
Mountains, valley, rice fields & villages
​Private tours
Vegan-friendly
Sapa 4 Day Tours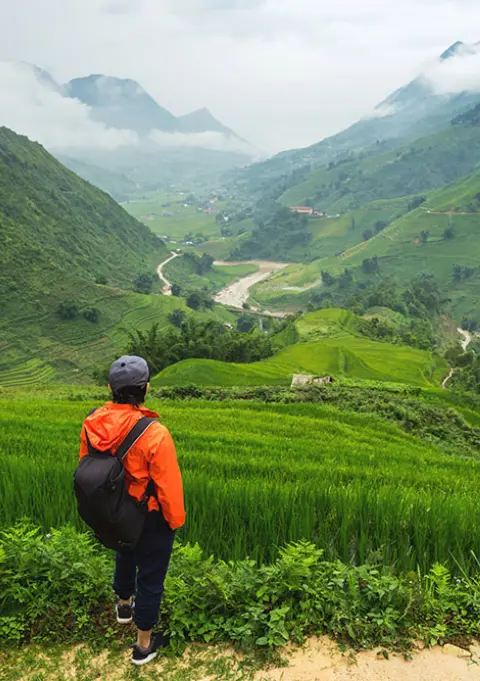 4 days 3 night experience
Moderate to challenging
Cultural immersion & active adventure
Mountains, valleys, rice fields & villages
​Private tours – Less Touristic
Vegan-friendly
Sapa Trekking in Winter Frequently Asked Questions
What Is The Best Time Of Year To Go Trekking In Sapa Vietnam?
When it comes to trekking in Sapa, there is no one-size-fits-all answer as to when the best time of year is. The weather conditions and terrain vary depending on whether you are looking for a winter or summer trekking experience. With that said, if you want to go trekking in Sapa during the winter months, several factors can make your trip more enjoyable.
First off, keep in mind that temperatures in Sapa drop significantly from October through March. This means that you should pack accordingly – bring plenty of layers for warmth and waterproof gear for rain or snow. You'll also need sturdy boots with good grip for any icy patches along the trails. Additionally, be aware that some paths may become muddy due to melting snow so plan by checking trail conditions before setting out.
Finally, consider your overall goals for the trip when deciding which season is best for trekking in Sapa. If you're looking to get away from urban life and enjoy nature at its finest then winter might be ideal because hiking trails tend to be less crowded this time of year. On the other hand, if stunning views are your top priority then summer would likely provide better scenery thanks to lush green vegetation against clear blue skies. Ultimately, what matters most is finding the right balance between temperature and scenery while keeping safety front of mind regardless of which season you choose!
What Are The Most Important Safety Precautions For Trekking In Sapa In Winter?
As a travel writer, I'm often asked what the most important safety precautions are for trekking in Sapa during winter. The truth is, trekking in any season can be dangerous if you don't take the right measures to protect yourself and plan. With that said, there are some specific considerations when it comes to trekking in Sapa during winter.
First of all, you need to make sure that you have the appropriate clothing and equipment for your trip. Investing in quality winter gear will help keep you warm and dry throughout your trip. You should also bring plenty of food and water with you on your journey as temperatures can drop drastically at night. It's also essential to wear good-quality snow shoes or boots as slippery surfaces are common during this time of year. Finally, having access to an emergency kit including medical supplies and first aid items is highly recommended for anyone planning a winter trekking adventure in Sapa.
Of course, knowing where to go is just as important as being properly prepared. Before setting off on your journey, it's best to research trails that are suitable for your skill level and experience – that way you'll avoid getting into tricky terrain which could put you at risk of injury or worse! Additionally, let someone know where you're going so they can follow up if necessary; it's always better to err on the side of caution. As every experienced hiker knows: no matter how beautiful a trail looks, never underestimate its difficulty level or potential danger levels!
When preparing for your winter trekking expedition in Sapa, remember these keywords: preparation, research & communication – these three elements combined are essential for keeping safe while exploring breathtaking new places around the world. So before taking those first steps into uncharted territory, equip yourself with knowledge and resources so that nothing stands between you and freedom… except maybe a few feet of snow!
Are There Any Special Medical Considerations For Trekking In Sapa In Winter?
Trekking is an increasingly popular way to explore the world. But it's important to be aware of any potential risks, especially when trekking in a new location or during the winter months. So what special medical considerations should you keep in mind if you're planning on doing some sapa trekking in winter?
First and foremost, make sure that your body is up for the challenge. Trekking can involve long hours of physical activity at high altitudes—so it's essential to ensure that your heart and lungs are healthy enough to handle these conditions. You may want to get a check-up from your doctor before embarking on a winter sapa trekking trip.
It's also wise to be prepared for whatever medical issues might arise while on the trail. Here are five items worth packing:
Pain relievers (such as ibuprofen)
Antihistamines (in case of allergies)
Bandages and antiseptic cream (for minor scrapes and cuts)
Oral rehydration salts (to prevent dehydration)
An emergency whistle (in case of injury).
In addition, make sure that you have adequate insurance coverage for any unforeseen medical expenses related to trekking in sapa during winter. Taking extra precautions now could save you a lot of trouble in the future!
Are There Any Special Skills Required For Trekking In Sapa In Winter?
Trekking is an exciting and rewarding experience, but it can also be dangerous if you don't have the right skills. If you're planning a trekking trip to Sapa in winter, you'll need to make sure that you have some special skills to stay safe and enjoy yourself. Here are three key skills needed for successful winter trekking in Sapa:
Navigation: Trekking through unfamiliar terrain requires knowledge of navigation tools such as maps and compasses. You should also be knowledgeable about terrain features like rivers, mountains, valleys, and forests so that you can properly orient yourself while traveling.
Equipment Maintenance: Cold temperatures can cause your equipment to freeze or malfunction; therefore, it's important to know how to maintain and repair your gear during a winter trekking expedition. This includes things like tracking down spare parts when necessary or simply making sure all items are stored properly at night.
Physical Fitness: Winter treks require more physical energy than summer ones due to the colder temperature. As such, having good cardiovascular health is essential for completing any arduous journey in cold climates. Make sure you're prepared with the proper exercise regimen before attempting any long-distance hikes!
These skills will equip hikers with the ability to tackle most challenges posed by a winter trek in Sapa, from navigating unknown routes to keeping warm throughout their travels. With these tips—and plenty of preparation—you're ready for an unforgettable adventure!
Are There Any Special Clothing Requirements For Winter Trekking In Sapa?
Winter trekking can be a daunting task for some, but with the right preparation, it can be an exhilarating experience. When you're winter trekking in Sapa, you need to make sure that your clothing is up to the job of keeping you warm and comfortable throughout your journey. So what should you wear for winter trekking in Sapa?
When it comes to deciding on the best clothes for winter trekking in Sapa, there are a few key pieces of gear that will help keep you safe and comfortable during your adventure. First and foremost, you'll want to invest in some quality thermal layers such as merino wool base layers which provide insulation against cold temperatures while also being breathable so they won't get too stuffy if the temperature rises during your hike. On top of this, waterproof pants and jackets are essential – no matter how hardy or experienced you may be! Make sure these items fit snugly as loose-fitting garments could become uncomfortable when wet from rain or sweat. Additionally, don't forget about accessories like hats and gloves; all these things will play important roles in protecting you from chilly winds and low temperatures.
Finally, footwear is incredibly important when it comes to winter trekking clothing in Sapa – especially if trails tend to be icy or snowy at certain times of the year. Investing in good pair of waterproof boots with strong grip soles designed specifically for hiking is essential – as well as thick socks made out of synthetic materials which will wick away moisture more effectively than cotton ones would do. With all this taken into account, preparing properly with suitable clothing allows adventurers to enjoy their trip safely without any worries – making memories along the way!
Conclusion
Trekking in Sapa during winter can be an exhilarating experience, with stunning views and a unique cultural atmosphere. It's important to remember that trekking in the cold requires extra safety precautions and special clothing considerations. With proper preparation, however, there is no reason why you cannot have an amazing time exploring this incredible part of Vietnam. As the adage goes, "It's better to be prepared than sorry!"
So if you are planning on taking a trip to Sapa for some winter trekking, make sure you do your research first and come prepared. Make sure to invest in quality gear and warm clothing suitable for extreme temperatures as well as consider any medical concerns before heading out into the wilderness. Finally, bear in mind that winter trekking may require additional skills such as ice climbing or avalanche avoidance so it might be wise to take some courses beforehand if necessary.
All things considered, if done safely, winter trekking in Sapa promises to be an unforgettable adventure filled with breathtaking sights and memories that will last a lifetime. So put on your boots and get ready to explore one of Vietnam's most beautiful places – just don't forget what mother nature has in store!
Sapa 1 Day Tours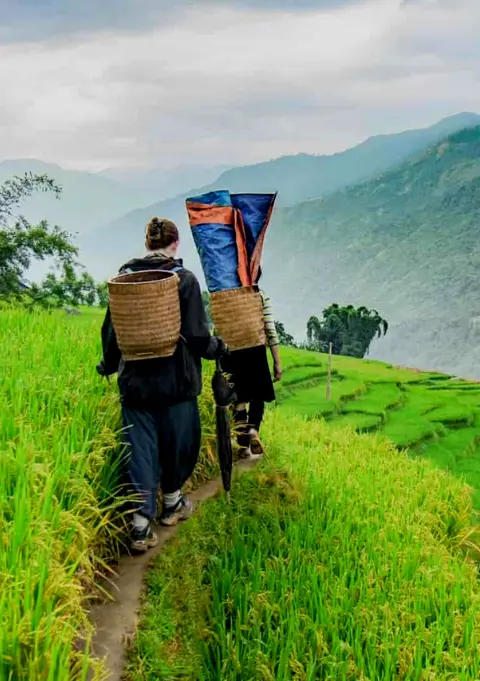 1 day experience
Moderate to challenging
Cultural immersion & active adventure
Rice fields, valleys & villages
​Private tours
Vegan-friendly
Sapa 2 Day Tours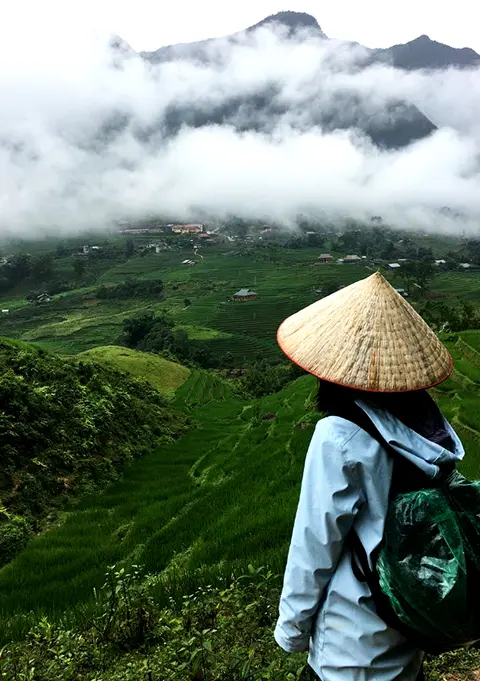 2 days 1 night experience
Moderate to challenging
Cultural immersion & active adventure
Mountains, valleys, rice fields and villages
​Private tours
Vegan-friendly
Sapa 3 Day Tours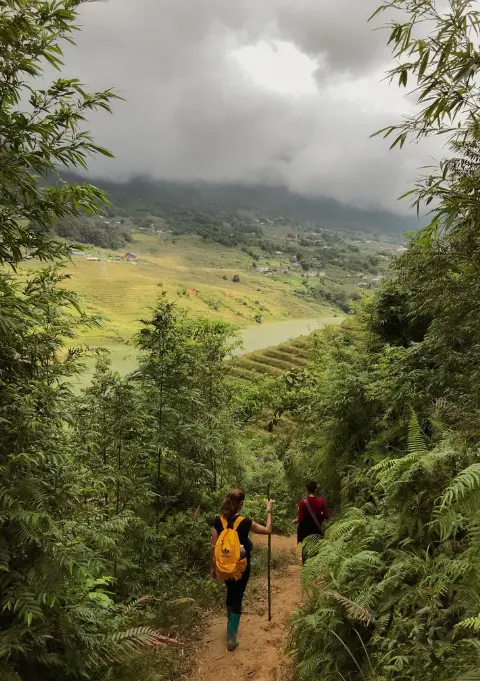 3 days 2 night experience
Moderate to challenging
Cultural immersion & active adventure
Mountains, valley, rice fields & villages
​Private tours
Vegan-friendly
Sapa 4 Day Tours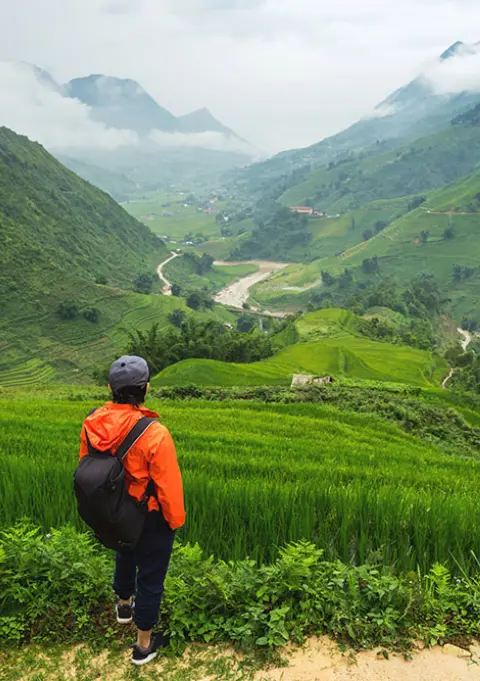 4 days 3 night experience
Moderate to challenging
Cultural immersion & active adventure
Mountains, valleys, rice fields & villages
​Private tours – Less Touristic
Vegan-friendly