Hey, there adventurous souls! Are you looking for an exciting and challenging trekking experience? Are you wondering "Is trekking in Sapa difficult?" If so, let me tell you about Sapa, the mountainous region in Vietnam. It's a stunning place with breathtaking landscapes that will make your heart race with anticipation of what lies ahead. Here I'll explain why trekking Sapa is such a unique and difficult journey perfect for those seeking adventure and freedom.
As a long-time trekker myself, I know just how hard it can be to complete these kinds of treks – but also how rewarding they are when finished. From navigating treacherous terrain to dealing with harsh weather conditions, there's no doubt that trekking in Sapa is both physically and mentally demanding. But don't worry – if you're up for the challenge then this article will provide all the information you need to have a successful trip!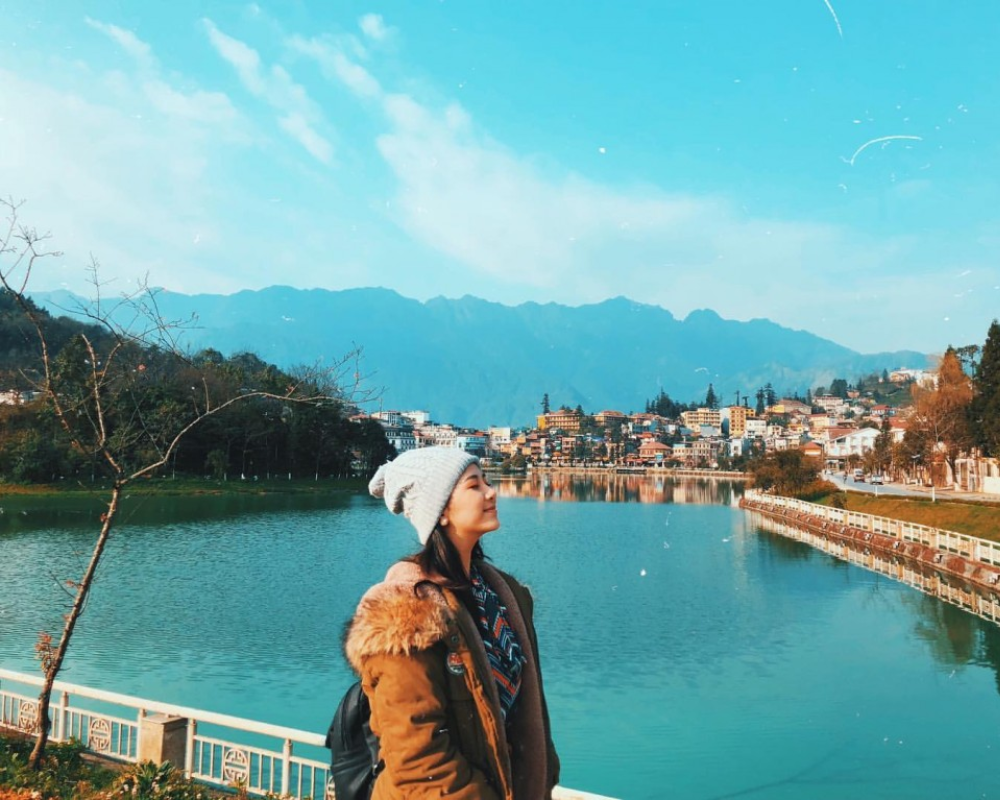 Whether you're new to hiking or an experienced adventurer, this guide will help prepare you for whatever comes your way during your time in Sapa. We'll discuss things like packing essentials, safety tips, and more – so get ready because we're about to embark on an unforgettable journey through one of Vietnam's most beautiful regions!
What Is Sapa?
Sapa is a small town nestled among the mountains of Vietnam, and it's known for its breathtakingly beautiful rice terraces. It's home to several hill tribes who still live in traditional mountain villages scattered around the area. Sapa has been luring visitors since colonial times with its stunning natural beauty and friendly locals.
The landscape around Sapa is rugged and majestic; rolling hills give way to towering peaks that are covered in lush vegetation year-round. The climate varies from warm humid days in summer too cold snowy periods during winter months – perfect conditions for trekking!
For those seeking adventure or just looking to escape their daily routine, Sapa offers an opportunity to explore a unique culture while immersing yourself in nature. With its spectacular scenery and vibrant communities, this is truly one of Vietnam's hidden gems – and now you know why!
Terrain And Climate Of Sapa – Why should I Get To Sapa?
Planning a trekking trip to Sapa can be daunting due to its varied terrain and climate. The area is situated in the middle of two mountain ranges, creating steep slopes and dramatic views. Additionally, it has hot summers and cold winters with rain throughout the year. To help make your planning easier, here are some key points about the terrain and climate of Sapa:
The region's diverse landscape includes terraced rice paddies, limestone mountains, rivers, waterfalls, caves, and forests.
Temperatures range from mild during spring and autumn to quite chilly during winter months.
Rainfall is common throughout the year although it tends to be less frequent in the summertime.
Trekking routes vary in difficulty level depending on the elevation gain or loss required for each route.
There may also be slippery conditions due to mud after rainy days so prepare accordingly!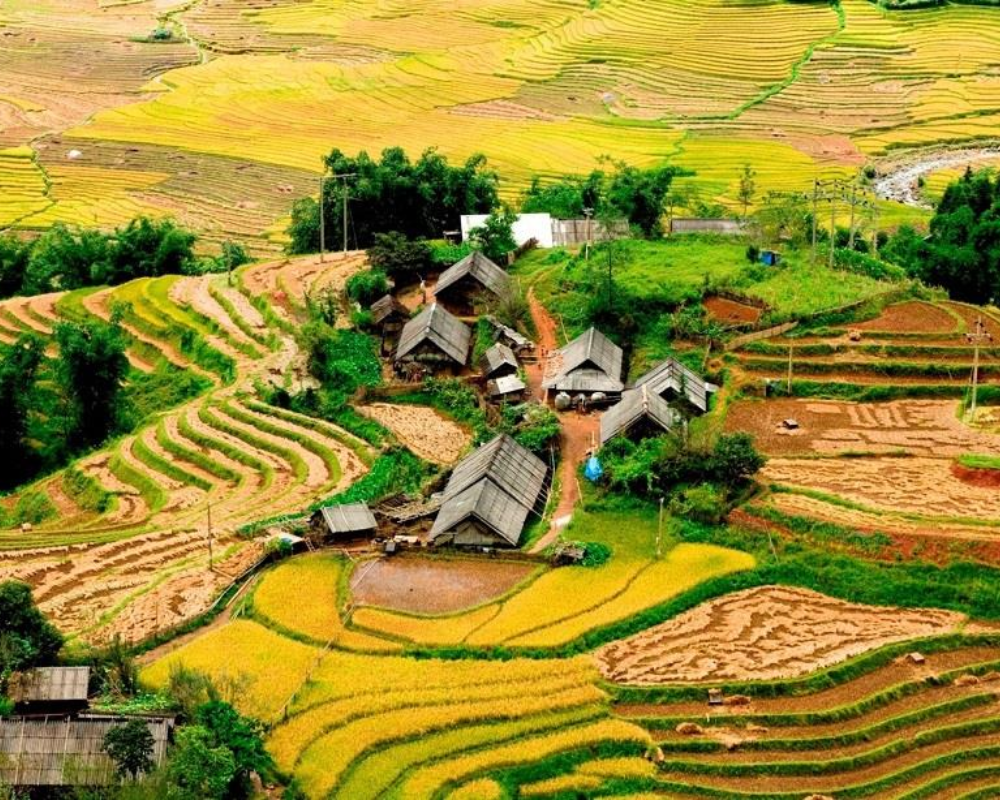 Sapa offers an array of fascinating landscapes that will appeal to both experienced trekkers as well as novice hikers looking for a fun challenge. From lush green hillsides covered with wildflowers to rugged peaks surrounded by misty clouds – you'll find something new around every corner! Moreover, there are plenty of options when it comes to choosing which trail suits your skill level best; whether you're ready for an all-day hike up Mount Fansipan or simply want a stroll through Muong Hoa Valley – there's something out there for everyone! With careful preparation and knowledge of the local terrain and weather conditions, you'll have a successful trekking experience no matter what path you take!
Difficulty Level For Different Trekking Routes
Trekking in Sapa without a guide can be a thrilling adventure. The level of difficulty for each route depends on the experience of the trekker and their ability to handle different terrains. For instance, someone who is an experienced trekker may find the most difficult routes in Sapa quite easy compared to a beginner.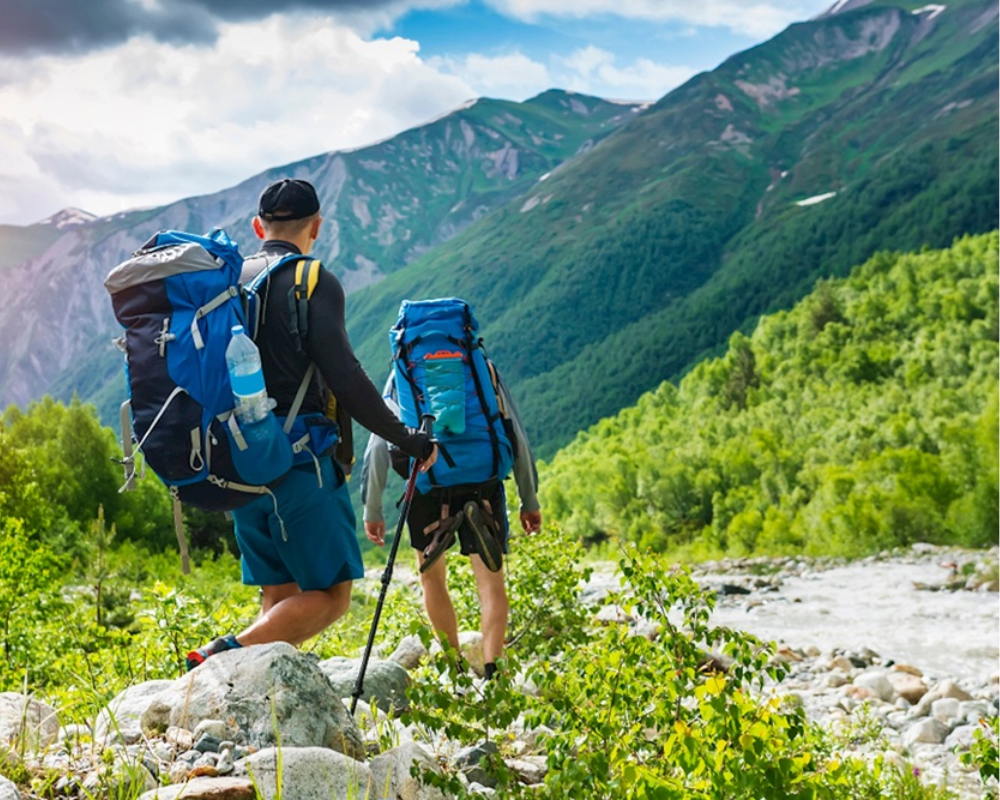 When it comes to choosing a trekking route, many considerations need to be taken into account such as your fitness levels, gear availability, terrain type, and weather conditions. It's best to research the various trekking routes beforehand so you know what to expect before beginning your journey. Trekkers should also equip themselves with essential trekking tips and proper gear before setting off.
No matter how prepared you are or which route you choose, safety always needs to be taken seriously when it comes to trekking in Sapa. Being aware of potential hazards along the way will help ensure your safety while out on the trail. With adequate preparation and knowledge about treks available in Sapa, anyone can have an enjoyable and safe trekking experience!
Safety Considerations For Trekking In Sapa
Trekking in Sapa can be a thrilling experience, but there are also potential dangers to consider. Safety should always be the top priority when planning any trekking or hiking adventure, and this is especially true for Sapa. To ensure your safety while trekking in Sapa, it's important to understand the hazards that may exist along the way.
| Trekking Hazards | Sapa Hazards | Hiking Safety |
| --- | --- | --- |
| Altitude sickness | Wild animals | Map & Compass |
| Weather changes | Unfamiliar terrain | Proper clothing/footwear |
| Poor visibility | Dangerous roads | Emergency kit |
Sapa 1 Day Tours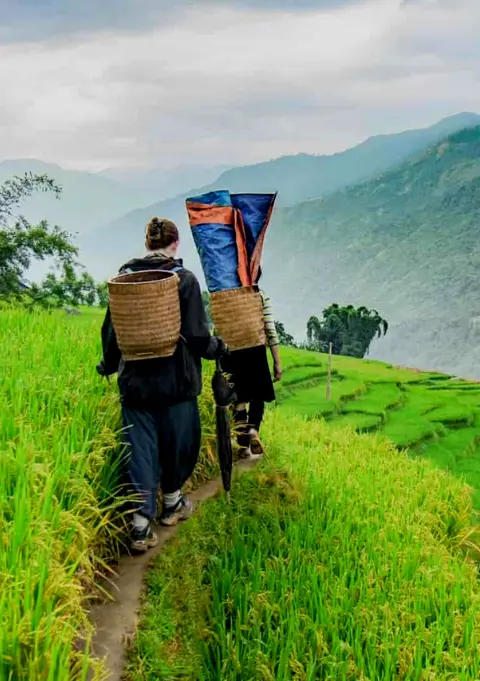 1 day experience
Moderate to challenging
Cultural immersion & active adventure
Rice fields, valleys & villages
​Private tours
Vegan-friendly
Sapa 2 Day Tours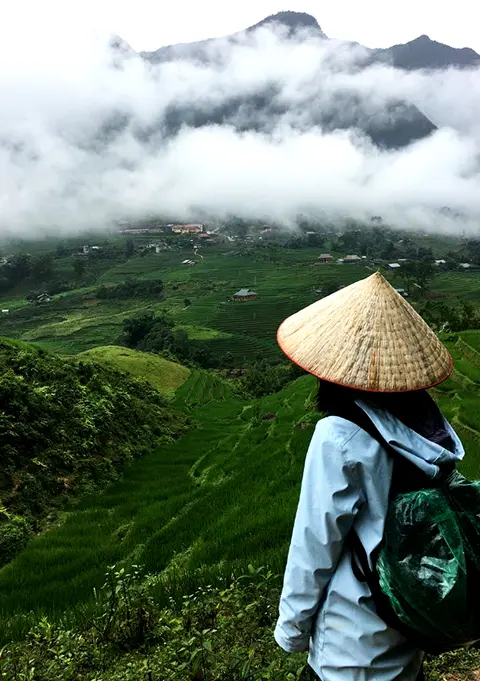 2 days 1 night experience
Moderate to challenging
Cultural immersion & active adventure
Mountains, valleys, rice fields and villages
​Private tours
Vegan-friendly
Sapa 3 Day Tours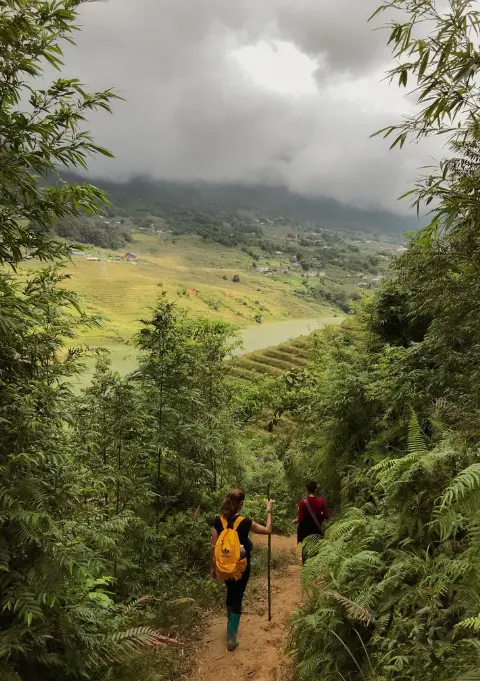 3 days 2 night experience
Moderate to challenging
Cultural immersion & active adventure
Mountains, valley, rice fields & villages
​Private tours
Vegan-friendly
Sapa 4 Day Tours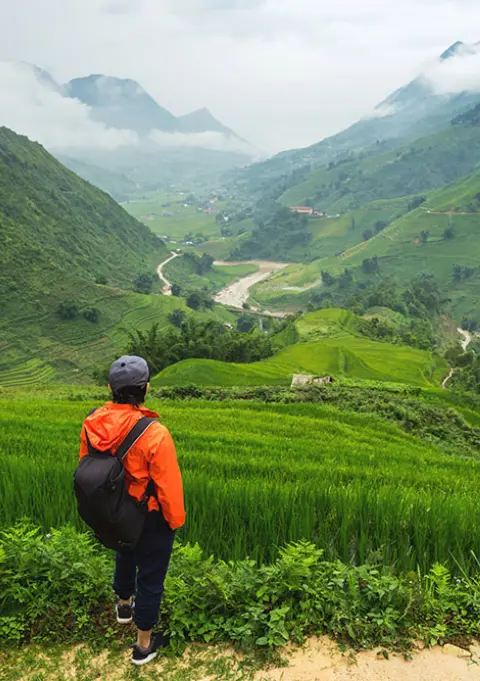 4 days 3 night experience
Moderate to challenging
Cultural immersion & active adventure
Mountains, valleys, rice fields & villages
​Private tours – Less Touristic
Vegan-friendly
Knowing what types of risks you may face on your journey will help you prepare accordingly and minimize these risks as much as possible. For example, altitude sickness can occur at higher elevations so it's important to rest frequently if climbing steep trails. It's also wise to bring an emergency kit with items such as a first aid kit, flashlight, whistle, etc., just in case something happens during your hike. Additionally, familiarize yourself with the local weather conditions before heading out and dress appropriately for those conditions – proper clothing and footwear are essential for safe and enjoyable hiking experiences! Last but not least, make sure you have a reliable map and compass so that you don't get lost during your trek through unfamiliar terrain.
By taking extra precautions like these when going on a trek in Sapa, you'll greatly reduce the risk of encountering any dangerous situations while enjoying all that this beautiful area has to offer. With some preparation and knowledge about the hazards associated with treks in Sapa, hikers can enjoy their adventures without worrying about their safety. Taking into account all of these factors will allow adventurers to maximize their enjoyment of the outdoors while minimizing any potential risks they might encounter along the way. Now that we've discussed safety considerations for trekking in Sapa let us explore recommended gear for success on one's journey next!
Recommended Gear For Trekking In Sapa
Trekking in Sapa can be an amazing adventure if you are properly prepared with the right gear. According to statistics, over 2 million people visit this beautiful mountain range each year for trekking and other activities. As a trekking expert, I highly recommend that those planning a trip to Sapa make sure they have all the necessary equipment for their journey.
When it comes to trekking gear, several items should not be overlooked when preparing for a hike in Sapa. First and foremost is proper clothing suited to the weather conditions of the region. Even though temperatures may vary throughout the day, layering lightweight fabrics such as cotton or fleece will keep hikers warm during cool evenings and mornings. Additionally, having waterproof jackets or rain ponchos on hand is essential due to sudden downpours that can occur at any time.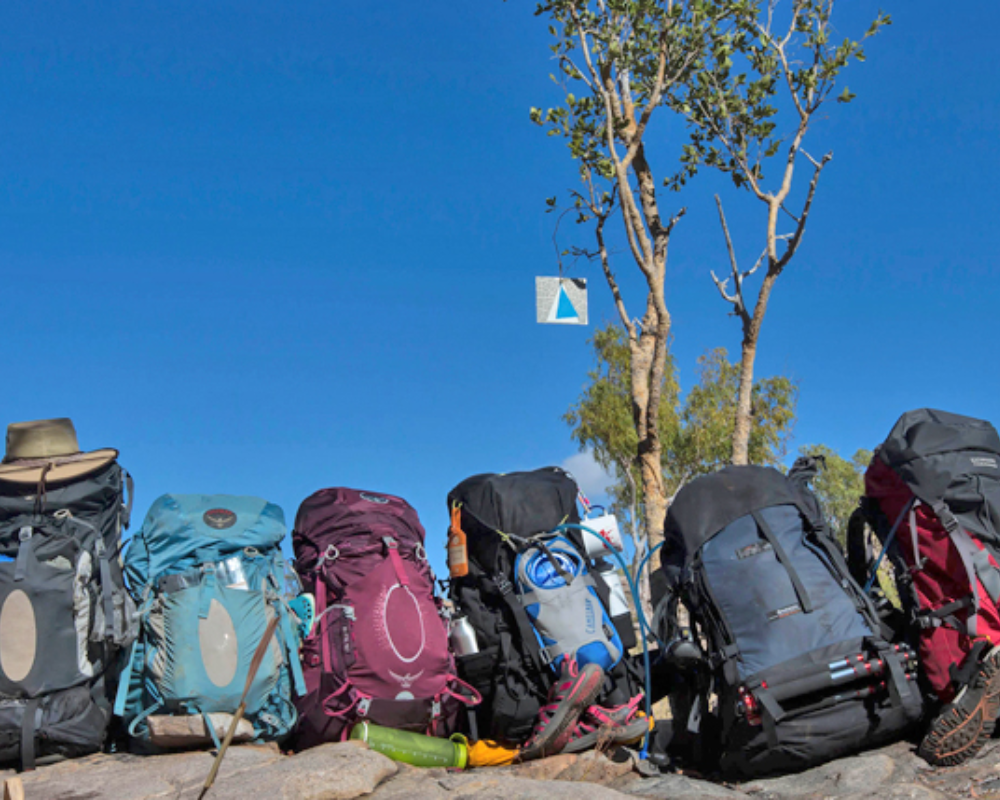 In addition to clothing, having high-quality hiking boots is paramount for safe and comfortable travel while traversing the rugged terrain of Sapa's mountainside trails. Look for boots made from breathable materials like nylon or split leather combined with rubber soles designed specifically for treks through wet areas or mudslides. It's also important to ensure your footwear fits correctly so you don't experience discomfort during long hikes up steep inclines!
With these must-have items packed in your bag, you'll be ready to embark on your next exciting sapa trekking expedition! Now let's look into some tips for enjoying successful treks in this majestic landscape.
Tips For Enjoying A Successful Trekking In Sapa Vietnam
Trekking in Sapa can be an amazing experience, but it's important to keep safety and comfort at the forefront of your mind. To ensure a successful trek, here are some tips that I recommend.
First, familiarize yourself with the different trekking routes available in Sapa. This will give you an idea of which route is best suited for your fitness level and interests. When planning your trip, make sure to factor in rest days so that you don't overexert yourself or become too exhausted by the end of the journey.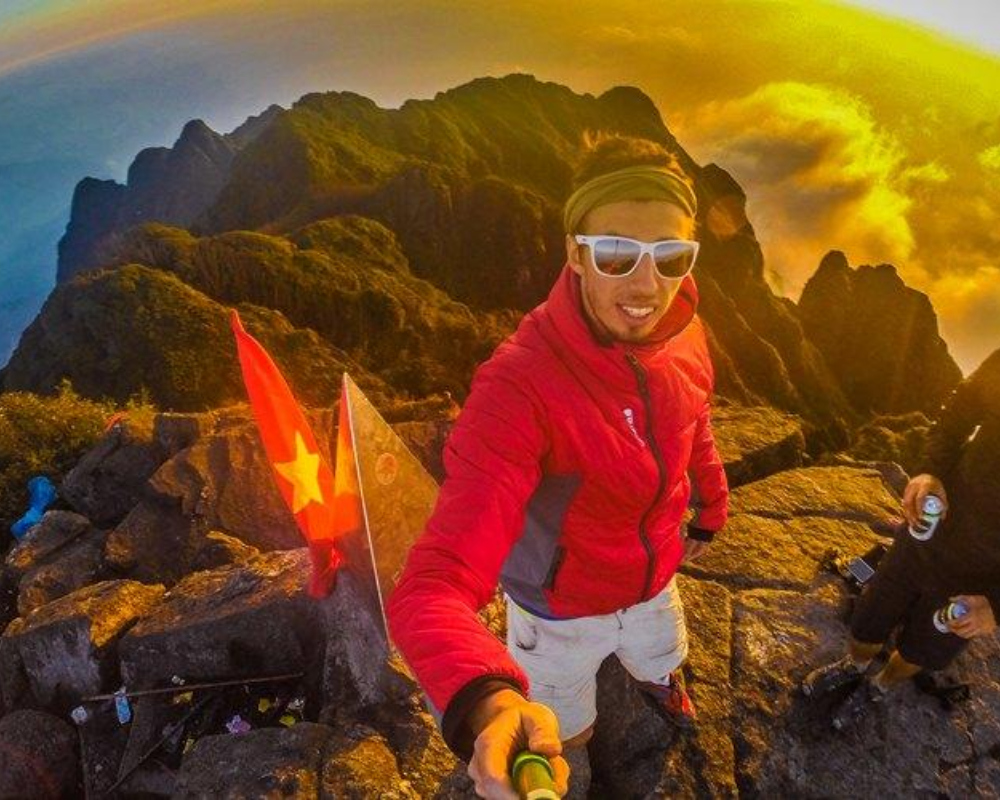 Second, plan when it comes to food and water supplies. Make sure to bring enough snacks and drinks on your trek as these will help sustain energy levels throughout the day. In addition, purchase quality gear such as hiking boots, rainproof jackets, and waterproof trousers; this will help protect against any unexpected weather changes during your trekking adventure.
Finally, take precautions when traveling alone or in remote areas. Always let someone know where you're going before beginning your trek and carry a phone with GPS capabilities just in case you get lost along the way. Additionally, if possible try to join a guided tour so that experienced guides can provide advice and support on each leg of your journey. With these tips in mind, there's no reason why you shouldn't enjoy a safe and memorable trek around Sapa!
Is Trekking in Sapa Difficult? Frequently Asked Questions
How Long Does It Typically Take To Complete A Trek In Sapa?
Trekking in Sapa can be a journey of discovery and liberation. Whether you are an experienced trekker or just starting, the duration of your trip will depend on many factors that need to be taken into consideration. In this article, I am going to provide some insight into how long it typically takes to complete a trek in Sapa.
When planning for any type of trekking expedition, it is important to factor in the length of time that it should take. For those looking to explore the region around Sapa, there are various trekking routes available ranging from one-day hikes up to multi-day expeditions lasting several days or even weeks. When calculating estimates for these treks, the average speed at which people walk must also be accounted for along with other variables such as stops made during each leg of the journey and breaks for rest and refreshment periods.
The exact amount of time required for a trek through Sapa will vary depending on individual fitness levels and personal preferences but generally speaking, most trips tend to last between three and seven days. Experienced hikers may find they can cover more ground in less time while beginners may require extra preparation before taking on longer distances over multiple days. Ultimately, no matter what kind of experience level you have when it comes to trekking, having realistic expectations about the expected duration of your adventure is key if you want to make sure you get back safely!
When embarking on a trekking expedition through Sapa, remember that careful planning is paramount – factoring in all elements related to both safety and comfort so that you can truly enjoy every moment of this incredible journey!
Are There Any Special Permits Required For Trekking In Sapa?
Trekking in Sapa can be a thrilling adventure, and it's important to make sure you have the right permits. Whether you're looking for trekking permits for a full-fledged excursion or just want to explore on your own, some special permits may be required.
For starters, if you want to go trekking in Sapa then you will need to get permission from local authorities first. Depending on where you plan to go this could involve filing paperwork with the local government or obtaining an official permit from them. Additionally, if you plan on staying overnight while trekking then you'll also need a camping permit which is usually obtained at the nearest police station.
The good news is that these permits aren't difficult to obtain once you know what they are and how to apply for them:
* Obtaining Trekking Permits
* Contacting Local Government: You should start by contacting the relevant government office as early as possible so that they can provide information about any necessary documents or paperwork needed for getting your permit.
* Obtaining Camping Permit: Once all of the proper forms are filled out, take them along with the identification (such as your passport) to the nearest police station and ask for a camping permit.
As an experienced trekker, I understand the importance of understanding regulations ahead of time so that nothing hinders one's an amazing journey! Knowing what type of permits are required before embarking on a sapa trekking tour from Hanoi helps ensure that travelers stay safe and enjoy their experience without unforeseen issues arising during their travels. So do yourself a favor and get familiar with any special requirements before heading off into nature!
Are There Any Special Health Considerations For Trekking In Sapa?
Trekking in Sapa is a life-changing experience! The breathtaking views and the majestic mountains are just a few of the reasons why trekkers from all over the world flock to this region. But, you must consider your health before embarking on such an adventure. Are there any special health considerations for trekking in Sapa? Absolutely!
When considering trekking in Sapa, one must take into account sapa trek safety and understand the associated risks of this activity. As with any physical activity, there are certain health issues that every hiker should be aware of before heading out. It is essential to prepare properly for your journey by researching potential hazards and taking appropriate precautions. This includes packing necessary medical supplies as well as familiarizing yourself with local terrain conditions, weather patterns, and wildlife dangers. Additionally, staying hydrated during your hike will help prevent heat exhaustion or dehydration which can significantly reduce your enjoyment of the outdoors.
Finally, consulting with a healthcare professional about specific activities like running or climbing may also prove beneficial when determining if you're fit enough for the rigors of trekking in Sapa. Furthermore, having a basic knowledge of first aid procedures to treat common injuries that may occur while hiking will ensure you have peace of mind throughout your adventures. So make sure to do some research ahead of time on trekking health issues and proper trekking precautions so you can enjoy all the wonders this beautiful destination has to offer without compromising your well-being!
Are There Any Restaurants Or Accommodations Along The Trekking Routes?
When trekking in Sapa, it's important to know what kind of restaurants and accommodations are available along the routes. Fortunately, there is a good selection of both throughout this beautiful region. Whether you're looking for traditional Vietnamese food or something more modern, you'll find plenty of options while exploring the different trails.
Accommodations can range from simple guesthouses to luxury hotels depending on your budget and preferences. Many places offer basic amenities like hot showers, comfortable beds, and even English-speaking staff. You'll also have access to small stores where you can stock up on snacks before heading out into the wilderness.
No matter which route you take through Sapa, rest assured that there will be an abundance of eateries and lodgings to choose from during your journey. So don't worry about getting stuck in one place – just enjoy the scenery as you make your way across these stunning mountainside trails!
Are There Any Local Guides Available To Hire For Trekking In Sapa?
Trekking in Sapa is a popular activity for those looking to explore the beauty of Northern Vietnam. But it can be difficult to know whether or not to hire a local guide for your trek. That's why I'm here to answer the question: are there any guides available to hire for trekking in Sapa? The short answer is yes! Many experienced, professional guides can help make your experience more enjoyable and safe.
For starters, hiring a local guide from Sapa gives you access to their knowledge base about the area. This means they're familiar with all the best routes and spots that will give you an unforgettable experience during your trip. They'll also have valuable insight into safety protocols while trekking, so you don't have anything to worry about when exploring the region. Plus, these guides are incredibly friendly and hospitable – making sure that no matter where you go on your journey, you get the most out of it.
Hiring a sapa trekking guide is also great if you want someone who speaks both English and Vietnamese fluently – allowing them to communicate better with locals as well as other travelers along the way. It can even be beneficial if you're traveling alone since having a knowledgeable companion makes things much easier and safer for solo adventures. All in all, hiring a guide helps ensure that your trip goes off without a hitch!
So if you're planning on visiting this stunning region of Vietnam anytime soon, consider investing in some quality time with one of their amazing local guides – trust me; it'll be worth every penny!
Conclusion
Trekking in Sapa can be a challenging but rewarding experience. Depending on your level of fitness and the chosen route, it can take anywhere from two days to several weeks to complete a trek in this region. It is important to check what permits are required before setting off, as well as any special health considerations that should be taken into account. Fortunately, there are many restaurants and accommodations along the routes, so you won't have to worry about carrying all your supplies with you. Lastly, if you feel like you need an extra helping hand while exploring these mountains, then don't hesitate to hire one of the experienced local guides who know their way around this beautiful region like the back of their hand – they will make sure your journey is 'smooth sailing'!
Sapa 1 Day Tours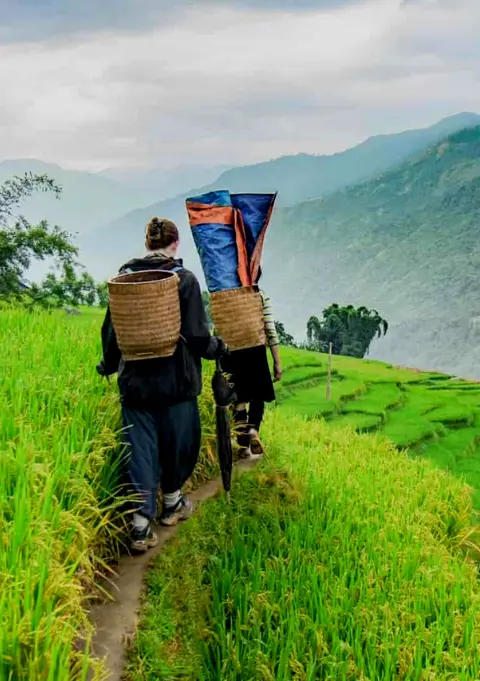 1 day experience
Moderate to challenging
Cultural immersion & active adventure
Rice fields, valleys & villages
​Private tours
Vegan-friendly
Sapa 2 Day Tours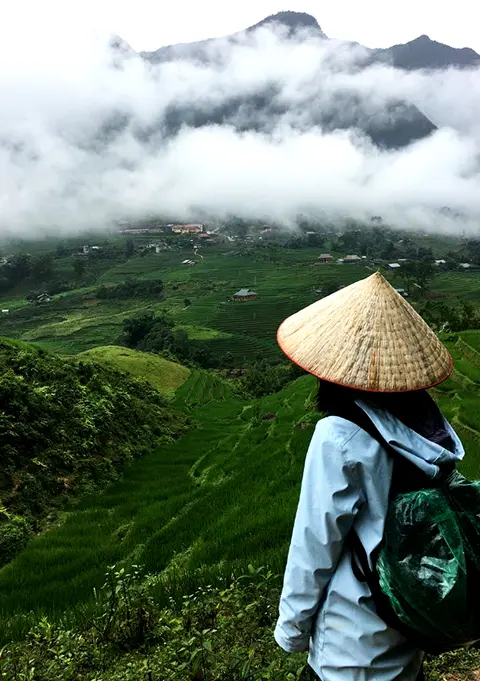 2 days 1 night experience
Moderate to challenging
Cultural immersion & active adventure
Mountains, valleys, rice fields and villages
​Private tours
Vegan-friendly
Sapa 3 Day Tours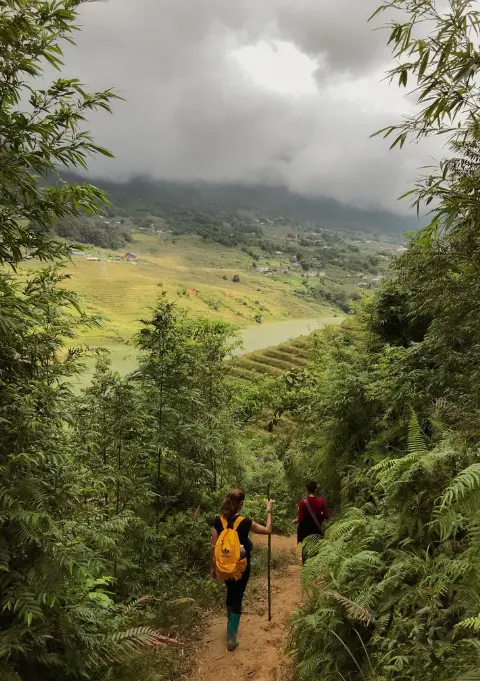 3 days 2 night experience
Moderate to challenging
Cultural immersion & active adventure
Mountains, valley, rice fields & villages
​Private tours
Vegan-friendly
Sapa 4 Day Tours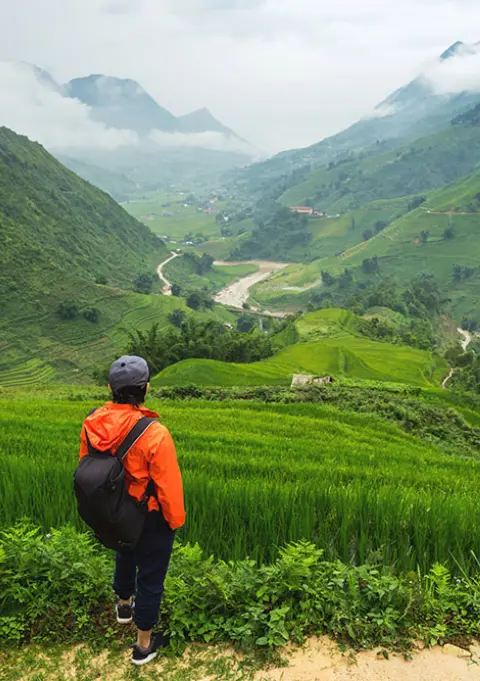 4 days 3 night experience
Moderate to challenging
Cultural immersion & active adventure
Mountains, valleys, rice fields & villages
​Private tours – Less Touristic
Vegan-friendly