Sapa is a breathtakingly beautiful part of the world, tucked away in northern Vietnam. From its lush mountains to the rustic charm of the villages below, it's easy to see why so many people come here year after year in search of adventure and exploration. If you're considering visiting Sapa and wondering how best to get around this stunning region, then read on!
From local buses that wind through winding mountain roads to motorbikes that traverse rice paddies and dusty trails, there are plenty of ways for intrepid travelers to explore Sapa by land. For those looking for something more adventurous – or who simply don't want to worry about navigating unfamiliar terrain – trekking tours offer an immersive way to experience all that this majestic landscape has to offer.
No matter which option you choose, traveling around Sapa will be an unforgettable experience! In this article, I'll give you an overview of your options for getting from place to place with ease while pointing out some unique sights along the way. So let's dive right in and discover how you can make the most of your time in one of Southeast Asia's loveliest regions.
Overview Of Sapa
Sapa is a mountain town in Northern Vietnam that has become increasingly popular over the years. It's an idyllic escape, perfect for those looking to temporarily flee from the hustle and bustle of city life. From mesmerizing scenery to unique cultural attractions, Sapa offers something special for every traveler.
The first thing you'll notice when arriving in Sapa is its lush green rolling hills and stunning terraced rice fields. This picturesque landscape creates an atmosphere like no other – it almost feels like stepping into another world. The area is also home to some interesting sights such as waterfalls and caves which can be explored on foot or by motorbike (or even horseback!). You will find plenty of opportunities for hiking amidst this breathtaking terrain too.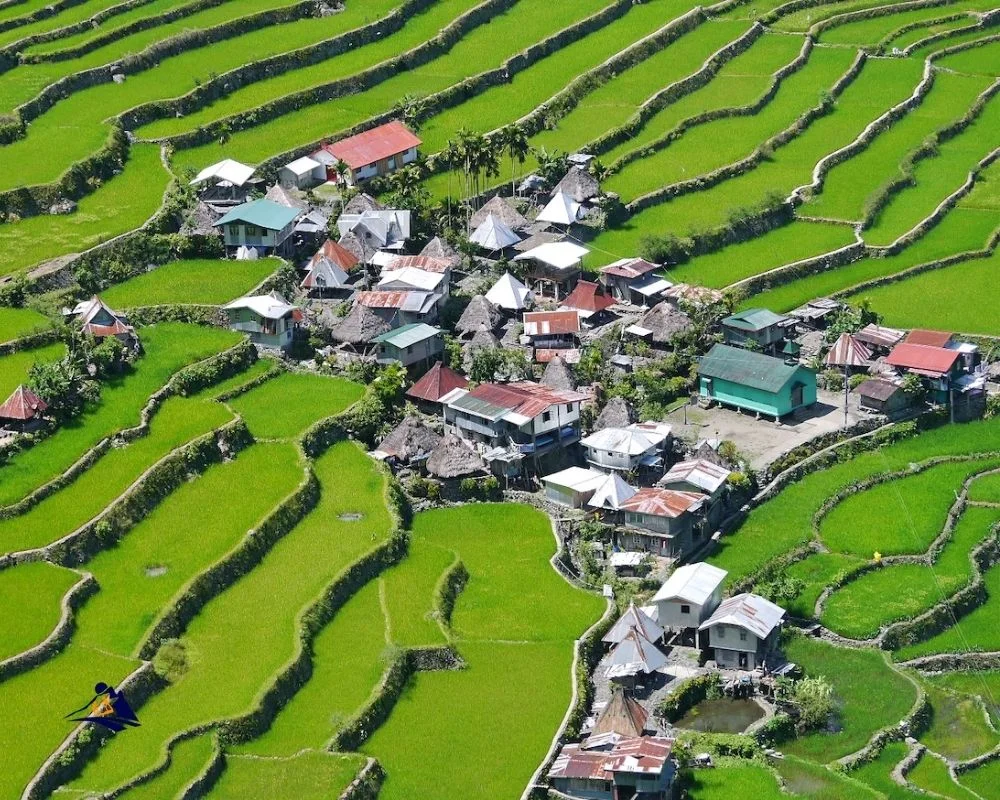 In recent times, Sapa has gained recognition for its vibrant culture as well. Home to several indigenous tribes including Hmong & Dao, there are many traditional ceremonies held throughout the year where visitors can observe different customs and learn about the local way of life. Furthermore, ethnic minority markets offer insight into their age-old trading practices while stocking up on handmade souvenirs along the way! With so much natural beauty and fascinating history around every corner, it's easy to see why Sapa is becoming one of Southeast Asia's most sought-after destinations. As we move onto our next topic – transportation options – let us explore how best to get around this magical place…
Transportation Options
Traveling around Sapa is a breeze if you know the transportation options. There are several ways to get from point A to point B in this charming mountain town. Whether you're looking for an adventure or a relaxing ride, you can find it here.
Public buses are the most popular option among tourists and locals alike due to their low cost and ease of use. They offer frequent service throughout the area and provide convenient stops at all major attractions. You can also rent bikes or cars if you want more flexibility with your sightseeing plans. Bike rental shops are located near many tourist destinations and car rental services are available both online and offline.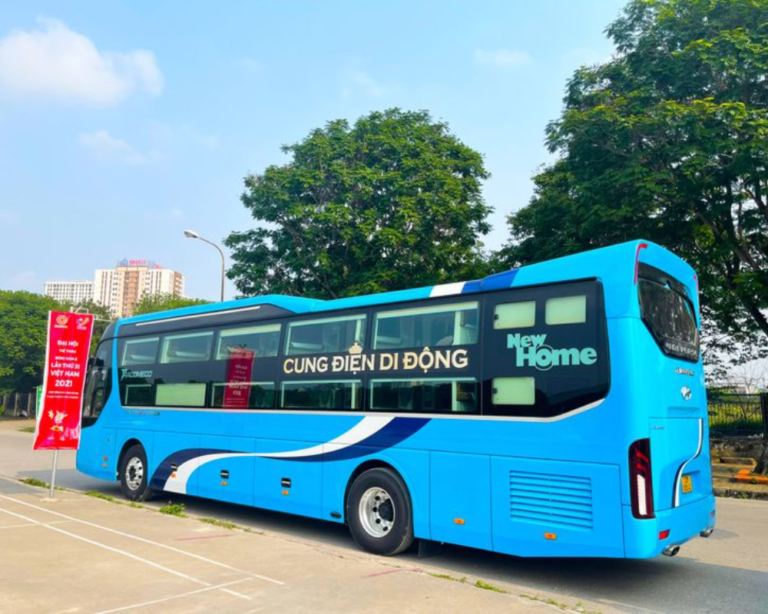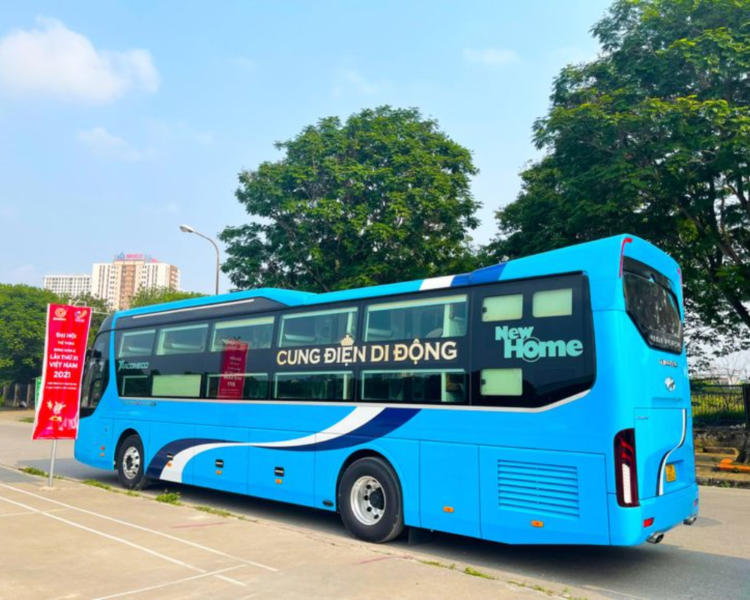 For those looking for something unique, there's always horseback riding through the countryside! This is a great way to experience nature up close as you explore ancient villages and terraced rice fields along the way. Whatever your preferred method of transport, Sapa has plenty of options to choose from so that you can make the most out of your visit.
From there, getting to Hanoi from Sapa is simple – just take one of the public buses back down into the city center!
Getting To Sapa From Hanoi
Getting to Sapa from Hanoi is an easy journey, with many transportation options. According to recent statistics, over 1 million visitors flock to this mountainous town each year – and it's no wonder why! With its stunning views of terraced rice fields, cascading waterfalls, lush forests, and rolling hills, Sapa offers something for everyone.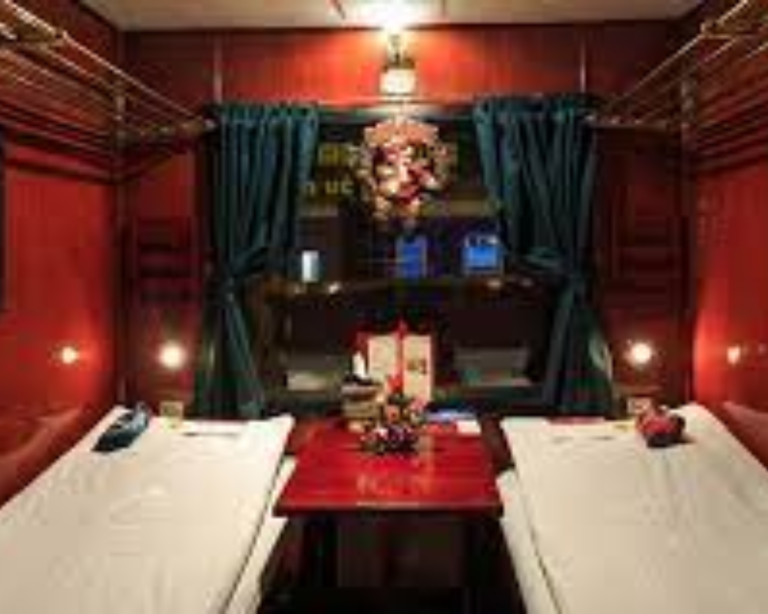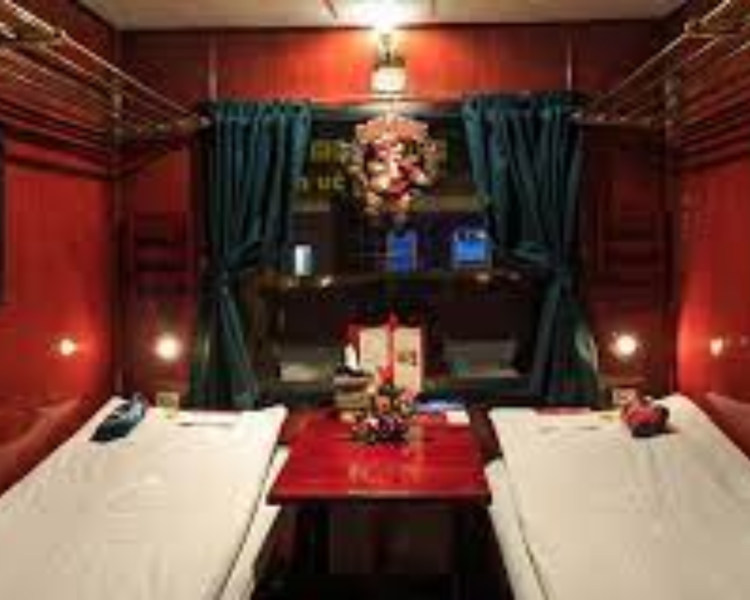 For those traveling from Hanoi, there are several transportations available that can get you to your destination quickly and safely. The most popular option is taking a night train – these high-speed trains depart daily at 9 pm from Hanoi Railway Station and arrive in Lao Cai (the nearest station to Sapa) early the next morning. Tickets should be booked in advance as they tend to sell out quickly. Alternatively, tourists can opt for a day bus that departs near Hoan Kiem Lake and takes approximately 8 hours with multiple stops along the way.
No matter how you choose to travel, getting to Sapa will give you plenty of time during the journey to take in all the beauty of Northern Vietnam has on offer; making it a great escape into nature for anyone seeking freedom and adventure!
Getting Around The City
Getting around the city of Sapa is easy and enjoyable. Exploring this beautiful destination can be done by foot, bike, or motorbike, giving visitors an intimate look into local life. For those looking to sightsee all the best attractions in Sapa, there are plenty of cultural activities available that will take you deep into the heart of Vietnam's countryside.
For a more leisurely way to explore Sapa, renting a bicycle is recommended as it allows travelers to get up close and personal with the area's rural villages, terraced fields, and lush landscape. Taking a self-guided tour on two wheels gives adventurers the freedom to go at their own pace while appreciating the stunning views along the way.
If you're feeling adventurous, then hiring a motorbike may be your preferred option for getting around town. This mode of transportation has become increasingly popular among tourists who want to make stops at various places without having to worry about finding public transport or waiting for taxis. With a little bit of guidance from locals, navigating through narrow mountain roads becomes easier and more convenient.
From discovering hidden waterfalls and taking picturesque hikes to visiting ethnic minority villages and immersing yourself in Vietnamese culture – touring Sapa on your terms offers endless possibilities for adventure seekers eager to experience something new. Whether you choose biking or driving, exploring Sapa is sure to provide unforgettable memories! Walking tour options await just beyond your next journey… …and wandering its many winding paths, villages, and rice terraces is sure to be a unique and rewarding experience.
Walking Tour Options
Sapa is a hiker's paradise, and there are endless possibilities for exploring the area on foot. Whether you're looking for a stroll or an ambitious trek, you can find it here. The most popular way to explore Sapa is with a guided walking tour. These tours typically take place in small groups and can last anywhere from two hours up to multiple days of hiking. They often include stops at cultural sites along the way, giving visitors insight into traditional life in the region. You'll also get to experience some stunning views of terraced rice paddies, lush valleys, and towering mountains.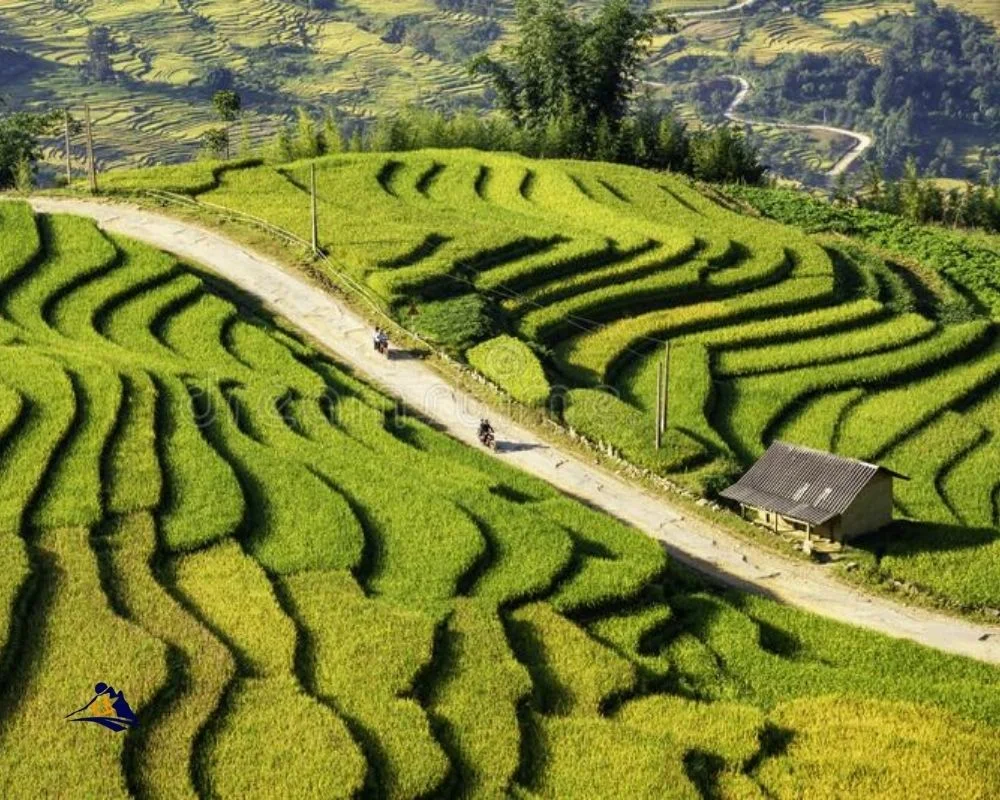 For those who prefer to go it alone, there are plenty of self-guided walks available too. Many travelers choose to hike through nearby villages, taking time to chat with locals as they pass by their homes. Many trails wind their way through forests and wetlands, providing opportunities for wildlife spotting while getting lost in nature's beauty. Whatever your taste or fitness level may be, there's sure to be a route suitable for you!
Local Buses And Taxis
When exploring Sapa, catching a local bus or taxi can be an easy and affordable way to get around. The public transportation system in Sapa is reliable and efficient. There are plenty of buses that run throughout the town, making it convenient for travelers who don't want to rent a car or motorbike.
If you're looking for a cheap ride, then take advantage of the local bus routes. You'll find them running from early morning until late at night. The fares are very reasonable – usually no more than 10,000 VND (USD 0.50) per person per trip. Keep in mind that most buses do not have AC so plan accordingly if traveling during hot weather conditions!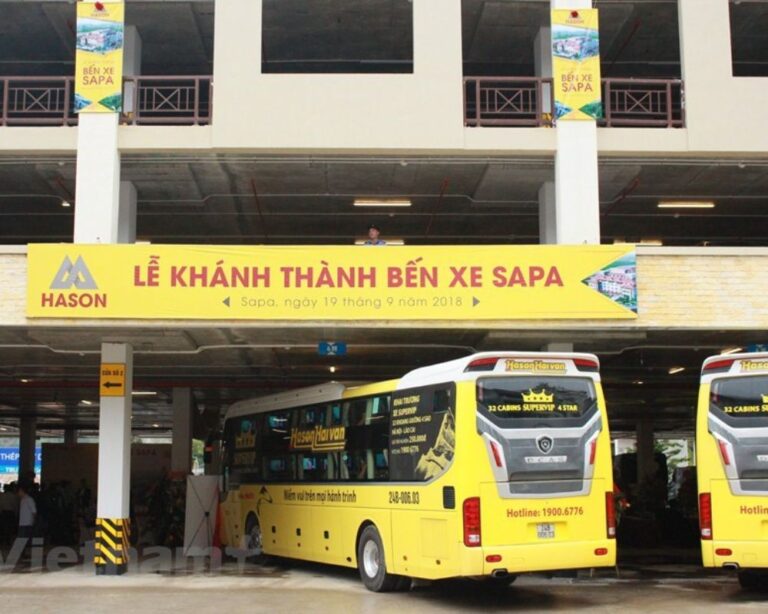 Taxis are also available in Sapa, although they tend to be slightly pricier than buses. Most taxis will charge about 30-40,000 VND ($1.30-2 USD) per person depending on your destination and time of day (nighttime rides may cost more). Taxis can be flagged down on the street or called directly by phone. In either case, make sure you agree upon the fare before getting into the vehicle as prices can vary greatly between drivers.
Whether you choose to explore via bus or taxi, both provide great ways to experience life in this mountain town without breaking the bank. From here, why not consider renting a motorbike?
Motorbike Rentals
Exploring Sapa on a motorbike rental is an absolute dream! Riding around the breathtakingly gorgeous valleys, rolling hills, and terraced rice fields while breathing in the fresh mountain air – what could be better? With the ease of access to beautiful sights like Mount Fansipan, Ham Rong Mountain, and Muong Hoa Valley, it's no wonder why so many travelers choose to explore this area by motorbike.
Here are four great tips for renting a motorbike in Sapa:
Compare prices between different companies before committing – you don't want to overpay for your bike!
Make sure you have all the necessary paperwork that comes along with your rentals such as insurance papers or other documents required by law in Vietnam.
Inspect the condition of your bike thoroughly before heading out – make sure all lights work properly, brakes are functioning well, etc.
Bring along some spare parts just in case something does go wrong during your ride!
Renting a motorbike gives you the freedom to explore Sapa at your own pace and discover hidden gems off the beaten path! From traditional villages tucked away in far corners of mountainside townships to vibrant markets bustling with locals, there's something special waiting to be discovered when traveling further afield from Sapa on two wheels. Who knows where the wind will take you?
Traveling Further Afield From Sapa
Once you're ready to explore beyond the main streets of Sapa, there are plenty of opportunities for adventure. Trekking is a popular way to get off the beaten track and explore some of the hill tribe villages in the area. Many companies offer guided treks that can last anything from one day up to several days depending on your preference. Alternatively, mountain biking through the stunning scenery around Sapa provides another thrilling experience if you've got the energy!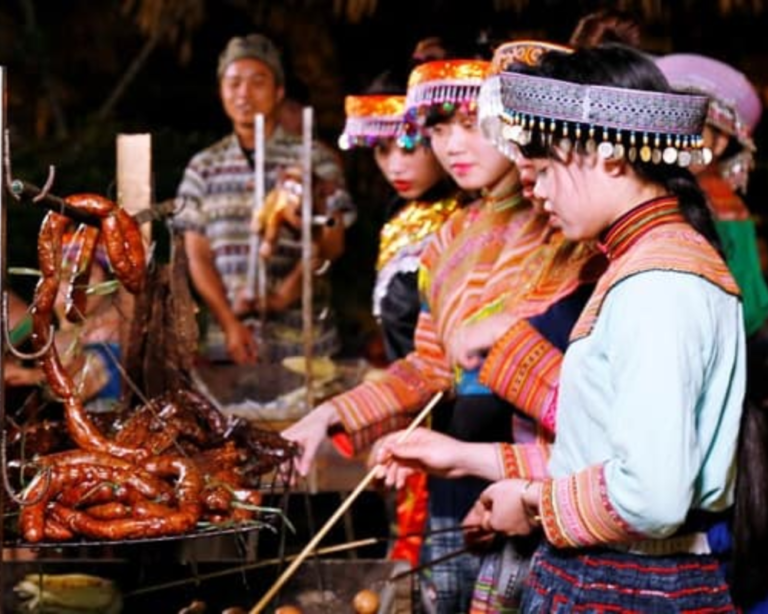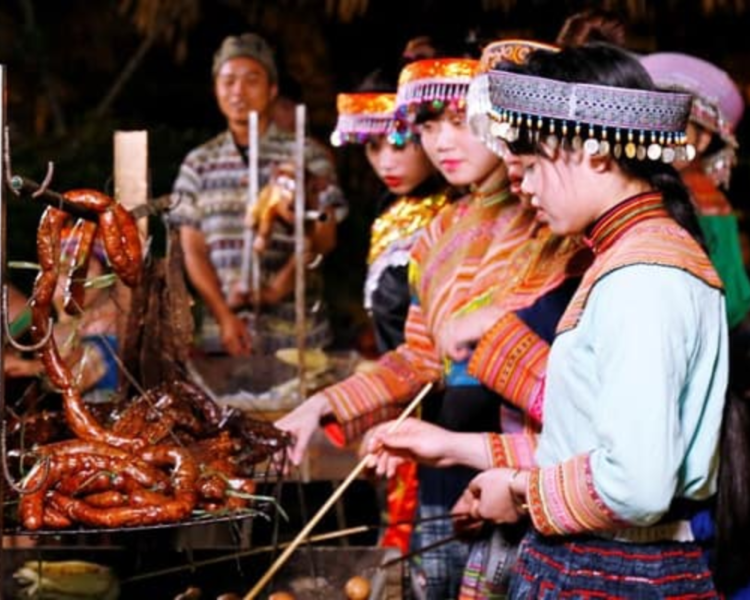 When hunger strikes after all that exploring, head down to Sapa's night market where you'll find an array of tasty local dishes at great prices. Don't forget to haggle with the vendors though as it's expected – and part of the fun! Whether you're looking for souvenirs or just want to watch locals bartering over goods, this vibrant atmosphere has something for everyone.
For those who crave more extreme adventures, paragliding, rock climbing, and abseiling are all available nearby. There's even white water rafting so why not treat yourself? With so much on offer in this diverse region, it's easy to see why people come back to Sapa again and again.
Tips For Safe And Enjoyable Travels In Sapa
Are you wondering how to navigate around Sapa? With its stunning landscapes and unique culture, there's so much to explore in this region. To ensure a safe and enjoyable journey, it is important to familiarize yourself with the local transport options available. Here are some tips for traveling safely and comfortably through Sapa:
First, become aware of the different types of transport available. You can take advantage of public buses or hire a taxi from Lao Cai Station. If you want more freedom and flexibility, renting a motorbike would be your best option. Just make sure to wear protective gear before hitting the roads! Additionally, if you're looking for an extra-special experience, book a tour guide who will help you discover all that Sapa has to offer.
Sapa 1 Day Tours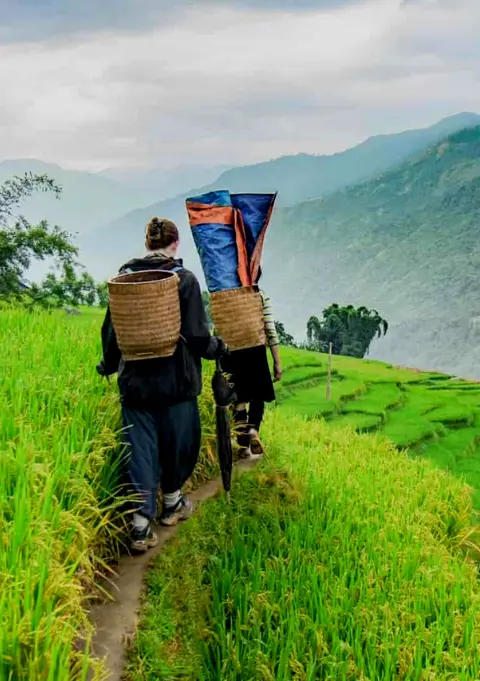 1 day experience
Moderate to challenging
Cultural immersion & active adventure
Rice fields, valleys & villages
​Private tours
Vegan-friendly
Sapa 2 Day Tours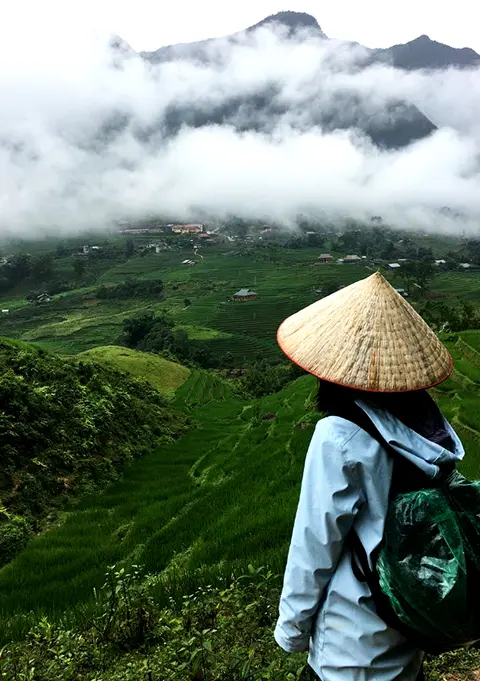 2 days 1 night experience
Moderate to challenging
Cultural immersion & active adventure
Mountains, valleys, rice fields and villages
​Private tours
Vegan-friendly
Sapa 3 Day Tours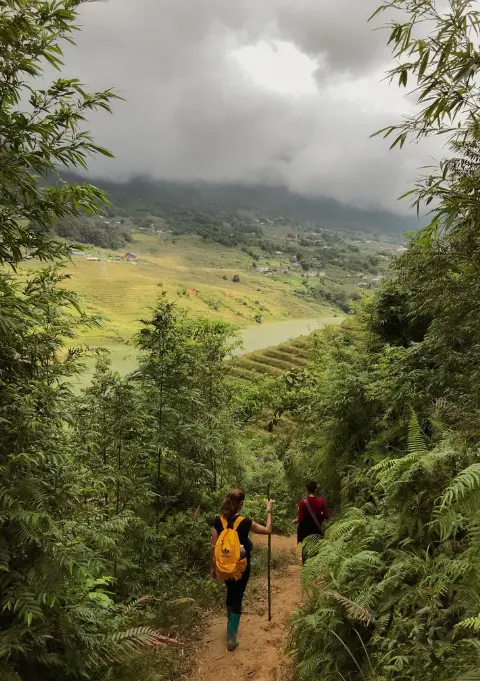 3 days 2 night experience
Moderate to challenging
Cultural immersion & active adventure
Mountains, valley, rice fields & villages
​Private tours
Vegan-friendly
Sapa 4 Day Tours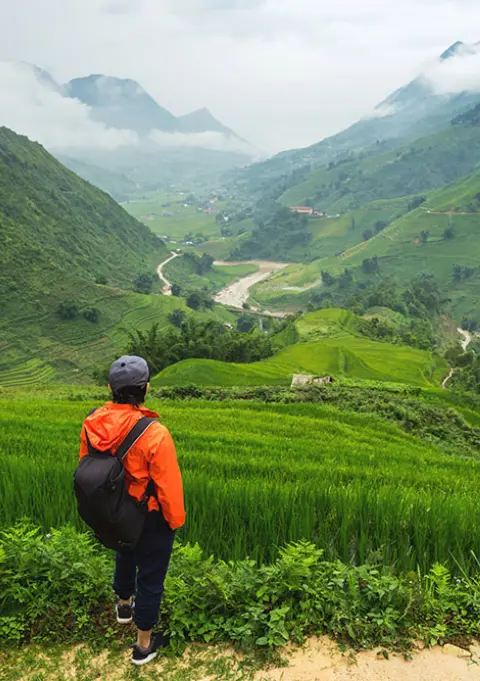 4 days 3 night experience
Moderate to challenging
Cultural immersion & active adventure
Mountains, valleys, rice fields & villages
​Private tours – Less Touristic
Vegan-friendly
Another way to travel safely in Sapa is by understanding the weather conditions in the area. Since it's located at high altitudes, temperatures tend to drop quickly during winter months – so dress appropriately! It also rains quite frequently here; bring along an umbrella just in case! Lastly, keep up with local news reports – inclement weather can disrupt transportation services unexpectedly.
By considering these precautions, visitors can enjoy their travels through Sapa without any worries about safety or comfort. Now let's move on to exploring accommodation suggestions in Sapa…
Accommodation Suggestions
When it comes to accommodation in Sapa, there are plenty of options to choose from. Whether you're looking for a budget hotel or a luxury resort, Sapa has something for everyone. Several great hotels offer comfortable and clean rooms at very reasonable prices. If you're after more luxurious accommodations, then the various resorts throughout Sapa cater to those needs as well.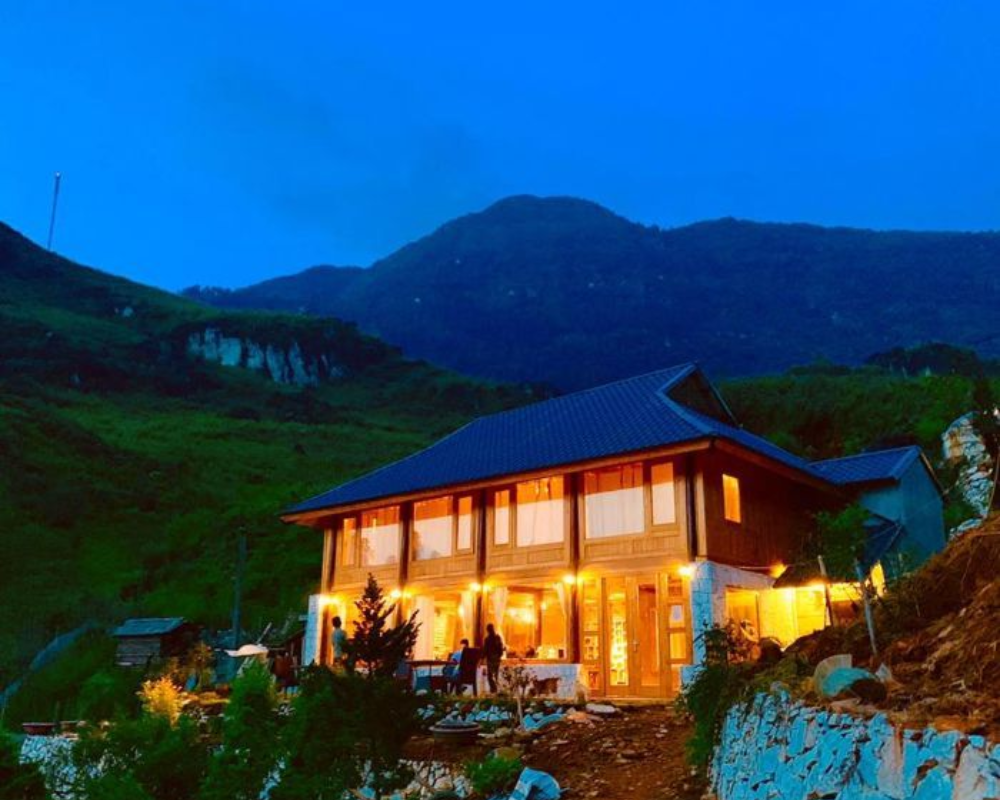 The best way to find out what type of lodging is available in any given area is by doing some research online before your trip. This will give you an idea of which hotels offer the amenities you want and how much they charge per night. You can also read reviews from other people who have stayed at these locations so you know exactly what kind of experience you can expect when you arrive.
No matter what type of accommodation option you choose in Sapa, make sure it meets all your requirements and needs so that your stay is comfortable and enjoyable. With its stunning scenery, friendly locals, and beautiful landscape, Sapa makes for an unforgettable getaway!
How Do You Travel Around Sapa? Frequently Asked Questions
What Is The Best Time Of Year To Visit Sapa?
When it comes to visiting Sapa, there is no one-size-fits-all answer regarding the best time. Instead, travelers should consider their preferences and weather conditions to determine when they will have the most enjoyable trip. From tourist season highs to temperature ranges that vary greatly throughout the year, here's what you need to know about planning a visit to this stunning Vietnamese destination.
Sapa is known for its pleasant temperate climate year-round, which means visitors can enjoy outdoor activities like trekking through lush terraced rice fields or exploring nearby villages without worrying too much about extreme temperatures. However, peak tourism season runs from October until April – so if you want to avoid crowds then try visiting from May through September instead. It's also important to note that while average temperatures range between 15°C (59°F) and 22°C (71°F), nighttime lows can drop significantly lower depending on the month. So make sure you pack plenty of layers!
No matter what time of year you decide to visit Sapa, you're likely to find something special waiting for you: bright emerald landscapes blanketed with wildflowers come late spring; vibrant cultural festivals taking place over summer months; cool autumn mornings tucked away in cozy guesthouses; snowfall blanketing surrounding mountainsides come wintertime… The possibilities are endless! Whether your preference lies in adventure or relaxation, peaceful hikes, or bustling markets – there's something for everyone looking for a unique travel experience in Sapa any time of year.
So don't let anyone tell you when it's 'the best' time to go – take some time researching different weather patterns and cultural events happening at various times throughout the year and plan your trip based on your own needs and desires. You won't regret it!
What Are The Most Popular Attractions In Sapa?
Sapa, in the mountains of Northwest Vietnam, is a must-visit destination for anyone looking to explore unique cultures and breathtaking scenery. With its spectacular rice terraces, mountain trekking opportunities, cable car rides, and ethnic minority hamlet villages there's something here to suit everyone's taste. Here are four popular attractions in Sapa that you should check out:
Rice Terraces – The stunning landscapes around Sapa feature hundreds of small cascading rice fields which have been hand-carved into the hillsides over centuries by local farmers. They make for an incredible photo opportunity!
Mountain Trekking – There are numerous hiking trails through Sapa's picturesque countryside, some leading up to 2,000m high peaks with spectacular views across the valley below.
Hamlet Villages – Take a guided tour or go it alone on one of the many walking routes from town to visit remote hill tribe communities where you can learn about their fascinating culture and traditions first-hand.
Cable Car Rides – For those who want more than just a day trip, take a ride on Asia's longest three-rope cable car system to get great aerial views of nearby Fansipan Peak and admire the lush forest beneath your feet as you soar above it all!
Exploring these attractions not only gives visitors an insight into Vietnamese history and culture but also provides them with an escape from everyday life; giving them much-needed freedom amidst breathtaking beauty. From sunrise hikes on untouched trails to getting lost amongst ancient villages – there is something special awaiting adventurers in this corner of Vietnam.
Are There Any Guided Tours Available In Sapa?
Are you looking for the ultimate adventure in one of Vietnam's most beautiful and remote regions? Then look no further than Sapa! This breathtaking mountain city offers a unique experience to those who are seeking an unforgettable journey. With guided tours available, travelers can explore Sapa without missing any of its highlights or hidden gems.
From custom tour packages to experienced tour guides, there is something for everyone when it comes to exploring Sapa. You can find all the best deals on guided-tours-sapa, sapa-tour-packages, sapa-tour-guides, and more right here! Not only that but you'll also be able to read up on sapa-tours-prices and check out some great sapa-tour-itineraries so you'll know exactly what your trip will entail before you even leave home.
Whether you're a first-time traveler or an experienced wanderer, embarking on a Sapa tour is an incredible opportunity to discover everything this vibrant region has to offer. From lush valleys and terraced rice paddies to traditional villages and ancient temples – each step of the way will bring new surprises as well as priceless memories which are sure to stay with you forever. So if you're ready for the journey of a lifetime then why not take advantage of these amazing guided tours – it could just be the perfect travel experience!
Is There An Age Limit For Renting A Motorbike In Sapa?
Are you looking to rent a motorbike in Sapa? If so, it's important to know what the age limit for renting a motorbike is. In this article, I'll provide an overview of the motorbike rental age limit in Sapa and how it could impact your travel plans.
When it comes to renting a motorbike in Sapa, most vendors have an age requirement of 18 years old or older with a valid driver's license. This means that anyone under 18 will not be able to rent a motorbike no matter their experience level or driving ability. However, some vendors may make exceptions based on individual cases and travelers should check with their vendor beforehand if they are unsure about the policy.
If you're over 18 but don't have a driver's license, there are still options available. Many vendors offer scooter rentals that don't require a driver's license as long as you abide by local traffic laws while riding. Scooters can also give tourists more freedom when exploring Sapa since they're easier to maneuver around tight corners than regular-sized bikes and usually require less physical effort from riders.
For those seeking adventure through two-wheeled exploration in Sapa, understanding the age limit for motorbikes is key for planning your trip and making sure that all bases are covered before hitting the road! Be sure to plan and do plenty of research so that you get the best out of your travels without any surprises along the way.
What Is The Cost Of Transportation And Accommodation In Sapa?
When it comes to traveling in Sapa, one of the biggest considerations is cost. Transportation and accommodation costs can be significant factors when planning a trip here. Knowing what to expect and where to look for value will help make your stay more enjoyable.
Transportation in Sapa isn't too expensive if you know where to go. Renting motorbikes is a popular way to explore the area, but there are also other options available. Hiring private drivers or taking group tours are both viable alternatives that won't break the bank. The key is to shop around and compare prices before booking anything.
Accommodation in Sapa is varied, with everything from budget guesthouses to luxury resorts on offer. Again, doing some research ahead of time will ensure you get the best deal possible while still enjoying all the comforts of home. Many places even include free breakfast in the room rate so you don't have to worry about finding food during your travels!
No matter which option you choose for transportation or accommodation in Sapa, rest assured that you'll find something suitable for your needs and budget without having to sacrifice any of your freedom. Whether you're looking for an adventure-filled excursion or just want to relax and enjoy the beautiful scenery – Sapa has something for everyone!
Conclusion
The best time to visit Sapa is during the dry season, which runs from November through March. During this period, you'll have plenty of opportunities to explore its stunning mountainous landscape and enjoy a range of outdoor activities. There are lots of popular attractions to choose from such as Cat Cat Village, Silver Waterfall, and Tram Ton Pass. You can also take part in guided tours or rent a motorbike for more adventurous excursions.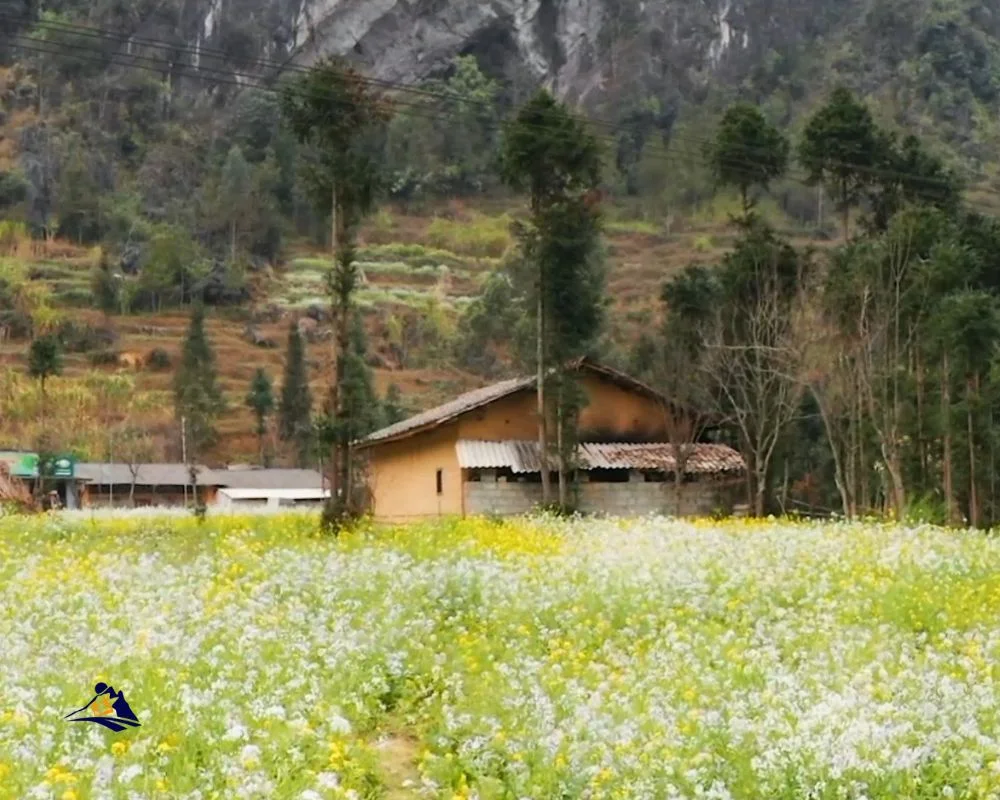 Accommodation and transportation costs vary depending on your budget but there's something for everyone when it comes to exploring Sapa. It's an incredible place with so much to offer, including spectacular views across the terraced rice paddies and lush green valleys below. What's more, it offers some truly unforgettable experiences – just make sure you're prepared for any surprises along the way!
With all these options available, traveling around Sapa has never been easier – or more enjoyable. Whether you prefer organized group trips or independent exploration via motorbike, there's something here that will suit every taste and preference. So why not book yourself a trip today? Who knows what amazing discoveries await you in this beautiful corner of Vietnam!
Sapa 1 Day Tours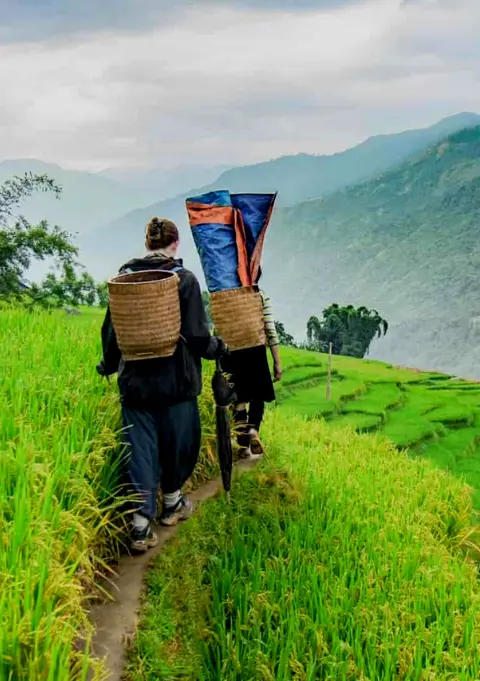 1 day experience
Moderate to challenging
Cultural immersion & active adventure
Rice fields, valleys & villages
​Private tours
Vegan-friendly
Sapa 2 Day Tours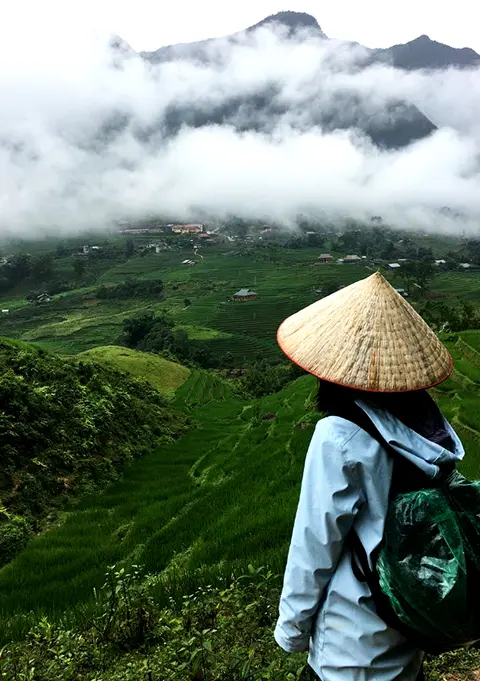 2 days 1 night experience
Moderate to challenging
Cultural immersion & active adventure
Mountains, valleys, rice fields and villages
​Private tours
Vegan-friendly
Sapa 3 Day Tours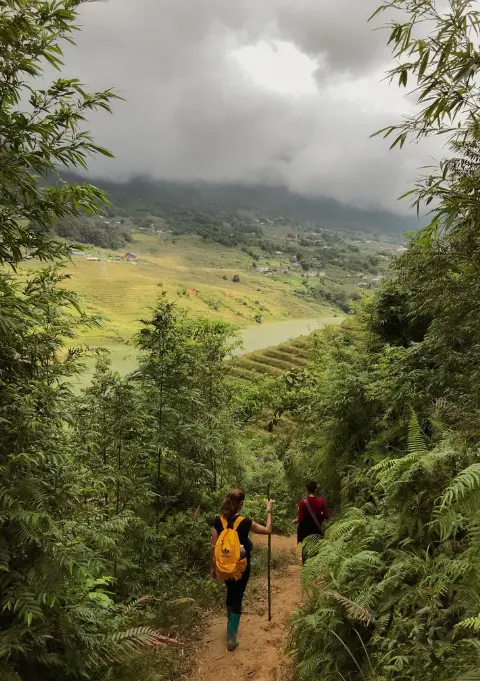 3 days 2 night experience
Moderate to challenging
Cultural immersion & active adventure
Mountains, valley, rice fields & villages
​Private tours
Vegan-friendly
Sapa 4 Day Tours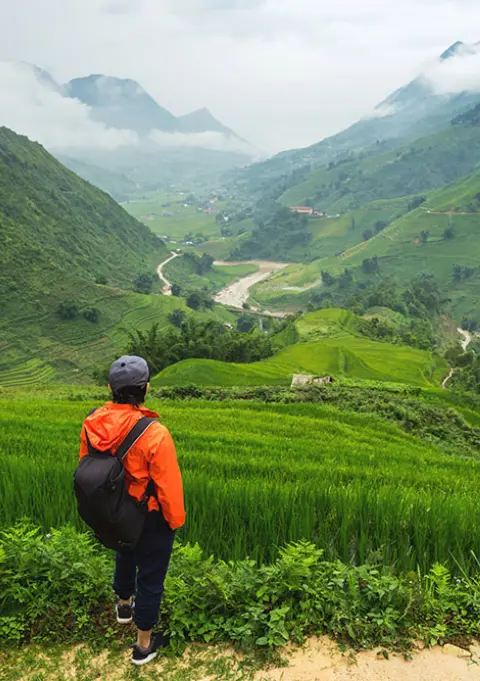 4 days 3 night experience
Moderate to challenging
Cultural immersion & active adventure
Mountains, valleys, rice fields & villages
​Private tours – Less Touristic
Vegan-friendly