Recently updated on March 12th, 2023 at 12:34 pm
How To Spend Three Days In Sapa? Discover Things SHOULD Do For A 3-Day Trek through Stunning Scenery And Unique Villages
Are you looking for a little adventure? A chance to get away from the hustle and bustle of your daily life, surrounded by stunning scenery and far-reaching views? Look no further than Sapa. This picturesque town in Vietnam is the perfect place to take 3 days itinerary Sapa trip exploring all that it has to offer. Whether you're an experienced traveler or just getting started on your journey, I'm here to tell you why spending three days in Sapa will be one of the most memorable experiences of your life!
Firstly, let me paint a picture for you – imagine lush green mountains rolling as far as the eye can see, with vibrant paddy fields dotting each valley. As if this isn't enough to take your breath away, there are also waterfalls cascading into rivers winding through the valleys below. It's truly a once-in-a-lifetime sight! But this is only part of what makes Sapa so special; its people are equally welcoming and friendly. From traditional hill tribe villages dotted around the area, to local restaurants serving up delicious food, there's something for everyone here.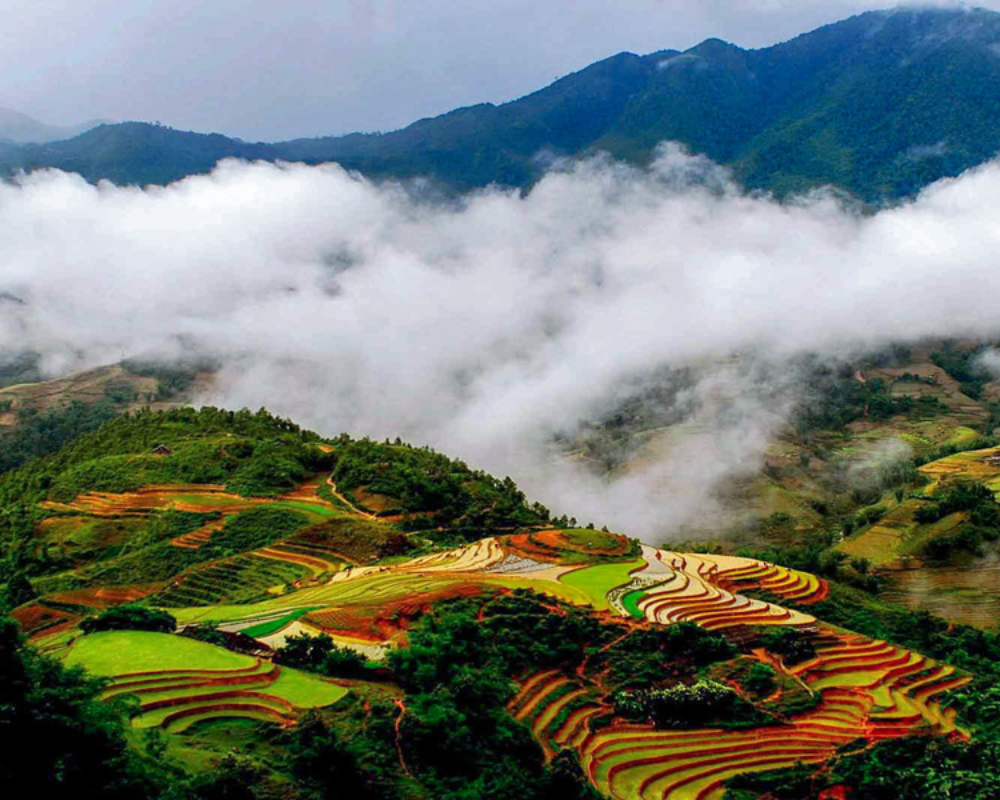 Finally, when it comes to activities during your stay in Sapa, you'll never be bored! Whether you want to go trekking through rainforests filled with exotic wildlife and plants, explore caves hidden deep within mountainsides, or simply wander around markets selling handmade crafts and trinkets – Sapa does have something for everyone! So come join me on my journey as I show you how to make the most out of three incredible days spent in this magical corner of Vietnam.
Overview Of Sapa
Sapa is a mountainous region in northern Vietnam, close to the Chinese border. It's known for its stunning views of rice paddies and tall limestone mountains. The climate in Sapa is cool year-round with temperatures ranging from 10°C in winter to 25°C during summer months. This makes it a great destination no matter what time of year you visit!
The geography of Sapa offers endless opportunities for exploration. There are lush forests filled with waterfalls, caves, and villages that can be explored on foot or by bike. The culture of Sapa is unique too – largely inspired by ethnic minority groups who have been living there for centuries. From traditional clothing worn at festivals to dishes cooked using local ingredients like corn and mushrooms – there's plenty to experience while visiting this special corner of the world.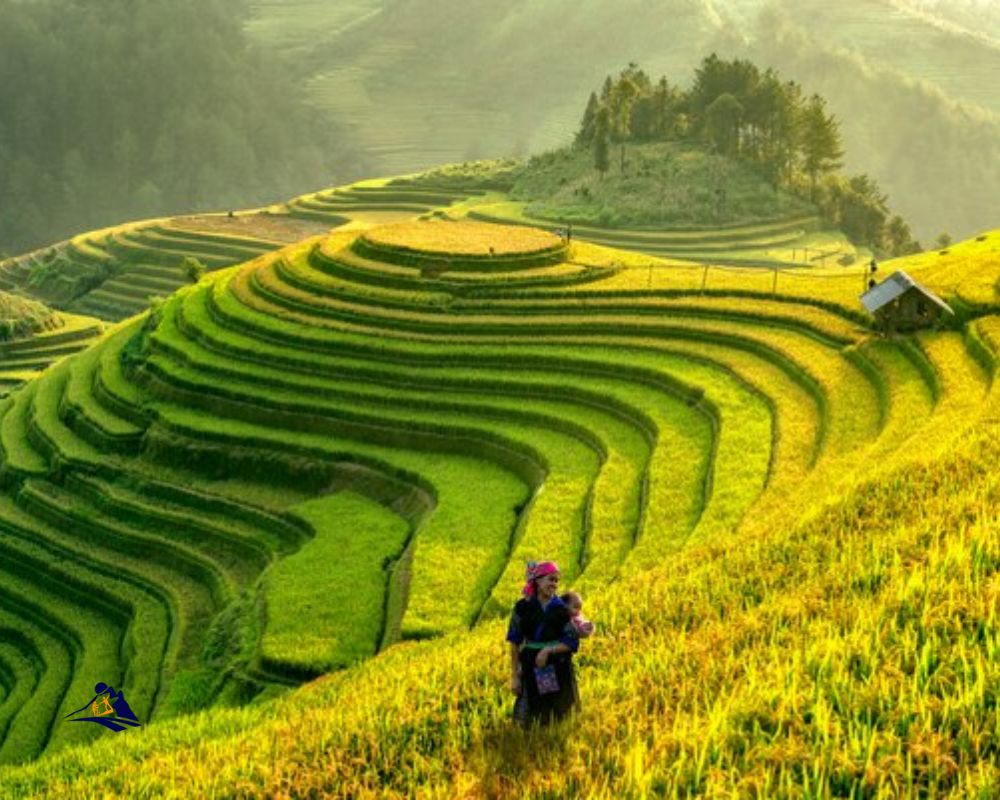 When it comes to history, Sapa has much to offer visitors too. Its first inhabitants were reportedly members of three tribes: Black Hmong, Red Dzao, and White Thai people who settled in the area over 500 years ago. Today these cultures continue to thrive alongside many other diverse communities that call this place home. With so much diversity packed into one spectacular landscape, Sapa is sure to leave an unforgettable impression on all those lucky enough to explore it! With that said, let's move on to transportation options for getting here…
Transportation To Sapa
Getting to Sapa has never been easier. With a variety of transportation options available, you can make your way to this stunning destination with ease. Whether you choose to fly in or take the train, you'll be arriving in no time!
If you decide to fly, several airports offer daily flights from Hanoi and other major cities around Vietnam. From here, it's just a short drive away to Sapa. The views on the journey will leave you speechless – soaring above terraced rice paddies and lush green valleys is an experience like no other!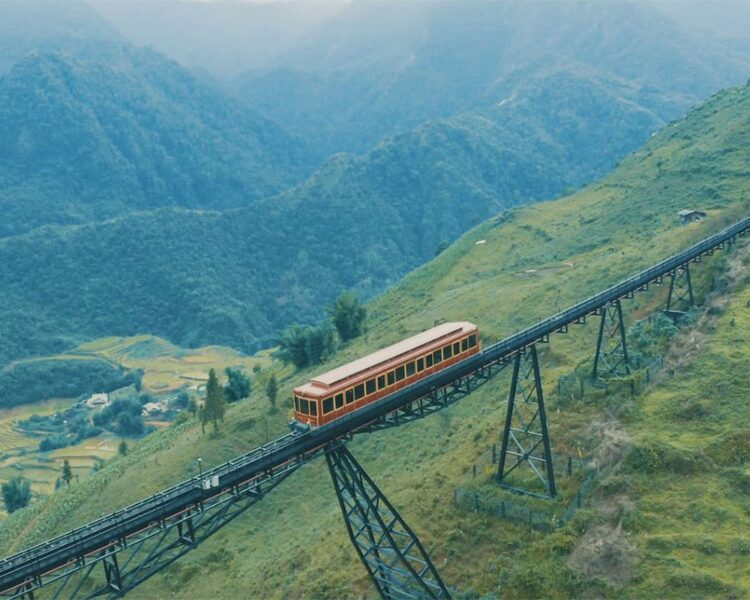 For those wanting something more adventurous, taking the overnight train from Hanoi is a great option. Snuggle up under your blanket as the train chugs along through some breathtaking mountain scenery. You're guaranteed to arrive feeling refreshed and ready for all that Sapa has to offer!
No matter which mode of transport you opt for, getting to Sapa promises to be an exciting adventure full of captivating sights and experiences…
Accommodation Options
When it comes to finding the perfect place to stay in Sapa Vietnam, there are plenty of options available. From luxury spa hotels and villas to budget-friendly hostels and homestays, you can easily find a suitable accommodation option that fits your needs. Here are some of the best choices for accommodations while exploring this beautiful mountain town:
• Sapa Hotels – Whether you're looking for an upscale retreat or a more relaxed getaway, there are numerous luxurious spa hotels located throughout the area. Many offer amenities such as spas, swimming pools, restaurant services, and much more!
• Sapa Villas – If you're looking for something even more special than a hotel room, then consider renting one of the many charming sapa villas scattered around town. Stunning views of the surrounding countryside and cozy interiors make them a great choice for couples or families alike.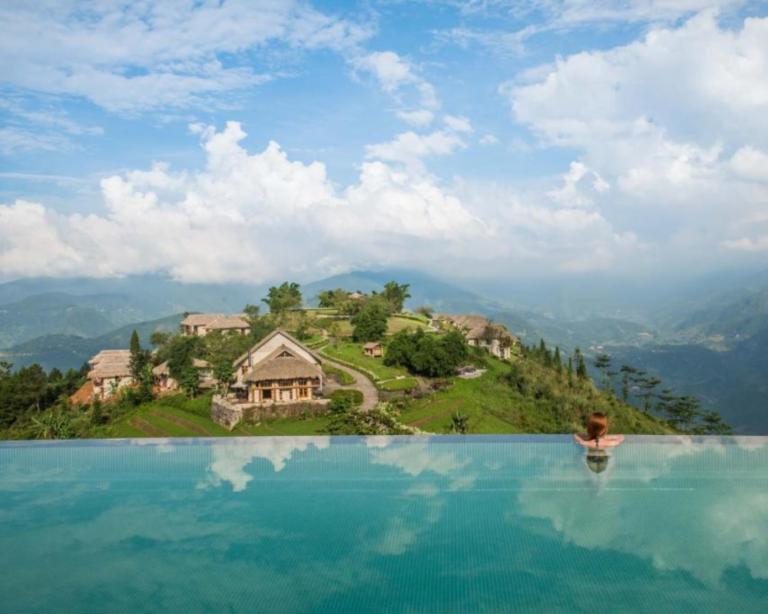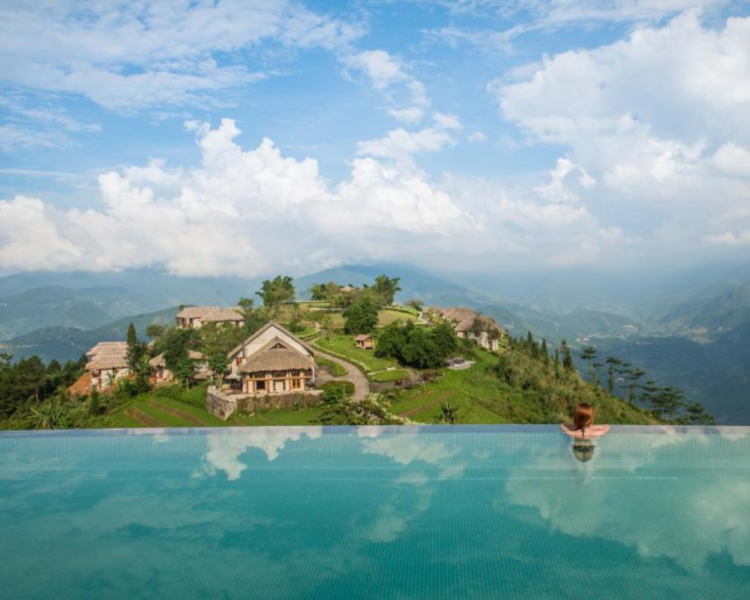 • Sapa Hostels – For those on a tighter budget, there are several cheap yet comfortable hostel rooms available throughout the region. These usually come with shared bathrooms and common areas that provide travelers with an inexpensive alternative to traditional lodging.
• Sapa Homestays – Another excellent way to experience local life is by staying at one of the many family-run homestays found in Sapa. Spend time learning about Vietnam's culture from friendly hosts who will introduce you to their unique customs and cuisine during your visit.
• Sapa Resorts – For those seeking ultimate relaxation after a day filled with exploration and adventure, look no further than one of the various resorts located in the city center near Hoang Lien National Park. Enjoy spectacular views from balconies or terraces along with an array of amenities such as spa treatments and poolside bars that will make any vacation unforgettable.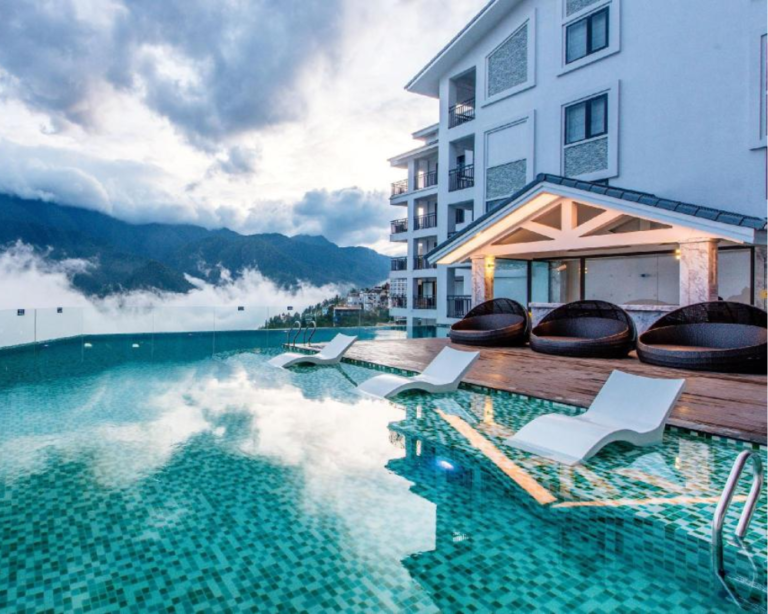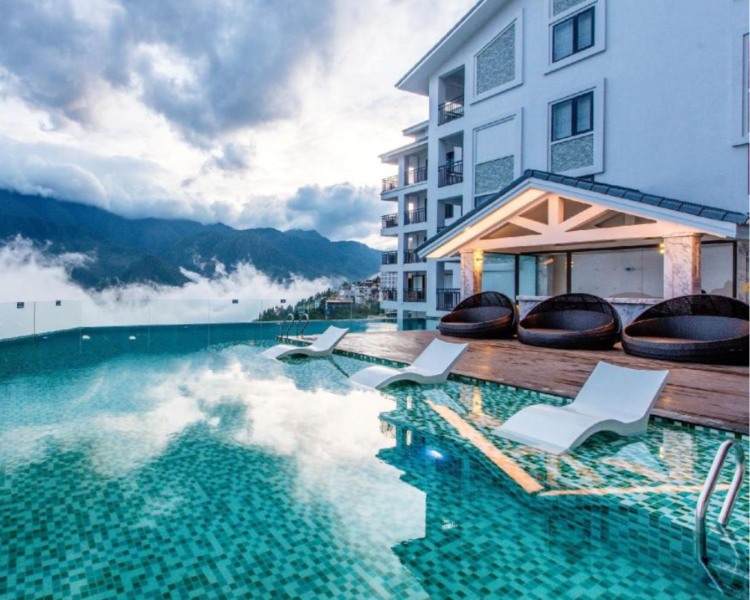 From high-end lodgings fit for royalty to pocket-friendly options ideal for backpackers, there is truly something for everyone when it comes to choosing where to stay in Sapa. So why not take advantage of these diverse accommodation options today? Your next unforgettable journey awaits! Now let's move on to what popular attractions await us here in this magical mountain destination…
Popular Attractions – Sapa travel guide
Sapa has plenty of attractions that will keep you busy for three days. Start your trip off with a visit to Sapa Lake, where the stunning views and fresh mountain air are sure to have you enamored. From there, take a cable car ride up Ham Rong Mountain and marvel at the cityscape below. Don't forget to make time for Ta Phin Village – it's full of fascinating cultural experiences like workshops, traditional music performances, and more! The Muong Hoa Valley is another must-see; its rolling hills are perfect for long hikes or strolls along its riverbanks.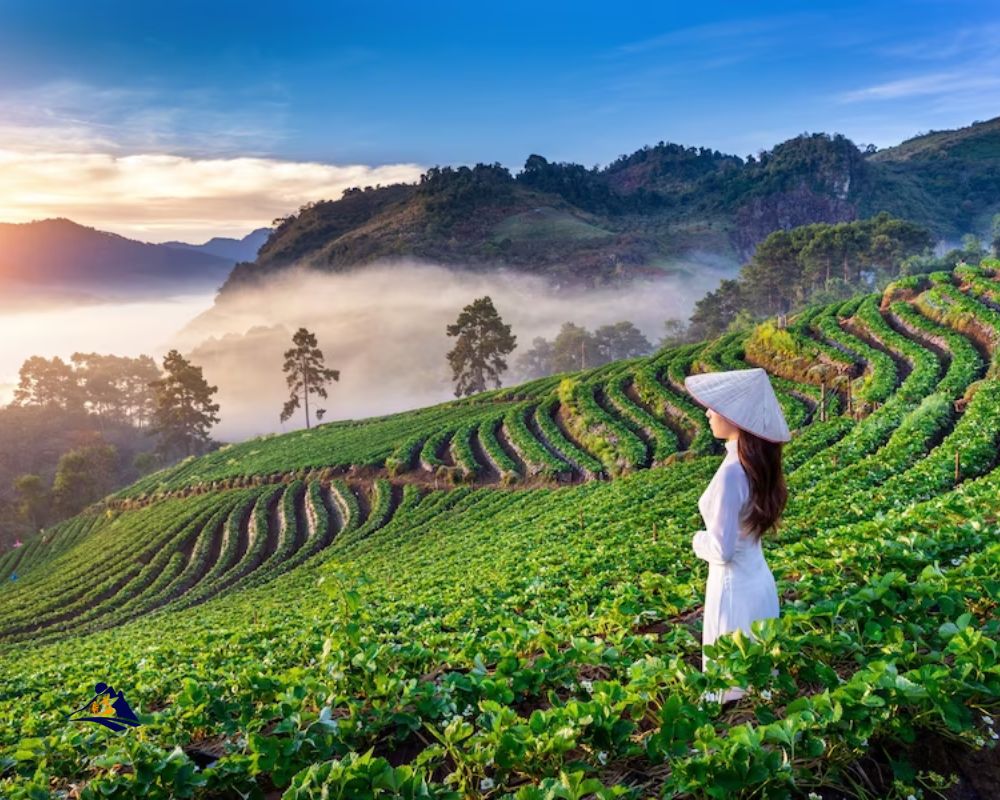 No matter which spots you choose to explore in Sapa, make sure you leave yourself enough time to soak in all the natural beauty around you. Take lots of photos so you can remember how peaceful it was when you were surrounded by lush greenery and breathtaking scenery. With these popular attractions as your backdrop, your stay in Sapa is guaranteed to be an unforgettable experience! Next up: recommended activities that'll help you get even more out of your three days in this magnificent destination
Recommended Activities For Days In Sapa Itinerary Sapa
When it comes to activities, Sapa offers something for everyone. Trekking is one of the most popular pastimes in this area. Whether you prefer a leisurely walk through terraced rice paddies or an all-day adventure into the mountains, there are plenty of trails to explore. You can also get up close and personal with hill tribes who inhabit many villages in the area. A visit to some of these local markets is sure to be an eye-opener – here, you'll find a colorful array of textiles and handicrafts that make perfect souvenirs for your trip.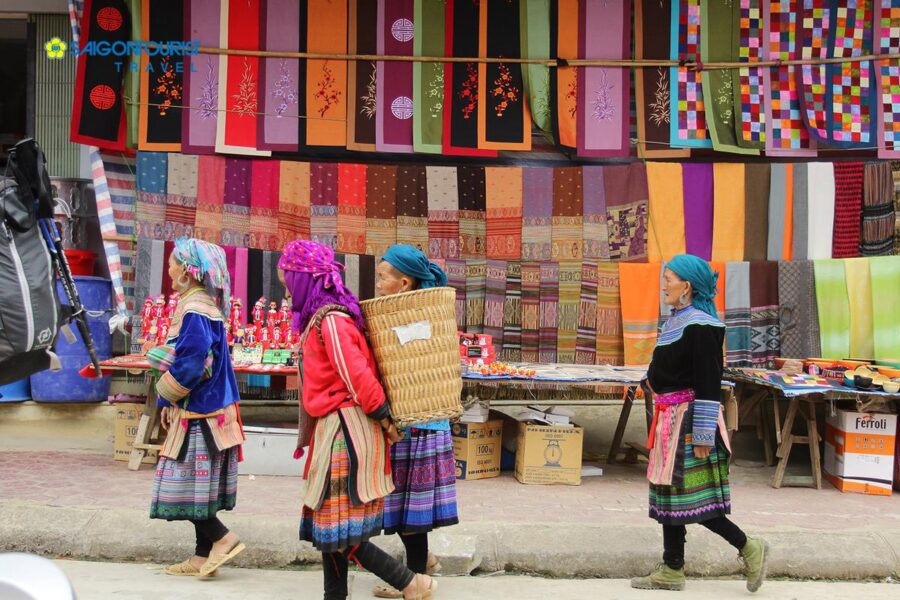 For nightlife lovers, Sapa has plenty on offer too! From bustling bars and nightclubs where you can dance the night away to cozy restaurants serving traditional Vietnamese dishes, there's something for every taste bud. Plus, don't forget about a happy hour – enjoy drinks at discounted prices while taking in views of nearby Fansipan Mountain!
With so much to do during your stay in Sapa, you won't have any trouble filling out three days' worth of itinerary items. Now let's move on to dining and shopping options available around town…
Dining And Shopping
It's no secret that Sapa is a shopper's paradise. From bustling night markets to vintage shops, there are endless options when it comes to finding something special or unique. But what about food? Is the local cuisine worth exploring? Absolutely!
There are plenty of restaurants in town offering up traditional Vietnamese dishes as well as international fare. Whether you're looking for a quick bite on the go or an intimate dining experience, you'll find exactly what your heart desires in Sapa. Plus, many places offer amazing views of the surrounding mountains and valleys – perfect for those Instagram snaps! Here's a look at some of my favorite spots:
| Restaurant | Cuisine | Price |
| --- | --- | --- |
| Red Dragon Cafe | Local & International | $$-$$$ |
| La Vie en Rose Bistro&Bar | French & Asian Fusion | $-$$$ |
| Hmong Sisters' Home Cooking | Traditional Hmong Dishes | $-$$ |
| Roof Garden Restaurant & Bar | Western & Vietnamese Specialties | $-$$$ |
For shopping, don't miss out on all the artisan products made by locals from around the area. You can find beautiful pieces like handmade jewelry, home decor items, and even clothing crafted with care. There are also lots of souvenir stalls selling postcards, printed t-shirts, and other items so you can take a little piece of Sapa back home with you.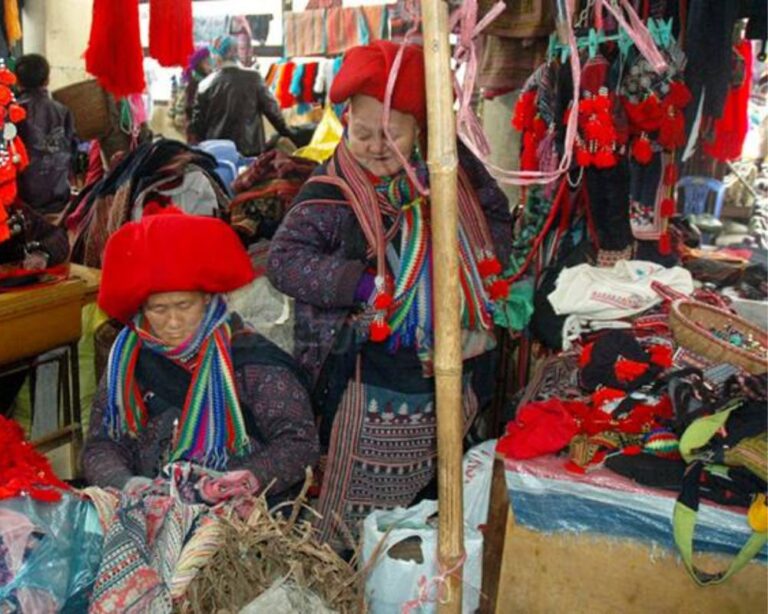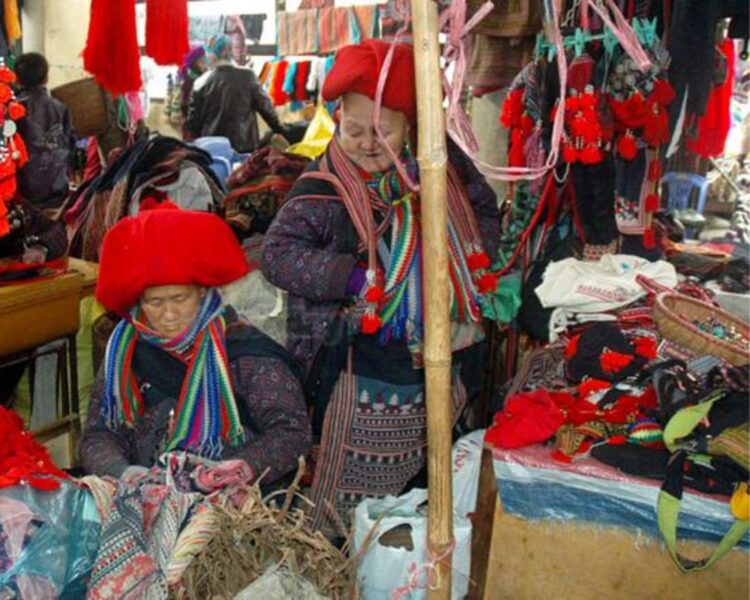 Sapa may be small but it sure packs a punch when it comes to shopping and dining experiences. I'm always impressed by how much variety this tiny place has to offer!
How To Spend Three Days In Sapa? Frequently Asked Questions
What Is The Best Time Of Year To Get Sapa For A Visit?
When it comes to deciding the best time of year to visit Sapa, there are a few factors you should consider. The tourist season varies depending on the weather in Sapa and what activities travelers plan to do while they're there. If you're looking for an ideal time to go, then summer is considered the peak season for visiting Sapa.
The summer months offer mild temperatures and less rain, making them perfect for sightseeing around town or going trekking through nearby villages. Although some days may be quite hot during this time of year, the cool mountain air helps keep things comfortable until later in the day when temperatures start to drop again. With beautiful clear skies and warm weather all day long, summer is an excellent choice for those who want to make the most out of their trip.
But if you're seeking more peace away from the hustle and bustle, springtime can also be a great option for visiting Sapa. During this period you'll find fewer tourists clogging up popular spots so you can enjoy a quieter atmosphere as well as cooler temps without having to sacrifice any of your travel plans. Plus, with blooming flowers everywhere and lush green hillsides setting the backdrop against which all your pictures will turn out postcard-perfect!
No matter when you decide to go though, one thing's certain – no matter how short or long your stay ends up being – chances are that it won't be enough! Whether you come in search of breathtaking views or cultural experiences like none other before seen, rest assured that whichever season you choose to visit Sapa in – it has something special waiting just for you!
Are There Any Cultural Festivals Or Events In Sapa?
Are there any cultural festivals or events in Sapa? Absolutely! The mountainous region of Sapa, Vietnam is a great place to experience traditional Vietnamese culture. From local festivals to tourist attractions, the area has something for everyone.
When visiting Sapa, you'll get to witness various exciting and vibrant cultural celebrations. Popular festivals include the Red Dao New Year Festival, Love Market Festival, and Flower Blossoms Festival. Each one celebrates different aspects of Vietnamese culture – from traditional clothing to food and music – allowing visitors an insight into the ancient ways of life. You can also take part in activities such as rice planting ceremonies, games, dances, and competitions that will give you a deeper understanding of this unique destination.
Aside from these annual events, there are plenty of other things to do in Sapa that offer a more personal connection with its people. Tourists can explore nearby villages and markets where locals sell their goods; go trekking through lush green landscapes; attend cooking classes run by experienced chefs who teach traditional recipes; or simply relax at one of the many hot springs found across the countryside. All these experiences allow tourists to immerse themselves in authentic Vietnamese culture while creating lasting memories along the way.
Sapa does have it all: whether you're looking for adventurous outdoor activities or fascinating cultural events – come experience it yourself!
What Is The Cost Of Transportation From The Airport To Sapa?
Visiting Sapa is an unforgettable experience that should not be missed! With its stunning landscapes, vibrant culture, and delicious cuisine, it's a must-see destination for any traveler. But before you can begin your adventure in this beautiful mountain town of northern Vietnam, there's one important thing to consider – the cost of transportation from the airport to Sapa.
The estimated cost of transportation from the airport to Sapa is around USD 30 per person. This includes both taxi fares as well as public transport options like shared vans or buses. Depending on which mode of transportation you choose, the time taken may vary but generally takes between 4-6 hours depending on traffic.
When planning your trip to Sapa, these are some things to keep in mind:
Plan – book your tickets beforehand if possible so you don't have to worry about getting stuck at the airport waiting for a bus or van
Research different modes of transportation – compare prices and features across taxis, buses, and shared vans
Ask locals for advice – they'll know better than anyone else what route will take less time and money
Bring snacks & water – long journeys can get tiring so make sure you're prepared with food and drinks
Planning by researching all available options when it comes to airport transportation will help ensure a smooth and comfortable journey from the airport to Sapa. Taking local advice into consideration can also save time (and money!) while making sure you're adequately equipped with snacks and drinks can make a big difference during longer trips. After all, who wants to arrive exhausted after their flight?
Are There Any Outdoor Activities Available In Sapa?
When it comes to outdoor activities, Sapa has something for everyone. From adrenaline-filled hikes through lush mountainside trails to leisurely bike rides around town, you can make the most of your time in this beautiful region. Whether you're looking for a short trek or an overnight camping adventure, there are plenty of options available when it comes to exploring Sapa's outdoors.
Hiking is one of the best ways to explore Sapa and its surrounding countryside. You'll find numerous hiking trails with varying degrees of difficulty that will let you experience the beauty of nature while getting some exercise at the same time. For those who want more than just a hike, there's also mountain biking – an activity perfect for seeing more of what Sapa has to offer without having to break a sweat.
For those wanting an even bigger adventure, trekking and camping trips provide the opportunity to take in all that Sapa has on offer from different angles; kayaking down fast-flowing rivers gives visitors a unique perspective as well. Here are five great ideas for enjoying Sapa's great outdoors:
• Hike up Fansipan Mountain, Vietnam's highest peak
• Bike past Waterfall Stream and visit ethnic villages along the way
• Trek Lao Chai village for stunning views over valleys and rice paddies
• Camp near Hoang Lien National Park surrounded by pristine forests
• Kayak across Ma Tra Lake and explore nearby caves
No matter which activity catches your eye first, be sure to get outside and enjoy all that Sapa has to offer! With so many possibilities out there waiting to be explored, why not spend some time reconnecting with nature? It could very well be one of your most memorable experiences – ever!
Is There A Local Market In Sapa Where I Can Buy Souvenirs?
Are you planning to buy souvenirs in Sapa? Then, a visit to the local market is an absolute must! The sapa market offers a variety of Vietnamese souvenirs that you can take home with you. Whether it's clothing, jewelry, or traditional handicrafts, there's something for everyone here.
It's easy to get lost amid all the shops and stalls at the sapa market. To make sure your shopping experience goes smoothly, be sure to come prepared with a list of items you're looking to buy. That way, you won't miss out on any great deals or unique finds. Also, don't forget to negotiate; haggling is expected here and can help save some money.
The atmosphere at the sapa market is always bustling and exciting. It's not just about buying things – this place has a distinctive charm that will leave you with unforgettable memories of Vietnam. So why not take advantage of this opportunity to shop while soaking up the culture around you? Trust us; it'll be well worth it!
Conclusion
As the sun sets over Sapa, I can't help but feel a sense of awe and admiration for this ever-so-beautiful destination. Three days was not enough to experience all that it has to offer; however, I am grateful that I managed to capture some unforgettable memories in these few days.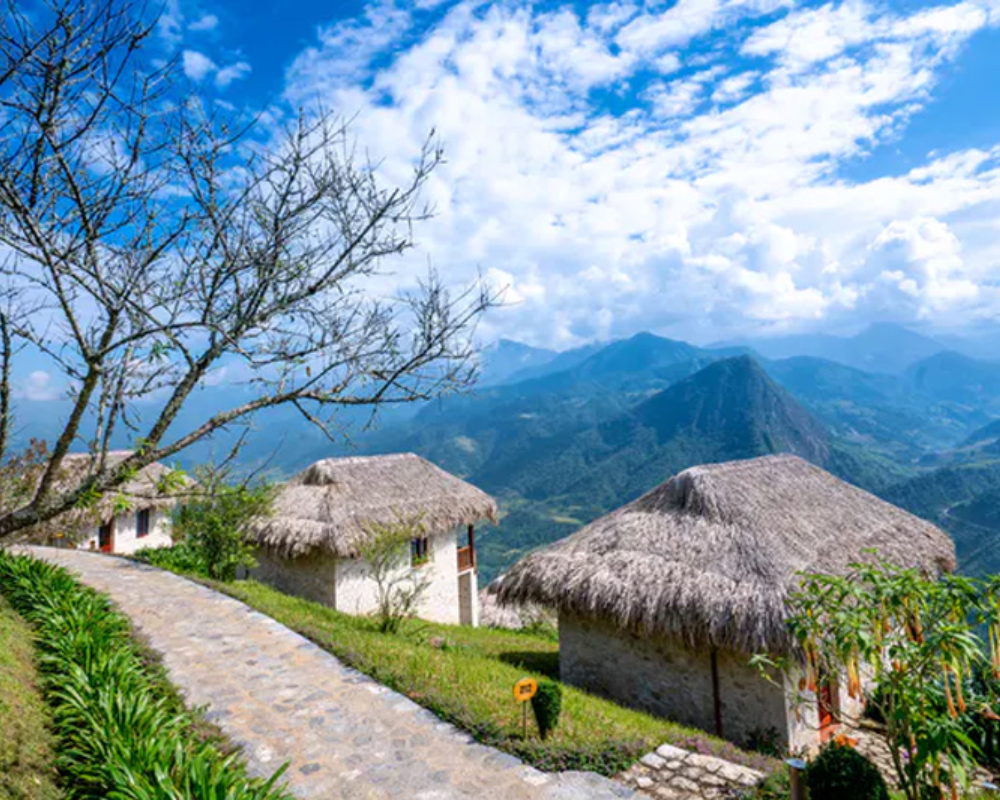 From exploring the vibrant local markets and taking part in cultural festivals to trekking through mountainous terrain and enjoying outdoor activities – my three-day stay here truly gave me an insight into the beauty of Sapa. It is ironic how such a small place can be so full of life yet remain untouched by modern developments.
To anyone visiting Vietnam, make sure you take out time from your busy schedule to explore this rustic paradise because no trip here would be complete without experiencing the beauty and tranquility of Sapa!
Sapa 1 Day Tours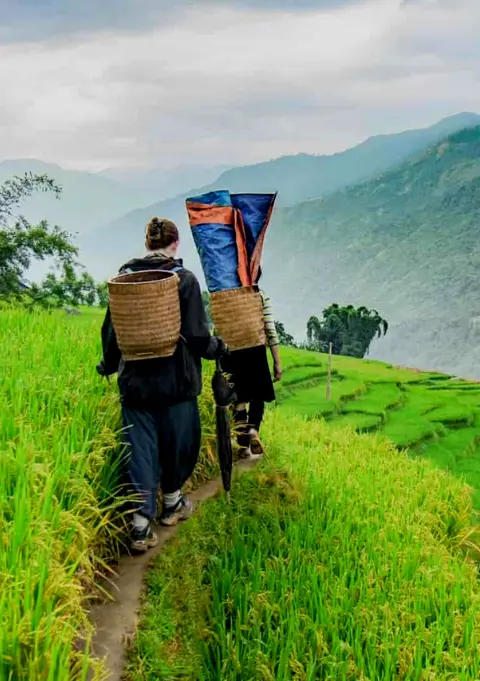 1 day experience
Moderate to challenging
Cultural immersion & active adventure
Rice fields, valleys & villages
​Private tours
Vegan-friendly
Sapa 2 Day Tours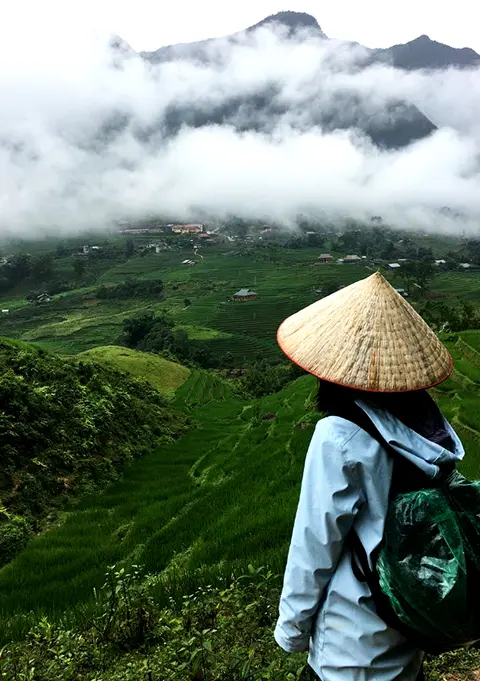 2 days 1 night experience
Moderate to challenging
Cultural immersion & active adventure
Mountains, valleys, rice fields and villages
​Private tours
Vegan-friendly
Sapa 3 Day Tours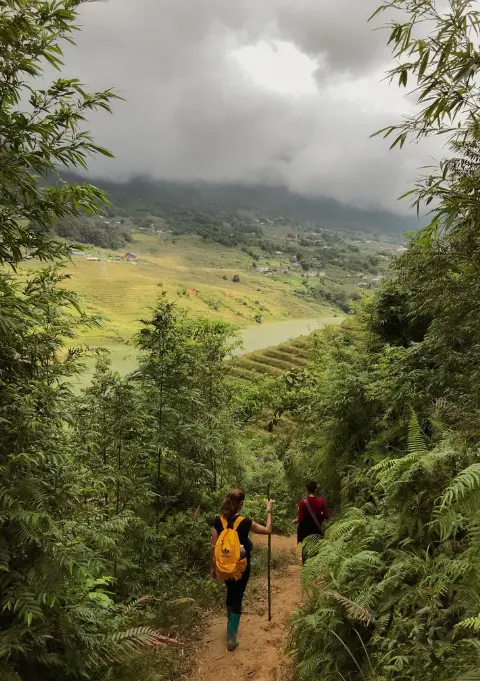 3 days 2 night experience
Moderate to challenging
Cultural immersion & active adventure
Mountains, valley, rice fields & villages
​Private tours
Vegan-friendly
Sapa 4 Day Tours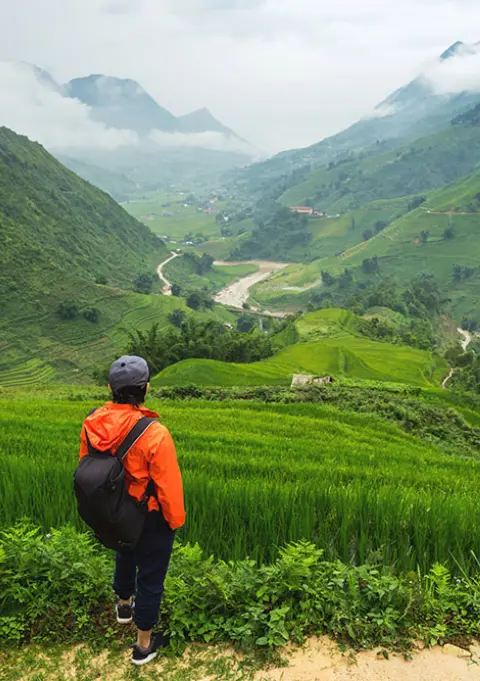 4 days 3 night experience
Moderate to challenging
Cultural immersion & active adventure
Mountains, valleys, rice fields & villages
​Private tours – Less Touristic
Vegan-friendly