Towering over the landscape of Vietnam and Laos, Fansipan Peak stands as a beacon for adventurers. At 3,143 meters above sea level, it's the highest peak in all of Indochina – an impressive feat that beckons outdoor enthusiasts from far and wide to take on its challenging terrain. For those seeking freedom and exploration, Fansipan offers an unparalleled experience, unlike any other place on earth.
This article is your guide to conquering this incredible summit. From daunting trails to breathtaking views, get ready to explore everything there is to know about one of Southeast Asia's most beautiful destinations. With proper planning and preparation, you can have the adventure of a lifetime atop Fansipan Peak!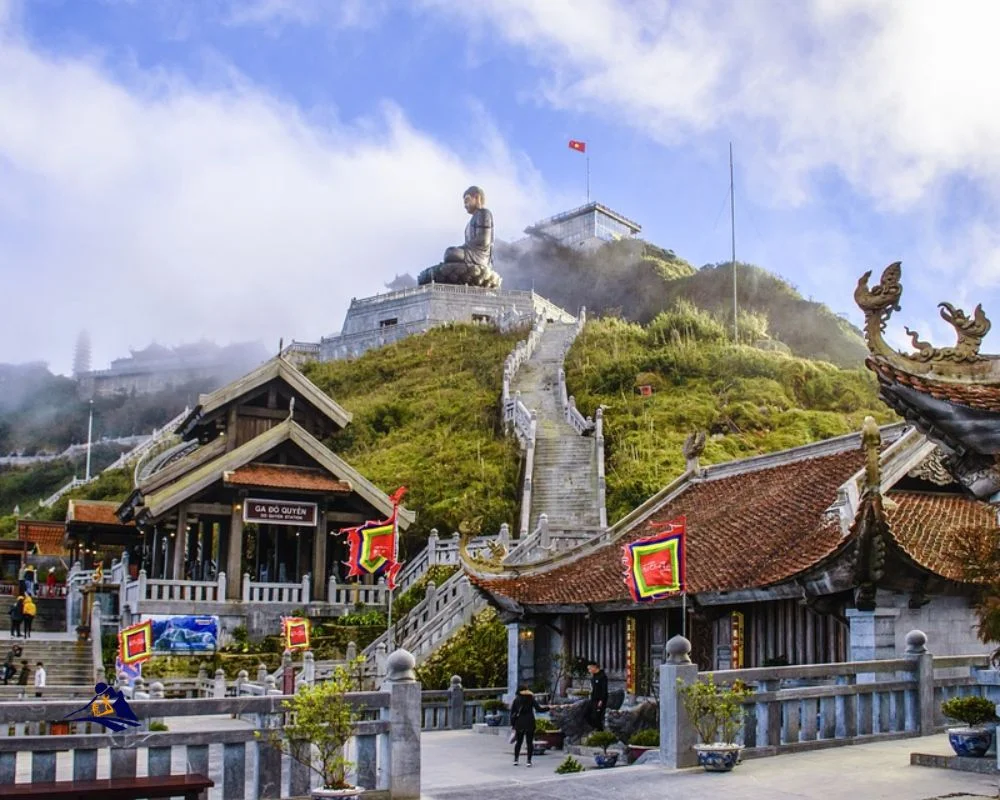 If climbing mountains has ever been on your bucket list, then don't miss out on this unique opportunity to defy gravity while taking in stunning panoramic vistas at every turn. Get ready for a journey that will leave you feeling exhilarated and inspired – let's start exploring Fansipan Peak!
Facts About Fansipan Peak
Standing proud and tall, Fansipan Peak is the highest peak in Indochina and Vietnam. Reaching a staggering elevation of 3,143 meters (10,312 feet), it is no wonder that this grand mountain has become an iconic symbol for those seeking freedom. Here are some facts about the tallest peak in Vietnam:
Firstly, Fansipan Peak lies on the Hoang Lien Mountain Range located within Lao Cai Province in north-western Vietnam. It can be accessed from many different trails leading up to its summit which typically take 2 or 3 days depending on your hiking ability. The area around the peak is known for its incredible biodiversity with rare species such as black gibbons and red pandas found along its slopes.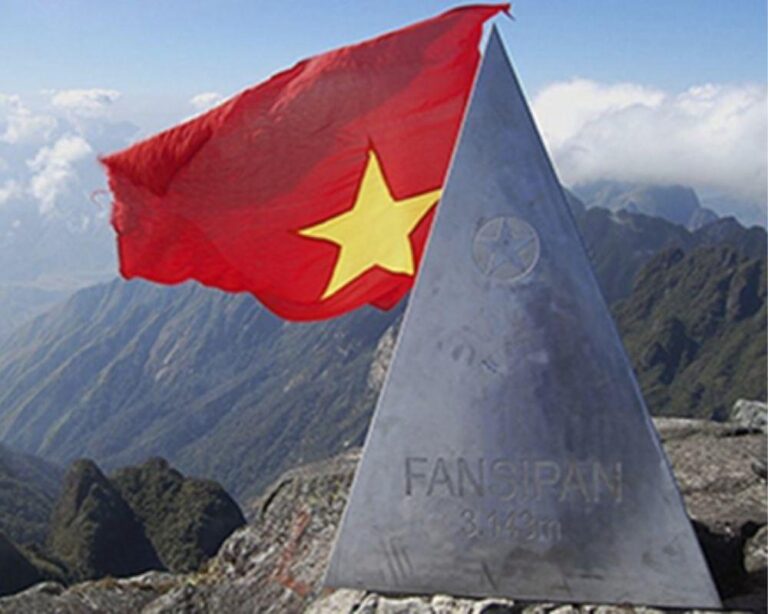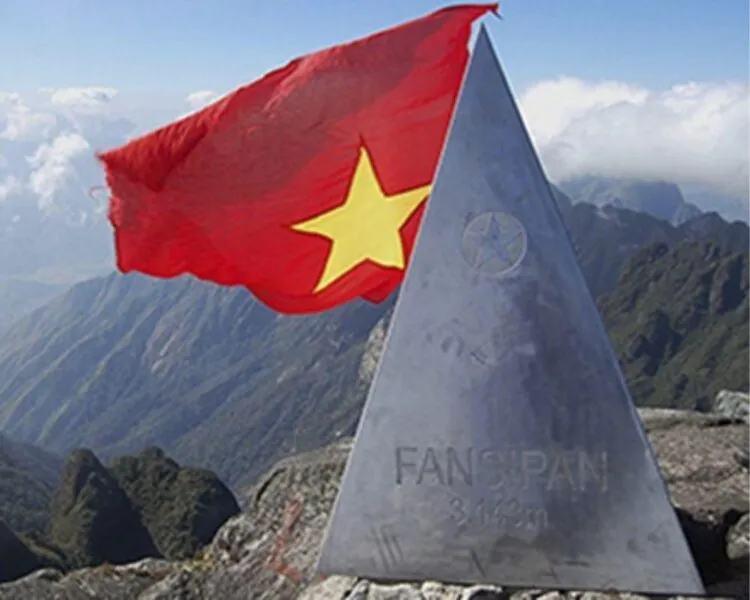 Secondly, there are several temples situated at the base of Fansipan including Hang Tung Vien Cave Temple – built by pioneers who climbed the highest peak of Southeast Asia in 1993 – and Thac Bac Temple dedicated to King Ly Thai To who conquered Hanoi during the 13th century AD. Additionally, various ethnic minorities live nearby such as Black H'mong people living in villages like Ta Van Giay near Sa Pa Town.
Finally, trekking up Fansipan requires quite a bit of physical fitness due to its steep terrain but offers unparalleled views when one reaches the summit – making it well worth it! A clear day provides stunning vistas across North West mountainside down to South China Sea coastlines. With so much beauty to explore, where do you begin? Let's find out next with a look into location and geography…
Location And Geography
Fansipan Peak is a majestic mountain located in Vietnam and part of Southeast Asia's geography. It is close to 3,143 meters high and is considered 'the roof of Indochina' due to its position as the highest peak in the region. Many interesting facts about this unique location make it an attractive destination for travelers from around the world:
Fansipan Peak stands within the Hoang Lien Son Mountain Range which has 30 peaks over 2,000m tall
Its nearby city Sapa is home to several ethnic minority groups including Hmong, Dao, and Tay people
The peak itself consists mostly of limestone rocks and lush green vegetation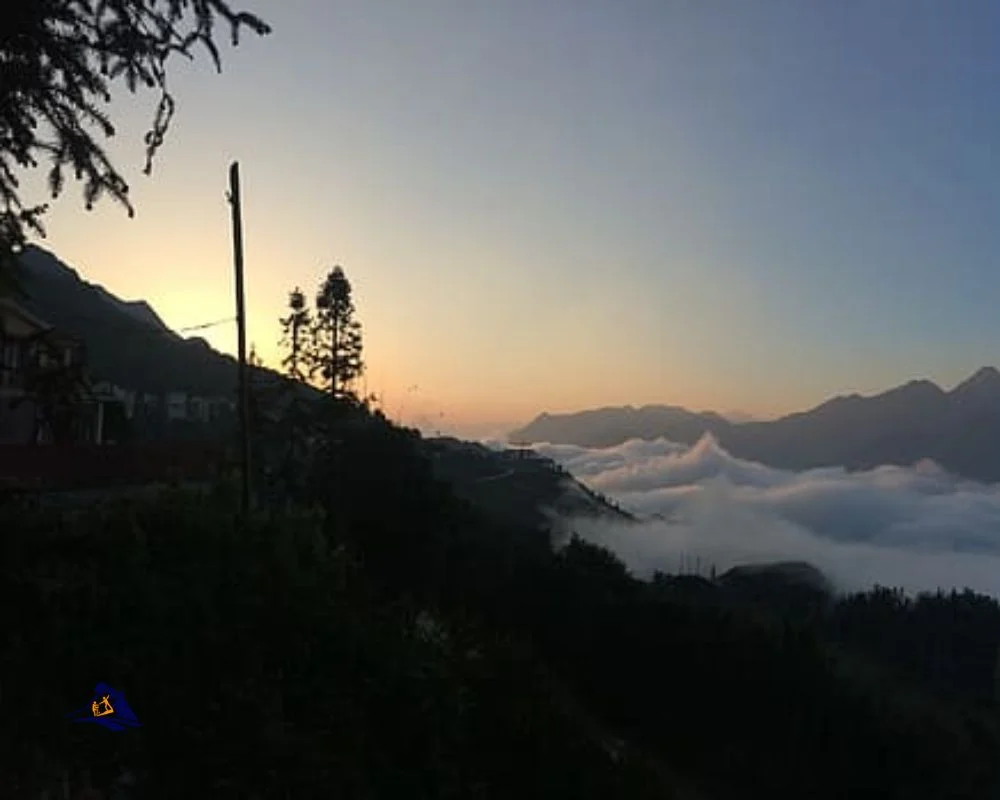 With these features combined, it's not surprising that Fansipan Peak draws visitors who come with expectations of adventure and exploration. Not only can they take in breathtaking views at such heights but they also have access to some fantastic wildlife here too. Visitors often spot rare birds like pheasants, black-crested laughing thrushes, or even more elusive animals like leopards and bears if they're lucky! For those with a passion for trekking, there are various routes available leading up to the summit making it possible to reach the top regardless of skill level.
No matter what type of traveler you are, there's something magical about standing atop this remarkable peak surrounded by stunning mountainous landscapes on all sides – worth checking out when visiting Vietnam!
History Of Fansipan Peak
Standing at a height of 3,143 meters above sea level, Fansipan Peak is the highest mountain in all of Vietnam. This massive peak has been an object of admiration and fear for centuries to many Vietnamese people who believed that it was home to powerful mountain gods. The history and legend surrounding Fansipan Peak make it an especially captivating destination for any traveler looking for an adventure.
The first documented ascent of Fansipan occurred nearly 60 years ago by French mountaineer Pierre Godet in 1959. Since then, thousands of climbers have attempted to reach its summit – some successful, others not so much – but all can attest to the sheer beauty and danger found on this majestic peak.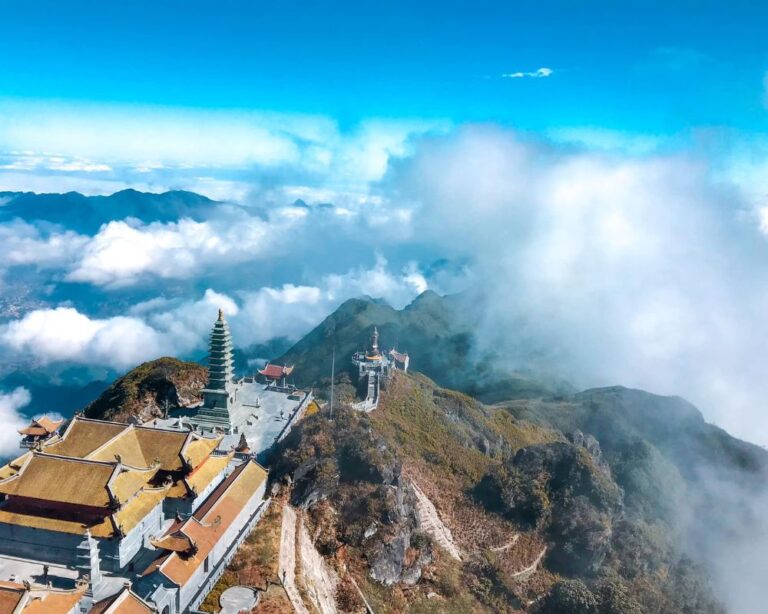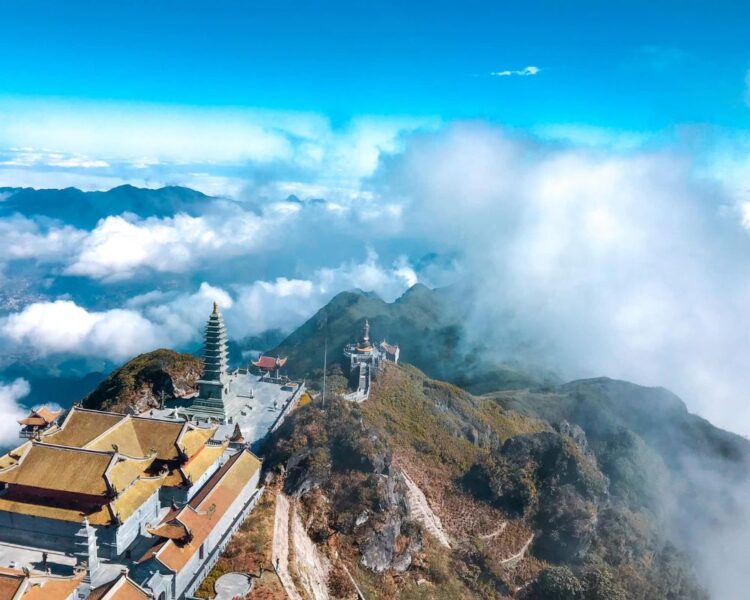 In addition to being the tallest mountain in Vietnam, Fansipan also holds a special place in local culture through its legends about how two dragons created the mountain when they fought over a magical pearl hidden inside. These tales make up part of what makes climbing Fansipan such an amazing experience; one filled with both a physical challenge and a spiritual connection with nature.
When standing atop Fansipan Peak, you'll be rewarded with unparalleled views as far as the eye can see that will surely fill your soul with joy and awe! Transitioning into the next section, let's discuss ways to access this stunning summit…
Accessing The Summit
Reaching the summit of Fansipan Peak is quite a challenge. There are several routes and methods to access this stunning peak, so you can choose whichever works for you best. The most popular route takes you through Sapa Valley in North Vietnam and then along a steep 2-day trek up the mountain. With breathtaking views of Hoang Lien National Park, it's no wonder why this route is so sought after.
Alternatively, if you're looking for an adrenaline rush, there's also a Fansipan Peak cable car that'll take you straight to the top! It only takes 15 minutes from start to finish but delivers panoramic views across the valleys below – worth a try! Whichever method you use, accessing Fansipan Peak promises an incredible experience.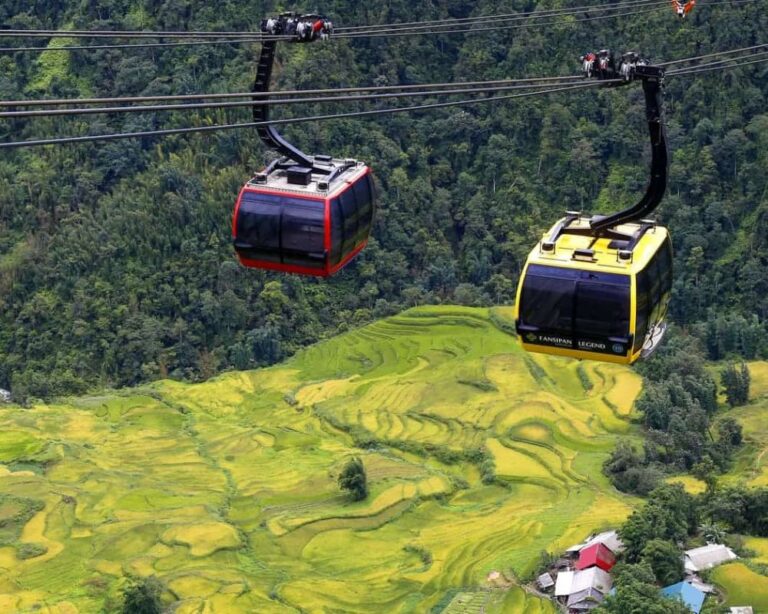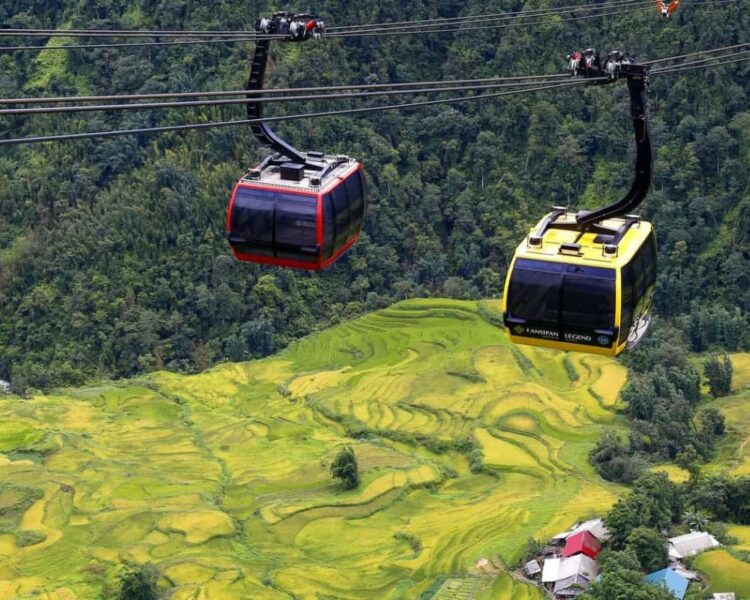 Fansipan cable car ticket price varies depending on the type of ticket and the time of the year you visit. Generally, there are two types of tickets:
Return Ticket: This ticket will take you from the base station to the summit of Fansipan and back. The price for a return ticket is usually around 700,000 – 800,000 VND (approximately $30 – $35 USD) for adults and 500,000 – 600,000 VND (approximately $22 – $26 USD) for children.
Single Ticket: This ticket will take you from the base station to the intermediate station or from the intermediate station to the summit. The price for a single ticket is usually around 400,000 – 500,000 VND (approximately $17 – $22 USD) for adults and 300,000 – 400,000 VND (approximately $13 – $17 USD) for children.
No matter how experienced or novice climbers may be, climbing and hiking challenges await at every turn on this majestic mountain. From rocky terrain to narrow pathways leading up treacherous slopes, conquering Fansipan will surely be one of your greatest adventures yet!
Climbing And Hiking Challenges
Stepping away from access to the summit, let us venture into what awaits you on the mountain. Fansipan peak offers climbing routes and hiking trails that provide a range of challenge levels for any skill level. From beginner-friendly trekking paths to the more challenging terrain, there is something here for everyone looking to get their feet off the ground.
For those who seek adventure, it's hard to beat the thrill of conquering Fansipan Peak's summit challenge. The route will take you through rocky ridges and steep inclines that are not for the faint-hearted. But with proper preparation and gear, this can be an incredibly rewarding experience for anyone interested in mountain climbing.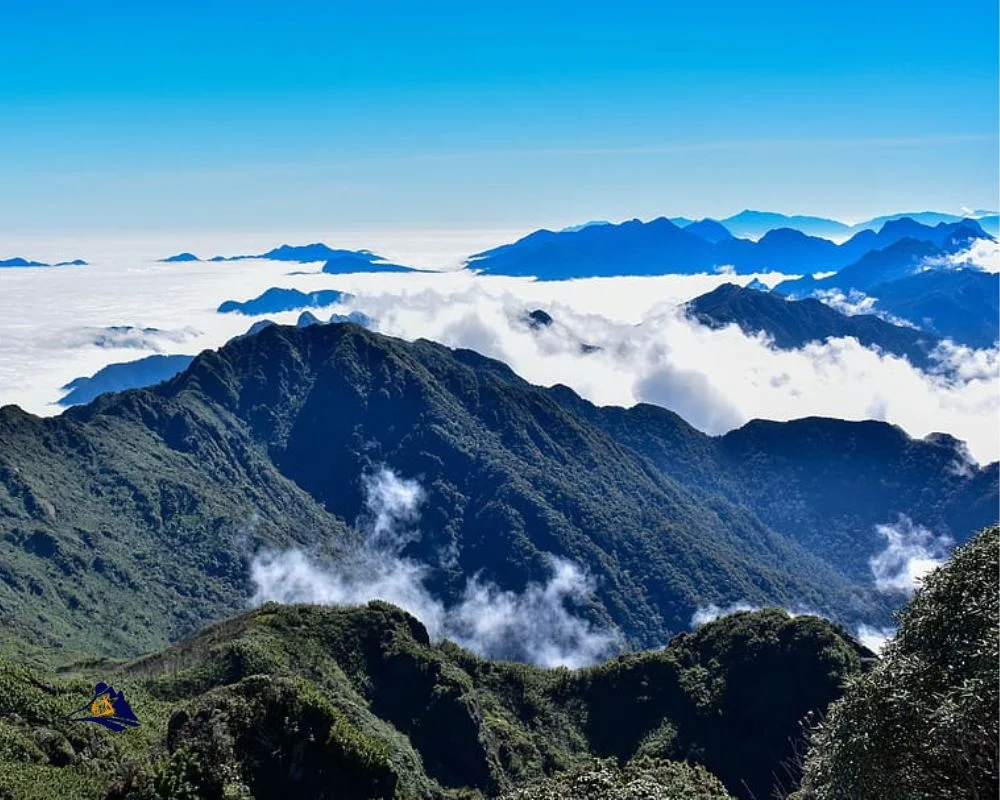 The views along the way are breathtaking – so don't forget your camera! With each step up, you'll appreciate an ever-changing landscape as well as immense feelings of personal achievement while making it to the top. As they say – 'the closer you get to heaven, the better view you have!'
Ready to book your trip? Next up we look at accommodation options available around Fansipan peak…
Fansipan Hiking 1 Day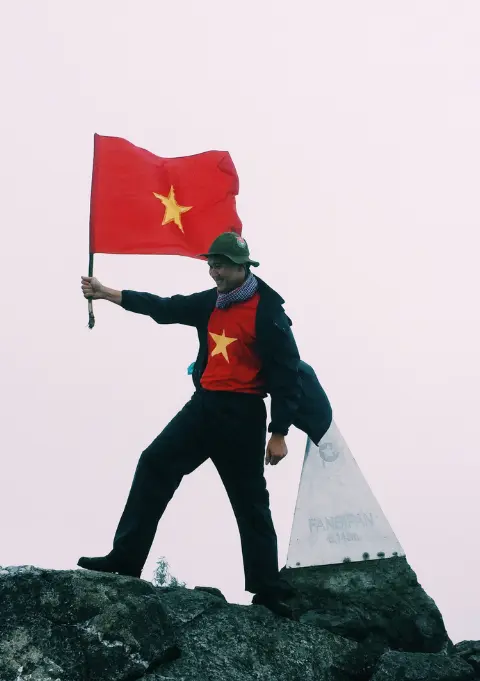 1 day fansipan experience
Moderate to challenging
Cultural immersion & active adventure
Visit Fansipan, highest mountain of Indochina
​Private tours
Vegan-friendly
Fansipan Trekking 2 Days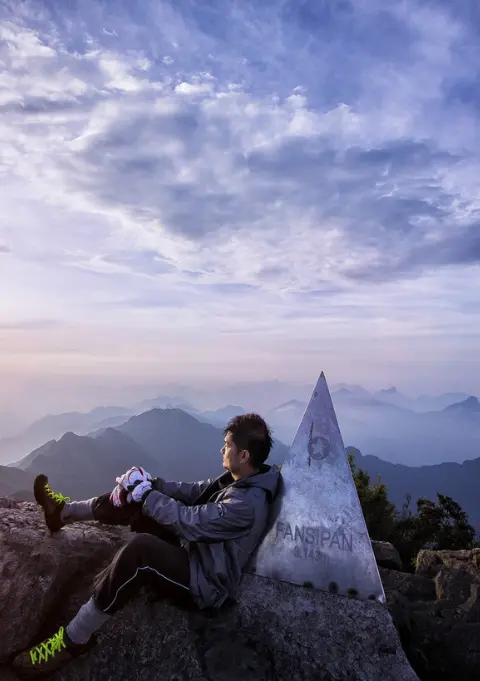 2 days 1 night fansipan experience
Moderate to challenging
Cultural immersion & active adventure
Visit Fansipan, highest mountain of Indochina
​Private tours
Vegan-friendly
Buy Cable Ticket Online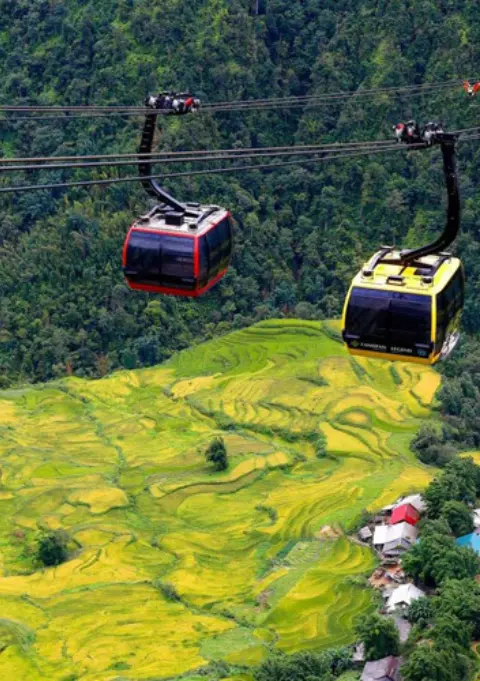 [QR Code] Buy Fansipan Cable Car Tickets Online
Non-refundable
Present your e-voucher
Fixed-day ticket
Admission with voucher
Accommodation Options
If you're looking to experience the grandeur of Mount Fansipan, accommodation options are plentiful. From cozy cabins and comfortable beds to camping on its slopes, there's something for everyone seeking a break from the hustle and bustle of life.
As soon as one steps foot in this mountain paradise, it is easy to feel energized by its majestic beauty. Whether you wish to soak up some sun or pitch your tent under the stars, finding somewhere to stay that fits your needs will be effortless. Cabins offer warmth and comfort with modern amenities such as Wi-Fi and air conditioning, while more adventurous travelers can choose from various campsites offering access to nature trails and breathtaking views of the landscape.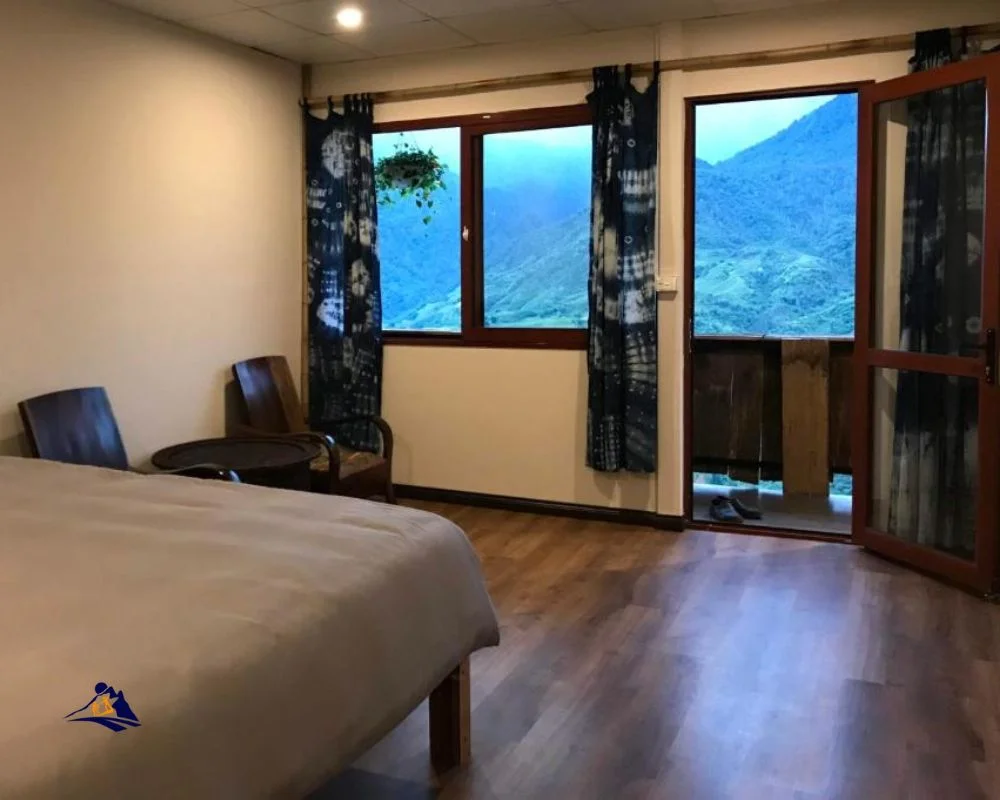 No matter which type of lodging you opt for, rest assured that each option provides both an unforgettable adventure and relaxation away from everyday life – exactly what you need after trekking through Fansipan's lush forests! With everything taken care of upon arrival, all that's left is to explore the area in search of wildlife sightings…
Wildlife Sightings
Visitors to Fansipan Peak are in for a treat when it comes to wildlife sightings. The mountain is home to an incredible array of animal habitats, providing plenty of opportunities for bird watching and other exciting activities. With its lush natural ecosystems and vibrant wildlife habitats, there's no shortage of things to explore. Whether you're looking for a peaceful stroll among the trees or hoping to catch a glimpse of a rare species on the mountaintop, this area has something special in store.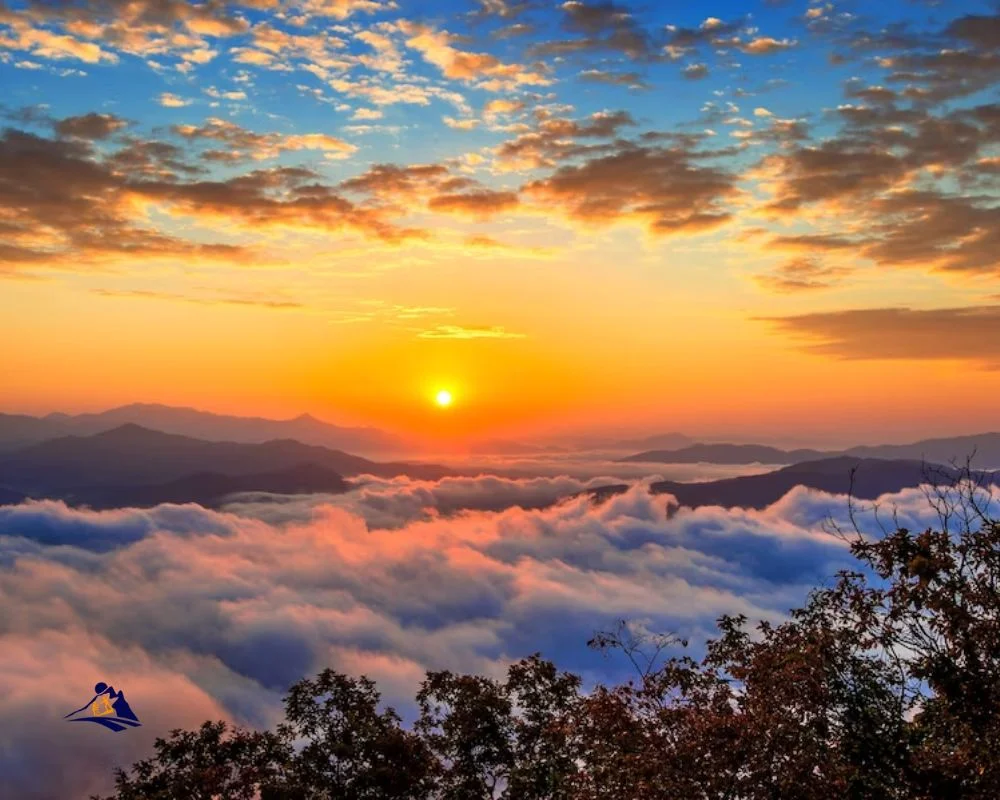 For the adventurous traveler, trekking through the reserve can be both rewarding and awe-inspiring. From monkeys playing in their tree homes to birds perched atop branches, there's always something new to discover around every corner. You'll even have the chance to spot some larger mammals such as bears and tigers if you keep your eyes peeled! Even if you don't get lucky enough to witness these magnificent creatures firsthand, just being immersed in nature provides an unforgettable experience that will stay with you long after your journey ends.
The beauty of Fansipan Peak is best seen first-hand – so grab your binoculars and make sure you take advantage of all the amazing wildlife that awaits discovery here! With its stunning landscape and abundance of animals, this destination promises a unique adventure like nowhere else on earth. As we move into exploring weather conditions at Fansipan Peak, know that whatever surprises lie ahead will further enhance your visit here.
Sapa 1 Day Tours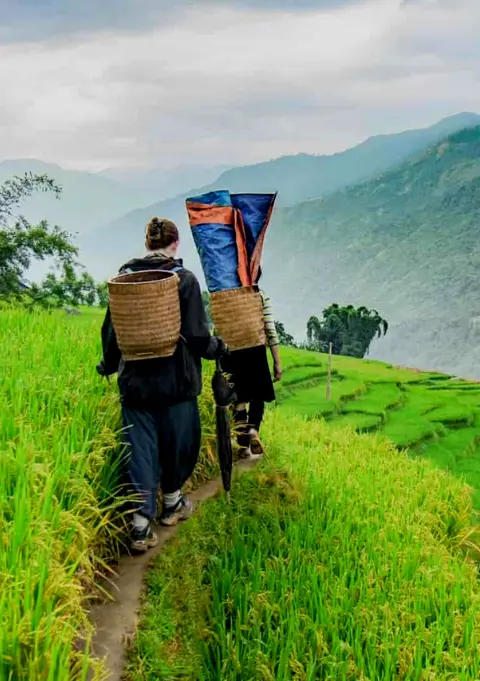 1 day experience
Moderate to challenging
Cultural immersion & active adventure
Rice fields, valleys & villages
​Private tours
Vegan-friendly
Sapa 2 Day Tours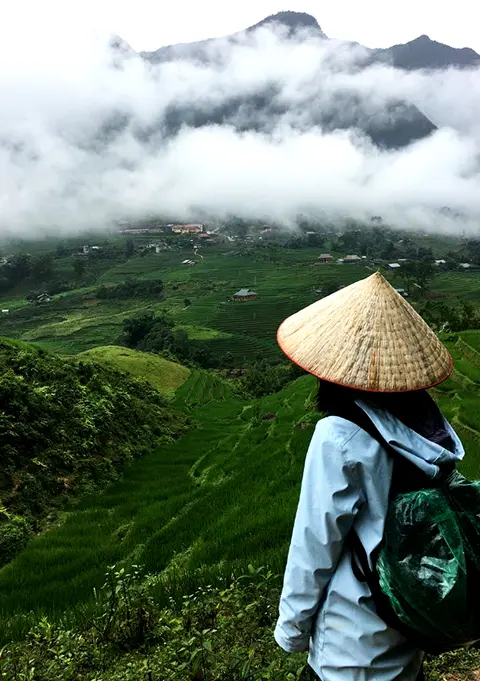 2 days 1 night experience
Moderate to challenging
Cultural immersion & active adventure
Mountains, valleys, rice fields and villages
​Private tours
Vegan-friendly
Sapa 3 Day Tours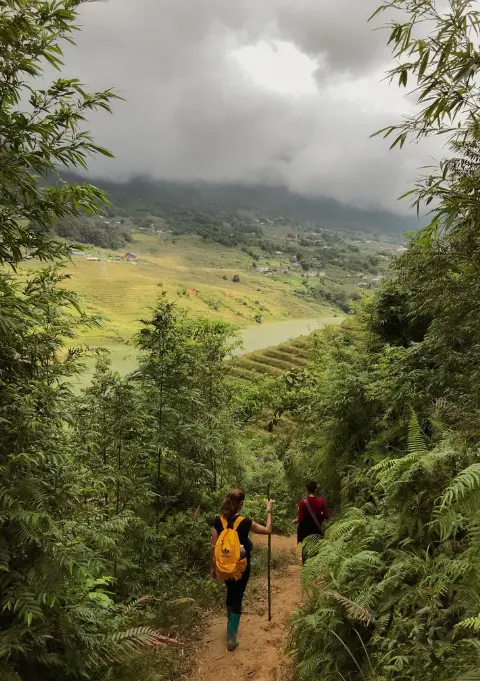 3 days 2 night experience
Moderate to challenging
Cultural immersion & active adventure
Mountains, valley, rice fields & villages
​Private tours
Vegan-friendly
Sapa 4 Day Tours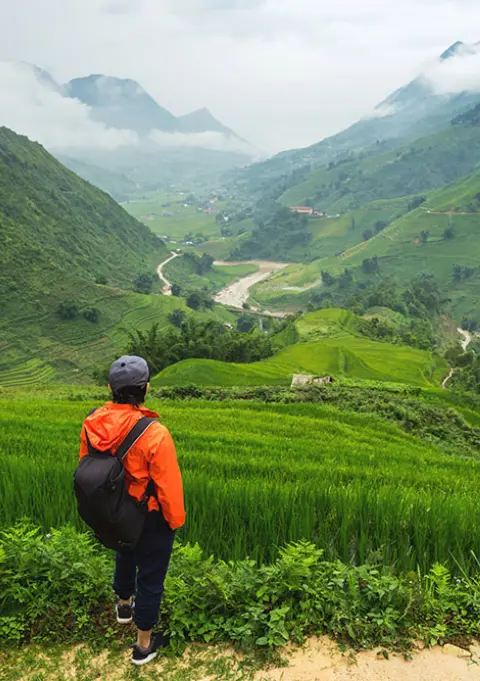 4 days 3 night experience
Moderate to challenging
Cultural immersion & active adventure
Mountains, valleys, rice fields & villages
​Private tours – Less Touristic
Vegan-friendly
Fansipan Weather Conditions
The weather conditions of Sapa's Fansipan peak are temperamental and ever-changing. At the highest mountain in Indochina, temperatures can range from hot to cold as one ascends or descends to the summit. Aspiring climbers need to be aware of seasonal temperature shifts and plan accordingly with their attire and gear. To help adventurers prepare for their journey ahead, here is a helpful table that summarizes potential alpine weather conditions:
| Weather Condition | Description |
| --- | --- |
| Rain Forecast | Expect light rain showers |
| Wind speeds | Moderate to strong winds are expected at higher elevations |
| Visibility Conditions | Poor visibility due to cloud cover and fog |
| Seasonal Temperatures | Cooler during winters; warmer during summers |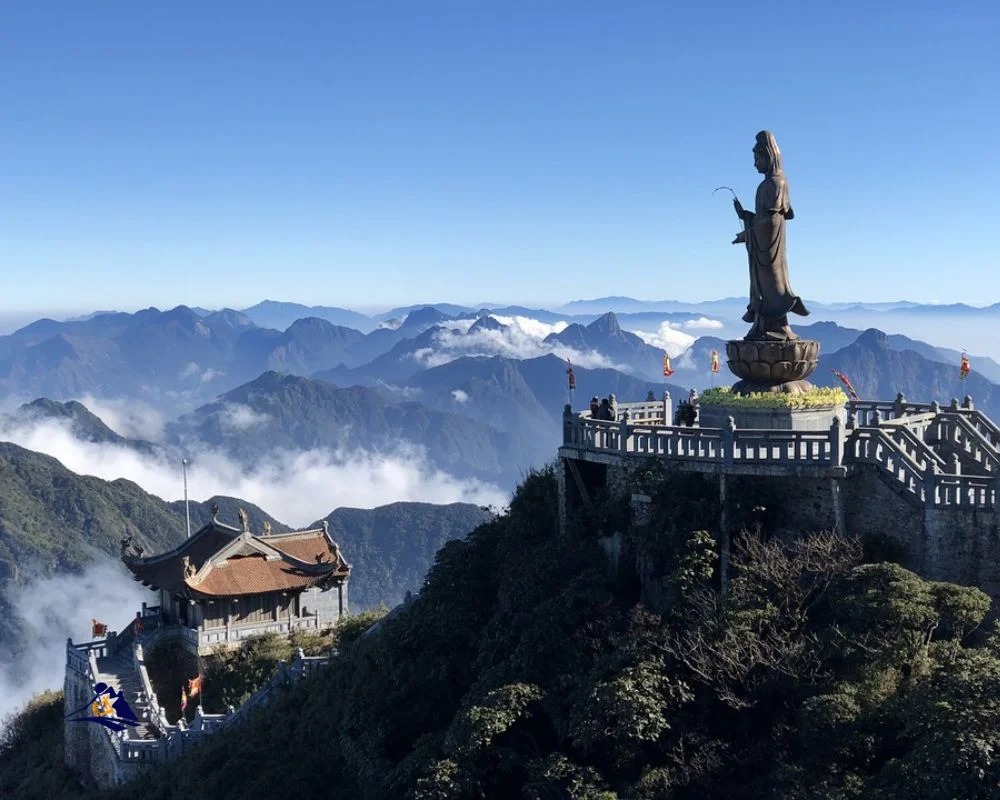 As you ascend this majestic mountain, it will become increasingly windy near the top. There may also be periods of poor visibility due to heavy cloud coverage or fog. The best time to climb Fansipan Peak usually falls between May through August when temperatures will be milder than in other months of the year. Furthermore, rainy seasons occur between October and December so keep an eye on your local forecast before making any plans! All in all, strategic planning is key when preparing for your visit – assessing what types of clothing layers would suit both warm and cooler climates could make all the difference once you get there. With the right kind of preparation based on these weather conditions, nothing should stop anyone from achieving their ultimate goal atop Fansipan peak!
Fansipan Hiking 1 Day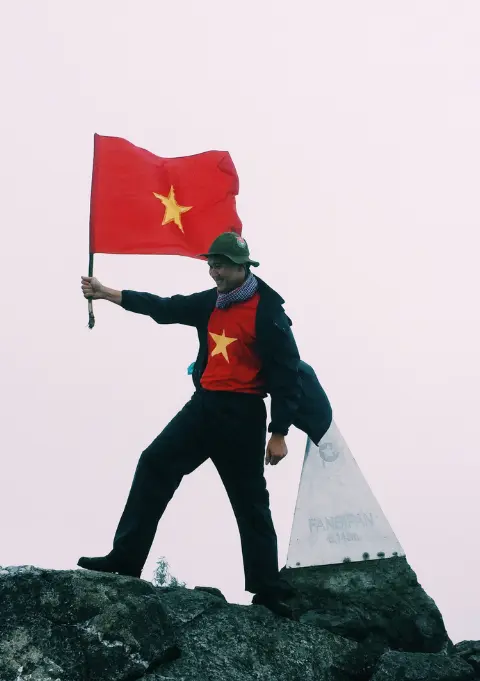 1 day fansipan experience
Moderate to challenging
Cultural immersion & active adventure
Visit Fansipan, highest mountain of Indochina
​Private tours
Vegan-friendly
Fansipan Trekking 2 Days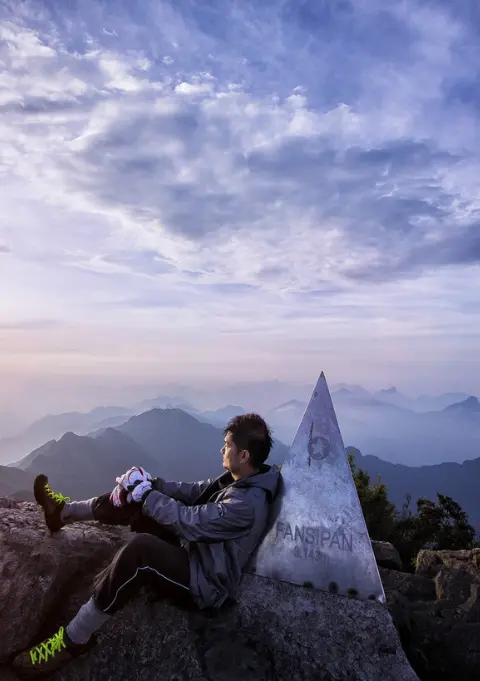 2 days 1 night fansipan experience
Moderate to challenging
Cultural immersion & active adventure
Visit Fansipan, highest mountain of Indochina
​Private tours
Vegan-friendly
Buy Cable Ticket Online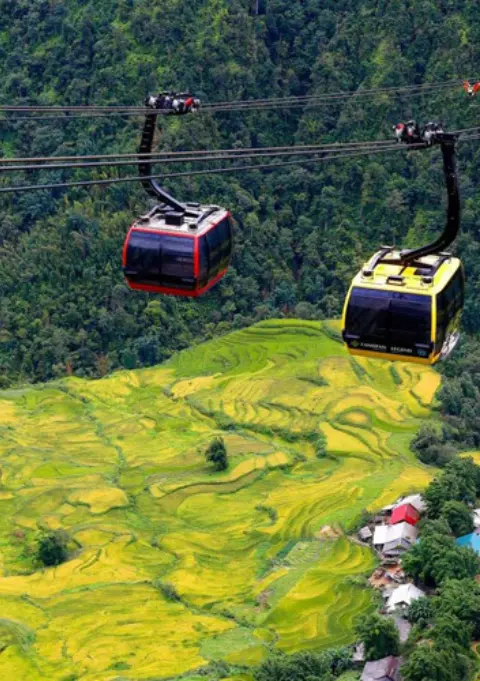 [QR Code] Buy Fansipan Cable Car Tickets Online
Non-refundable
Present your e-voucher
Fixed-day ticket
Admission with voucher
What To Pack For The Trip
If you're planning a trip to climb the legendary Fansipan peak, then your bag will burst with your items! You'll need all types of gear for this amazing journey – from backpacks and rain gear to hiking boots and binoculars. And don't forget snacks too!
Your backpack should be light but sturdy enough to carry all the necessary supplies that you'll need during your adventure. Make sure it's big enough to fit everything, including extra clothes and water bottles. Invest in some high-quality waterproof rain gear as well since weather conditions change quickly in mountainous regions like this one.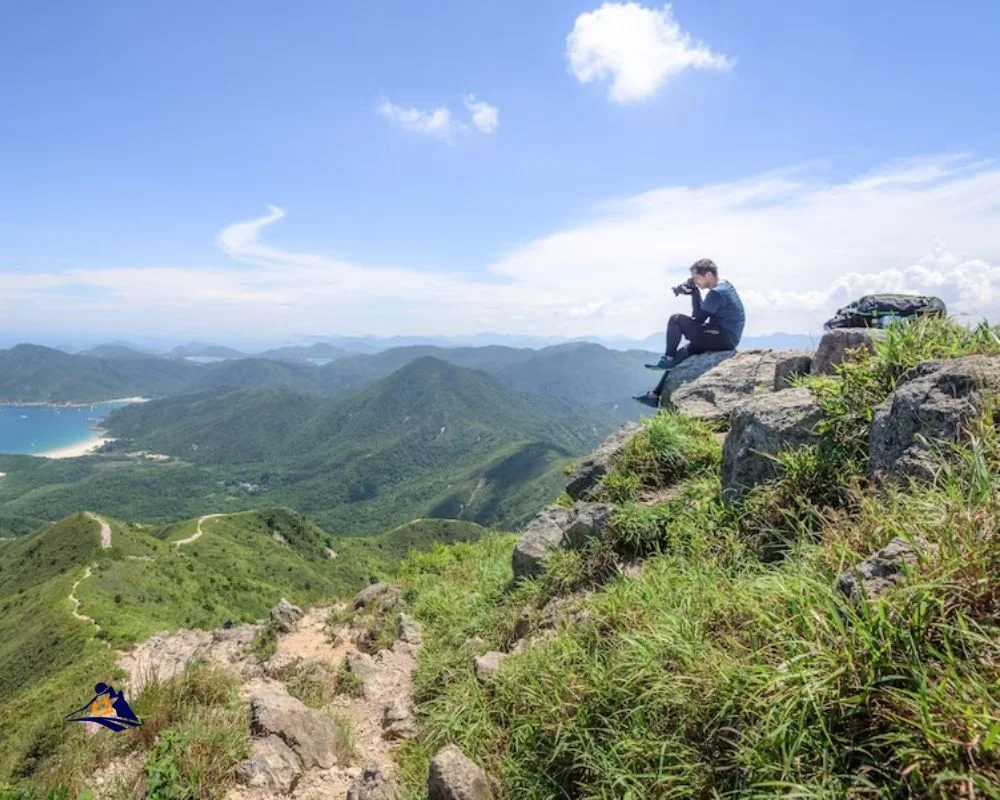 A pair of comfortable hiking boots is also an absolute must-have on any mountain trekking trip. Your feet will be willing while climbing up those steep slopes so make sure they have proper support. Also, consider bringing along a pair of binoculars if you'd like to spot wildlife or get a closer look at distant peaks. Don't forget snacks either; granola bars and trail mix are lightweight yet nutritious options that can give you energy when needed most.
Before embarking on this exciting journey, make sure you've got all these items sorted out first! This way you won't have any surprises waiting for you once you start making your ascent toward the summit of Fansipan peak. The next step? Learning about safety tips for your upcoming excursion…
Fansipan Hiking 1 Day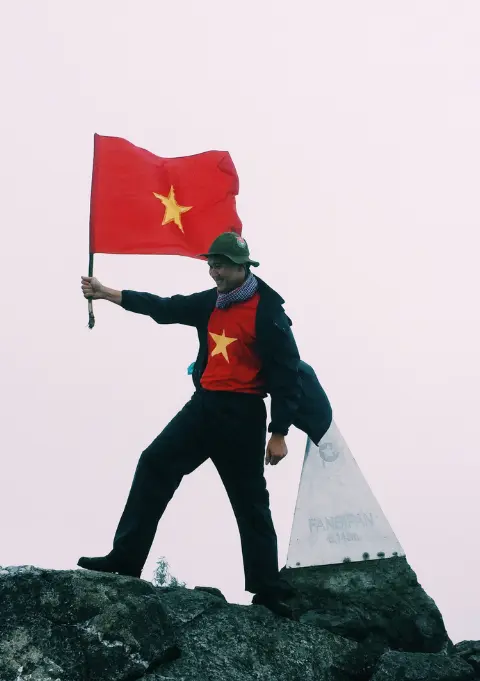 1 day fansipan experience
Moderate to challenging
Cultural immersion & active adventure
Visit Fansipan, highest mountain of Indochina
​Private tours
Vegan-friendly
Fansipan Trekking 2 Days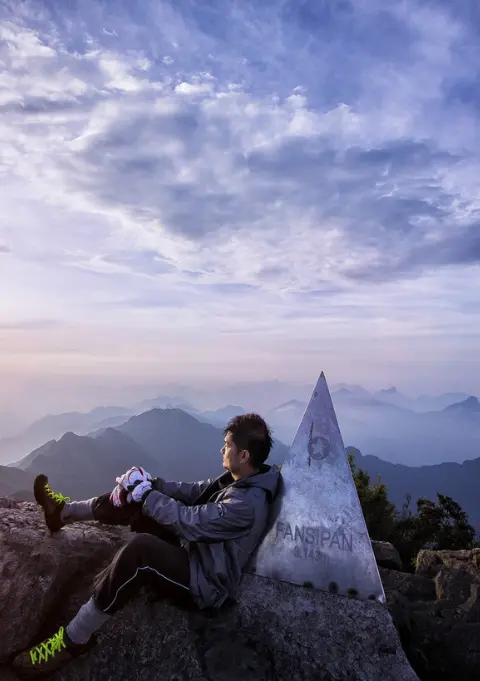 2 days 1 night fansipan experience
Moderate to challenging
Cultural immersion & active adventure
Visit Fansipan, highest mountain of Indochina
​Private tours
Vegan-friendly
Buy Cable Ticket Online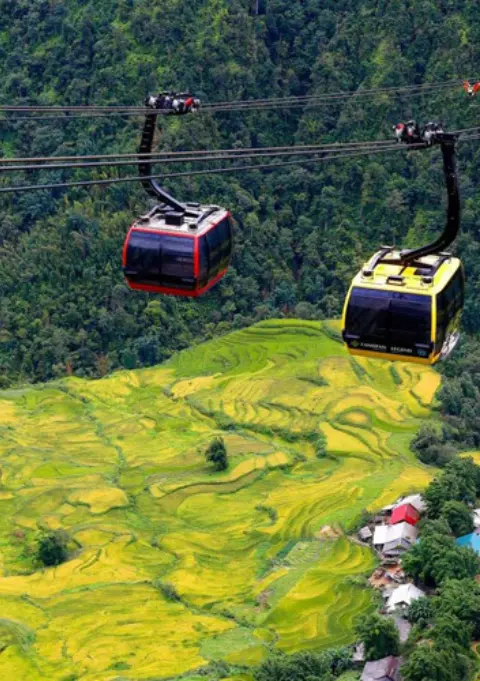 [QR Code] Buy Fansipan Cable Car Tickets Online
Non-refundable
Present your e-voucher
Fixed-day ticket
Admission with voucher
Safety Tips
With the packing list taken care of, it's time to focus on safety tips for climbing Fansipan Peak. This trek is not for beginner hikers – hazardous terrain and unpredictable weather can increase your risk factor exponentially. To make sure you have a safe, enjoyable experience in Vietnam's highest mountain range, let's go over some essential safety precautions.
Start by performing a thorough risk assessment before beginning your Fansipan hike. Take into consideration any potential hazards related to the environment or local wildlife that may exist along the trail. Additionally, familiarize yourself with any safety gear required by law before starting. For instance, proper headwear such as helmets and goggles should be worn at all times while scaling steep inclines and traversing slippery surfaces.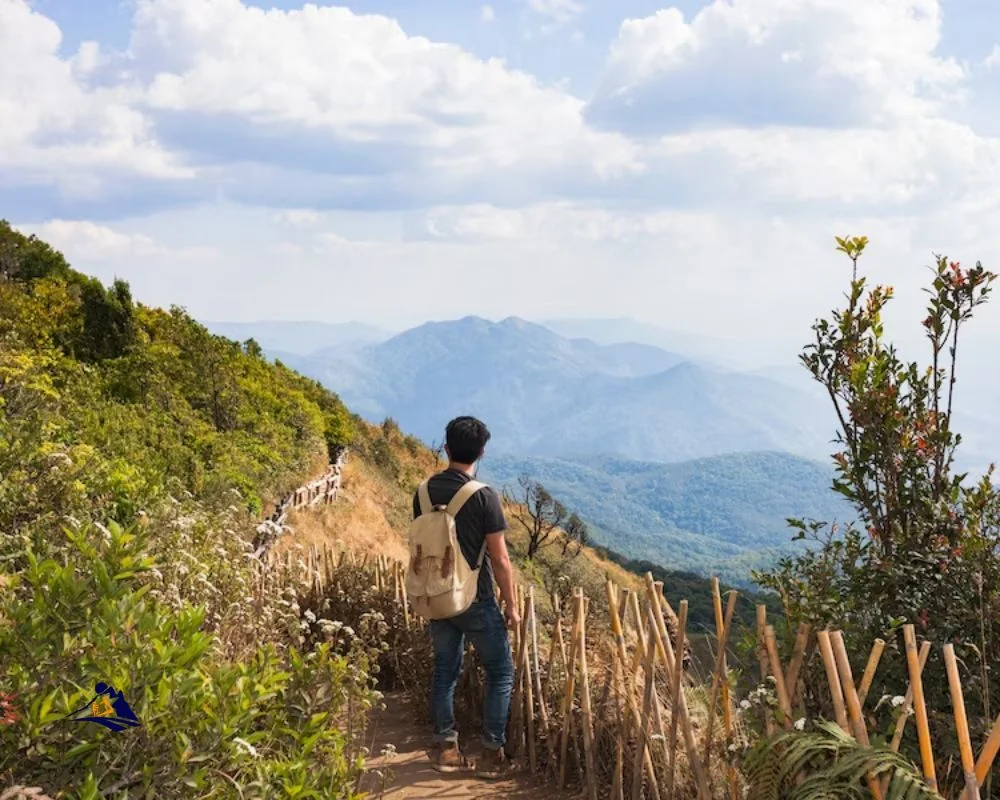 Participating in safety training courses is also highly recommended when tackling this challenging peak. During these sessions, experienced guides will teach valuable skills such as mountaineering techniques and survival strategies needed for completing the ascent safely and responsibly. Having an understanding of basic first aid is also beneficial if minor injuries occur during the climb.
At the end of the day, making smart decisions regarding health and safety while hiking Fansipan Peak will ensure that you get to appreciate its natural beauty without putting yourself or others in harm's way. With comprehensive preparation and sensible awareness of the risks involved, you are free to explore this majestic destination worry-free!
Fansipan Peak Frequently Asked Questions
What Is The Best Time Of Year To Visit Fansipan Peak?
If you are looking for the perfect time to visit a mountain peak, then look no further! The most suitable time to visit any mountain peak is far and away the best decision you can make. For example, Fansipan Peak in Vietnam is one of those breathtaking places that will take your breath away – literally! It's an experience like nothing else on earth; one that should be experienced at its absolute optimal time.
When it comes to finding the ideal time to visit Fansipan Peak, there isn't a bad option. Whether you plan on visiting during the dry season or rainy season, both offer their unique benefits. During the dry season (from October-May), temperatures remain relatively mild throughout the day and night which makes it easier for travelers to enjoy all of the sights without getting too hot. The rainy season (June-September) offers more precipitation but also significantly more lush vegetation making it even more beautiful than usual.
No matter when you choose to go, visitors can expect stunning views from atop this 3,143-meter-tall summit – the highest point in Indochina. In addition to taking in picturesque landscapes with every step along the way, reaching the top requires physical fitness which provides an added sense of accomplishment upon arrival. From panoramic vistas that stretch as far as you can see, to forests full of exotic wildlife – Fansipan peak has something special waiting around every corner! With so much beauty and adventure just waiting to be explored, what's not to love?
So whether you're seeking out a thrilling getaway or just want some peace amidst nature – Fansipan Peak has got it all! You won't regret planning a trip here during the either dry or rainy season; each offering its own unique set of experiences sure to leave lasting memories for years afterward. So why wait? Pack your bags and let your next great journey begin today!
Are There Any Local Guides Available For The Climb?
When it comes to climbing mountains, safety should always be a top priority. One of the best ways to ensure this is by hiring a local guide service that can provide you with an experienced mountain guide that knows the terrain and can help you plan for any unexpected obstacles or conditions. This is especially important when visiting Fansipan Peak in Vietnam, as there are plenty of options for local guides available:
• Professional Hiking Guides – These guides specialize in leading hikers through remote areas safely and efficiently, helping them make the most out of their time on the trail.
• Mountain Guides – Experienced climbers will have no problem finding professional mountaineers who know the region well and can offer valuable insight into how to prepare for your climb up Fansipan Peak.
• Climbing Guides – If you're looking for more customized instruction on how to ascend Fansipan Peak, then these experts can give you personalized advice tailored to meet your needs.
• Local Guide Services – A great way to get acquainted with Fansipan Peak is via a local guide service that offers knowledgeable tour guides familiar with all aspects of the area's history, culture, and geography.
No matter what type of guide services you choose, they will be able to provide helpful information about the terrain and weather conditions so that you stay safe while climbing one of Vietnam's highest peaks. Additionally, many tours include meals, lodging, and activities along the way so that visitors can get an immersive experience from start to finish! It's also worth noting that some organizations even offer free accommodation or discounts if multiple people book together – making it easier than ever before for groups to explore Fansipan peak without breaking the bank. With all this in mind, it's clear why having access to reliable local guide services would be invaluable when tackling such a challenging yet rewarding climb!
Are There Any Special Permits Required To Hike Fansipan Peak?
Are there any special permits required to hike? If you're an outdoor enthusiast looking for a once-in-a-lifetime adventure, then the answer is yes. Whether it's climbing Fansipan Peak in Vietnam or another awe-inspiring location, understanding the permit requirements before you go can make all the difference between a successful and safe trip.
The type of permit needed will depend on what kind of activity you plan on doing. For example, if you are planning a simple day hike, then no additional paperwork should be necessary beyond your general travel documentation. However, if you wish to ascend higher up into more remote terrain then obtaining a hiking/climbing permit may be necessary. In most cases, these types of permits must be obtained from local authorities before embarking on your journey.
When it comes to Fansipan Peak specifically, there are several important considerations when it comes to permitting requirements. The peak itself is part of Hoang Lien National Park which requires visitors to obtain special permission as well as pay park entrance fees to climb or explore the area around Fansipan Peak. It is also important that hikers take responsibility for their safety while trekking in this region due to its rugged nature and extreme weather conditions—such as strong winds and heavy rains—which can occur at any time during the year.
It is therefore essential that anyone considering scaling Fansipan Peak takes the time to research and understand both the legal regulations and physical risks involved with such an undertaking beforehand to ensure they have a safe and enjoyable experience.
Are There Any Public Transportation Options To Get To Fansipan Peak?
If you are planning a climb up Fansipan Peak, then you may be wondering what public transportation options there are to get to the summit. Fortunately, it is possible to use public transportation to reach this beautiful peak in northeast Vietnam. Here we'll explore some of your best options for getting there and enjoying the journey as much as the destination.
First off, if you're looking for an adventurous way to travel and don't mind spending a bit more money than other methods, consider hiring one of the local guides that offer guided treks up to Fansipan Peak. This can be a great option since they will provide all of the necessary gear and take care of any permits that may be required along the route. Plus, they have plenty of experience navigating the terrain and know which routes are most likely to give you the best views during your ascent.
Another great resource when searching for transportation options is bus services like Sapa Express or Mai Linh Bus, both of which offer direct trips from Hanoi to Lao Cai with pick-ups at multiple locations throughout each city. From Lao Cai Station, you can find buses or even hire private vehicles such as cars or motorbikes to take you directly up Fansipan Peak
Here's a list summarizing your various transport options:
1) Hire a local guide
2) Take bus service (Sapa Express or Mai Linh Bus)
3) Rent a car/motorbike at Lao Cai Station
No matter how you decide to make the trip up Fansipan Peak, just remember to bring plenty of water and sunscreen so that you stay safe while making memories on this amazing journey!
What Is The Average Temperature Range At The Summit?
When it comes to mountain climbing, the temperature is often an essential factor that climbers must consider. The average temperature range at the summit can be the difference between a successful climb and an unsuccessful one. When considering a trip up Fansipan Peak in Vietnam, here's what you need to know about the temperature range there:
Temperature Range Factors:
– Altitude – At 3,143 meters above sea level, Fansipan Peak is the tallest mountain in Indochina. This means temperatures on the summit are much lower than those found at its base.
– Weather Patterns – The weather patterns of Northern Vietnam will also have a big impact on the temperature range of Fansipan Peak. During wet seasons such as monsoon season or during typhoons, expect colder temperatures near zero Celsius due to heavy rain and strong winds.
The average temperature at Fansipan peak can vary greatly depending on when you plan your visit. Generally speaking though, daytime temperatures tend to hover around 15°C with nighttime temps dropping down closer to 0°C year-round. That said, if visiting during the winter months (December – February), expect cold conditions and below-zero temperatures after dark! For this reason, we recommend bringing plenty of warm clothing layers whenever planning a climb!
Aspiring mountaineers should keep in mind that these temperatures may change drastically depending on how high they intend to go; higher elevations usually mean cooler climates so make sure to pack accordingly for whatever part of the mountain you're hoping to explore. Furthermore, as mentioned previously, local weather patterns play a major role too so always check forecasts before embarking on your journey up Fansipan Peak!
Conclusion
Climbing Fansipan Peak is an unforgettable experience for any thrill-seeker! It's the highest peak in Indochina and offers stunning views of Vietnam, Laos, and China from its summit. With so many breathtaking sights to behold, there's no better time than now to take on this incredible challenge.
Every year thousands of adventurous travelers come here to conquer their own personal Everest. While it can be a challenging climb, with a local guide you'll feel safe and secure as you make your way up the mountain – and once you reach the top you'll be rewarded with an awe-inspiring view that will stay with you forever.
There are countless stories of people who've made it up Fansipan Peak; some have even compared it to scaling Mount Olympus itself! So if you're looking for an exciting mountaineering adventure, then look no further than Fansipan Peak – because one thing's for sure: You won't regret it!
Sapa 1 Day Tours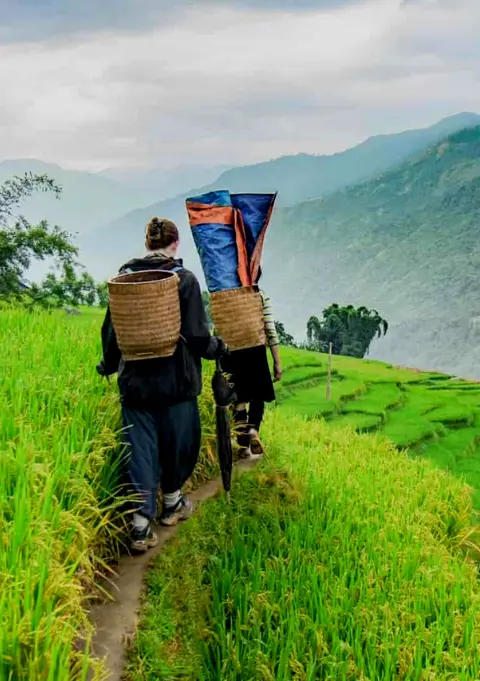 1 day experience
Moderate to challenging
Cultural immersion & active adventure
Rice fields, valleys & villages
​Private tours
Vegan-friendly
Sapa 2 Day Tours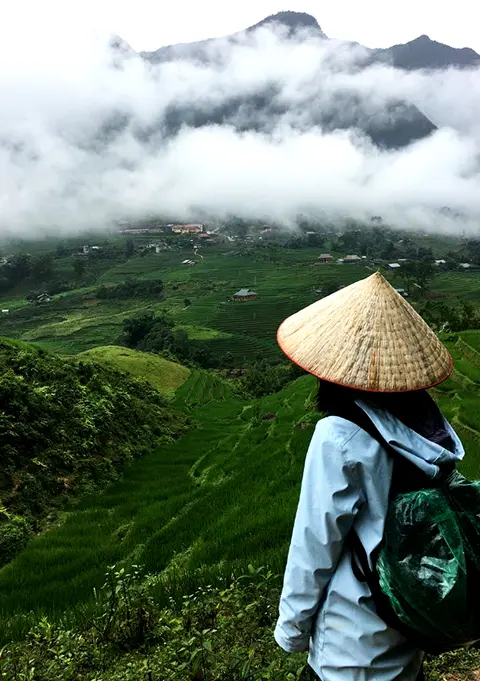 2 days 1 night experience
Moderate to challenging
Cultural immersion & active adventure
Mountains, valleys, rice fields and villages
​Private tours
Vegan-friendly
Sapa 3 Day Tours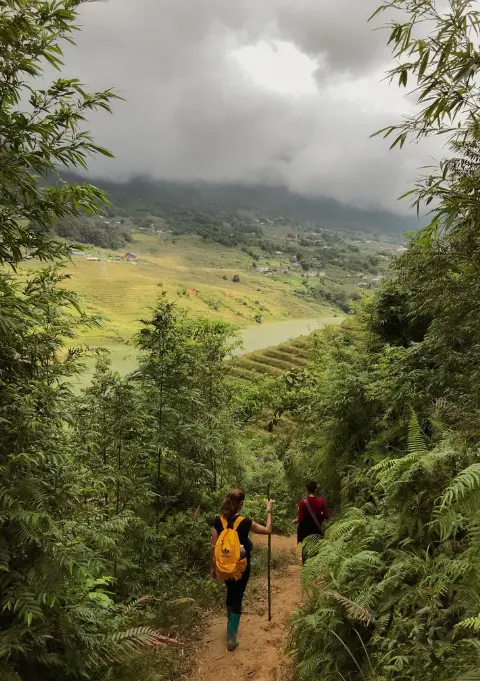 3 days 2 night experience
Moderate to challenging
Cultural immersion & active adventure
Mountains, valley, rice fields & villages
​Private tours
Vegan-friendly
Sapa 4 Day Tours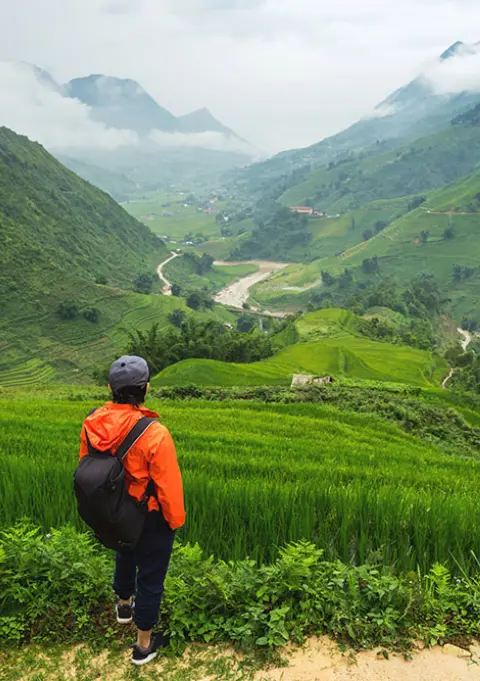 4 days 3 night experience
Moderate to challenging
Cultural immersion & active adventure
Mountains, valleys, rice fields & villages
​Private tours – Less Touristic
Vegan-friendly