Welcome to the world of Fansipan Map – a cartographer's dream! For those who seek freedom, this map reveals an incredibly detailed picture of one of the most exciting and challenging terrains on earth. Here lies a land that offers adventure seekers with endless possibilities for exploration and discovery. Whether you're looking to traverse its highest peaks or venture off into unexplored depths, Fansipan Map is the perfect tool to guide your journey.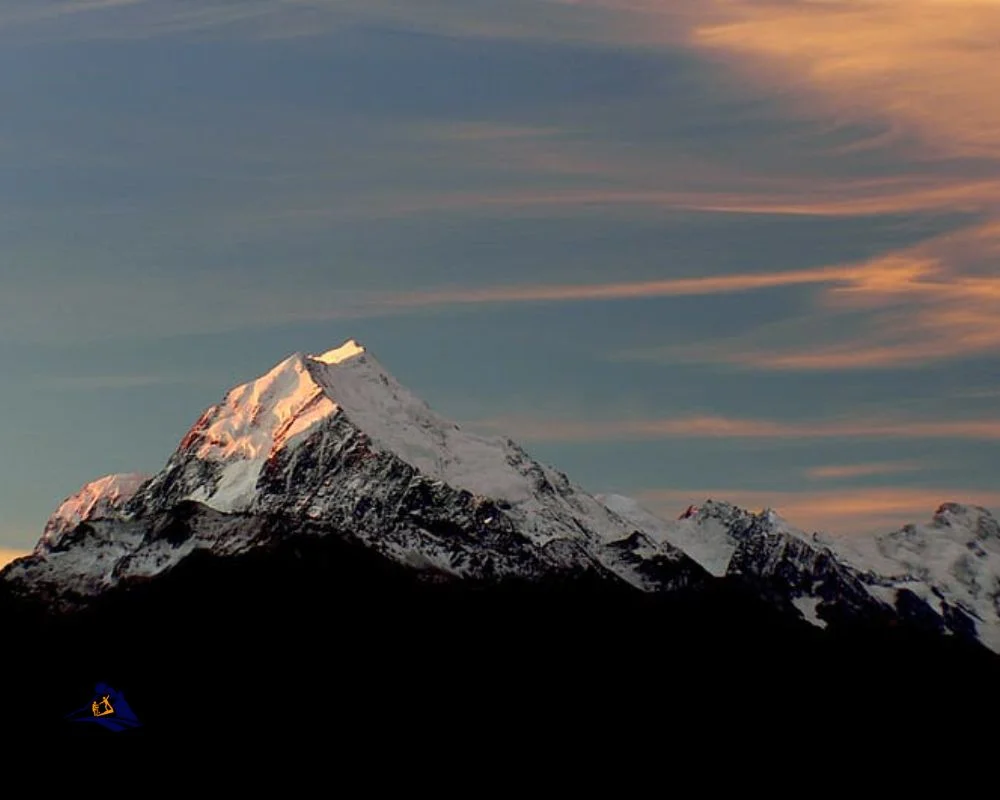 Fansipan Map provides an unprecedented level of detail in mapping out this fascinating region situated between Vietnam and China. From mountain ranges to rivers and villages, every inch of this landscape has been carefully documented using advanced techniques such as GIS (Geographic Information Systems). This comprehensive dataset will be invaluable for anyone wishing to explore these lands and uncover their hidden secrets.
In addition, Fansipan Map also includes a wealth of additional features including elevation profiles, route plotting tools, search functions, and more; all designed to help adventurers make the most out of their travels through this incredible terrain. So if you're ready for the challenge – let's get exploring!
Overview Of The Fansipan Map
Towering above the clouds, Fansipan Mountain is a beacon of freedom and adventure. The highest peak in Indochina at 3,143 meters, this mountain has been the destination for countless daring explorers since ancient times. From its unique geography to its rich environment, let us take a look at an overview of Fansipan Mountain's captivating features.
Fansipan Mountain stands as part of the Hoang Lien Son ranges in the Lao Cai Province of Vietnam. Its high altitude makes it one of the hardest summits to reach without modern equipment and techniques. Despite that, brave adventurers have managed to make it up, with some crossing over into China or even down into Laos! This speaks volumes about its rugged beauty as much as its geographical significance in Southeast Asia.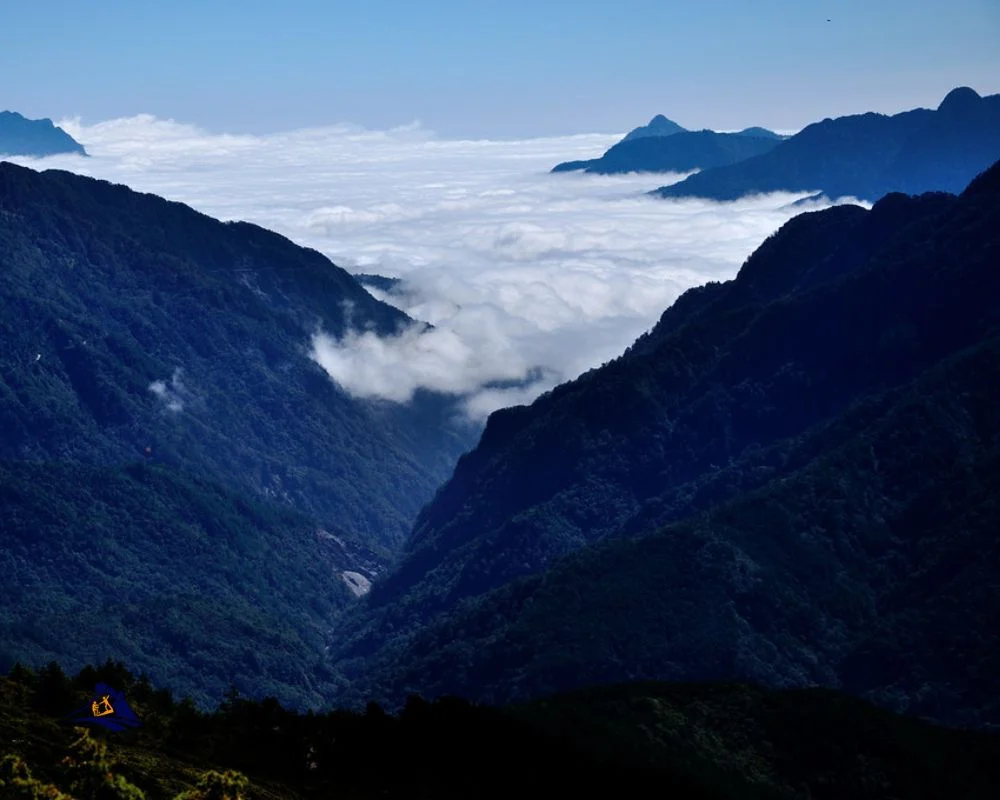 The landscape around Fansipan is also stunningly diverse. It consists mainly of tropical forests and grasslands filled with various wildlife species living among rock caves and rivers which eventually feed into larger bodies like the Nam Tu Le River. Nature enthusiasts will particularly enjoy exploring this ecosystem full of colorful plants and animals such as red pandas, bears, musk deer, and numerous bird species – many found nowhere else on earth!
As we can see from our exploration so far, Fansipan offers not only breathtaking views but also an exciting journey through nature's wonders – sure to fill any adventurer's heart with awe! Ready to find out more? Let's move on to discussing location and accessibility next.
Location And Accessibility Of Fansipan Hike
Fansipan mountain in Vietnam is a stunning and accessible destination. Located in the Hoang Lien National Park, it's easy to get there from any of the nearby cities like Sapa and Lao Cai. The mountain stands at an impressive 3143 meters tall – making it the highest peak in Indochina.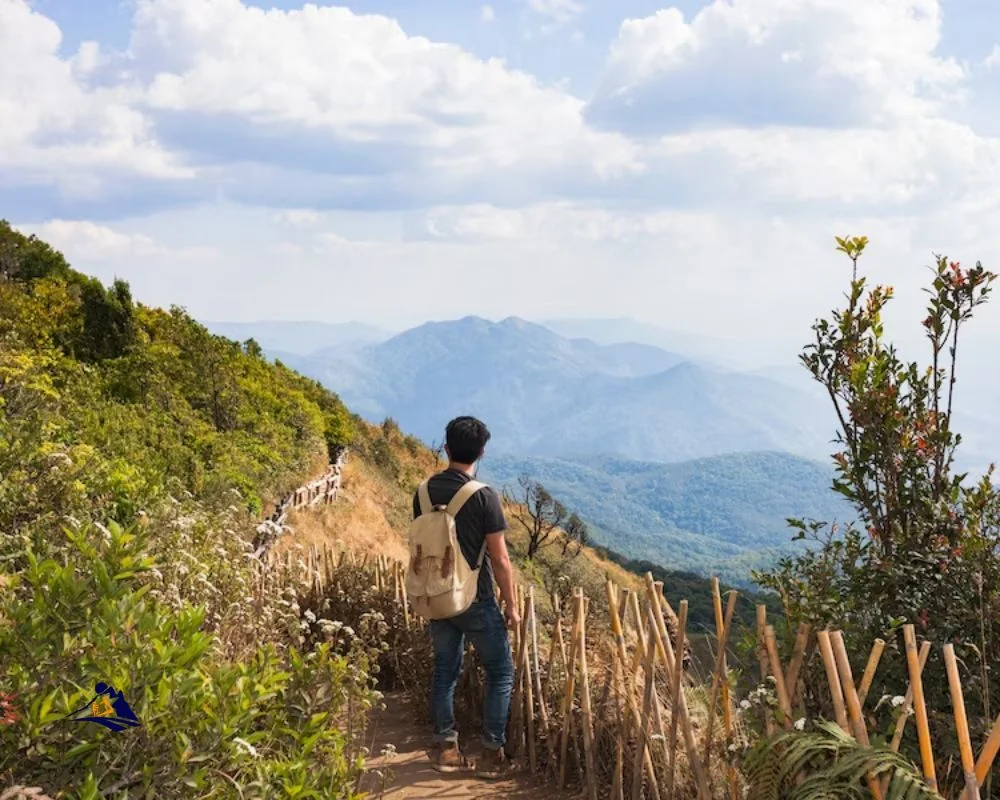 Visitors can access Fansipan via several routes that range from trekking paths to cable cars. The views are truly breathtaking no matter which path you choose. Trekkers will be rewarded with lush forests, unique wildlife, traditional hill tribes villages, and more as they make their way up the majestic mountain. Those who prefer a faster ride can take advantage of the modern cable car system for speedier transportation with just as spectacular views.
There's something special about standing atop this mighty peak surrounded by nature's beauty and feeling connected to all its grandeur. It's sure to leave a lasting impression on anyone lucky enough to experience it first-hand – taking them one step closer to unlocking true freedom within themselves.
Prominent Peaks, Valleys, And Waterfalls
The Fansipan Mountain area of Vietnam is a paradise for hikers and adventurers. The landscape is characterized by its prominent peaks, valleys, waterfalls, and mountain passes. One of the highest summits in all of Indochina, Fansipan stands at 3143m above sea level. From this peak, one can see breathtaking views that span 360 degrees across the region's beautiful landscapes.
Valley floors are also abundant throughout the area, including Muong Hoa Valley where visitors can experience traditional hill-tribe cultures while walking along terraced rice fields. Along with these vast valley floors come many majestic waterfalls such as Thac Bac Falls which provides an excellent swimming opportunity after trekking up to it through lush jungle terrain. There are also several well-established viewpoints from which to take in the stunning vistas offered by Fansipan Mountain and its surrounding areas.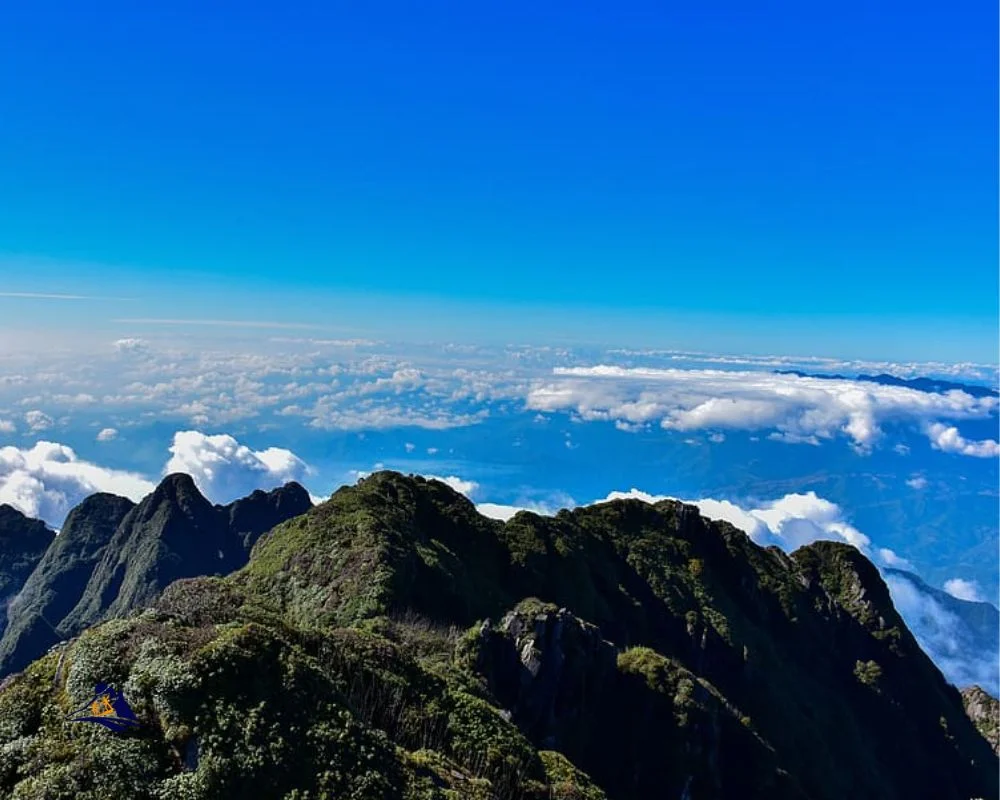 For those looking for more challenging hikes or climbs, there are plenty of opportunities on offer; numerous mountain passes provide access between different parts of the range giving intrepid explorers options to explore further afield if they so wish. In addition to these routes, there are other hiking trails available ranging from easy walks suitable for beginners right up to technical treks suited towards experienced mountaineers only. All paths lead to spectacular scenery and unforgettable experiences making it no surprise why this destination has become so popular amongst outdoor enthusiasts around the world!
Flora And Fauna In Fansipan Mountain
The natural beauty of Fansipan Mountain is evidenced not only by its peaks, valleys, and waterfalls but also by the broad array of flora and fauna species it contains. In particular, this mountain is renowned for its biodiversity hotspot with a range of rare animals found in the area. These include black crested gibbons, Asiatic black bears, and clouded leopards as well as many other mammalian species.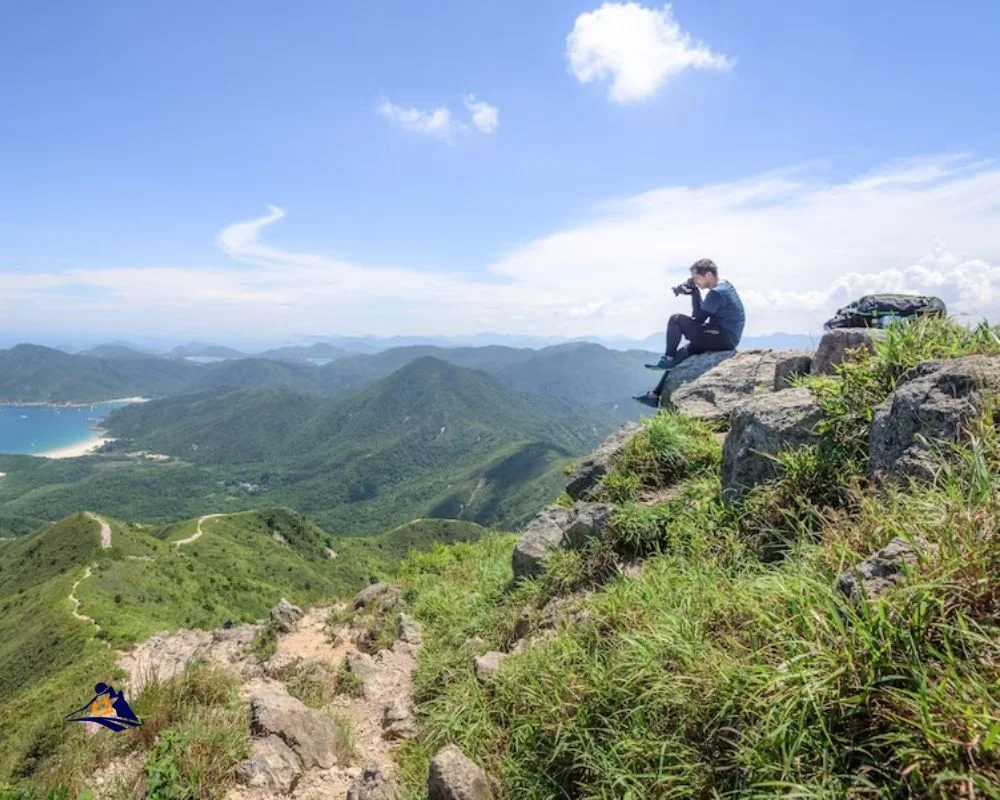 Furthermore, an abundance of plant life can be observed within the region including various types of trees such as pine, oak, and banyan which are all native to the mountain. This rich vegetation contributes largely to the diversity of animal life that inhabits Fansipan Mountain. Consequently, conservation efforts have been implemented to ensure that these precious ecosystems remain intact and undisturbed.
Fansipan Mountain encompasses a wide variety of unique habitats – from subtropical rainforest to tropical evergreen forest – making it one of Vietnam's most important areas for preserving biological diversity. It is therefore essential that we continue our commitment to protecting this remarkable ecosystem so future generations may appreciate its unparalleled natural beauty and abundant wildlife. With this intention in mind, let us move on to explore the historical significance of Fansipan Mountain.
Historical Significance Of Fansipan Mountain
Fansipan Mountain has a long and storied history. It is steeped in Vietnamese mythology, with the mountain being seen as the home of an immortal couple who protect Vietnam from harm. The mountain also has connections to Tibetan Buddhism, which was brought over by monks centuries ago. Local legend tells that there are hidden valleys on Fansipan where indigenous tribes still live off the land without modern technology.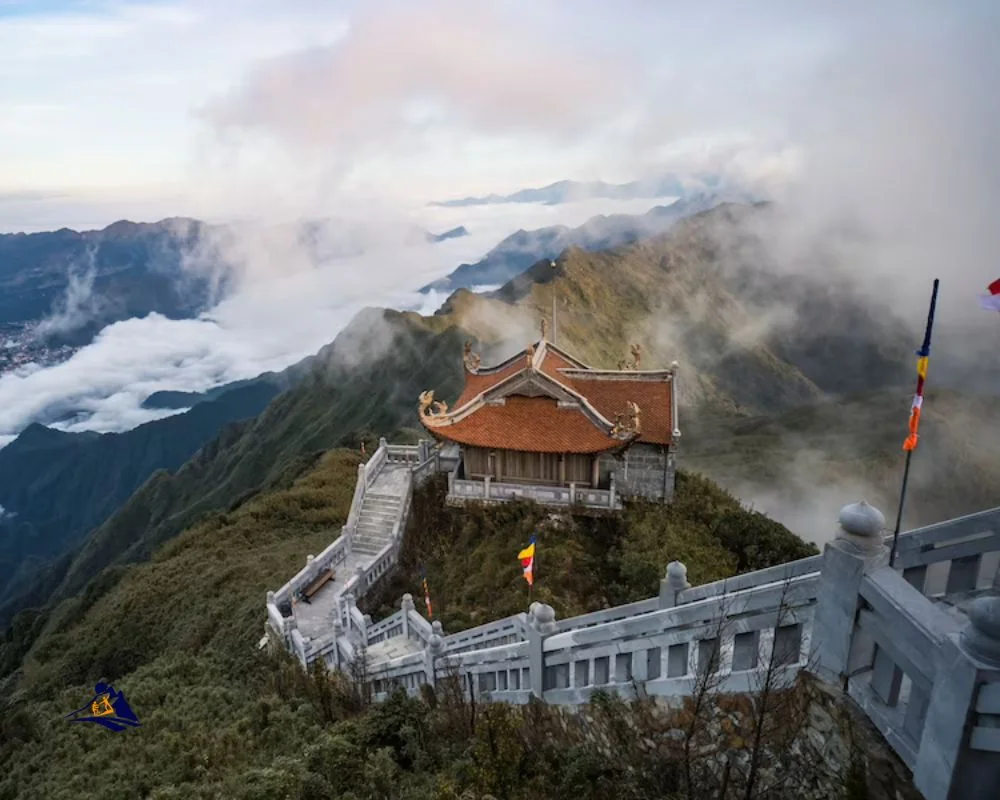 The incredible beauty of Fansipan Mountain has inspired many people throughout its history. Writers have described it using phrases such as 'the roof of Indochina', referencing its height above sea level and its position at the edge of three countries: China, Laos, and Vietnam. Many famous mountaineers have scaled the summit after conquering other peaks around Asia, citing Fansipan's challenge as something they had to experience first-hand.
Fansipan Hiking 1 Day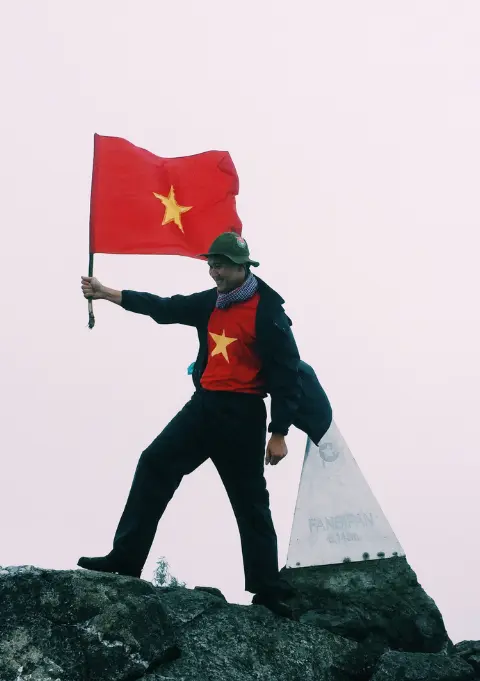 1 day fansipan experience
Moderate to challenging
Cultural immersion & active adventure
Visit Fansipan, highest mountain of Indochina
​Private tours
Vegan-friendly
Fansipan Trekking 2 Days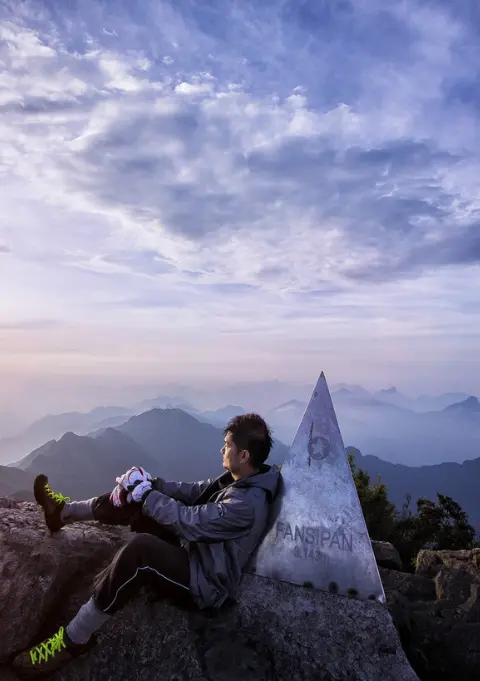 2 days 1 night fansipan experience
Moderate to challenging
Cultural immersion & active adventure
Visit Fansipan, highest mountain of Indochina
​Private tours
Vegan-friendly
Buy Cable Ticket Online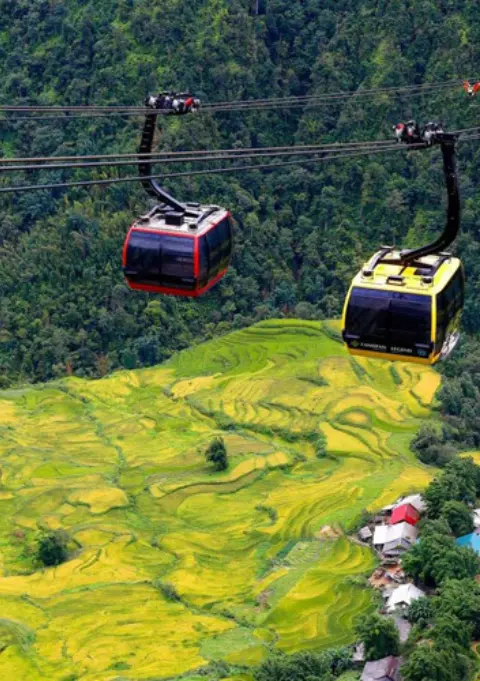 [QR Code] Buy Fansipan Cable Car Tickets Online
Non-refundable
Present your e-voucher
Fixed-day ticket
Admission with voucher
Recently, Fansipan Mountain has become more accessible than ever before due to improved roads leading up to the base camp area near Sapa Town. While preserving its wildness and breathtaking views, this increased access has opened up opportunities for travelers wishing to enjoy nature while staying close to civilization – providing a unique balance between freedom and structure. With so much to offer visitors both culturally and geographically, it's no wonder why Fansipan remains a popular destination for those looking for adventure in Southeast Asia. Guided tours provide multiple climbing routes to the summit that cater to every skill level – beckoning adventurers from all walks of life!
Fansipan Tour To The Summit
The Fansipan peak is the highest mountain in Indochina, making it a popular destination amongst trekkers and climbers. Several climbing routes can take you to the summit, each with its own set of challenges. For experienced mountaineers looking for an adrenaline rush, there's the 'Hard Way' route which involves climbing across sheer rock faces. Those who want a more leisurely trekking experience should consider taking one of the easier paths such as the 'Easy Way', which is made up mostly of winding jungle trails.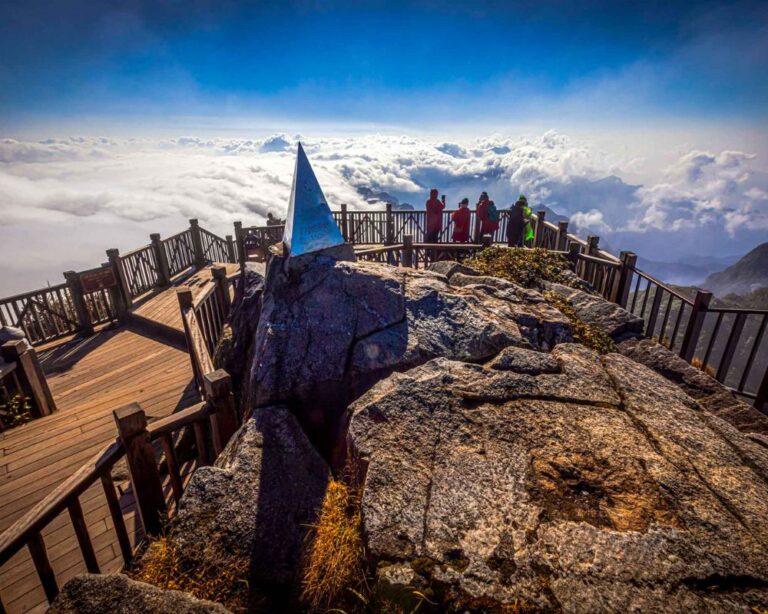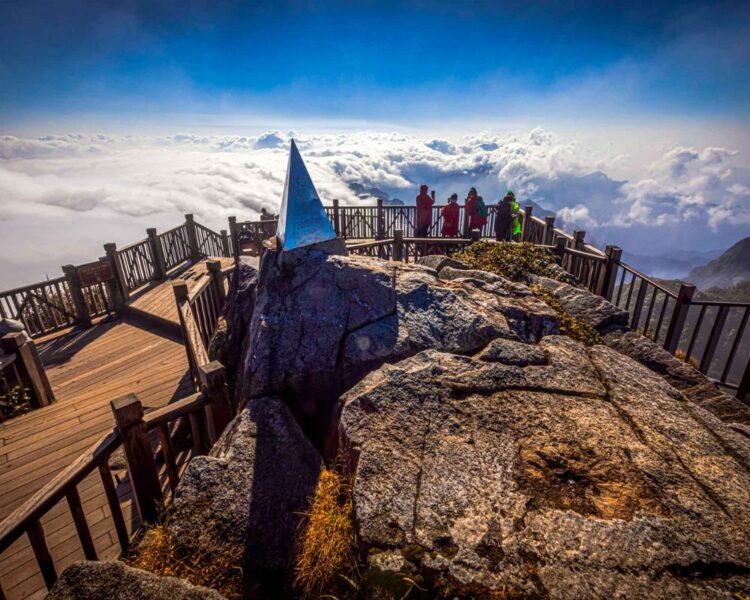 No matter which route you decide to take, it's highly recommended that all climbers hire a professional trekking guide. A local guide will ensure that your journey to the top is safe and enjoyable by providing valuable advice on how best to tackle different sections of the climb and pointing out potential hazards along the way. They can also provide useful information about interesting natural sights and places of historical significance on or near the mountain.
Sapa 1 Day Tours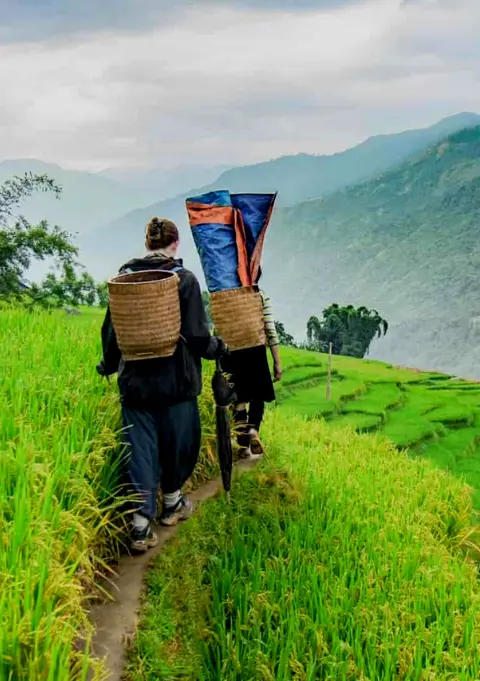 1 day experience
Moderate to challenging
Cultural immersion & active adventure
Rice fields, valleys & villages
​Private tours
Vegan-friendly
Sapa 2 Day Tours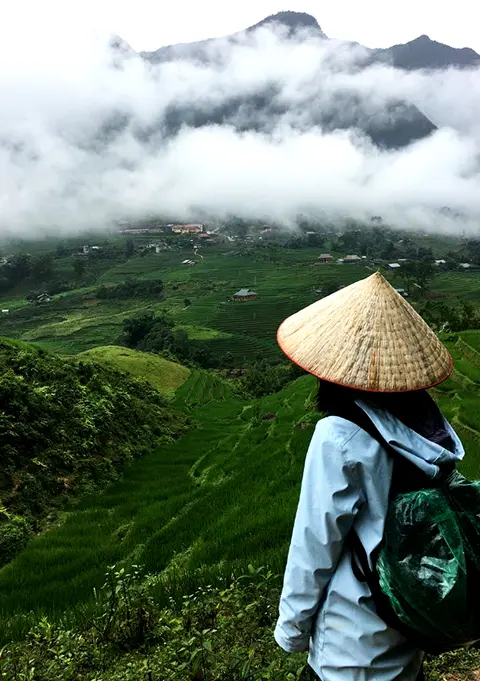 2 days 1 night experience
Moderate to challenging
Cultural immersion & active adventure
Mountains, valleys, rice fields and villages
​Private tours
Vegan-friendly
Sapa 3 Day Tours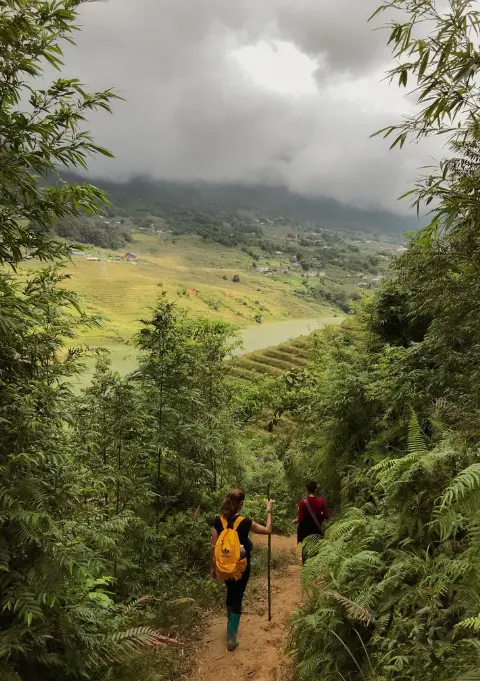 3 days 2 night experience
Moderate to challenging
Cultural immersion & active adventure
Mountains, valley, rice fields & villages
​Private tours
Vegan-friendly
Sapa 4 Day Tours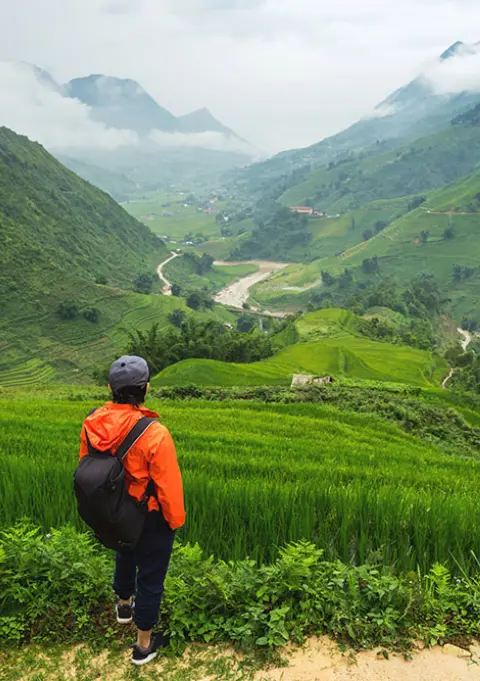 4 days 3 night experience
Moderate to challenging
Cultural immersion & active adventure
Mountains, valleys, rice fields & villages
​Private tours – Less Touristic
Vegan-friendly
All these features make Fansipan peak an ideal spot for those seeking adventure in nature, but before attempting any climb it's important to be aware of weather conditions at high altitudes. The next section will discuss this in greater detail…
Weather Conditions On Top Of Fansipan Mountain
The summit of Fansipan Mountain is like a wild and untamed beast, with its extreme weather conditions making it an unpredictable place. As one approaches the top of this peak, one can expect temperatures to vary significantly from day to day due to climate change. It can be quite warm during the summer months, but also very cold in winter. Even though there are no permanent glaciers on Fansipan, snowfall occasionally blankets the mountain's higher reaches, creating an even more intimidating atmosphere for visitors.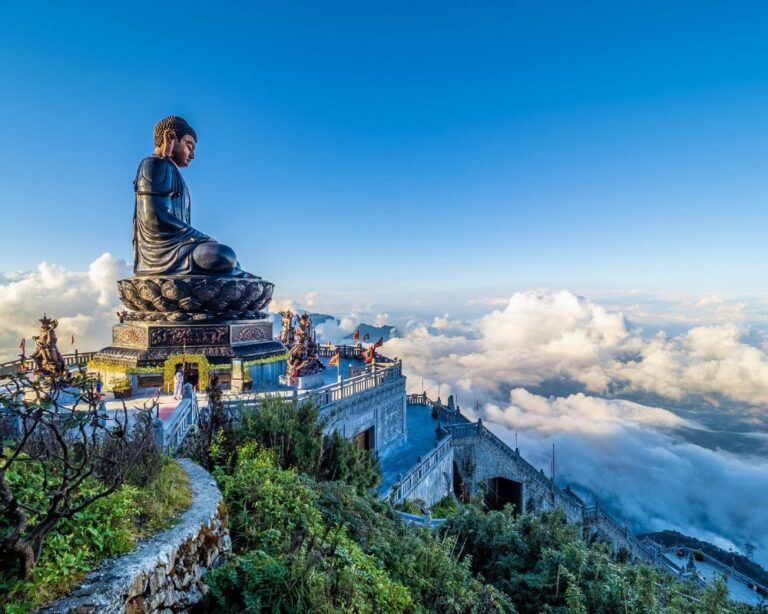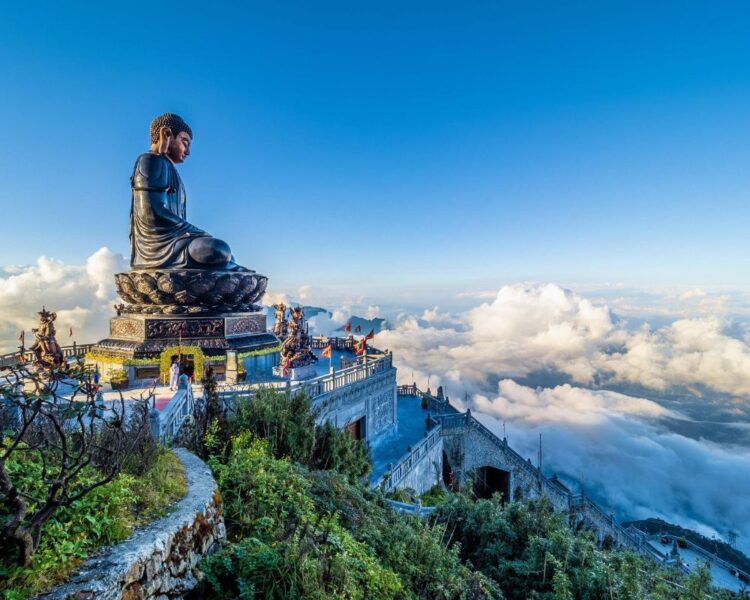 When visiting Fansipan Mountain, travelers should always take into account potential changes in temperature or wind patterns that could pose safety risks. Visitors should also prepare themselves for any unexpected extreme weather events such as heavy rainfalls or strong winds which may occur at certain times of the year. Furthermore, because the altitude increases towards the Fansipan summit, temperatures can drop quickly without warning so being aware of your surroundings is essential.
Overall, when visiting Fansipan Mountain travelers should be prepared for sudden shifts in weather conditions and pack accordingly. By doing so you will have a much better chance of enjoying yourself whilst taking in all that nature has to offer around every corner along this beautiful trail! With these considerations made, let us now look at what sort of accommodation options are available along the way…
Fansipan Hiking 1 Day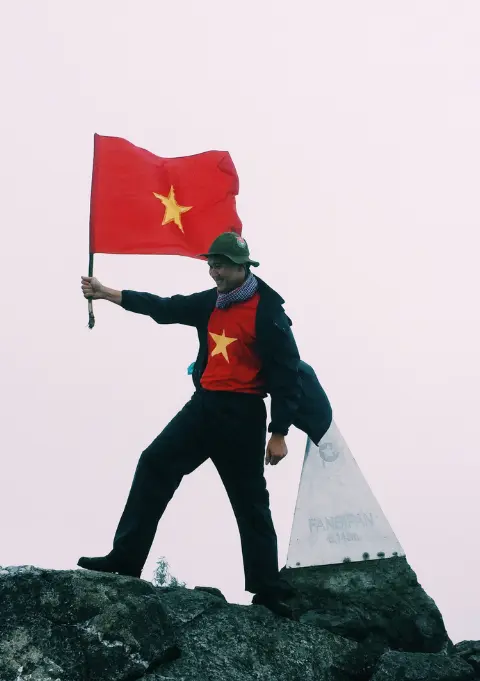 1 day fansipan experience
Moderate to challenging
Cultural immersion & active adventure
Visit Fansipan, highest mountain of Indochina
​Private tours
Vegan-friendly
Fansipan Trekking 2 Days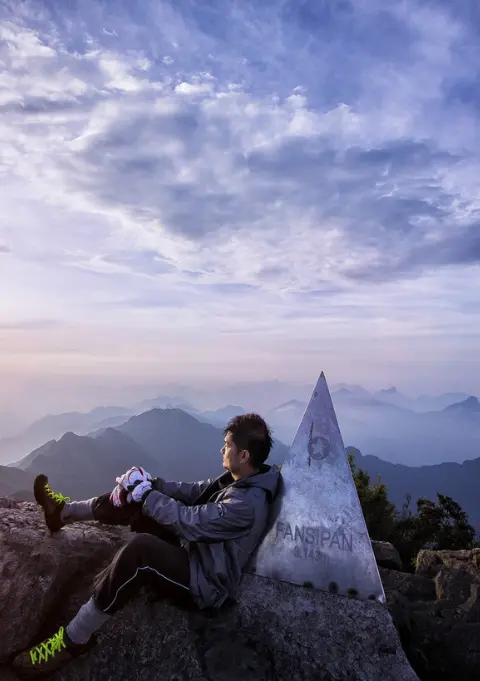 2 days 1 night fansipan experience
Moderate to challenging
Cultural immersion & active adventure
Visit Fansipan, highest mountain of Indochina
​Private tours
Vegan-friendly
Buy Cable Ticket Online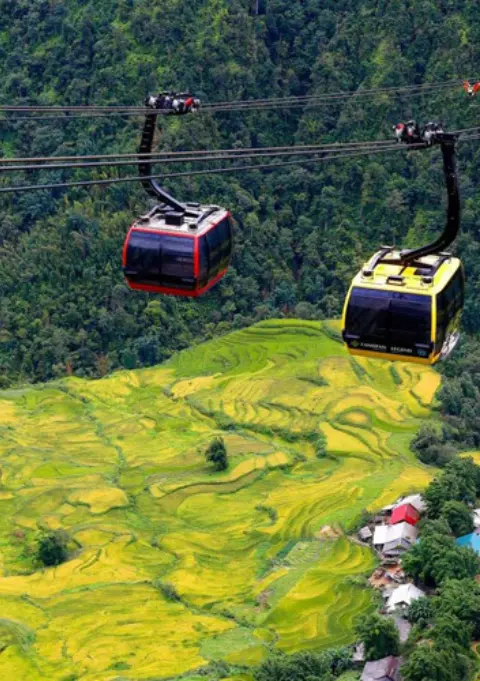 [QR Code] Buy Fansipan Cable Car Tickets Online
Non-refundable
Present your e-voucher
Fixed-day ticket
Admission with voucher
Accommodations Along The Trail
When hiking up Fansipan Mountain, accommodations along the trail are a key consideration. From mountain hostels to base camps and even simple lodges, there is something for everyone looking to make the most of their journey up this majestic peak. Here's a look at some of the lodging options available:
Mountain Hostel: A great option for backpackers on a budget, these rustic yet comfortable hostels offer basic amenities such as bedding, Wi-Fi access, and shared bathrooms. It's easy to meet fellow hikers here!
Base Camps: More luxurious than mountain hostels but still relatively affordable, base camps provide hikers with private cabins complete with beds and bathrooms as well as communal areas where people can cook meals and socialize in comfort.
Hiking Lodges: Situated close to popular trails leading up to Fansipan Mountain, these full-service lodges cater to those who want an unforgettable experience in nature without sacrificing creature comforts like hot showers or tasty food from local restaurants nearby.
Camping Sites: For adventurous souls seeking the ultimate wilderness escape, camping sites provide plentiful opportunities for wild exploration away from civilization – though be sure you have all the necessary supplies before setting out!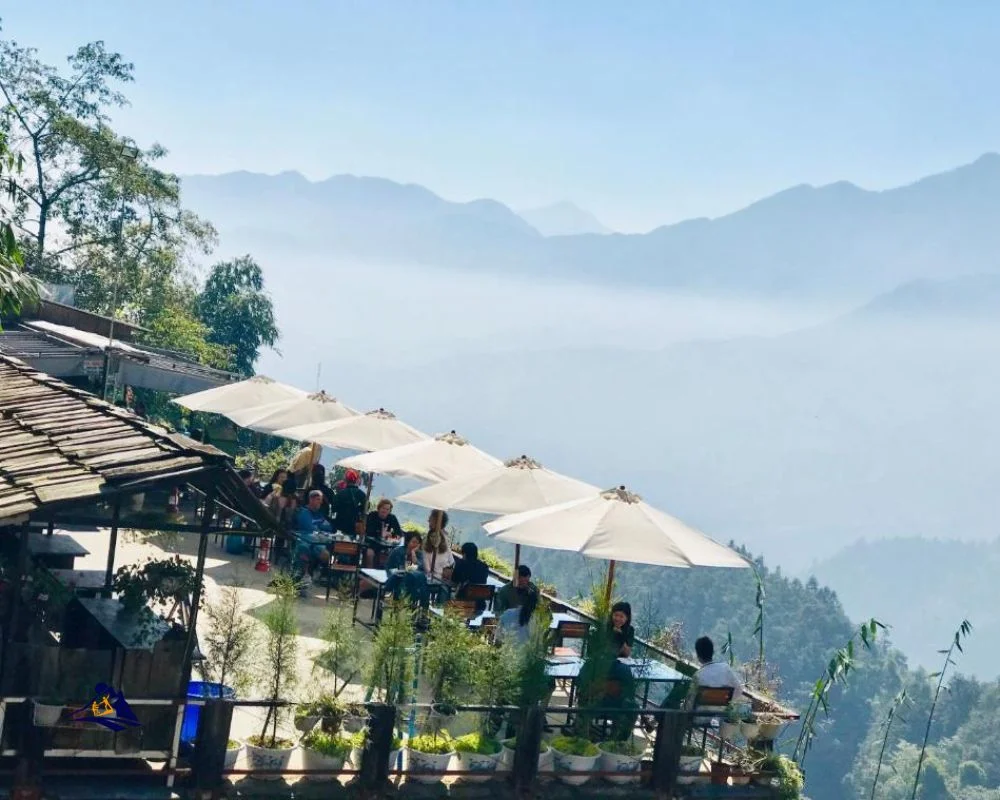 No matter what kind of accommodation one chooses while trekking up Fansipan Mountain, it's important that climbers take safety considerations into account when planning their route.
Safety Considerations For Climbers
When tackling any mountain climb, safety should be your number one priority. Climbing Fansipan requires special consideration due to its unique geography and environment. It is important to take the necessary precautions to ensure a safe and enjoyable experience.
Weather on Fansipan can change quickly and dramatically; therefore, climbers must always monitor weather forecasts before beginning their ascent. Be sure to bring rain gear and extra layers as temperatures drop with increasing elevation. Weather-related hazards such as fog and lightning pose an additional risk that all climbers need to consider carefully when making plans for their trip.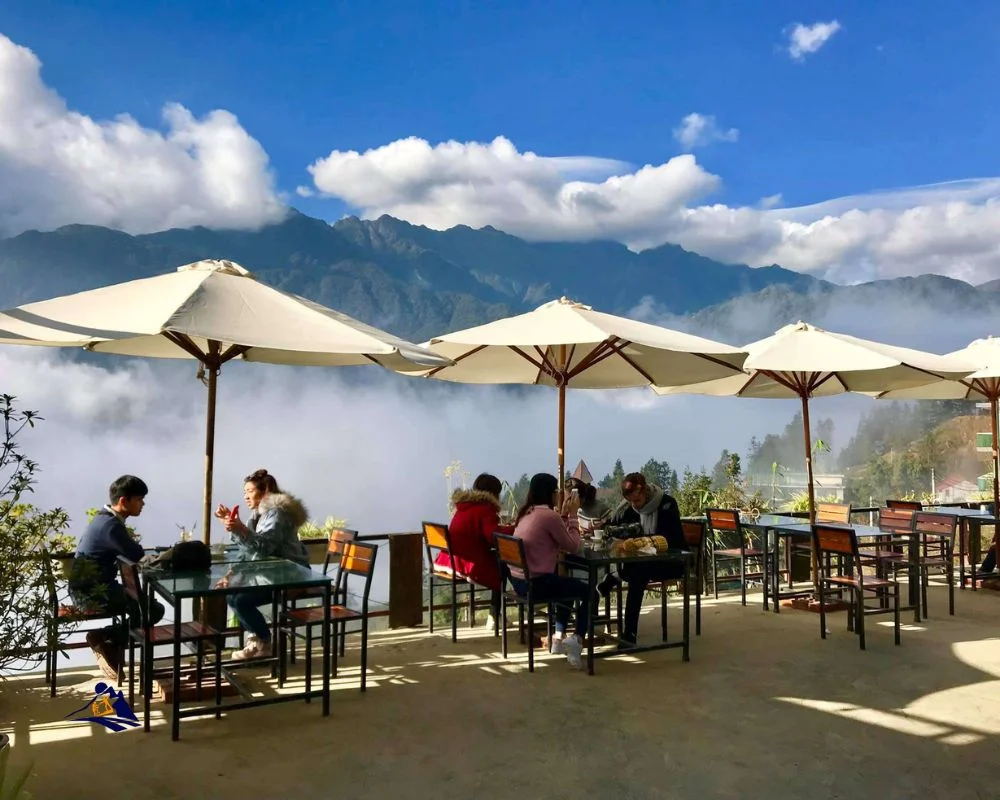 In addition to monitoring the weather, all hikers must come prepared with appropriate gear, including warm clothing, sturdy footwear, food, water, first aid supplies, navigation tools (such as maps or GPS), a flashlight or headlamp, and protective items like sunscreen or bug spray. Properly equipped adventurers will have a much more rewarding time exploring this magnificent landscape!
Fansipan Hiking 1 Day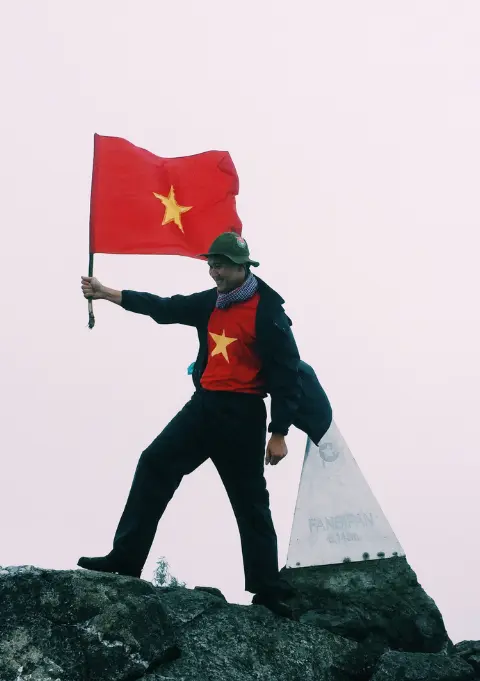 1 day fansipan experience
Moderate to challenging
Cultural immersion & active adventure
Visit Fansipan, highest mountain of Indochina
​Private tours
Vegan-friendly
Fansipan Trekking 2 Days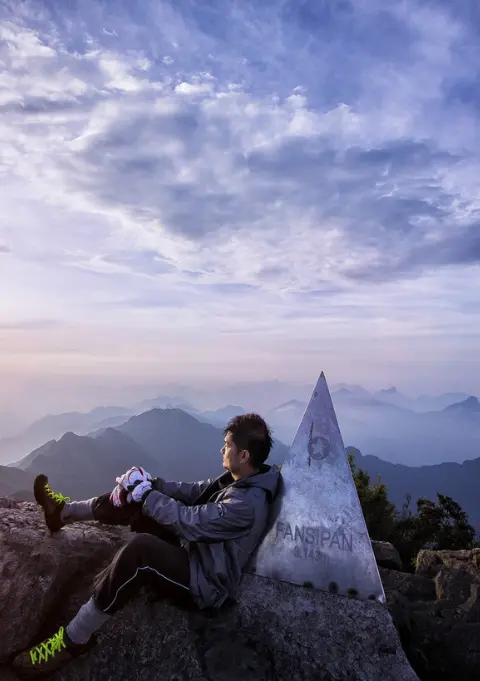 2 days 1 night fansipan experience
Moderate to challenging
Cultural immersion & active adventure
Visit Fansipan, highest mountain of Indochina
​Private tours
Vegan-friendly
Buy Cable Ticket Online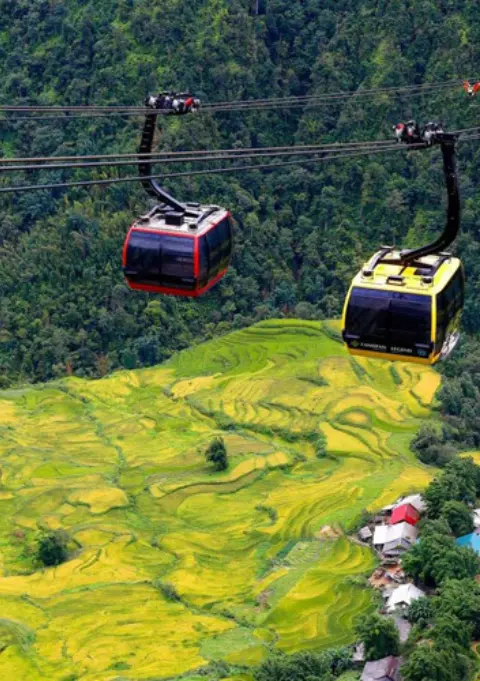 [QR Code] Buy Fansipan Cable Car Tickets Online
Non-refundable
Present your e-voucher
Fixed-day ticket
Admission with voucher
To further increase your chances of having a successful summit attempt, make sure you are well-rested before departure. Also, remember not to overestimate your physical abilities – climbing can become strenuous very quickly so plan accordingly by taking frequent breaks throughout the day if needed. Taking these steps will help ensure that you get the most out of your adventure while staying safe every step of the way! With awareness of potential risks managed through thoughtful planning comes peace of mind along with unforgettable memories.
The cultural attractions around Fansipan offer visitors even more opportunities for exploration and discovery beyond what awaits during the climb itself.
Cultural Attractions In The Area
The majestic Fansipan is a stunning destination for nature lovers, but it also offers some captivating cultural attractions. From traditional temples and handicraft workshops to the vibrant festivals of local villages, there are plenty of opportunities to experience the culture of this unique area.
| Attraction | Description | Experience |
| --- | --- | --- |
| Local Villages | Small, rural communities with a rich history of ethnic minority people living in harmony with nature. | Explore centuries-old traditions and practices that have been passed down through generations. Enjoy regional cuisine and take part in village activities such as cooking classes or weaving demonstrations. |
| Traditional Temples | Ancient structures were built by devout Buddhists who once inhabited the region. These ornate buildings honor ancient gods and Buddhas while celebrating their architectural design. | Since an air of peace among these spiritual sites and feel inspired by the stories they tell. Discover centuries-old artifacts still kept intact inside the temple walls. |
| Handicraft Workshops | Local artisans create beautiful items with skillful precision using only natural materials found nearby like wood, stone, bamboo, and clay. | Learn about the craftsmanship behind each item created within these workshops including carpentry work, pottery making, painting on silk fabric, and jewelry making. Participate in hands-on experiences at select workshops where you can make your souvenir! |
| Regional Festivals | Colorful celebrations are held throughout the year to commemorate special occasions like Tet Festival (Vietnamese Lunar New Year). Often filled with music performances from local artists along with dance shows featuring dances from various parts of Asia. | Interact directly with locals during festive events and witness firsthand how customs vary depending on which country/region you visit in South East Asia. Sample delicious food from vendors selling street snacks or buy handmade crafts from stalls set up around town centers during festival days. |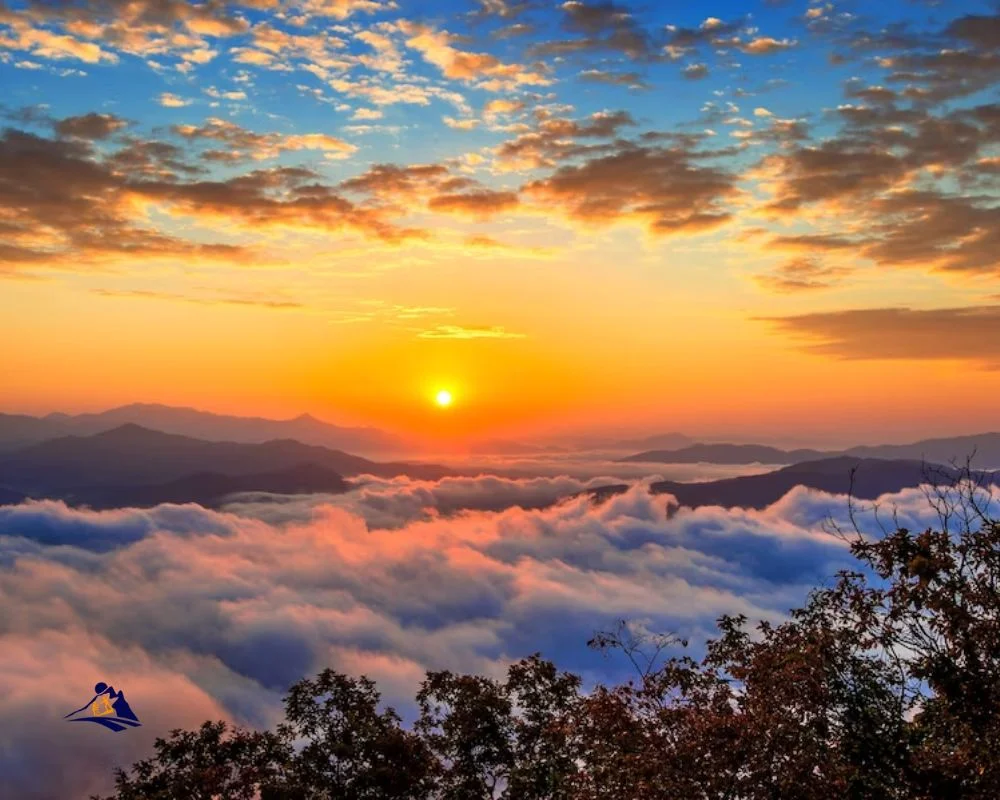 This is just a glimpse into what awaits those seeking out cultural attractions near Fansipan – a world full of exciting possibilities waiting to be explored! Whether you're looking for adventure or simply want to relax surrounded by beautiful scenery, here you will find something truly unforgettable that speaks volumes about its fascinating heritage and culture!
Fansipan Map Frequently Asked Questions
How Long Does It Take To Climb To The Peak Of Fansipan Mountain?
Climbing to the peak of Fansipan Mountain is a journey that has captivated adventurers for centuries. It's often referred to as "The Roof of Indochina" and offers unparalleled, awe-inspiring views from its summit. How long does it take to get there? The answer depends on your experience level and physical fitness.
For experienced mountaineers, the climb time can be estimated at 3 days; however, this should only be attempted with an experienced guide or trekking group. For those who are less experienced but still looking for an adventure, a trek duration of 5 days may be more appropriate. Whichever route you choose, be sure to prepare for the elements: weather conditions can change quickly and temperatures can vary dramatically during different parts of the day.
Regardless of how much time you spend climbing up Fansipan Peak, one thing is certain – it will be a journey you won't soon forget! Your hard work will pay off when you reach the top and look out for some of Vietnam's most beautiful landscapes. So if you're ready for adventure and freedom, then why not make Fansipan Mountain your next destination?
Are There Restaurants Or Other Food Sources Along The Trail?
When climbing Fansipan Mountain, many travelers often wonder if there are any restaurants or other food sources available along the trail. As a cartographer/geographer, I can assure you that there is an abundance of places to find sustenance as one takes on this magnificent mountain.
For starters, visitors have access to numerous restaurants near the base of the mountain. These eateries offer traditional Vietnamese dishes and snacks, allowing climbers to refuel before they make their ascent. There are also water fountains located in various locations throughout the trail for those who need hydration during their journey up the peak. Additionally:
Many local vendors provide snacks such as fruits and candies at stops along the way;
Travelers can bring their provisions from home;
And hikers might even come across wild edible plants while traversing through nature's terrain.
Therefore, anyone planning a trip up Fansipan Mountain should not worry about being stuck without food options. With so much variety available both inside and outside of restaurants, everyone will be sure to find something tasty for them to enjoy along their trek toward summit success!
Is It Possible To Camp On Fansipan Mountain?
Exploring Fansipan Mountain is a great way to experience the unparalleled beauty of Vietnam's highest peak. But can you camp out on Fansipan? The answer may surprise you: yes, it is possible! With the proper permits and safety precautions, mountain camping at Fansipan offers a unique opportunity for adventurers who crave freedom in nature.
When considering Fansipan camping, there are several important rules and regulations to be aware of. Obtaining a permit from local authorities before setting up camp is essential if you want to stay within the bounds of legality. Furthermore, familiarizing yourself with traditional Vietnamese cultural customs when visiting rural areas is also recommended. Safety should always come first; make sure that your campsite follows all necessary guidelines for fire safety and environmental conservation.
The rewards of Fansipan camping far outweigh any potential risks or inconveniences. From breathtaking sunsets to peaceful nights under starlit skies, this once-in-a-lifetime experience will surely leave an indelible mark on anyone ready enough to take it on. Whether alone or with friends, venturing into the wilderness around Fansipan Mountain promises an unforgettable journey filled with exploration and discovery.
So if you're looking for an epic adventure off the beaten path – one where mountainside memories last forever – then why not give Fansipan camping a try?
Are There Any Dangerous Animals In The Area?
When looking at the area surrounding Fansipan Mountain, it's important to consider whether there are any dangerous animals in the vicinity. Southeast Asian Animals such as wild boars, snakes, and leopards can be found roaming through this part of Vietnam. While these creatures may not necessarily attack humans, they should still be respected from a distance. Monkeys tend to frequent the mountain too; their playful nature often leads them up close to visitors.
It's always advisable for hikers and campers to take caution when exploring this region due to its varied animal life. Those who have an understanding of the local wildlife will find that most of these creatures won't bother people unless provoked or threatened. It is also recommended that travelers carry bear spray or other deterrents just in case they do encounter one of these animals in the wild.
The best way to explore Fansipan Mountain safely while still enjoying its natural beauty is by being aware of one's surroundings and respecting all living things encountered during a journey along its trails. By doing so, you can guarantee a pleasant adventure full of cherished memories – all without putting yourself in harm's way!
Are There Any Special Permits Required For Climbing Fansipan Mountain?
Exploring nature is a thrilling and rewarding experience, but it also comes with certain safety regulations that must be respected. Climb Mount Fansipan in Vietnam and you will need to obtain special permits to do so. While this may seem like an inconvenient obstacle, these climbing permits are designed to protect climbers from the potential dangers of scaling mountains.
Obtaining a permit for Mt. Fansipan requires some research into local climbing regulations. It's important to note that while many other mountains require only basic information such as name, age, and contact details on the application form, Fansipan has more stringent requirements for those wishing to climb its heights. Climbers must provide proof of their proficiency level as well as secure permission from the national park authority before applying for mountain permits.
Fortunately, adventure-seekers don't have to fear any lengthy bureaucratic processes when attempting to secure a permit for Fansipan – thanks to modern technology most applications can now be completed online quickly and easily without leaving home! With appropriate documents ready at hand and the right attitude towards respecting the environment, getting started on your amazing journey up Fansipan should pose no problem whatsoever!
Conclusion
It has been a long journey to the peak of Fansipan Mountain, but I'm sure it will be worth it. Even though there are risks involved in climbing this summit, with proper preparation and knowledge of the trail, you can make your ascent safe and enjoyable. The views from the top are like no other; they offer an awe-inspiring glimpse into nature's beauty.
I'd also suggest bringing plenty of food for the climb as restaurants may not always be available along the way. There have been reports of dangerous animals in the area so do take caution when traveling here. Before embarking on this adventure, please obtain any necessary permits beforehand.
As I look back at our journey to reach Fansipan Mountain, I am filled with admiration for this incredible place we call home. We've all taken part in an experience that is both challenging and rewarding – one that will stay with us forever!
Sapa 1 Day Tours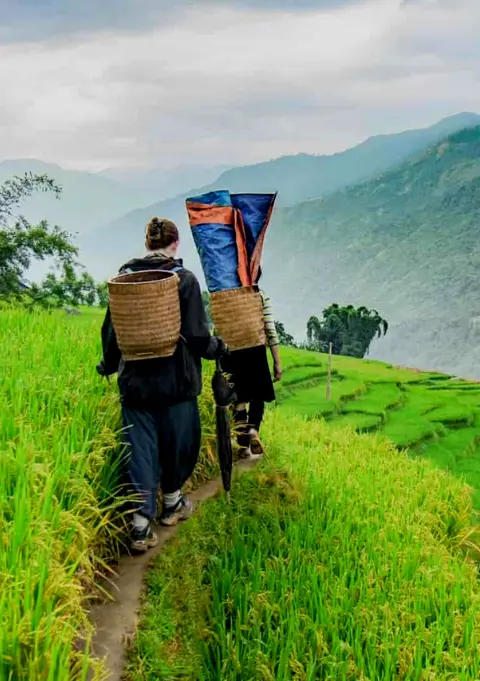 1 day experience
Moderate to challenging
Cultural immersion & active adventure
Rice fields, valleys & villages
​Private tours
Vegan-friendly
Sapa 2 Day Tours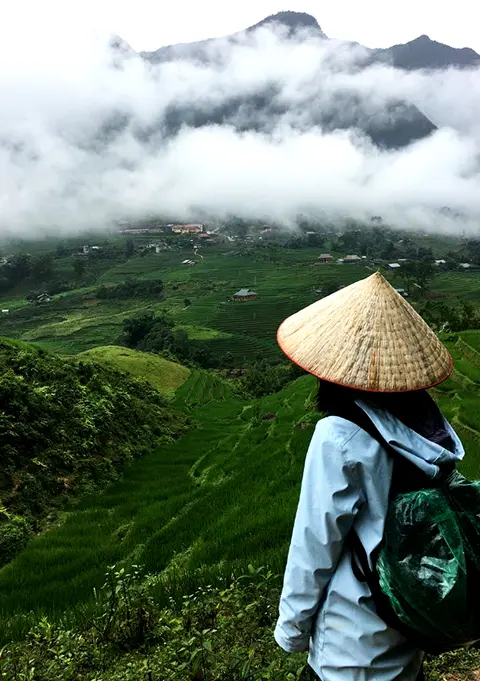 2 days 1 night experience
Moderate to challenging
Cultural immersion & active adventure
Mountains, valleys, rice fields and villages
​Private tours
Vegan-friendly
Sapa 3 Day Tours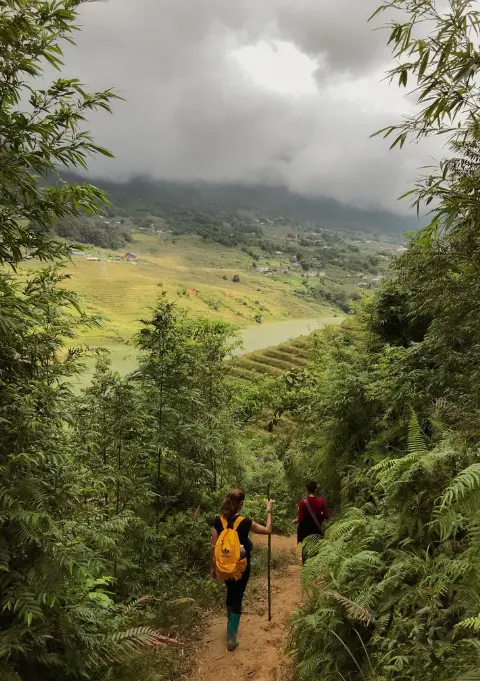 3 days 2 night experience
Moderate to challenging
Cultural immersion & active adventure
Mountains, valley, rice fields & villages
​Private tours
Vegan-friendly
Sapa 4 Day Tours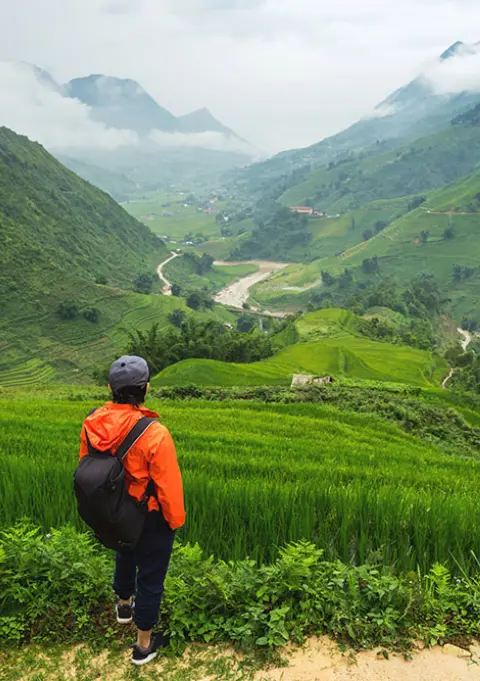 4 days 3 night experience
Moderate to challenging
Cultural immersion & active adventure
Mountains, valleys, rice fields & villages
​Private tours – Less Touristic
Vegan-friendly