Are you looking for a new way to experience breathtaking views and explore the world? If so, then Fansipan View is something you won't want to miss. Located in Vietnam's northwest region near the Chinese border, this incredible spot offers panoramic vistas that leave you feeling empowered and free. As a freelance travel writer, I can tell you that when it comes to one-of-a-kind experiences with an air of freedom and adventure, Fansipan View more than fits the bill!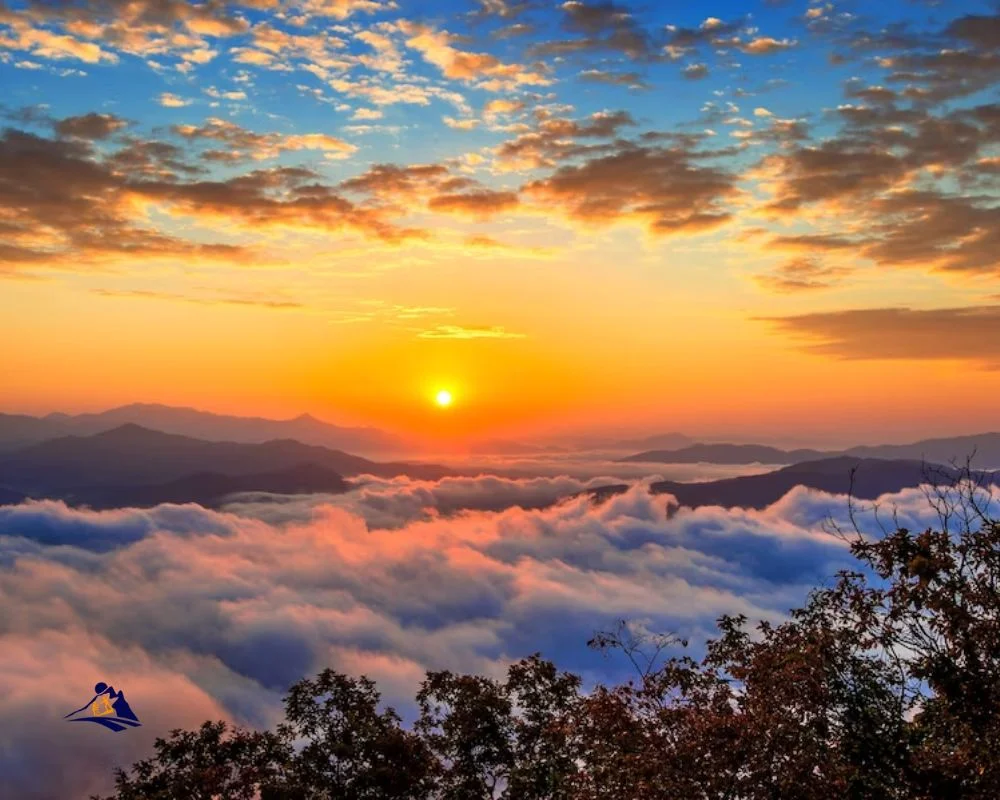 From its lush green forests to rolling hillsides blanketed by foggy mists rising from below, Fansipan View provides visitors with stunning visuals they'll never forget. Whether you're interested in taking a peaceful stroll through nature or just admiring the sweeping landscapes from afar, there's no shortage of things to do at this breathtaking destination. And best of all – each activity has been designed with your subconscious desire for freedom in mind!
If you're ready for an unforgettable journey like no other, come join me as we explore what makes Fansipan View such an amazing place. You won't regret it – guaranteed!
Overview Of The Mountain
For those seeking a challenge, Fansipan Mountain offers an exhilarating peak of adventure. Its imposing height of 3,143 meters makes it the highest mountain in Vietnam – and one of Southeast Asia's most captivating summits. A trek to the top is sure to please anyone with a knack for exploring new heights!
A journey up this iconic mountain can be both physically and mentally rewarding; however, its craggy surface requires some preparation beforehand. With stunning views and spectacular sunrises, Fansipan has something for everyone looking for a more immersive experience – from daring hikers to leisurely sightseers.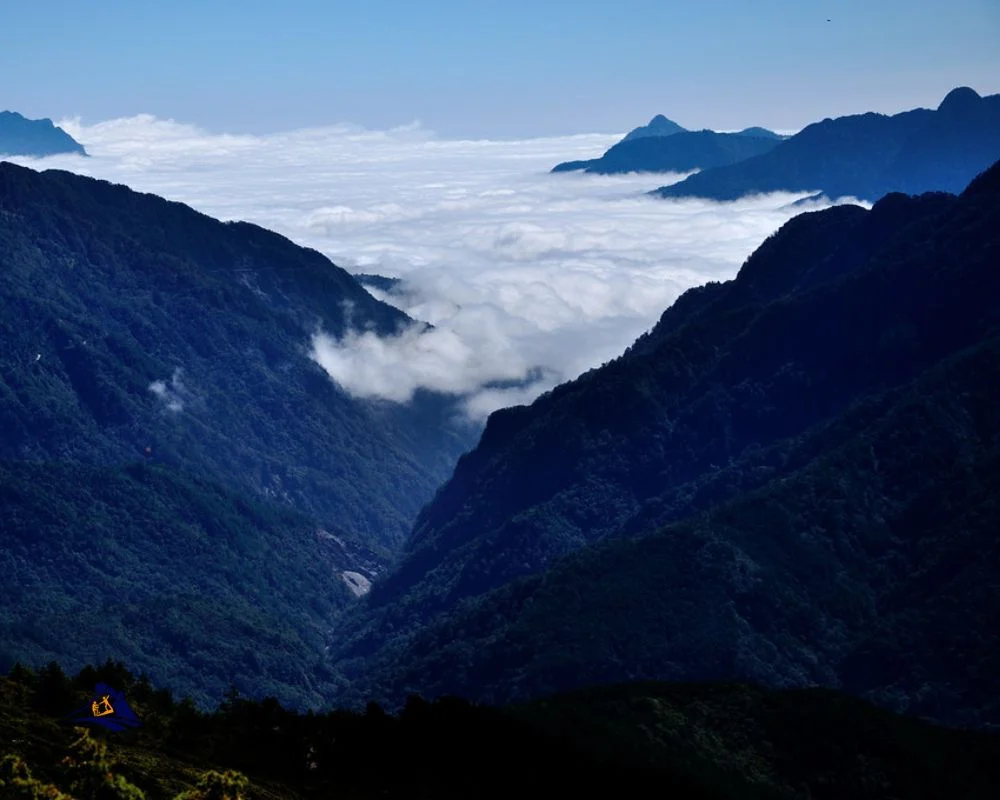 The sense of accomplishment achieved by reaching the summit is unbeatable – there's no better reward than standing atop this majestic mountain after conquering your limits! With such incredible rewards waiting at the end of each climb, it's no wonder that so many people are drawn to Fansipan year after year.
Location and geography hold key insights into understanding why Fansipan remains a destination like no other…
Location And Geography
Continuing from the overview we just discussed, let's take a deeper dive into Fansipan and its surrounding geography. Located in Vietnam's Northern province of Lao Cai, this mountain is part of Indochina's Hoang Lien Son Range. Reaching a height of 3143 meters above sea level, it is considered to be the highest peak in all of Vietnam as well as within the entire region of Indochina.
This majestic peak has become a popular destination for both Vietnamese tourists and foreign adventurers alike due to its numerous geological features such as waterfalls, deep valleys, sheer cliffs, and dense jungle vegetation that provide climbers with an exciting challenge. The area around Fansipan is also home to diverse wildlife including rare birds and endangered species like tigers and black bears which can often be spotted by those who venture off-trail during their trek up or down the mountain.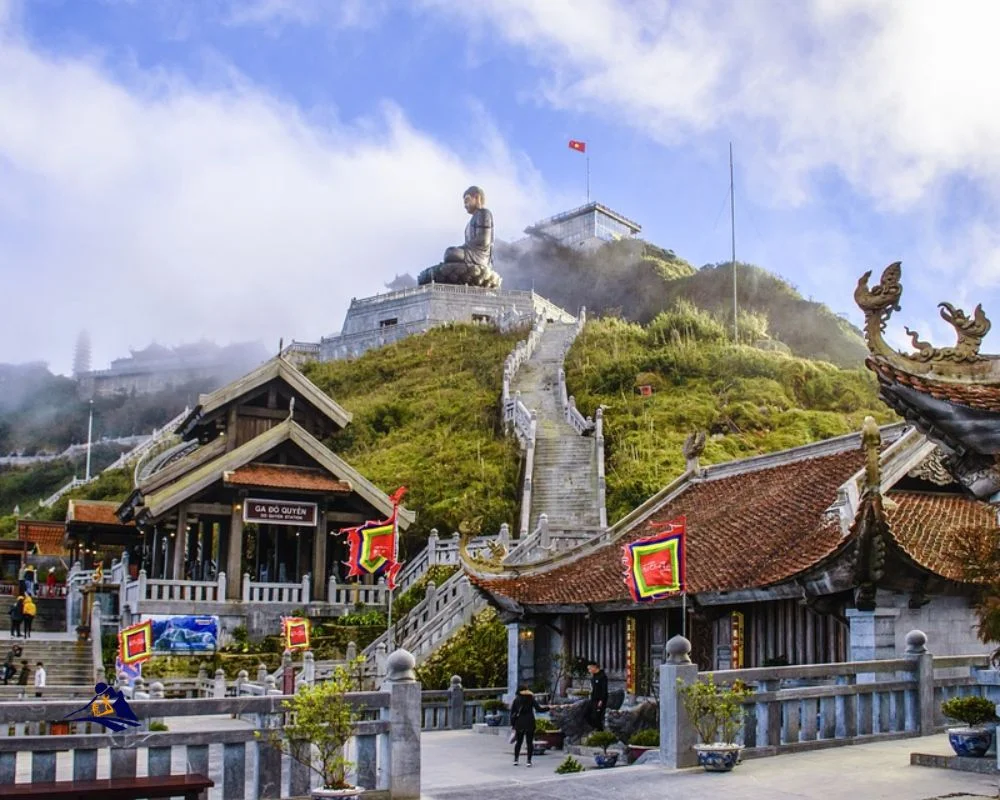 Fansipan is easily accessible via public transportation from Hanoi so visitors don't need to worry about bringing their vehicles or renting one when they arrive at the base camp. Moreover, there are plenty of experienced guides available for hire who will help you navigate your way through the various terrains making sure that you stay safe while enjoying your experience climbing this impressive mountain geography. With beautiful views atop Fansipan waiting to be discovered, now more than ever seems like a great time for adventure seekers everywhere to make the journey out here!
Climbing The Mountain
Climbing Fansipan is a journey of discovery. Its peaks, shrouded in misty clouds, beckon the adventurous traveler to test their mettle against this mighty mountain. Trekking and hiking up its slopes require more than just physical strength; it requires mental fortitude and courage as well. The rewards for those who brave the climb are plentiful – stunning panoramic views of lush green forests, mysterious caves, and winding paths that lead deep into the mountainside.
It's important to be prepared before attempting any mountain-climbing excursions. Make sure you have all the necessary gear such as proper footwear, ropes, and a map or compass if available. It's also advisable to check with local guides on how long the climb will take and what routes they recommend based on your skill level. Proper hydration and nutrition are key elements too – don't forget to bring snacks and water along!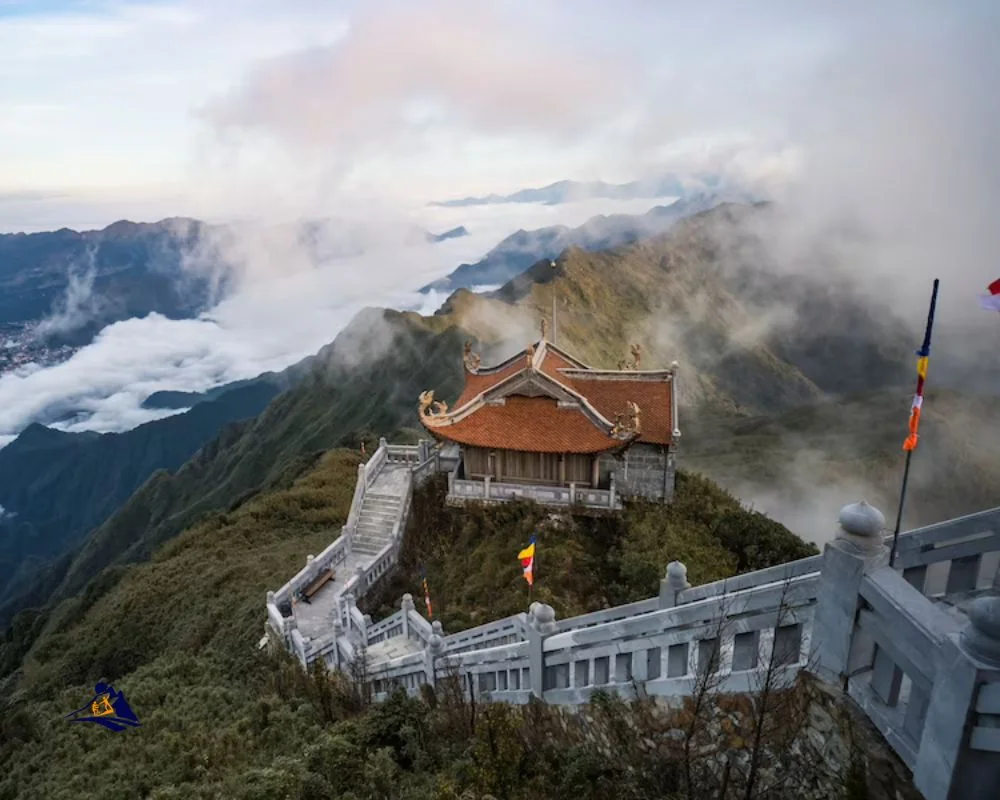 As one moves further up Fansipan's inclines, there may come a moment when fatigue begins to set in but exhaustion should not be allowed to stop progress toward achieving the summit. Take regular breaks every so often by finding some shade under trees or resting in areas where clean drinking water can be found – even if these moments seem like pauses from the arduous task ahead, keep going until you reach your destination! With each step forward comes an increased chance of success and greater satisfaction at having conquered nature's greatest challenge. As darkness falls over the mountaintop, travelers find themselves closer to their goal: reaching new heights with each passing day.
Fansipan Hiking 1 Day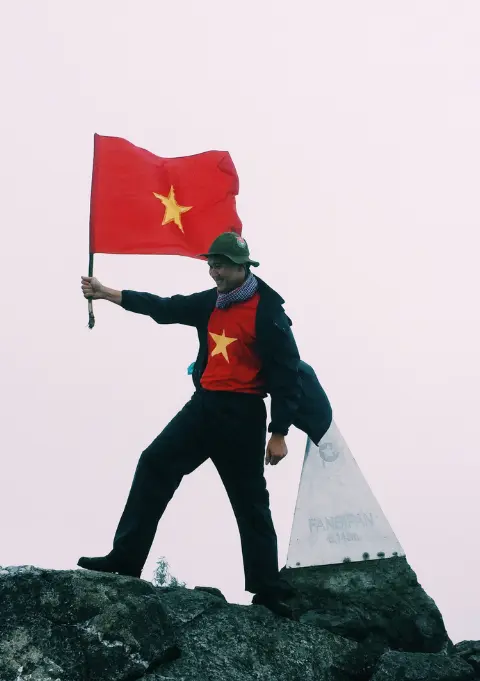 1 day fansipan experience
Moderate to challenging
Cultural immersion & active adventure
Visit Fansipan, highest mountain of Indochina
​Private tours
Vegan-friendly
Fansipan Trekking 2 Days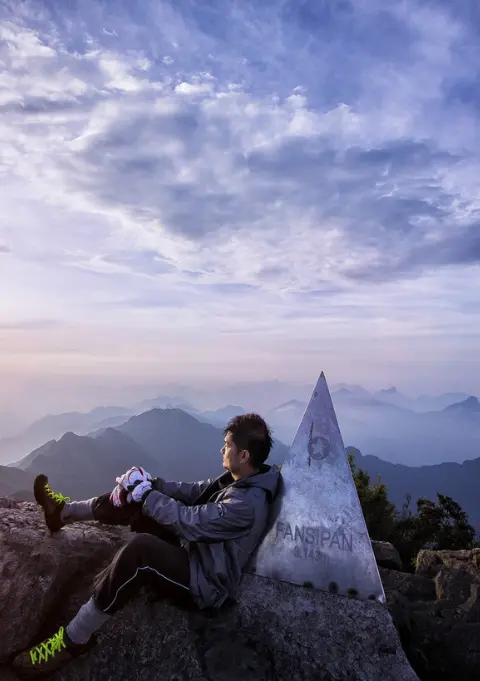 2 days 1 night fansipan experience
Moderate to challenging
Cultural immersion & active adventure
Visit Fansipan, highest mountain of Indochina
​Private tours
Vegan-friendly
Buy Cable Ticket Online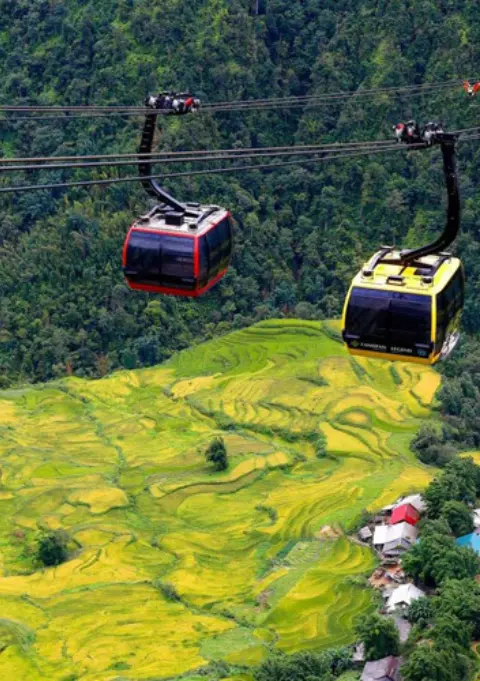 [QR Code] Buy Fansipan Cable Car Tickets Online
Non-refundable
Present your e-voucher
Fixed-day ticket
Admission with voucher
Accommodations Nearby
Climbing the Fansipan mountain can be a daunting task, but after conquering it you'll want to find somewhere comfortable to rest your head. Fortunately, there is no shortage of accommodation near Fansipan for all budgets and tastes. Whether you're looking for luxury or budget-friendly lodging, here are some great places to stay:
Sapa Hotels Near Fansipan – Located within walking distance of the mountain's base camp, these hotels offer stunning views and easy access to local attractions like Cat Cat Village. You can enjoy spa treatments, delicious meals in their restaurants, and all kinds of activities from hiking to horse riding.
Sapa Accommodation Near Fansipan – There are many guest houses scattered throughout Sapa that are close to the mountain and come with unique amenities like private balconies with breathtaking panoramic views. They also provide excellent value for money as well as guided tours around the area.
Luxury Accommodation Near Fansipan – If you're searching for something more upscale, consider one of the resorts located close by. Their rooms are exquisitely decorated and come equipped with modern amenities such as flat-screen TVs, plush beds, and en-suite bathrooms with hot tubs.
Budget Accommodation Near Fansipan – For those on a tighter budget, look no further than some of the hostels in town which offer basic yet clean rooms at very competitive prices. Plus they often have communal kitchens so guests can cook their meals if they choose.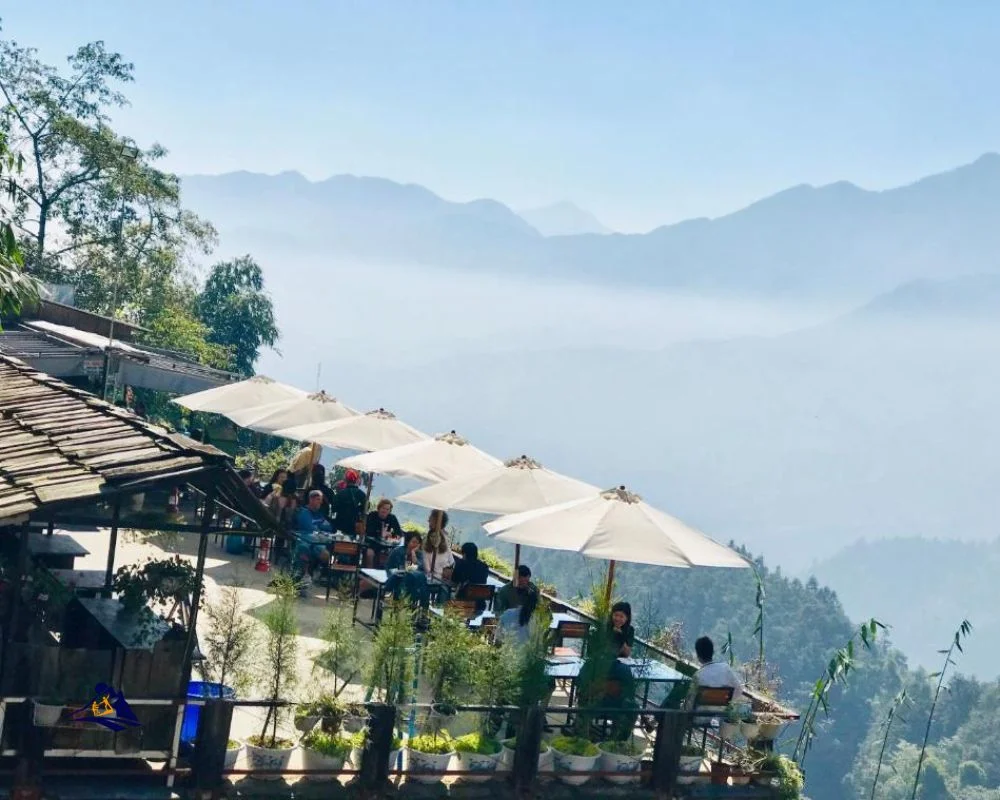 No matter where you decide to stay—luxurious resort or simple hostel—you won't be disappointed by what this region has to offer visitors when it comes to accommodations near Fansipan! Now that you've found a place to rest after climbing the majestic mountain peak, let's take a look at the weather and climate conditions in this part of Vietnam…
Fansipan Weather And Climate Conditions
The weather and climate conditions at Fansipan are a dream come true for hikers and climbers from all over the world. The mountain itself is situated in a subtropical zone, meaning it enjoys mild temperatures year-round with no extreme temperature fluctuations. It's warm enough to enjoy outdoor activities during any season but cool enough to escape the humidity of more tropical climates.
When it comes to mountain weather, Fansipan has plenty of sunshine throughout most days and cooler nights with lower levels of precipitation than other areas in Vietnam. This makes planning hikes or climbs much easier as there is less risk of inclement weather spoiling your plans. And when you reach the summit after hours spent trekking up the slopes, you'll be rewarded with clear skies offering incredible views that will take your breath away!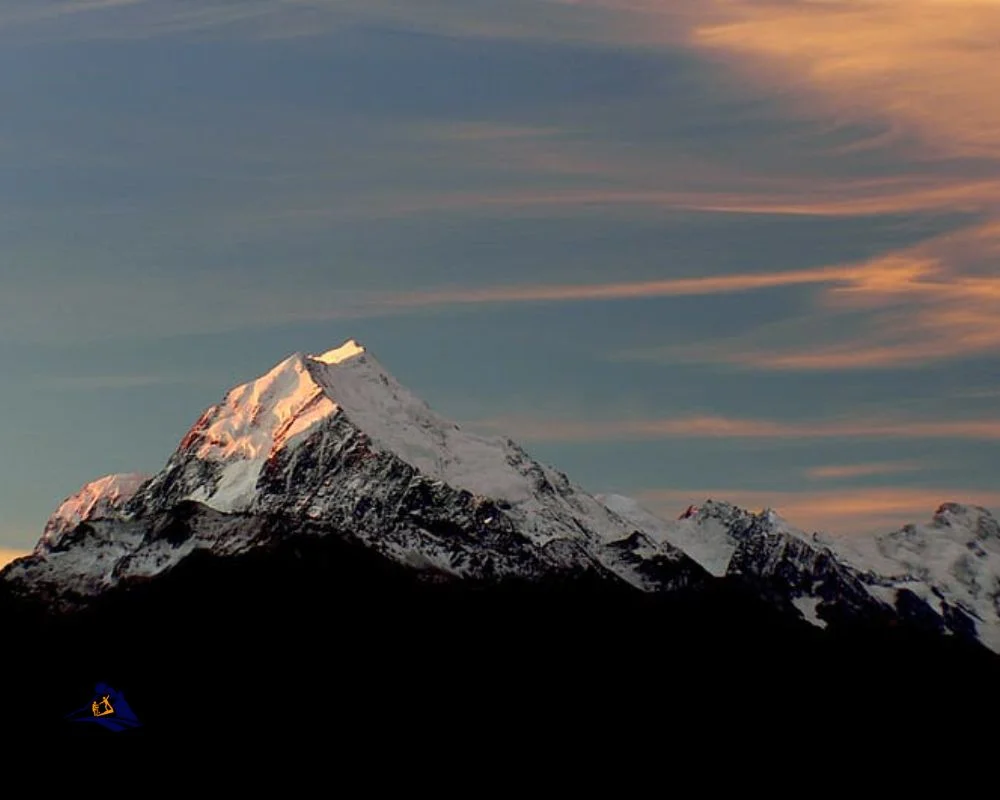 Fansipan offers an ideal environment for adventurers looking to explore its trails without worrying about uncomfortable heat or strong winds interfering with their journey. So if you're looking for an exciting yet comfortable hike or climb, then this mountain should be on your list!
You won't want to miss out on seeing the amazing flora and fauna found atop Fansipan either – so make sure you plan accordingly!
Flora And Fauna On Fansipan Hike
Time to trade in the thermometer for a pair of binoculars! Moving on from discussing weather and climate conditions, we're now shifting our focus to explore what makes Fansipan such an exciting destination – its astonishing variety of flora and fauna. Let's take it back to basics; let's time-travel into prehistoric times with dinosaurs (just kidding!) as we delve deep into this wild mountain range.
Fansipan is teeming with biodiversity which some say surpasses that of other national parks in Southeast Asia. It is home to over 2,400 species of plants and hundreds of animal species, many of them endemic or rarely seen elsewhere outside the region. Towering trees like evergreens, conifers, and deciduous oaks make up much of the vegetation at higher altitudes while lowland forests are mostly made up of bamboo groves and rainforest trees.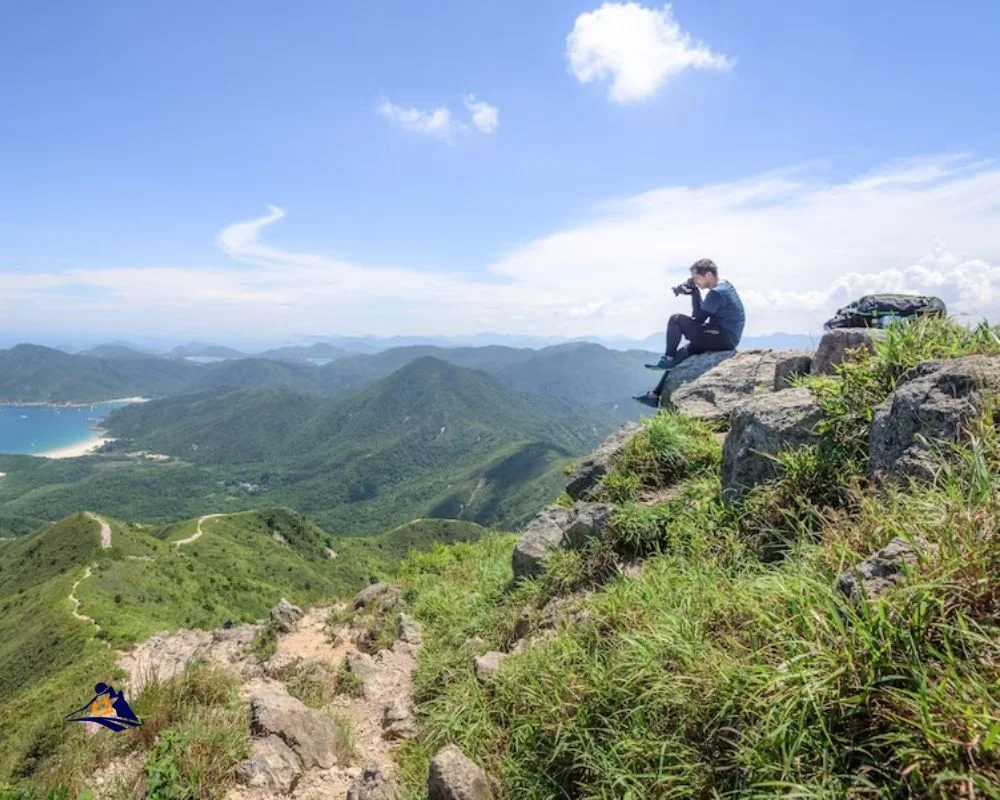 The list doesn't end here though – keep your eyes peeled because you may spot wildlife including mammals such as civets, macaques, deer, bears, and tigers. There are also reptiles like cobras and lizards, amphibians such as frogs and newts, birds ranging from eagles to owls plus thousands upon thousands more insect species waiting to be discovered! In short, whether you're an experienced naturalist or simply looking for something unique during your holiday in Vietnam – Fansipan has something wonderful for everyone to enjoy. With so much amazing flora and fauna on offer, it will surely leave lasting memories for all who visit. Next up? We'll discuss activities available to enjoy in the stunning mountainous region!
Fansipan Hiking 1 Day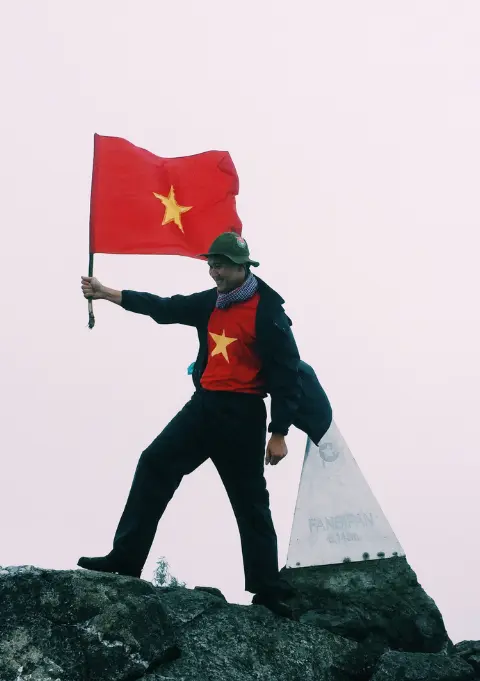 1 day fansipan experience
Moderate to challenging
Cultural immersion & active adventure
Visit Fansipan, highest mountain of Indochina
​Private tours
Vegan-friendly
Fansipan Trekking 2 Days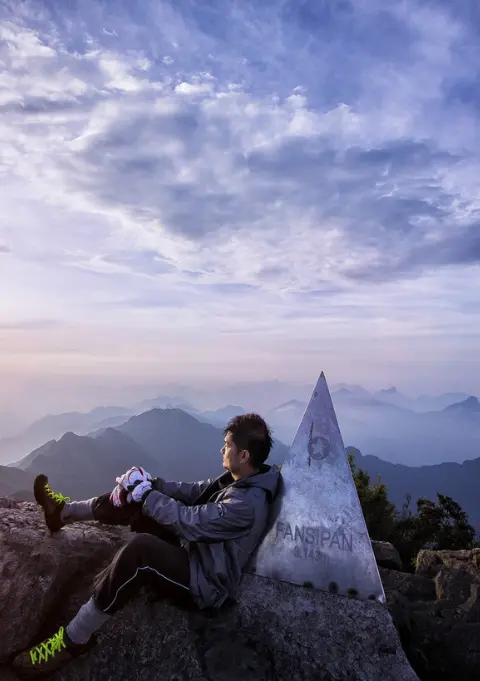 2 days 1 night fansipan experience
Moderate to challenging
Cultural immersion & active adventure
Visit Fansipan, highest mountain of Indochina
​Private tours
Vegan-friendly
Buy Cable Ticket Online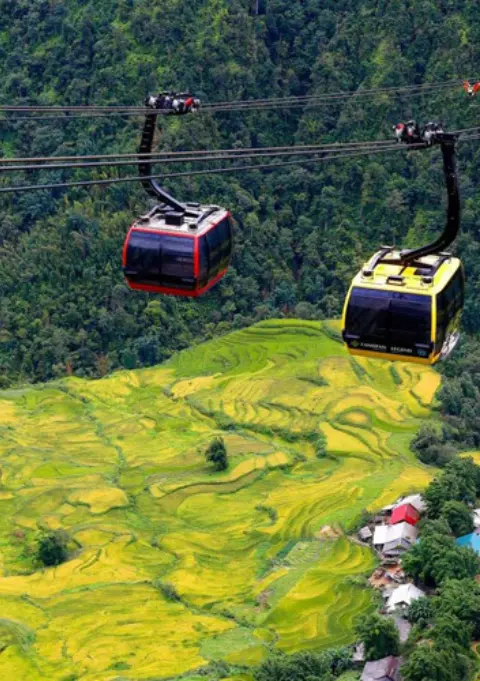 [QR Code] Buy Fansipan Cable Car Tickets Online
Non-refundable
Present your e-voucher
Fixed-day ticket
Admission with voucher
Activities To Enjoy In The Region
From hiking trails to bird watching, there is a variety of activities for the traveler looking to explore the Fansipan view. The following table provides an overview of some of the area's popular attractions:
| Activity | Description |
| --- | --- |
| Hiking Trails | Enjoy nature while trekking through various trails in and around Fansipan View. |
| Bird Watching | Spot native birds from one of several observation points near the region. |
| Local Markets | Stroll through local markets selling fresh produce and handmade crafts. |
| Nearby Villages | Explore nearby villages to gain insight into their unique cultures. |
| Religious Sites | Visit spiritual sites that provide insight into religions practiced in the area. |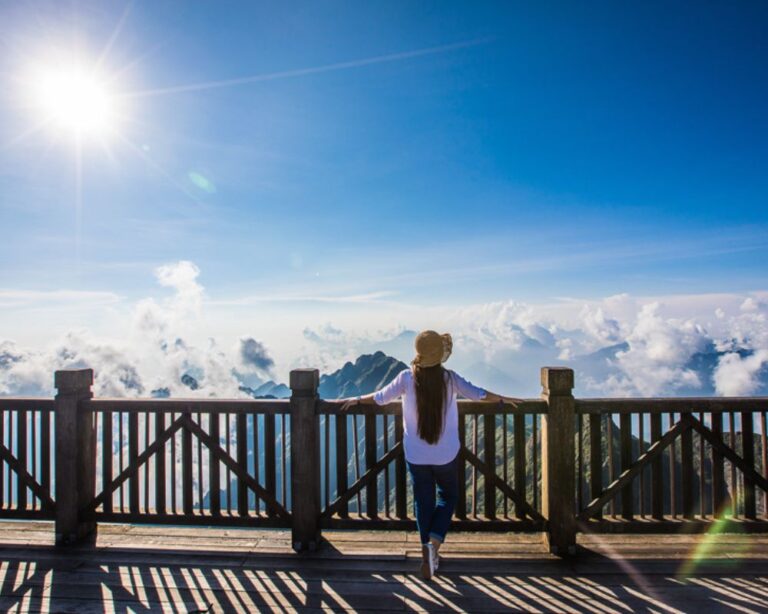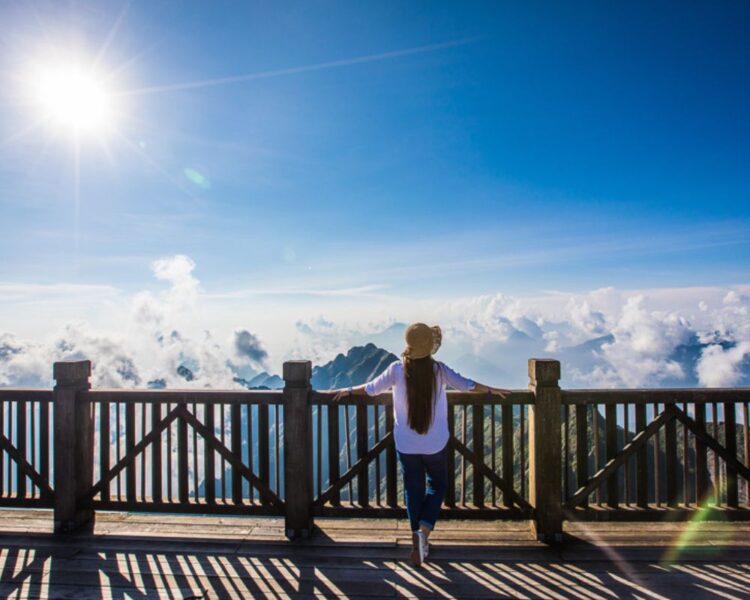 Whether you're seeking relaxation or adventure, there are plenty of opportunities for exploration at Fansipan View. Discover hidden gems as you wander along winding paths and observe wildlife up close. Spend time exploring the culture and customs of locals by visiting traditional markets, temples, and shrines. Get lost among ancient ruins as you uncover stories from centuries past – all while surrounded by breathtakingly beautiful landscapes! Feel your spirit soar with each step taken on this journey full of discovery and cultural immersion.
Fansipan Hiking 1 Day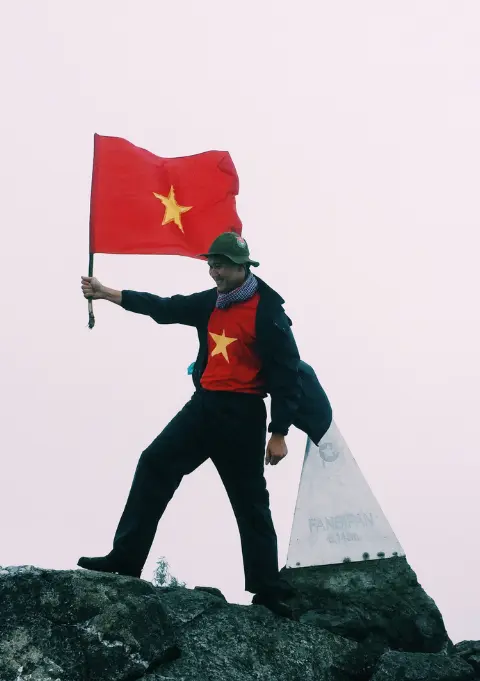 1 day fansipan experience
Moderate to challenging
Cultural immersion & active adventure
Visit Fansipan, highest mountain of Indochina
​Private tours
Vegan-friendly
Fansipan Trekking 2 Days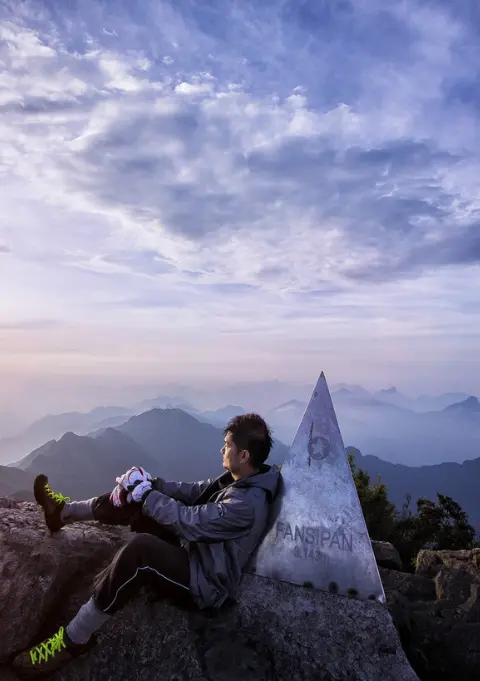 2 days 1 night fansipan experience
Moderate to challenging
Cultural immersion & active adventure
Visit Fansipan, highest mountain of Indochina
​Private tours
Vegan-friendly
Buy Cable Ticket Online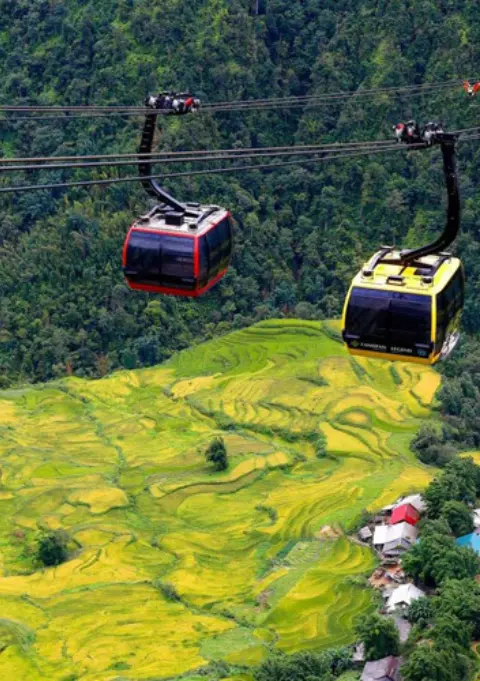 [QR Code] Buy Fansipan Cable Car Tickets Online
Non-refundable
Present your e-voucher
Fixed-day ticket
Admission with voucher
Cultural Attractions In The Area
For those seeking cultural attractions in the area, there's no better place than Fansipan Mountain. The mountain is steeped in local culture and nearby villages are often home to ethnic minorities who follow traditional customs. Visitors can make a pilgrimage to sacred sites on or near the mountain for an enlightening experience.
In addition to its religious significance, the region also offers unique experiences that showcase local traditions. From exploring mountaintop pagodas to strolling through village markets, fans of adventure travel will find plenty of opportunities to engage with locals and observe their way of life. Those looking for something more active may want to try trekking through remote jungles and valleys – perfect for nature lovers!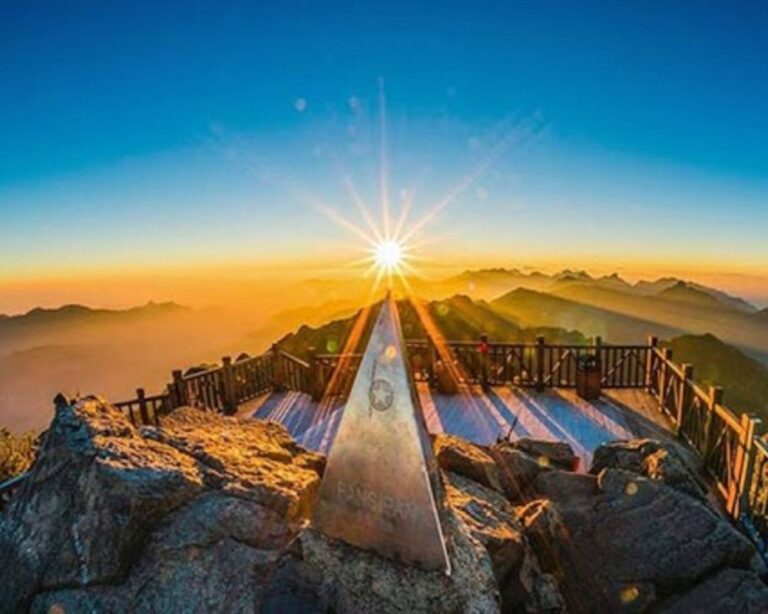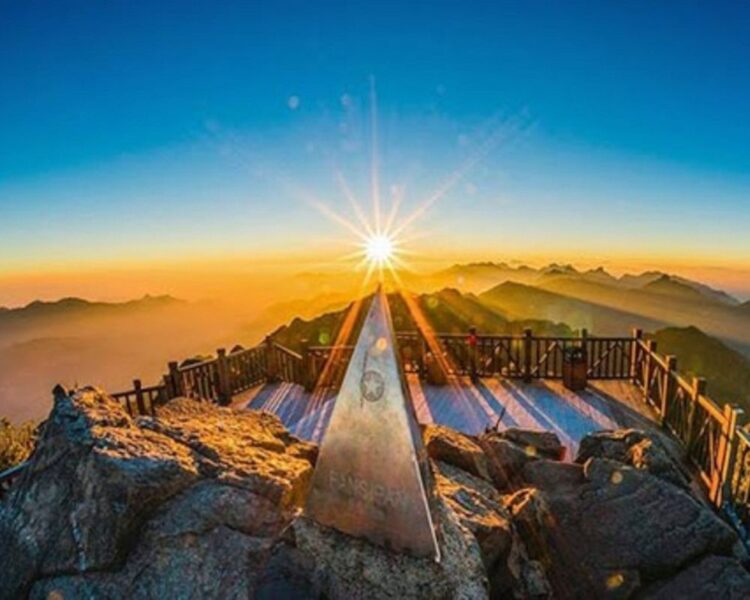 If you're searching for an authentic cultural immersion, then Fansipan Mountain should be at the top of your list! With so many fascinating activities just waiting to be explored, visitors can create lifelong memories here that capture both the beauty and spirit of this incredible destination. As far as safety considerations go, it pays to plan before heading out into unfamiliar terrain…
Sapa 1 Day Tours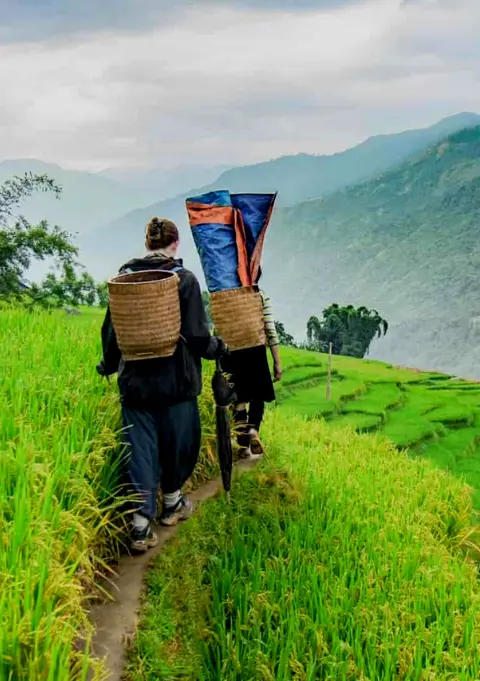 1 day experience
Moderate to challenging
Cultural immersion & active adventure
Rice fields, valleys & villages
​Private tours
Vegan-friendly
Sapa 2 Day Tours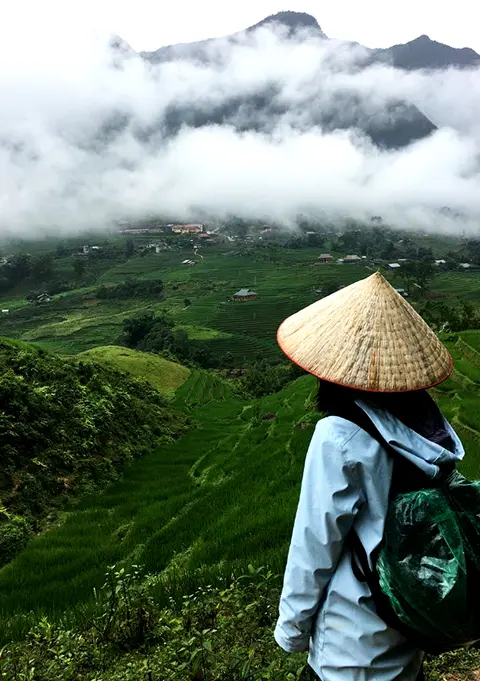 2 days 1 night experience
Moderate to challenging
Cultural immersion & active adventure
Mountains, valleys, rice fields and villages
​Private tours
Vegan-friendly
Sapa 3 Day Tours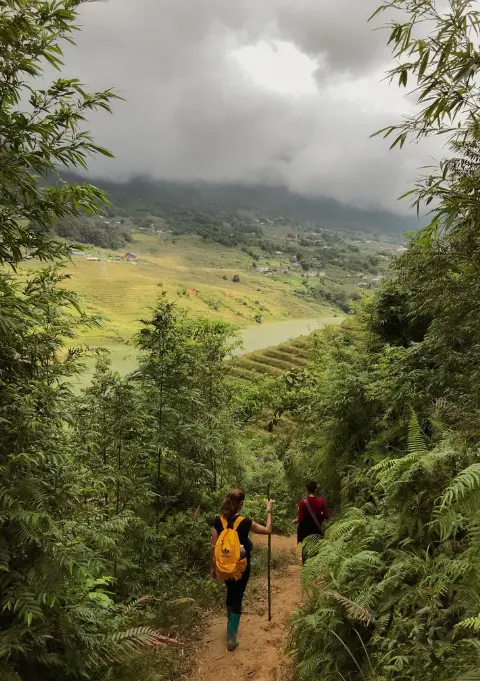 3 days 2 night experience
Moderate to challenging
Cultural immersion & active adventure
Mountains, valley, rice fields & villages
​Private tours
Vegan-friendly
Sapa 4 Day Tours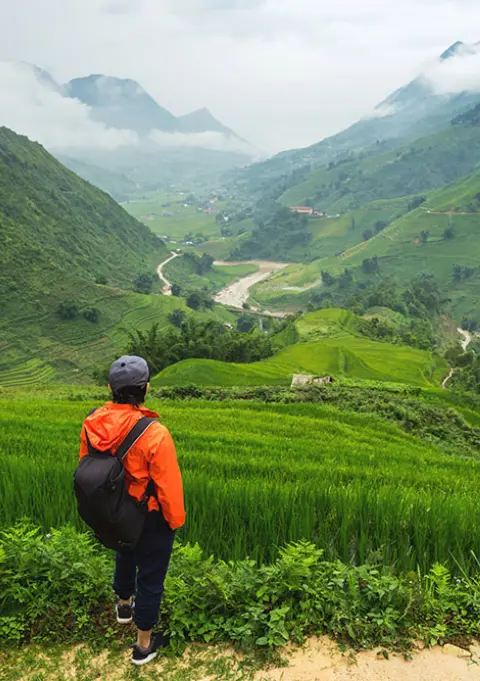 4 days 3 night experience
Moderate to challenging
Cultural immersion & active adventure
Mountains, valleys, rice fields & villages
​Private tours – Less Touristic
Vegan-friendly
Safety Considerations For Your Fansipan Tour
Traveling to Fansipan View is an exciting prospect for anyone looking for adventure. But before you embark on your travels, it's important to consider the safety precautions necessary when visiting this breathtaking area.
When planning a trip to Fansipan View, make sure to come prepared with all the essential mountaineering gear and supplies. Although there are plenty of hiking trails available in the region, trekking routes may require more advanced equipment such as ropes or climbing harnesses. Planning can mean the difference between an enjoyable outdoor experience and a life-threatening danger.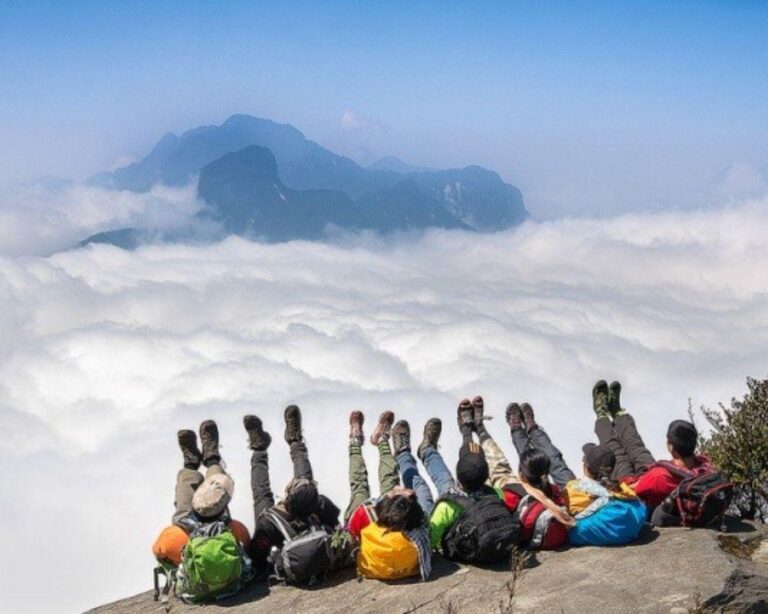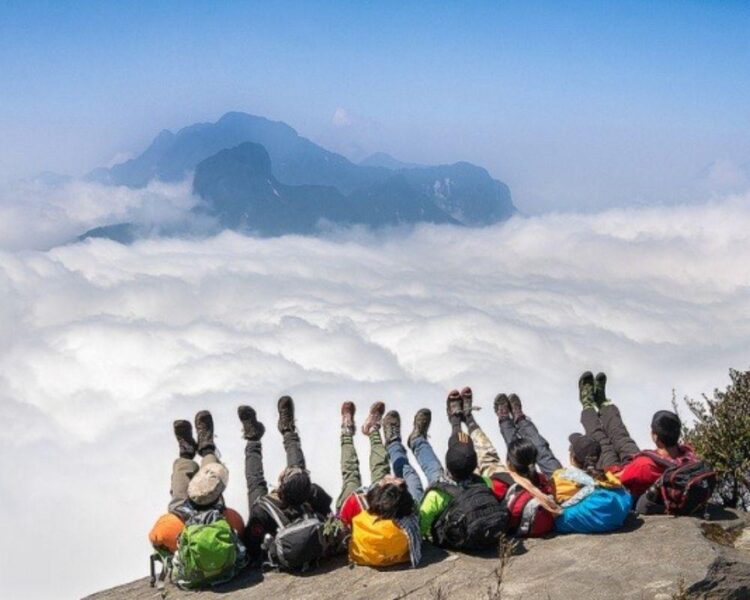 Finally, familiarize yourself with the local landscape and climate conditions so that you know what weather to expect and how best to protect yourself from any potential hazards. If you're not confident about venturing out alone then look into joining a guided tour group – it might cost more but at least you'll have peace of mind knowing that experienced professionals will be accompanying you on your journey.
With proper knowledge and preparation, travelers can enjoy all that Fansipan has to offer while staying safe during their time outdoors. Wherever your next destination may be, always plan accordingly and take extra care when engaging in unfamiliar activities. Now that we've discussed safety considerations, let's explore how to get there!
Fansipan Hiking 1 Day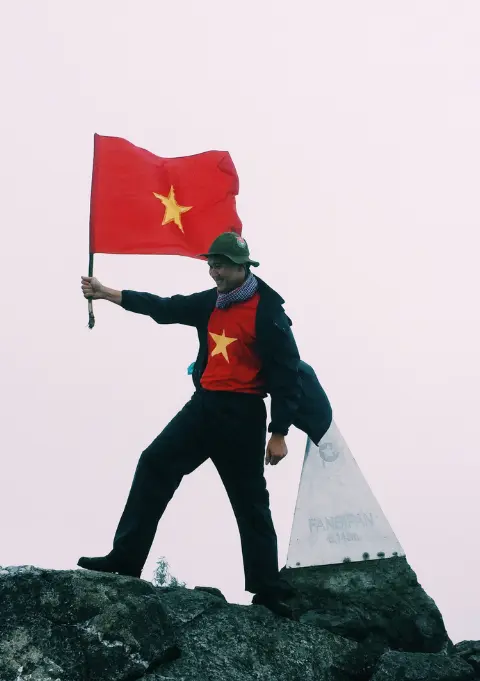 1 day fansipan experience
Moderate to challenging
Cultural immersion & active adventure
Visit Fansipan, highest mountain of Indochina
​Private tours
Vegan-friendly
Fansipan Trekking 2 Days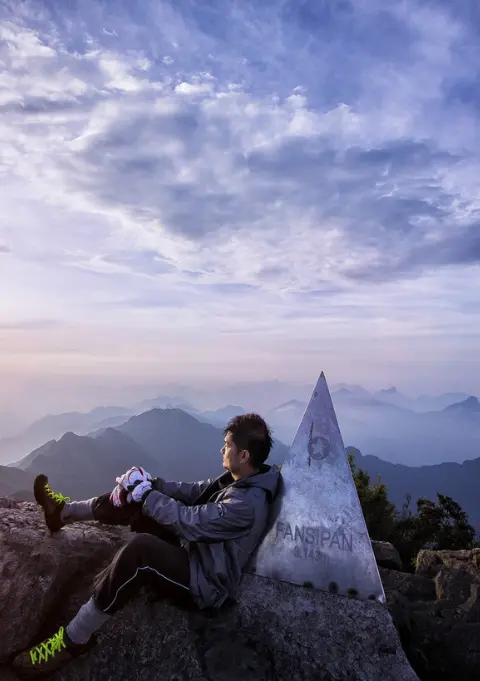 2 days 1 night fansipan experience
Moderate to challenging
Cultural immersion & active adventure
Visit Fansipan, highest mountain of Indochina
​Private tours
Vegan-friendly
Buy Cable Ticket Online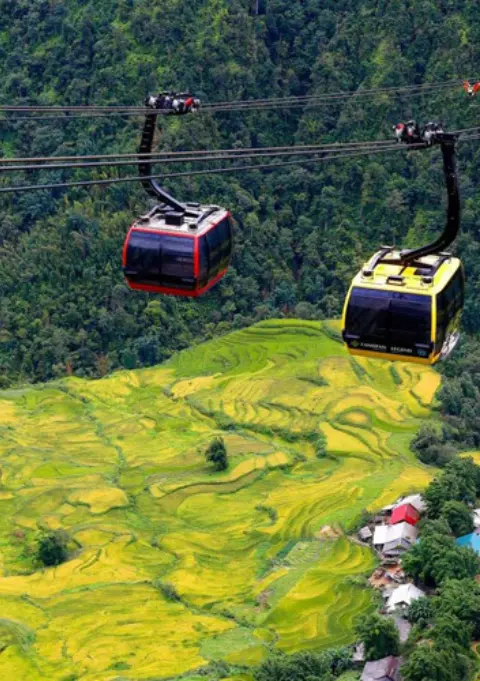 [QR Code] Buy Fansipan Cable Car Tickets Online
Non-refundable
Present your e-voucher
Fixed-day ticket
Admission with voucher
How To Get Fansipan
The mountain of Fansipan beckons, its misty peak a siren call for the adventure seeker. But first, one must get there. Getting to Fansipan is easy and accessible via several transportation options.
Travelers looking to arrive in Sapa by train can use the Hanoi-Lao Cai line which will bring them within thirty miles of their destination—a short bus ride away from Fansipan's majestic presence. Another option involves taking an overnight coach service direct from Hanoi which delivers travelers right into the heart of Sapa.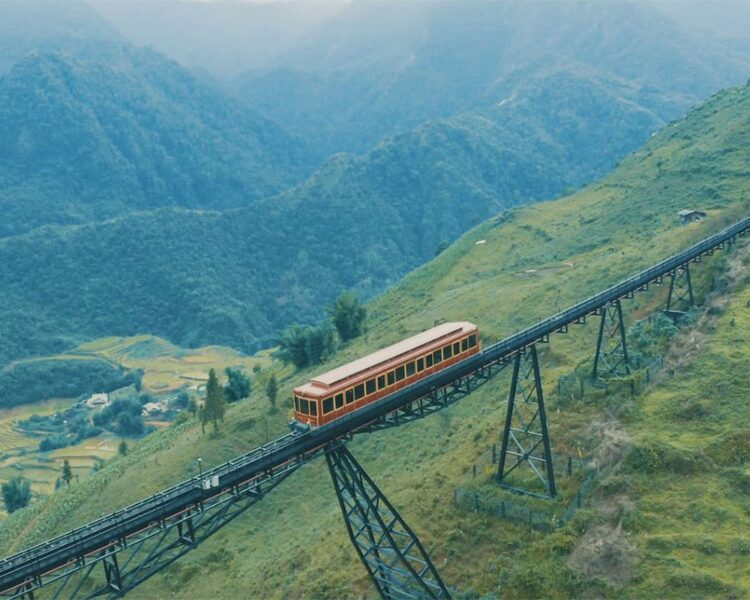 For those who prefer air travel, Vietnam Airlines offers daily flights between Hanoi and Lao Cai International Airport, located just forty minutes outside of town. Once you've arrived, it only takes a twenty-minute shuttle ride to reach your final destination: the summit of Fansipan Mountain.
No matter how you choose to make your way to this breathtakingly beautiful part of the world, getting there is half the fun! So pack your bags and hit the road – freedom awaits!
Fansipan View Frequently Asked Questions
What Is The Best Time Of Year To Climb Fansipan?
Are you looking for the best time of year to climb Fansipan? If so, look no further! Climbing Fansipan can be an incredibly rewarding experience, and it is important to plan your trip at the right time of year. Here's what you need to know about finding the ideal year to climb Fansipan.
The best time of year to climb Fansipan depends on several factors. Firstly, take into account weather patterns in the area: temperatures can vary drastically between seasons, making some times more comfortable than others if you're planning a long-term hike up the mountain. Additionally, certain months may have higher precipitation levels than others; while this isn't necessarily a bad thing (it makes for beautiful scenery), it should be taken into consideration when deciding when would be best to attempt a fansipan climb.
Another factor worth mentioning is accessibility. Depending on whether or not trails are open throughout the year, access could become limited during certain months due to snowfall or other conditions that make them unsafe or difficult to traverse. By researching ahead of time and confirming with local authorities before attempting any kind of major ascent, adventurers will ensure they aren't denied access because of unexpected closures.
Ultimately, there is no single answer as far as the perfect time for climbing Fansipan goes – different people prefer different experiences based on their own needs and preferences. With careful consideration for climate and available routes though, climbers can craft their unique adventure tailored exactly how they want it!
Are There Any Special Permits Required To Climb Fansipan?
Are you looking to make the climb up Fansipan? If so, knowing what permits are required is essential. Climbing permit requirements vary based on when and where you'll be climbing, as well as any other activities that might take place during your ascent. In this article, we'll explore the specifics of a special permit for climbing Fansipan.
Before making plans to climb Fansipan, it's important to know if there are any specific permit requirements in place. Fortunately, no special permit is needed for most climbs up Fansipan. However, depending on the time of year or any additional activities taking place while you're scaling the mountain—such as camping overnight—a certain type of Fansipan permit may be necessary.
It's also worth noting that in some cases, foreign visitors may need an extra level of permission from local authorities before attempting to climb Fansipan. This can include obtaining written authorization from either the Vietnam National Administration of Tourism (VNAT) or another approved agency before beginning their journey up the mountain.
To ensure you have all the information needed before setting out on your adventure up Fansipan, research regulations thoroughly and consider reaching out directly to relevant government bodies for official confirmation about whether or not a Fansipan climbing permit is required for your attempt at summiting. Doing so will help protect both yourself and others who plan on joining in on your journey along the way!
What Is The Best Way To Get To Fansipan?
Have you ever wanted to get up close and personal with Mount Fansipan? Well, the best way of getting there depends on your preferences. Whether it's hiking, taking a bus or train, hopping in a taxi, or driving yourself – all these options are available for those looking to reach this majestic peak.
If you're an adventurous sort, then why not opt for a hike to Fansipan View? It is one of the most popular routes among trekkers due to its incredible views and challenging terrain. Depending on your level of experience, it can take anywhere from two days to five days to complete the journey – making sure you have enough supplies is essential!
Alternatively, if you'd rather travel more comfortably than by foot power, then public transportation could be the answer. From Hanoi and Saigon (Ho Chi Minh City), buses depart regularly for Sapa Town which is only 10km away from Fansipan View. For longer distances such as between Hanoi and Lao Cai city (the closest point), train tickets can easily be booked online in advance. And once you arrive at Lao Cai Station, just hop into a waiting taxi that will take you directly to your destination! Of course, if you don't want any hassle then renting out a car might be better suited for your needs.
Whichever mode of transport takes your fancy – make sure to plan and book tickets accordingly so that no time is wasted while visiting beautiful Mount Fansipan!
What Kind Of Facilities Are Available For Climbers At The Summit?
The summit of Fansipan View offers climbers a wealth of amenities and facilities. From climbing accommodations to mountain lodging, the options available at this alpine destination are plentiful. Climbers can make use of the range of amenities provided on-site, including food options to suit even the most discerning palates.
One of the main attractions at Fansipan View is its many lodgings suitable for mountaineers looking for a comfortable stay near the peak. Whether it's an overnight tent stay or a luxurious villa with all the comforts of home, there's something for everyone here. In addition to pre-booked accommodation packages, mountaineers also have access to complimentary amenities such as hot showers, charging stations, and laundry services.
When it comes time to refuel after a hard day's climb, visitors will find no shortage of delicious food options around Fansipan View. The area boasts several restaurants serving up local specialties like Pho Bo (Vietnamese beef noodle soup) and Banh Mi sandwiches – both perfect dishes for refueling before heading off again into adventure! With so much variety in cuisine and hospitality options, there is something for every climber who reaches the top of Fansipan View.
No matter what kind of mountaineer you are, rest assured that your experience reaching the summit won't be lacking in any way when it comes to lodging or dining choices – Fansipan View has got you covered!
Are There Any Special Discounts For Foreign Visitors?
Did you know that foreign visitors make up about 40% of the total climbers on Fansipan View? This statistic is a testament to the staggering beauty and appeal of one of Vietnam's most iconic natural attractions. It also speaks to the availability of special discounts for foreign climbers that have been put in place by the local government.
Foreign visitor discounts are available in several forms, including discount permits and other discounted packages tailored specifically toward foreign tourists looking to tackle this incredible summit. These discounts can vary quite significantly depending upon the type of climb being attempted, but they generally provide an economic incentive for travelers from abroad who wish to experience all that Fansipan has to offer.
The great thing about these foreign discounts is their flexibility – whether it's a short day trip or a longer journey involving multiple stops along the way, there are plenty of options for those looking for a bit extra when climbing Fansipan. From reduced entry fees on certain trails to exclusive access to overnight camping spots or even guided tours from experienced professionals, there's something out there for everyone regardless of budget or skill level.
So if you're planning your next big adventure and want to get the best bang for your buck, be sure not to overlook these generous foreign discounts offered at Fansipan View. With such attractive incentives in place, no wonder so many adventurers from around the world flock here each year!
Conclusion
The majestic view from the summit of Fansipan is one that I will never forget. Watching the sun rise above the lush jungle, surrounded by towering peaks – was a truly magical experience! The best time to climb this mountain is during the winter season (November to February), as there is less rainfall and better visibility for trekking.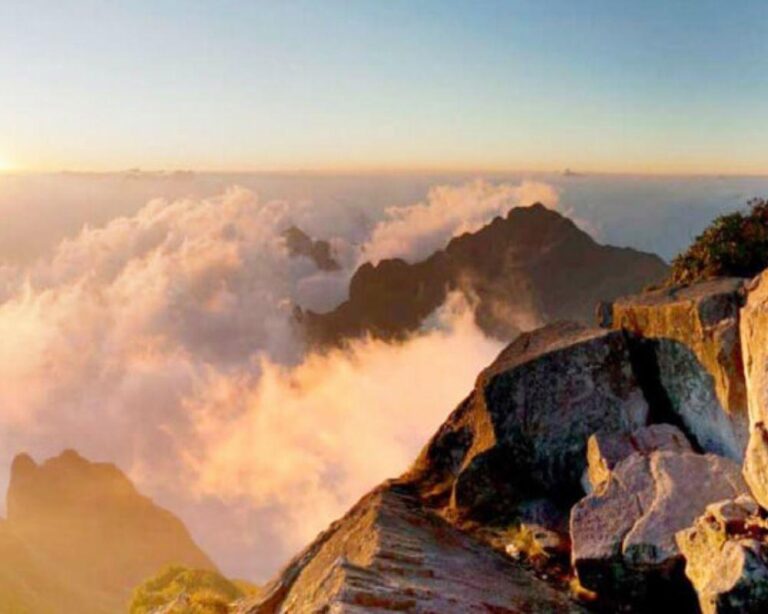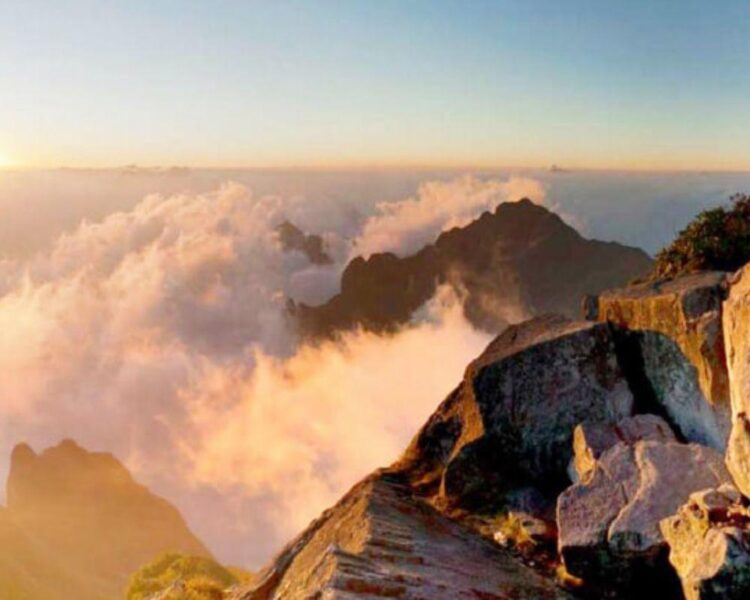 No special permits are required for climbing Fansipan but make sure you check with your tour guide before setting off on your journey. Getting to the area can be done either via bus or flight depending on which way suits you best. Once at the top, climbers have access to basic facilities such as restaurants, restrooms, and even souvenir shops. For those visiting from abroad, don't forget to take advantage of any discounts available for foreign visitors too!
All in all, this unforgettable trip up Fansipan has made me appreciate nature's beauty more than ever before. With its stunning views and plentiful opportunities for exploration, what more could anyone ask for? This place does live up to its reputation as Vietnam's 'Roof of Indochina' – an absolute must-see destination if ever there was one!
Sapa 1 Day Tours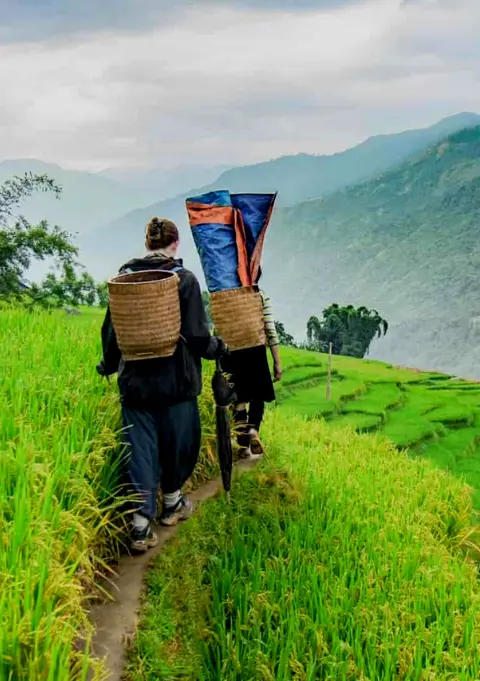 1 day experience
Moderate to challenging
Cultural immersion & active adventure
Rice fields, valleys & villages
​Private tours
Vegan-friendly
Sapa 2 Day Tours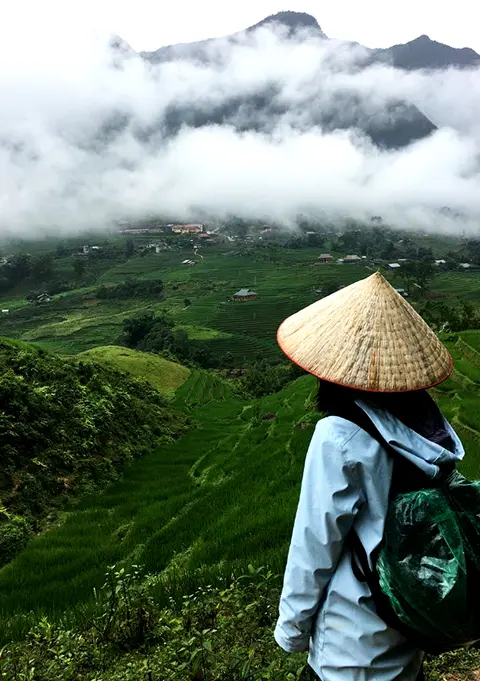 2 days 1 night experience
Moderate to challenging
Cultural immersion & active adventure
Mountains, valleys, rice fields and villages
​Private tours
Vegan-friendly
Sapa 3 Day Tours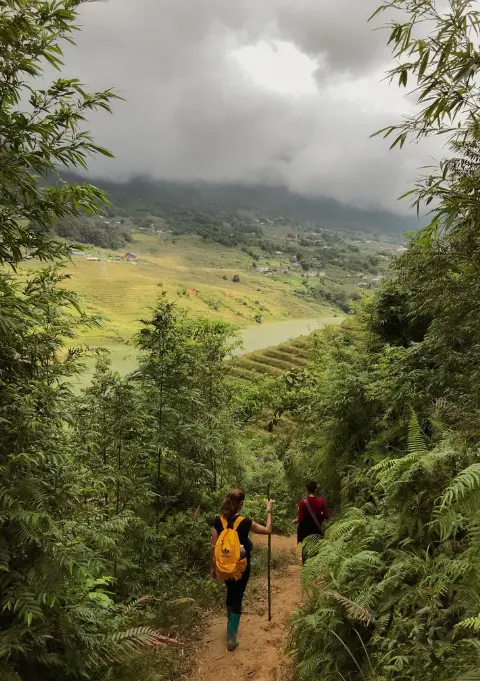 3 days 2 night experience
Moderate to challenging
Cultural immersion & active adventure
Mountains, valley, rice fields & villages
​Private tours
Vegan-friendly
Sapa 4 Day Tours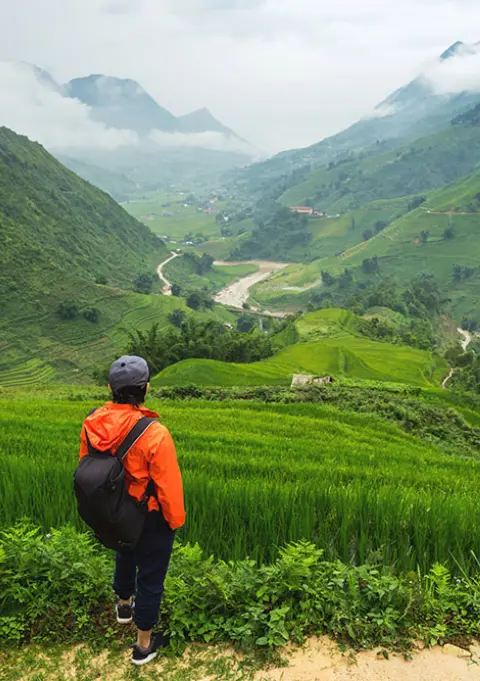 4 days 3 night experience
Moderate to challenging
Cultural immersion & active adventure
Mountains, valleys, rice fields & villages
​Private tours – Less Touristic
Vegan-friendly