Fansipan Mountain is the highest mountain in Southeast Asia, and one of the most breathtaking natural wonders in all of Vietnam. With its towering peak reaching a dizzying 3143 meters, it stands as an awe-inspiring monument to nature's grandeur. For those who make the journey to this majestic peak, they are rewarded with stunning views that stretch out for miles across the lush jungles and tall mountains alike. I'm here today to tell you why taking on this challenge should top your bucket list!
This adventure offers more than just a great view; hiking up Fansipan Mountain can be a truly liberating experience. As you climb higher and higher into the clouds, there's something freeing about being surrounded by such wild beauty – something that speaks directly to our subconscious desire for freedom. It's an opportunity to take yourself away from the hustle and bustle of everyday life and find some true peace of mind high above the world below.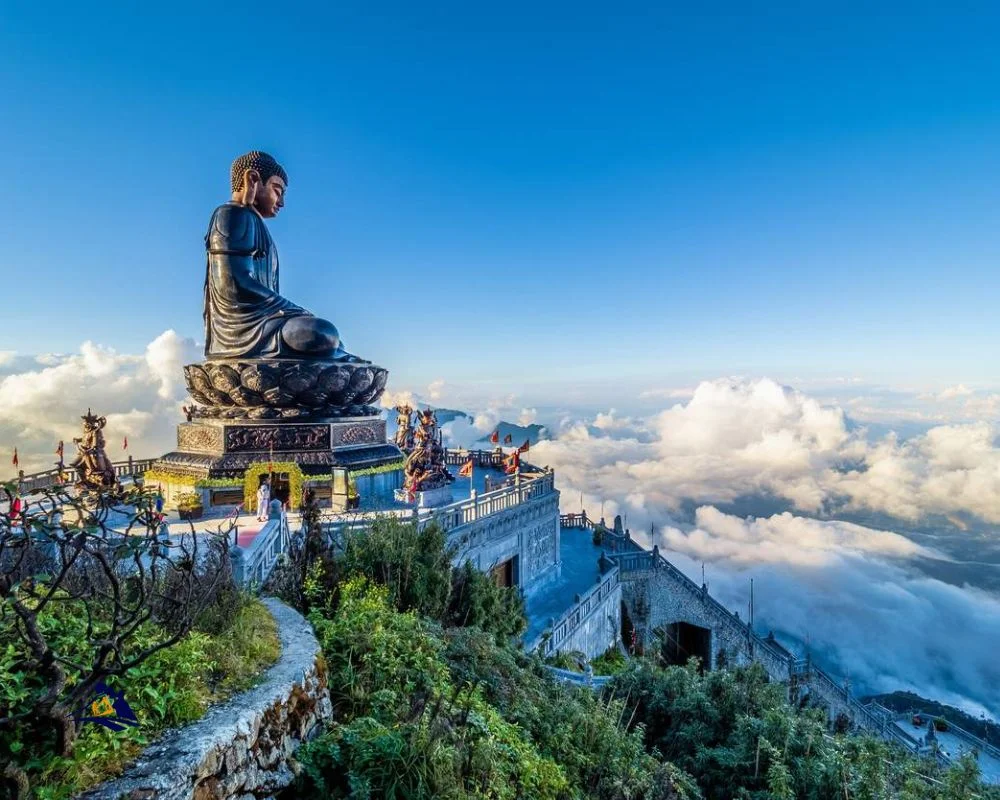 The trek itself isn't too difficult either – it takes around three days total – making it accessible to hikers at any level of fitness or skill set. You'll need some determination and plenty of water breaks along the way but with many tour companies offering guided tours, you won't have to worry about getting lost or running out of energy before reaching the summit! So come with me now on a journey through Fansipan Mountain: where dreams become reality and every step brings us closer to true liberation.
Overall
Location
Located in the Hoang Lien Son mountain range of Vietnam, Fansipan Mountain stands tall and proud at an impressive 3,143 meters. This makes it the highest peak in Indochina and within the South China region. Drawing adventurers from around the world to its majestic summit, this awe-inspiring landmark is a perfect destination for those seeking freedom and exploration.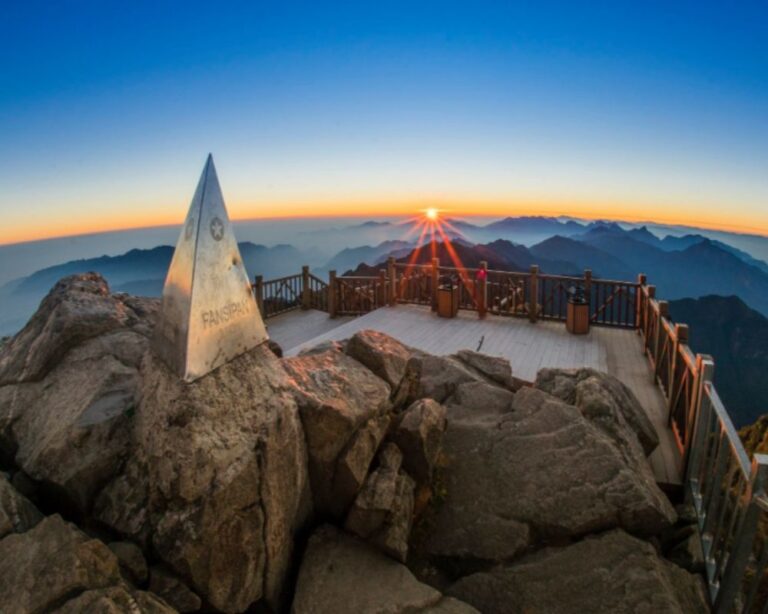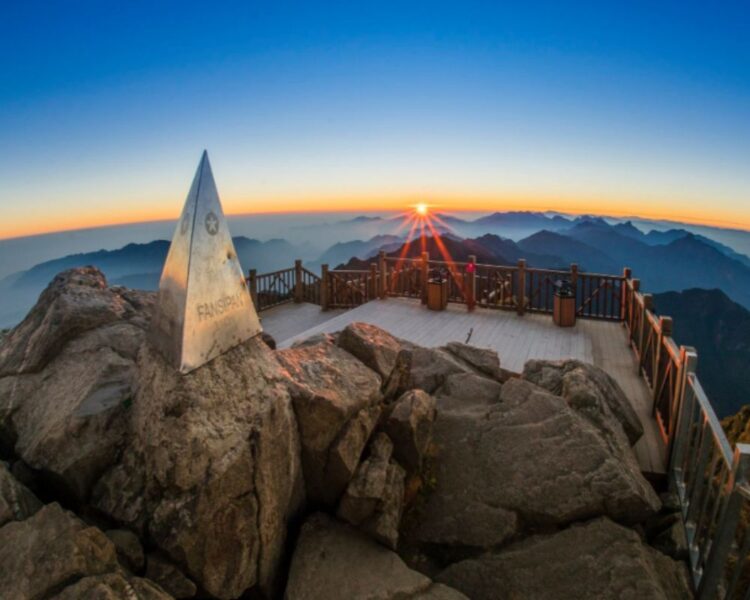 For visitors looking to explore all that Fansipan has to offer, they will find themselves nestled deep in Lao Cai Province along the Chinese border. The nearest international airport is located in Hanoi with easy access by road or rail available through Sapa Town. Here you can hire local guides who are familiar with navigating these spectacular peaks as you journey toward paradise.
With lush green valleys carpeting the landscape below and breathtaking views reaching out far into the distance, Fansipan promises an unforgettable experience of natural beauty and adventure! From here we turn our attention to exploring its unique geography…
Geography
Fansipan Mountain, located in Lao Cai Province of Vietnam, is one of the most breathtakingly beautiful places on earth. It boasts some stunning geography that will take your breath away!
The mountain range itself stands at a whopping 3,143 meters (10,312 feet) above sea level and is considered to be the highest peak in all of Indochina. This impressive elevation makes it an ideal destination for hikers and nature lovers alike who are looking to explore the region's unique geography. The surrounding area also features lush jungles and rolling hills – perfect for enjoying spectacular views from every angle.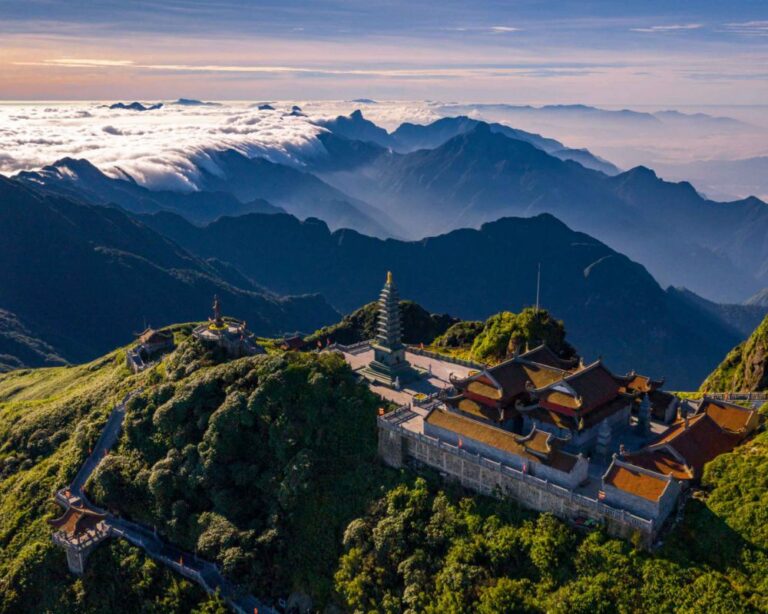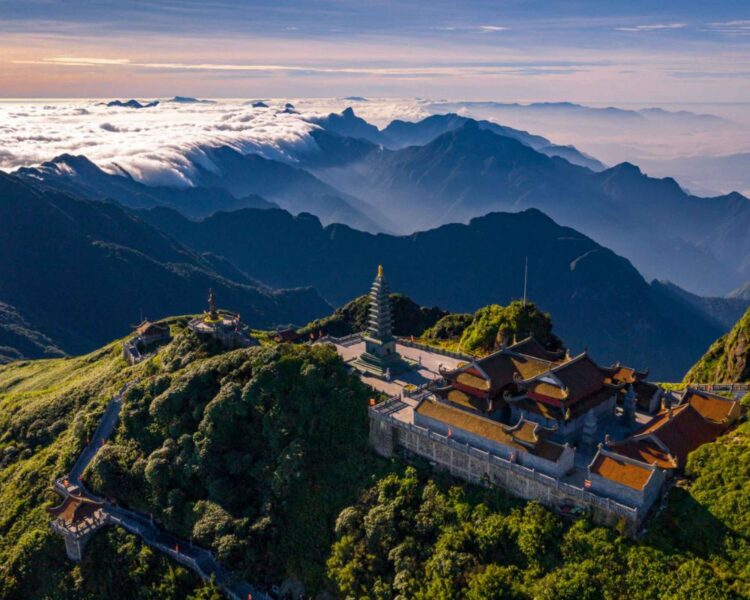 At its base lies Muong Hoa Valley – a beautiful valley filled with terraced rice fields and traditional tribal villages. As you make your way up Fansipan, you'll find yourself surrounded by incredible natural beauty: deep gorges, dense forests, cascading waterfalls, snow-capped peaks, and awe-inspiring sunsets.
Here are just a few reasons why Fansipan Mountain should be on everyone's must-see list:
Unique Vietnamese Geography
Magical Sunsets
Breathtaking Views
You can feel truly connected to nature as you explore this special place – making it easy to understand why so many people fall in love with Fansipan Mountain year after year. With such remarkable heights and elevations, there's no doubt that Fansipan has something for everyone.
Fansipan Mountain Trekking – Heights And Elevation
Standing tall and proud, Fansipan Mountain stretches to a whopping 3,143 meters in elevation. That's an impressive 10,312 feet above sea level! This makes it the highest mountain of the Indochinese peninsula and earns it the nickname 'The Roof of Indochina.' The summit is often shrouded in foggy mists that promise adventurers an unforgettable journey when they take on its slopes.
To get a better understanding of how high this peak is, let us compare Fansipan's heights to other famous mountains:
| Name | Height (meters) | Height (feet) |
| --- | --- | --- |
| Mount Everest | 8,848m | 29,029ft |
| Denali (Mt McKinley) | 6,190m | 20,308ft |
| Kilimanjaro | 5,895m | 19,341ft |
| Aconcagua | 6,959m | 22,838ft |
| Fansipan Mountain stands at almost half the height of Everest but still towers over many other well-known peaks around the world. It remains one of Asia's most challenging summits for climbers seeking adventure and testing their limits. | | |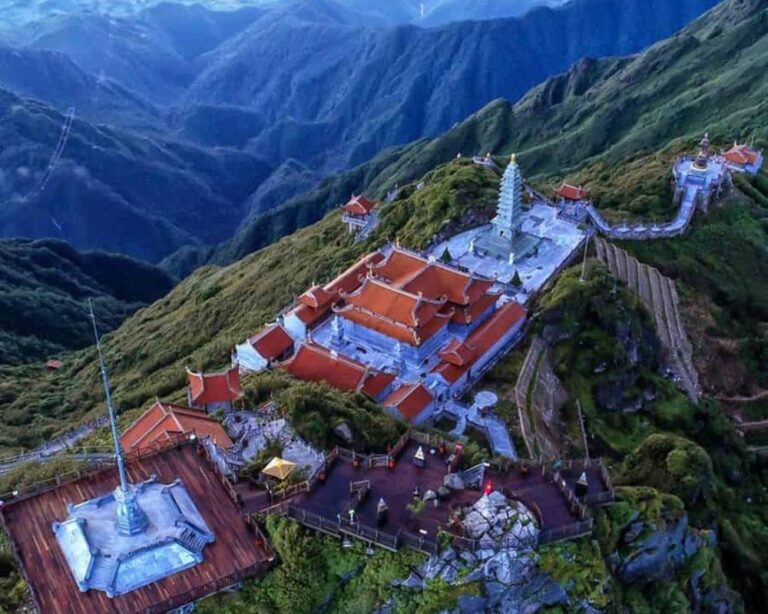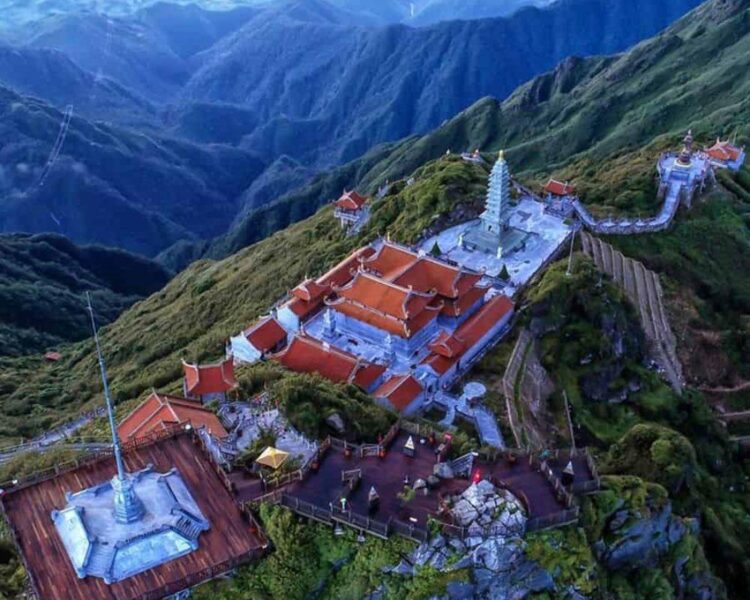 Anyone wishing to scale this majestic peak needs a good combination of physical strength and determination to reach its lofty altitude. Even experienced mountaineers can find themselves quickly exhausted by its steep inclines as they make their way up toward the summit. But no matter what difficulty you may face along your climb – be sure that reaching the top will always be worth it with stunning views awaiting you there!
Climbing Routes
If you're looking for a thrilling adventure to test your climbing skills, then Fansipan Mountain is the perfect destination. With its steep slopes and challenging routes, it's no wonder why this mountain has become one of the most popular climbing spots in Vietnam. Whether you're an experienced climber or just starting, there is plenty of trekking and guided tours available that can help you conquer Fansipan's summit.
When planning your climb up Fansipan Mountain, make sure to bring along all the necessary equipment such as ropes and harnesses for safety. You should also consider bringing extra clothing layers to keep warm during colder months. If you prefer not to carry all these items yourself, some tour companies offer packages that include basic climbing gear like crampons and ice axes. It is important to remember that although these tools may seem intimidating at first, they can be extremely helpful when tackling difficult sections of the mountain.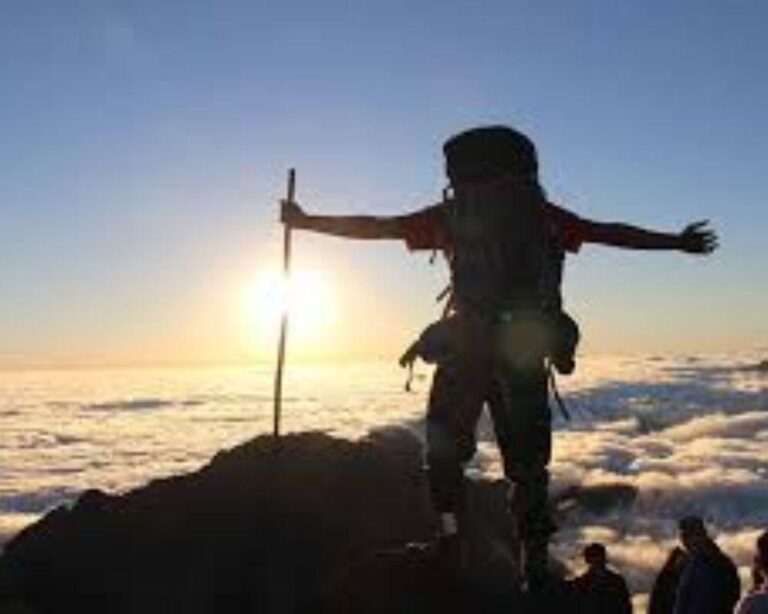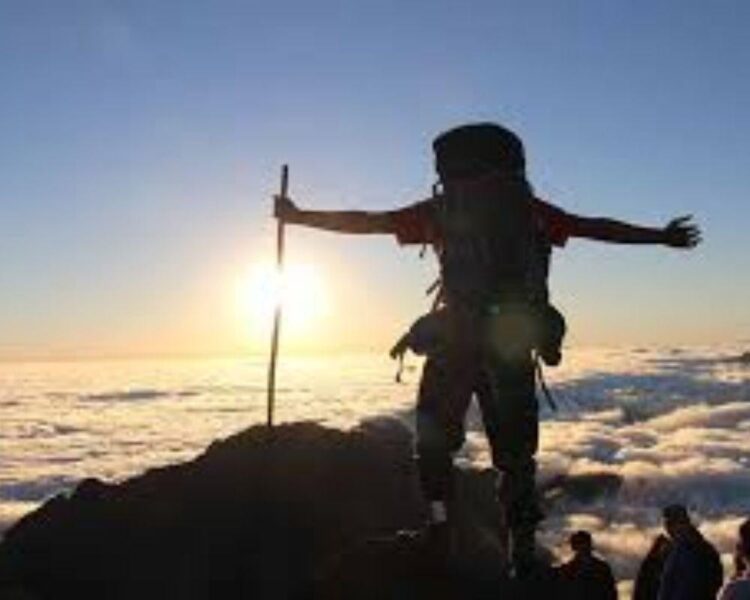 For those who want more than just a physical challenge, there are many different trekking routes around the base of Fansipan ranging from easy hikes through local villages to multi-day treks across rugged terrain. All these trails provide beautiful vistas with breathtaking views of Northern Vietnam's landscapes. Some guided tours even allow you to combine both hiking and rock climbing up the sides of Fansipan for a truly unique experience.
No matter what type of adventure you seek on Fansipan Mountain, there is something here for everyone! With its plentiful climbing routes, stunning scenery, and exciting challenges, it is no surprise why adventurers flock here year after year. Safety considerations must always come first though; so before embarking on your journey up Fansipan Mountain, make sure you have done your research and take any necessary precautions…
Fansipan Hiking 1 Day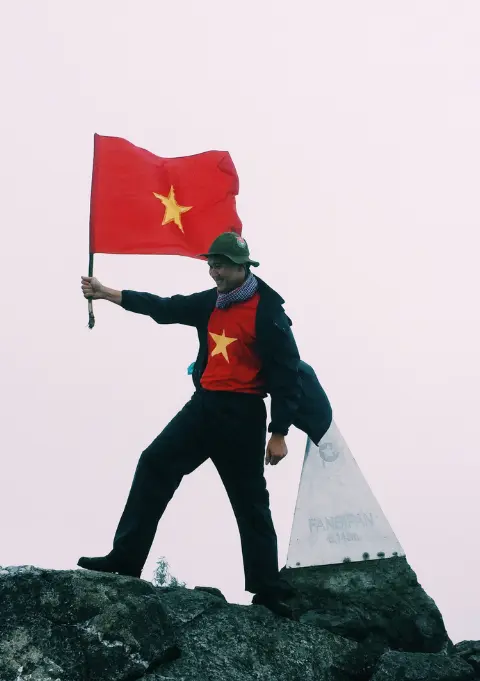 1 day fansipan experience
Moderate to challenging
Cultural immersion & active adventure
Visit Fansipan, highest mountain of Indochina
​Private tours
Vegan-friendly
Fansipan Trekking 2 Days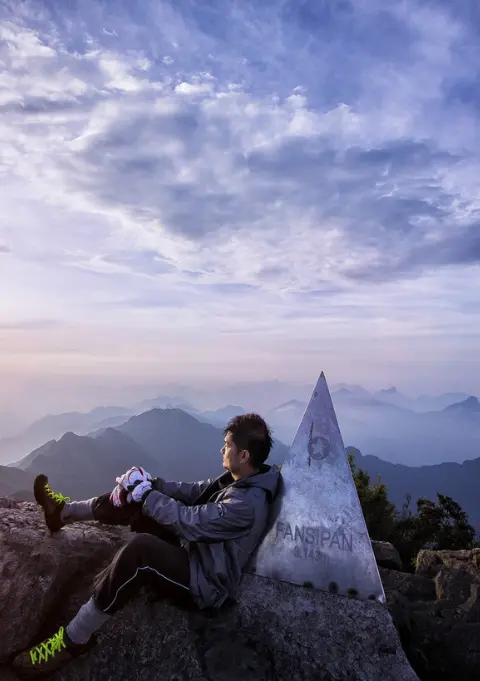 2 days 1 night fansipan experience
Moderate to challenging
Cultural immersion & active adventure
Visit Fansipan, highest mountain of Indochina
​Private tours
Vegan-friendly
Buy Cable Ticket Online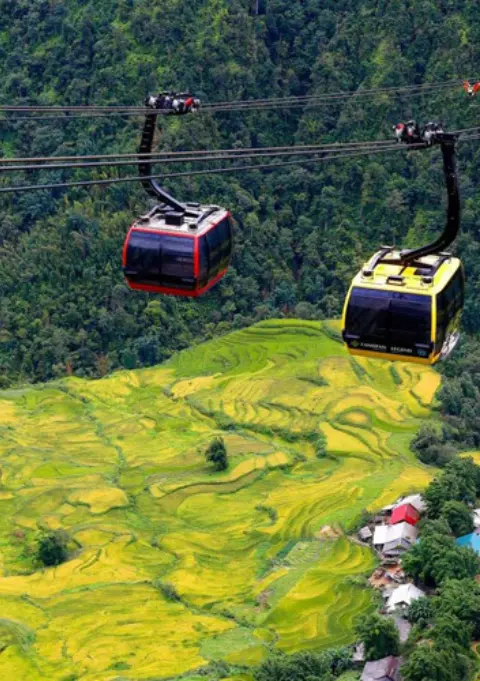 [QR Code] Buy Fansipan Cable Car Tickets Online
Non-refundable
Present your e-voucher
Fixed-day ticket
Admission with voucher
Safety Considerations
Ready to conquer Fansipan Mountain? Well, before you do that, there are some safety considerations you should keep in mind. After all, the last thing anyone wants is for their expedition up Mount Fansipan to be a complete disaster! To help ensure your trip is accident-free and enjoyable, here's a list of safety tips and tricks:
First off, make sure you've got the right climbing gear. Good quality mountaineering equipment will not only protect you from potential hazards but also improve your performance on the mountain. Don't forget about any protective clothing like waterproof jackets and pants as well as helmets and harnesses – these can save lives! Plus, it never hurts to brush up on your mountaineering skills before heading out on an adventure like this one.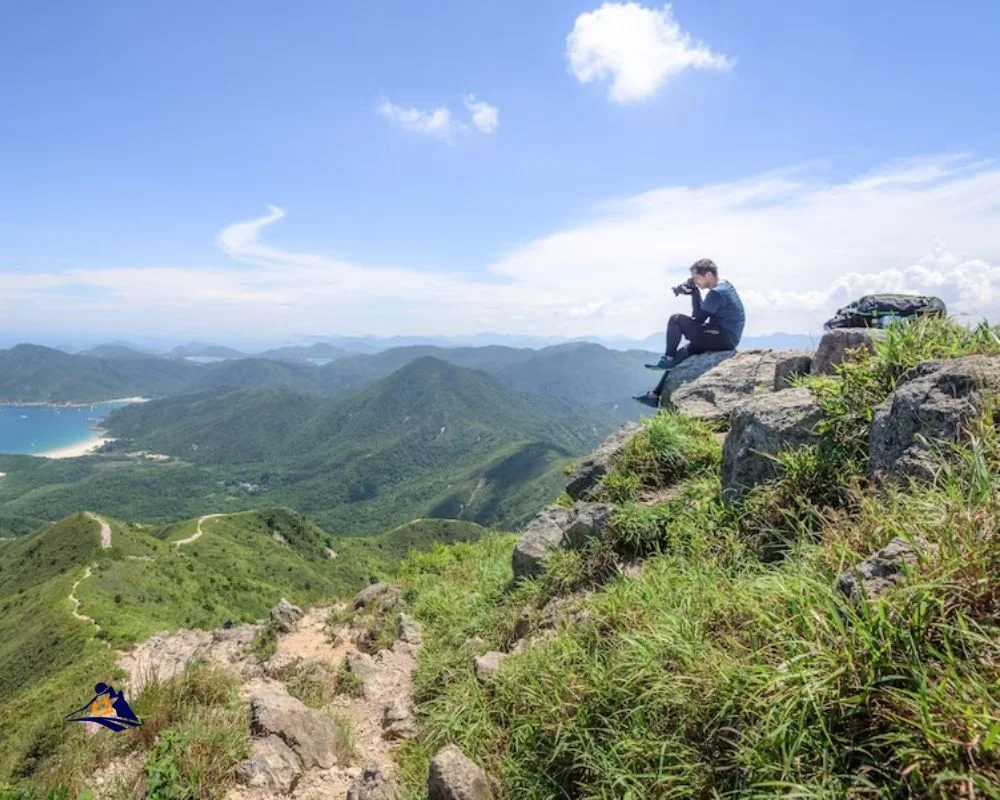 Second, familiarize yourself with the terrain and plan appropriately. Be aware of common hiking trails and know what type of altitude sickness signs or symptoms might arise during your journey. This way you'll be prepared if anything goes wrong so you don't get stuck in a tricky situation without access to medical assistance.
And finally (without saying 'in conclusion'!), staying safe while trekking Fansipan mountain isn't hard – just use common sense when planning your route and come equipped with the right supplies. With those precautions taken care of, let's move on to discussing the amazing flora and fauna found on this majestic peak!
Flora And Fauna
Leaving safety considerations behind, let's explore the spectacular flora and fauna of Fansipan Mountain. This majestic mountain is home to an array of plants and wildlife species. From climbing plants that scale its slopes to endangered animals that make it their habitat, there's a lot to discover here.
For those looking for a truly unique experience, hiking up Fansipan Mountain will be a rewarding one. Along the way, you'll come across various mountain flora such as rhododendrons, orchids, and magnolias. You might even spot some rare wildflowers like rhubarb-leaved gentians! There are also many varieties of mushrooms growing in its forests; some with medicinal properties that have been used by locals for centuries.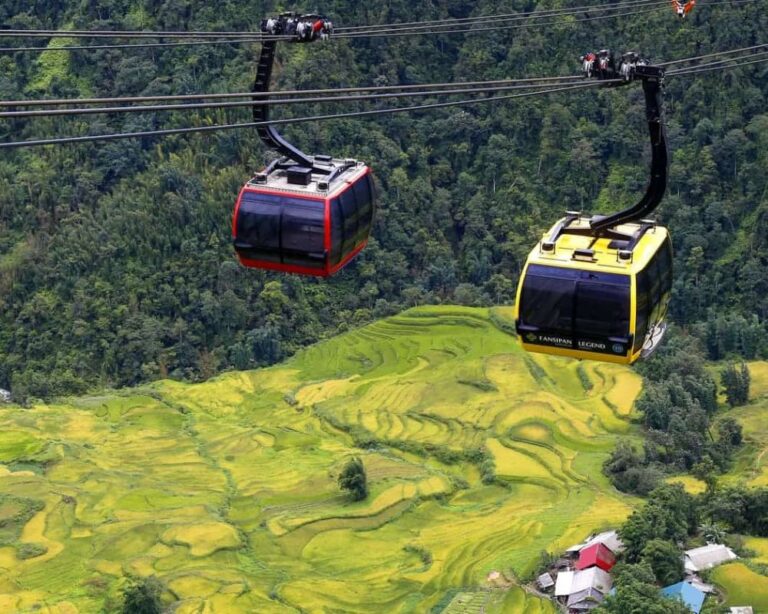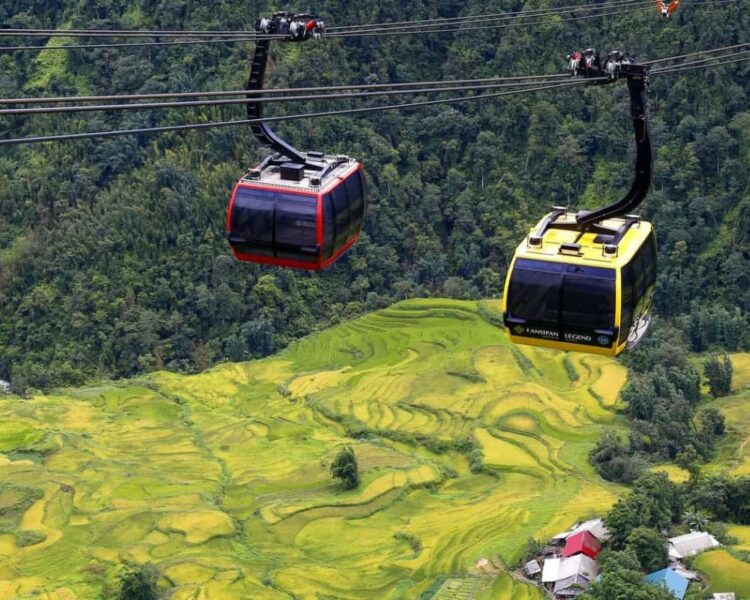 The animal life on the mountain is just as diverse too. Here you can expect to find everything from black bears and sambar deer to gibbons and langurs. There are also several endangered species living on Fansipan Mountain such as red pandas, Asian golden cats, Asiatic Black Bears, and Chinese pangolins. All these animals live in harmony amongst this beautiful landscape making it a true paradise for nature lovers everywhere.
This amazing environment has something special for everyone who visits – whether they're looking to hike through lush green forests or observe breathtaking views from high altitudes – but no matter what activity you choose during your visit here, always respect the delicate balance between man and nature! With that thought in mind, let's move on now to look at weather conditions around Fansipan Mountain…
Fansipan Hiking 1 Day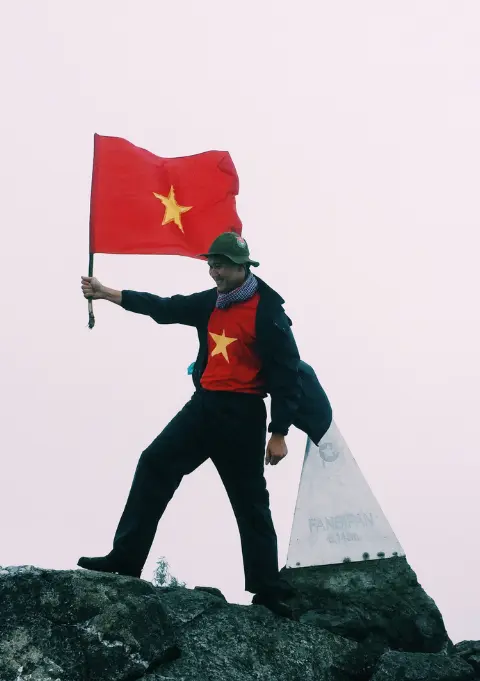 1 day fansipan experience
Moderate to challenging
Cultural immersion & active adventure
Visit Fansipan, highest mountain of Indochina
​Private tours
Vegan-friendly
Fansipan Trekking 2 Days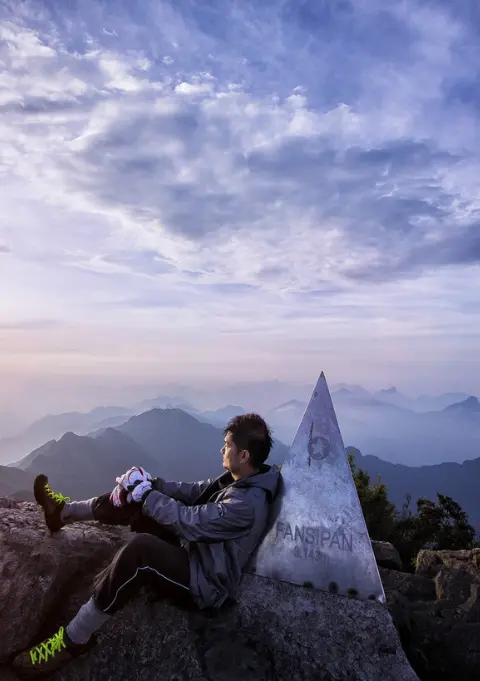 2 days 1 night fansipan experience
Moderate to challenging
Cultural immersion & active adventure
Visit Fansipan, highest mountain of Indochina
​Private tours
Vegan-friendly
Buy Cable Ticket Online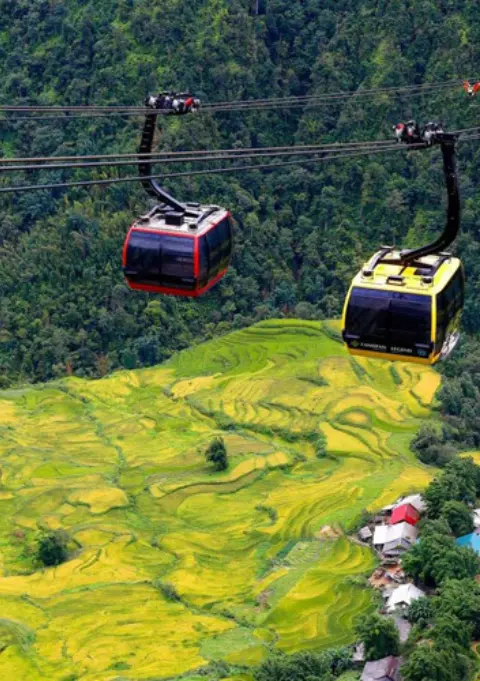 [QR Code] Buy Fansipan Cable Car Tickets Online
Non-refundable
Present your e-voucher
Fixed-day ticket
Admission with voucher
Weather Conditions
Perched atop the clouds, Fansipan Mountain is a treasured destination in Southeast Asia. With its majestic beauty and lush greenery, it's no wonder why many flocks to its heights year-round. Knowing what weather conditions await you can help plan an unforgettable adventure. Here are four key points to consider:
Temperature Forecast: The temperature at Fansipan Mountain is known for being quite cool throughout the year. It ranges from highs of 75 degrees Fahrenheit (24°C) in April and May up to lows of 45 degrees Fahrenheit (7°C) from November through February.
Rainfall Patterns: Generally speaking, there is little rainfall on Fansipan Mountain with most occurring during August and September when typhoons bring heavy showers.
Wind Speed: At higher elevations like Fansipan Mountain, wind speed should be taken into consideration as gusts may reach 60 miles per hour or more depending on the time of year.
Humidity Levels: Relative humidity levels remain high throughout much of the year hovering around 90% due to its location near numerous bodies of water including Halong Bay, Lang Boi Lake, Red River Delta, and Mekong River Basin.
With this knowledge in tow, travelers can prepare themselves for any potential weather conditions they might encounter while visiting Fansipan mountain. Armed with this information, adventurers can now assess their options for accommodations that will best suit their needs!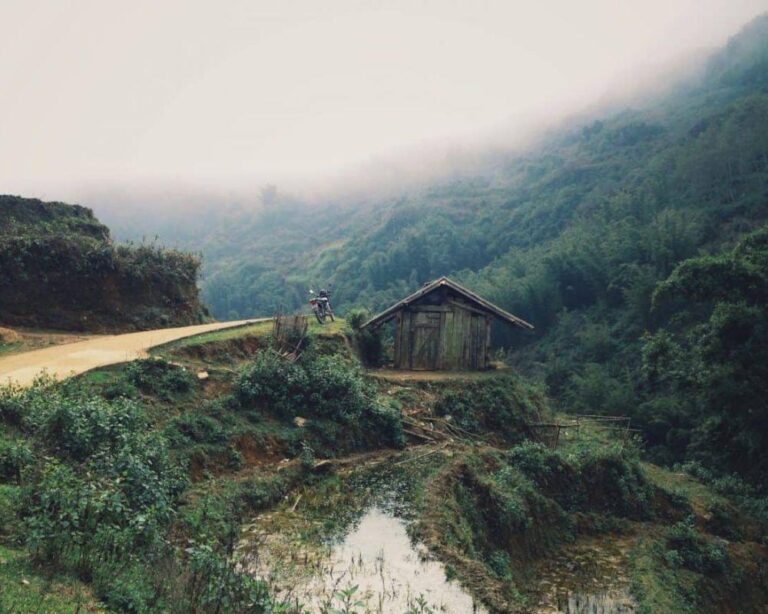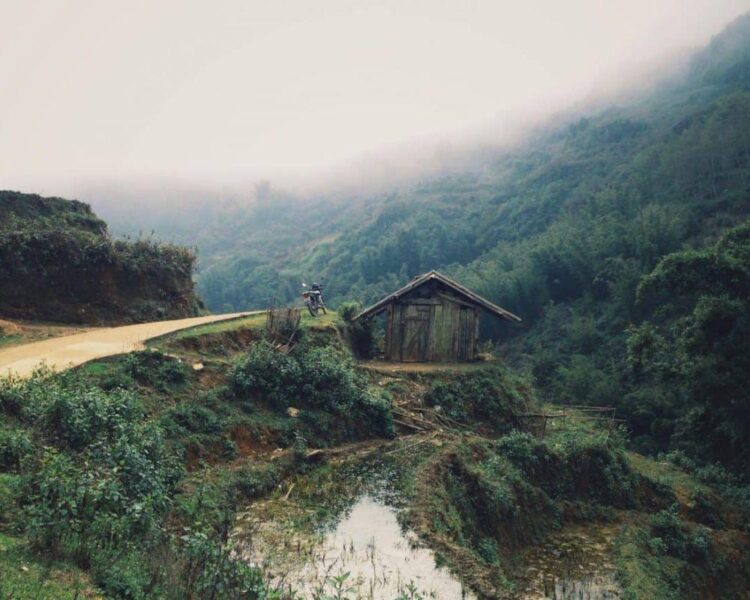 Accommodations
When it comes to accommodations near Fansipan Mountain, you have plenty of options. From mountain lodges and cabins to luxury hotels located in nearby towns or villages, there is something for everyone. Whether you're looking for a secluded getaway or an opportunity to be close to city life again, there are lodging options that will meet your needs.
For those seeking a more rustic experience when staying near Fansipan Mountain, several mountain lodges offer comfortable rooms with access to nature trails and activities such as bird watching and hiking. These lodges provide guests with all the amenities they need while allowing them to explore their surroundings. Additionally, these properties often feature restaurants serving local cuisine that honor traditional Vietnamese recipes.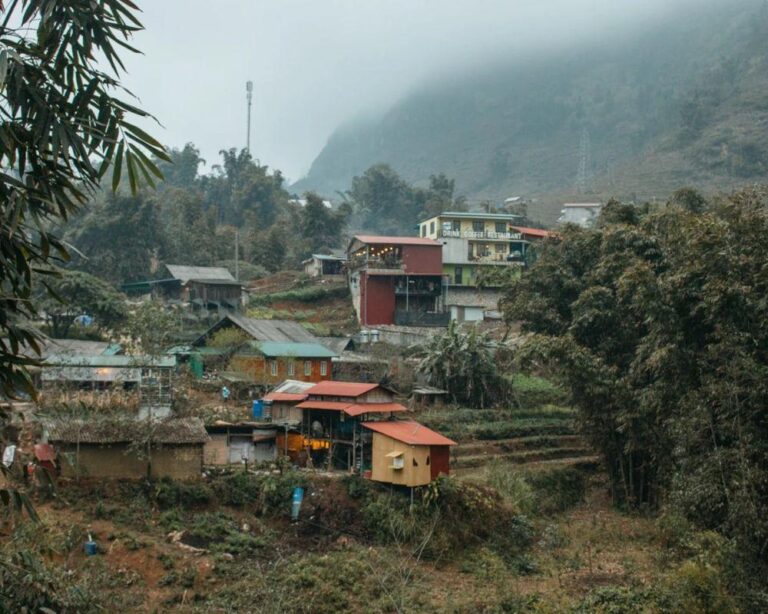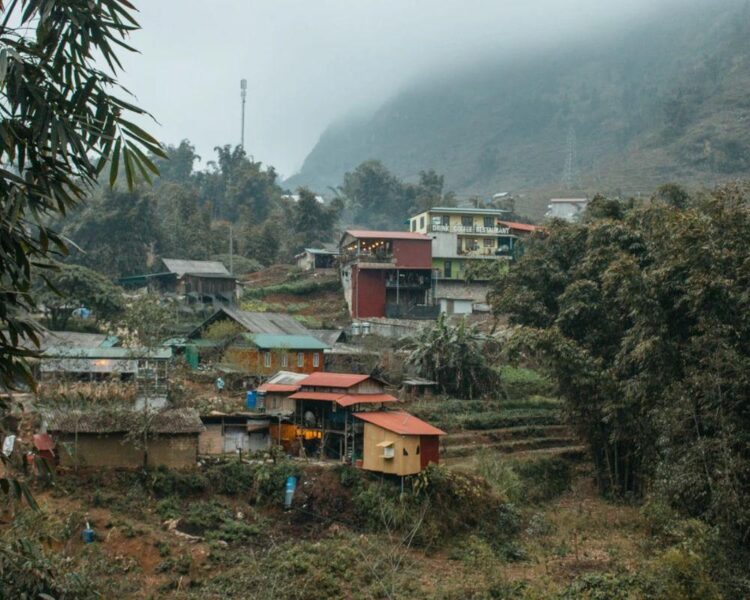 On the other hand, if you want a bit more modern accommodation options near Vietnam Fansipan Mountain, then consider locations closer to cities like Sapa or Hanoi which can provide easy access to shopping centers, nightlife, and international flavors. Numerous upscale resorts are offering high-end services including spa treatments, free Wi-Fi, and even private pools depending on the package chosen. Furthermore, some of these hotels also have fitness centers where guests can enjoy daily workout sessions after exploring the area around Fansipan Mountain during the day.
Fansipan Hiking 1 Day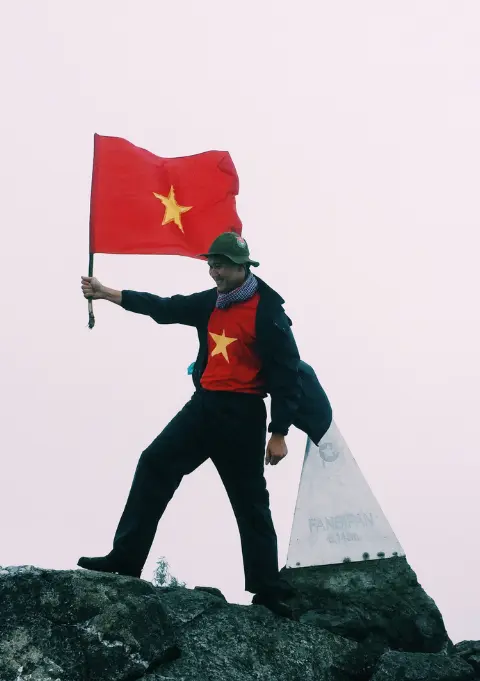 1 day fansipan experience
Moderate to challenging
Cultural immersion & active adventure
Visit Fansipan, highest mountain of Indochina
​Private tours
Vegan-friendly
Fansipan Trekking 2 Days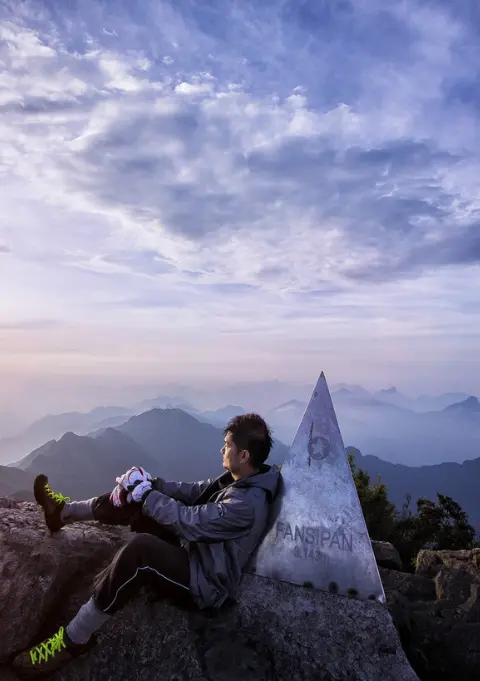 2 days 1 night fansipan experience
Moderate to challenging
Cultural immersion & active adventure
Visit Fansipan, highest mountain of Indochina
​Private tours
Vegan-friendly
Buy Cable Ticket Online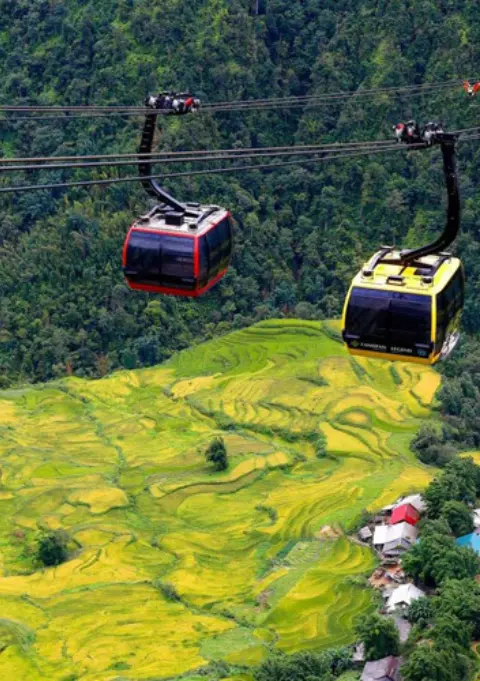 [QR Code] Buy Fansipan Cable Car Tickets Online
Non-refundable
Present your e-voucher
Fixed-day ticket
Admission with voucher
No matter what type of accommodations you choose when visiting this region of Vietnam, rest assured that you'll find many opportunities to relax while enjoying stunning views at every turn! As we move onto our next topic about nearby attractions…
Nearby Attractions
The lush beauty of Sapa Fansipan Mountain is a sight to behold, like something out of a fairytale. The nearby attractions provide an opportunity for visitors to truly immerse themselves in the local culture.
For those who enjoy trekking, there's no better way to take in the sights than hiking up this magnificent mountain range. From the summit, you can witness spectacular views that will stay with you long after you've gone home. For those who are less adventurous, taking the cable car up allows one to still appreciate all that nature has to offer from high above the clouds.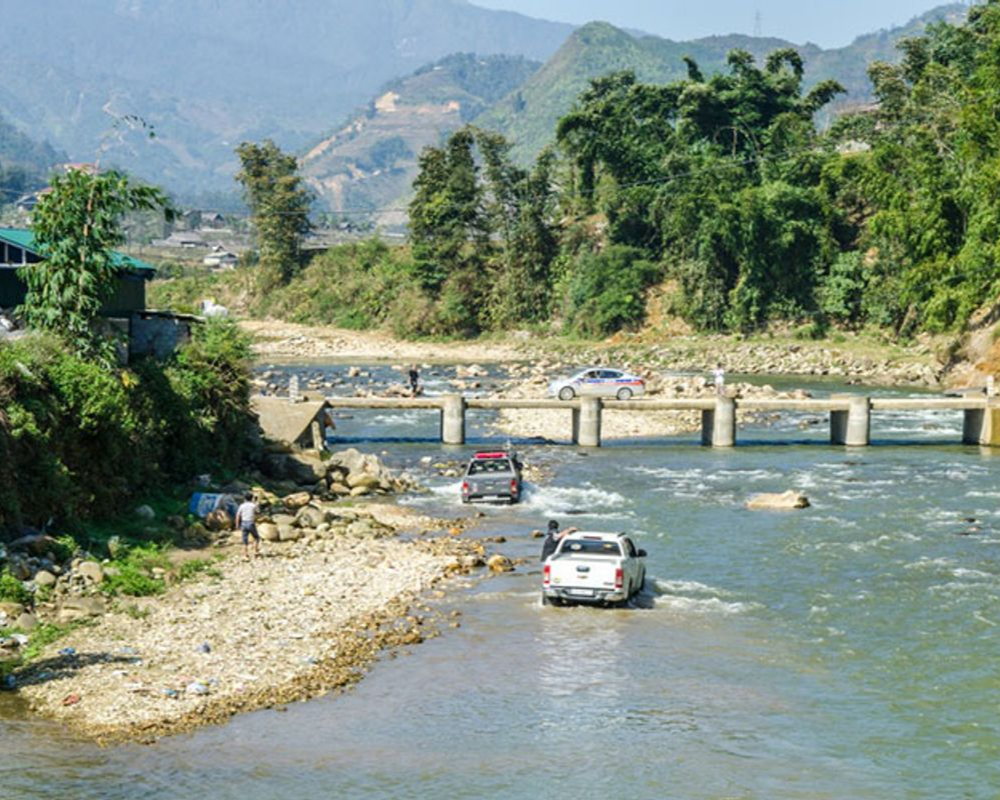 It's also worth exploring Sapa Town and visiting Thac Bac waterfall or Ta Phin village if your time permits it. These quaint places have much more to offer than meets the eye; they're bursting with stories and secrets waiting patiently to be heard or discovered.
From its natural wonders to its cultural significance, Fansipan Mountain is undoubtedly a destination worthy of exploration.
Sapa 1 Day Tours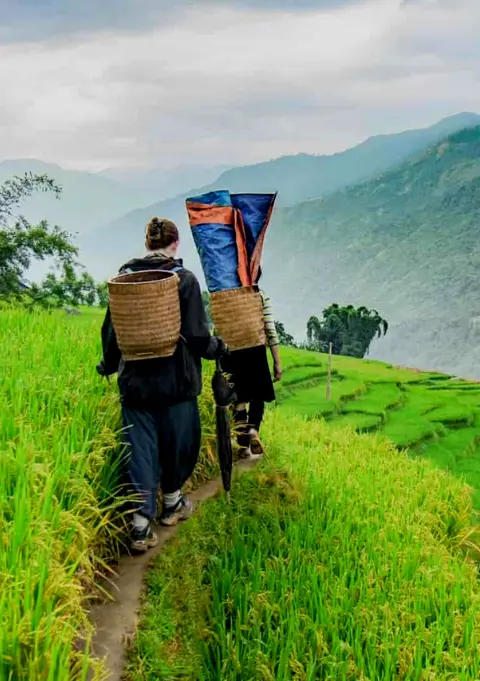 1 day experience
Moderate to challenging
Cultural immersion & active adventure
Rice fields, valleys & villages
​Private tours
Vegan-friendly
Sapa 2 Day Tours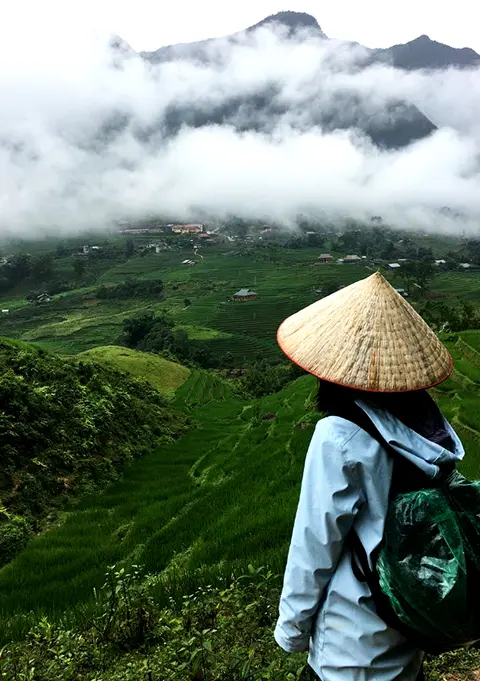 2 days 1 night experience
Moderate to challenging
Cultural immersion & active adventure
Mountains, valleys, rice fields and villages
​Private tours
Vegan-friendly
Sapa 3 Day Tours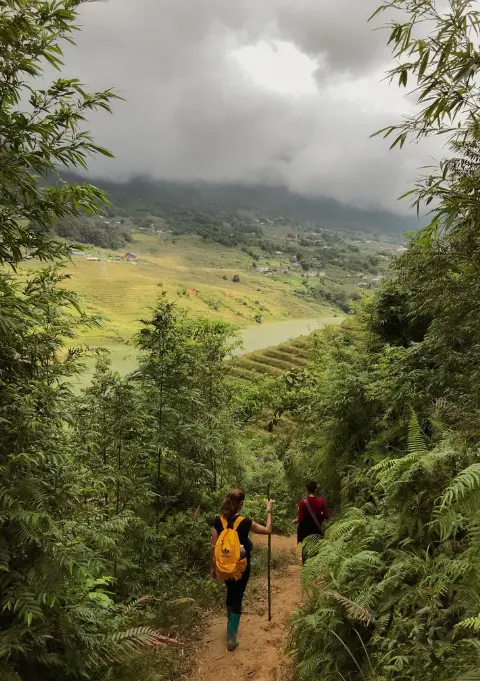 3 days 2 night experience
Moderate to challenging
Cultural immersion & active adventure
Mountains, valley, rice fields & villages
​Private tours
Vegan-friendly
Sapa 4 Day Tours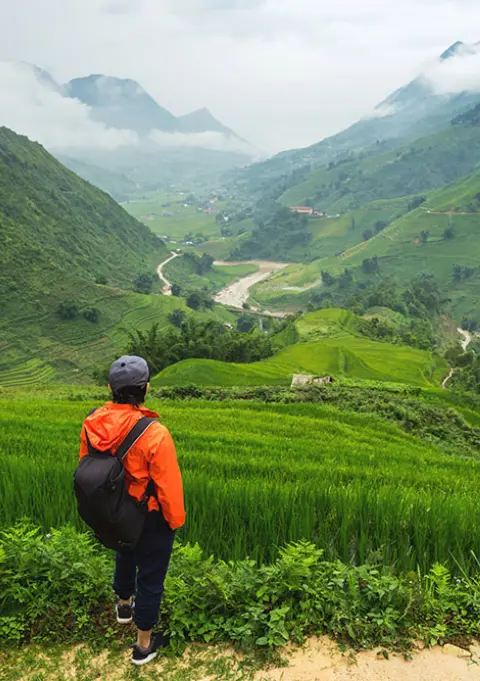 4 days 3 night experience
Moderate to challenging
Cultural immersion & active adventure
Mountains, valleys, rice fields & villages
​Private tours – Less Touristic
Vegan-friendly
Cultural Significance
Fansipan Mountain is a cultural beacon in Vietnam, with its rich history and indigenous practices. To this day it still plays an important role in the local legends and stories of the region. It has been said that those who climb to the summit are blessed by the gods and receive good luck for years to come.
For centuries, Fansipan has been part of Vietnamese culture, becoming an integral part of their collective history. Many locals consider it a sacred mountain, honoring its spiritual significance through traditional ceremonies and rituals each year. As such, it holds great importance both culturally and historically.
| Cultural Significance | Local Legends |
| --- | --- |
| Part of History | Indigenous Practices |
| Cultural Importance | Blessing from Gods |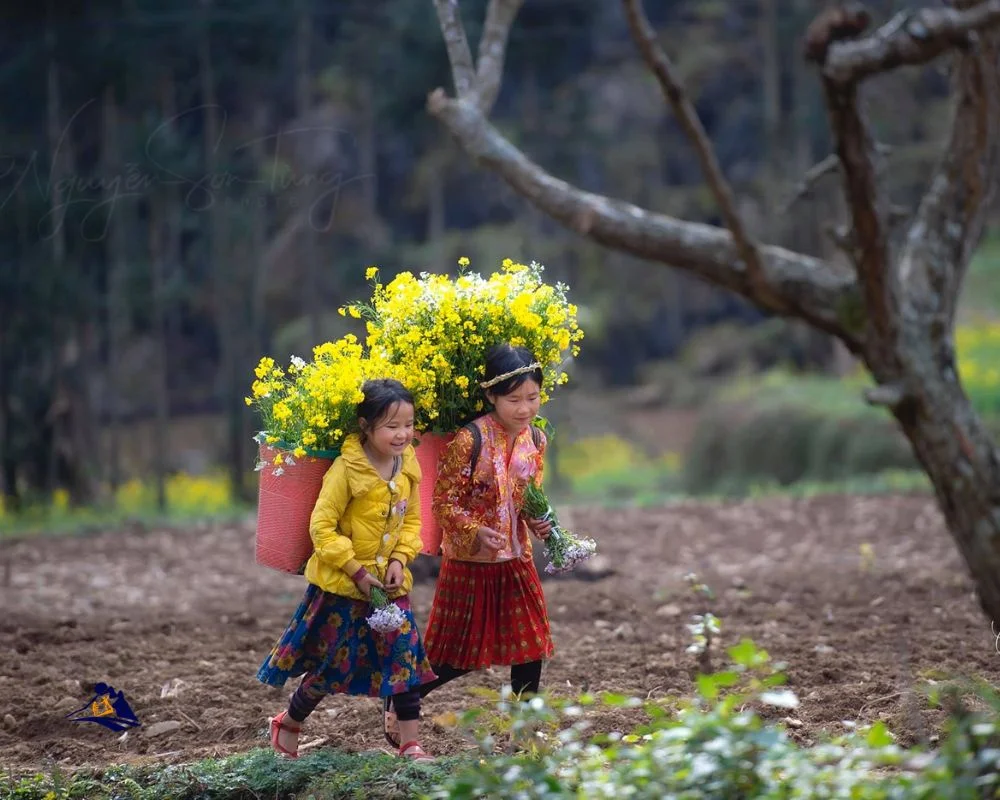 The symbolic importance of Fansipan Mountain cannot be denied; for many people living nearby, it is more than just a tourist attraction or hiking destination – it is deeply intertwined with their cultural identity and beliefs. This is why so many make the pilgrimage to its peak every year, hoping to gain insight into themselves or experience something profound during their journey up the mountain.
Fansipan Mountain Frequently Asked Questions
What Is The Cost Of Entrance To Fansipan Mountain?
For those seeking an adventure, climbing Fansipan Mountain is a must-do experience. But what will it cost to make this journey? From entrance fees to the costs of climbing, we'll delve into the details and help you plan your budget accordingly.
First things first – entrance fees. Climbers should expect to pay between 40-50 USD for tickets at the base camp of Fansipan mountain. While these fees can vary depending on discounts or special offers, they provide access to all areas within the park up until sunset time on the day purchased. This includes trails leading up to various points along its summit as well as services such as cable cars that take passengers from one end of the mountain range to another.
As for additional costs associated with climbing Fansipan, many climbers opt for guides who are familiar with navigating through treacherous terrain and know how best to traverse dangerous sections safely. These individuals typically charge around 20-30 USD per hour spent guiding a group of hikers along their route and may also include equipment rental if necessary. Additionally, food and water supplies usually need to be carried by each climber since restaurants and shops in the area cannot always guarantee access during peak season months.
So if you're looking for an unforgettable journey filled with breathtaking views atop Fansipan Mountain, make sure you take into account both ticket prices and potential extra charges before taking off! With proper planning and preparation ahead of time, you'll be able to fully enjoy every moment without worries of unexpected expenses creeping up on you along the way.
Are There Any Restaurants Or Cafes Located Nearby?
Are there any restaurants or cafes located nearby? If you're looking for dining options in the area, then look no further. There are plenty of places to grab a bite near Fansipan Mountain. From classic Vietnamese cuisine to international fare, this natural wonder has something for everyone's taste buds.
For those seeking out traditional Vietnamese food, there are many cafes and restaurants near Fansipan that offer up local favorites like pho and banh mi. These eateries provide an authentic experience at affordable prices and make it easy to explore the flavors of this part of the country. For visitors wanting a more eclectic meal, they can find plenty of restaurants offering both Western-style dishes as well as other regional specialties from around Southeast Asia.
If you're just looking for a quick snack or beverage while exploring Fansipan Mountain, there are also several food spots nearby where you can get your fill. Whether it's an ice cream cone or a cup of coffee, these eating spots serve up tasty treats promptly so you can continue with your adventure without worrying about going hungry!
So whatever kind of culinary craving hits when visiting Fansipan Mountain – whether it's traditional Vietnamese eats or something more exotic – rest assured that there are sure to be options close by that will satisfy even the most discerning palates.
Are There Any Guided Tours Available?
Are there any guided tours available? If you're looking for a unique, once-in-a-lifetime experience, then exploring Fansipan Mountain with a guided tour might be the perfect way to do it. Guided tours offer visitors a chance to explore an incredible natural landscape while learning more about its history and culture from experienced guides. From discovering hidden gems among the mountainside's lush forests to taking part in traditional activities like fishing or rafting, there are plenty of options when it comes to choosing the right tour package.
When planning your trip, it's important to consider how much time you have as well as your budget. There are many different tour operators offering packages at various prices depending on what type of experience you're after. Tour guides are also readily available who can show you around and provide insights into local traditions and customs. Prices typically depend on duration and level of comfort but generally range between reasonable and affordable rates.
No matter which option you choose, taking a guided tour of Fansipan Mountain is sure to leave you with lasting memories that will stay with you long after your journey ends. With so many amazing sites and experiences just waiting to be discovered, now is the perfect time to book one of these exciting tours and explore all that this stunning destination has to offer!
What Is The Best Time Of The Year To Visit Fansipan Mountain?
Have you ever been left wondering when is the best time of the year to visit a place? Whether it be for vacation or just an exploration, this question can often become tricky. When it comes to Fansipan Mountain, many variables will determine what could be the optimal time to make your visit.
Let us begin with some key points about Fansipan mountain and its visiting season:
Best Time of Year To Visit – The dry season between October and April (optimal time to visit)
During these months, visitors have more chances of seeing clear skies and enjoying their stay at Fansipan Mountain. Also, during this period, temperatures tend to remain milder than at other times of the year.
Worst Time Of Year To Visit: May through September (time of year not ideal to visit Fansipan)
This is considered monsoon season in Vietnam which means heavy rainfalls resulting in mists on top of the mountain which block views as well as make trails slippery and dangerous.
Therefore, if you're looking for a spectacular view from atop Fansipan Mountain without having to worry about weather conditions interfering with your plans, then planning your trip during October and April would be your best bet! Apart from being able to enjoy amazing views from atop the highest peak in Indochina, visiting during these months also allows you to experience outdoor activities such as trekking and cycling while taking advantage of all that nature has to offer. Additionally, since fewer tourists venture out during those periods due to poor visibility caused by foggy days or wetter seasons, you might even get lucky enough to find yourself in one of those rare moments where you'll have the entire mountain all for yourself!
Are There Any Special Permits Or Documents Needed To Climb Fansipan Mountain?
Are you looking to climb a mountain? If so, there are certain permit requirements and special documents needed. Fansipan Mountain is no exception to this rule. Before heading out on your adventure, it's important to know what climbing permits and/or special documents may be required to safely complete the journey.
Anyone planning on ascending to Fansipan Mountain must obtain a climbing permit from the local government office or tourist information center before doing so. The process for obtaining a climbing permit involves applying along with other necessary paperwork such as identification cards or passports. Additionally, climbers should bring along all of their essential climbing gear including ropes and harnesses, helmets, first-aid kits, and navigation equipment like GPS receivers and maps.
When applying for a climbing permit, individuals might also need to provide additional documents such as proof of medical insurance coverage or proof of prior experience in rock climbing or mountaineering activities. It is highly recommended that every climber obtains these documents beforehand to avoid any complications during their ascent up Fansipan Mountain.
Climbing mountains can indeed be thrilling but they can also be dangerous if one is not adequately prepared. Make sure that when heading up Fansipan Mountain you have all the right paperwork, supplies, and equipment necessary for a safe and successful climb!
Conclusion
I had the opportunity to visit Fansipan Mountain recently, and it was an incredible experience. I'm so glad that I took the plunge and decided to make this journey! The price of admission was surprisingly affordable for such a magnificent destination, and there were plenty of restaurants nearby if you needed something to eat after your climb. Plus, guided tours are offered for those who want some extra help along the way.
The best time to visit is in October-April when the temperatures are cooler and more comfortable for hiking up the mountain. There are no special permits or documents required, which makes things much easier for travelers coming from abroad. After spending several days exploring Fansipan Mountain, I can confidently say that it is one of Vietnam's hidden gems – a must-see for anyone looking for an unforgettable adventure in Southeast Asia!
If you're planning a trip to Vietnam anytime soon, definitely consider taking a detour over to Fansipan Mountain – as long as you come prepared with proper supplies and clothing (and don't forget the sunscreen!), you'll be sure to have an amazing time here. It truly is an unforgettable experience!
Sapa 1 Day Tours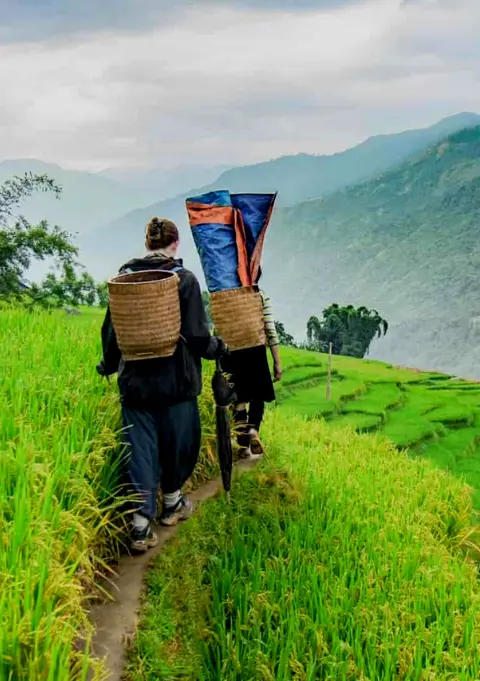 1 day experience
Moderate to challenging
Cultural immersion & active adventure
Rice fields, valleys & villages
​Private tours
Vegan-friendly
Sapa 2 Day Tours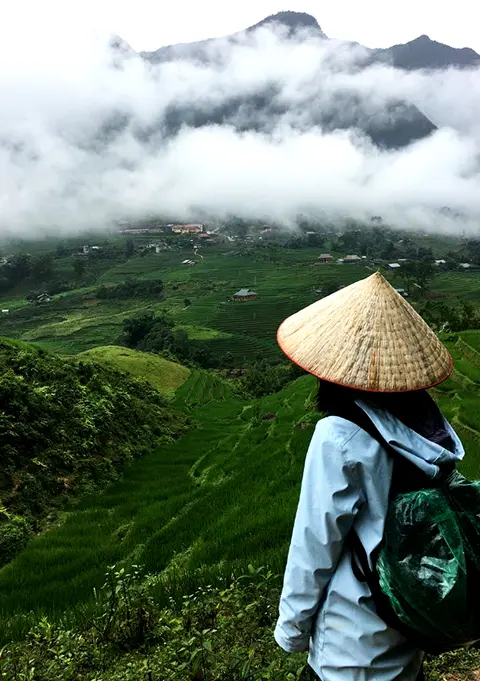 2 days 1 night experience
Moderate to challenging
Cultural immersion & active adventure
Mountains, valleys, rice fields and villages
​Private tours
Vegan-friendly
Sapa 3 Day Tours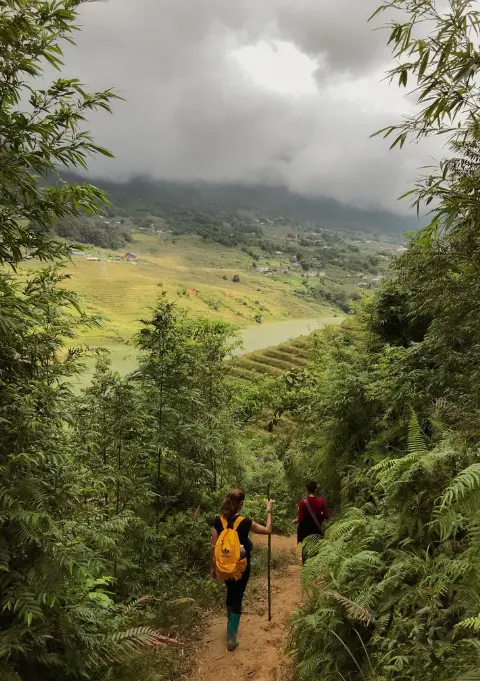 3 days 2 night experience
Moderate to challenging
Cultural immersion & active adventure
Mountains, valley, rice fields & villages
​Private tours
Vegan-friendly
Sapa 4 Day Tours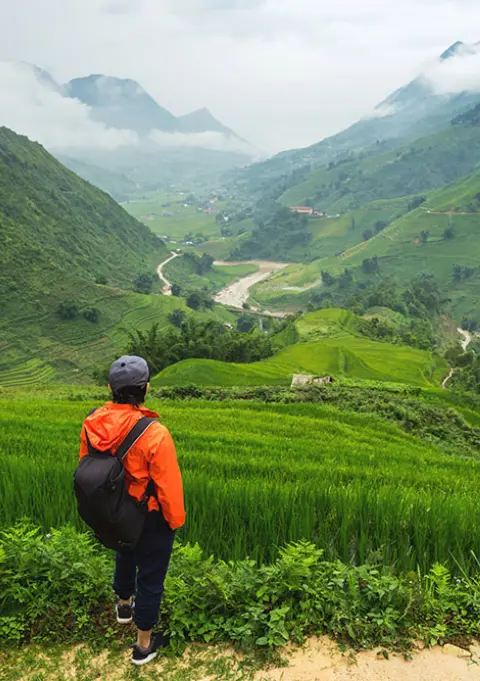 4 days 3 night experience
Moderate to challenging
Cultural immersion & active adventure
Mountains, valleys, rice fields & villages
​Private tours – Less Touristic
Vegan-friendly