Have you ever wanted to explore the world's highest mountain range in Southeast Asia? Well, now you can with the Fansipan Cable Car. This revolutionary cable car experience is giving people a chance to take an unforgettable journey up Mount Fansipan and explore this majestic region like never before. It's an incredible opportunity for anyone who loves adventure and wants to see something truly spectacular!
As a senior writer/editor on the Fansipan Cable Car project, I have been privileged enough to witness its development from conception right through to completion. What started as merely an idea has become reality – and it's even more breathtaking than we could have imagined. The cable car brings passengers over lush valleys up to 3143 meters above sea level, providing some of the most beautiful views imaginable along the way. And at the summit, there are panoramic vistas that will leave you speechless – not just because of their beauty but also due to their symbolism of freedom.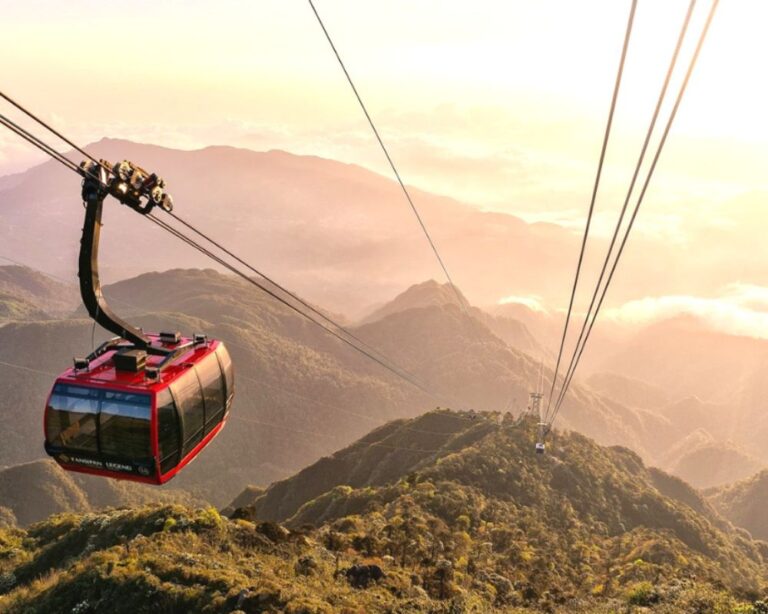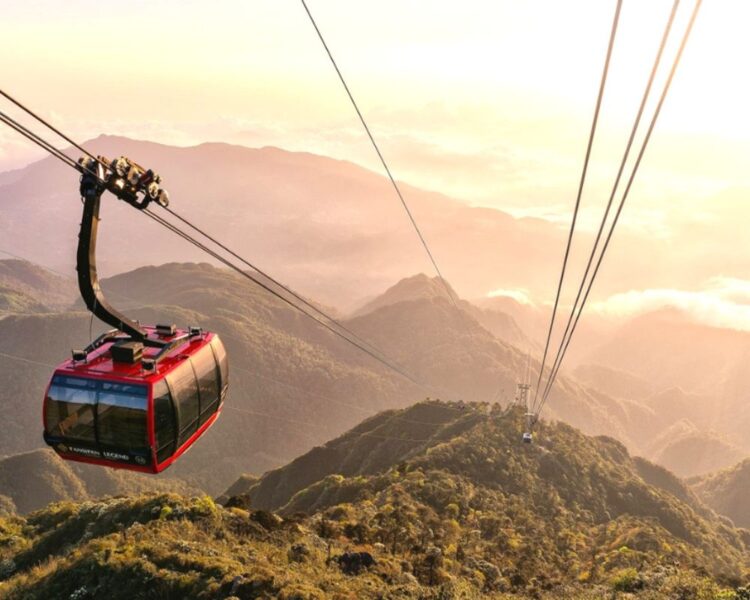 So if you're looking for a unique travel experience with plenty of thrills, then look no further than the Fansipan Cable Car. Its combination of natural wonders and state-of-the-art technology makes it one of the best ways to get away from it all while still being close enough to touch nature itself. Get ready for your trip into a paradise that was made just for adventurers like yourself!
Overview Of Mountain Fansipan
Mount Fansipan is the highest peak in Vietnam, standing at 3,143 meters. It's located near Hoang Lien Son National Park and Sapa Town in Lao Cai Province. Its majestic beauty draws visitors from all over the world who come to experience its breathtaking views.
The mountain has long been a symbol of adventure for many intrepid souls seeking an escape from their everyday lives. The incredible landscape provides a sense of freedom that can't be found anywhere else. From the lush green valleys below to the snow-capped summit above, it truly is one of nature's finest creations.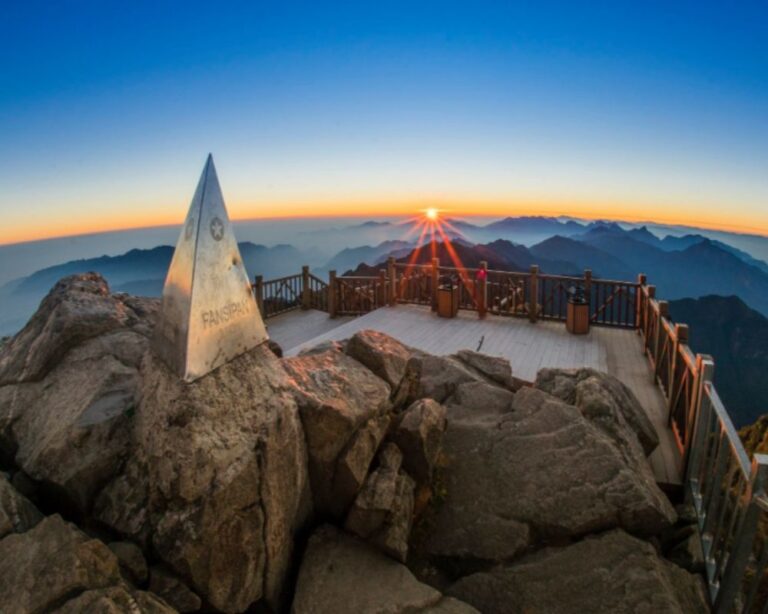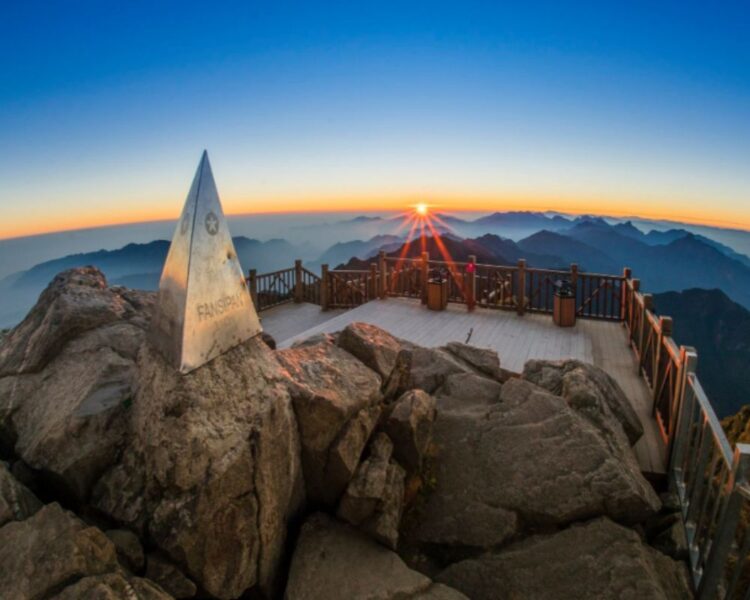 For those looking to explore Mount Fansipan without having to endure a physically demanding climb, there's now an alternative – taking the cable car up! This modern system offers an easy way to get close to heaven and experience stunning scenery like never before. With its comfortable cabins and impressive engineering feats, this journey promises unforgettable memories as you ascend toward your destination on top of Mountain Fansipan. Ready for more details? Let's take a closer look at how this amazing cable car system works…
Details Of Sun World Fansipan Legend Cable Car System
Have you ever wondered how a cable car system works? Fansipan Cable Car is an engineering marvel and operates on cutting-edge design. It's composed of several key elements, such as the cables that carry passengers up and down the mountain, the towers that support those cables, and the cars themselves. The engineering behind this system is quite complex but it all comes together to create one of the most thrilling experiences in Vietnam.
The design of each component must be considered carefully before installation. Each tower must be built with exact specifications to ensure its stability and integrity; likewise for the cars which are designed for maximum passenger safety. Engineers also have to consider factors such as topography, weather conditions, and other environmental variables when designing a successful cable car system.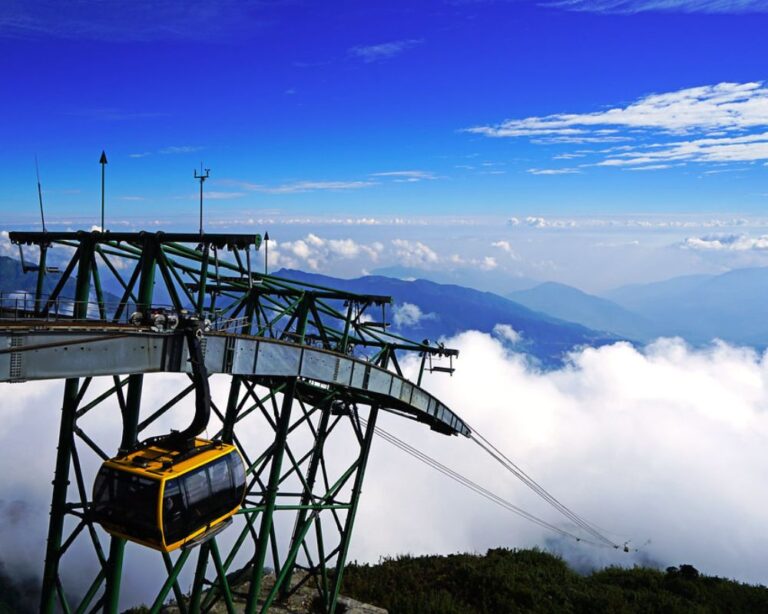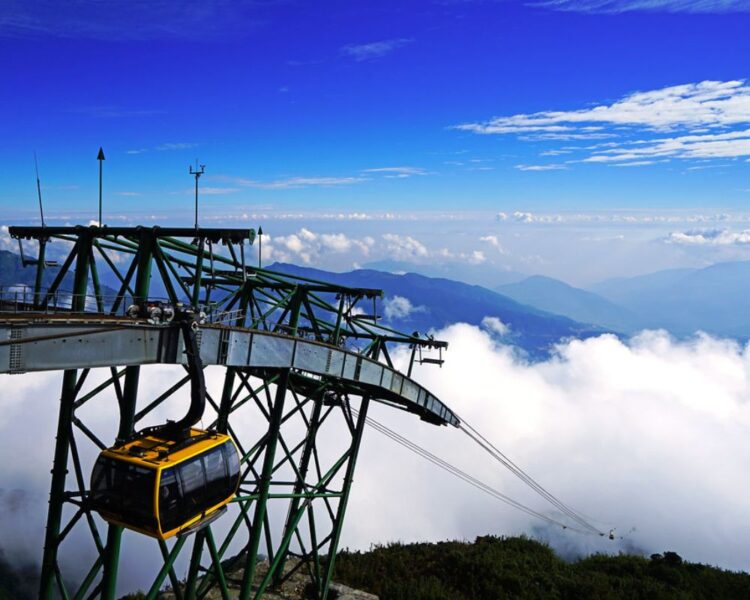 Maintenance of these systems is paramount – regular inspections are conducted to guarantee their safe operation. The mechanics involved often include lubrication of moving parts, replacing damaged components, or ensuring proper tensioning of cables. All these tasks aim to keep the Fansipan cable car running smoothly while providing optimal performance with minimum downtime.
With careful planning and meticulous attention to detail, engineers can construct a world-class cable car system that will thrill visitors from around the world for years to come. Next, we'll take a look at the history behind the construction of Fansipan Cable Car…
History Of Sunworld Fansipan Legend Cable Car Construction
The construction of the Fansipan Cable Car has been a feat of engineering and ingenuity, spanning more than two decades in its building history. The first plans for constructing this cable car system on Vietnam's tallest mountain, Mount Fansipan, began in 1993 as part of an effort to boost tourism to the region. With over three kilometers of track and a total journey time of just fifteen minutes, tourists can now enjoy breathtaking views from the top of Fansipan without having to climb it!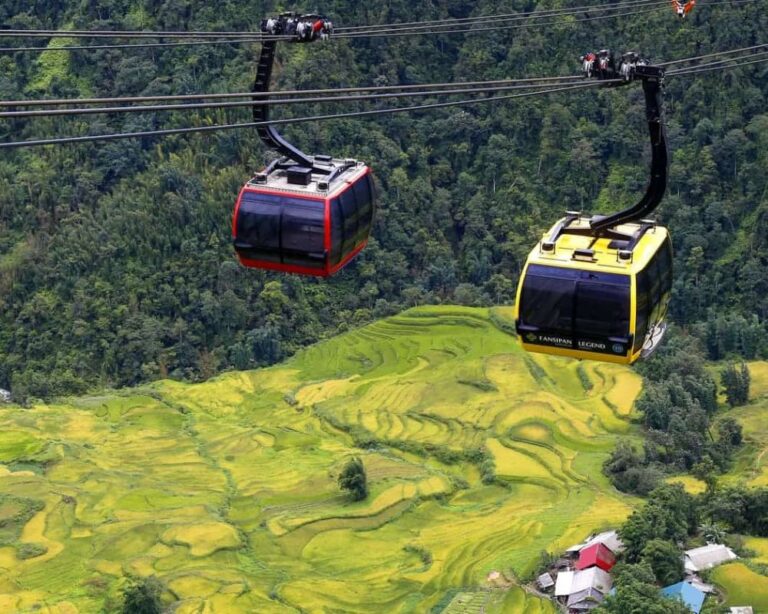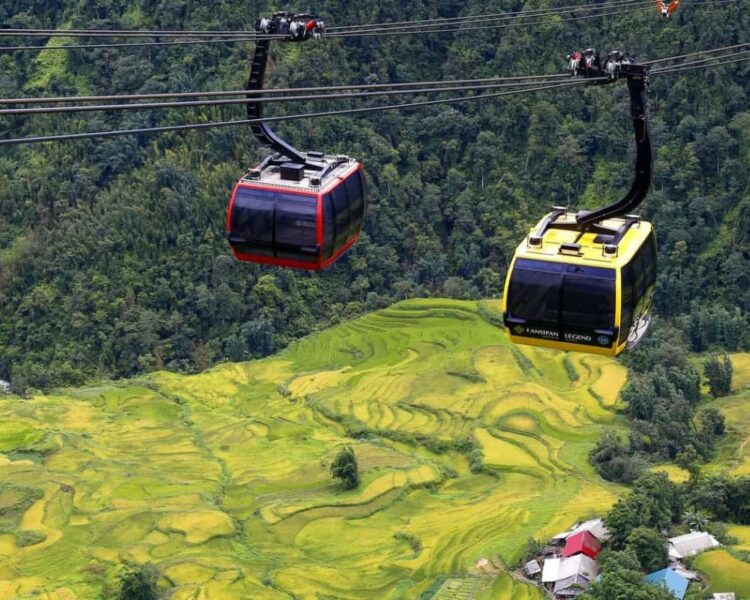 Throughout cable car construction, there have been many challenges that engineers had to overcome before finally completing the project in 2016. For example, due to differences in altitude between points along the route, engineers had to devise ways to ensure that the cars travel at consistent speeds throughout their journey. In addition, special consideration was given to safety features such as automatic brakes which would be triggered should any irregularities occur during operation.
From the concept stage right through to completion and opening day celebrations, Fansipan Cable Car has become one of Vietnam's most popular tourist attractions – offering passengers unparalleled views across Sapa Valley and beyond while providing a safe and comfortable journey experience. As we move into learning about the types of cables used by Fansipan Cable Car – it is worth noting how much work went into making sure everything runs smoothly since its successful launch 4 years ago!
Types Of Fansipan Cable Car Station
The Fansipan Cable Car is renowned for its advanced cable car engineering. To understand the system, it's helpful to look at the different types of cables and their construction used in aerial ropeway systems. Take a hypothetical example: an 8-person gondola was recently constructed with steel ropes connected to the towers and supporting both horizontal and vertical forces. The wire rope design features two parallel strands of wires twisted together, which provide extra strength while reducing wear on other components.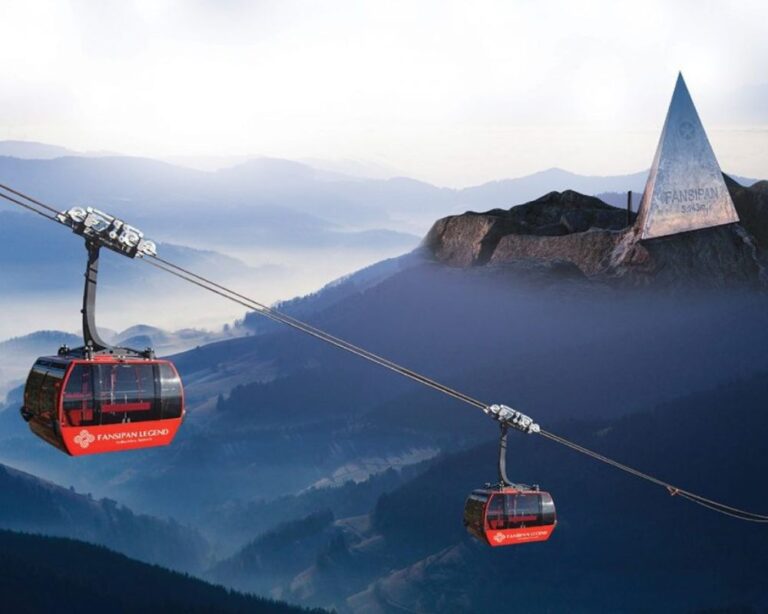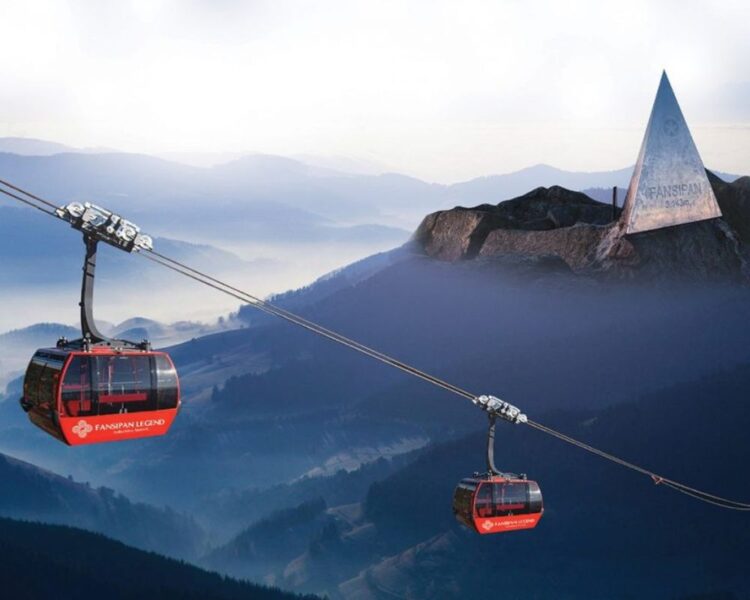 In addition, several layers of protective sheathing enhance safety by minimizing friction damage caused by the movement of passengers within the cabin or strong winds outside. These cables have been tested for tensile strength to ensure maximum performance when transporting guests up and down the mountain. Furthermore, special rubber insulation helps maintain flexibility even under extreme weather conditions like heavy snowfall or wind speeds exceeding 20 meters/second (approx 44 miles per hour).
Finally, all these materials are selected according to strict quality standards set forth by international regulations governing cable cars and aerial ropeways. This commitment to excellence has enabled Fansipan cable car engineers to create a highly reliable transportation system that can safely move thousands of people each day without incident.
Features And Benefits Of Fansipan Legend Cable Car Station
Having discussed the types of cables used in cable cars, we now turn our attention to the features and benefits of the Fansipan cable cars. This advanced system has been designed with safety, efficiency, and comfort in mind. It offers breathtaking mountain views as you ascend Fansipan peak, ensuring that riders have a memorable experience every time they ride it.
The features found on this cable car include comfortable seating areas, spacious cabins, and an efficient braking system. Furthermore, there is also an environmental impact assessment conducted regularly to ensure the sustainability of the project. The ticket prices are competitive when compared to other cable car systems around the world, making it an attractive option for travelers looking for a unique way to explore Fansipan peak.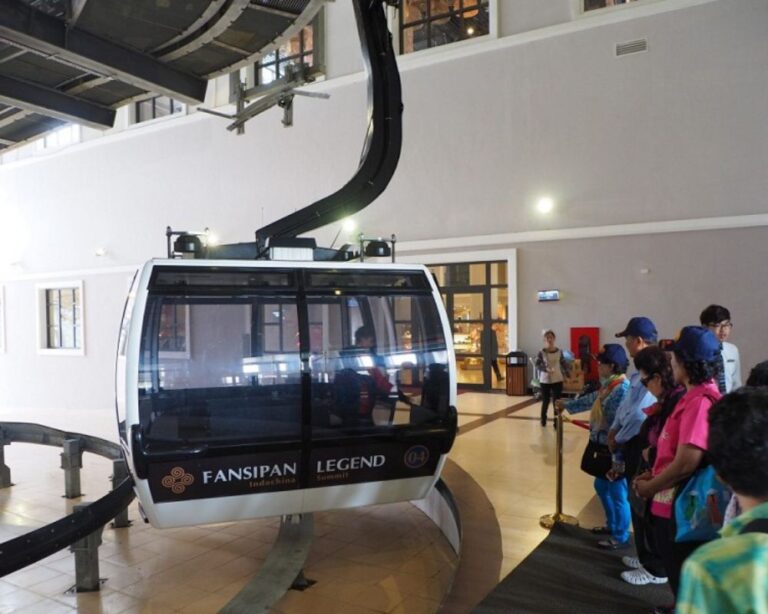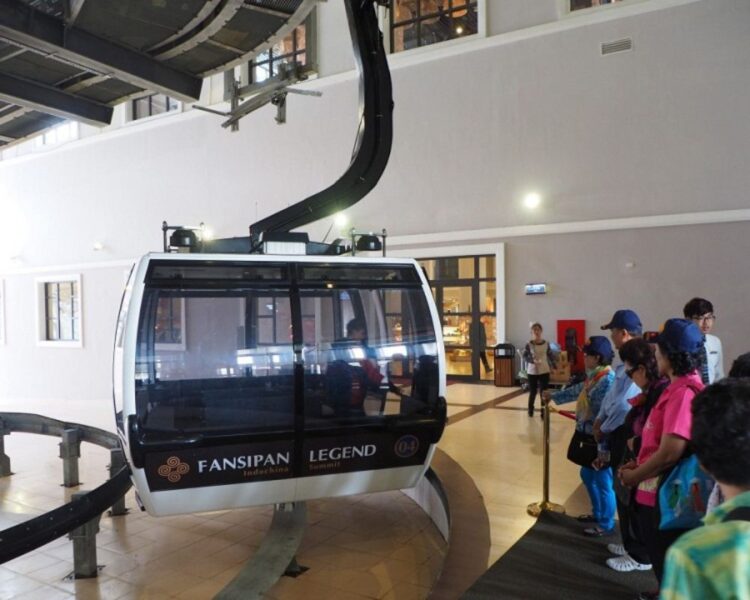 Looking ahead into the future, plans are already in place to expand the capacity of the Fansipan cable car by adding additional lines and increasing its speed limits. In addition to these projects, improvements will be made to enhance customer service such as adding more staff members or widening platforms for easier access. All these measures show how committed the team at Fansipan cable car is to provide a safe and enjoyable journey for all passengers who use their services.
With all these amazing features and benefits that come from riding the Fansipan cable car, one can easily see why so many people choose it as their preferred mode of transportation when traveling up Fansipan peak. Now let's look further into the cost and ticket prices associated with taking this scenic journey!
Fansipan Cable Car Ticket Price
Exploring Fansipan via cable car is an unforgettable experience. But it's important to know the costs and ticket prices before embarking on your journey. We'll provide you with a breakdown of all the prices for tickets so that you can plan accordingly!
If you're looking for Fansipan tickets, there are several different price points available. The standard fare is 400,000 VND (approximately 17 USD) per person round trip and 200,000 VND (around 8 USD) one way. If you want to upgrade to our first-class service, the cost rises to 600,000VND (25USD). This includes access to exclusive lounges as well as complimentary refreshments during the ride-up!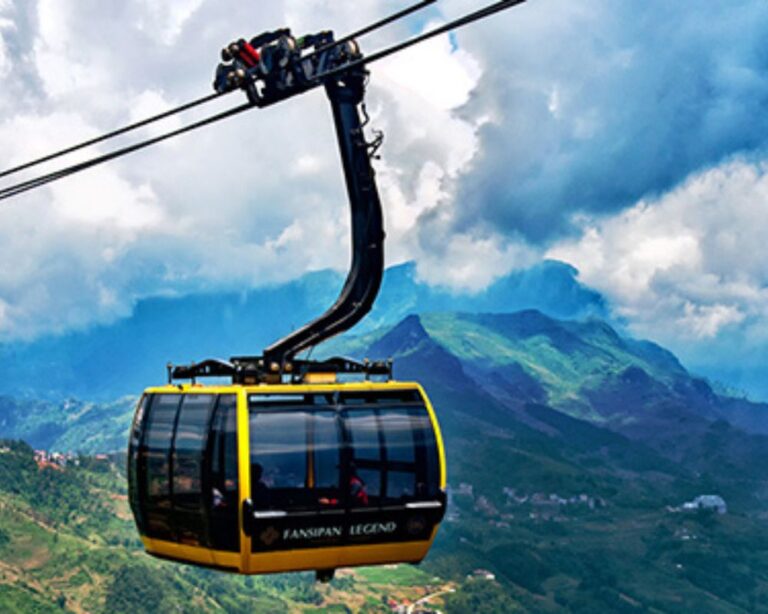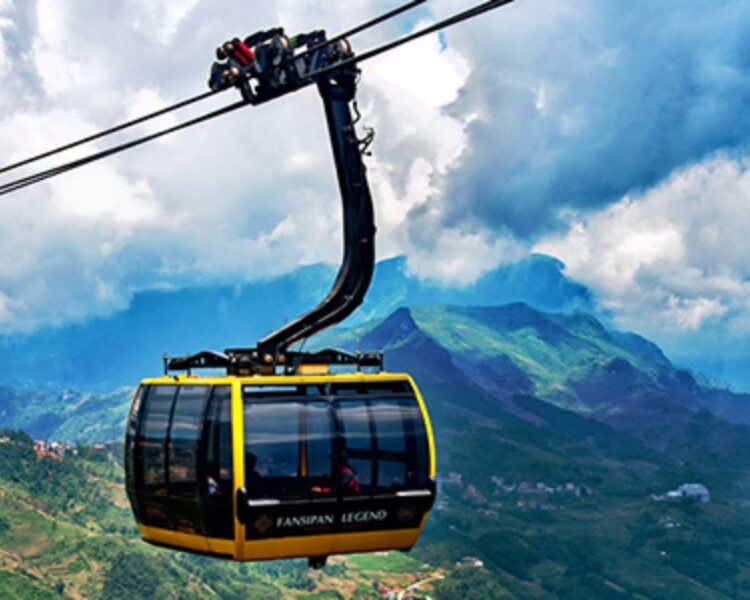 It's also worth noting that other modes of transportation may offer cheaper rates than ours but they don't come close in terms of comfort and safety. When making your decision, be sure to compare prices carefully and consider what value each option provides. With us at Fansipan Cable Car, we guarantee quality service at competitive rates – giving you peace of mind no matter which route you take.
Now that you're familiar with the costs and ticket prices associated with riding our cable car, let's move on to discussing safety regulations…
Fansipan Hiking 1 Day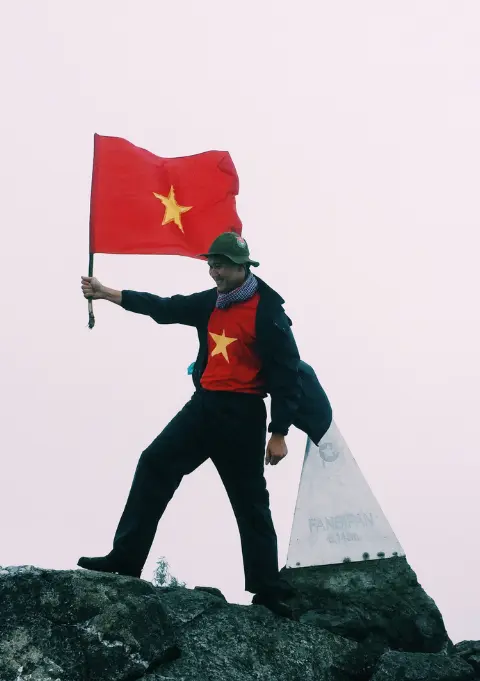 1 day fansipan experience
Moderate to challenging
Cultural immersion & active adventure
Visit Fansipan, highest mountain of Indochina
​Private tours
Vegan-friendly
Fansipan Trekking 2 Days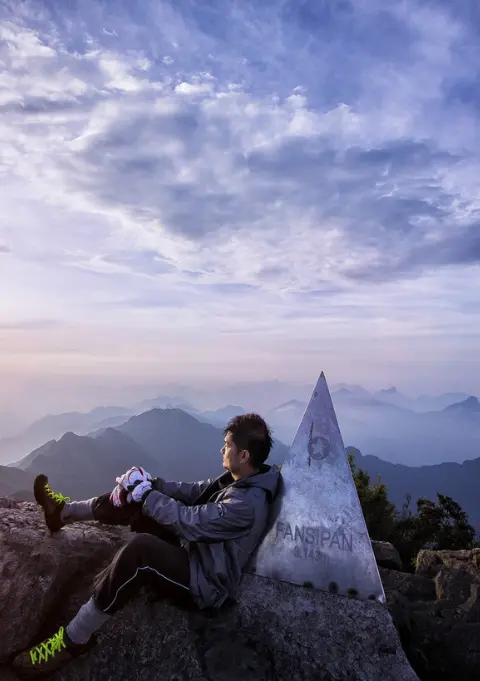 2 days 1 night fansipan experience
Moderate to challenging
Cultural immersion & active adventure
Visit Fansipan, highest mountain of Indochina
​Private tours
Vegan-friendly
Buy Cable Ticket Online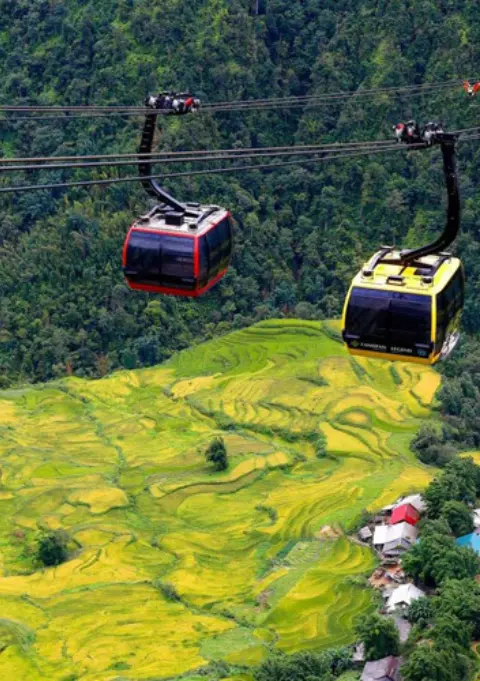 [QR Code] Buy Fansipan Cable Car Tickets Online
Non-refundable
Present your e-voucher
Fixed-day ticket
Admission with voucher
Safety Regulations
Safety regulations on Fansipan cable cars are as solid and reliable as a rock. Following stringent safety protocols, the highest safety standards in the region have been implemented to ensure every passenger's journey is a safe one. Detailed safety measures include regular inspections of all equipment and cabins, along with strict guidelines for both staff and passengers during boarding or disembarking.
Furthermore, each cabin has detailed emergency procedures marked inside so that any unfortunate events can be handled swiftly and efficiently. As an added precaution, there is personnel at key points throughout the line to assist travelers in case of an emergency. In addition, all employees have undergone rigorous safety training to guarantee effective response times should accidents occur.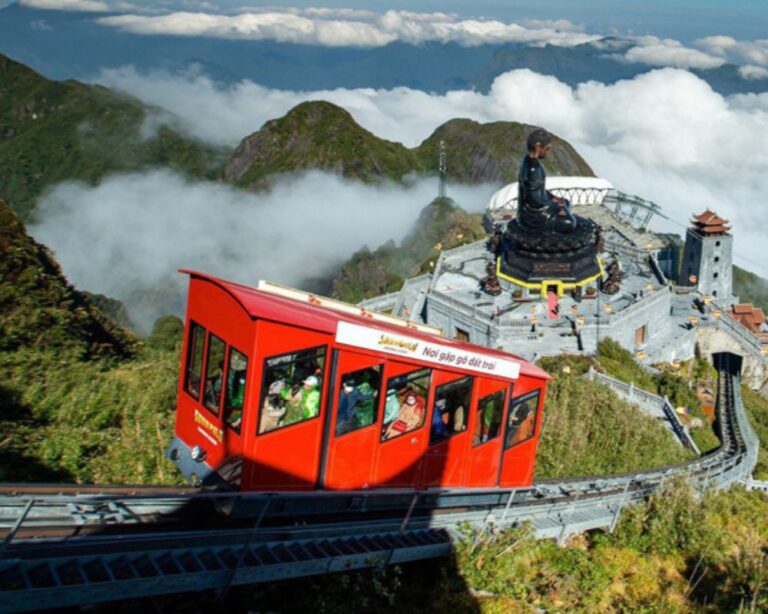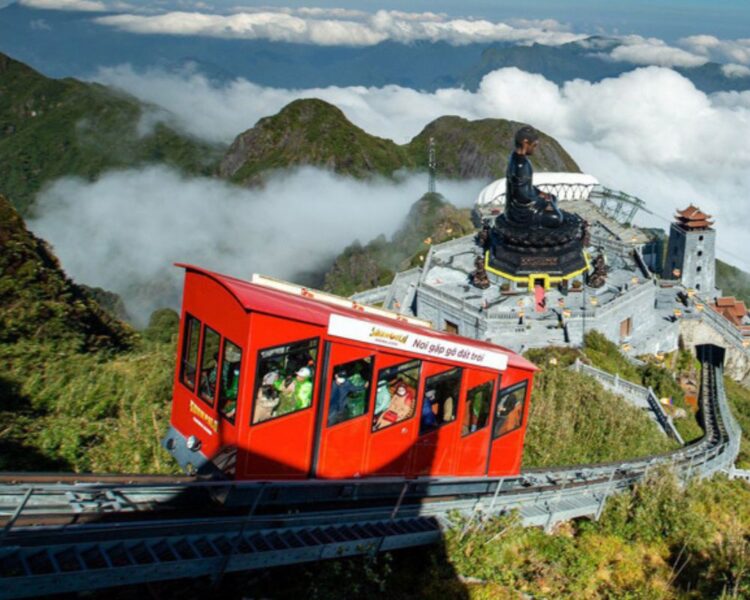 To provide top-notch customer service while providing a safe ride experience, Fansipan Cable Car takes great pride in its commitment to upholding world-class safety regulations. Every effort is taken to make sure that visitors enjoy peace of mind when they board this amazing transportation system – allowing them to marvel freely at the stunning views around them without sacrificing their well-being. This ensures that the Fansipan cable car remains popular among tourists looking for an adventure filled with breathtaking sights but also guaranteed security.
Popularity Among Tourists
The Fansipan cable car is one of the most popular attractions in Vietnam and it's easy to see why. The mountain Fansipan, also known as "the Roof of Indochina," stands at 3,143 meters above sea level and offers an unforgettable view for tourists who ascend its peak via the cable car system. This unique construction was created with a combination of Vietnamese engineering and French technology dating back to 2016 when it first opened.
Today, up to 2,000 people can ride cable cars daily from Tram Ton Pass station up to the peak of Fansipan Mountain. Visitors are delighted by sweeping views that stretch across Northern Vietnam's mountainside scenery – including terraced rice paddy fields, natural waterfalls, and panoramic vistas of Hoang Lien National Park below them.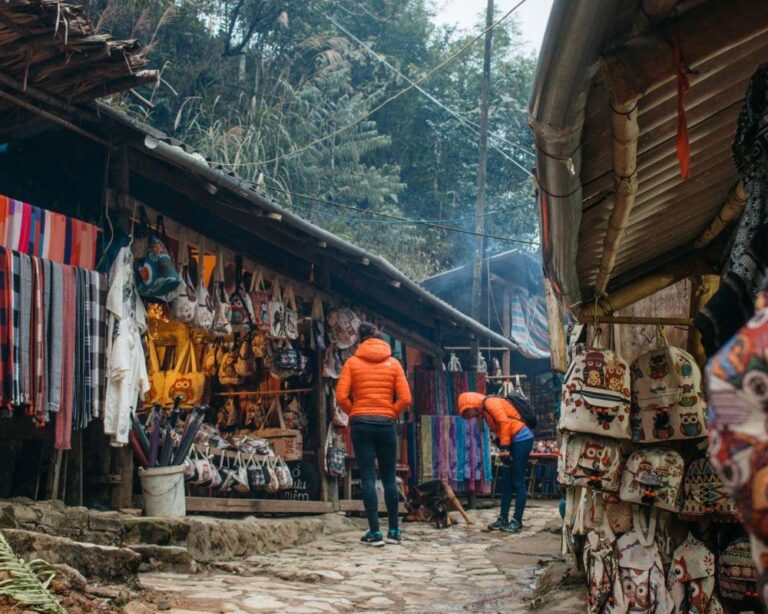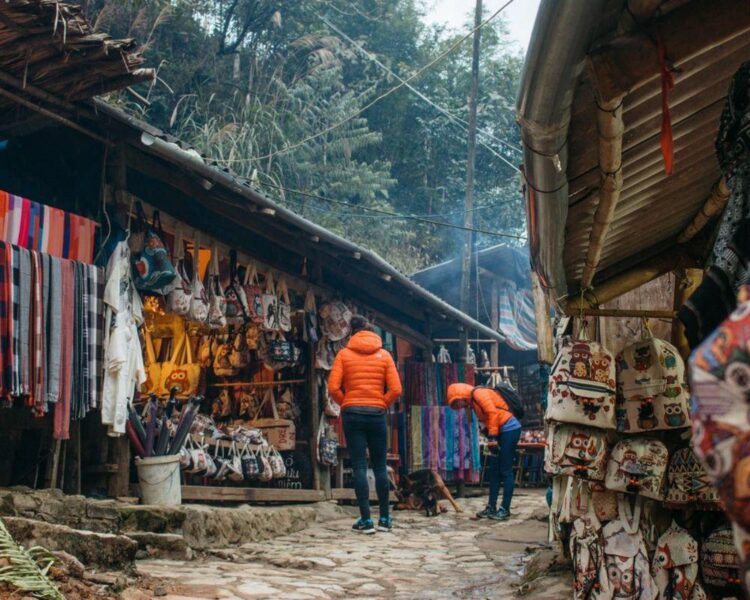 This extraordinary experience has made Fansipan Cable Car extremely popular among travelers looking for a new way to explore nature. It's no wonder then that this destination continues to attract more visitors each year! With such stunning landscapes and convenient access points, it's clear why Fansipan cable car remains one of the top tourist spots in all of Southeast Asia.
As we turn now toward environmental impact considerations related to this attraction, it will be interesting to examine how well this tourism venture blends into its surrounding environment – both visually and ecologically speaking…
Fansipan Hiking 1 Day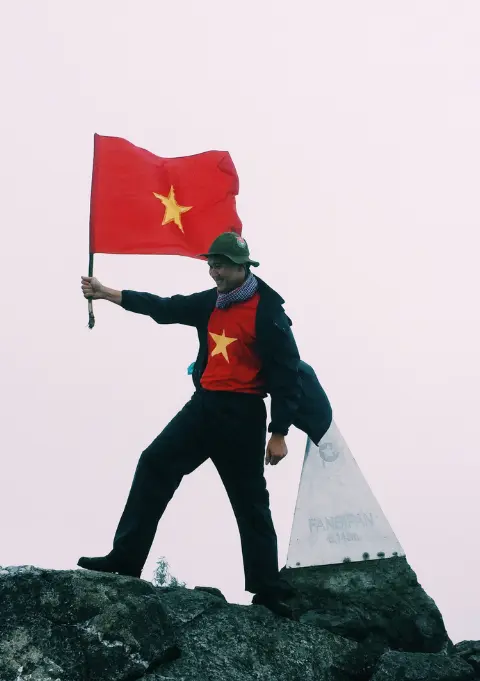 1 day fansipan experience
Moderate to challenging
Cultural immersion & active adventure
Visit Fansipan, highest mountain of Indochina
​Private tours
Vegan-friendly
Fansipan Trekking 2 Days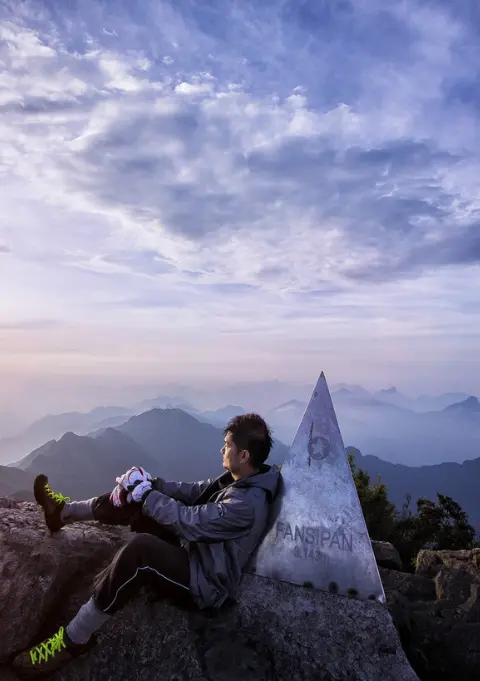 2 days 1 night fansipan experience
Moderate to challenging
Cultural immersion & active adventure
Visit Fansipan, highest mountain of Indochina
​Private tours
Vegan-friendly
Buy Cable Ticket Online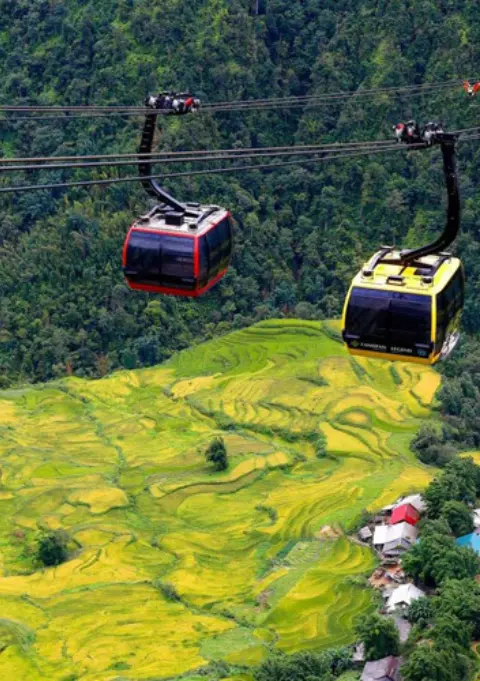 [QR Code] Buy Fansipan Cable Car Tickets Online
Non-refundable
Present your e-voucher
Fixed-day ticket
Admission with voucher
Environmental Impact Considerations
Moving onto environmental impact considerations, it is important to understand the effects of cable cars on our planet. Firstly, there can be a significant amount of ecological damage caused by installing and running a cable car system. This includes issues such as energy consumption, pollution, emissions, and sustainability.
These are all things that need to be taken into account when building any kind of transportation infrastructure like this one:
Energy Consumption – Cable cars consume large amounts of electricity to power them up hills or across valleys.
Pollution – The fuel used for powering cable cars may produce pollutants that harm the environment if not managed correctly.
Emissions – Depending on their type, cable cars may emit gases that contribute to global warming and climate change.
Sustainability – Any construction project needs to take into account its long-term impacts, from maintaining the structure over time to replacing parts regularly to keep it functioning properly without causing further damage to the environment or local habitats around it.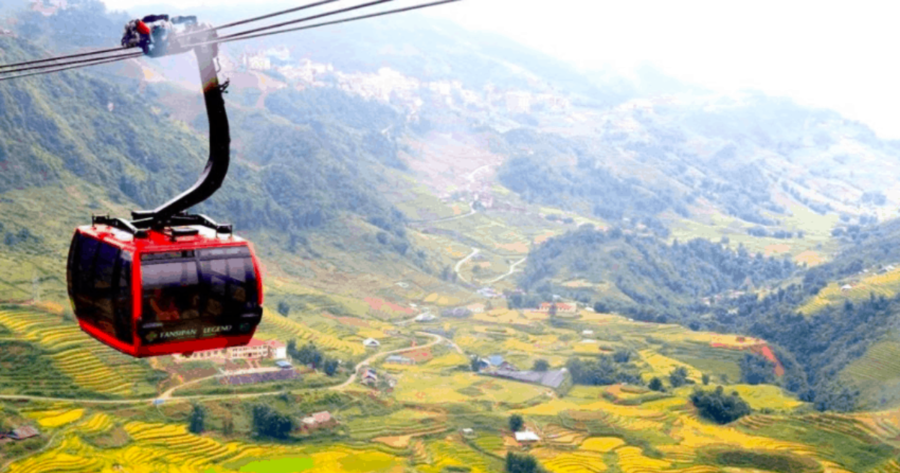 In terms of the Fansipan cable car specifically, these environmental considerations have been carefully accounted for with detailed plans set out regarding each point listed above; ensuring minimal impact on the surrounding areas while still providing an efficient mode of transport between two locations separated by difficult terrain conditions. With this being said, it's clear that those who manage and operate Fansipan cable cars have gone above and beyond what's expected when it comes to caring for our planet during its development and day-to-day operation – setting a positive example for other projects looking towards future expansion plans!
Future Expansion Plans
Sapa 1 Day Tours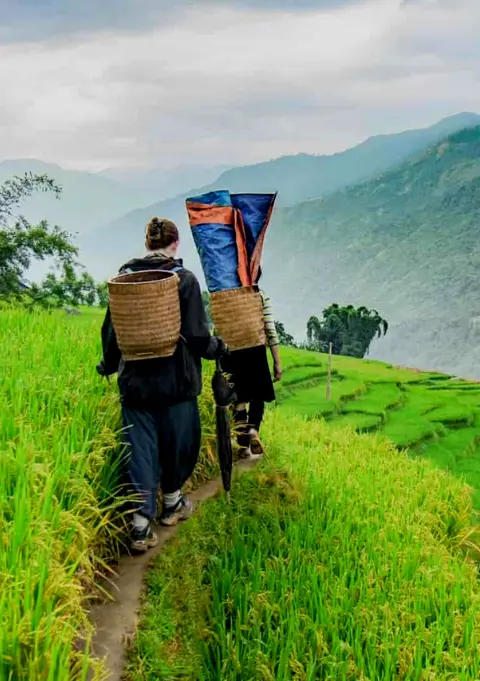 1 day experience
Moderate to challenging
Cultural immersion & active adventure
Rice fields, valleys & villages
​Private tours
Vegan-friendly
Sapa 2 Day Tours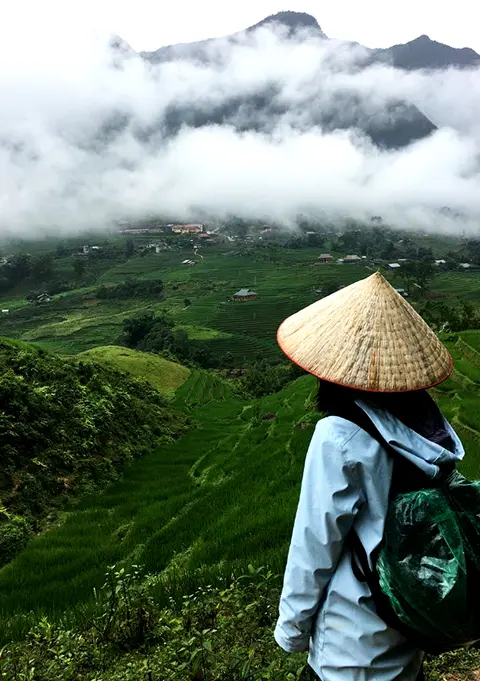 2 days 1 night experience
Moderate to challenging
Cultural immersion & active adventure
Mountains, valleys, rice fields and villages
​Private tours
Vegan-friendly
Sapa 3 Day Tours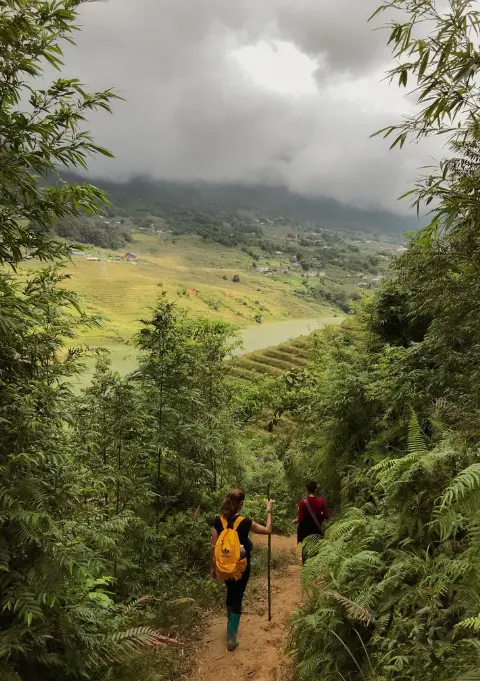 3 days 2 night experience
Moderate to challenging
Cultural immersion & active adventure
Mountains, valley, rice fields & villages
​Private tours
Vegan-friendly
Sapa 4 Day Tours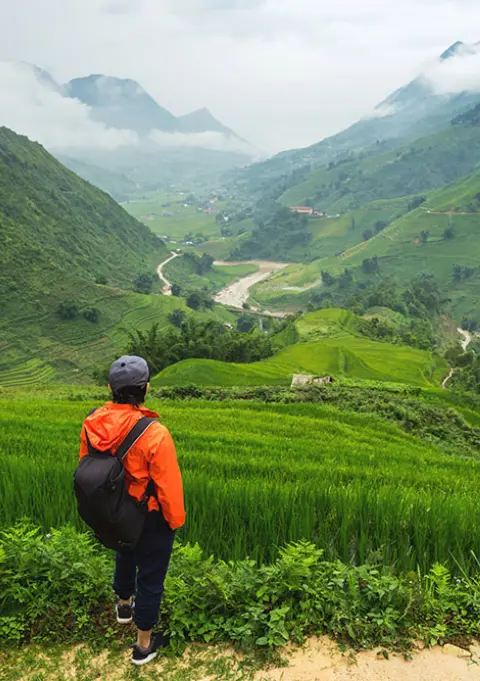 4 days 3 night experience
Moderate to challenging
Cultural immersion & active adventure
Mountains, valleys, rice fields & villages
​Private tours – Less Touristic
Vegan-friendly
Fansipan Cable Car is no stranger to expansion. In 2016, the cable car line was extended by 1 km and now reaches up to 3.5 km in length with eight stations along its route. Excitingly, further plans for expansion are already in motion.
One of the most ambitious projects currently being discussed is a second cable car line from Fansipan Mountain Station that will take climbers directly up to the summit. This proposal has been met with excitement as it would allow tourists to enjoy breathtaking views of the surrounding mountain ranges during their ascent within a much shorter timeframe than hiking or climbing. To ensure this project meets all environmental standards, an extensive environmental assessment will be conducted before construction begins on any new infrastructure development related to this expansion plan.
In addition, there have also been talks about building additional visitor centers at various points along the existing route, allowing visitors more time and space to appreciate the beauty of Fansipan before continuing to their next stop. With these ideas constantly under discussion and evaluation, Fansipan can look forward to exciting developments in the years ahead!
Fansipan Cable Car Frequently Asked Questions
How Long Does It Take To Ride The Fansipan Cable Car?
Riding a cable car is an exciting experience that many people enjoy. It allows us to take in the beauty of our surroundings from high up above and we can travel places without having to worry about traffic or other obstacles. But how long does it take to ride a cable car? When it comes to the Fansipan Cable Car, you can expect the journey to last around 15 minutes.
The Fansipan Cable Car offers passengers stunning views as they make their way up the mountain. The 3-kilometer line runs between two stations: Chua Ngoc Hoang Station at Sapa Town's city center and Tram Ton Station (2,910 meters above sea level). During your 15-minute ride, you'll traverse through forests and have breathtaking panoramic views of nearby peaks like Muong Hoa Valley, Mount Fan Si Pan, and more!
So if you're planning on taking the journey via Fansipan Cable Car, make sure to set aside some time for this amazing experience! You won't regret it – just don't forget your camera so you can capture all those beautiful sights along the way!
Are There Any Age Restrictions For Passengers?
Are there any age restrictions for passengers? This is an important question to consider when planning a trip, especially if you're traveling with kids or elderly people. Age limits and passenger restrictions are something that many tourists have to think about when booking tickets for certain activities or attractions.
When it comes to the Fansipan Cable Car in Vietnam, there are some age requirements for riding in this popular tourist destination. The cable car has specific age limits on who can ride, so it's best to check these before making your journey. Passengers must be at least 8 years old and no more than 65 years old to ride the cable car safely. All children under 12 must be accompanied by adults over 18 years of age and all riders will need valid identification documents such as passports or ID cards upon request.
It's also worth noting that the Fansipan Cable Car has other safety measures too; like a weight limit that restricts passengers from carrying items heavier than 25kgs per person, including their bags and luggage. So before boarding, make sure everyone meets the criteria set out by the management team – both in terms of height, weight, and age – as they won't allow anyone aboard who doesn't meet these guidelines.
Whether you're visiting solo or bringing family along, understanding all the rules and regulations beforehand makes your experience much smoother! That way everyone can enjoy the breathtaking view without having to worry about being turned away due to not meeting the right criteria.
Are There Special Discounts For Local Residents?
Are you a resident looking to get away and experience the thrill of cable car travel? If so, you may be wondering if there are any special discounts available. As it turns out, many attractions offer discounts for locals as an incentive to visit their site or ride their cars. The Fansipan Cable Car is no different!
This attraction offers several discounts specifically for residents of certain areas. Whether it's discounted tickets on specific days or savings coupons in your area newspapers, there's sure to be something that can help make the trip more affordable for you. Additionally, the staff at Fansipan Cable Car are always looking for new ways to give back to the community and reward loyal customers with incentives like these.
So if you're from around this region and want to take advantage of some great deals while also getting to enjoy one of Vietnam's most spectacular views, then head on over and check out what kind of specials they have going on today. With all the offerings available from Fansipan Cable Car – from exciting rides up into the clouds to exclusive savings opportunities – why not treat yourself by taking a break and visiting this amazing spot?
Is There A Weight Limit For The Cable Cars?
Have you ever wondered if there's a weight limit for cable cars? If so, no doubt it's an important question to ask before venturing aboard one of these iconic transportation systems. It can be especially relevant when planning a trip on the Fansipan Cable Car in Vietnam – where passengers are ferried up and down through dramatic mountain scenery.
The answer to this question is yes; there is indeed a maximum weight limit that applies to passengers who wish to ride the Fansipan Cable Car. The exact figures may vary depending on which type of car you're using, but generally speaking, the maximum capacity per car should not exceed 300 kilograms (around 660 pounds). This includes any bags or other items that each passenger might bring onboard, as well as their body weight. Additionally, all children must be accompanied by an adult at all times while riding the cable cars.
Safety is paramount for those traveling with Fansipan Cable Car, and adhering to the weight limits assures that everyone will enjoy a comfortable journey without putting undue stress on the infrastructure and machinery. With careful consideration of these guidelines, visitors can look forward to spectacular views from above and memorable experiences in Vietnam's breathtaking highlands!
Are There Any Additional Activities Available At The Destination?
Are there any additional activities available at the destination? If you're looking for a fun, adventurous day out, then look no further than Fansipan Cable Car! As well as offering stunning views of Sapa's mountains and valleys from its cable cars, this incredible destination is also home to an array of exciting activities.
Hiking, climbing, and zip-lining – are just some of the options that await those who make the journey up Mount Fansipan. With multiple trails suitable for all levels of experience and fitness, everyone can get a taste of the great outdoors while taking in the breathtaking scenery. For those seeking thrills without exertion, why not try one of our thrilling ziplines? You'll soar through the air above a lush green forest with beautiful views all around.
For a more leisurely activity, there are sightseeing tours or bird-watching trips available too. The latter offers nature enthusiasts a unique opportunity to spot some rare species; take your time and soak up every moment of being surrounded by Mother Nature's beauty. Whatever activity you choose here at Fansipan Cable Car will be sure to leave you feeling refreshed and revitalized after your day spent amongst nature's wonders!
No matter what type of adventure you seek when visiting us on Mount Fansipan, we guarantee it will be an unforgettable experience – so come join us and enjoy everything this amazing location has to offer!
Conclusion
As the cable car ascends slowly through the skies, it's easy to be overwhelmed by the sheer beauty of Fansipan—from lush green valleys down below to majestic snow-capped peaks above. It's a breathtaking experience that I'm sure many will remember for years to come.
The journey up is just as memorable as what awaits at the top. With no age restrictions, everyone can enjoy a ride on this amazing cable car and take in all that nature has to offer. Even locals can get special discounts so they don't miss out on their backyard! With no weight limit either, you can bring your entire family along and make some unforgettable memories together.
At the destination itself, there are plenty of activities available too, such as trekking, biking, or even simply sightseeing. So whatever your preference, there's something for everyone at Fansipan cable car! Whether you're looking for an exciting adventure or just a tranquil escape away from the hustle and bustle of everyday life – this place certainly has it all.
Sapa 1 Day Tours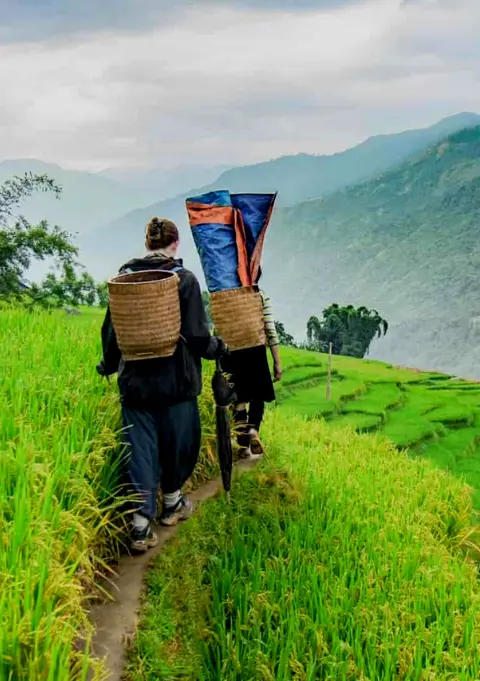 1 day experience
Moderate to challenging
Cultural immersion & active adventure
Rice fields, valleys & villages
​Private tours
Vegan-friendly
Sapa 2 Day Tours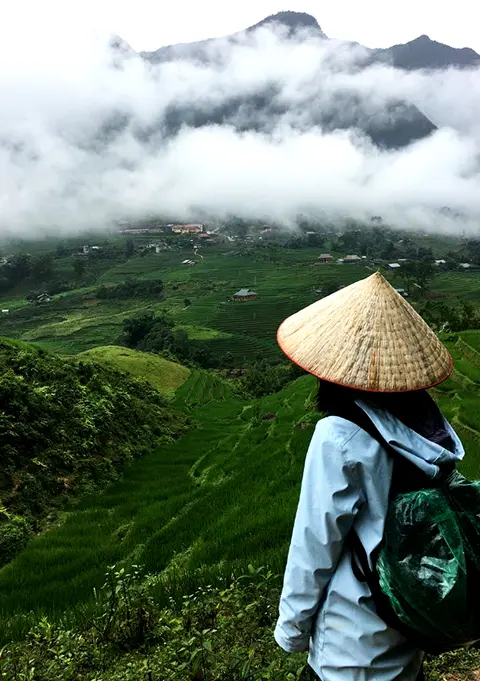 2 days 1 night experience
Moderate to challenging
Cultural immersion & active adventure
Mountains, valleys, rice fields and villages
​Private tours
Vegan-friendly
Sapa 3 Day Tours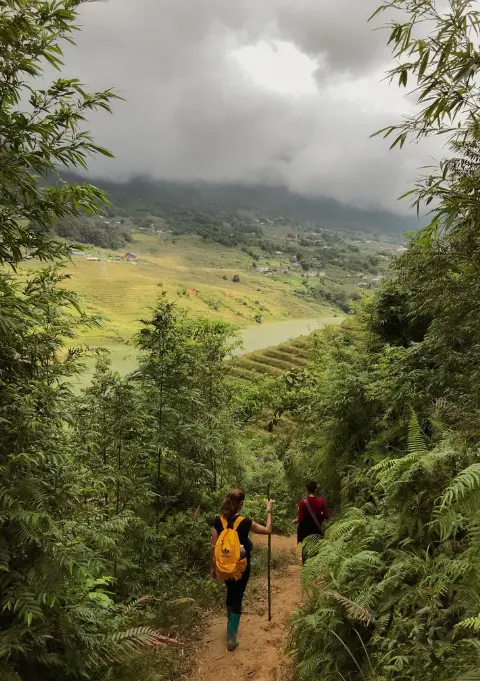 3 days 2 night experience
Moderate to challenging
Cultural immersion & active adventure
Mountains, valley, rice fields & villages
​Private tours
Vegan-friendly
Sapa 4 Day Tours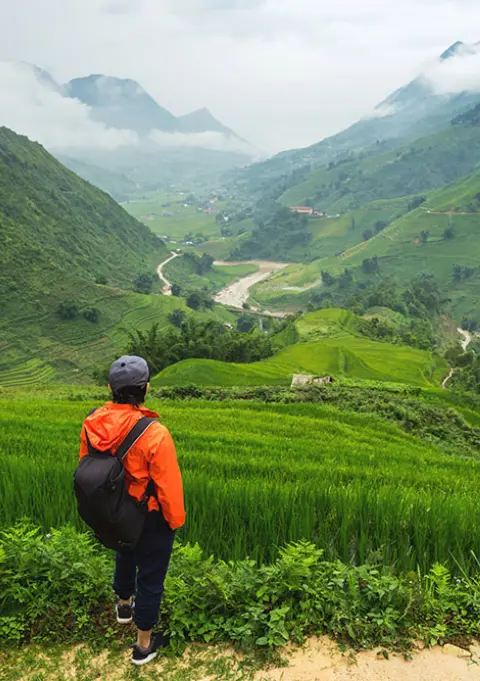 4 days 3 night experience
Moderate to challenging
Cultural immersion & active adventure
Mountains, valleys, rice fields & villages
​Private tours – Less Touristic
Vegan-friendly