Recently updated on December 22nd, 2022 at 09:52 am
The Incredible Sapa Itinerary: Top Astonishing Things To Do You Should Not Miss In Sapa
Plan to have a trip to Sapa, a magical paradise in the cloud, but do not have any ideas on what to experience on the journey to have an awesome trip ever.
Trust me, read this travel guide before jumping to your conclusion on what to put on your list for your Sapa Itinerary and you will definitely have some awe-inspiring moments here.
Is Sapa Worth To Visit?
I am a child of Sa Pa with the charming heart of the village boys from one of the most enchanting romantic landscapes of mountains and valleys in Vietnam. I love everything belonging to this dreamland and always express my gratitude for the pristine natural setting and the rustic beauty of my hometown – a luring small town in the cloud. Therefore, if anyone were to ask me whether Sapa is a place worth visiting at least once in a lifetime, I will not hesitate to say: "The journey of a thousand miles begins with a single step, so let's come here and you will never regret anything when setting your very first step in this breathtaking land".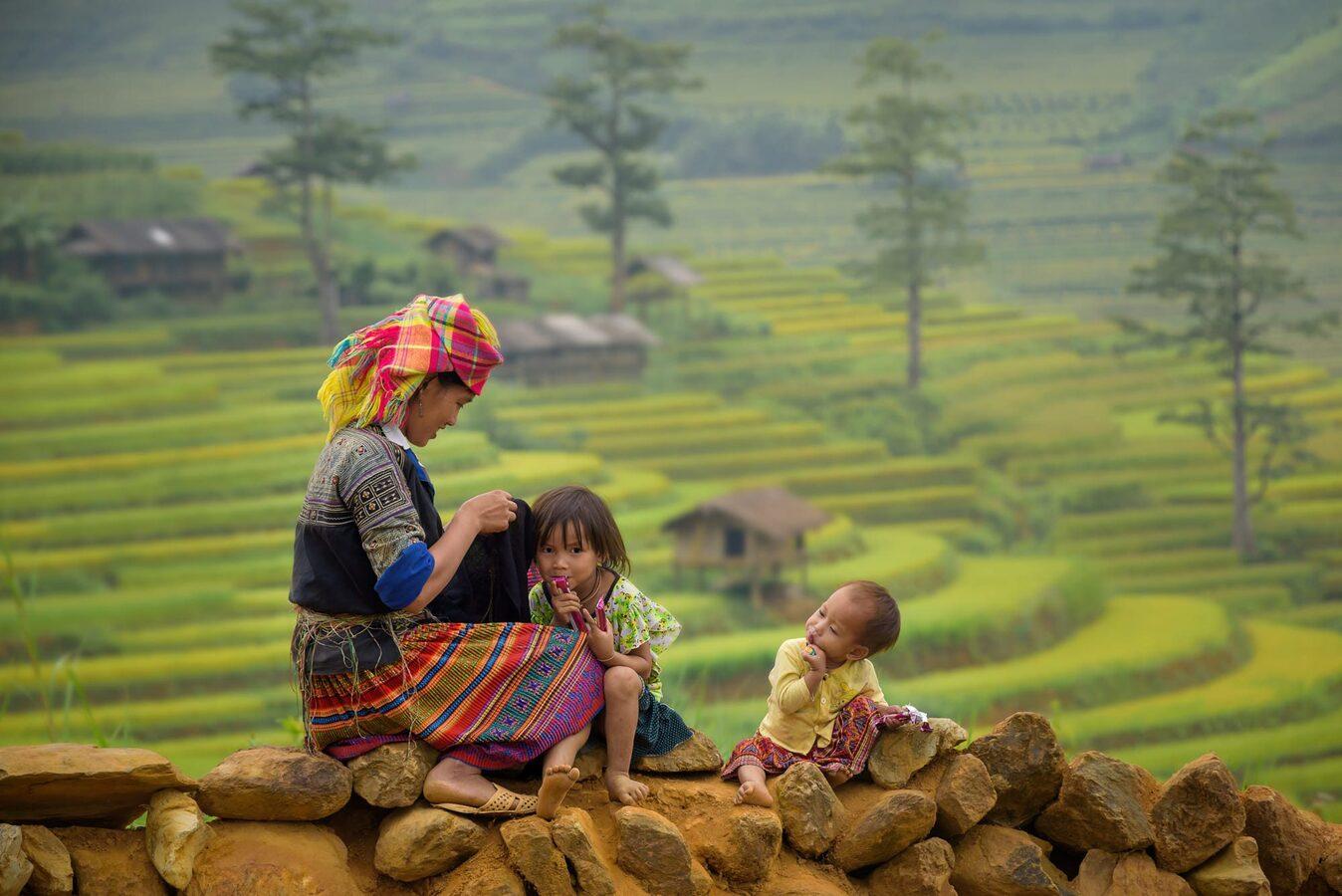 What is Sapa Known For?
Stunning rice terrace fields – The soul of Sapa
Suppose you have never had any experience with pervading smells of new rice from tremendous terrace fields stretching up to the mountain foot. In that case, Sapa is the best place to bump into this stunning picture to discover this invaluable gift bestowed by the natural mother and fill your soul.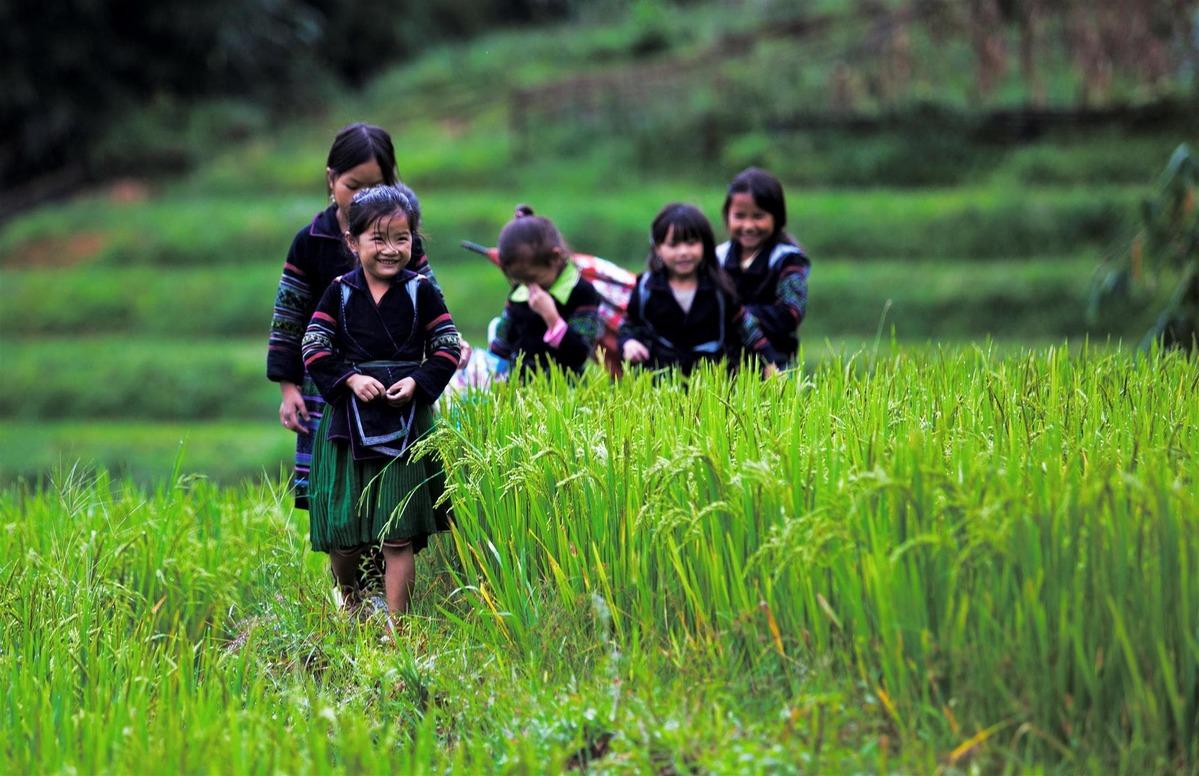 Magnificent mountain landscape – A majestic scenery with an adventurous journey
There is a saying that: "Travel opens your heart, broadens your mind, and fills your life with stories to tell" and conquering this mountainous cloud paradise will definitely help you to do so.
Outstandingly, you will explore the "Roof of Indochina" at the height of 3,143 meters, which is the country's highest mountain – Mt. Fansipan.
Trust me, experiencing this mountainous adventure will give you goosebumps and leave its own memory in your heart.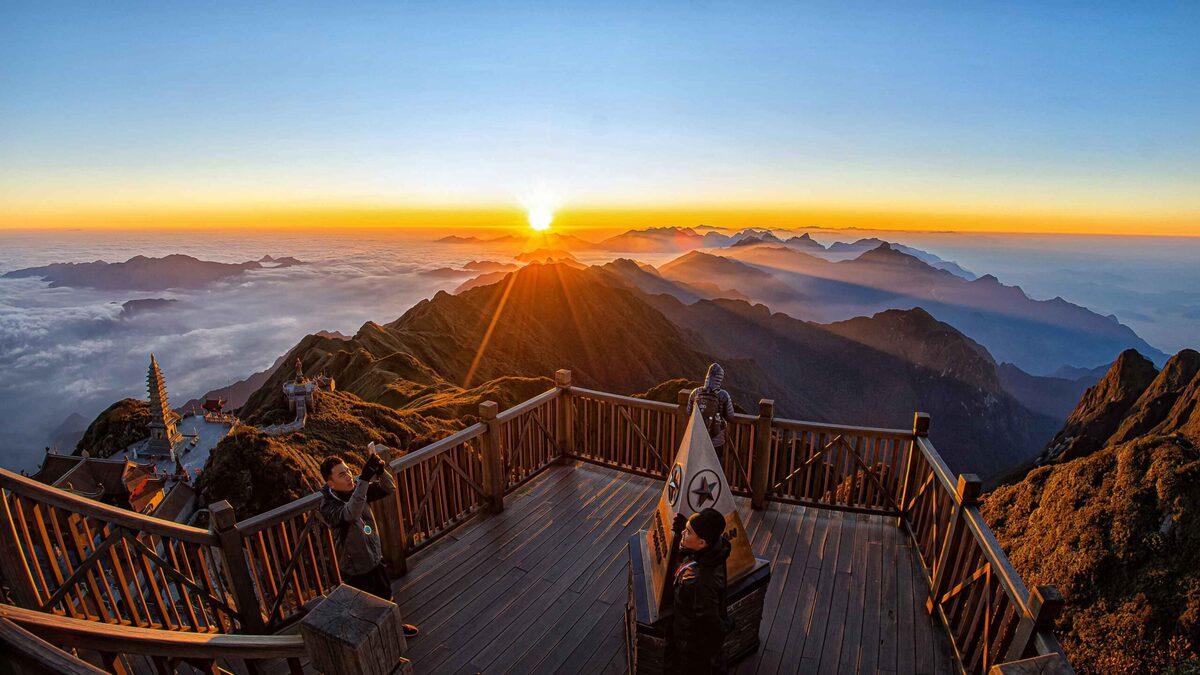 The destination of the friendliness and diversity of the ethnic group – A chance to immerse in the ethnic tribes' lives and cultures.
I am from the Black Hmong ethnic minority group in Sapa and I am so confident to say that all ethnic groups here are so heart-warming and each of us has our own unique stories to be told.
When reaching Sapa, you will be welcomed by all of the hospitable local people here. The cultural authenticity of the ethnic minorities is a combination of the colorful, unique, and original picture of Sapa.
Come here and all the stories about each own tribe's sophisticated history as well as the distinctive traditional lifestyles will be unveiled to you.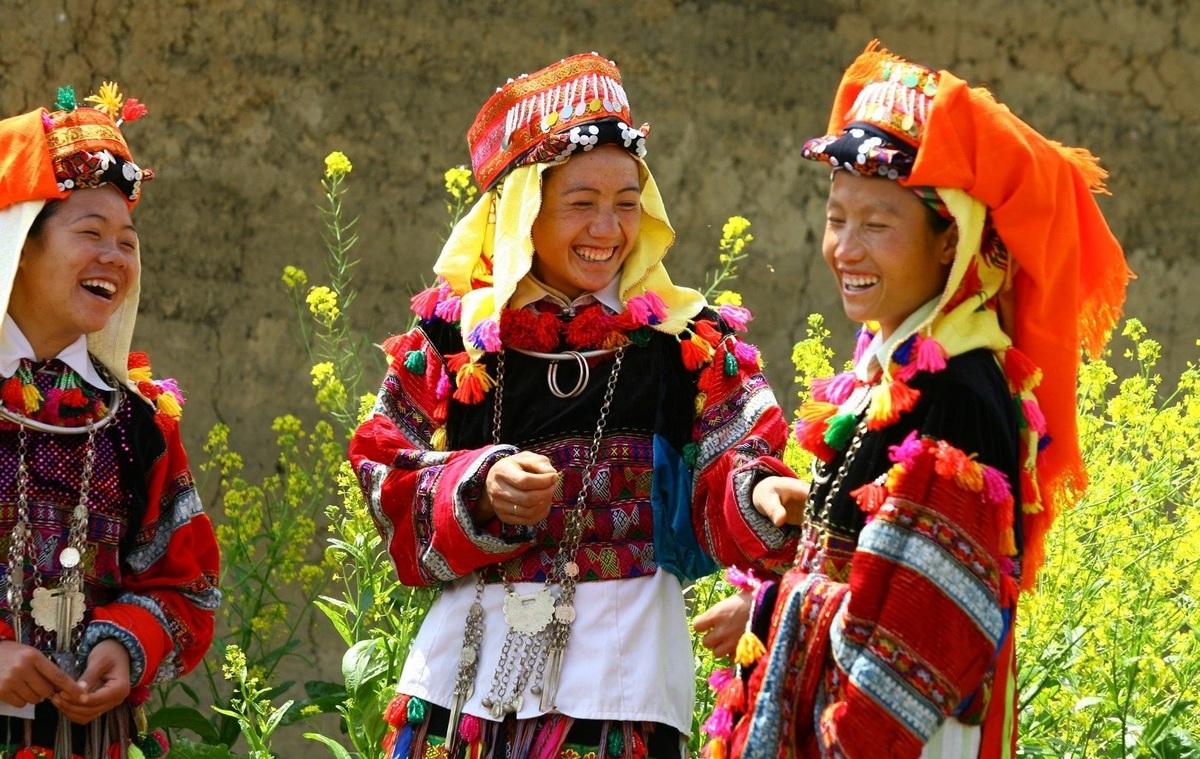 So, are you ready to explore this true peak of serenity, peace, and the blood of the ethnicities in this wonderland, which is the interference of heaven and earth? Read this to find out all the things you should not miss out in the journey.
Sapa 1 Day Tours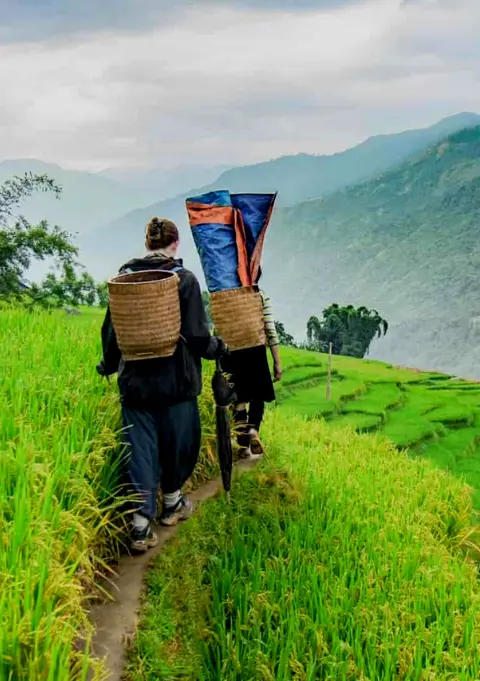 1 day experience
Moderate to challenging
Cultural immersion & active adventure
Rice fields, valleys & villages
​Private tours
Vegan-friendly
Sapa 2 Day Tours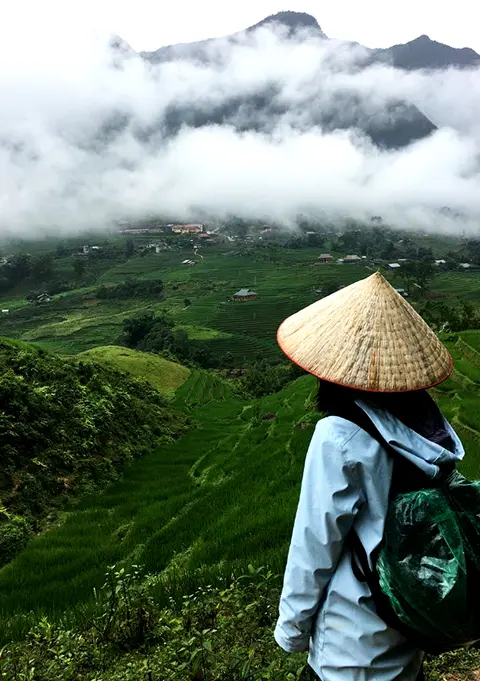 2 days 1 night experience
Moderate to challenging
Cultural immersion & active adventure
Mountains, valleys, rice fields and villages
​Private tours
Vegan-friendly
Sapa 3 Day Tours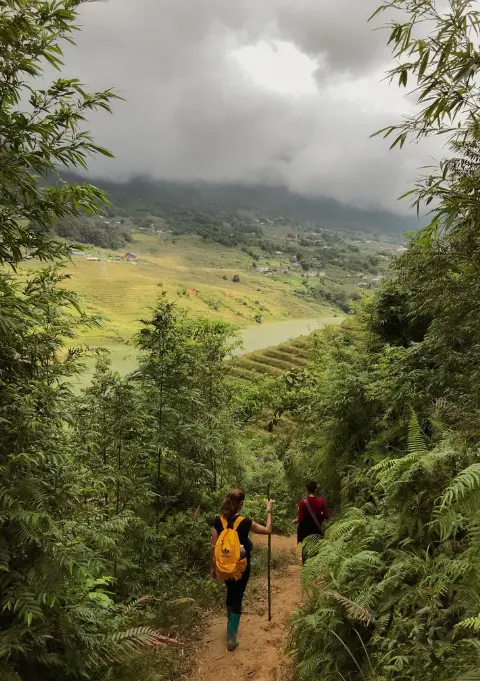 3 days 2 night experience
Moderate to challenging
Cultural immersion & active adventure
Mountains, valley, rice fields & villages
​Private tours
Vegan-friendly
Sapa 4 Day Tours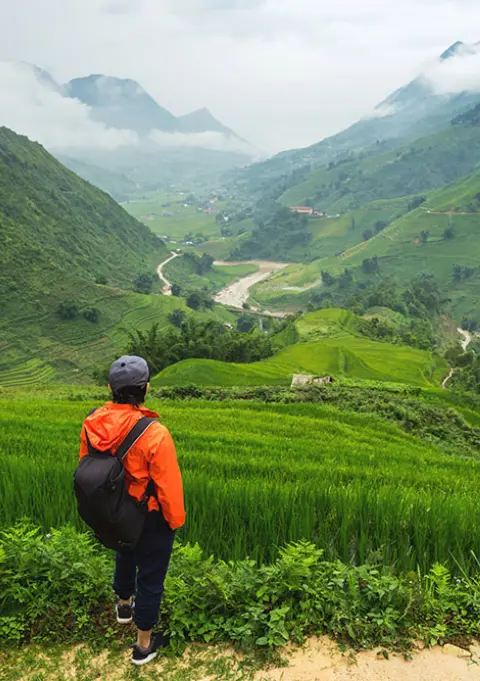 4 days 3 night experience
Moderate to challenging
Cultural immersion & active adventure
Mountains, valleys, rice fields & villages
​Private tours – Less Touristic
Vegan-friendly
What is the best time to visit Sapa?
With four distinct seasons, whether spring, summer, autumn, or winter, you can admire Sapa with other timeless beauty since this magical paradise in the clouds has plenty to offer all year long.
Therefore, when is best to visit Sapa is up to the individual itinerary and particular interest to make a choice on what appeals to you or what you would like to see, to experience no matter the season.
Sapa in spring (March to May) – Beauty of numerous majestic flowers blooming
Visiting Sapa in Spring, you can enjoy the light warmth of the fragile and sweet sunshine and the whole luring small towns covered with the gentle and charming beauty of thousands of plum blossoms and peach blossom blooming in clusters adorned with their pure beauty.
I am sure that when you go to Sapa in this season, you will fall in love with Sapa by its harmony and gentle fragrance of the fresh start of everything. The natural melodies of happiness and rustic beauty will capture and shake your beloved heart.
Especially, spring is an ideal time for you to take part in some adventurous activities like trekking and hiking while feeling the chill weather with the hazy fog surrounding the hills, mountains, and forests.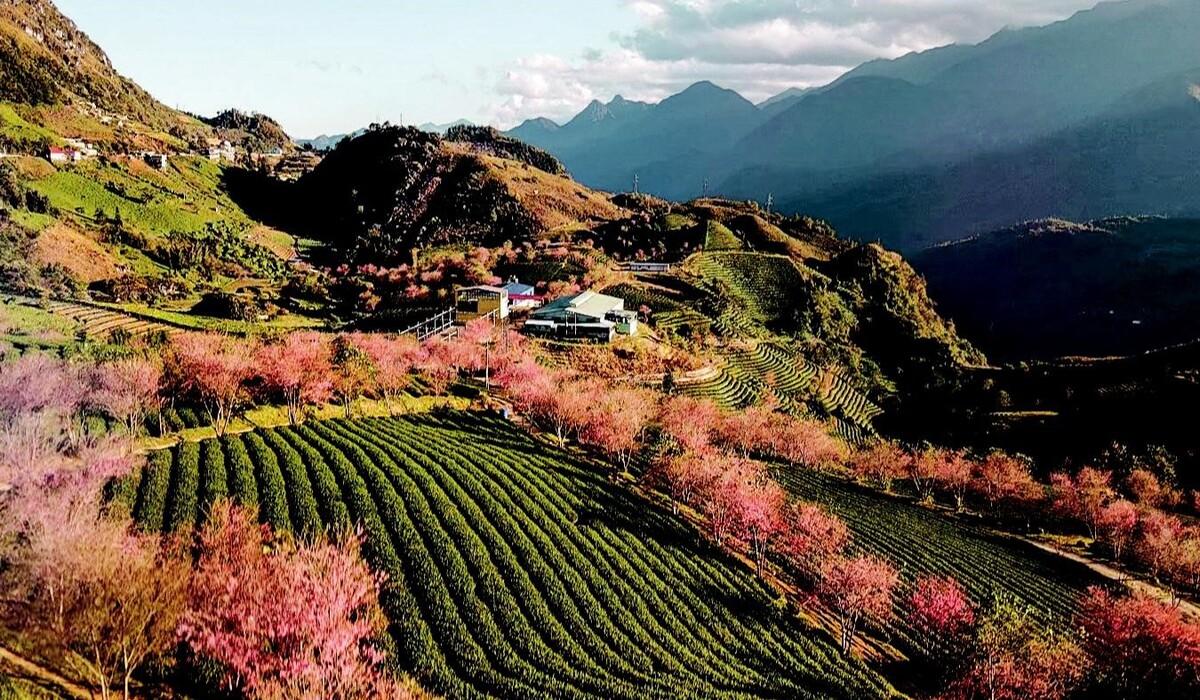 Sapa in summer (June to August) – A picture of poetic natural landscapes
If you make a decision on travelling to Sapa in the summer, it would be so great since, in this period of time, you can feel the rush of cool, alpine air surrounding this horizon's atmosphere.
Sapa will give you an unforgettable impression of a peaceful picture of serenity and rustication because you can enjoy the endless lush, vivid lime-green and rice terraces changing seasonally to gold color, which is waiting to be harvested by the farmers here in the next few months.
Sapa is renowned for its breathtakingly beautiful rice terraces, which are carved into the mountainous landscape and can be seen from miles away. These stunning terraces provide a perfect backdrop to the local villages and their distinctive culture.
The terraces are made up of hundreds of small, tiered fields created by the locals who have
The image of hard-working buffalos and cone-hats of the ethnic people appearing across the waves of spacious fields is so spectacular and heart-touching that you should not miss it. Besides that, this season gives you a great opportunity to enjoy the picturesque scenery of many destinations, such as Muong Hoa Valley, Ta Van Village, Mt. Fansipan, and Siver waterfall as well as Love waterfall.
Come here and experience all of these spectacular pictures with your own eyes because mere words cannot describe this stunning beauty.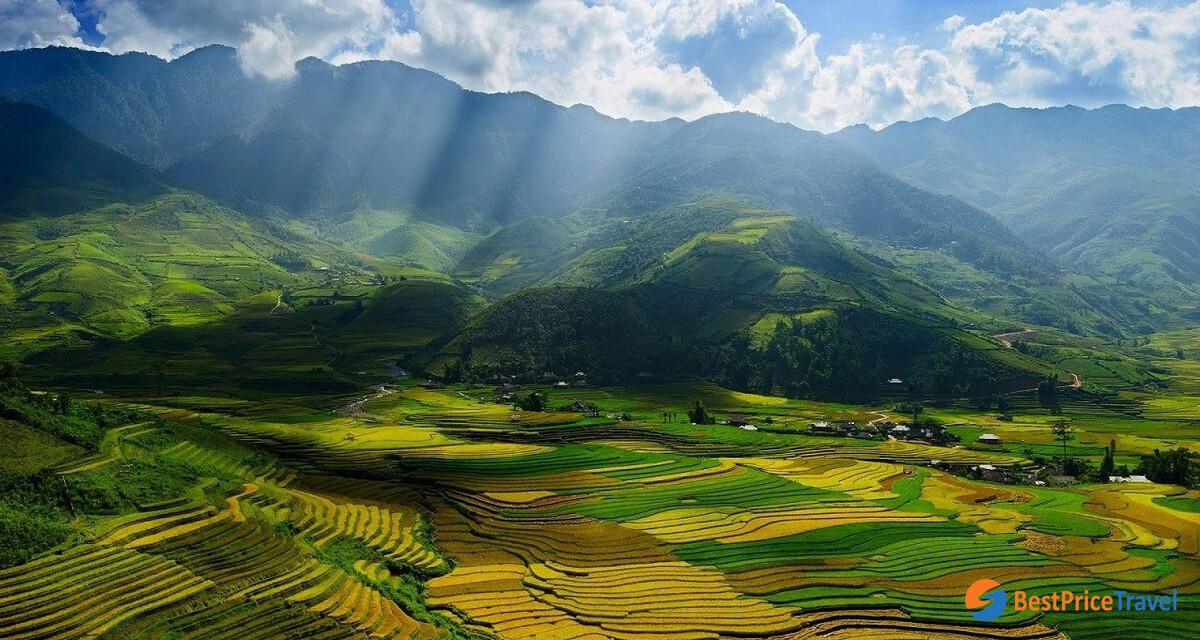 Autumn in Sapa (September to November) – The beauty of silence and romance
Autumn in Sapa is so unique and special as it is covered by the morning dew and frost, a bit fuzzy and romantic.
Spending your time here to do meditation or take a deep breath to feel the aroma of rice and the melodies of nature or strolling across Muong Hoa Valley which is covered by numerous ripe rice flowers is such a great experience.
In September, the Sapa rice terraces become even more breathtakingly beautiful. The mountain landscape is alive with vibrant colors, as the stunning green of paddy fields and grasses are complemented by the bright yellow of ripening grain. This time of year is when locals work their hardest to reap the fruits of their labor, harvesting their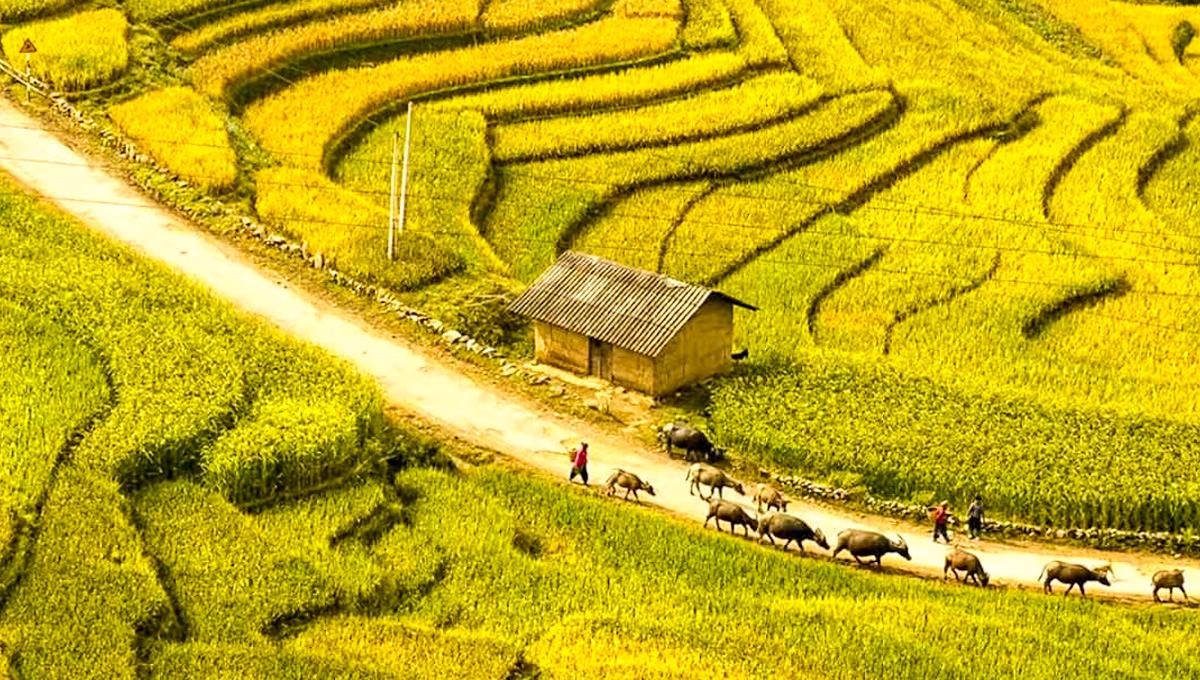 Winter in Sapa (December to February) – A mysterious beauty
You definitely should try to visit Sapa once in winter to immerse in the hazy mist and thick layers of white snow, especially, to see Sapa floating in clouds, which is a mysterious scenery.
In this cold weather, you can enjoy a cup of tea or coffee and feel loved by the warm hugs and the friendliness of people here.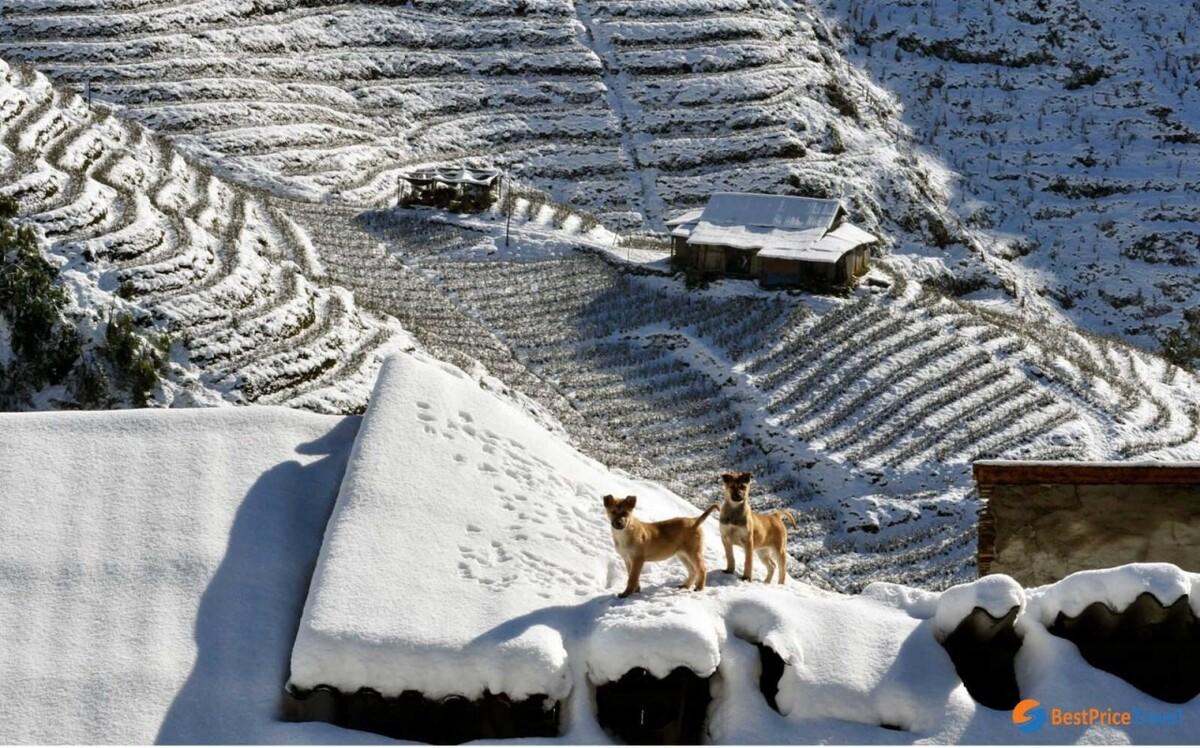 In summary, every season in Sapa has its own beauty and uniqueness, so no matter when you come to Sapa, you can still have such great moments here with tremendous majestic and breathtaking scenery and unforgettable experiences. Give yourself an opportunity and you will be so grateful for your choice.
What to do in Sapa?
Sapa is a harmonious combination of magnificent sightseeing, cultural diversity, and adventurous activities as well as peaceful sound and gorgeous taste. Consult this below list to find out the top best things you should discover to have a fascinating experience in Sapa.
The paradise land is waiting for you!
Visit Sapa market
If you would like to explore the unique cultural features of ethnic groups in Sapa region, the Sapa market, a unique bustling local market, is a great choice to help you discover the ethnic culture and immerse in this idyllic life. Its sense of authenticity and unique soul will attract your sympathy.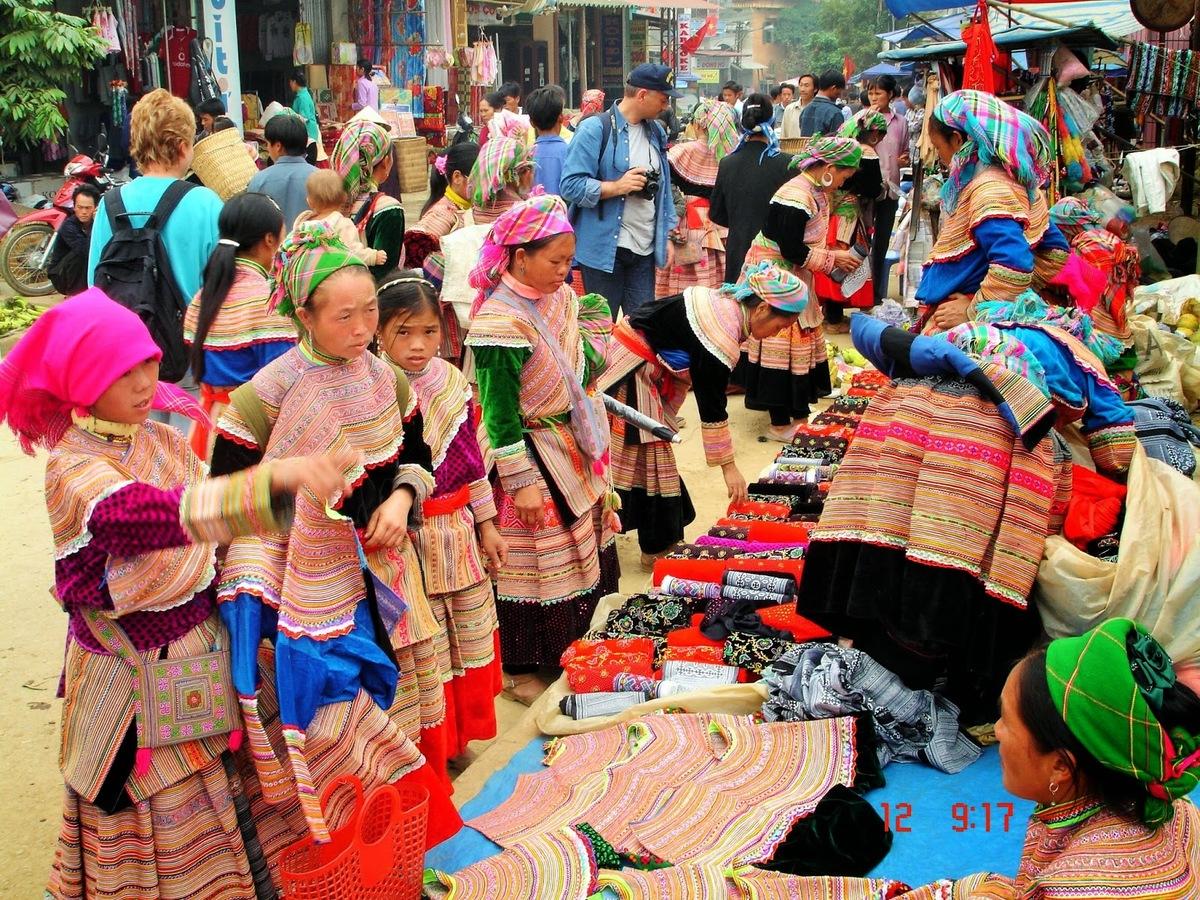 Location
The market is situated right in the center of Sapa region, which is 1,5 km from Sapa Stone Church. You can call a cab or rent a bike to get there but it'd be better to take a walk because it takes you only 15 minutes and you can feel the fresh atmosphere and Sapa spirit in the best way.
Thanks to its location which is the junction connecting the Northern Villages and Southern Villages, This is the most suitable and convenient destination for the convergence of trading goods among the ethnic groups here.
Map here: Sapa local Market
Opening time
The market is often open almost every day of the week in order for merchandising products.
Especially, Sapa market is also known as Sapa Love Market, which is the popular rendezvous for the upland people. Usually, the market is scheduled to operate on Sundays for couples as well as potential couples to get closer and know more about each other to find their soulmates. When coming here at this time, you will have a great moment to take part in some interesting activities, such as dancing and singing by the bonfire, which is so romantic and vivid.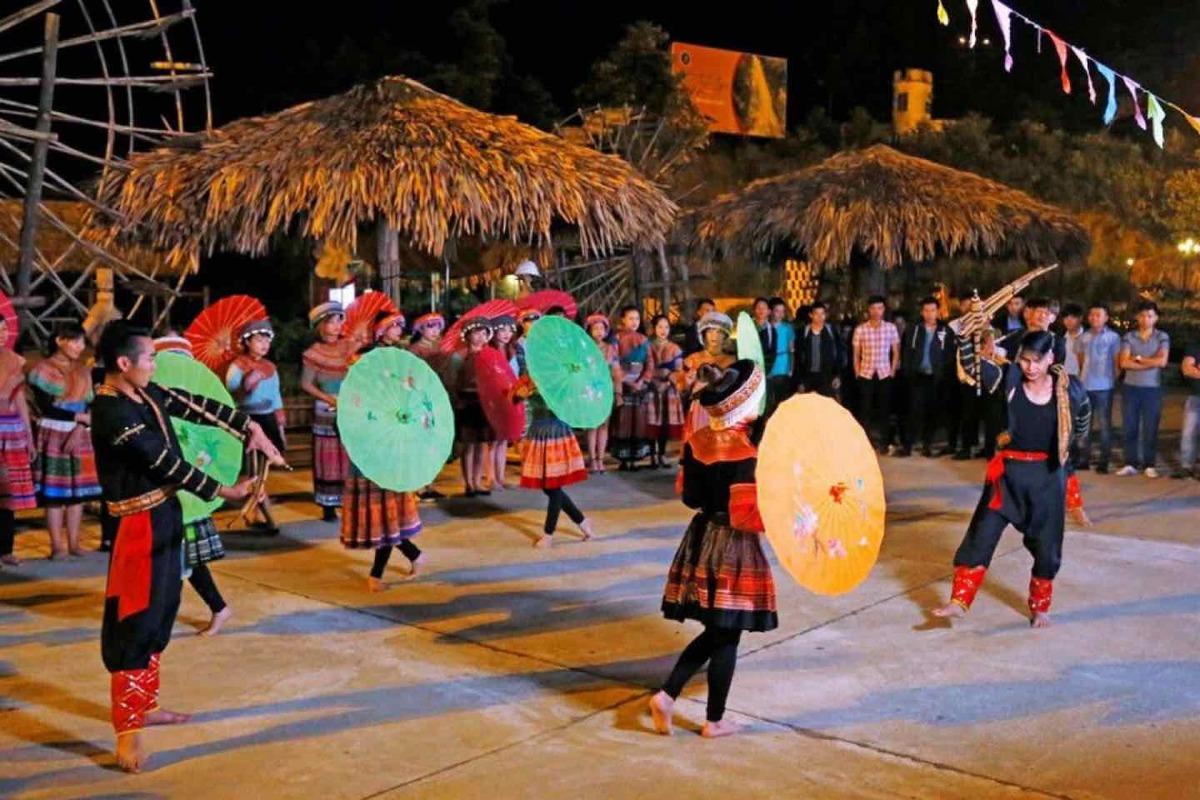 What to buy in Sapa Market
It is undeniable that the market is the place to purchase and exchange goods, so it is a convenient place to buy your favorite products.
When coming inside the market, you can see a lot of stalls where you can find all the things you need here. One of the most popular ones is the traditional ethnic fabrics which are placed on the second floor of the Market. If you are impressed by the traditional costume of ethnic minorities, take a walk around and you can find various embroidered clothes with so many special and unique patterns, such as shirts, skirts, scarf or handbags, blankets, and so on. Additionally, the other thing that you should not miss is the precious silver jewelry. They are made carefully and meticulously by the skillful and ingenious women here
Besides, outside the market, you can find a number of stalls with a variety of colorful charming flowers and some mountainous fresh fruits and vegetables.
Especially, this is also a great place to buy some pharmaceutical products made with lots of medical herbs and plants in the forest, which are so valuable for your health.
Don't worry that the products' price here is so expensive and not worth their value. All of the products' quality sold in the market is so good and the ethnic people have to spend lots of hard-working time to make it. Therefore, the price is affordable it is worth your investment.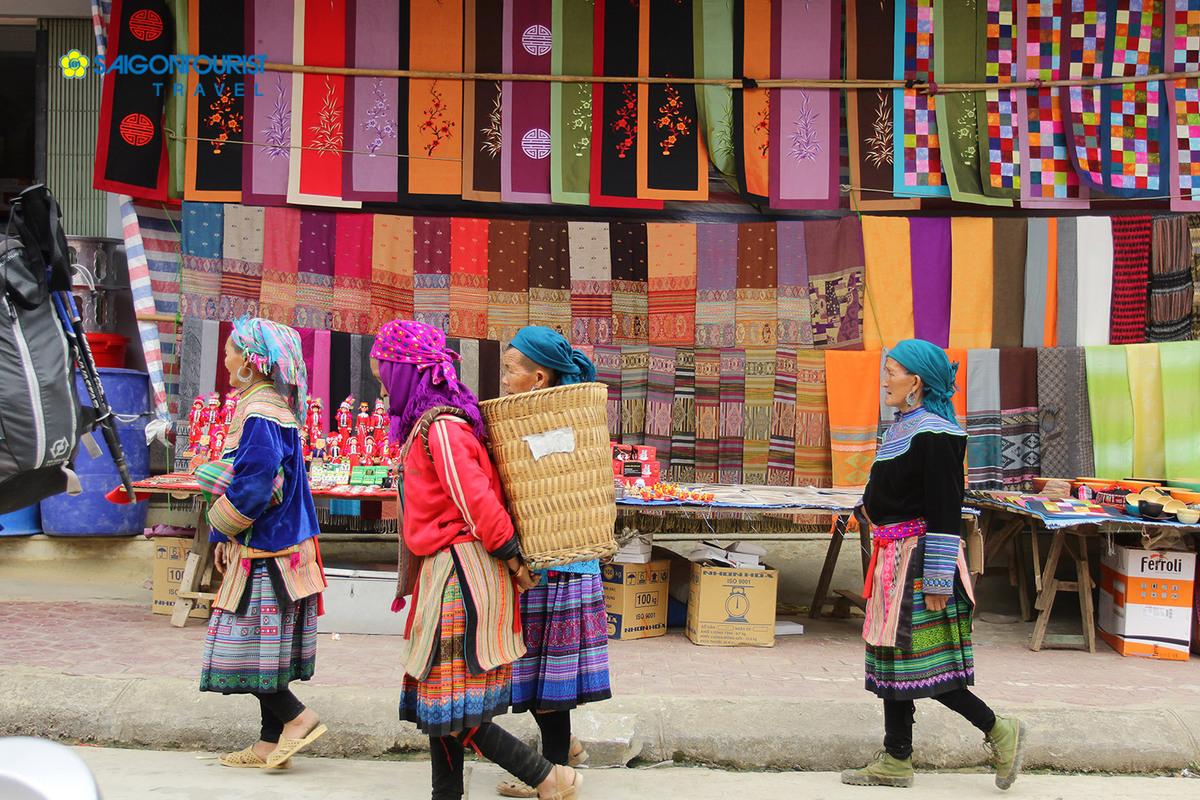 What to eat
Exploring the market in Sapa is a good opportunity to try Sapa cuisine with lots of delicious local food and ethnic traditional dishes.
One of the must-try food here is Thang Co (horse soup), which is a strange, unique, and special dish because it is made from horse meat, herbs, veggies, corn wine, and many other high-nutrition ingredients. You may think it's hard to eat at first but trust me, it tastes so good and leaves an unforgettable impression on you.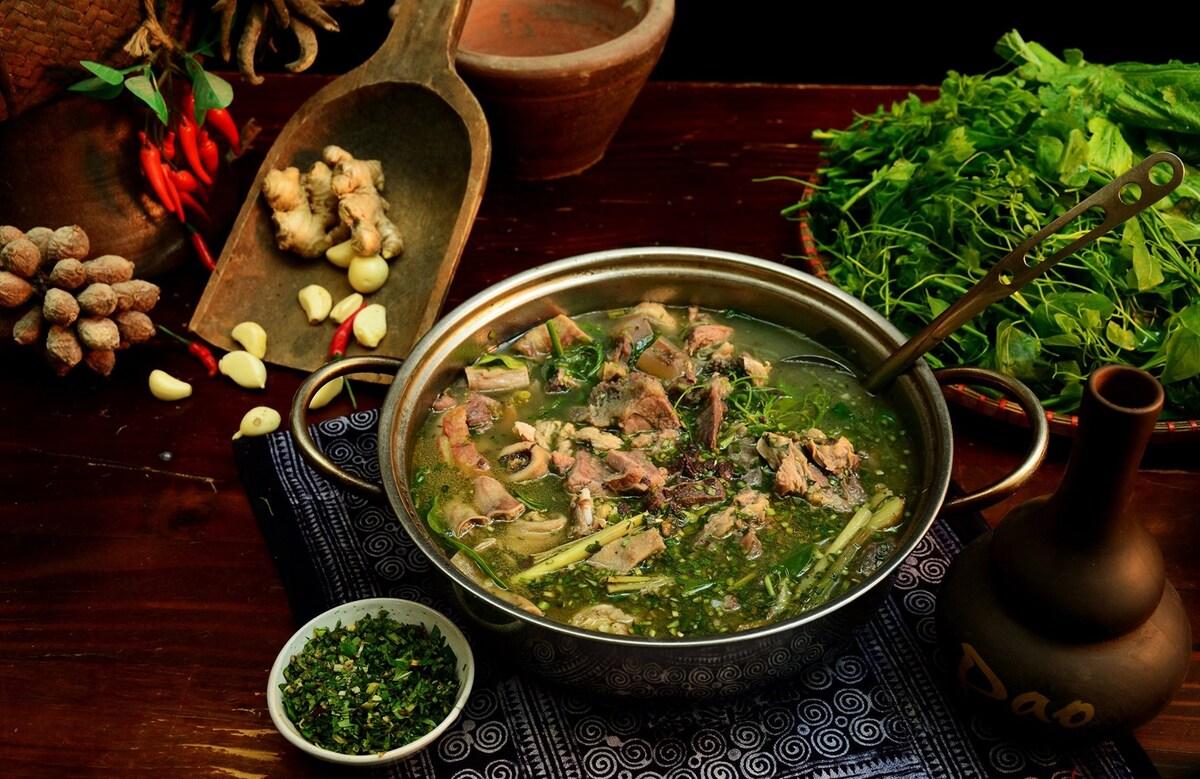 Explore Muong Hoa valley – The heaven of Earth
If you are really into adventurous journeys to have some hiking and trekking experience, one of the most attractive destinations you should not miss when visiting Sapa is Muong Hoa Valley, which has the charming beauty of the spectacular rice terraces stretching along the valley. Outstandingly, coming here, you can also enjoy the serenity and peace of the authentic local ethnic villages such as Dzao, Black Hmong, and Dzay as well as their cultural diversity.
Therefore, if you would like to escape the hustle and bustle of city life for a while to immerse in natural beauty, Muong Hoa Valley, the largest valley in Sapa, is the must-see place on your list.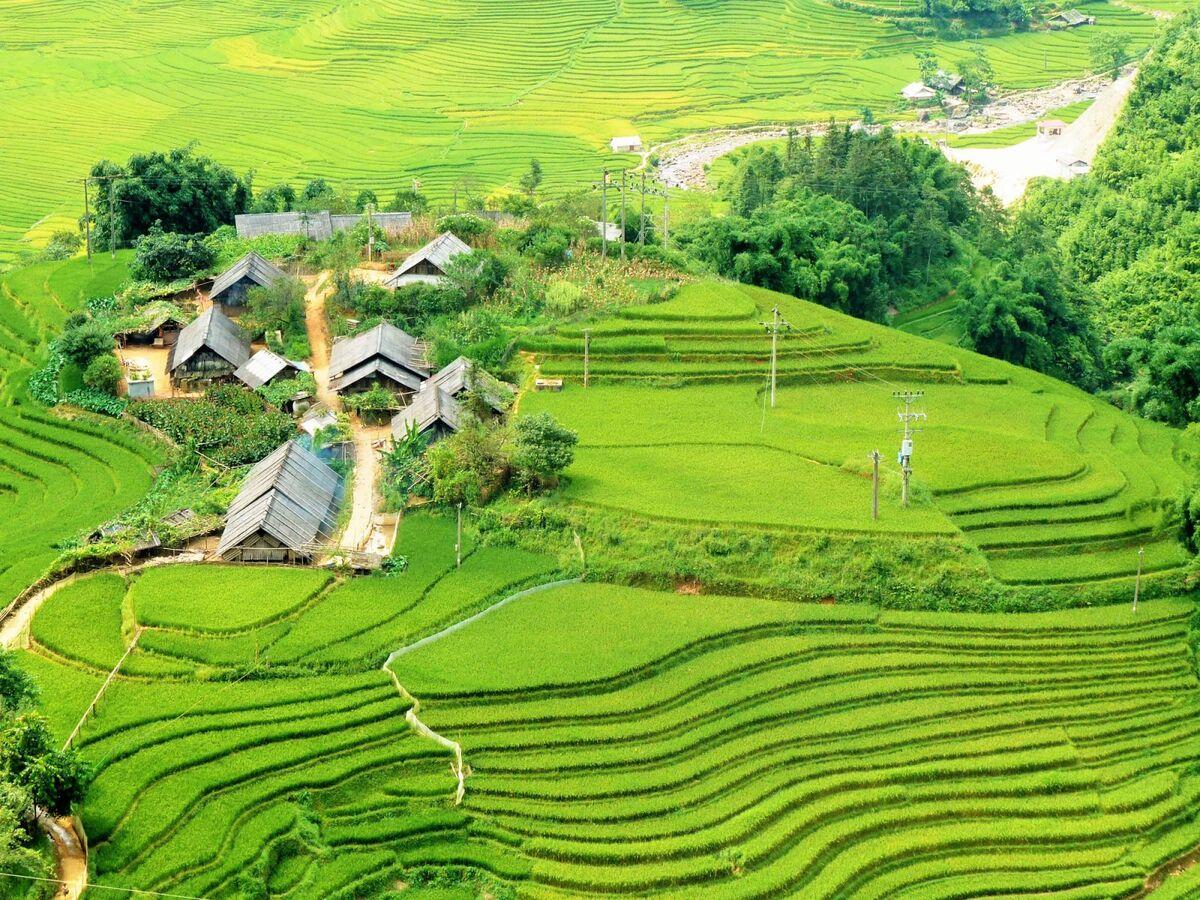 Location
The Valley is 10 km from the southeast of Sapa town, which is located between two high parallel mountain ranges.
Especially, you can admire the beautiful Hoa Stream stretching about 15 km to the poetic Ban Ho village. The stream flows across different villages like Lao Chai Village, Ta Van Village, Giang Ta Chai Village, and Y Linh Ho village.
Sapa 1 Day Tours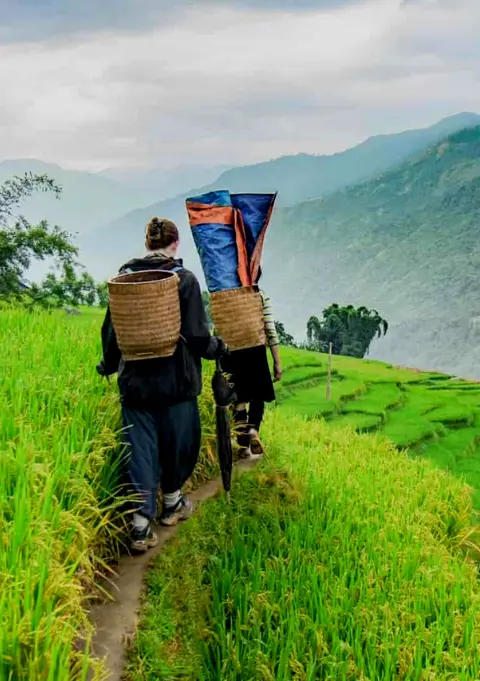 1 day experience
Moderate to challenging
Cultural immersion & active adventure
Rice fields, valleys & villages
​Private tours
Vegan-friendly
Sapa 2 Day Tours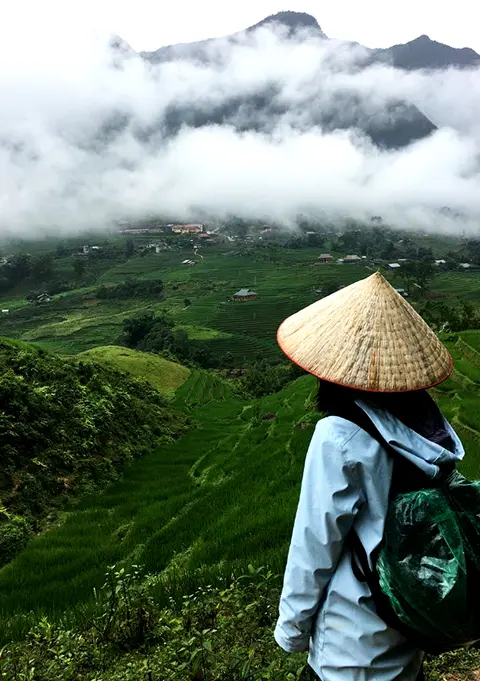 2 days 1 night experience
Moderate to challenging
Cultural immersion & active adventure
Mountains, valleys, rice fields and villages
​Private tours
Vegan-friendly
Sapa 3 Day Tours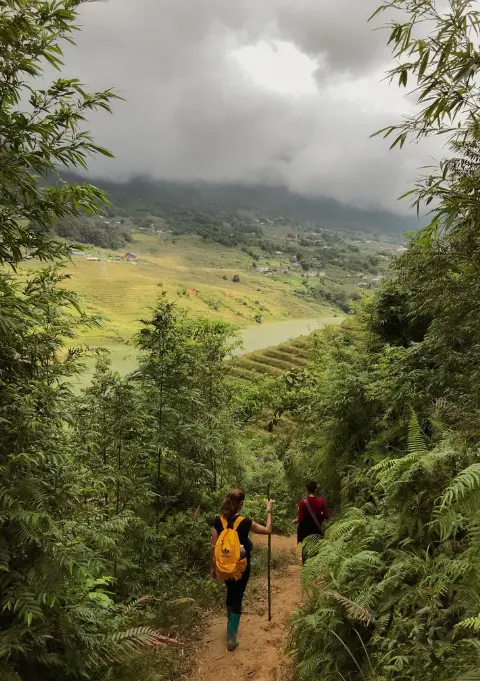 3 days 2 night experience
Moderate to challenging
Cultural immersion & active adventure
Mountains, valley, rice fields & villages
​Private tours
Vegan-friendly
Sapa 4 Day Tours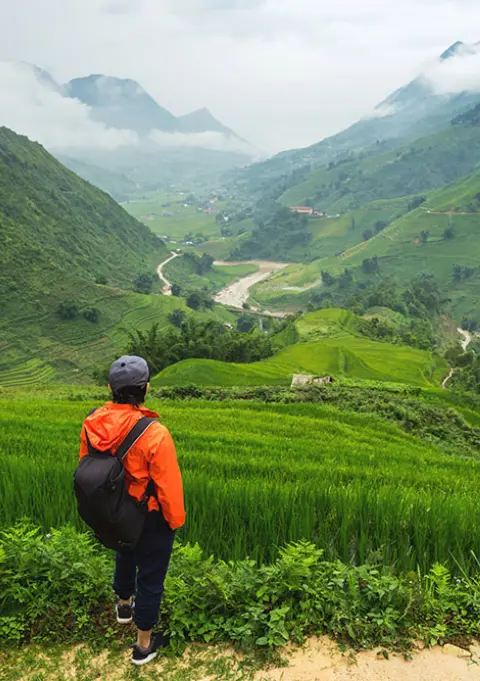 4 days 3 night experience
Moderate to challenging
Cultural immersion & active adventure
Mountains, valleys, rice fields & villages
​Private tours – Less Touristic
Vegan-friendly
What to do in The Valley of Muong Hoa?
Discover some stunning landscapes
Terrace fields – A stair to heaven
You can enjoy your peaceful time and come back to nature with many spacious and beautiful terrace fields, which are curving along the hillsides to form a beautiful inclined pan. Its unique beauty is voted as one of the most charming fields in the world.
Especially in autumn, the harvest season, you will have an invaluable chance to admire the terraced fields covered with a romantic bright yellow color combined with the fragrant aroma of the rice, which leaves you with a special feeling with unforgettable memories.
But don't worry if you come here in summer because the terrace fields in summer also have their own beauty, which is stained the green silk. This scenery will make you imagine the proliferation of something new and vital.
Check in the valley by taking some photographs in their own style to save the wonderful moments here.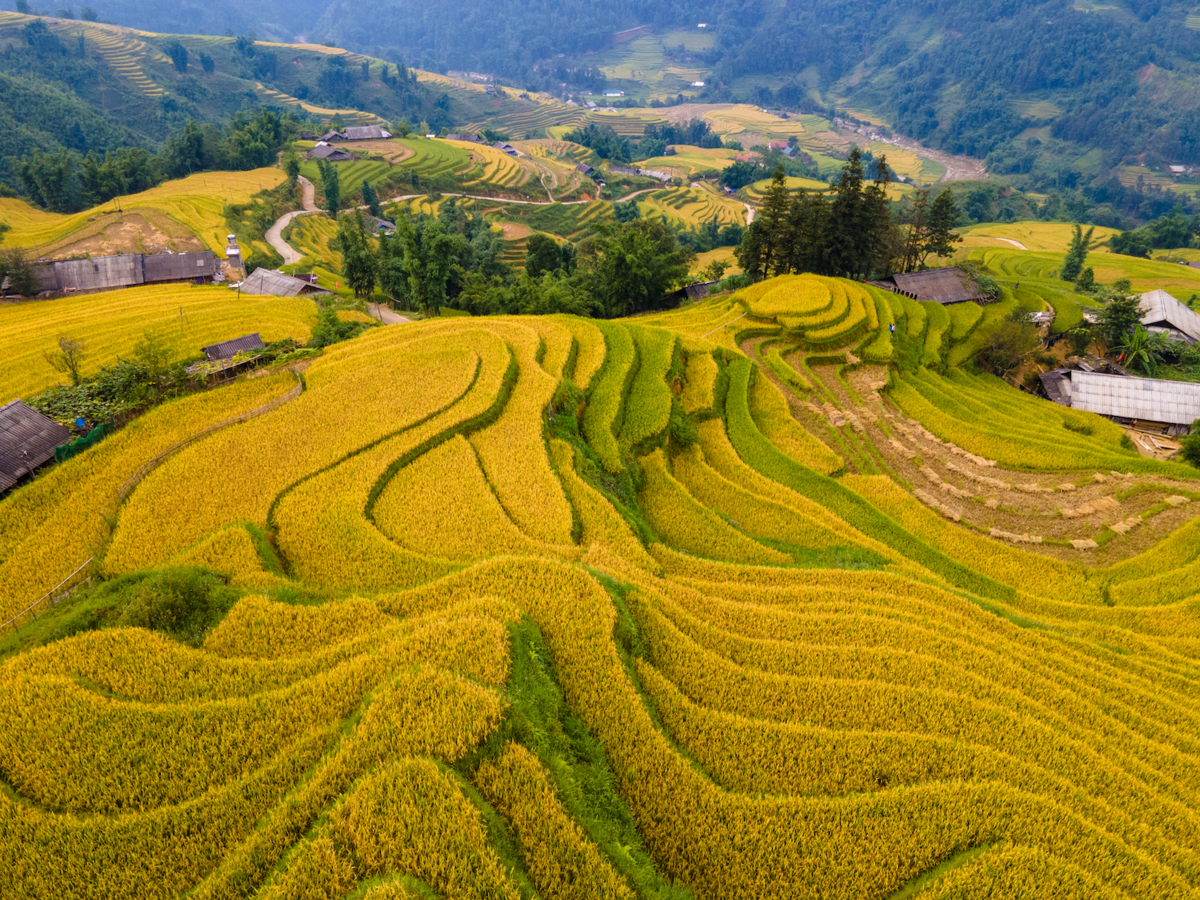 Ancient rock field – An ancient mystery
Discovering the mystery of the ancient rock field located between grasses and terraced fields is an interesting experience for you.
This field is an invaluable natural heritage known as a national historic site and was founded by a French archaeologist hundreds of years ago.
The stone fields consist of nearly 200 multiform rocks with a variety of sizes and shapes.
Why is it so mysterious?
The stones are meticulously carved with different mysterious and strange signals and characters that no one could figure out their meanings. Specifically, the most outstanding character is the human posture in different looks, which is considered to be the invaluable heritage of the ethnic people's ancestors. Therefore, it remains a mystery for people to research and decipher until now.
Flower stream
Flowing in the middle of the valley is a long stream named "flower stream", which is a unique landmark for the whole majestic picture. The stream stretches 15 km and flows slowly and peacefully across the spectacular mountain foot like a waving carpet bringing the proliferation for the earth.
Imagine standing by the stream, taking a deep breath, and then you open your eyes to the lime or gold color together with the beautiful light of sunshine and blue sky shading the flowing water, is there any other wondrous moment that exists lively in your soul?
Nowadays, to easily move across the stream, the locals have built a long bridge connecting two sides, so it is more convenient for ethnic people and visitors to have some best experiences in this romantic flower stream.
Cycling
Renting a good bicycle and wandering around this Valley is also a good choice to enjoy the peaceful vibes and admire the beauty of nature through the terraced paddy fields and wonderous mountain hills.
In conclusion, the valley is a must-visit destination if you would like to have some interesting activities that nowhere can give you the same.
You can immerse in the unique cultural diversity of ethnic minorities and also take part in harvesting rice, which is an amazing experience you should try at least once to know how people have put their great effort and their true love into each grain of rice. Besides, discovering the mystery of the ancient rocks and enjoying the pure and gorgeous beauty of the flower stream are some best ways to explore the entire picture in Muong Hoa.
Sapa Trekking And Homestay
About The Sapa Town
"How can I describe Sapa
For who but the Old Man of Heaven
Could carve and paint such beauty
Its northern slopes dividing dawn from dusk"
These are some verses I stumbled across in a newspaper two years ago, which make me feel so proud of my hometown by the authenticity in its beauty.
People easily fall in love with Sapa, the town of clouds, of its poetic beauty and this romantic place is the source of inspiration for many significant poems and works of art.
Now, it is the right time for you to let go of all unnamed sorrow to give yourself the gift of returning to the captivating natural landscape, and Sapa district is the most precious treasure for it.
Have a look at these impeccable destinations in Sapa district to figure out how much you can love this place.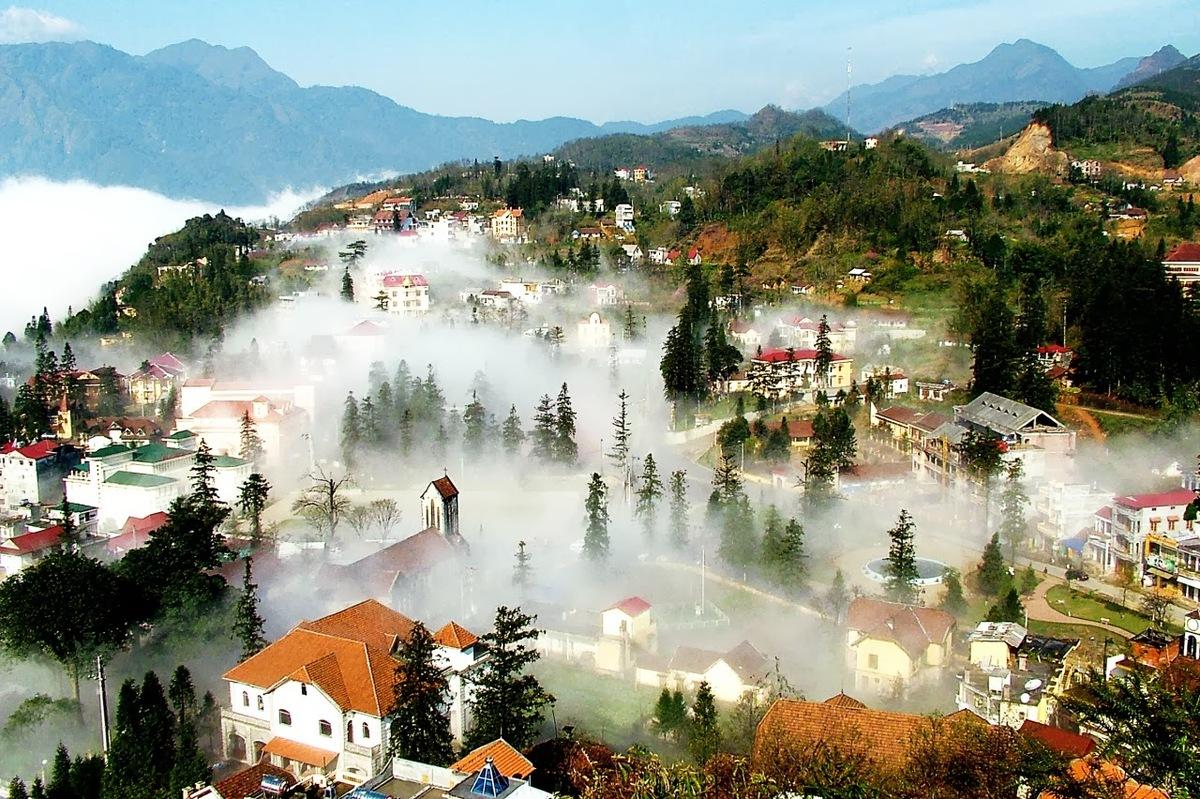 Location
Located in the heart of a valley in Lao Cao province (350 km from Ha Noi) which is a mountainous area of Northwest Vietnam, Sapa is famous for its cool, foggy, pleasant weather.
Tourist attractions in Sapa
Sapa is a beautiful mountain town in the Lao Cai province of Vietnam, known for its breathtaking scenery, unique culture and rich history. Located near the Chinese border, Sapa is an ideal destination for many tourists who come to explore its stunning landscape and ethnic minority villages.
The area of Sapa offers stunning views of terraced rice paddies on the hillsides, as well as towering mountains in the distance. There are several trails you can take to explore the local villages surrounding Sapa, where you can learn about traditional customs and cuisine first hand. There are also plenty of opportunities to participate in outdoor activities such as trekking, mountain biking and caving.
One of the most popular tourist attractions in Sapa is Muong Hoa Valley which consists of several small villages surrounded by majestic mountains. Here you can find a variety of handicrafts made by locals and get up close with some traditional cultures. In addition, this valley also provides visitors with spectacular views along its trails that stretch from Cat Cat village all the way up to Ta Van hamlet.
Atop Fansipan Mountain (also known as 'the Roof Of Indochina'), hikers can experience lofty peaks at 3143 meters above sea level. This is an excellent option for those looking for a more challenging adventure while being rewarded with breath-taking sceneries throughout their ascent. Furthermore, there are bungalows available at various points along the trail should hikers need accommodation during their journey.
Silver Waterfall is another charming attraction located nearby Sapa Town – though not as tall or powerful as some other famous waterfalls around Southeast Asia, it still offers captivating sights along its cascading streams. Locals believe that this waterfall holds spiritual power which makes it popular amongst those seeking out spiritual healing or enlightenment experiences here.
Overall, Sapa has much more to offer than just beautiful scenery – it's a great place to learn about Vietnamese culture through exploring local markets and visiting hill tribe villages too! From trekking up Fansipan Mountain to admiring nature's beauty at Silver Waterfall – there is something new to discover in Sapa that will surely leave you with unforgettable memories!
Discover some beauty spots in Sapa Town
The Town is not only an original home to the cultural diversity of ethnic people or the beautiful terrace fields stretching along the mountain foot and a paradise of thousands of captivating flowers but also an ideal destination with the European style for many interesting and lively attractions.
Sapa Square
If you would like to explore Sapa in a very different way which is way more modern, vivid, and exciting, Sapa Square is an appealing place for all those kinds of things.
The Square is in the middle of Sapa district with many villas, restaurants, and coffee shops available here.
Sapa Square is a spacious place, where lots of visitors, as well as local people, have some interesting activities together, especially, playing football with so much fun. At night, you can see the Quare so colorful with the modern lights shining all over the town, and sometimes, you can have an opportunity to attend a piece of live music or festival, which is so amazing and alluring. Moreover, you can also find a lot of stalls selling food and souvenirs here.
Don't forget to take some pictures to seize the moments in Sapa Square.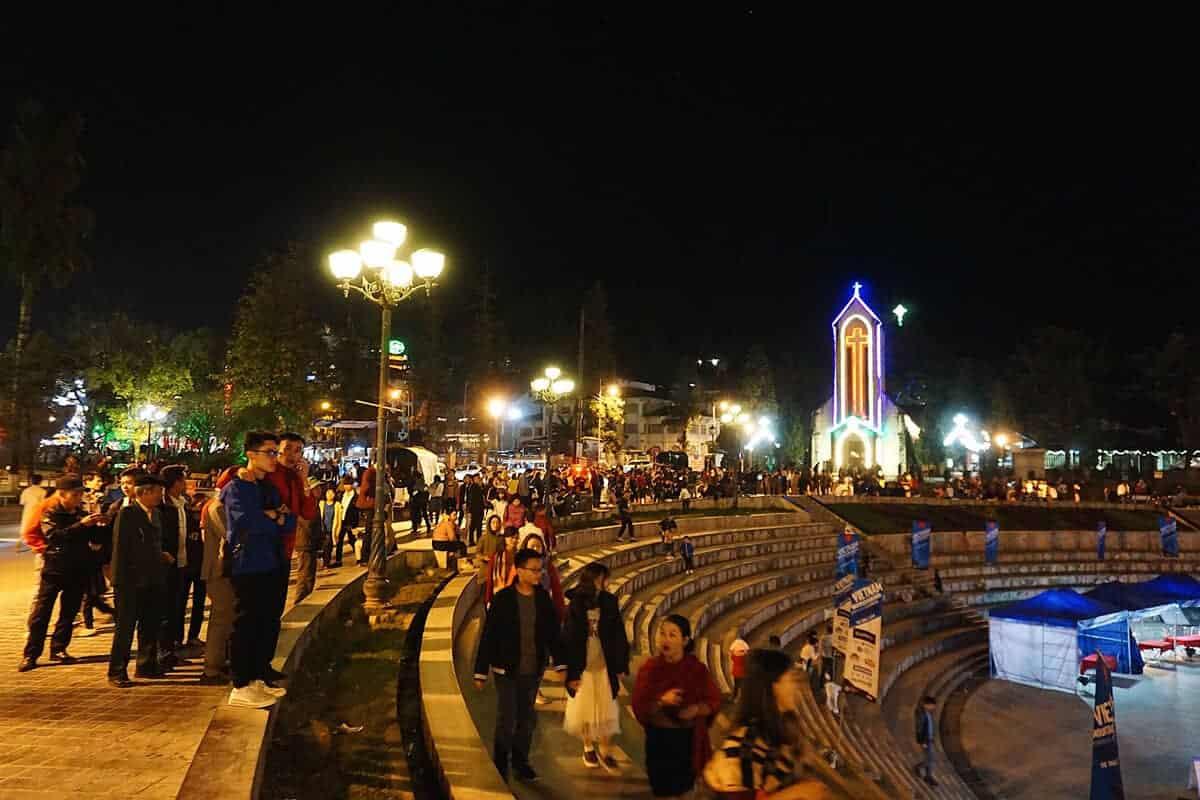 Sapa Stone Church
Sapa Church is an architectural masterpiece in Sapa center, which is known as the Church of the Holy Rosary. A special thing about this Sapa Church is it was designed and built by French colonizers in 1930, who recorded the history and war imprints left on the stones in the Church.
Until now, this place has become one of the tourist destinations that attract a large number of visitors, with many interesting religious activities organized here.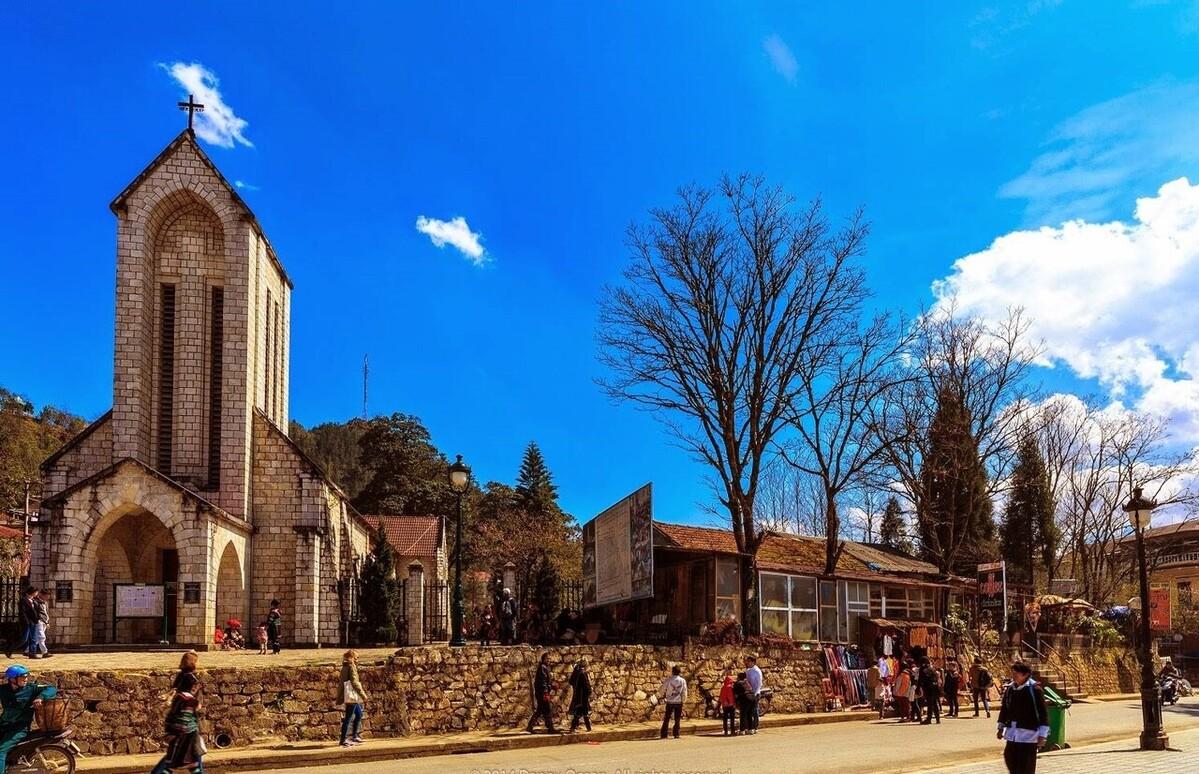 What are some unique features of Sapa Stone Church?
The Church facade's direction was carefully built to the East, where we can see the sunrise. It represents an extremely sacred meaning, which is the act of receiving bright light and energy from God. The other is built to the West, where General Kito was born and grew up.
Besides that, you will be overwhelmed by the very ornate European-style architecture, which is La Gothic style. It is applied in Sapa's ancient stone church through even the smallest details. The appearance and architecture are in the shape of a cross in the Gothic style of very ancient Rome.
At the weekend, you can have a chance to join some activities, which have the gentle sound of the flute, trumpet, and slanting dances of Hmong and Dao boys and girls. This makes the church more holy, faithful, and strangely alluring.
In summary, with its holly and heart-breaking beauty, the Church has so many unique features that await you to discover. I am so certain that you will feel satisfied with the harmonious and peaceful atmosphere in this "castle in the sunset".
Sapa Culture Museum
Sapa Culture Museum is a place to display all the general knowledge of the cultural and historical traditions of Sapa district. Therefore, coming here you will get a better understanding of the culture, customs, and history of the northern mountainous ethnic groups living in Sapa.
Sapa Culture Museum is located in the area of ​​the Lao Cai Provincial Tourism Information and Promotion Center, which is opposite the Stone Church. This place was established and put into operation in 2007.
What to see in the Museum
Sapa Museum currently showcases about 200 models of living standards, and beliefs as well as many publications and documentaries about ethnic groups in Sapa such as the Hmong, Tay, Giay, Xa Pho, Ha Nhi and Red Dao. Visiting the Museum, you can know more about the history of the Sapa district, as well as discover the productive working life, religious activities, culture, and unique costumes of each ethnic group, which is such invaluable knowledge.
If you get familiar with the highly modern skyscrapers and crowded streets of city life, you will find it very interesting and surprising the models of stilt houses or earthen walled houses of the minorities here. All of them are extremely rustic, and simple, like the gentle characteristics of the ethnic people living in Sapa for a long time.
You also can see people making local handicrafts there.
Sapa is a small town in the northwest of Vietnam, located close to the Chinese border. It is well known for its local handicrafts, reflecting the unique culture and traditions of this area.
Popular local handicrafts made in Sapa include hand-woven fabrics such as thick blankets and shawls, intricately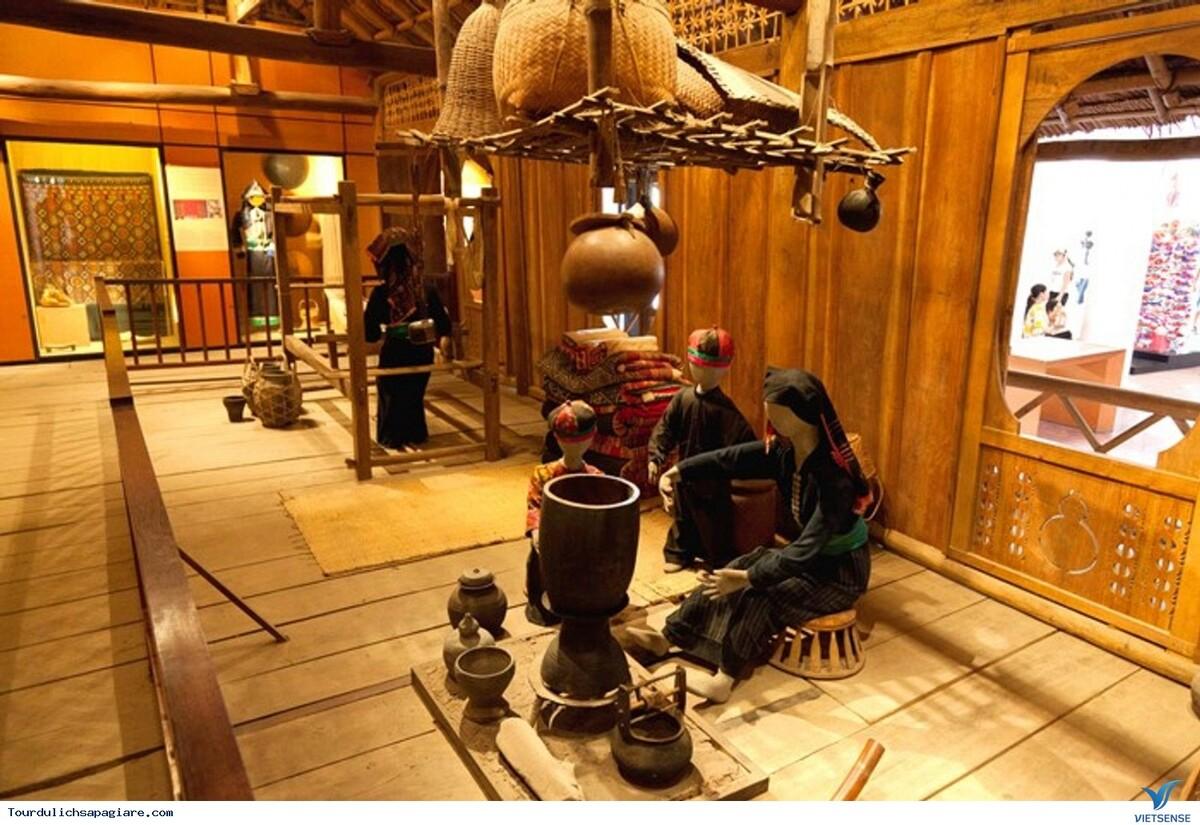 Sapa Lake
Sapa Lake is a stunningly beautiful lake located in the northwest corner of Vietnam, near the Chinese border. It is known for its picturesque surroundings and majestic views. The Sapa lake is surrounded by lush green hills, with terraced rice paddies running down its banks and a backdrop of towering mountains behind it.
Local villages
To get one more step closer to the authentic life of local people, don't forget to stop by some beautiful villages in Sapa and admire the majestic, poetic, and unique highlands of Sapa's cloudy town. These rustic villages will leave a deep impression and an endless inspiration on your heart and give you some true feelings of peace, and calmness through their mysterious picture inside the fog and clouds as well as the rustic lifestyles of local people together with the colorful traditional costume appearing in the landscape. There are many villages in Sapa, which play an indispensable role in the ethnic people's lives. Let's give you a chance to immerse yourself in these remarkable villages.
Cat Cat village
In the midst of the majestic wild mountainous scenery of Sapa cloud paradise, there is a small and beautiful rustic village that anyone who has an opportunity to come to Sapa must definitely visit, which is Cat Cat village, the most beautiful ancient village in the Northwest Forest.
You will surely fall in love with the simple, rustic style that blends in each wooden house, each row of trees, each small murmuring stream, and each local person here.
The traditional handicrafts made in the Cat Cat villages of Sapa are renowned for their intricate details and craftsmanship. Located in the highlands of Northwest Vietnam, these villages have long been known for their distinctive culture, reflected in the unique artistry of their traditional crafts.
Among the most popular handicrafts made in the Cat Cat villages of Sapa are intricately embroidered blankets and shawls, beautifully crafted baskets and trays woven from bamboo and rattan, intricately carved wooden bowls and bowls, delicate silver jewelry adorned with colorful gemstones, and unique lacquerware pieces.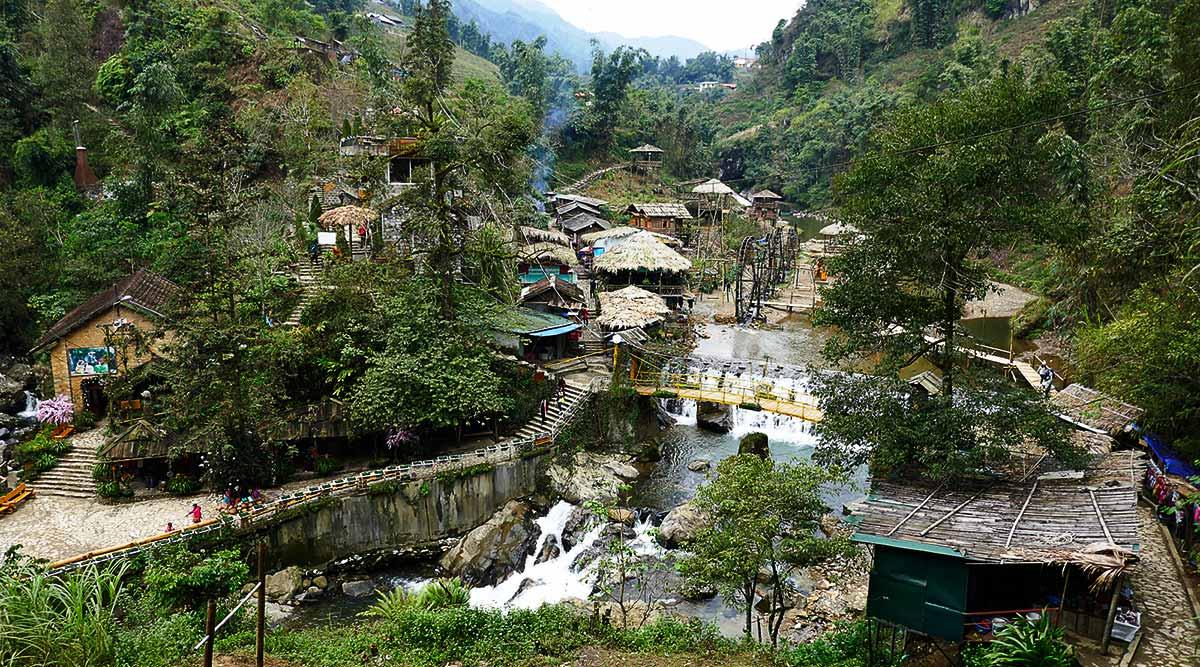 Cat Cat is a small village, located in San Sa Ho commune, which is about 2 km from Sapa Town.
On the way to this village, you will be captivated and attracted by the vast and majestic scenery, which is like you are in heaven. On one side, you can admire the wonderous high mountains and on the other side is the romantic Sapa valley with various breathtaking terraced fields. In addition, looking down from the top, you can also see the whole Cat Cat village with the houses lying close together, and the surrounding is covered by thousands of stunning plants and flowers.
What to see in Cat Cat Village
In spring, you can admire the scene of graceful and beautiful peach blossoms, and plum blossoms blooming around the village.
In summer, it is the season of bright yellow canola flowers covered on the background of green fields that will make you so awe-inspiring.
Autumn with brilliant golden rice fields, chilly weather, and rolling waterfalls around the island will create a poetic and attractive landscape.
In winter, Cat Cat village is immersed in ice and white snow. This is also the most beautiful snow-watching destination in the country today. At this time, hazy clouds, and white snow covered an entire area creating a fairyland in the middle of the village.
Stunning stone steps
Stepping through the entrance to this ancient village of Hmong people, you will be surprised by the wide stairway paved with polished stone, which is quite steep, but it creates a special and beautiful scene in the village.
Along the two sides of the road, you will find so many stalls selling all kinds of handicrafts, such as ethnic jewelry, brocade, Sapa specialties, etc., so let's stop here for a while and buy a couple of items as a gift for yourself and your loved ones.
The dreamy flower stream and silver waterfall
The murmuring sound of the stream and waterfall together with the beautiful giant watermills, the bamboo bridge, and the wooden swings are the perfect combination for a peaceful, breathtaking picture that you can't refuse to enjoy whenever coming here.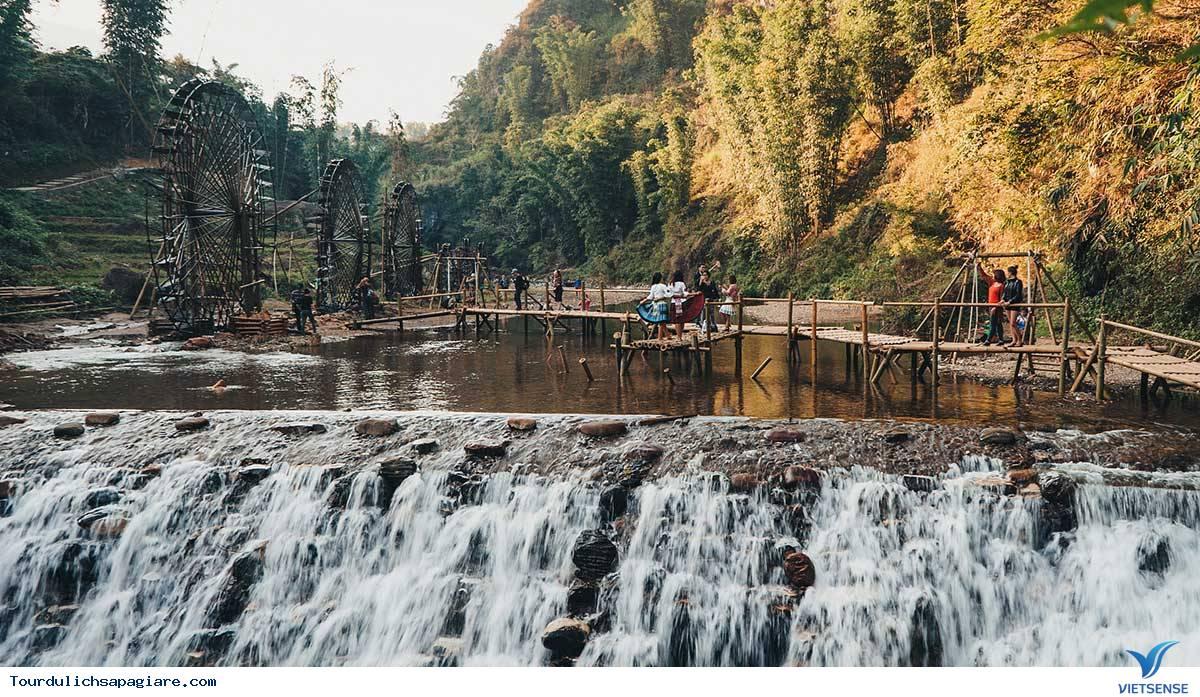 With all these beautiful features here, do not miss the precious opportunity to visit Cat Cat village with the simplicity and serenity of rustic cottages when having a trip to Sapa.
Ta Phin village
Ta Phin village, a symbol of mountainous culture, is famous for its wild and rustic beauty. When coming here, you will be overwhelmed with the beauty of majestic terraced fields and simple stilt houses located at the foot of Hoang Lien Son mountain.
Let's discover a village full of ancient, mysterious, and unexplored wild beauty.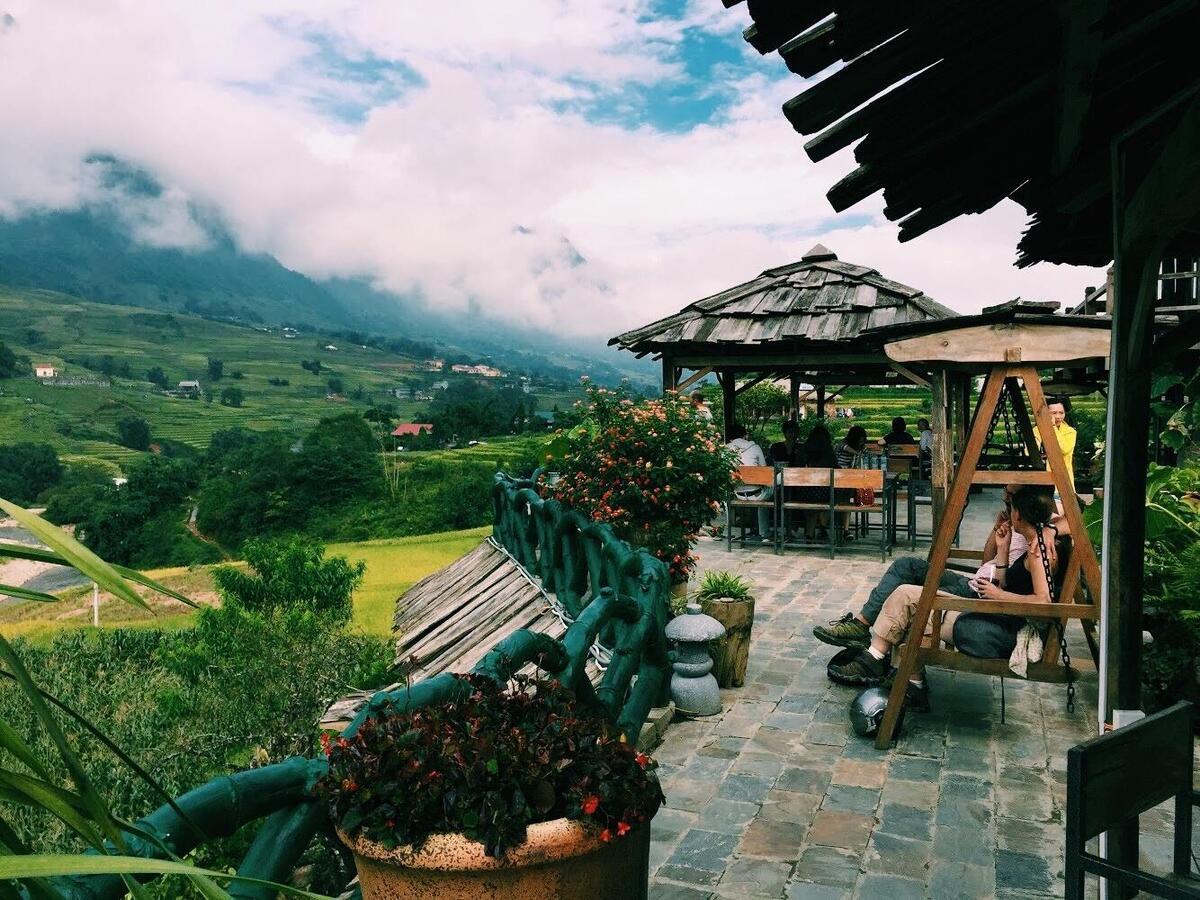 Ta Phin village is located about 13km from Sapa town to the Northeast. The road to the village is quite difficult to go if you are not familiar, but it possesses the impressive beauty of the wild mountains and forests.
Explore Ta Phin Village – a wild village with rustic beauty but full of love
The village of pristine nature is home to ethnic minorities, including Red Dao and Hmong ethnic groups. Therefore, when coming here, you will feel an ethnic living space with simple stilt houses, colorful handmade costumes, and countless traditional dishes with the flavor of the mountains.
Ta Phin ancient monastery
This ancient monastery was built in 1942, with Western ancient architecture together with a unique semi-classical beauty. Although the monastery is no longer as new and intact as in the past, the gray walls covered with moss and its mysterious feature create an appealing attraction for tourists to come and check in on this ancient architecture.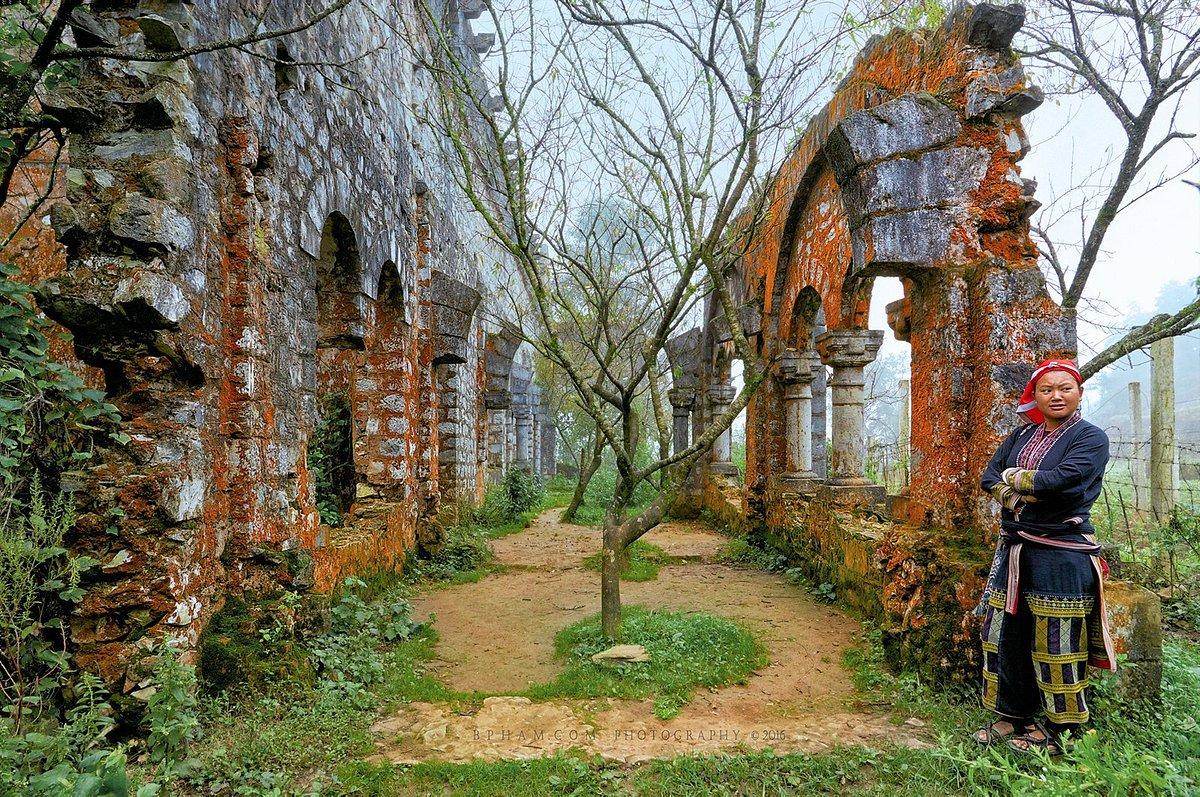 Ta Phin cave
The cave is located at the foot of the mountain, a bit far from the center of Ta Phin village (about 3 km), but the scenery on both sides is extremely beautiful to enjoy. It is said that this cave is the residence of the first ancestors of the Dao ethnic group, which is an extremely sacred place, with divine sacred sounds and adoration.
To experience a safe and enjoyable journey to Ta Phin cave, you can hire a Dao ethnic person to be a tour guide and help you have a deep understanding of this cave with many interesting stories.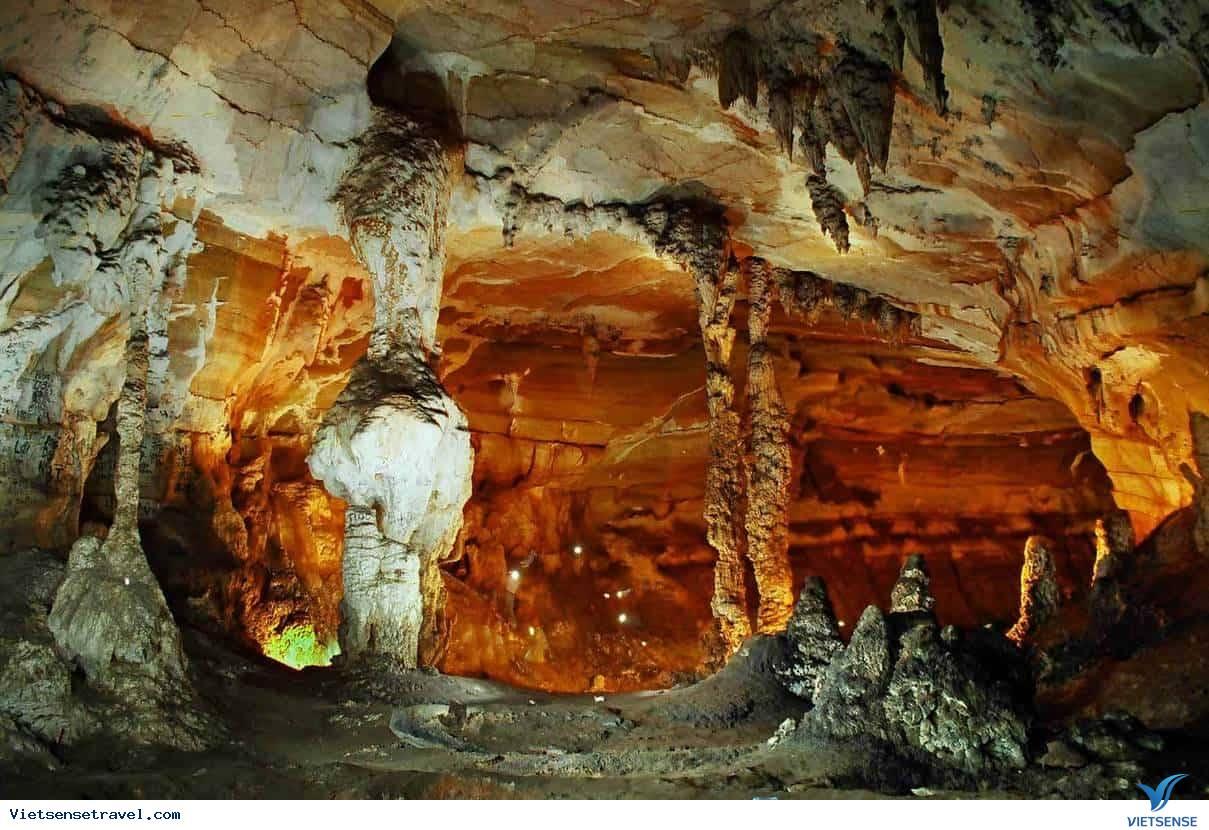 Last but not least, Ta Phin village is a place that you definitely have to come and experience to feel the beauty and friendliness of people here. The Dao ethnic people in the village are extremely friendly and lovely, hospitable and they are willing to support you if there is any difficulties. Don't forget to put this place into your itinerary to discover this wild Ta Phin village right away.
Sin Chai Village
Sin Chai village is considered to be the most ancient village in Sapa town, which is a typical rustic simplicity of a highland village. The tranquil life and the friendly smile of people here is a unique beauty and the most invaluable gift that you cannot forget when setting foot in this village.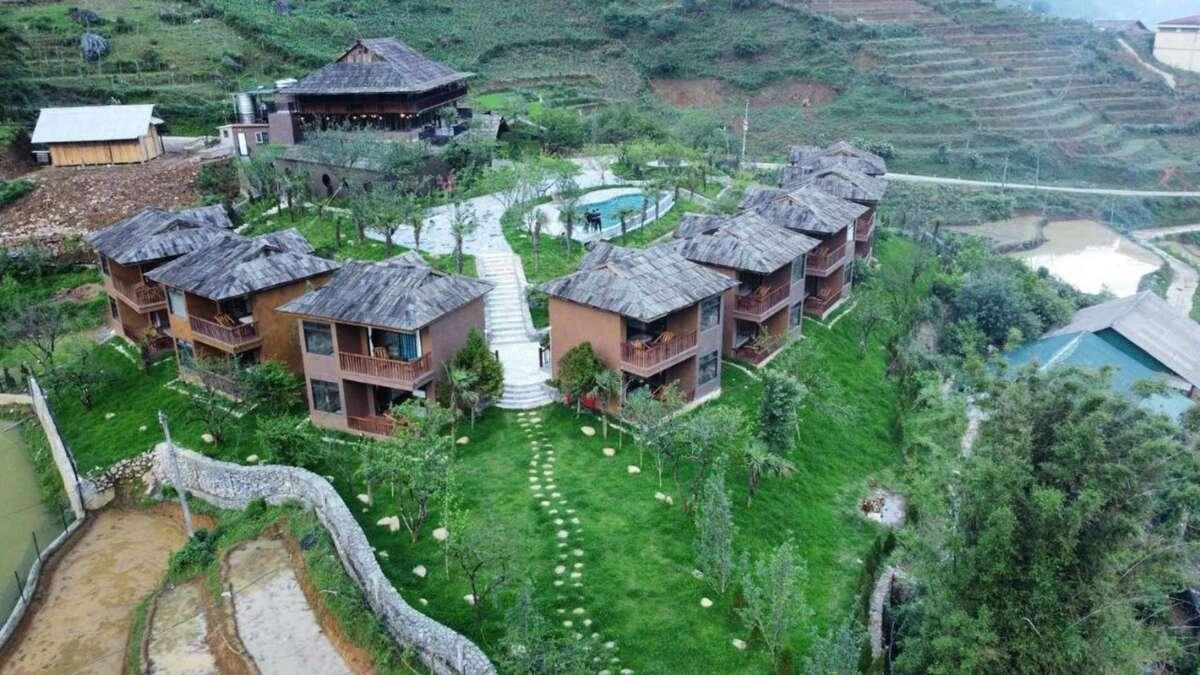 Sin Chai Village is located in San Sa Ho Commune, 4 km from Sapa Town. Although located right next to Cat Cat – a famous cultural tourism village of Sa Pa, Sin Chai is still quite pristine and quiet compared to the surrounding village.
Lying quietly at the foot of Hoang Lien Son range, surrounded by vast hills, Sin Chai has been the home of the Black Hmong ethnic people for many generations.
The charming beauty of Sin Chai village
The untouched beauty of a simple and rustic village with immense terraced fields is will give you unforgettable memories. Especially, coming to Sin Chai village when the rice is ripe, from September to October every year will captivate your heart because, at this time, the whole village is covered by the golden color of ripe rice.
Outstandingly, visiting this village, you will feel the cultural features imbued with the identity of the Black Hmong people. The image of beautiful Hmong girls in traditional national costumes next to the sticky rice mortar is so charming and gorgeous.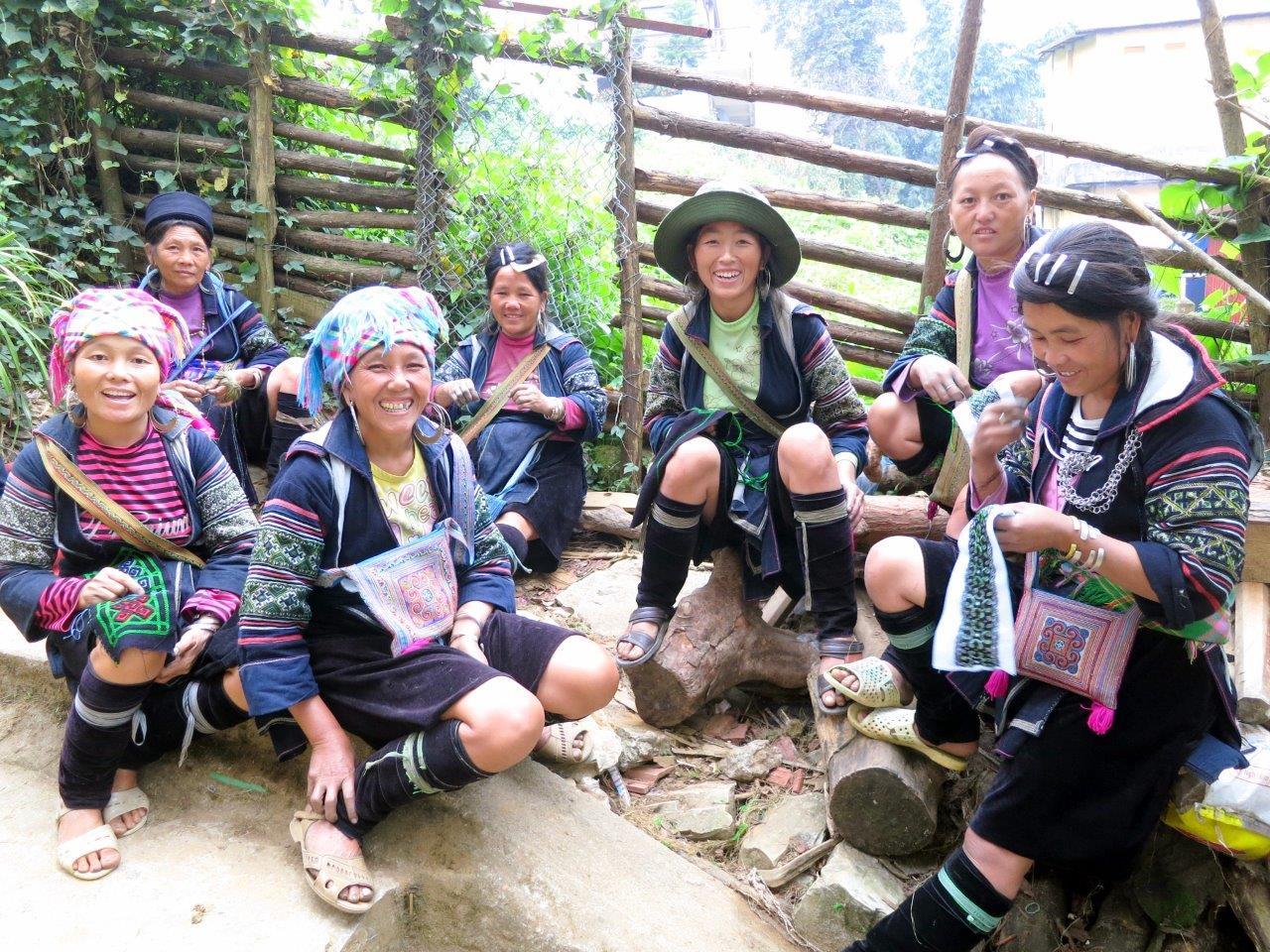 One special point that you will surely be so curious about when coming to the main village is that Sin Chai people's life expectancy is very long, which means that finding old people over 100 years old is not difficult at all. It is the reason why it attracts more and more tourists to come here to learn and explore.
In conclusion, there are still many other beautiful villages that await you to discover. Therefore, if you have the opportunity to go to this foggy town, do not forget to spend your time visiting these unique local villages to get more insights into the cultural traditions and charming beauty of Sapa. Your journey will definitely be more interesting when reaching these destinations.
Sapa 1 Day Tours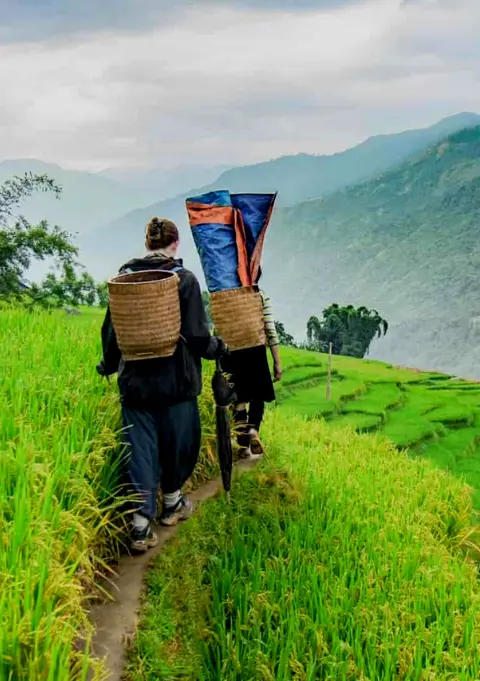 1 day experience
Moderate to challenging
Cultural immersion & active adventure
Rice fields, valleys & villages
​Private tours
Vegan-friendly
Sapa 2 Day Tours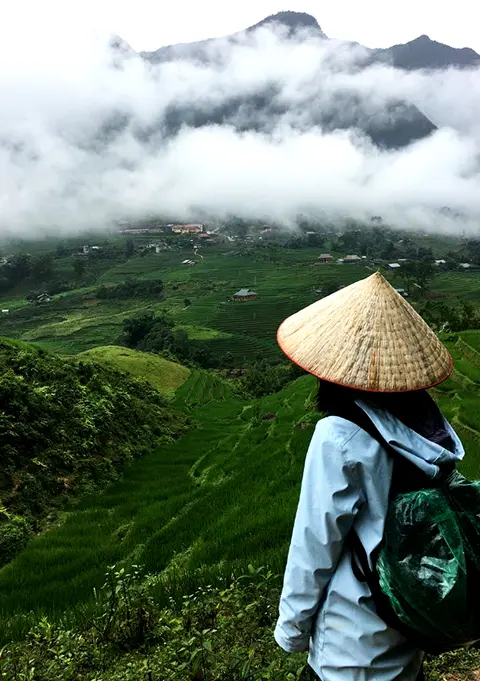 2 days 1 night experience
Moderate to challenging
Cultural immersion & active adventure
Mountains, valleys, rice fields and villages
​Private tours
Vegan-friendly
Sapa 3 Day Tours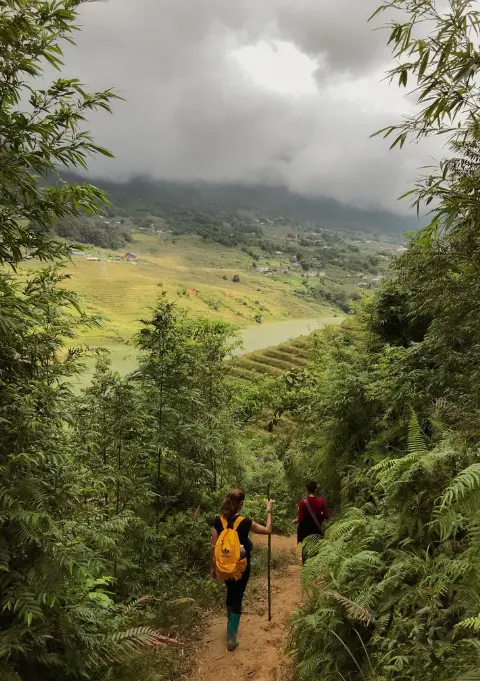 3 days 2 night experience
Moderate to challenging
Cultural immersion & active adventure
Mountains, valley, rice fields & villages
​Private tours
Vegan-friendly
Sapa 4 Day Tours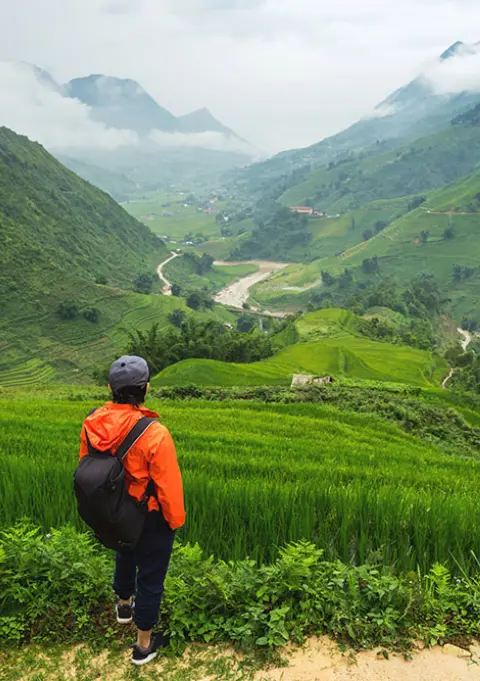 4 days 3 night experience
Moderate to challenging
Cultural immersion & active adventure
Mountains, valleys, rice fields & villages
​Private tours – Less Touristic
Vegan-friendly
Sapa Trekking and Hiking Trip
Your journey to Sapa will not be complete if you miss out on this adventurous activity on a trekking and hiking trip to explore the foggy city and local villages in Sapa in the best interesting way. Furthermore, by trekking and hiking, you can connect and interact with ethnic people in the closest way as well as learn about their traditional style and cultural activities.
This adventurous journey will be one of the highlights of your trip to Sapa and become a memorable experience in your life.
So, why not book a hiking and trekking trip through trekking tour sapa and have the most authentic experience with local experts? The whole heaven and paradise in Sapa are looking for you to discover.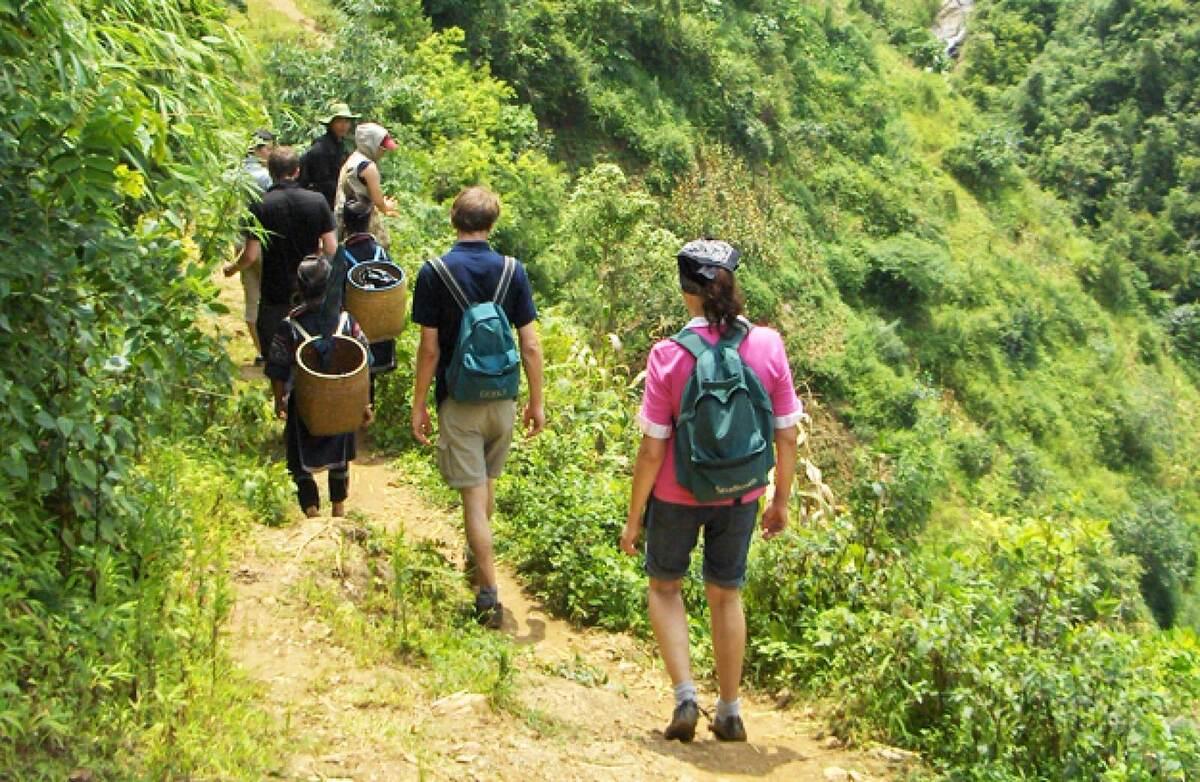 How many days in Sapa is enough?
Coming to a new tourist destination that you have never been to, particularly, a place with tremendous special and unique features like Sapa, you may be wondering how much time it will take to have a completely interesting and awesome experience here.
Actually, there are many factors having a great impact on your final decision, such as your travel time to Sapa and your destination to visit, activities you would like to take part in or your staying time in Sapa. Based on these things, you can decide the most suitable time to travel to Sapa.
From my experience, if you depart from Hanoi, you can spend 3 days and 2 nights to have a fabulous trip in Sapa, but if departing from Ho Chi Minh City, it should be 4 days and 3 nights since the travel from here is much more than from Hanoi.
One important note is that most of the roads leading to the attractions in this cloudy town are quite hard to travel because the surroundings are mountains and hills, so you should prepare in advance your itinerary carefully. It would be a lot better if you pre-book a local tour for more convenience and to save your time, your energy to have the trip ever.
Although it may take a lot of time than you expect to lead to your destination, it's definitely worthwhile because the landscape here is so breathtakingly beautiful with the lush green nature around, which can heal your soul, bring you invaluable experience, and get closer to mother nature, the ethnic people, and the serenity of life.
Sapa Travel Tips
Remember to bring warm clothes
Even if you come here in the summer, the climate at night in Sapa is also extremely cold. In the evening and early morning, there is thick fog covering the whole surrounding, so it'd be better to admire the scenery around noon and afternoon!
Bring some necessary medical supplies
If you want to explore the villages, you should prepare these items in advance in case you may be slightly injured.
Some indispensable items
A backup charger, anti-mosquito cream, jacket, warm towel, sports shoes, and camera are some items you should bring during the trip.
Bargain if you would like to buy anything in Sapa
There are some items that you can bargain for a better price.
Sapa 1 Day Tours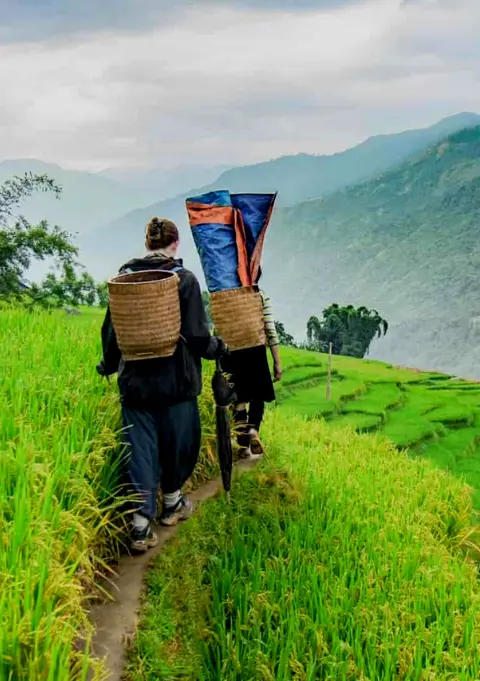 1 day experience
Moderate to challenging
Cultural immersion & active adventure
Rice fields, valleys & villages
​Private tours
Vegan-friendly
Sapa 2 Day Tours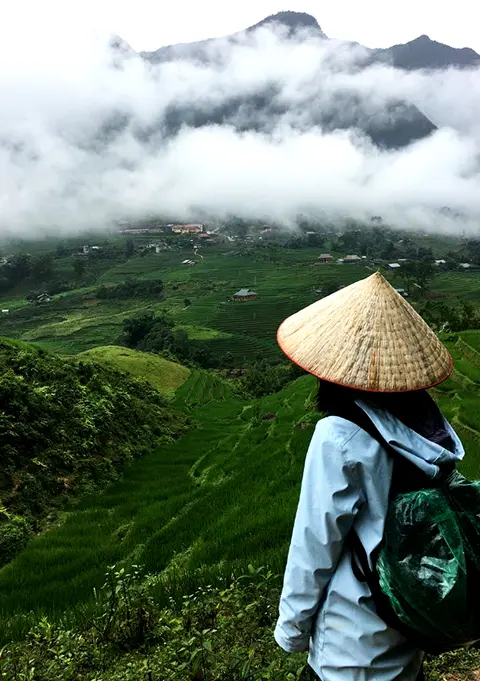 2 days 1 night experience
Moderate to challenging
Cultural immersion & active adventure
Mountains, valleys, rice fields and villages
​Private tours
Vegan-friendly
Sapa 3 Day Tours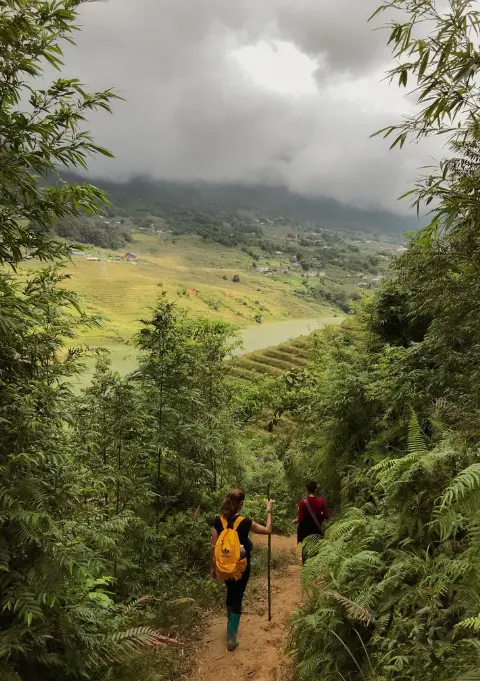 3 days 2 night experience
Moderate to challenging
Cultural immersion & active adventure
Mountains, valley, rice fields & villages
​Private tours
Vegan-friendly
Sapa 4 Day Tours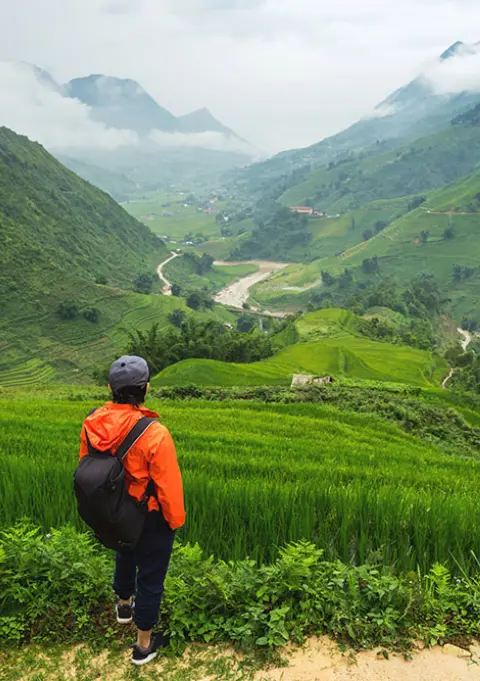 4 days 3 night experience
Moderate to challenging
Cultural immersion & active adventure
Mountains, valleys, rice fields & villages
​Private tours – Less Touristic
Vegan-friendly
FAQ about things to do in Sapa
Is Sapa worth visiting?
Sapa is definitely worth visiting! This picturesque mountain town is known for its stunning scenery, beautiful terraced rice fields, and cultural diversity. It is home to many different ethnic groups such as the Hmong and Tay people, each with their own distinct dialects, customs, and colorful traditional clothing.
What is Sapa Vietnam known for?
Sapa is most well known for its stunning scenery and diverse culture. This mountain town is home to many different ethnic groups, each with their own unique dialects, customs, and traditional clothing. Visitors can enjoy breathtaking views of the surrounding mountains and rice fields, as well as experience the local culture first hand by interacting with the friendly locals.
How many days is enough in Sapa?
It really depends on what your plans are when visiting Sapa. If you want to explore the town and its culture, two or three days would be enough. You can spend day one by visiting some of the local villages, such as Cat Cat or Ta Phin. Here, you can experience firsthand how the locals live and get to know
Is 2 days in Sapa enough?
Two days in Sapa may be enough to get a taste of the town and its culture, but if you're looking for an immersive experience, it's best to spend more time here. Three or four days is ideal if you want to explore all the attractions and activities that Sapa has to offer.
In conclusion, Sapa is a great destination for memorable experiences in life. This cloudy paradise is always beautiful, charming, and unique in every season, so what are you waiting for without arranging a few days away from the city to discover the most majestic northwestern mountains in Vietnam?