Are you planning a trip to Sapa and wondering if taking the group bus is a good idea? I've done it both with a tour group and on my own, and I wanted to share my experience with you. Spoiler alert: going it alone is not for everyone! Here's what you need to know about traveling by bus to Sapa.
About Sapa Group Bus
Hanoi Open Investment and Tourism Joint Stock Company established Sapa Group Bus. Although newly established, Group Bus has been preferred by many customers.
Thanks to the new facilities, customers can enjoy a modern and exciting journey on a trip to Sapa from Hanoi or to Hanoi from Sapa.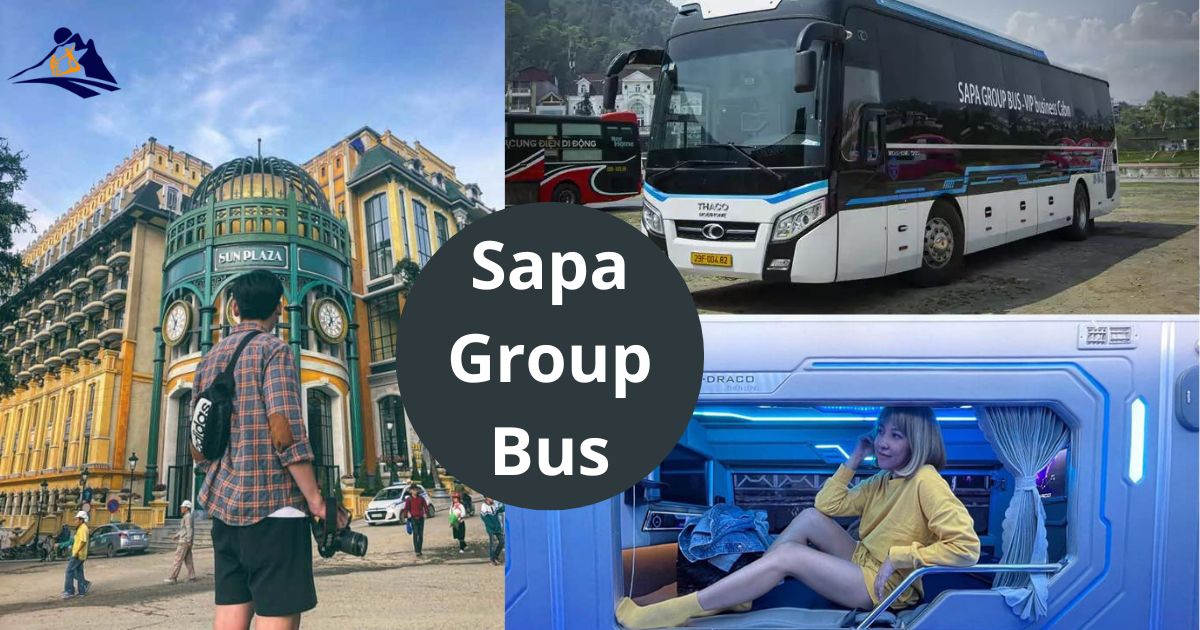 Utilities served on Group Bus
Up to now, Sapa Group Bus has received a lot of positive feedback from customers. Especially the 5-star reviews for good quality. Contributing to that success are the thoughtfully serviced utilities on the Group Bus.
As follows:
The double cabin has a spacious size of 95cm x 1 m8.
Electric bed lifting system and massage modes.
There are curtains to create a private space for each customer.
Serves cold air conditioning.
Fully equipped with Wifi, Led TV, standard sound system.
Full service of thin blankets, cold towels, mineral water,…
Customers will have an extremely comfortable and pleasant trip with quality facilities like these.
What type of Seat Group Bus is offered?
The Sapa Group Bus are all new bus; the interior is decorated in a modern style. Currently, Group Bus provides the main Bus line to serve customers, cabin buses. Each bus has 22 rooms. Each cabin is like a separate space, spacious and comfortable.
Sapa Group Bus are all new models in 2020-2021, the high-end version of Hyundai Universe assembled by Thaco. This is the Bus that is always preferred, because:
The exterior of the Hyundai Universe is aerodynamically designed, helping to create stability and less wind resistance. The front of the bus stands out with the large size of the observation glass. Provides effective visibility with the headlights and air intakes combined harmoniously.
The body of the bus is solid and luxurious. The transparent white glass system can obstruct light, rain, and noise well.
The interior, after being designed by Group Bus, becomes fully equipped, new, modern and luxurious.
Hyundai's leading modern and advanced bus engine. The bus is quiet, fuel-efficient, and friendly according to EU4 standards.
The frame is designed firmly and monolithically, ensuring smoothness and stability on all moving terrains.
High marks for quality and safety.
Therefore, the brand new Group Buses bring modern facilities, which are worth the experience of our passengers for our trip.
Note: To book the fastest Group Bus, don't hesitate to get in touch with WhatsApp: +84886766031 or here 7 Reasons to choose to ride a Sapa Group Bus
Although Group Bus has just been established and put into operation, this has also become a great advantage of the bus company. By:
1. New Bus.
It can be seen that the vehicles served by Group Bus are all new models. And they are regularly upgraded, maintained, and cleaned regularly.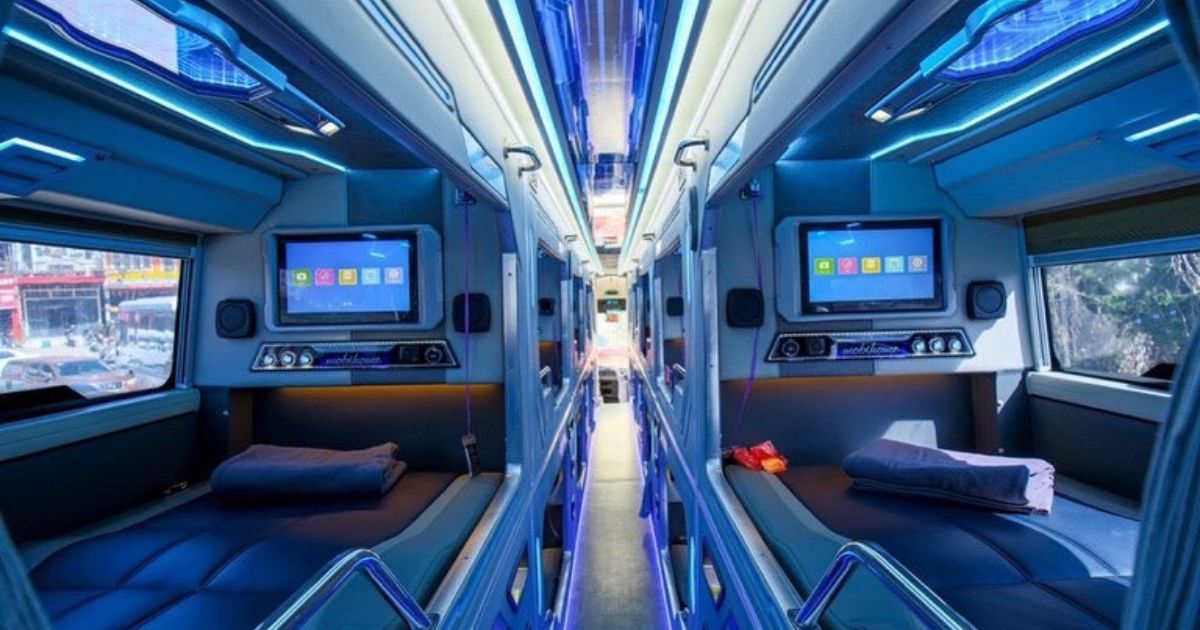 2. The interior is luxurious – genuine – smooth.
The interior space in the bus will make first-time passengers to experience the service of this garage will be amazed.
Everything in the bus is meticulous to every detail. And more importantly, it's all new. Therefore, bringing a modern and new feeling to passengers in their trips: going to Sapa from Hanoi, going to Hanoi from Sapa…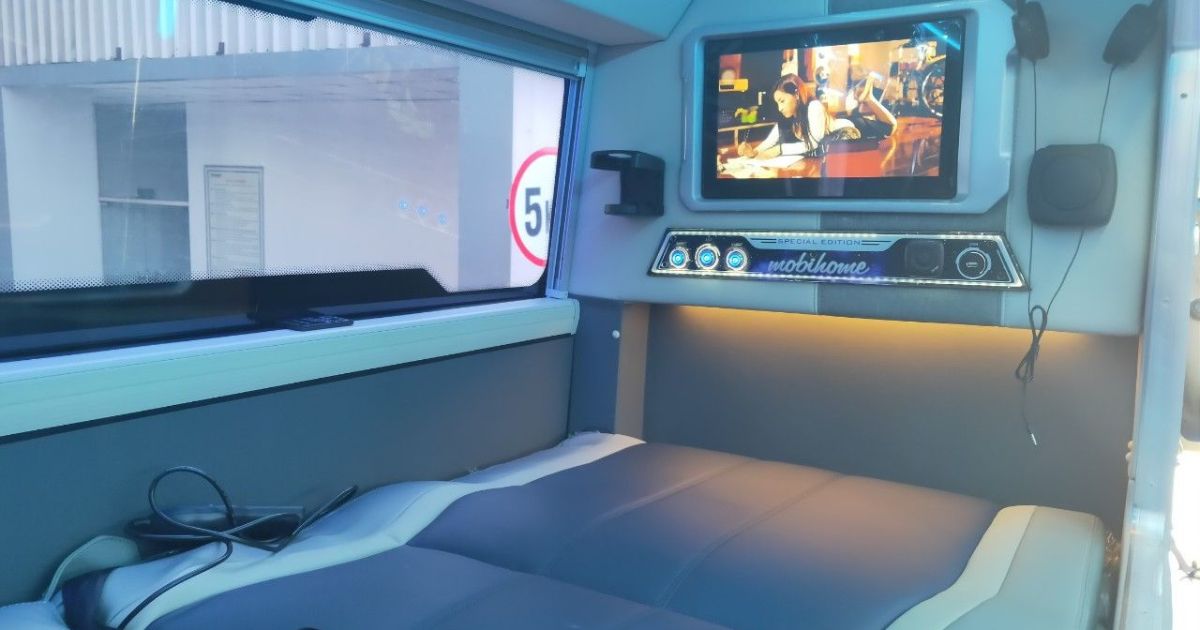 3. Sapa group bus is one of the best company cognization buses from Hanoi to Sapa
If you're planning a trip to Sapa and want to travel in comfort and style, the best solution is the Sapa Group Bus.
It's highly recommended by those who have used it before; after all, it's one of the best bus companies traveling between Hanoi and Sapa! Not only do they provide a luxurious air-conditioned bus with comfortable seats, but they also offer amenities like a complimentary bottle of water, and free Wi-Fi so that you can stay connected even while you're on the go.
Plus, their excellent customer service ensures your experience is smooth and pleasant from start to finish. With Sapa Group Bus, getting from Hanoi to Sapa has never been easier!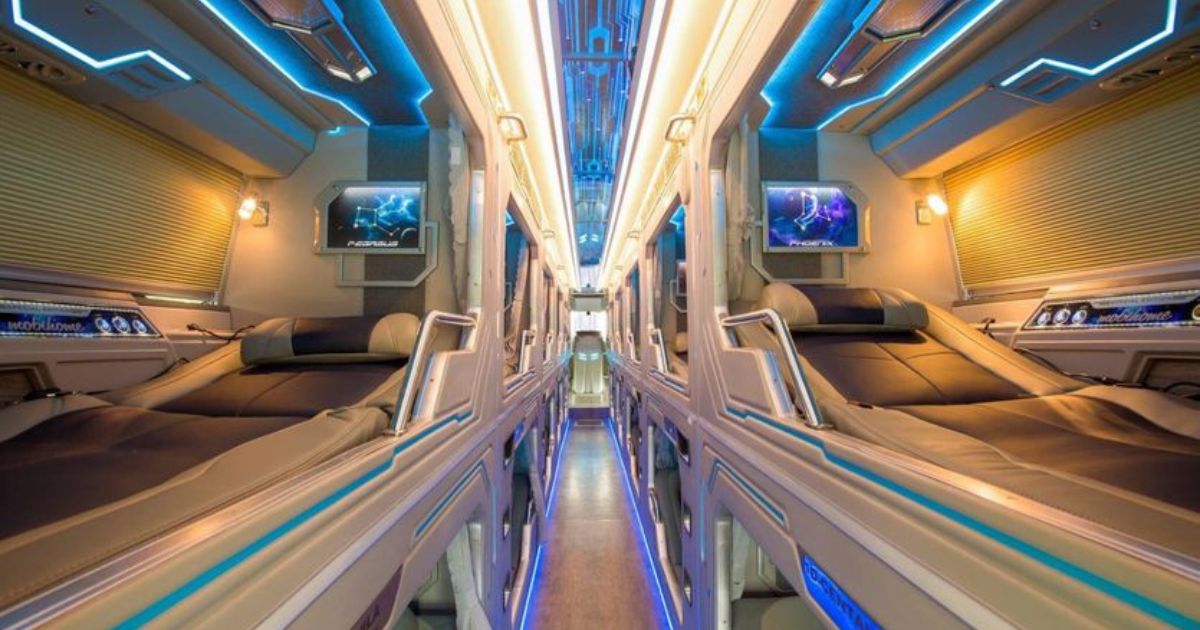 4. It's convenient, affordable, and eco-friendly
Traveling by bus from Hanoi to Sapa offers many advantages. From its convenience and affordability to its eco-friendly nature, it's an excellent choice for anyone looking to take in the stunning views of northern Vietnam.
With an array of bus companies offering pick ups from many locations across Hanoi, it's incredibly easy to find one that fits your budget and schedule.
What's more, taking the bus is far better for the environment than buses or planes – significantly reducing carbon emissions and doing your part for the planet! Of course, with comfortable seats and wonderful views along the way, there will be no lack of fun during your journey.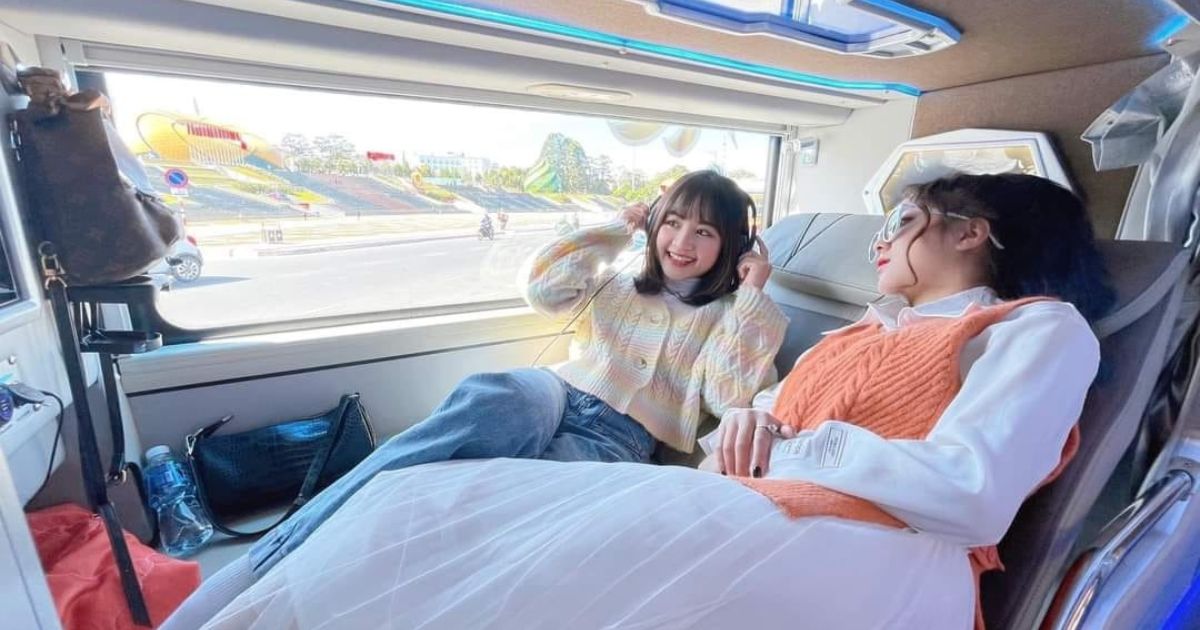 5. The bus is comfortable and clean
Riding from Hanoi to Sapa on the best sleeper bus is a great way to get to your destination in comfort and cleanliness.
The seats are comfortable, even for overnight trips, and the bus's interior is always immaculate.
Passengers can enjoy international-standard amenities that make the journey pleasant, such as air conditioning, WiFi, and other modern features.
With professional service that ensures passengers arrive safely to their destination, it's no wonder many travelers choose to ride the best sleeper bus from Hanoi to Sapa.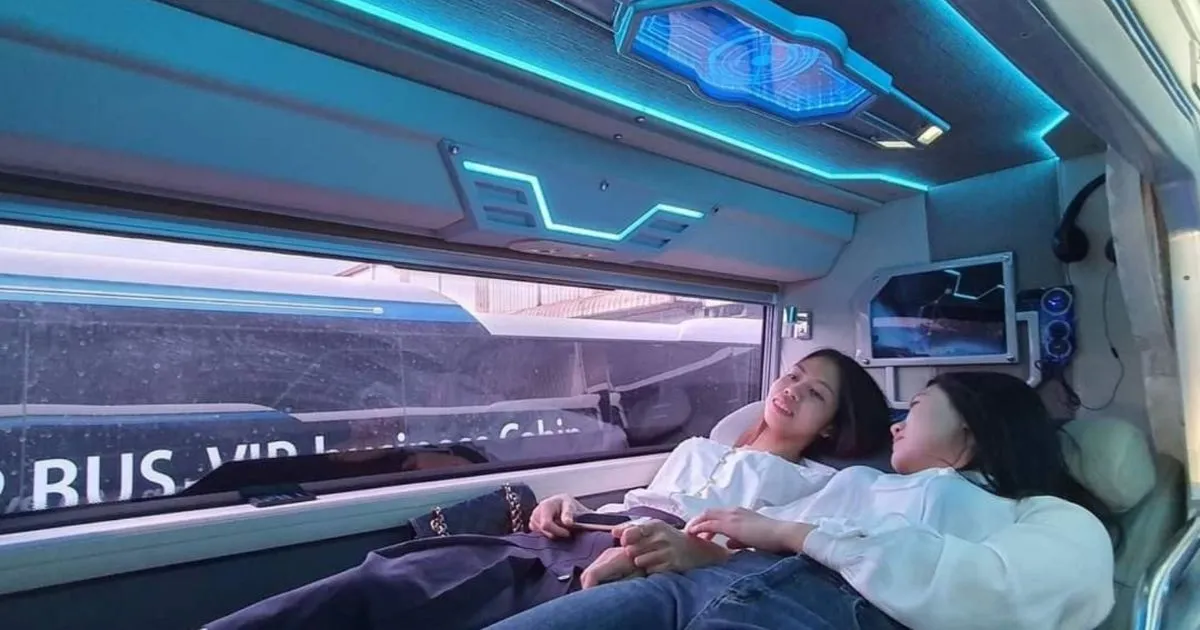 6. The drivers are friendly and helpful
It's great to know that when you need help hailing a ride, the drivers are friendly and helpful. Each great driver is great at giving riders the support they need while ensuring they arrive at their destination safely.
From offering guidance with directions to suggesting great places to visit, these great drivers know how to provide great customer service.
Whether you need a ride around town or a quick jaunt across state lines, being able to rely on friendly and helpful great drivers makes the journey much more enjoyable.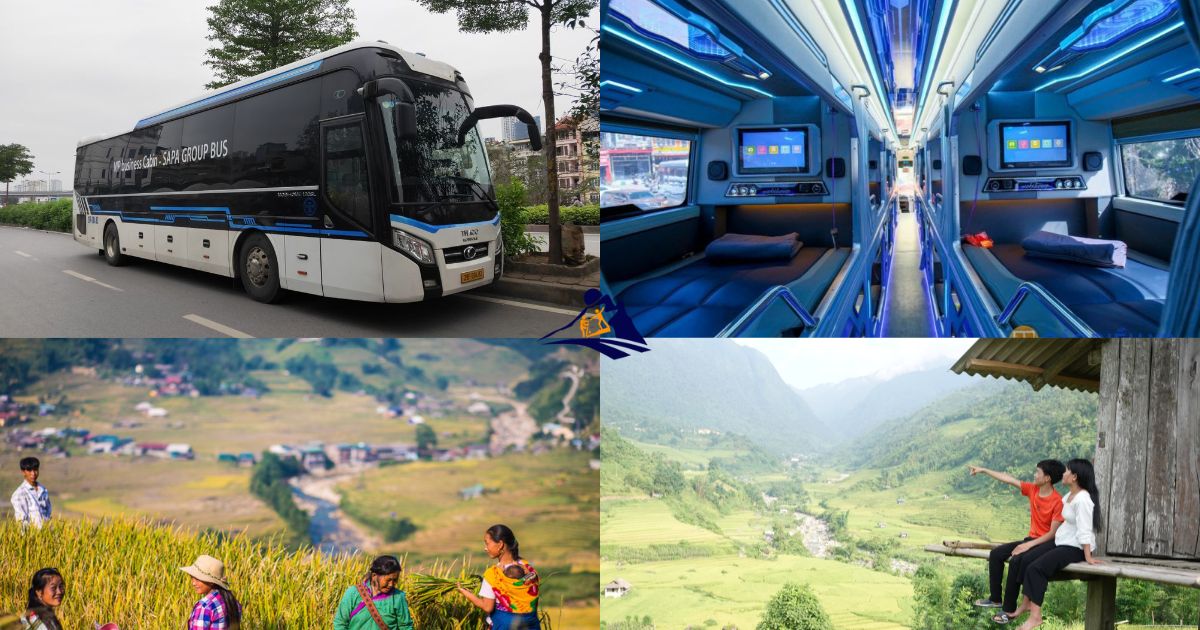 7. There's plenty of space for luggage
Travelling can be stressful, but with plenty of space for luggage, the maddening experience of trying to fit your things into a single crate is abolished.
Long gone are the days of cumbersome trips weighted down with bags, as now you can store it all in the designated holds.
Whether you're an experienced globetrotter or just a novice explorer, overstuffed suitcases are not to worry about anymore.
There's ample room for even the most full load and so there's no need to worry about packing down that extra item. With spacious open arms and capacity for all your things, waves goodbye to cramped carousels and hello to liberating travel experiences!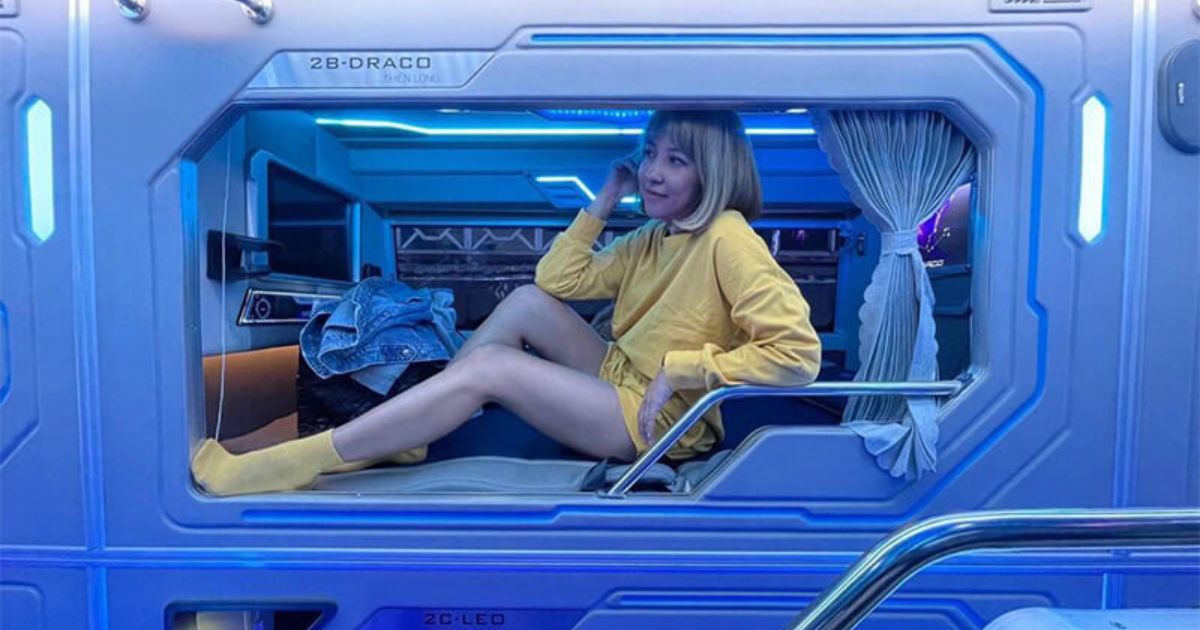 8. The bus is air-conditioned and has Wi-Fi
Riding the bus is a great way to get around – mainly when it includes air-conditioning and Wi-Fi! Whether you're commuting to work or needing a reliable way to travel elsewhere, the convenience of an air-conditioned and Wi-Fi-enabled bus cannot be overstated.
With these two amenities included, you can get where you need to go in comfort and with access to your digital life. Forget hailing a cab or waiting for a train – hop on the bus for your next journey!
Schedule and pick up and drop off points of Group Bus
Schedule
Specifically, we have the time and travel schedule of Group Bus as follows:
From Hanoi to Sapa: 05h45 and 22h00.
From Noi Bai to Sapa: 07h30 and 23h30.
From Sapa to Noi Bai Airport and Hanoi: 14h00 and 22h00.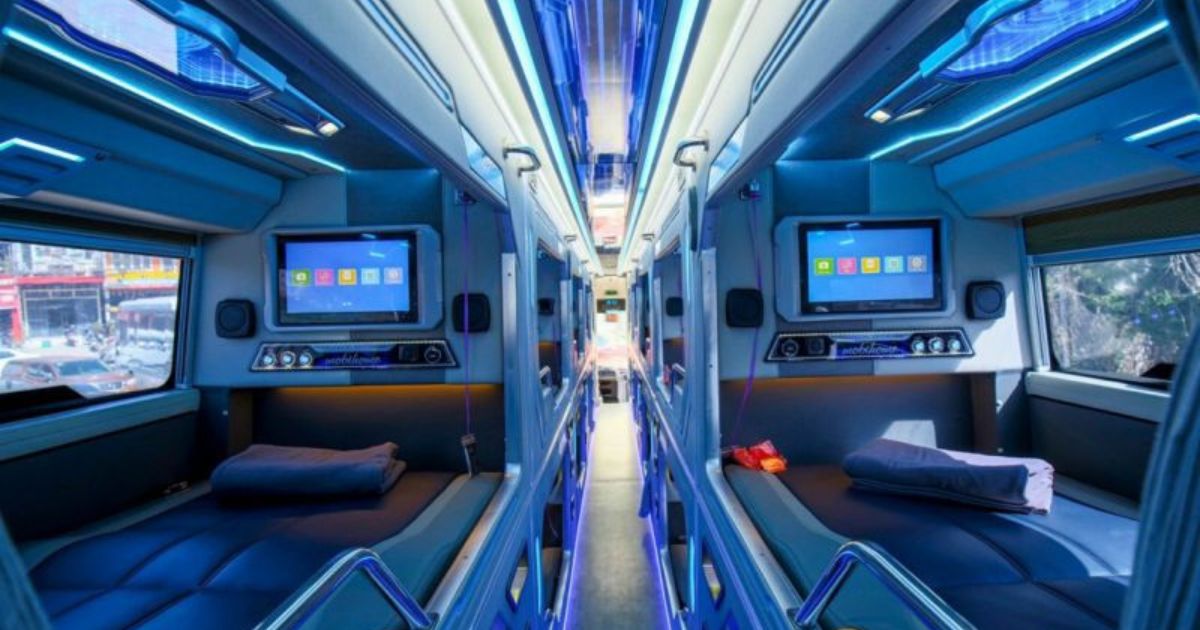 With hours for day and night trips, customers have more choices for their timetable. For example, customers who want to save travel time to increase travel time, choose a departure at 22h00 or 23h30. Thus, after a night's sleep, we reached our destination.
Or customers who have a daytime flight or have to leave/return during the day can choose a morning/afternoon flight.
Note: Travel time is about 5 and a half to 6 and a half hours depending on weather and traffic conditions.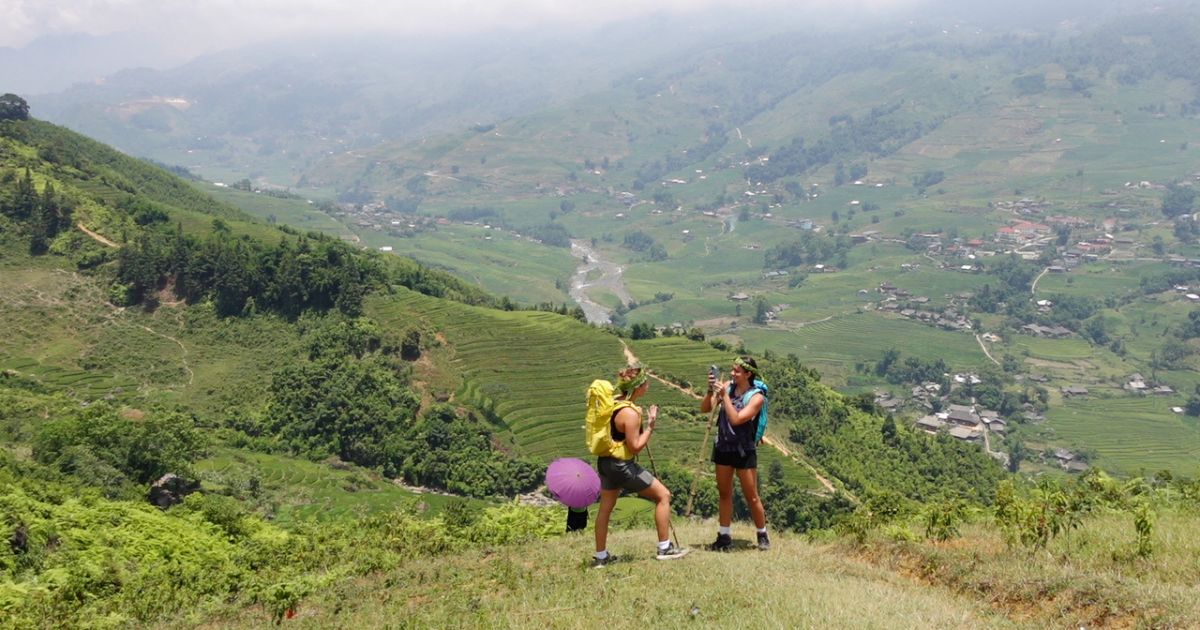 Sapa 1 Day Tours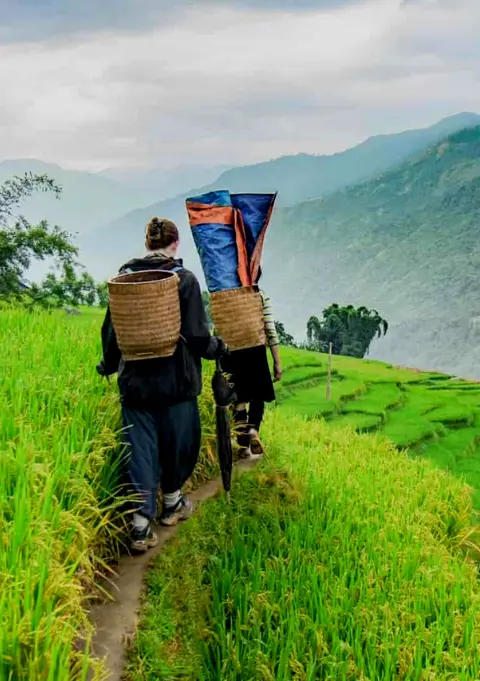 1 day experience
Moderate to challenging
Cultural immersion & active adventure
Rice fields, valleys & villages
​Private tours
Vegan-friendly
Sapa 2 Day Tours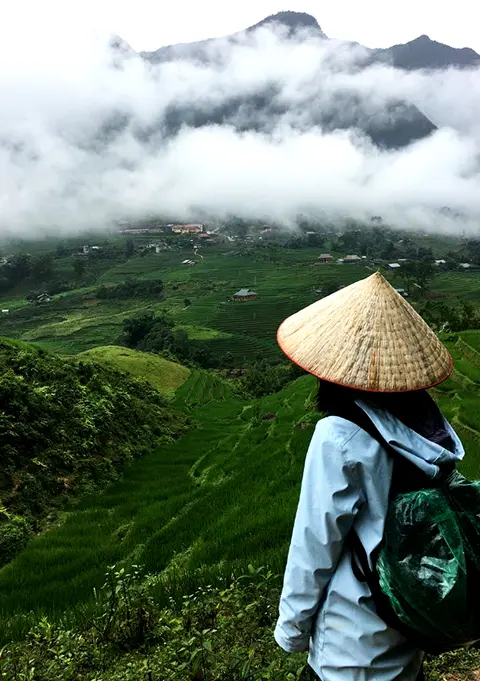 2 days 1 night experience
Moderate to challenging
Cultural immersion & active adventure
Mountains, valleys, rice fields and villages
​Private tours
Vegan-friendly
Sapa 3 Day Tours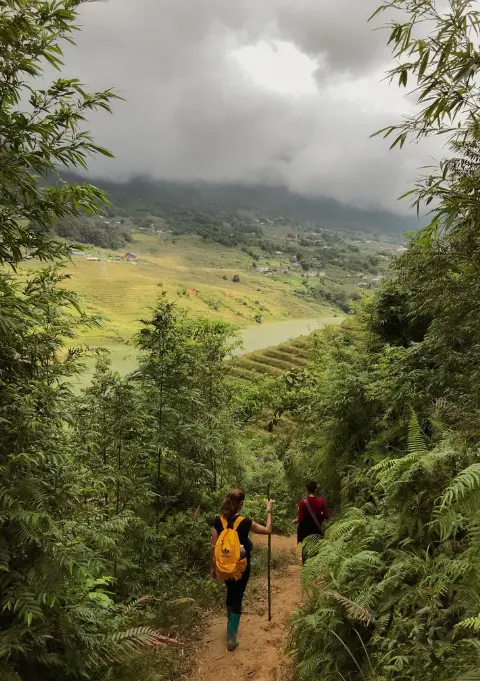 3 days 2 night experience
Moderate to challenging
Cultural immersion & active adventure
Mountains, valley, rice fields & villages
​Private tours
Vegan-friendly
Sapa 4 Day Tours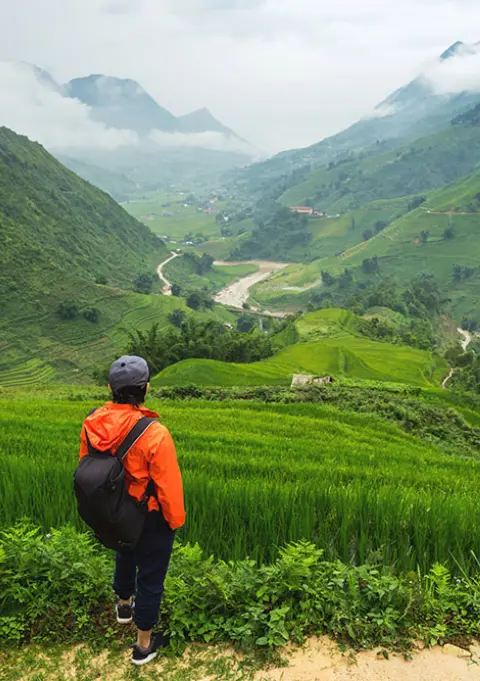 4 days 3 night experience
Moderate to challenging
Cultural immersion & active adventure
Mountains, valleys, rice fields & villages
​Private tours – Less Touristic
Vegan-friendly
Pick up and drop off point
At Hanoi:
Vuon Ho Bo Be, Long Bien.
No. 160 Tran Quang Khai (parking point 50 meters from the office).
The back gate of Foreign Language University, 215 Tran Quoc Hoan Street.
Hoa Binh park (Cong Vien Hoa Binh)
Cầu vượt Kim Chung (Thang Long Industrial Park),Thôn Bầu, Dong Anh, Hanoi.
At Noi Bai Airport:
Domestic Lobby (T1) – Noi Bai Airport.
International Lobby (T1) – Noi Bai Airport
Kim Anh intersection, Soc Son, Hanoi.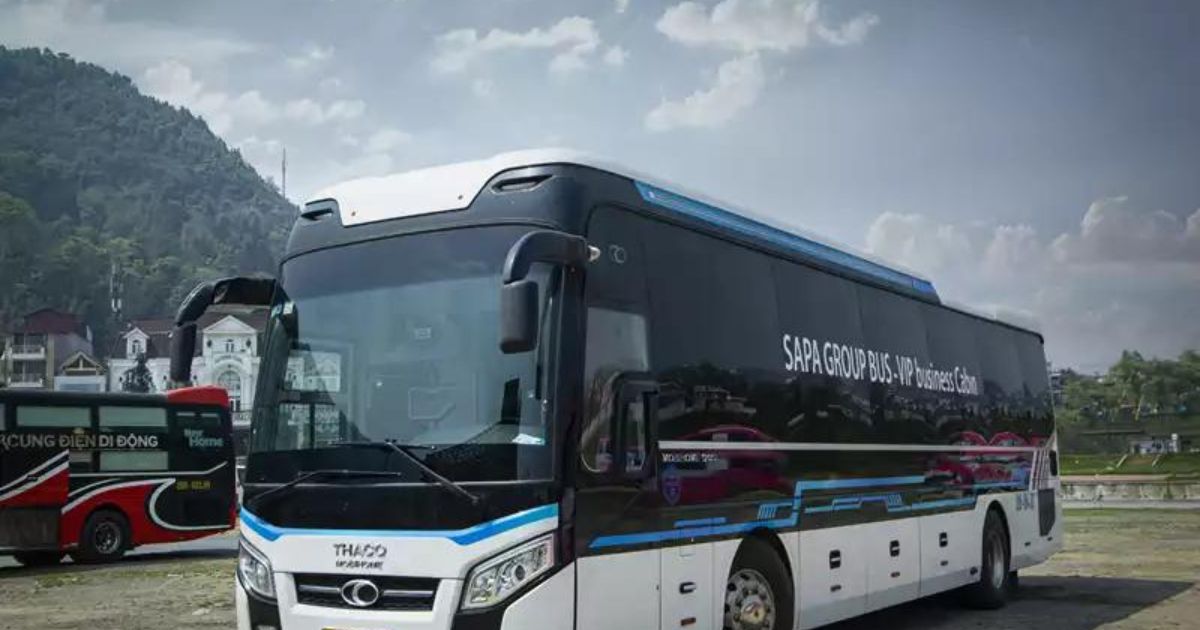 In Sapa:
There is a shuttle bus at the hotel lobby and points in the center of Sapa town (note: the shuttle bus picks up 30 minutes before departure time).
No. 426 Dien Bien Phu, Sapa Town, Lao Cai.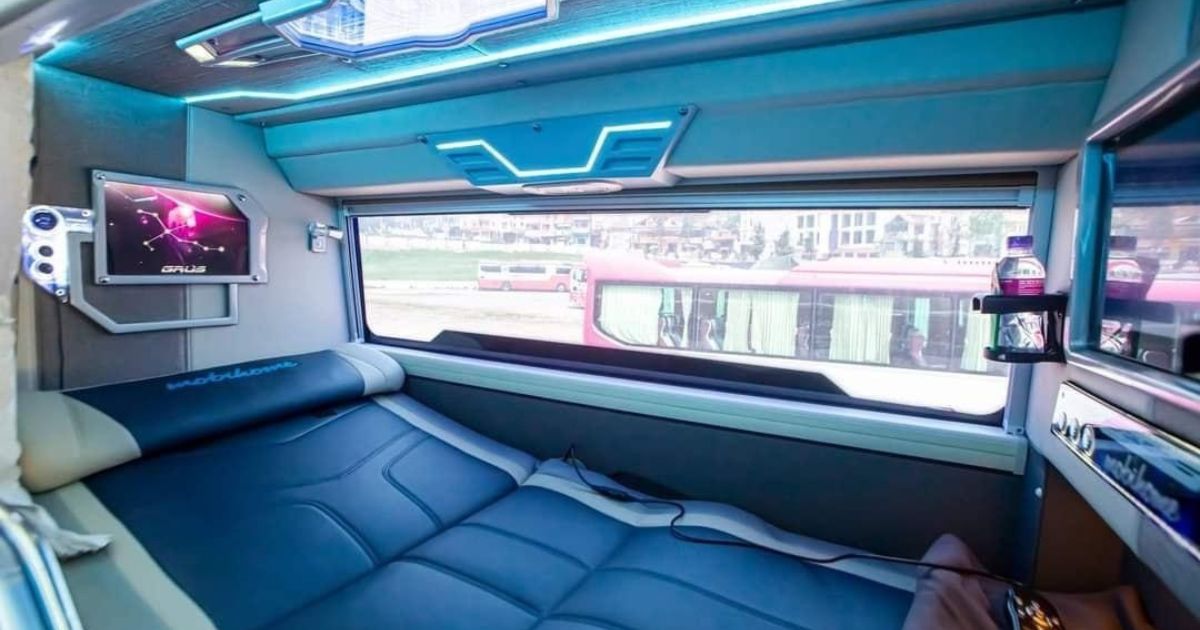 Address and phone number to book Sapa Group Bus tickets
There are 3 ways to book Sapa Group Bus tickets to Sapa from Hanoi or from Noi Bai Airport and back:
Option 1: Book directly on Trekkingtoursapa.com website.
Option 2: WhatsApp: +84886766031, the specialist will support booking 24/7.
Option 3: Customers can come to the office at the address below to buy tickets:
Hanoi Office: No. 18B, 165 Cau Giay, Dich Vong, Cau Giay, Hanoi.
Sapa Office: 426 Dien Bien Phu, Sapa Town, Lao Cai.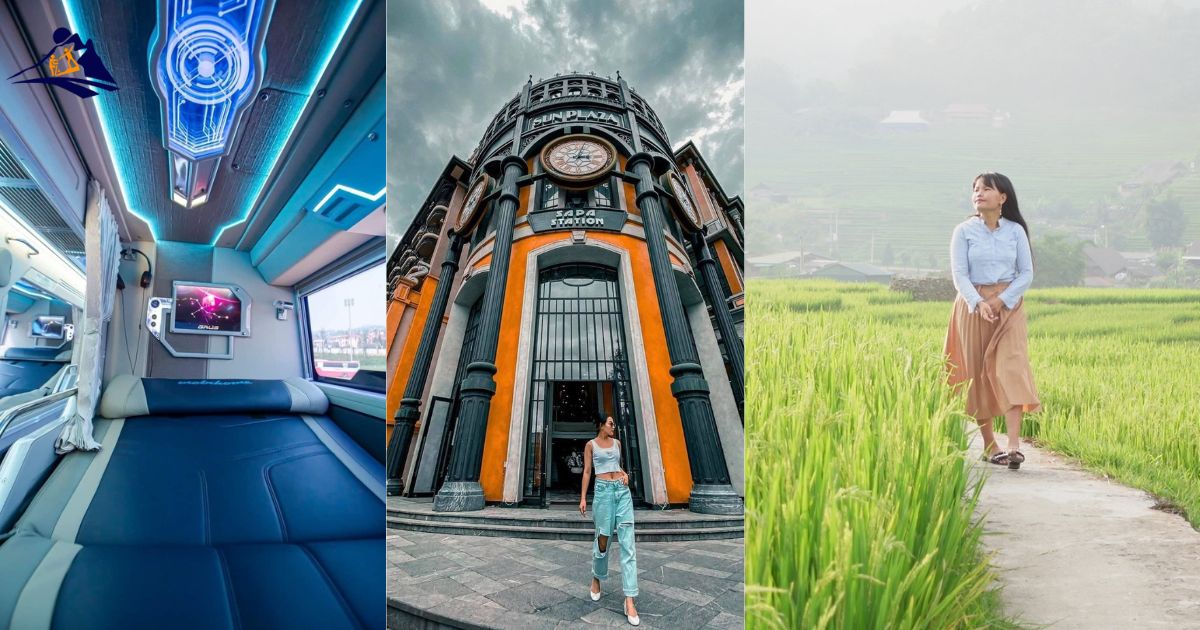 Sapa Group Bus is the newest, most convenient way to get from Hanoi to Sapa. It's affordable, eco-friendly, and comfortable – everything you need for a comfortable journey.
The drivers are friendly and helpful, and there's plenty of space for luggage. So why wait? Book now or contact us through email at [email protected] or WhatsApp: at +84886766031 today!
Sapa 1 Day Tours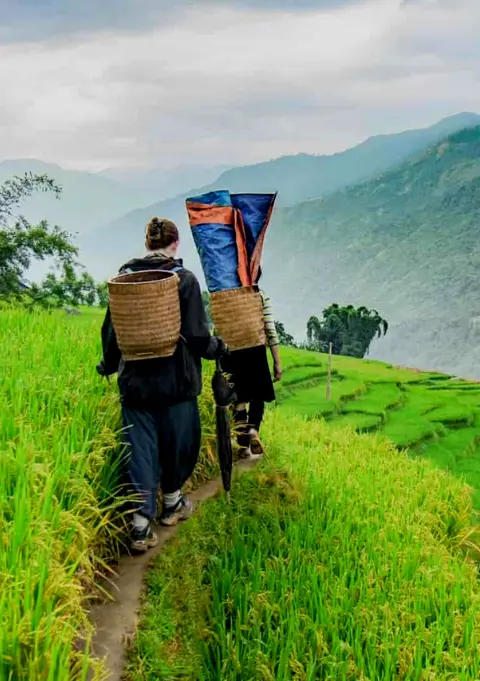 1 day experience
Moderate to challenging
Cultural immersion & active adventure
Rice fields, valleys & villages
​Private tours
Vegan-friendly
Sapa 2 Day Tours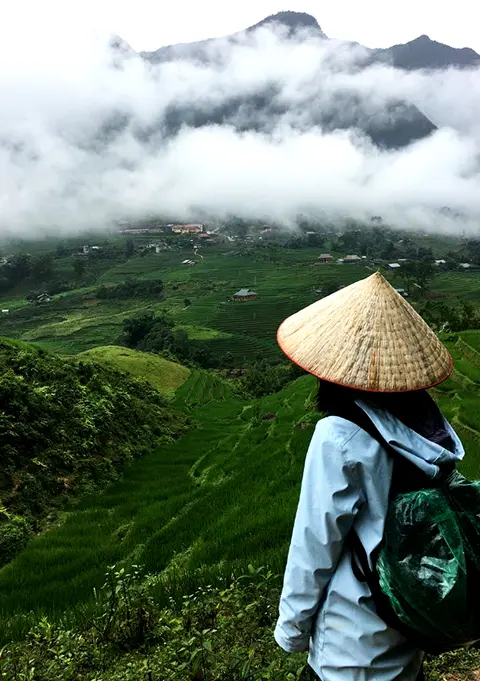 2 days 1 night experience
Moderate to challenging
Cultural immersion & active adventure
Mountains, valleys, rice fields and villages
​Private tours
Vegan-friendly
Sapa 3 Day Tours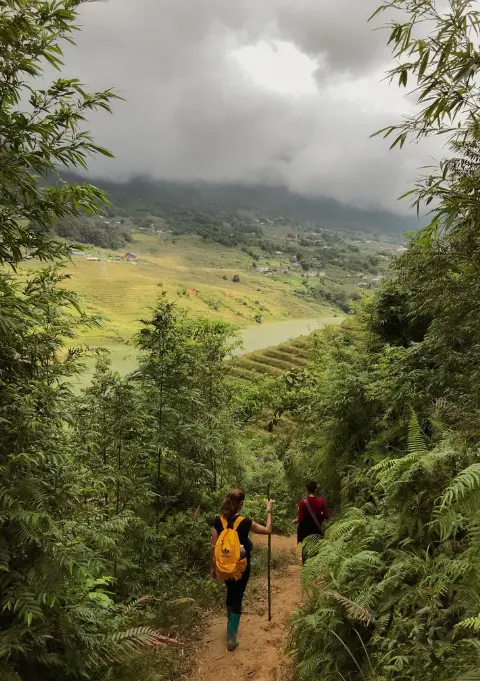 3 days 2 night experience
Moderate to challenging
Cultural immersion & active adventure
Mountains, valley, rice fields & villages
​Private tours
Vegan-friendly
Sapa 4 Day Tours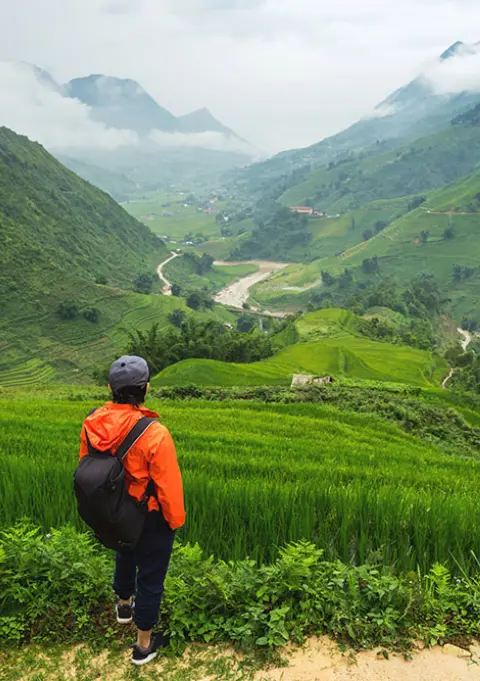 4 days 3 night experience
Moderate to challenging
Cultural immersion & active adventure
Mountains, valleys, rice fields & villages
​Private tours – Less Touristic
Vegan-friendly