Recently updated on June 5th, 2023 at 04:06 pm
Are you looking for a new adventure? A way to escape the mundane and explore something truly unique? Look no further than Sapa, Vietnam. Nestled in the mountains of Northern Vietnam, Sapa offers breathtaking scenery, colorful culture, and endless opportunities for exploration. But with so much to see and do, how can you make sure you're experiencing all that Sapa has to offer?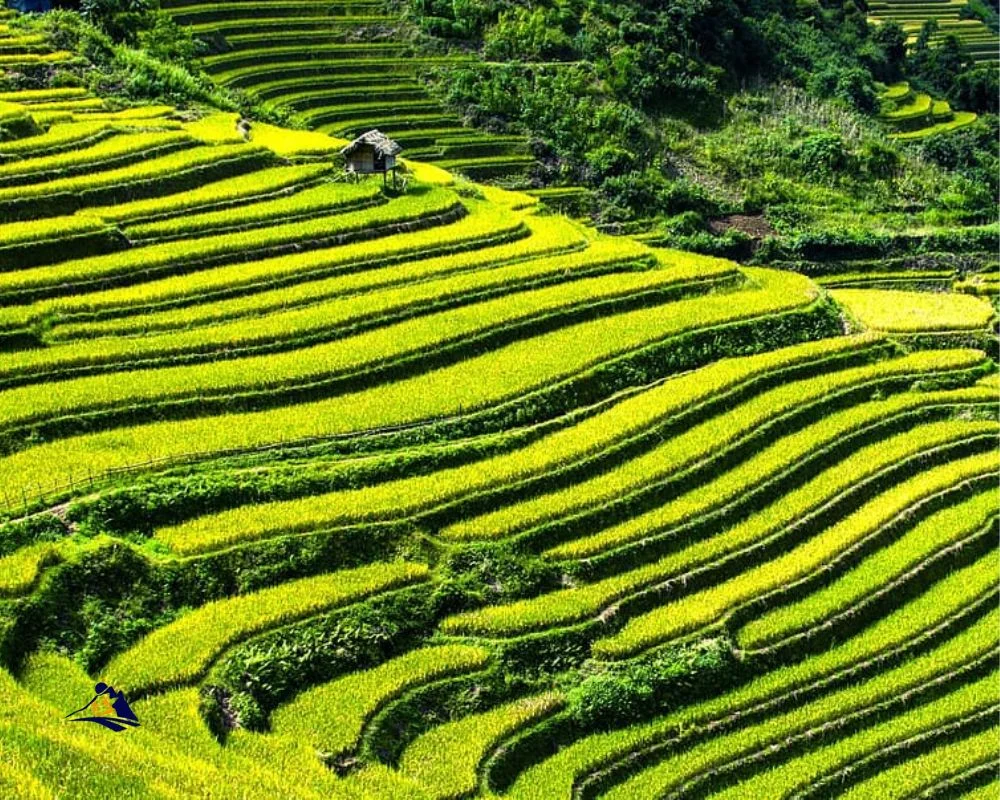 In this article, we'll explore the best ways to discover this hidden gem – from trekking through rice paddies to immersing yourself in local traditions. So pack your bags and get ready for an unforgettable journey through one of Vietnam's most enchanting destinations.
Trekking Through Rice Paddies
As you step out of your hotel room, the cool breeze in Sapa is invigorating. The misty mountains and lush greenery will take your breath away. Your journey to explore Sapa begins with trekking through rice paddies.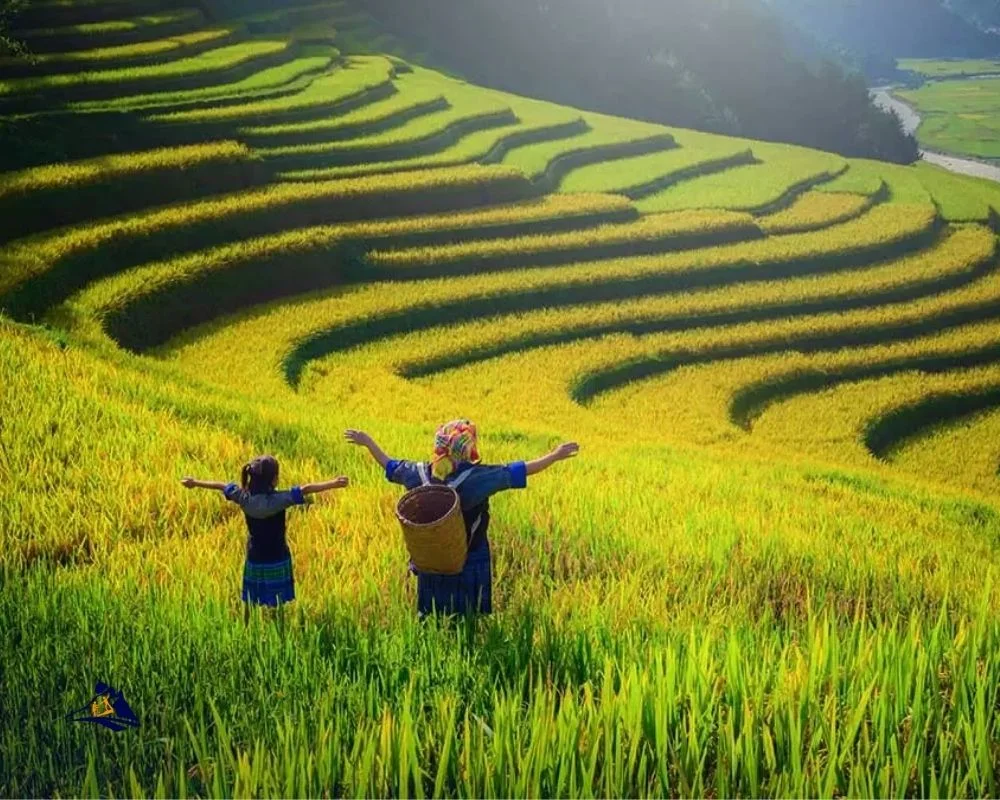 Trekking through rice paddies is an essential experience for anyone visiting this beautiful region. Not only do you get a chance to witness the breathtaking views but also learn farming from local farmers. You can learn about their lifestyle and how they cultivate crops on those steep slopes.
While exploring the fields, don't forget to visit temples located along the way where locals come to pray for good health and fortune. It's a perfect opportunity to immerse yourself in Vietnamese culture while enjoying nature at its best.
As you continue on this adventure, let's move on to another exciting part – visiting local villages!
Visiting Local Villages
While exploring Sapa, visiting local villages is a must-do activity. These villages offer a glimpse into the cultural traditions and ethnic diversity of the region. The locals are friendly and welcoming, making it an unforgettable experience for visitors.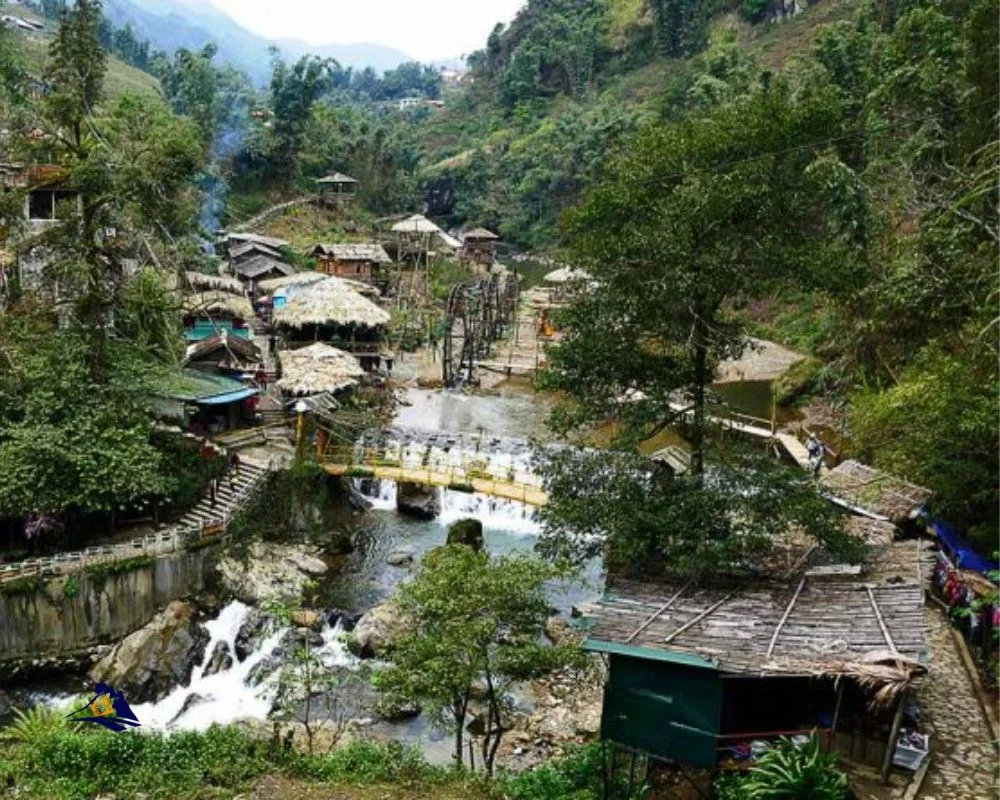 One village worth checking out is Ta Van Village, known for its rice terraces and homestay opportunities. Another option is Cat Cat Village, which showcases traditional Hmong culture through its dance performances and handicrafts. Don't forget to pack comfortable shoes as these villages require some hiking to reach them.
Try the local cuisine at one of the village restaurants.
Learn about weaving techniques from the villagers themselves.
Purchase handcrafted souvenirs to take home with you.
Attend a cultural festival or event if possible.
Immerse yourself in the rich culture and customs of Sapa by visiting these local villages. Your journey will be filled with breathtaking scenery and warm hospitality that will stay with you long after you leave.
As much as the villages have to offer, there's still more to explore in Sapa such as colorful markets selling unique goods – let's dive into those next!
Exploring The Colorful Markets
When shopping in Sapa, you'll want to make sure to get some great bargains. For a more cultural experience, why not explore the local markets and get a real sense of the traditional lifestyle?
Shopping Bargains
If you're looking to explore the colorful markets of Sapa, then shopping bargains are a must-see. As a savvy traveler, it's important to know that bargaining is an integral part of the culture here. The locals love nothing more than engaging in a bit of cultural exchange over prices and items for sale. From handcrafted textiles and jewelry to fresh produce and exotic spices, there's something for everyone at these bustling markets.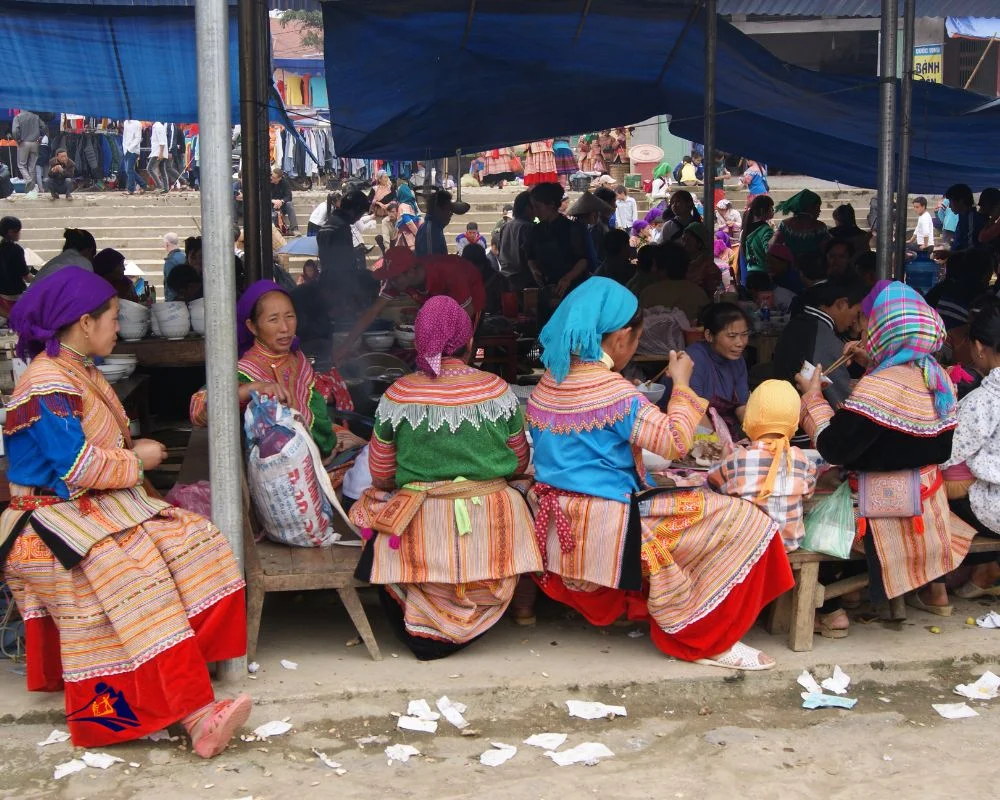 So go ahead, immerse yourself in the vibrant atmosphere, and don't be afraid to flex your negotiating skills – who knows what kind of treasures you'll find!
Cultural Experiences
Now that you've explored the vibrant markets of Sapa and scored some amazing deals, it's time to dive deeper into the cultural experiences this region has to offer. Sapa is home to a wealth of cultural sites and ethnic customs, just waiting for curious travelers like yourself to discover. From visiting traditional villages and learning about local handicrafts to participating in age-old festivals and rituals, there are endless ways to immerse yourself in the rich tapestry of Sapa's culture.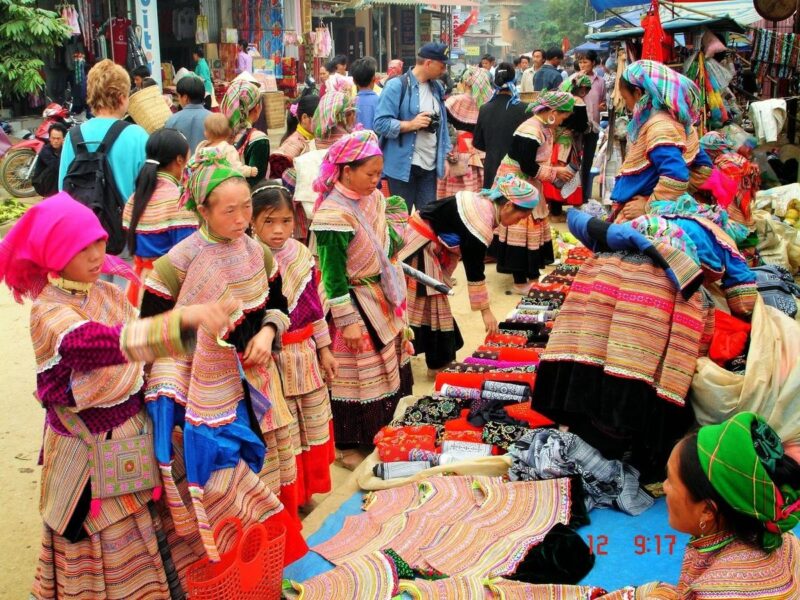 So why not step off the beaten path and embrace all that this enchanting destination has to offer? After all, true freedom comes from exploring new horizons and experiencing different ways of life.
Taking A Tour Of Sapa Town
The heart of Sapa Town beats with the rhythm of cultural customs and ethnic diversity. As you step onto its cobblestone streets, your senses are immediately awakened by the vibrant colors of traditional clothing worn by locals belonging to various hill tribes. The beauty of this town is further amplified by the stunning mountainous backdrop that surrounds it.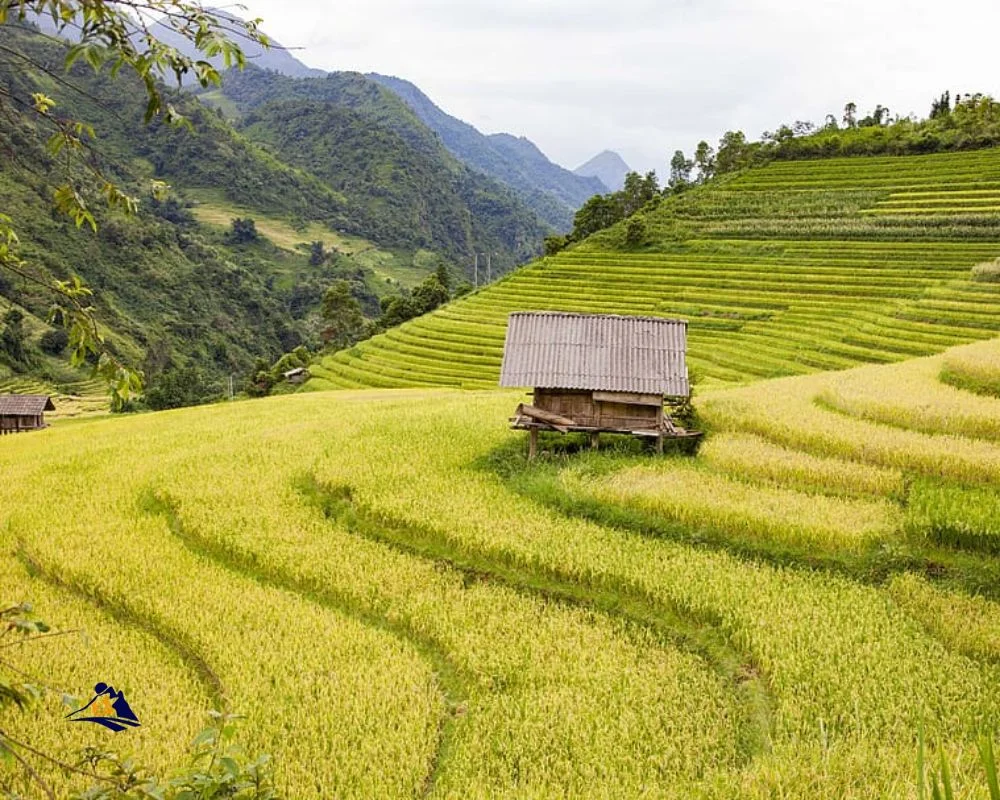 To fully immerse yourself in Sapa's rich culture, taking a tour of the town is highly recommended. Your guide will take you around the bustling markets where you can sample local delicacies such as pho cuon (rolled rice noodles) or thang co (a type of soup made from horse meat).
You will also have the opportunity to visit ancient temples, learn about traditional farming practices, and meet talented artisans who specialize in creating beautiful textiles using age-old techniques. A tour like this will allow you to gain deeper insights into the customs and traditions of Sapa's diverse communities.
As much as touring Sapa Town offers an enriching experience, going on a hiking adventure takes exploring this destination to new heights – literally!
Going On A Hiking Adventure
After taking a tour of Sapa Town, it's time to explore the surrounding areas. One of the best ways to do this is by going on a hiking adventure. Several trails offer breathtaking views of the rice terraces and mountains in the area.
Start with an easy hike to Cat Cat Village where you can learn about traditional Hmong culture.
For a more challenging trek, head to Fansipan Mountain, the highest peak in Indochina.
Or for something completely different, sign up for one of the rafting trips offered in the area.
In addition to hiking and rafting, there are also cultural tours available that allow you to learn about local customs and traditions. These tours often include visits to ethnic minority villages where you can interact with locals and gain insight into their way of life.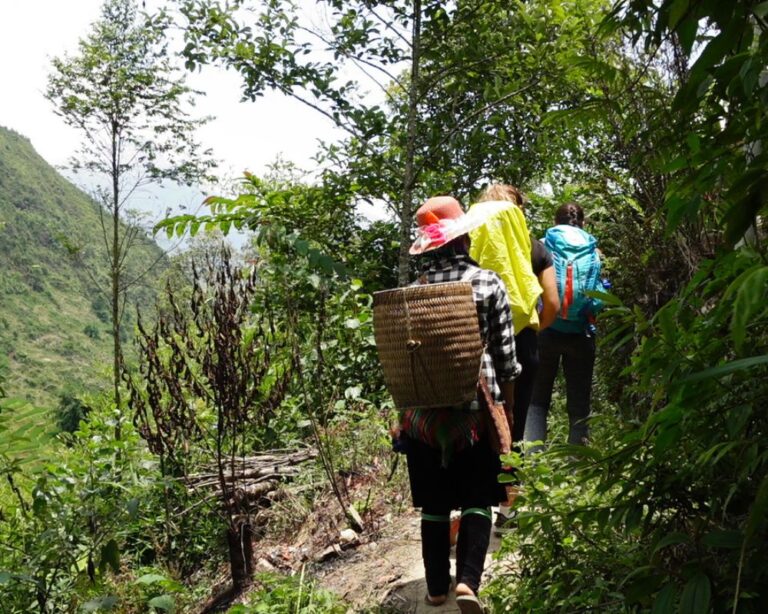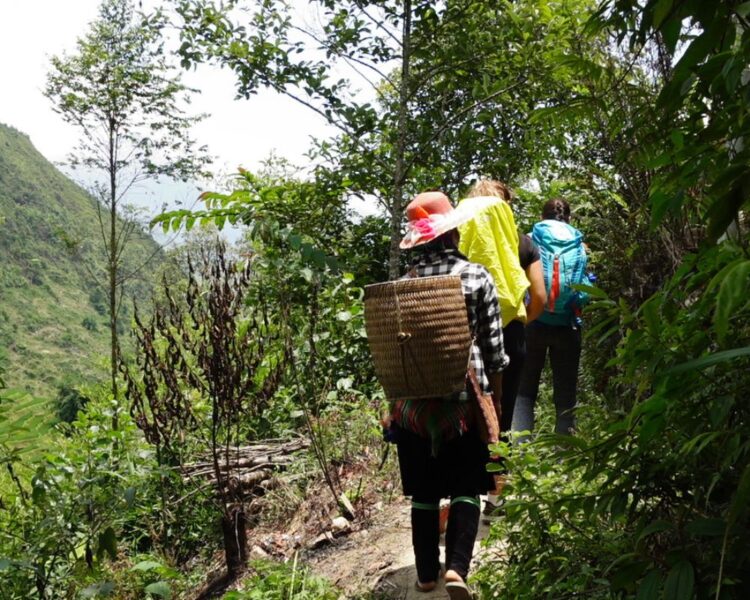 As you venture out into these local communities, don't forget to indulge in some of the amazing cuisines that Sapa has to offer. From pho noodle soup to banh mi sandwiches, there's no shortage of delicious dishes waiting for you here.
So grab your backpack and camera, and get ready for an unforgettable adventure exploring all that Sapa has to offer!
Enjoying The Local Cuisine
Trying the local dishes in Sapa is a must-do when visiting the area, and exploring the street food is a great way to get a true taste of the culture! From traditional Northern Vietnamese dishes to hidden gems, there's a lot to discover.
Trying Local Dishes
If you're looking to fully immerse yourself in the vibrant culture of Sapa, trying out their local dishes is a must. From savory soups and meaty stews to refreshing salads and sweet treats, there's something for every palate. Start your food adventure by exploring the bustling markets and street vendors that offer mouthwatering snacks like steamed buns, grilled meats on skewers, and fresh fruit juices.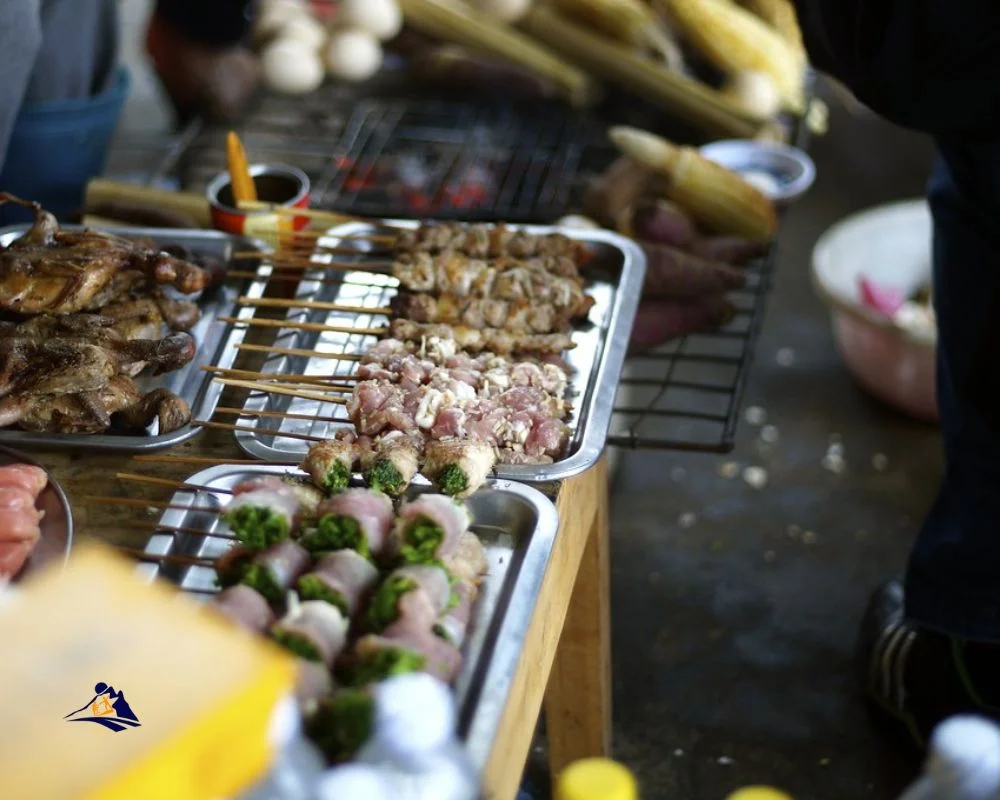 For heartier meals, head over to one of the many restaurants or homestays that serve traditional Hmong cuisine made with locally sourced ingredients. And if you're feeling adventurous, why not try some of the more unusual offerings such as black chicken soup or bamboo tube rice?
Combine this culinary experience with biking trails through breathtaking landscapes and a nightlife scene that ranges from cozy bars to live music venues, and you've got an unforgettable trip ahead of you!
Exploring Street Food
Now that we've talked about the delicious traditional dishes of Sapa, let's dive deeper into exploring its street food scene. If you're one to enjoy snacking on the go, then tasting tea and devouring some mouth-watering snacks from street vendors is an experience not to be missed. These local delicacies offer a taste of authentic Vietnamese cuisine and are perfect for those looking to indulge in something quick and savory while taking in the bustling nightlife scenes. From steaming hot pork buns (Bánh Bao) to grilled meats on skewers (Nem Lụi), there's no shortage of options when it comes to street food delights in Sapa.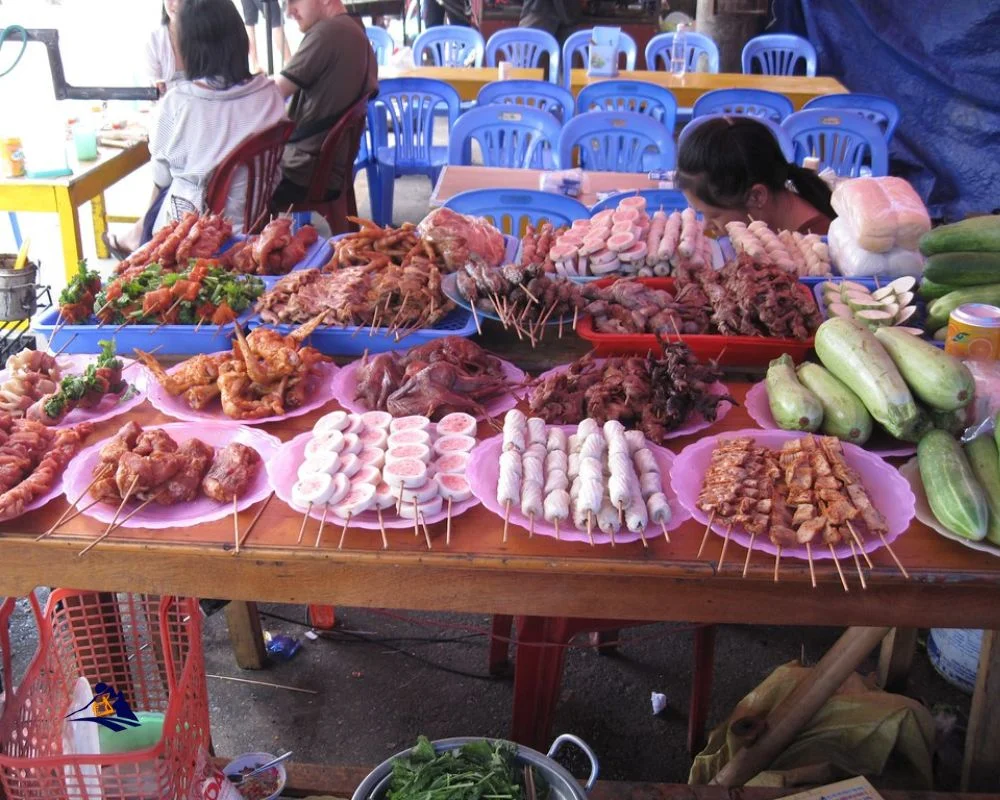 So gear up, hop on your bike, and prepare yourself for an adventure filled with flavors!
Experiencing The Sunset From The Fansipan Mountain
If you're looking for a unique way to experience Sapa, then watching the sunset from Fansipan Mountain is an absolute must. This euphoric moment will leave you breathless as you watch the sun dip below the horizon while admiring views that stretch out far beyond what your eyes can see.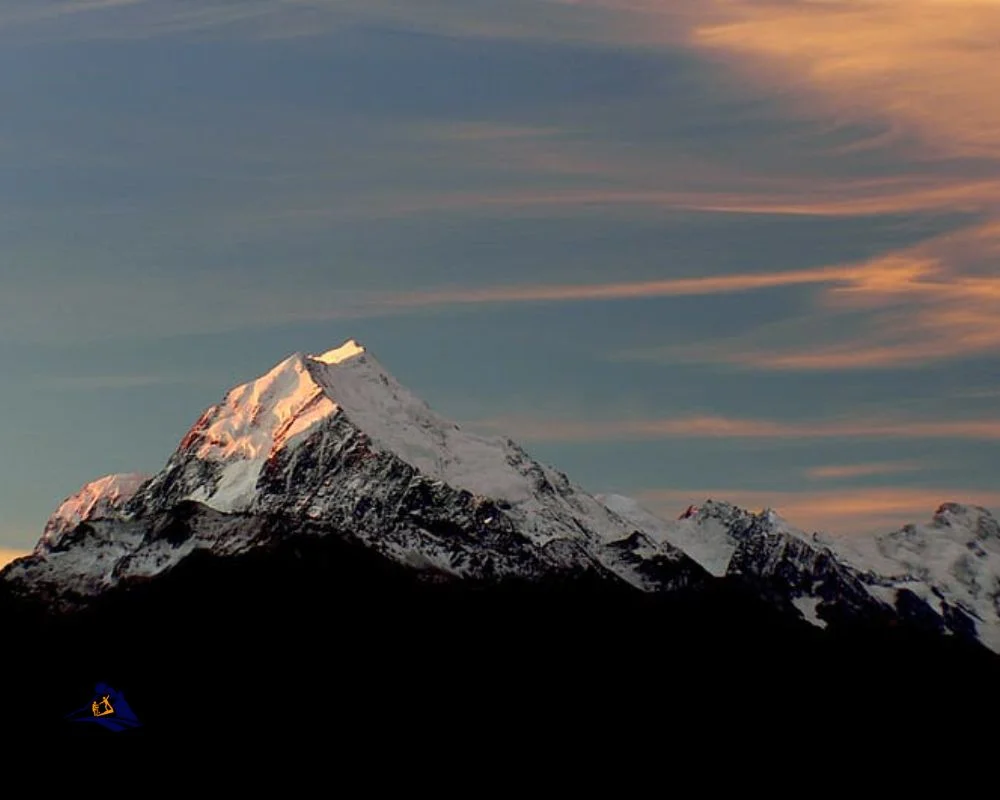 Capturing memories of this magnificent sunset is easy with today's technology. Take photos and videos with your smartphone or camera and share them on social media platforms. You'll be sure to have envy-inducing content to show off to your friends back home. After all, moments like these are meant to be shared!
As the sky fades into darkness, it's time to head down from Fansipan Mountain and take in one of Sapa's most relaxing experiences – soaking in its hot springs.
Relaxing In The Hot Springs
As the sun sets on Fansipan Mountain, it's time to come down and relax in one of Sapa's natural hot springs. These geothermal pools offer a perfect way to unwind after a day of trekking through the lush green hills surrounding this mountainous region.
Sapa is known for its tranquil atmosphere that can be experienced while soaking in these hot springs.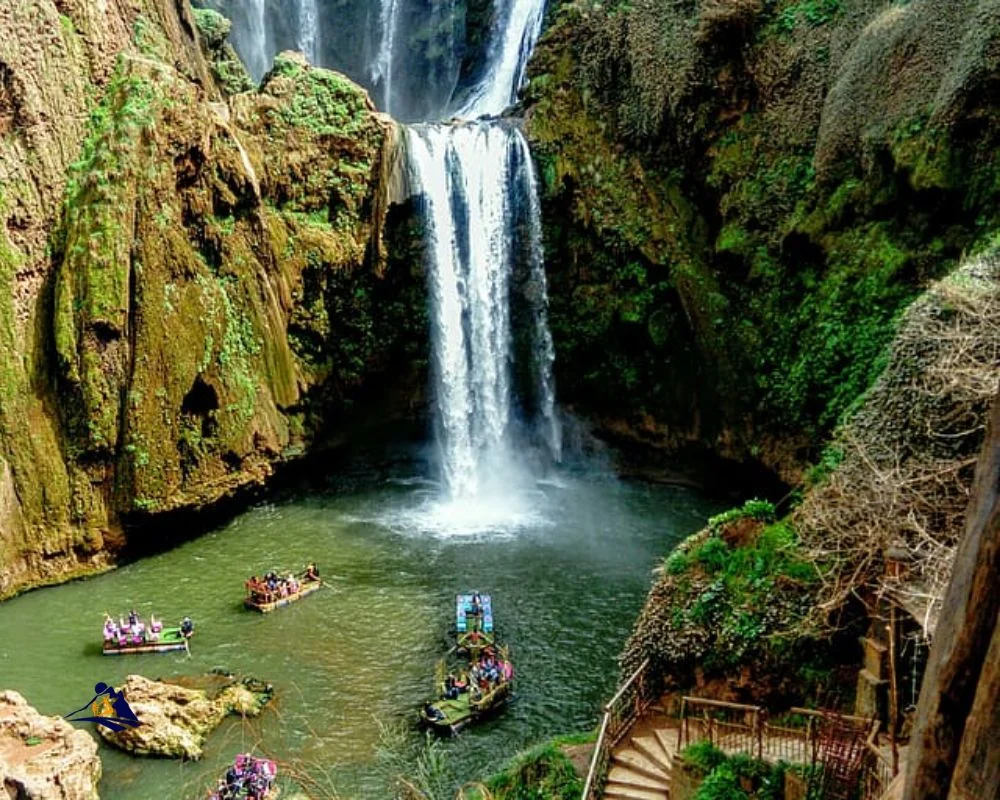 Here are some rustic retreats where you can experience the soothing waters amidst nature:
Victoria Sapa Resort & Spa
Offers an outdoor heated pool with stunning views of Mount Fansipan.
The resort has private rooms, suites, and duplexes with balconies overlooking the valley.
Topas Ecolodge
Located on a hilltop offering panoramic views of the Hoang Lien Mountains.
Features an infinity pool filled with mineral water from a nearby spring.
Immerse yourself in the soaking serenity of Sapa's hot springs while staying at one of these rustic retreats.
Up next, let's explore the picturesque canyons flowing through this beautiful town.
Exploring The Canyons
Hiking the Canyons is a great way to get up close and personal with the breathtaking scenery of Sapa. There's no better way to explore these majestic mountains than to lace up your boots and hit the trails! Camping in the Canyons is a great way to immerse yourself in the natural beauty of Sapa – just make sure you come prepared with the right supplies and always be aware of your surroundings. Birdwatching in the Canyons is also a great activity – you can spot some of the area's rarest birds and take in the beauty of the environment.
Hiking The Canyons
If you crave adventure and love the great outdoors, hiking the canyons of Sapa is a must-do activity. The rugged landscape offers breathtaking views of rice terraces and towering peaks that will leave you in awe. As you trek through the winding paths, take a moment to stop and admire the scenery around you – it's truly magnificent! Be sure to bring your camera along with you as there are plenty of photo opportunities waiting for you at every turn.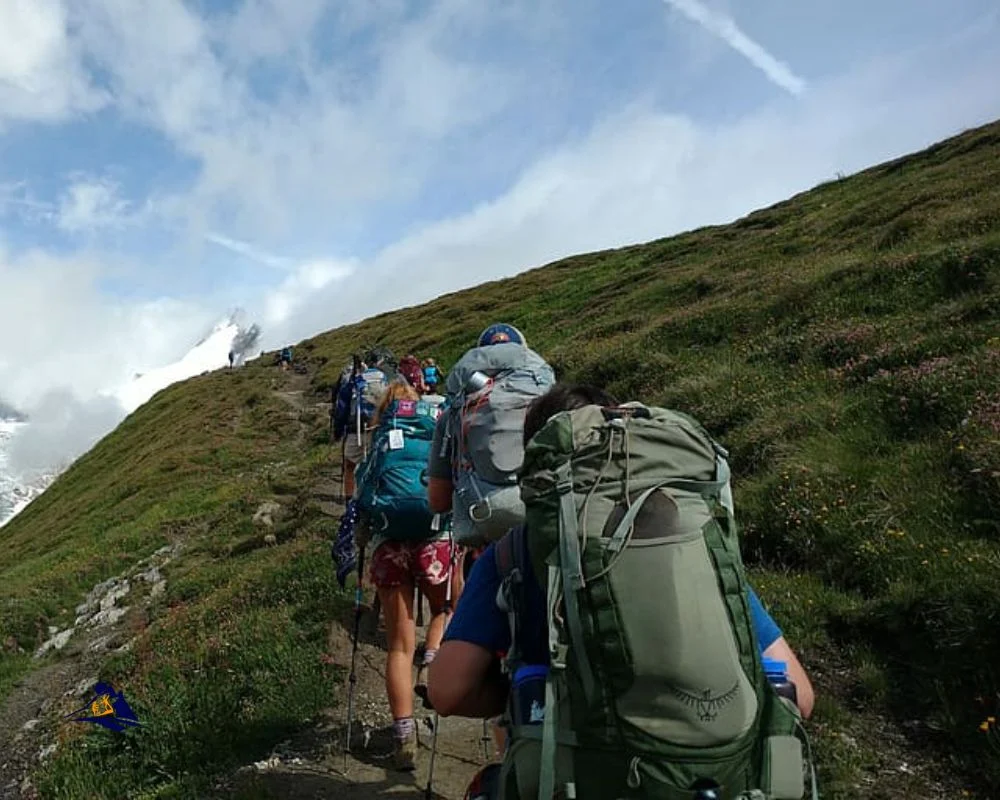 From stunning waterfalls to quaint villages nestled among the hills, there's no shortage of beauty to capture on film. So if you're looking for an unforgettable experience that combines physical exertion with natural beauty, hit the trails in Sapa's canyons – trust us, it'll be worth it!
Camping In The Canyons
Now, let's take your adventure in the canyons of Sapa to the next level by spending a night or two camping under the stars. Imagine waking up to the sound of birds chirping and fresh mountain air. You'll have plenty of opportunities for climbing cliffs and zip lining through the trees while taking in breathtaking views from above.
Settle down around a campfire at night with new friends you've met along the way and exchange stories about your travels – this is what freedom feels like! With so much natural beauty surrounding you, it's easy to lose track of time and simply soak in all that nature has to offer.
So pack your tent, grab some marshmallows, and get ready for an unforgettable experience in Sapa's canyons.
Birdwatching In The Canyons
Now, if you're looking for a more leisurely activity in the canyons of Sapa, birdwatching is worth considering. With its diverse range of flora and fauna, this region has become a haven for bird enthusiasts from all over the world.
As you wander through the lush forests and valleys, keep your eyes peeled for rare species such as the Red-vented Barbet or Black-throated Sunbird. And while you're at it, take a moment to appreciate how eco-tourism initiatives have helped preserve this unique habitat for generations to come.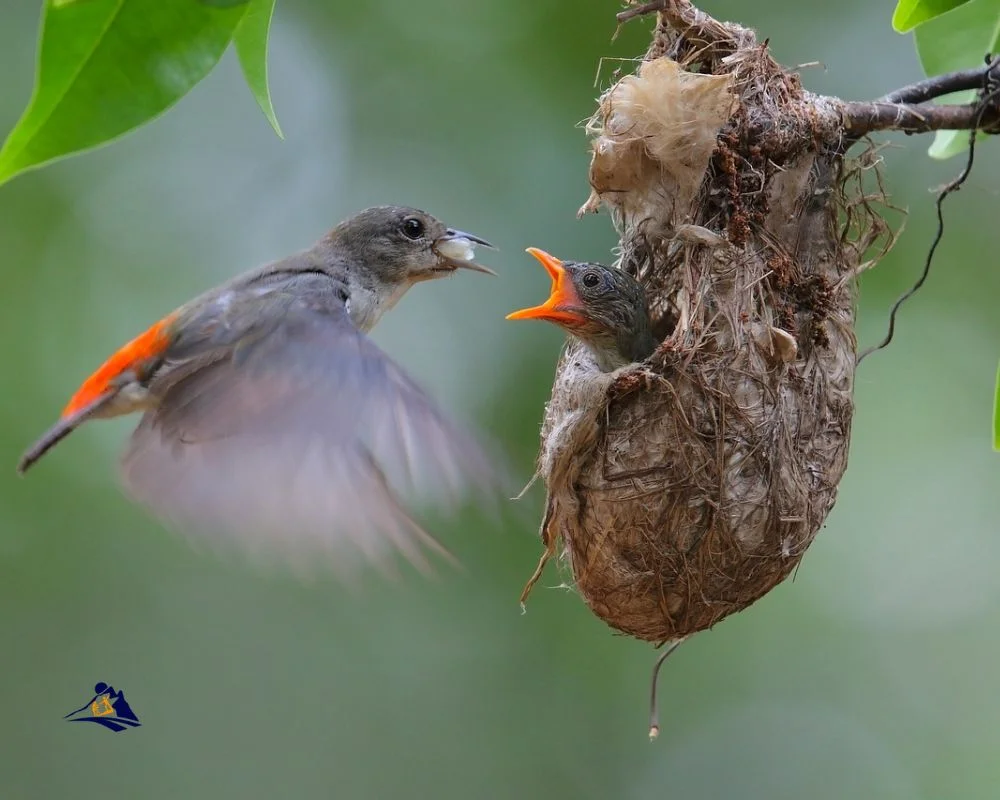 But that's not all – exploring these canyons also allows you to learn about Vietnam's cultural heritage. From encountering traditional hill tribes to discovering ancient artifacts hidden amongst the rocks, there's no shortage of history waiting to be uncovered here.
So whether you're seeking adventure or simply want to connect with nature on a deeper level, Sapa's canyons are calling out to you. Trust us when we say that once you've experienced the freedom of immersing yourself in this breathtaking landscape, you'll never want to leave.
Going On An Off-Road Tour
As intriguing as Sapa's lush greenery and scenic views are, nothing beats exploring the area on an off-road tour. This type of adventure will have you venturing into remote areas that even locals may not know about. Picture yourself tearing through muddy terrain while taking in breathtaking vistas of rice paddies, waterfalls, and mountains.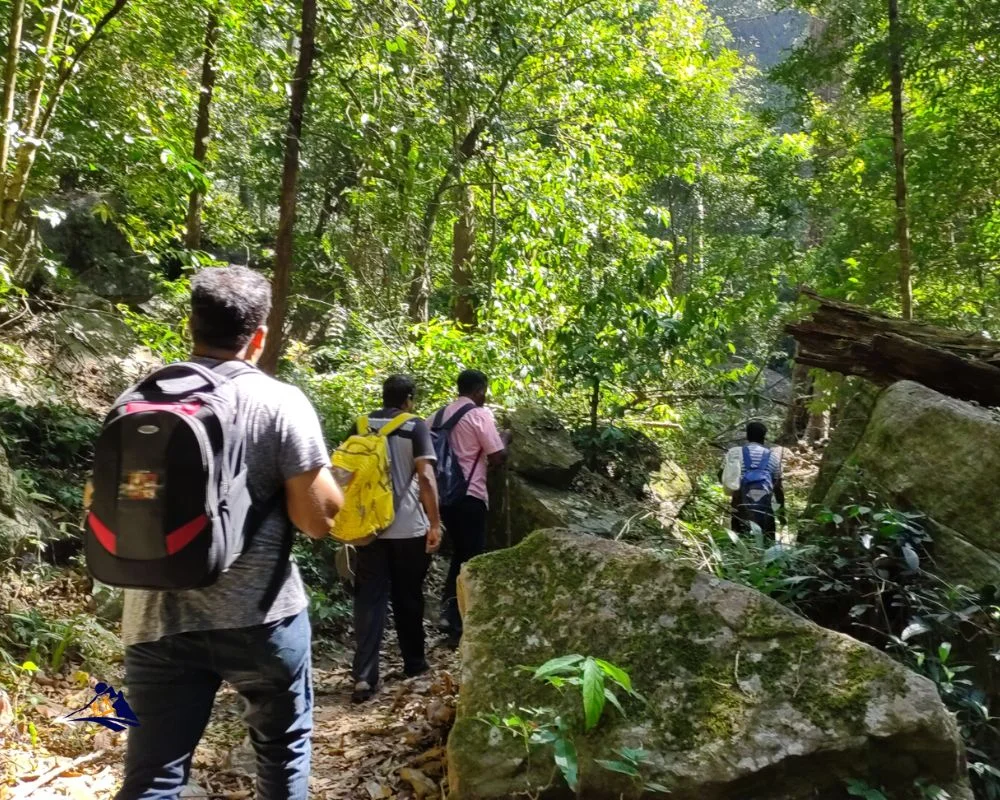 But wait, there's more! Off-road tours can also include camping trips and night hikes. Imagine cozying up under a blanket of stars after a day filled with adrenaline-pumping activities. Or hiking through the forest at night to witness nocturnal creatures come alive.
These experiences are sure to leave lasting memories and give you a sense of freedom that only nature can provide.
What Is The Best Way To Explore Sapa? Frequently Asked Questions
What Is The Best Time Of Year To Visit Sapa?
When planning a trip to Sapa, it is important to consider the best time of year to visit. The weather conditions vary greatly throughout the seasons, with heavy rainfall and cool temperatures in the winter months from November to February. However, this can also be an ideal time for travelers who enjoy hiking through misty mountains and exploring local villages without crowds of tourists.
On the other hand, the summer months from June to August bring warmer temperatures and clearer skies but also more visitors flocking to the area. Tour companies offer various packages that cater to different interests and budgets during both seasons. It ultimately depends on personal preference when deciding when to visit Sapa, but regardless of the timing, there are plenty of opportunities for freedom-seekers to immerse themselves in the stunning natural scenery and unique cultural experiences that this region has to offer.
Are There Any Cultural Customs Or Traditions Visitors Should Be Aware Of When Exploring Local Villages?
As you wander through the beautiful local villages of Sapa, it's important to be aware of their cultural etiquette and customs. From wearing appropriate clothing to respecting personal space, these small gestures can go a long way in showing respect for the locals and their traditions.
As a travel writer, I have found that taking time to learn about the unique cultures of each destination not only enriches your experience but also encourages more meaningful interactions with the people you meet along the way.
So while exploring Sapa, take some time to familiarize yourself with local customs – after all, traveling is all about embracing new experiences and expanding our understanding of the world around us!
What Kind Of Hiking Gear Is Necessary For A Trek Through The Rice Paddies?
To fully immerse yourself in the stunning natural beauty of Sapa, trekking through the rice paddies is an absolute must.
But before you set off on your adventure, be sure to pack appropriate camping gear and equipment for a comfortable and safe journey. From sturdy hiking boots to warm layers for chilly evenings, preparing properly will ensure a successful trip.
There are several trekking routes available depending on your level of experience and fitness, but all promise breathtaking views of terraced fields and traditional villages nestled into the hillsides. So lace up those boots and hit the trails – there's no better way to connect with nature than by exploring this remote corner of Vietnam on foot.
Are There Any Rules Or Regulations For Visiting The Hot Springs?
When visiting the hot springs in Sapa, it's important to keep in mind seasonal etiquette and safety advice. Did you know that the temperature of the water can reach up to 80°C?
That's why it's essential to listen to local regulations and avoid venturing too close to the source.
In terms of seasonal etiquette, be sure to dress appropriately for the weather, as well as avoid loud noises or other behaviors that could disturb wildlife. By following these guidelines, you'll ensure a safe and enjoyable experience while exploring one of Sapa's natural wonders.
What Is The Best Way To Travel To Sapa From Hanoi?
Traveling to Sapa from Hanoi is an adventure in itself. The best way to get there is by taking a bus or train, depending on your preferred mode of transportation and budget.
While the cost of travel varies, safety concerns should always be taken into consideration when choosing your means of transport. It's important to do some research beforehand and choose a reputable company that prioritizes safety over low prices.
As a traveler seeking freedom, exploring new places like Sapa can be thrilling but it's crucial to prioritize safety above all else. So go ahead, plan your trip wisely, and enjoy the beautiful scenery!
Conclusion
If you're looking for a beautiful and unique destination to explore, Sapa should be on your list. This stunning region in Northern Vietnam has so much to offer visitors, from its picturesque rice paddies and charming local villages to its rejuvenating hot springs.
The best time of year to visit Sapa is during the fall months when the rice paddies are at their most vibrant and colorful. However, it's important to note that this can also be peak tourist season, so plan accordingly if you want to avoid crowds.
When exploring local villages, it's important to be respectful of cultural customs and traditions. Take off your shoes before entering homes or temples, dress modestly, and ask permission before taking photos.
As for hiking gear, sturdy shoes with good traction are a must for navigating the steep hillsides surrounding Sapa. A rain jacket is also recommended, as the weather can be unpredictable. When visiting the hot springs, keep in mind that there may be rules regarding clothing or behavior – check with locals beforehand.
To get to Sapa from Hanoi, there are several options including a train or bus. However, many travelers opt for hiring a private car or taking a guided tour for a more comfortable and convenient experience.
Overall, exploring Sapa is an unforgettable adventure full of breathtaking scenery and fascinating culture. Don't miss out on this incredible destination!