Are you ready for an adventure that will take you through some of the most stunning landscapes in Vietnam? Then it's time to consider a trekking tour in Sapa! Nestled in the northwestern region of Vietnam, Sapa is home to picturesque rice terraces, towering mountains, and traditional hill-tribe villages. But with so many trekking options available, where should beginners start?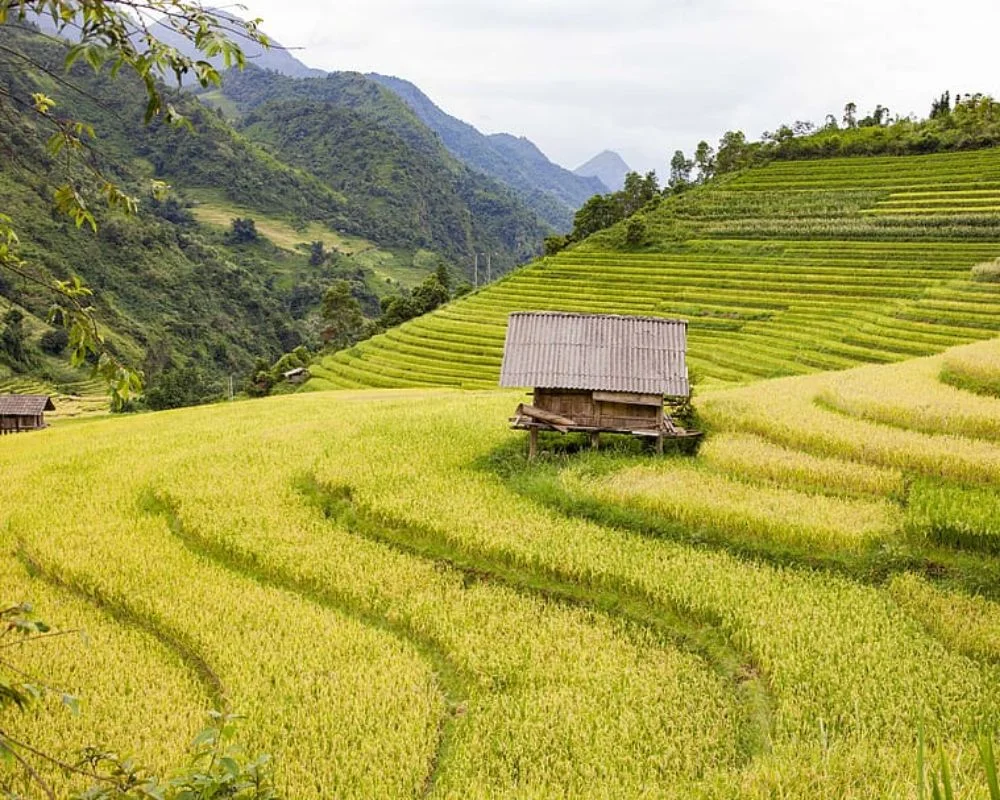 Don't worry, we've got you covered! In this article, we'll highlight the best Sapa trekking tours for beginners. Whether you're an experienced hiker or just starting out on your trekking journey, Sapa has something for everyone. From scenic walks through Cat Cat Village to challenging hikes up Fansipan Mountain – the highest peak in Indochina – Sapa offers a range of experiences that will leave you feeling invigorated and free. So pack your bags and get ready to explore one of Vietnam's most breathtaking regions!
Cat Cat Village Trek
Let's explore the charming Cat Cat Village on this easy trek, where you'll discover traditional Hmong culture and breathtaking mountain views. This trek is perfect for beginners who want to experience a cultural immersion while enjoying the natural beauty of Sapa. You'll start your journey at Sapa town and hike through lush rice paddies until you reach the village. Along the way, you'll be greeted by friendly locals who will give you a warm welcome to their community.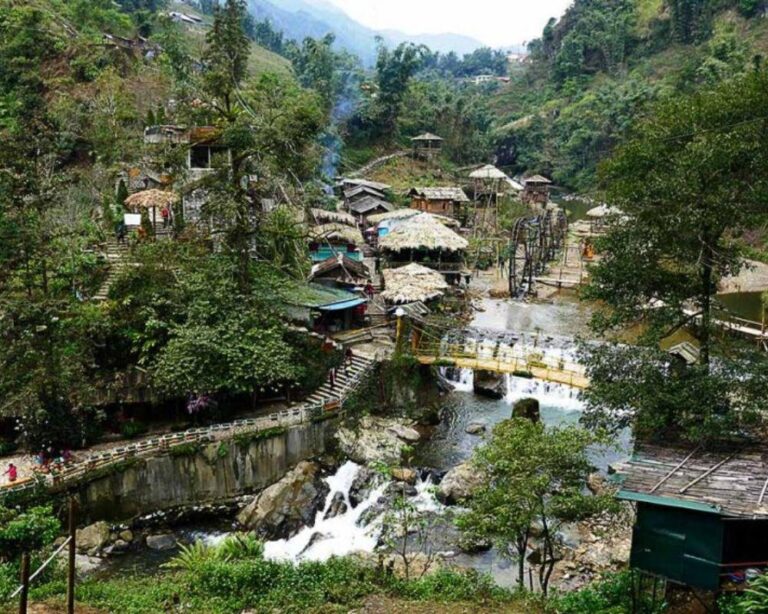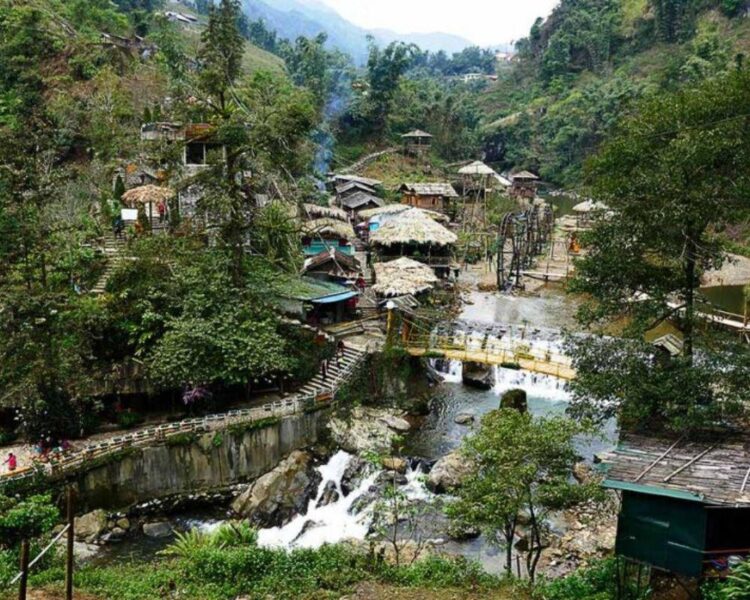 Once you arrive in Cat Cat Village, get ready to indulge in some local cuisine experiences. The Hmong people are known for their delicious dishes made from locally sourced ingredients. Try out some of their specialties like thang co – a soup made with horse meat and organs, as well as other vegetables and spices. After satisfying your taste buds, continue your trek towards Y Linh Ho village where more adventure awaits!
Y Linh Ho Trek
You simply cannot miss the Y Linh Ho trek – it's an experience you'll never forget! This is another must-try trek for beginners who want to immerse themselves in the local culture. The trail takes you through lush green valleys and rice terraces, which are a sight to behold. You'll walk past Hmong ethnic minority villages and get a chance to interact with locals, learn about their traditions and way of life.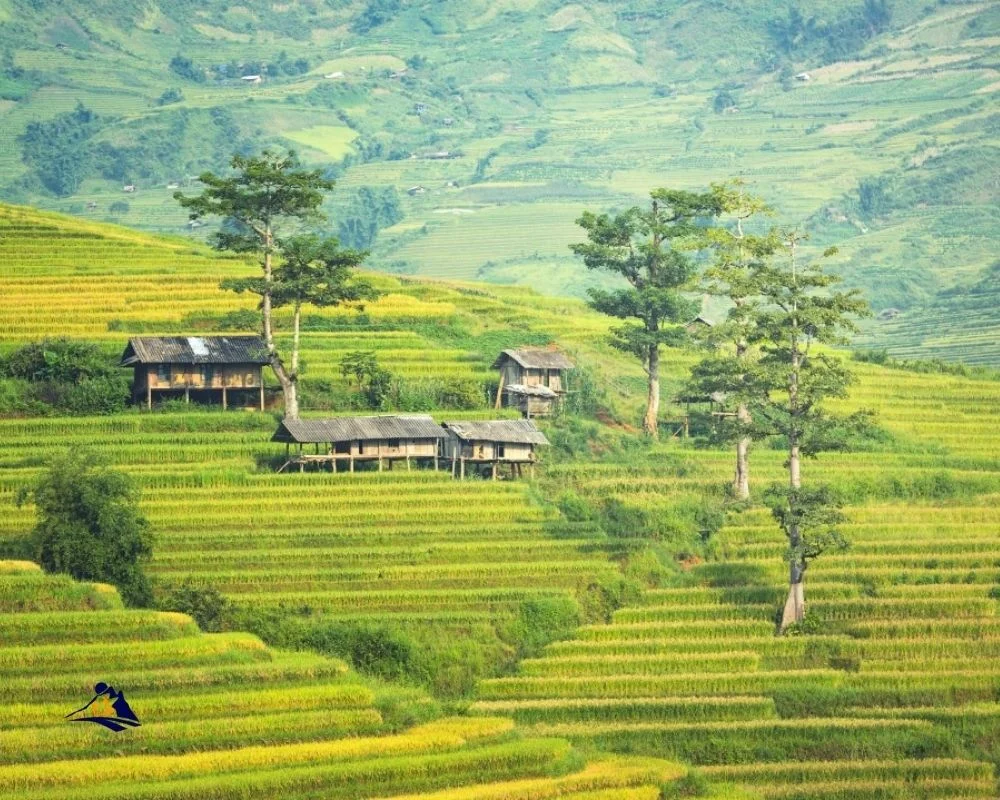 The best time to visit Y Linh Ho is from September to November when the weather is cool and dry. During this period, the rice fields turn golden, making them even more picturesque. It's essential to wear comfortable hiking shoes as some parts of the trail can be steep and slippery. Don't forget your camera as there will be plenty of photo opportunities along the way. After completing this trek, you'll feel refreshed, energized, and ready for more adventure on your next trek – Ta Van village trek!
Ta Van Village Trek
The Ta Van Village Trek is a stunning hike that takes you through beautiful landscapes and allows you to experience the local culture firsthand. As with the Y Linh Ho Trek, there are homestay options available in Ta Van Village where you can stay overnight and immerse yourself in the local way of life. You will have the opportunity to try delicious local food experiences, such as traditional rice dishes and savory soups.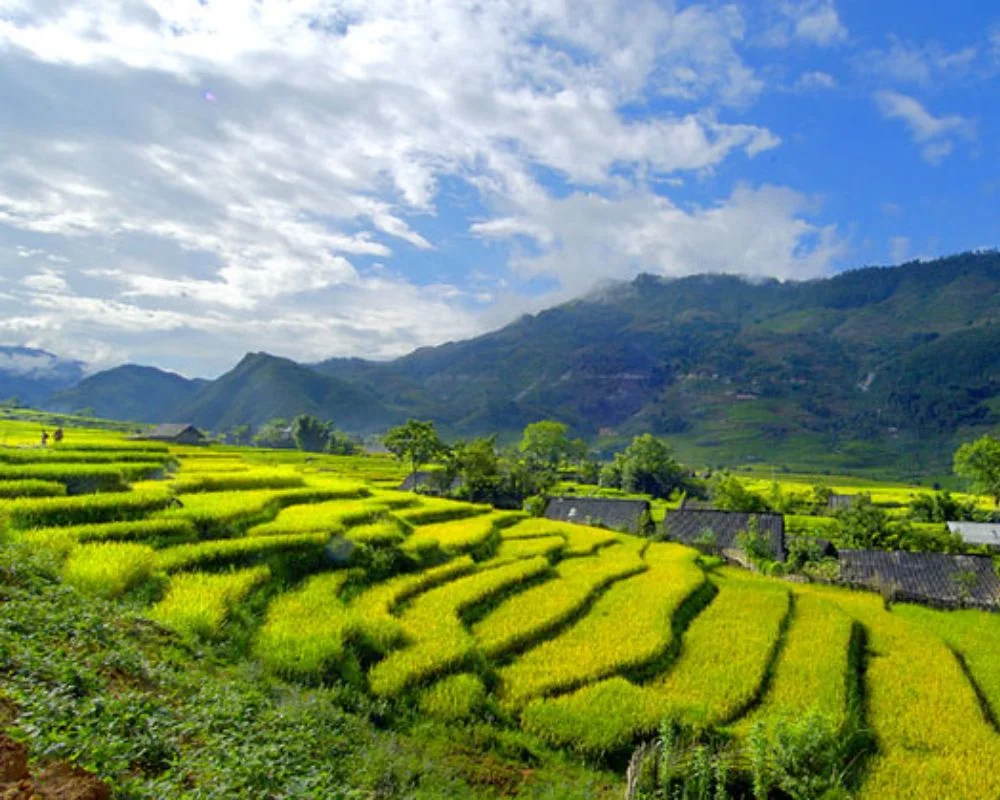 During the trek, you will encounter lush rice paddies and breathtaking views of mountainside terraces. The trail winds through bamboo forests and crosses over bridges spanning clear streams. You will also get to interact with locals from different ethnic groups who live in the area, including Hmong, Dzay, and Red Dao people. This is an excellent choice for beginners who want to explore Sapa's natural beauty while learning about its diverse cultures before moving on to more challenging treks like Lao Chai Village Trek.
Lao Chai Village Trek
Are you a beginner looking for a full-day trekking experience in Sapa? Look no further than the Lao Chai Village Trek. You'll be amazed by the breathtaking views of rice terraces and mountains that will accompany you throughout your journey. Along the way, take a moment to visit traditional villages of the Black Hmong ethnic group and learn about their culture and way of life.
Full-day Trek for Beginners
Get ready to step into a world of wonder as you embark on a journey through the breathtaking landscape of rural Vietnam, where every step is like walking on clouds. Our full-day trek for beginners takes you to some of the most picturesque areas in Sapa, including Lao Chai Village and Ta Van Village. Along the way, you'll have plenty of opportunities to take stunning photos and enjoy delicious picnic spots.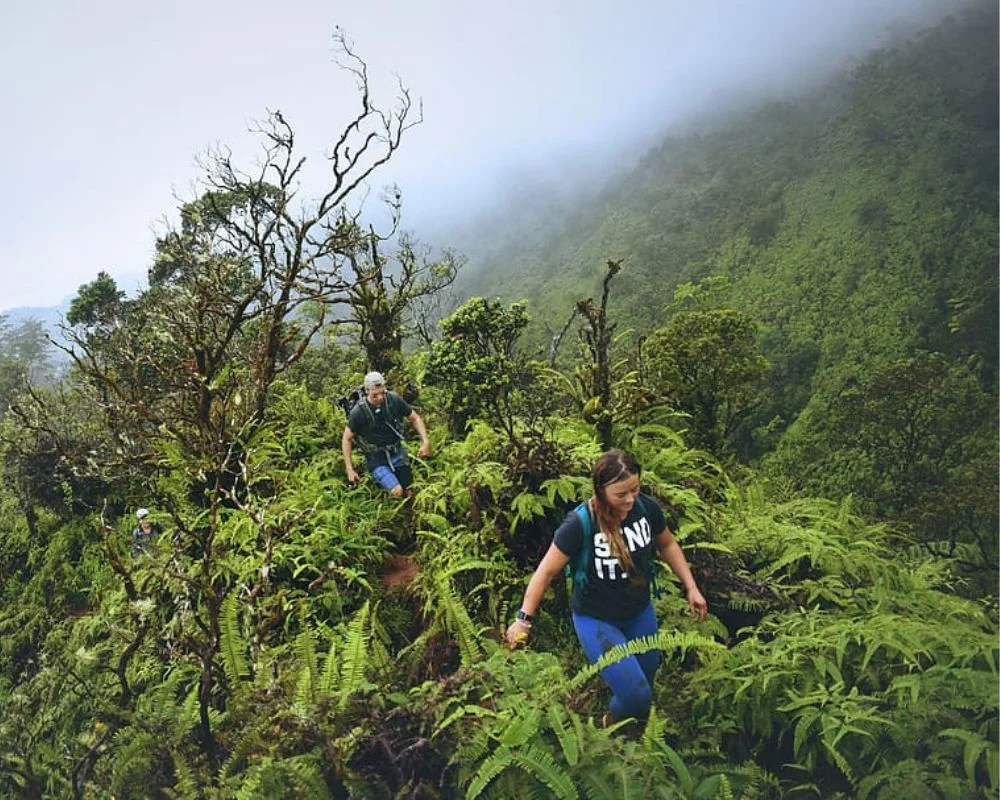 Here are some highlights from our full-day trek:
Visit Lao Chai Village and experience the daily life of ethnic minority groups.
Learn about their customs and traditions while interacting with locals.
Take amazing photos of the rice paddies and terraced fields along the way.
Continue on to Ta Van Village, which is known for its beautiful scenery.
Enjoy a peaceful picnic lunch while taking in breathtaking views of rice terraces and mountains.
Get photography tips from your guide on how to capture the perfect shot.
As you make your way through these charming villages, don't forget to take a deep breath and savor all that surrounds you. The next section will showcase even more breathtaking views that await you on this unforgettable journey.
Breathtaking Views of Rice Terraces and Mountains
If you're a beginner trekker looking for an adventure that also offers the chance to hone your photography skills and immerse yourself in local culture, a full-day trek through Sapa's rice terraces is perfect. As you hike through the lush green fields, take note of the best vantage points for capturing stunning shots. Your guide will be happy to offer photography tips and even pose for some portraits.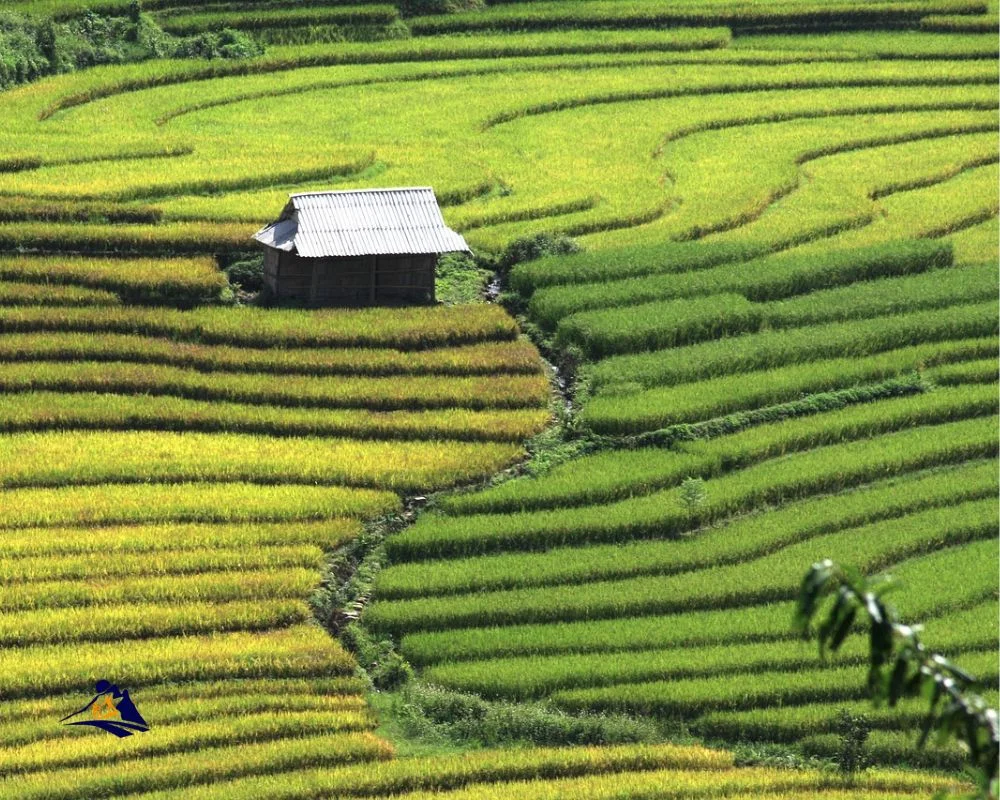 But it's not just about the photos – this trek is also an opportunity to learn about the traditional farming practices of the region and meet members of ethnic minority groups like the Black Hmong. You'll witness their daily routines up close as they tend to their crops and livestock, giving you a true sense of their way of life. And with breathtaking views of mountains stretching out into infinity, it's impossible not to feel inspired by nature's beauty. Ready for more? Let's visit the traditional villages of the Black Hmong ethnic group.
Visit the Traditional Villages of the Black Hmong Ethnic Group
Now it's time to immerse yourself in the rich culture of Sapa by visiting the traditional villages of the Black Hmong ethnic group. As you explore the villages, you'll discover unique aspects of Black Hmong culture such as their colorful handmade clothing and intricate silver jewelry. You'll also have the opportunity to participate in homestay experiences where you can learn more about their daily lives and customs.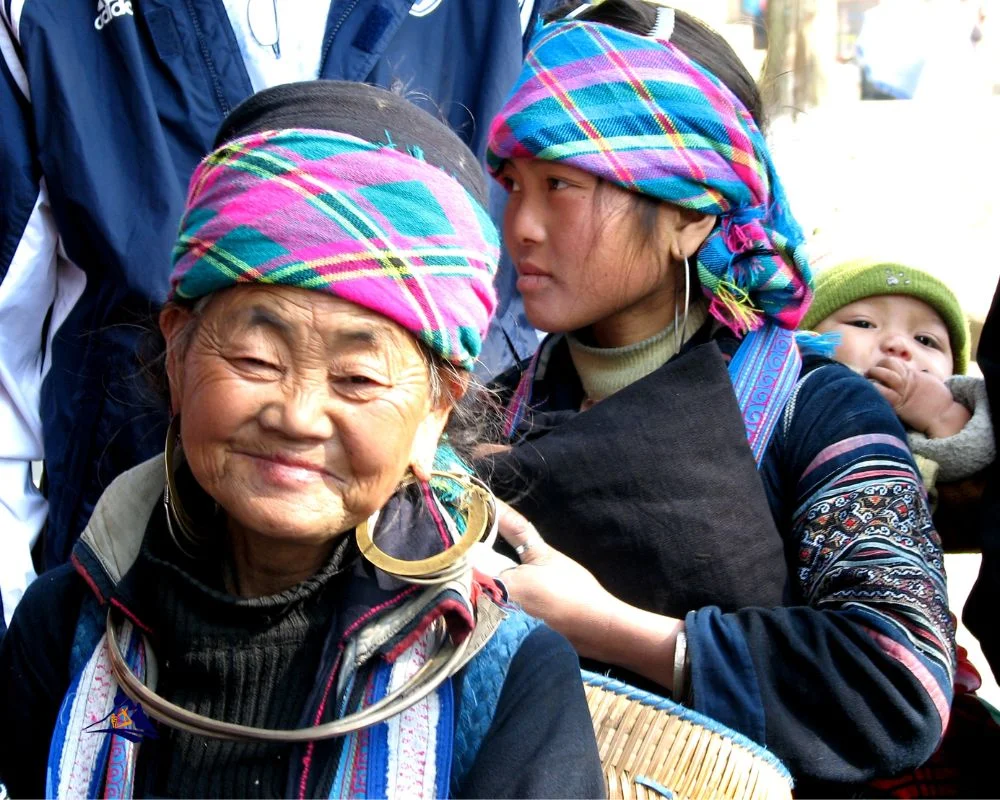 The Black Hmong people are known for their exceptional farming skills, and as you trek through their village paths, you'll see firsthand how they cultivate rice terraces on steep mountain slopes. Additionally, interacting with locals will give you a deeper understanding of their traditions and beliefs that have been passed down from generation to generation. Visiting these traditional villages is an enriching experience that shouldn't be missed during your Sapa trekking tour! Now that you've had a glimpse into Black Hmong culture, get ready for another exciting adventure – climbing Fansipan Mountain!
Fansipan Mountain Trek
The Fansipan Mountain trek offers a climbing experience like no other. As the highest peak in Indochina, it is a challenge for even the most experienced hikers. But as a beginner, you can still conquer this mountain with determination and preparation. The climb typically takes two days, with an overnight stay at a base camp before reaching the summit. Along the way, you will be treated to breathtaking views of the surrounding landscape and glimpses of local flora and fauna.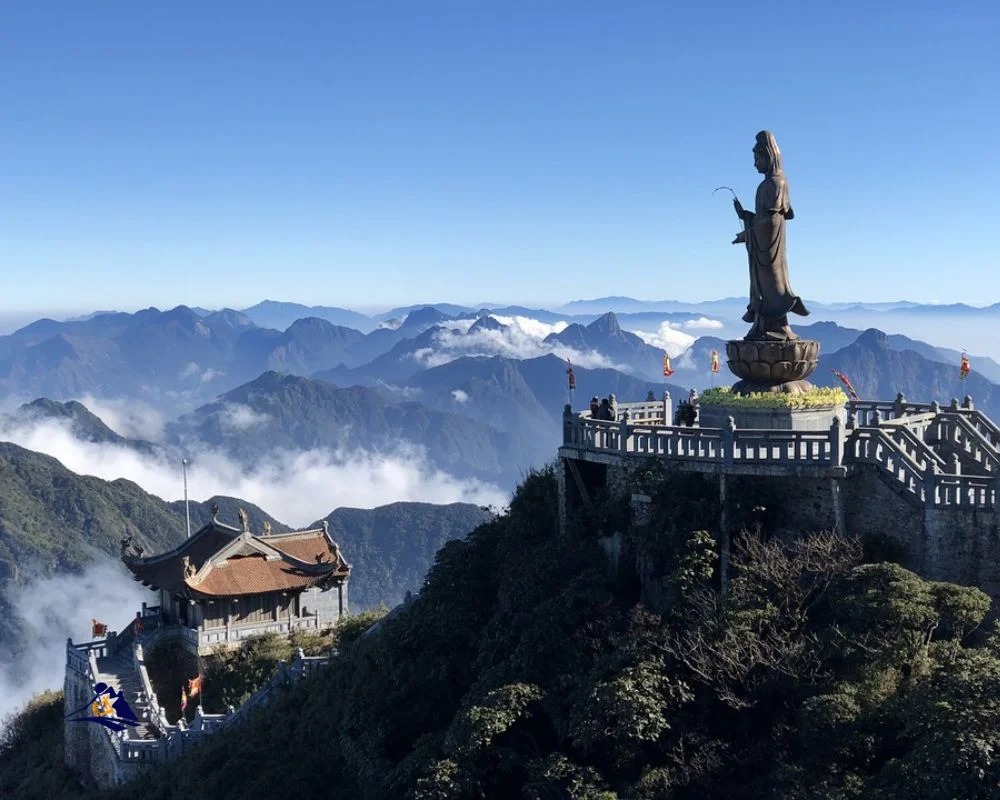 To prepare for this trek, it's important to have proper camping gear such as sleeping bags, tents, and warm clothing as temperatures can drop significantly at night. Hiring a guide is also recommended to ensure your safety and provide insight into the local culture. As you make your way up Fansipan Mountain, you'll see traditional villages and interact with locals who call these mountains home. This is an opportunity to connect with their way of life while challenging yourself physically and mentally.
If you're looking for an adventure that combines both physical endurance and cultural immersion, then the Fansipan Mountain trek is perfect for you! But if you're looking for something more relaxed yet equally culturally rich, then consider joining us on our next stop: Ban Ho Village Trek!
Ban Ho Village Trek
Experience the beauty and authenticity of a remote Vietnamese village on the Ban Ho Village Trek! This trek is perfect for beginners who want to immerse themselves in the local culture while enjoying breathtaking views of rice paddies, mountains, and waterfalls. The trek starts in Sapa town where you will be picked up by your guide and driven to Ban Ho Village. Upon arrival, you will have a homestay experience with a local family who will introduce you to their way of life. You will also get to taste delicious local cuisine such as bamboo cooked chicken and sticky rice.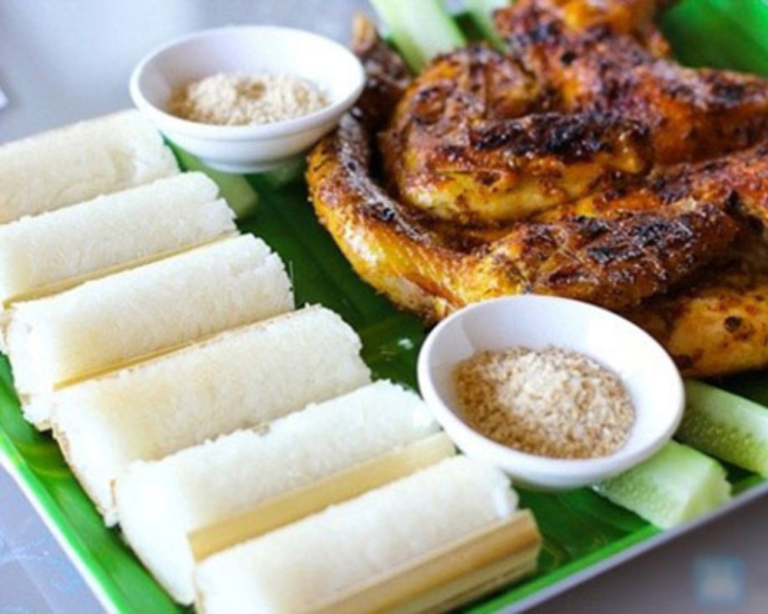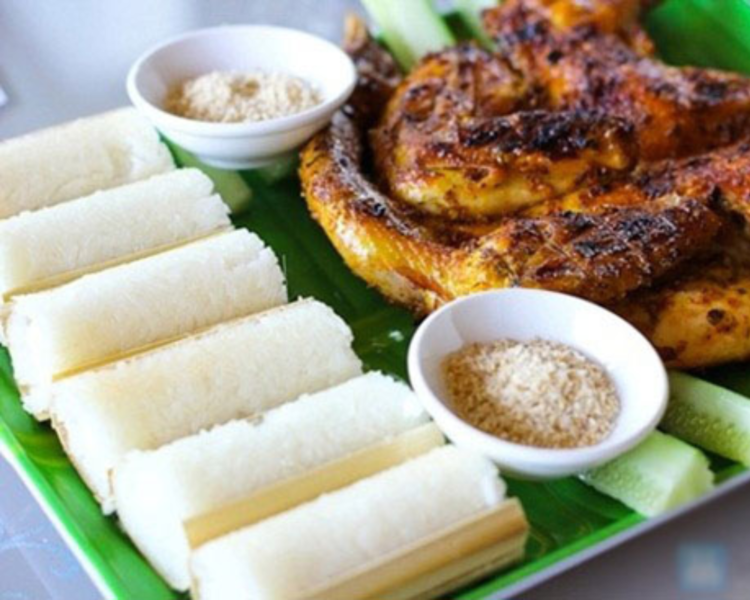 Here are three reasons why the Ban Ho Village Trek should be on your list when visiting Sapa:
The trek offers an opportunity to interact with locals and learn about their customs and traditions.
You will get to see some of Vietnam's most stunning natural scenery including waterfalls, terraced rice fields, and lush forests.
The homestay experience allows you to live like a local for a night, giving you insight into rural Vietnamese life that few tourists ever experience.
As you prepare for your trek, keep in mind some tips for a successful journey in Sapa.
Tips for a Successful Trek in Sapa
Proper Clothing and Footwear is an essential aspect of a successful trek in Sapa. Make sure to wear comfortable clothing that is suitable for the weather conditions, and sturdy footwear that can handle rocky terrain. Hydration and Snacks are also crucial, as you will be walking long distances. Carry enough water and snacks to keep yourself energized throughout the journey. Lastly, Hiring a Local Guide is highly recommended as they have extensive knowledge about the area, culture, and history which adds value to your experience. They can also guide you through the safest routes and help mitigate any risks during your trekking adventure.
Proper Clothing and Footwear
Make sure you wear comfortable clothing and sturdy shoes to fully enjoy your trekking adventure. Sapa has a subtropical climate, which means it can get both hot and cold throughout the day. Choosing appropriate clothing is essential for staying comfortable during your trek. Layering is key here – bring a light jacket or sweater for the cooler mornings and evenings, but also pack some breathable t-shirts and shorts for when it gets warmer during the day. It's important to choose materials that are quick-drying and moisture-wicking to prevent chafing from sweat.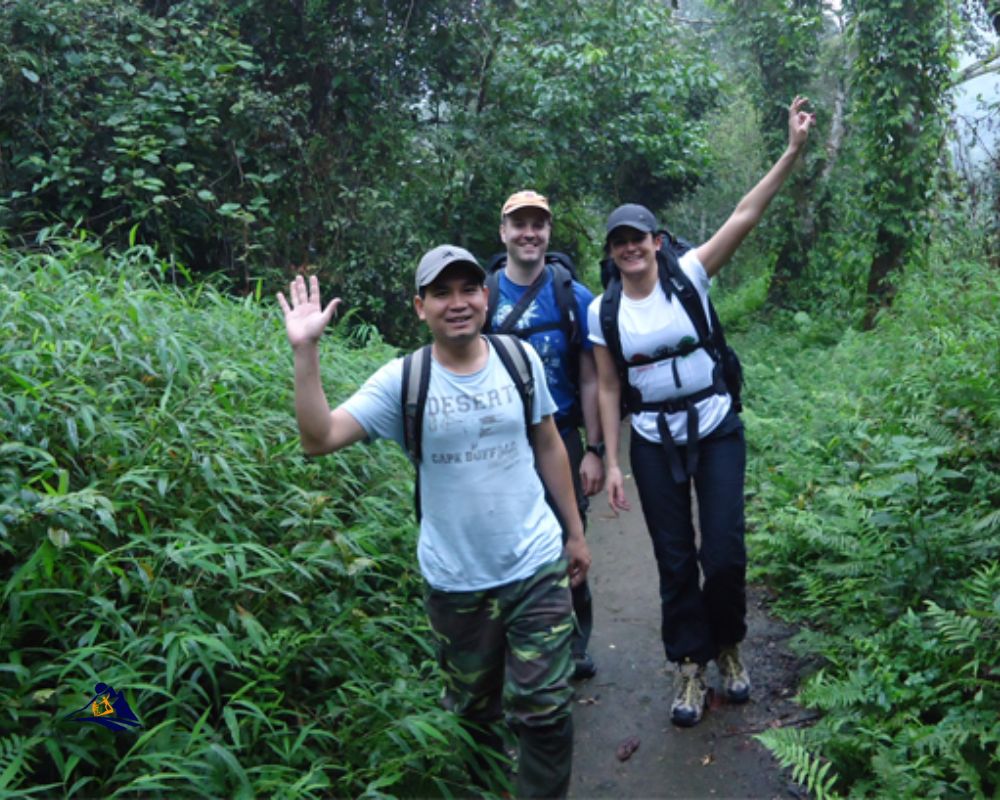 Tips for packing efficiently include bringing clothes that can be mixed-and-matched to create different outfits without taking up too much space in your backpack. Don't forget to also pack a hat, sunglasses, sunscreen, and insect repellent to protect yourself from the sun and bugs along the way. As for footwear, make sure you have sturdy shoes with good traction for navigating through different terrains such as rocky paths or muddy trails. A pair of hiking boots would be ideal, but if you don't have them then sneakers with a solid grip should suffice.
Now that you've got your clothing and footwear sorted out, let's move on to another crucial aspect of trekking: hydration and snacks!
Hydration and Snacks
Don't forget to pack plenty of water and snacks to keep you energized and hydrated during your adventure. Adequate hydration is crucial for maintaining your body's functions while trekking in Sapa. It's important to drink at least 2 liters of water per day, especially if you plan on hiking for several hours. Bring a reusable water bottle that can be refilled along the way, or purchase bottled water from local shops or vendors.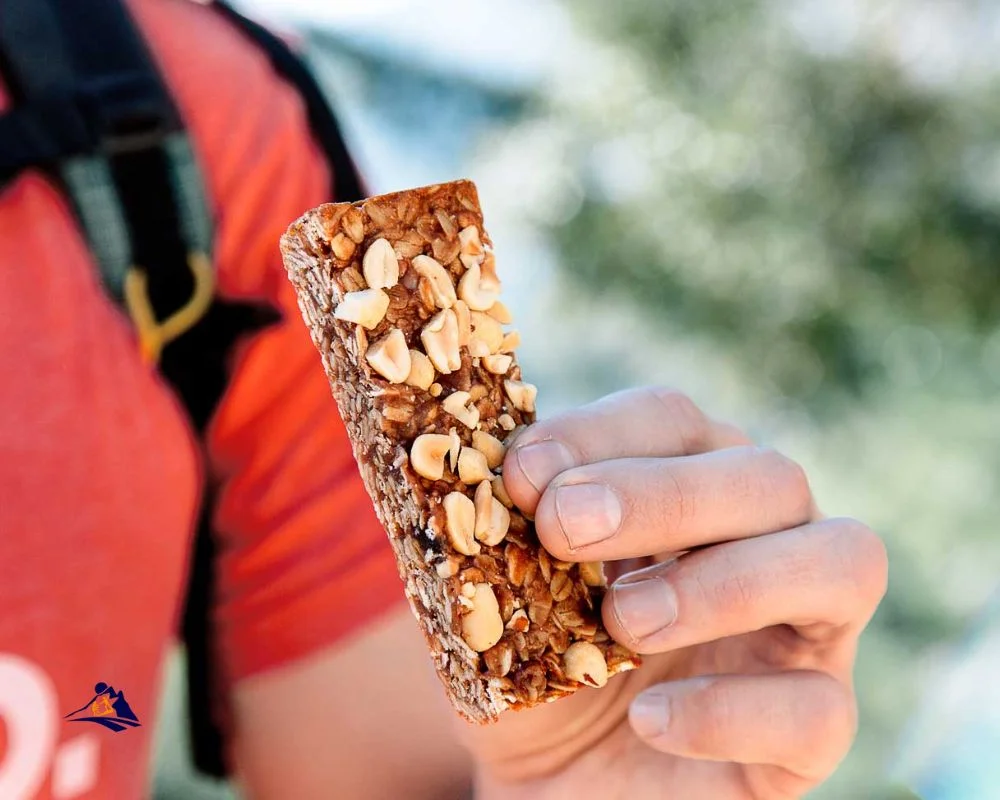 Aside from staying hydrated, bringing snacks is also important for keeping up your energy levels throughout the trek. The best snacks to bring on a trek are those that are high in protein, carbohydrates, and calories such as trail mix, granola bars, nuts, dried fruit, beef jerky or cheese sticks. These will provide the necessary fuel for your muscles and brain so you can enjoy the sights without feeling sluggish or exhausted. With proper hydration and snacking habits in place, you'll have more than enough energy to explore every inch of Sapa's stunning landscapes with ease.
As you venture deeper into the mountains of Sapa on your trekking tour, it may be wise to consider hiring a local guide who knows all the ins and outs of this breathtaking region. A guide can help lead you through challenging terrains as well as point out unique cultural experiences like visiting local hill tribes or hot springs. Let's find out more about how hiring a local guide can enhance your experience in Sapa!
Hiring a Local Guide
If you really want to make the most out of your Sapa trekking tour, then hiring a local guide is definitely worth considering. The benefits of hiring a guide are numerous. First and foremost, they have an in-depth knowledge of the area that only locals possess. They can take you off the beaten path and show you hidden gems that no guidebook or map could ever reveal.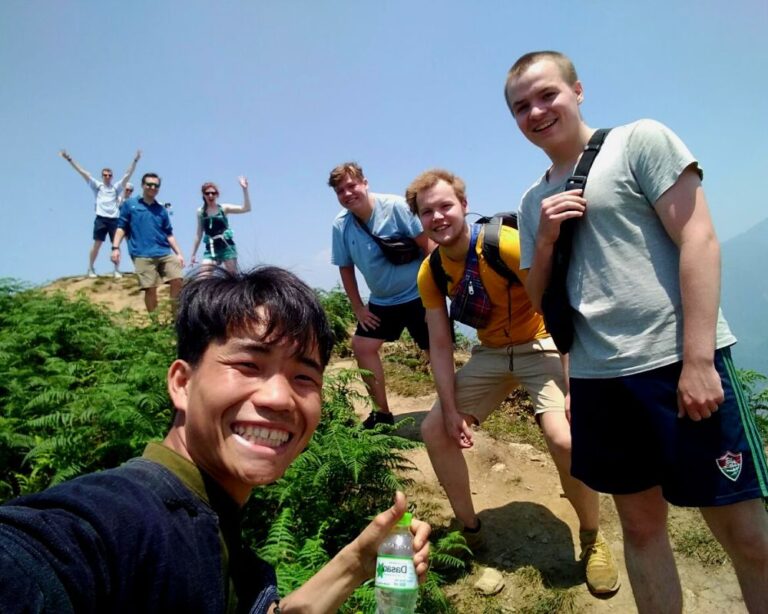 Moreover, a seasoned guide will also keep you safe during your trek as they are familiar with the terrain and weather conditions. They can assess potential risks and avoid dangerous situations before they arise. On top of this, having a local guide means gaining insight into the culture and traditions of the ethnic minority groups who inhabit Sapa. They can provide valuable insights into their way of life, beliefs, customs, and history. Of course, there is a cost associated with hiring a local guide but it's well worth every penny for an authentic experience that you won't forget anytime soon!
The Best Sapa Trekking Tours For Beginners Frequently Asked Questions
What is the best time of year to go on a trekking tour in Sapa?
If you're planning a trekking tour in Sapa, the best time to visit is from September to November or from March to May. During these months, the weather conditions are mild and dry, making it perfect for trekking. You'll have the opportunity to explore some of the best trekking routes in Sapa, such as Fansipan Mountain and Cat Cat Village. The temperature during this time ranges between 15°C-25°C which makes it comfortable for beginners who can enjoy their first trekking experience without discomfort . So if you want to experience freedom in nature while enjoying picturesque landscapes, pack your bags and head out to Sapa during these months!
Are there any age restrictions for participating in trekking tours in Sapa?
If you're considering a trekking tour in Sapa, you may be wondering if there are any age restrictions or physical requirements. While some tours may have specific age limits or physical fitness requirements, many of the best tours cater to a wide range of ages and abilities. It's important to do your research and choose a tour that fits your individual needs and comfort level. Some tours may involve strenuous activities like steep climbs or long hikes, while others may offer more moderate options. Regardless of the tour you choose, it's always a good idea to consult with your doctor beforehand and make sure you're physically able to participate. So don't let age or physical limitations hold you back from experiencing the beauty of Sapa on foot!
What type of clothing and gear should I bring for a Sapa trekking tour?
When embarking on a Sapa trekking tour, it's essential to bring certain items and wear appropriate attire for the terrain. Essential items include sturdy hiking boots, a waterproof jacket, layers of clothing for changing weather conditions, a backpack with hydration system, sunscreen and insect repellent. As for recommended attire, opt for quick-drying fabrics that wick away sweat and avoid cotton which retains moisture. It's also important to consider renting vs. buying gear as some items such as sleeping bags or trekking poles may not be necessary for beginner level treks. By having the right clothing and gear in hand, you'll be able to fully enjoy your time in nature without any hinderances!
Can I customize my trekking tour itinerary to include specific destinations or activities?
When it comes to trekking tours in Sapa, you want to make sure that your itinerary is tailored to your specific interests and needs. That's why many tour packages offer customization options, allowing you to include specific destinations or activities along the way. Whether you're interested in visiting local villages, trying traditional cuisine, or taking part in cultural experiences, there are tour operators who can work with you to create a personalized itinerary that includes everything on your bucket list. Before booking your trip, be sure to ask about the tour package inclusions and any additional costs associated with customizing your itinerary. With these options available, you'll have the freedom to explore Sapa on your own terms and create memories that will last a lifetime.
Are there any cultural considerations or customs I should be aware of when visiting the villages in Sapa?
When exploring the villages in Sapa, it's important to be mindful of cultural etiquette and traditional practices. One common idiom that you might hear is "when in Rome, do as the Romans do". This means that you should try to adapt to local customs and norms, even if they are different from what you're used to. For example, it's considered polite to ask for permission before taking photos of people or their homes. Additionally, removing your shoes before entering someone's home shows respect for their space and traditions. By being aware of these cultural considerations, you can have a more enjoyable and respectful experience while trekking through the beautiful villages of Sapa.
Conclusion
Congratulations on completing the best Sapa trekking tours for beginners! You have accomplished something truly special by immersing yourself in the stunning natural beauty of this region. As you reflect on your journey, take a moment to appreciate the contrast between the bustling city life of Hanoi and the peaceful mountain villages of Sapa. It is a humbling reminder that there is so much more to explore beyond our everyday routines.
By embarking on these treks, you have gained valuable experience and insight into Vietnamese culture, history, and way of life. You have also challenged yourself physically and mentally, pushing past any doubts or fears to reach new heights (literally!). Remember these moments as you return home and continue your travels – they will serve as inspiration for future adventures. Keep exploring, keep learning, and keep trekking!