People come to Sapa because of the majestic natural scenery of the mountains and forests, it can be said that this place possesses the most beautiful natural scenery in the northern mountains of Vietnam. Sapa tourists are always overwhelmed by the majestic and romantic beauty of the landscape here. But if you having a Sapa trekking bad weather trip, below is all you need to know still to enjoy the full beauty of Sapa's nature:
Sapa Trekking weather – What is the best time to visit Sapa
Sapa is located at the beginning of a back valley with beautiful terraced fields cultivated by ethnic people. This place has an invaluable resource favored by nature, which is a fresh and cool year-round climate, the temperature in the bottle is about 15-18 degrees Celsius.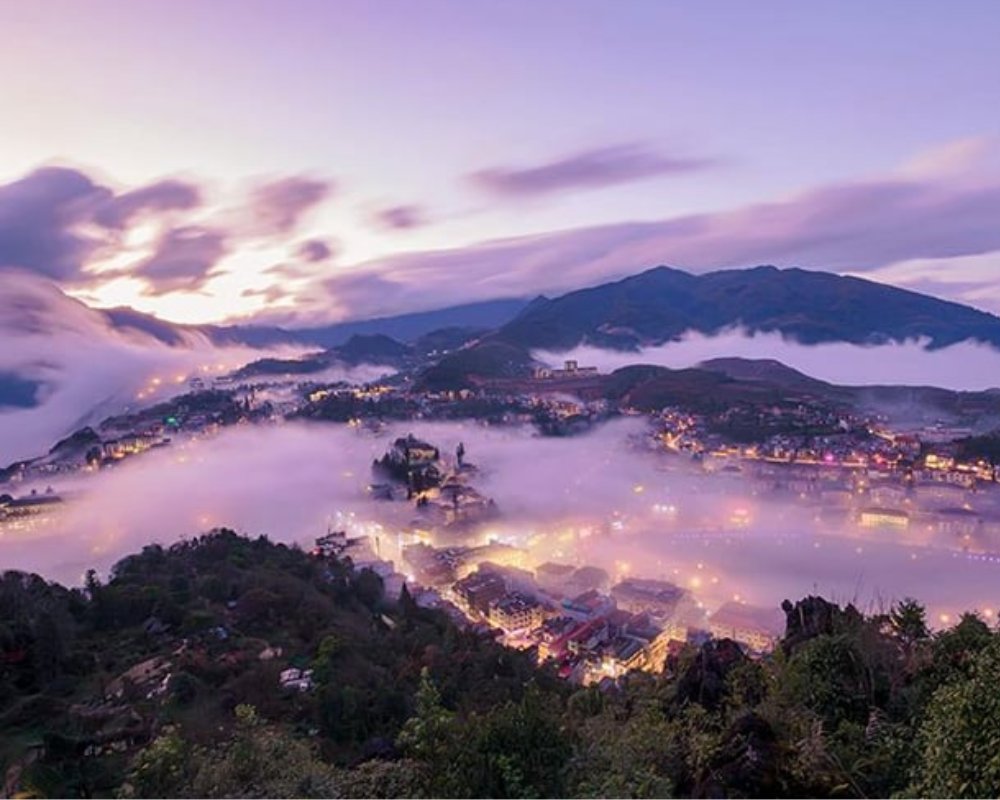 The overview of Sapa weather by month is as follows:
April – May: At this time, the ethnic people plant rice on terraced fields, the whole village is covered with a fresh green color.
September, October, 11: This is the most beautiful time of the year in Sapa, at this time the rice fields are ripe and golden. Heaven and earth, the nature of Sapa is like changing a new layer of clothes, a golden color covering the whole region of Sapa. Even the rays of the afternoon sun turn a sweet honey-yellow color.
Spring
Spring is in February, March, and April to May, Sapa weather is very cool and pleasant. It is a bit chilly in the morning, warm in the afternoon and dry in the evening. In the spring of Sapa, the trees are like buds and buds, awakening after a long winter sleep, colorful flowers bloom all over the mountains and forests of Sapa, strangely bustling!
You have to come to Sapa to see the world of flowers. Flowers grow all over Sapa, from the foothills to the top of the hill, and flowers bloom through each small village road around Sapa. It is the white of apricot flowers, the pastel pink of peach blossoms, the deep pink of azaleas, etc.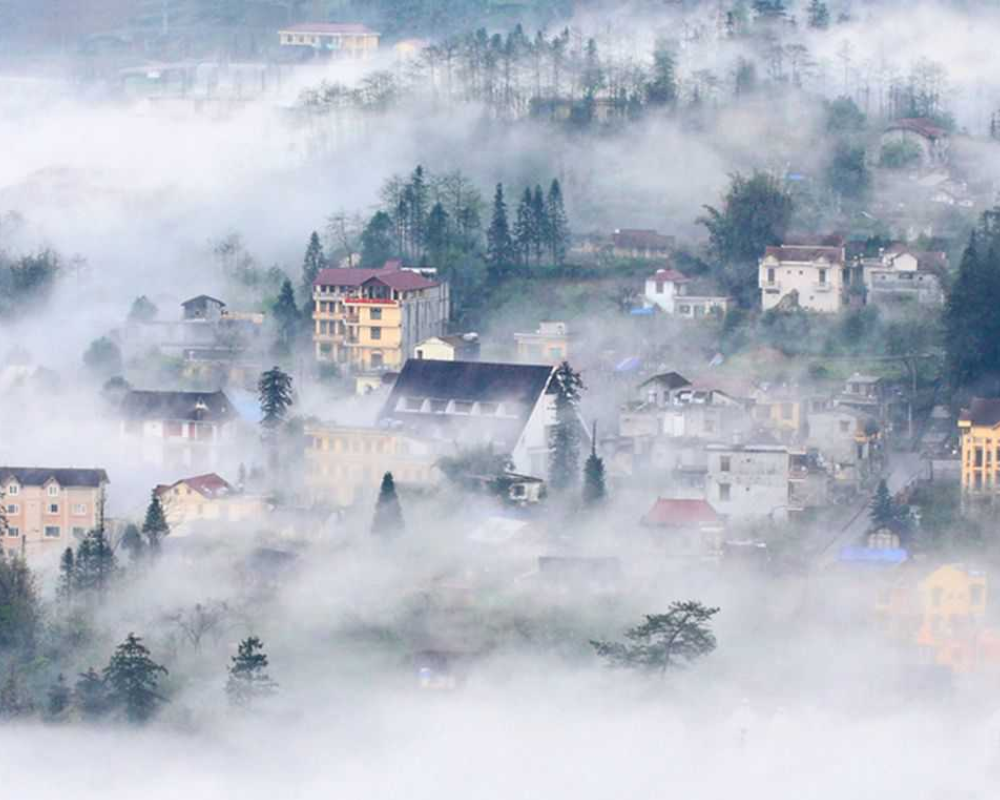 Summer
Summer in Sapa is in June, July, and August, and the annual average temperature fluctuates between 17-22 degrees Celsius. In the morning, the sun will be earlier in the summer, the sun will rise, and the temperature will increase, but the temperature will be higher. Remains between 22-23 degrees. In summer, you can feel 4 seasons in one day in Sapa.
Summer in Sapa can have heavy rains and landslides, but usually, only in June and July from the end of July onwards, Sapa will be dry and officially enter the most beautiful time of the year.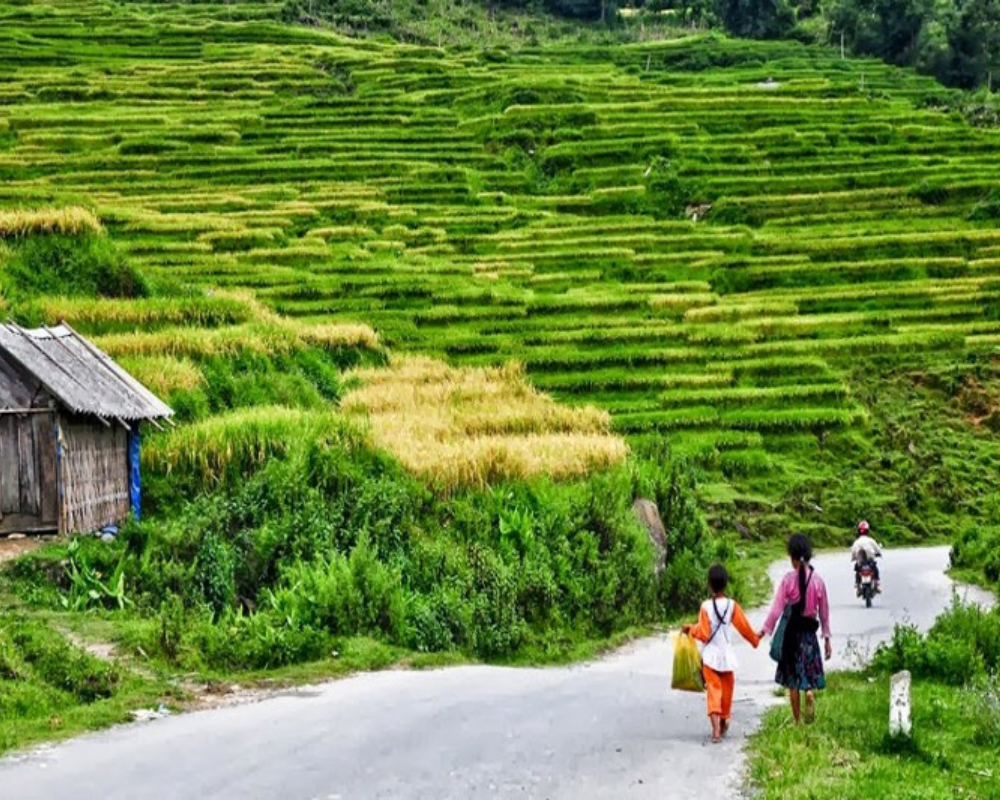 Sapa 1 Day Tours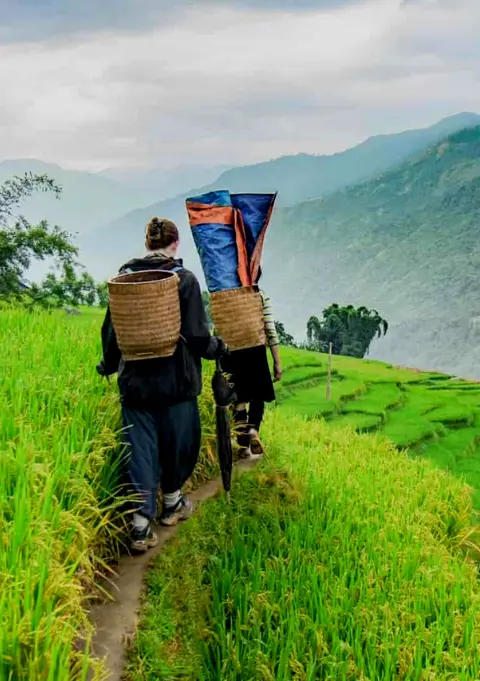 1 day experience
Moderate to challenging
Cultural immersion & active adventure
Rice fields, valleys & villages
​Private tours
Vegan-friendly
Sapa 2 Day Tours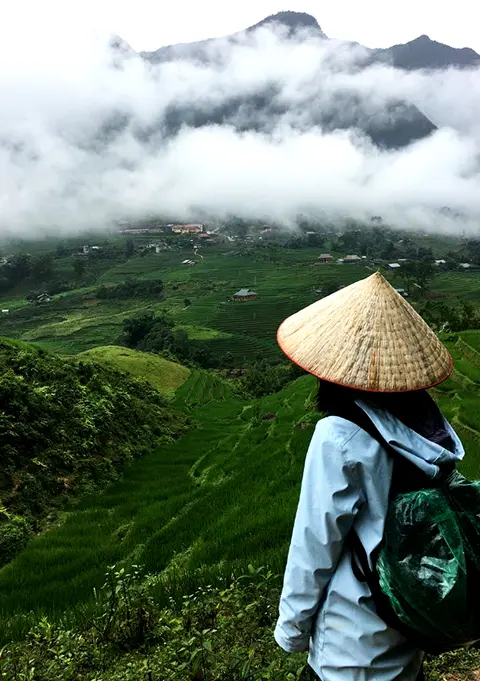 2 days 1 night experience
Moderate to challenging
Cultural immersion & active adventure
Mountains, valleys, rice fields and villages
​Private tours
Vegan-friendly
Sapa 3 Day Tours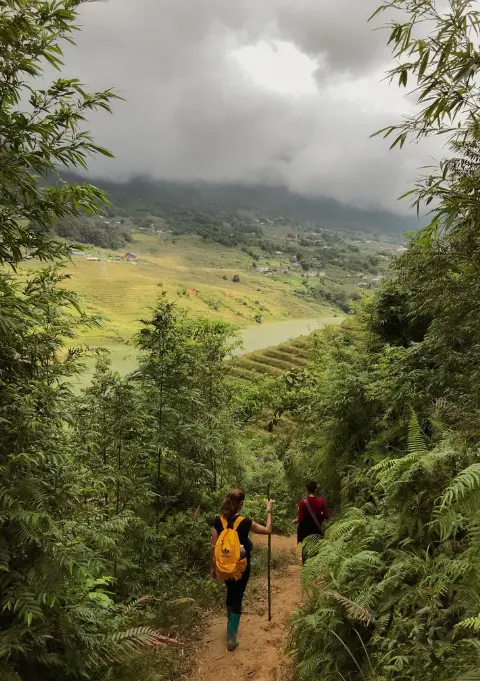 3 days 2 night experience
Moderate to challenging
Cultural immersion & active adventure
Mountains, valley, rice fields & villages
​Private tours
Vegan-friendly
Sapa 4 Day Tours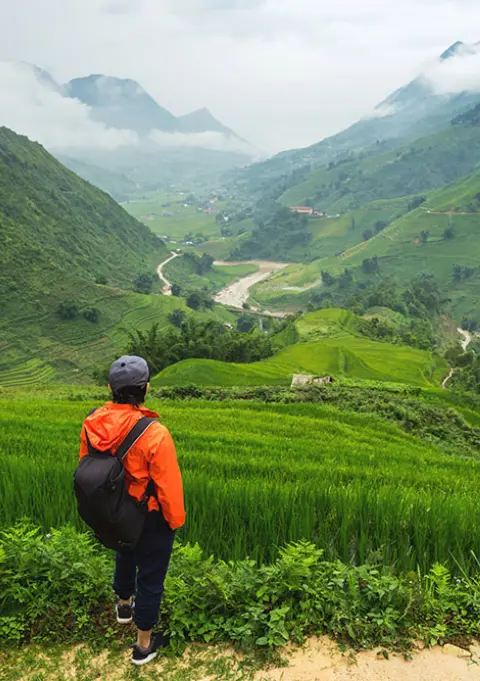 4 days 3 night experience
Moderate to challenging
Cultural immersion & active adventure
Mountains, valleys, rice fields & villages
​Private tours – Less Touristic
Vegan-friendly
Autumn
In September, Sapa falls in the autumn with the temperature around 18-23 degrees Celsius, at night the temperature will drop to about 14-16 degrees Celsius. Autumn in Sapa, the weather is cool, with little rain and this is also the season to see the beautiful scenery — golden ripe rice fields.
Sapa starts getting cold in October, but it is not a chilly afternoon, the temperature will fluctuate around 12-22 degrees Celsius. The villages are in higher positions except for high places like Fansipan peak and O Quy Ho pass. The temperature will drop sharply. This is also the time when Sapa enters the dry season, traveling to Sapa at this time you will rarely encounter rain.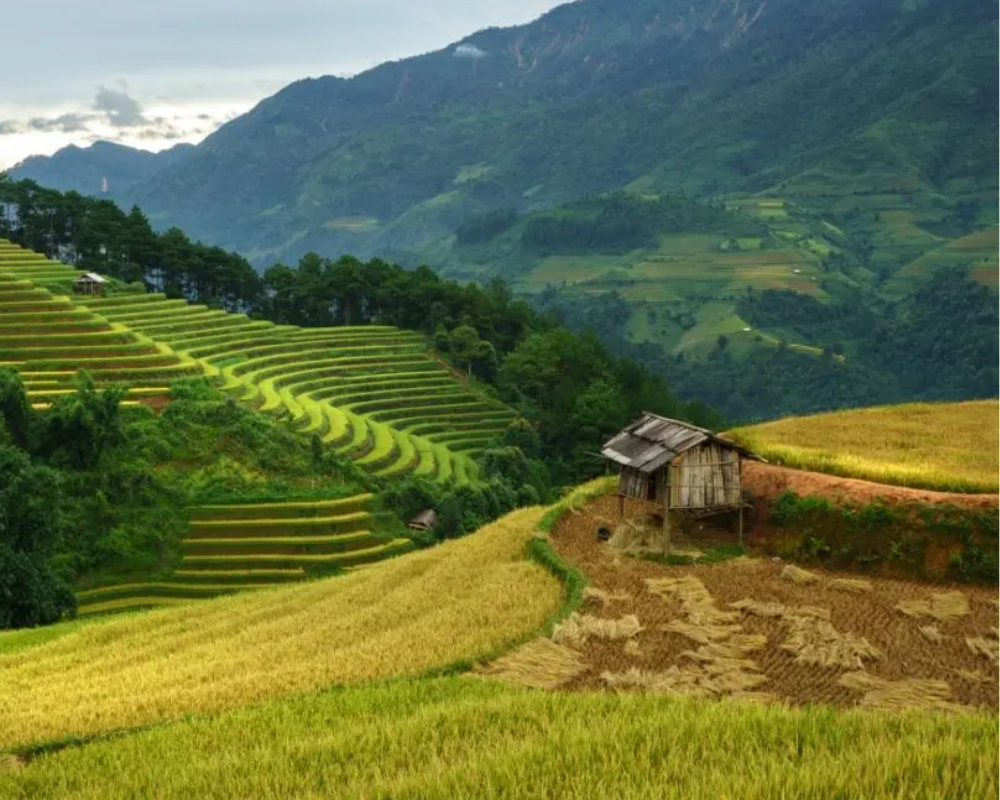 Sapa entered the early winter, the cold weather made people seem to want to be closer to each other. At this time, Sapa heaven and earth also merged into one by the layer of clouds covering the way. The temperature of Sapa town at this time ranges from 10-18 degrees Celsius during the day, about 7-8 degrees Celsius at night.
Winter
Sapa winter from December to February of the solar calendar, the average temperature of Sapa is only from 3 to 7 degrees Celsius, there are times when it drops below 0 degrees Celsius. In Sapa winter, you can feel the real cold, This is definitely an unforgettable experience.
In recent years, in winter Sapa often has snowfall. All winter, Sapa town seems to be floating in the clouds. The snowfall experience in Sapa is very special, the snow is white, covering all creatures, and houses, even up to half a meter thick.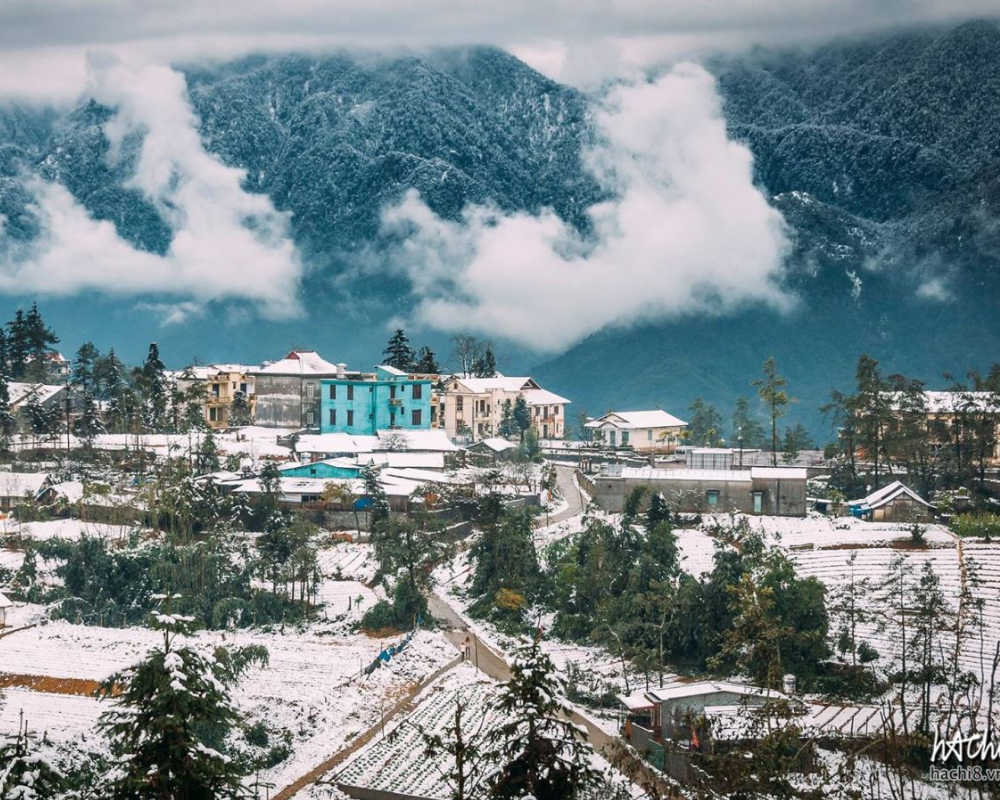 Preparation for Sapa trekking tour bag weather
Where should I go when having a Sapa trekking bad weather
Enjoy a cup of hot coffee
In the days of trekking to Sapa and encountering heavy rain, each person's heart must be filled with emotions that are difficult to put into words. There is joy, there is sadness, there is thinking, there is even dreaming. The weather in Sapa is as red as a girl in her twenties with unexpected rains. If you are going to explore Sapa and suddenly encounter rain, then don't worry because Sapa has countless places to stay in the cold rain!
In Sapa, it is not difficult for tourists to find Sapa cafes with mountain views, forest views, valley views, … picturesque. This is a great opportunity for you to pause, rest, enjoy a warm cup of coffee and admire the scenery of mountains and clouds in Sapa on a romantic rainy day.
Check-in in the rain
Many tourists visit Sapa for 3 days and 2 nights to check in and save themselves super-quality photos, but it rains. Don't be discouraged, on rainy days, Sapa has even more virtual living corners, taking amazing photos that you don't know!
One of the most memorable moments when traveling to Sapa on a rainy day is taking a check-in photo with a transparent umbrella. Just a small, pretty umbrella and indiscriminate shooting at any angle will produce beautiful photos without editing. The girls can create a very romantic muse standing in the rain, while the boys can have very cool photos when holding an umbrella in the pouring rain.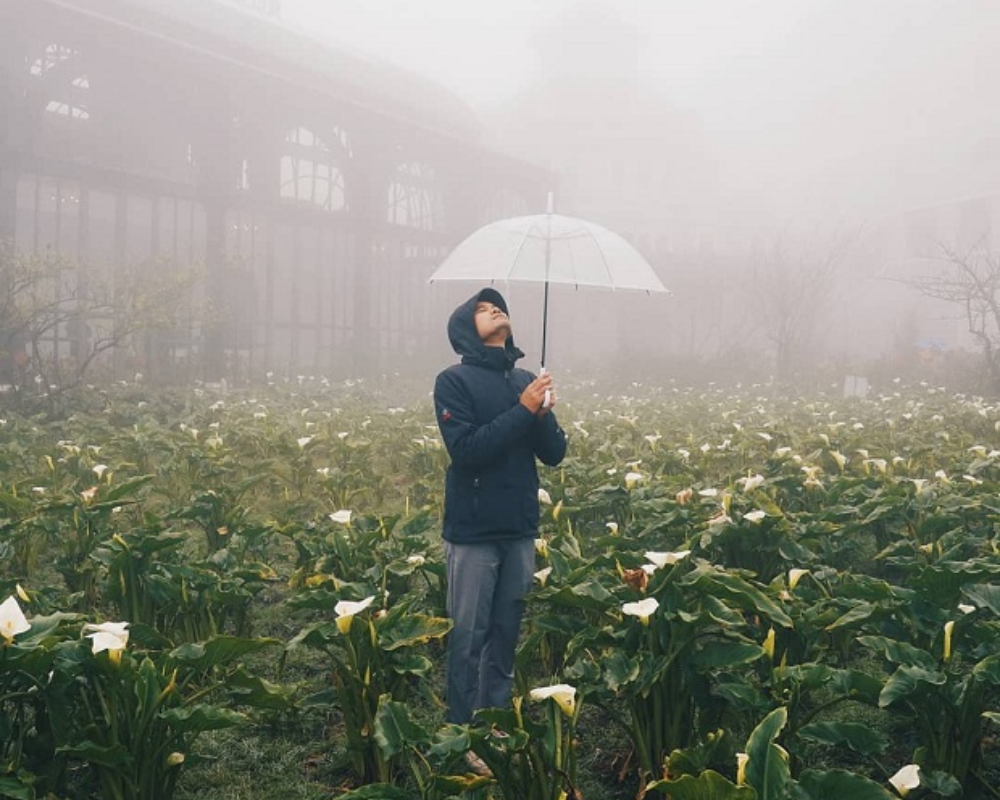 The rains in Sapa suddenly come and go without an appointment. So if you are exploring Sapa and suddenly encounter the rain, then enjoy it to the fullest. The rain mixed with fog creates an illusionary space – a "specialty" only in Sapa. The rain brings with it a refreshing, pleasant atmosphere, making people ponder about distant things.
Tasting Northwest cuisine
If we sip a cup of coffee and check in, but the rain still hasn't stopped, what will we do? Definitely will enjoy hot Sapa specialties on a rainy day. Going on a Sapa tour to discover each specialty of the Northwest will surely make you like your stomach right away.
Fansipan Hiking 1 Day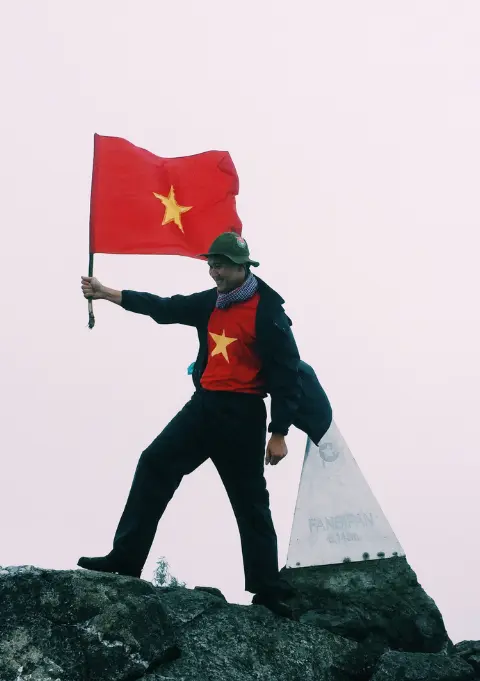 1 day fansipan experience
Moderate to challenging
Cultural immersion & active adventure
Visit Fansipan, highest mountain of Indochina
​Private tours
Vegan-friendly
Fansipan Trekking 2 Days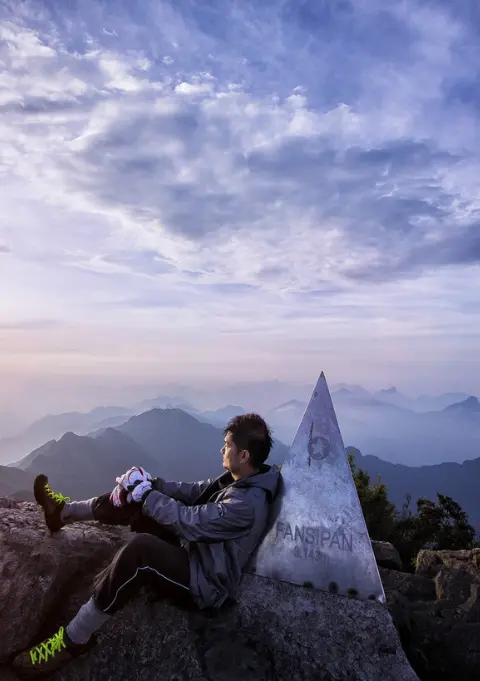 2 days 1 night fansipan experience
Moderate to challenging
Cultural immersion & active adventure
Visit Fansipan, highest mountain of Indochina
​Private tours
Vegan-friendly
Buy Cable Ticket Online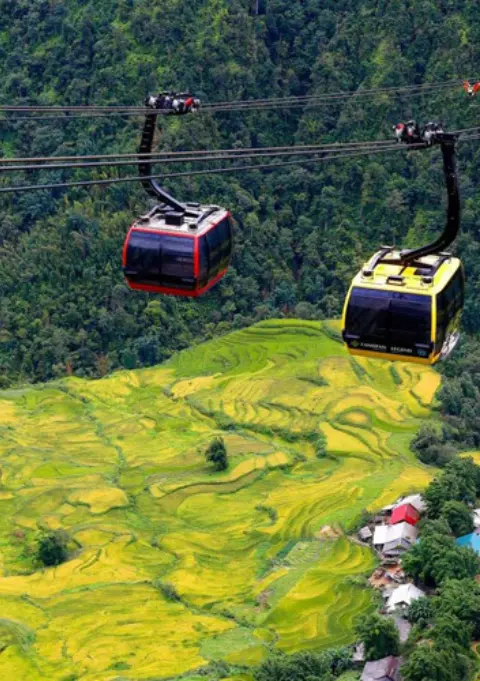 [QR Code] Buy Fansipan Cable Car Tickets Online
Non-refundable
Present your e-voucher
Fixed-day ticket
Admission with voucher
Still a rustic Sapa, in the cold weather, sit down on the roadside next to the fireplace and enjoy the hot and delicious natural cuisine. Simple baked goods such as corn, potatoes, eggs, or meat skewers will help you warm your stomach while experiencing the 0-degree cold of Sapa.
On rainy days, tourists in Sapa can enjoy a hot sturgeon hot pot. This Northwest specialty dish is extremely popular with diners because of its delicious taste, soft and sweet fish meat and served with exotic wild vegetables typical of the Northwest.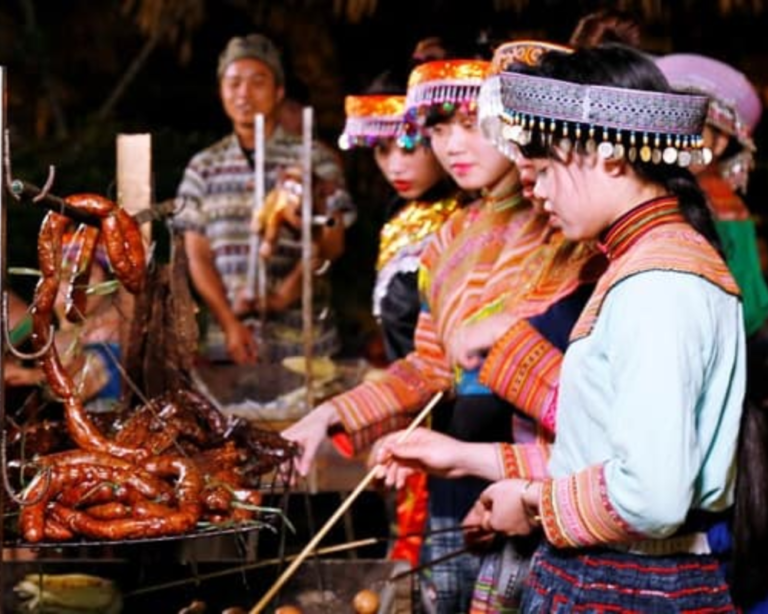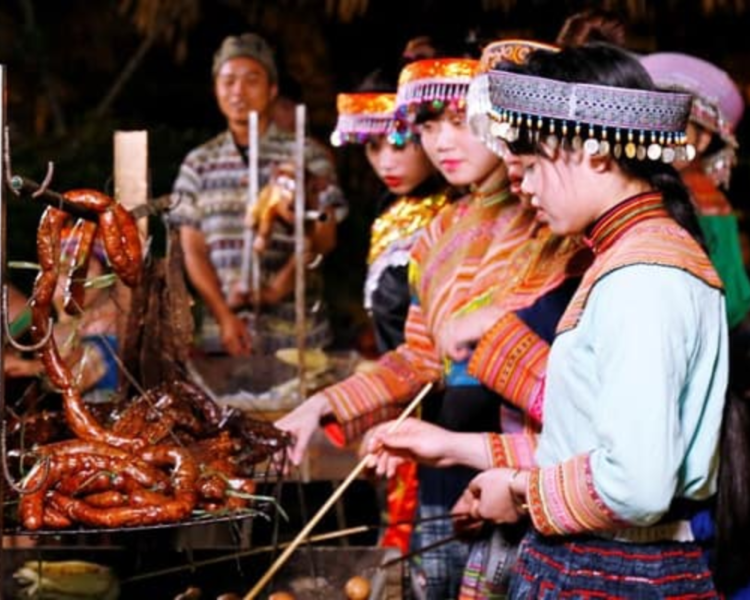 In addition, Sapa tourists can enjoy divine grilled dishes marinated according to a special recipe that is extremely mouth-watering. But the most special thing is the divine and unique dipping sauce that makes people remember forever.
Don't forget to enjoy the Northwestern specialty of pork man mam. This dish is made from pigs with armpits that are naturally grazed on the hill, so the meat is extremely delicious! If you have ever been to Sapa Ha Giang Tour, please enjoy this dish to see if it is any different from the pig under the armpits in Ha Giang!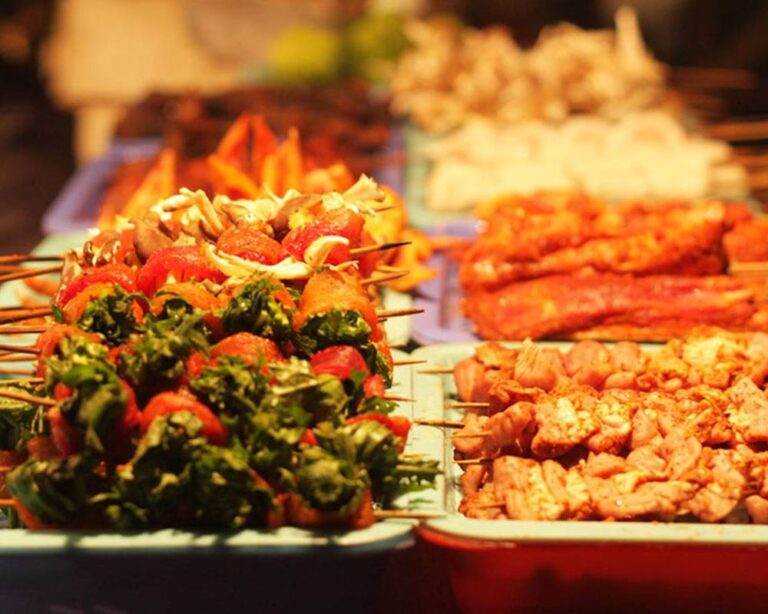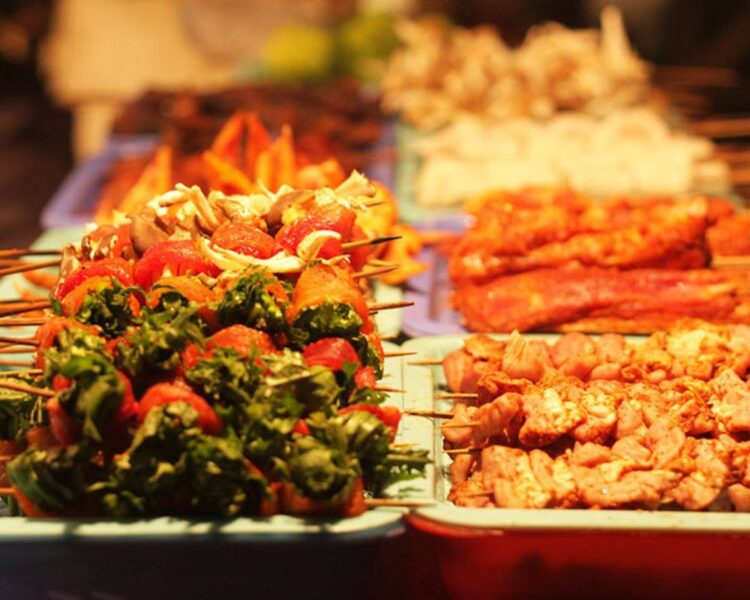 On such rainy days in Sapa, visitors can choose to visit the markets to shop and see the scene of the local people's end of the day market. There are also many lively beer bars, bars, clubs, etc. for visitors to enjoy and have unforgettable experiences in Sapa.
Hoang A Tuong Palace
If you don't want to "bury your feet" in a cafe to admire the misty town, you can move to Hoang A Tuong palace (also known as Hoang Yen Chao castle) to visit. The Palace is located in Bac Ha district, a famous tourist destination in Sapa, the Palace is designed in the ancient Asian-European architecture.
Ticket price to visit Hoang A Tuong mansion is 1 USD/ ticket.
Sapa Museum
Sapa Museum is an ideal destination for tourists to visit on rainy days. This place keeps about 200 artifacts, models and many publications and documentaries about ethnic groups in Sapa such as H'Mong, Tay, Giay, Xa Pho, Ha Nhi and Red Dao. production, religious activities, culture and costumes of each ethnic group.
The time allowed to visit the museum is from 7:30 a.m. to 11:30 a.m. and from 1:30 p.m. to 5:00 p.m.
Each season of Sapa has its own beauty, the weather is also characteristic of each season with different temperature frames, but always makes visitors feel comfortable and fresh. Surely you have already given yourself the answer to what to do when having a Sapa trekking in bad weather. However, if you can experience all 4 seasons of Sapa, it will definitely be more wonderful. Wish you have a nice time in Sapa.
Is trekking in Sapa difficult?
Sapa trekking requires a lot of walking up and down the hills, therefore, you need to be very prepared to avoid getting too exhausted. A regular trek is about 12-15km a day, and it often lasts about 7-8 hours. However, these difficulties aren't like when you are climbing a mountain, as the roads here are not that bad.
What is the best month to visit Sapa?
Spring, which lasts from February to May, is the most suitable time to visit Sapa. Coming to Sapa this time, you will have a chance to admire blossom flowers at every corner of Sapa, from hillsides, valleys, mountain slopes to the road in the town.
Is December a good time to visit Sapa?
The best time to visit Sapa is from September to mid-December, and March to May when the weather is just right and the rainy season has passed. During this time you would have a comparatively milder climate along with a pleasant atmosphere. Average temperatures during September to December range from 15-25℃.
Is Sapa worth visiting in November?
Generally, the Sapa weather in November is considered nice and comfortable, the ambiance is dry and clear with the low figure of rainfall. At the end of the month, it gets cloudier and foggy, however, Sapa is still good to travel and remains the most popular destination for tourists, especially international tourists.
Sapa 1 Day Tours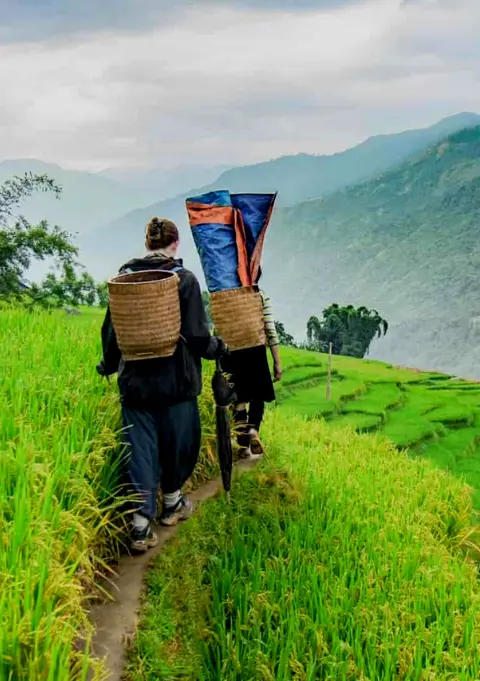 1 day experience
Moderate to challenging
Cultural immersion & active adventure
Rice fields, valleys & villages
​Private tours
Vegan-friendly
Sapa 2 Day Tours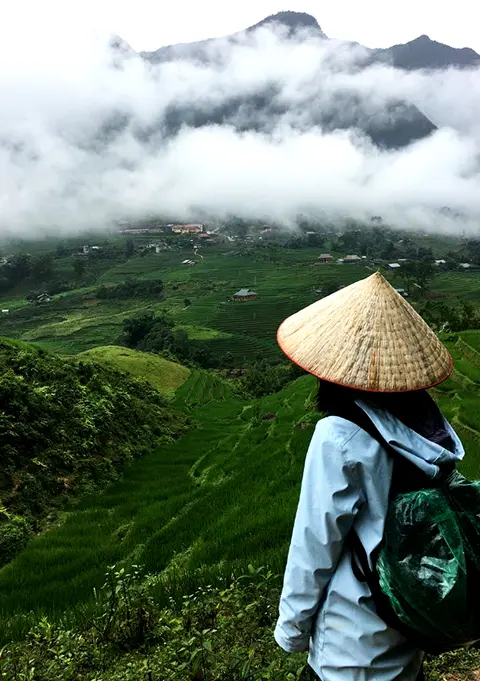 2 days 1 night experience
Moderate to challenging
Cultural immersion & active adventure
Mountains, valleys, rice fields and villages
​Private tours
Vegan-friendly
Sapa 3 Day Tours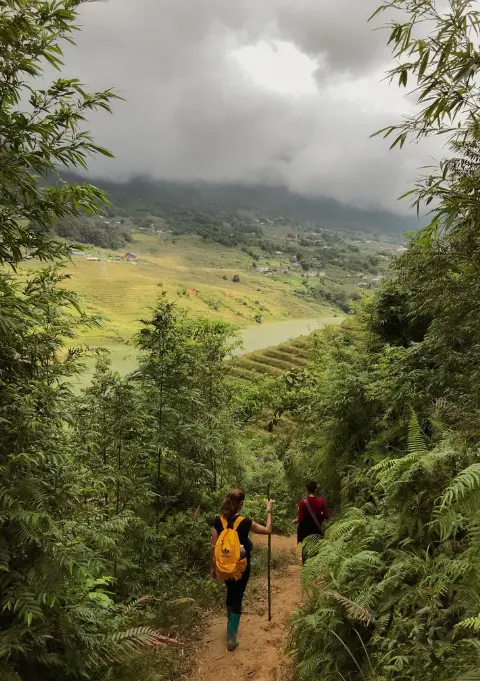 3 days 2 night experience
Moderate to challenging
Cultural immersion & active adventure
Mountains, valley, rice fields & villages
​Private tours
Vegan-friendly
Sapa 4 Day Tours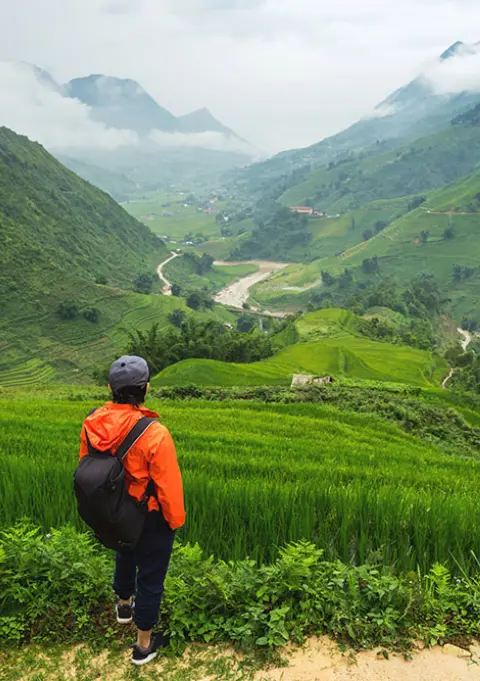 4 days 3 night experience
Moderate to challenging
Cultural immersion & active adventure
Mountains, valleys, rice fields & villages
​Private tours – Less Touristic
Vegan-friendly