Recently updated on May 21st, 2023 at 10:12 pm
Welcome, fellow travelers! If you're looking to escape the hustle and bustle of Ho Chi Minh City and immerse yourself in the breathtaking beauty of Vietnam's countryside, then Sapa is the perfect destination for you. Nestled deep in the rolling hills of Northern Vietnam, this charming mountain town offers a unique cultural experience that will leave you feeling refreshed and rejuvenated.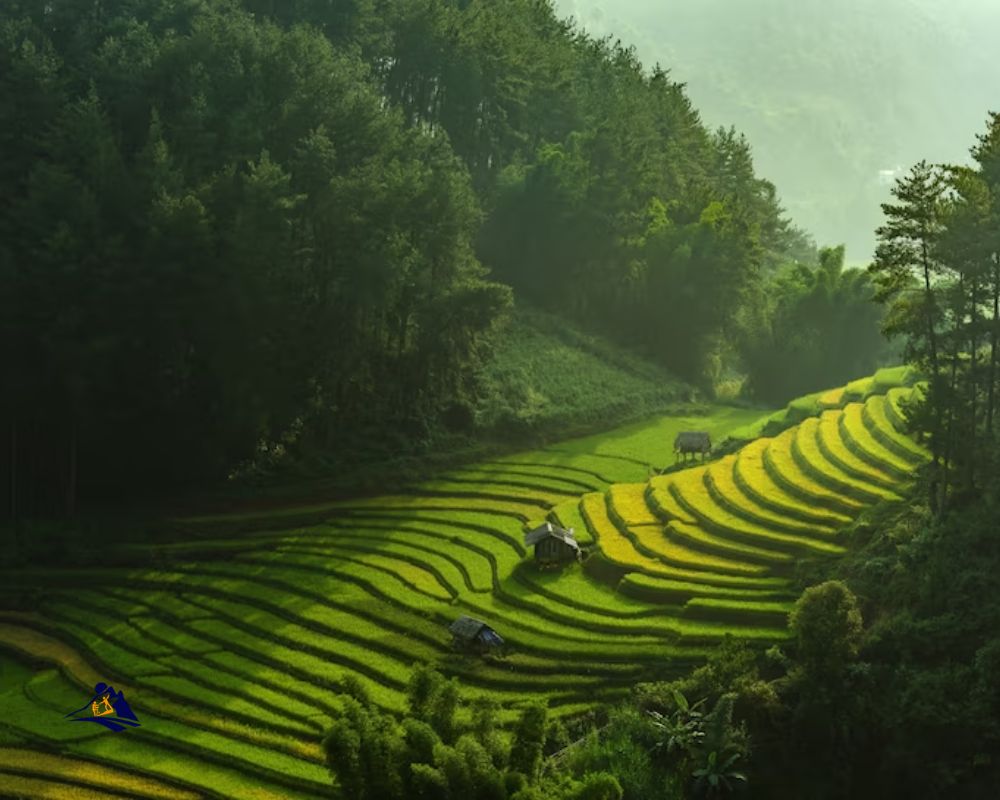 Our Sapa tours from Ho Chi Minh City are designed to help you disconnect from your busy life and connect with nature. From trekking through verdant rice terraces to visiting traditional ethnic villages, our expert guides will take you on an unforgettable journey into the heart of Vietnamese culture. Whether you're traveling solo or with a group, we have a tour package that suits your needs and budget.
So pack your bags, leave your worries behind, and join us for an adventure of a lifetime in Sapa!
Unforgettable Journey Through Nature
Welcome to our unforgettable journey through nature in Sapa! As we depart Ho Chi Minh City, get ready to leave behind the hustle and bustle of city life and immerse yourself in a world of natural beauty. Our tour will take you on an adventure that will leave you feeling refreshed, invigorated, and rejuvenated. From the moment we arrive in Sapa, you'll be soaking up nature at its finest.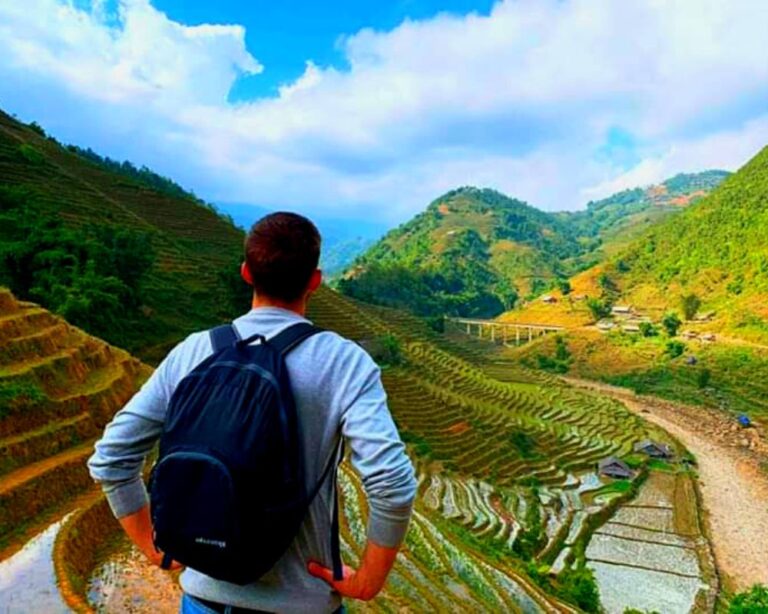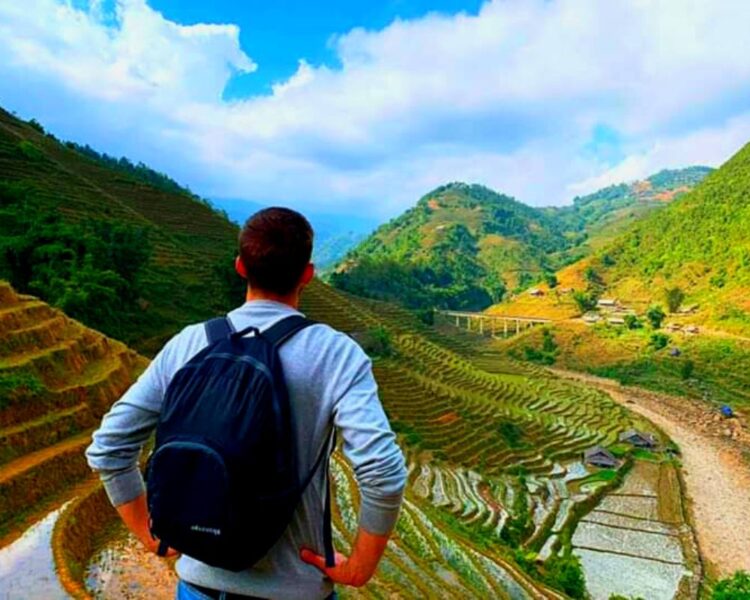 The crisp mountain air fills your lungs as we begin our exploration of this breathtaking landscape. You'll have the opportunity to witness stunning scenery, from towering mountains to cascading waterfalls. Along the way, you'll also experience authentic Vietnamese culture while interacting with local hill tribes. Get ready for an immersive cultural experience that will stay with you forever!
So let's pack our bags, put on our walking shoes, and embark on this incredible journey together – next stop: trekking through verdant rice terraces!
Trekking Through Verdant Rice Terraces
We'll take a stroll through the remote mountain villages of Sapa, discovering the unique culture and customs of the locals. Trekking Trails: We'll trek through the verdant rice terraces and explore the beautiful valleys and mountains of Northern Vietnam. We'll enjoy some of the delicious local dishes and learn about the different flavors and ingredients that make up the cuisine of the region.
Exploring Villages
As we trek through the verdant rice terraces of Sapa, you'll have the opportunity to explore the fascinating villages nestled in between. Our expert guides will take you on a journey through these communities, where you can experience their rich cultural heritage and witness their way of life firsthand. From learning about traditional handicrafts to sampling local cuisine, this immersive experience will give you an authentic taste of Vietnam's rural countryside. And as you soak up the natural beauty of your surroundings, you'll feel a sense of freedom that only comes from being close to nature.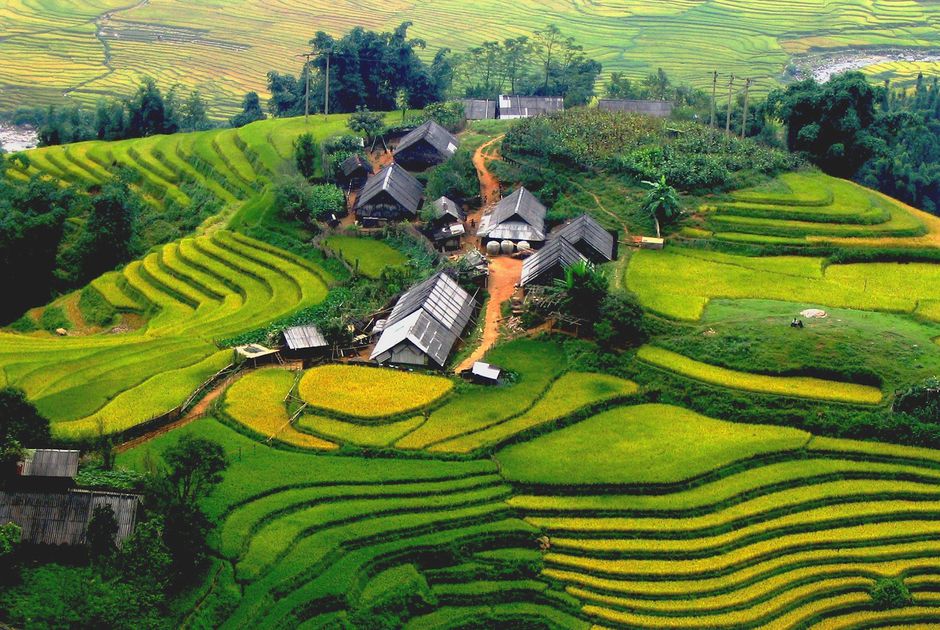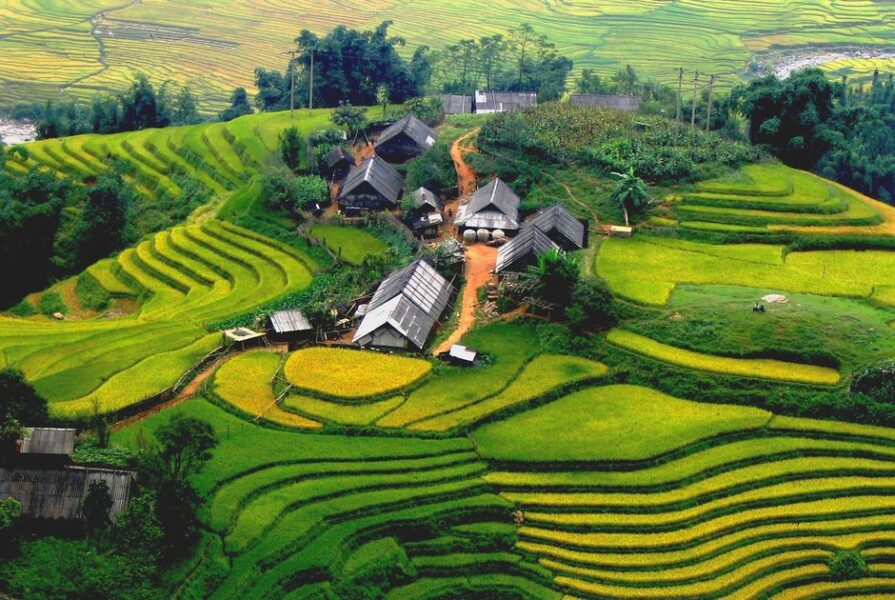 So come join us on this unforgettable adventure!
Trekking Trails
Now that we've explored the charming villages nestled within the verdant rice terraces of Sapa, it's time to take on one of the most rewarding experiences this region has to offer: trekking trails. As you hike through lush forests and past cascading waterfalls, you'll feel truly immersed in nature's beauty. Our expert guides will lead you through some of the best hiking trails in the area, where you can witness breathtaking views and discover hidden gems along the way.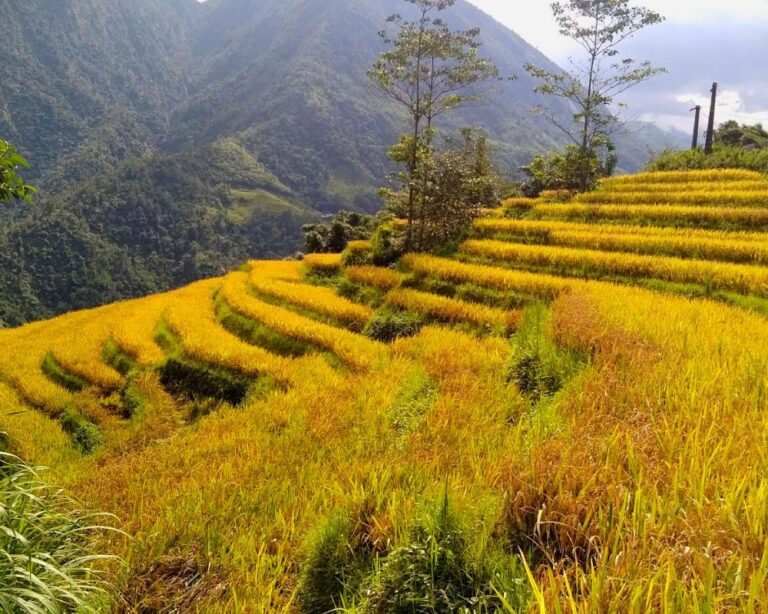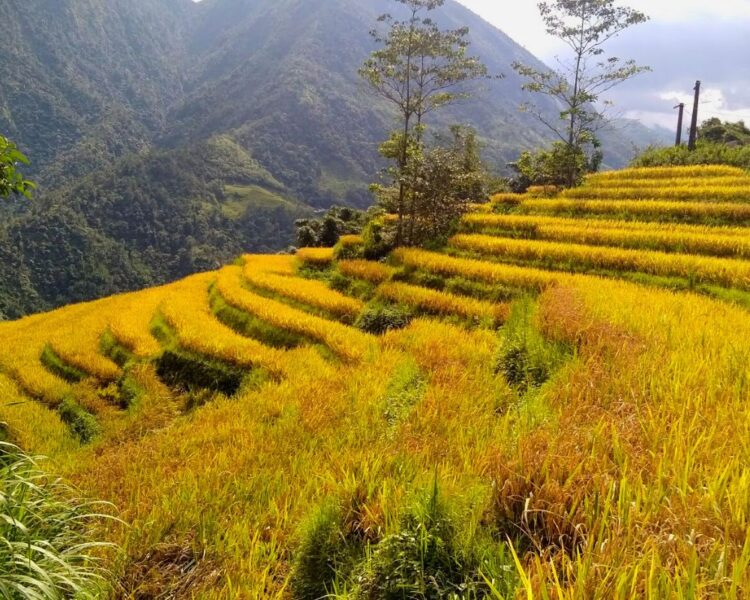 Whether you're an experienced hiker or a beginner looking for adventure, there's something for everyone on our waterfalls exploration trekking tour. So lace up your boots and join us as we embark on this exhilarating journey!
Local Cuisine
Now that we've worked up an appetite with our trekking trails through the verdant rice terraces of Sapa, it's time to indulge in some of the local cuisines. With cultural influences and ethnic customs from various tribes, Sapa boasts a unique culinary experience that is sure to delight your taste buds. Our expert guides will take you on a gastronomic journey where you can savor traditional dishes made with fresh ingredients sourced from the surrounding hills and valleys. From savory soups to crispy fried delights, there's no shortage of flavors to explore on this food adventure.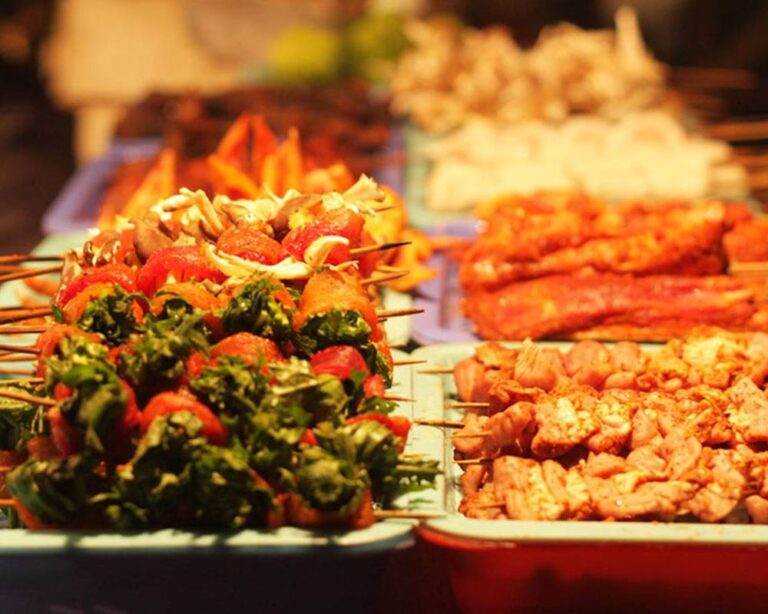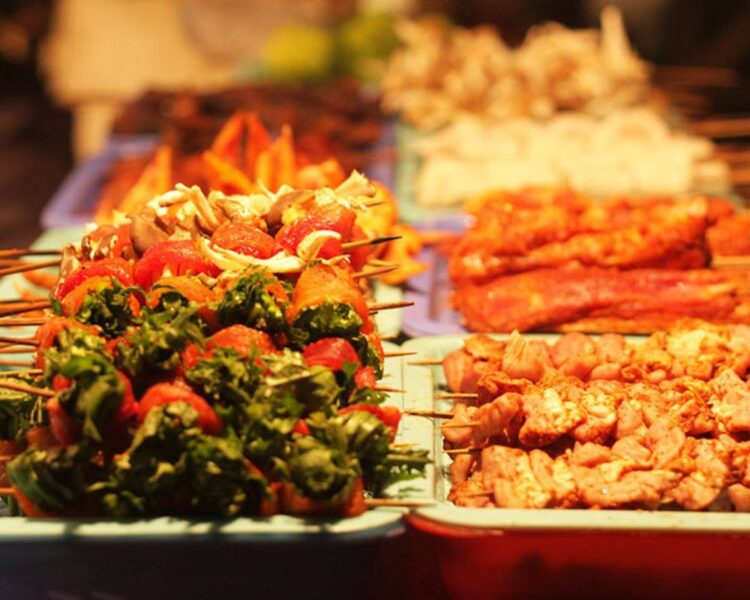 So come hungry and get ready to discover the true essence of Sapa through its delicious cuisine!
Exploring Traditional Ethnic Villages
Did you know that Vietnam is home to over 50 different ethnic groups, each with its unique customs and traditions? As we explore the traditional villages surrounding Sapa, you'll have the opportunity to witness firsthand the cultural diversity that makes this region so special.
In these remote villages, you'll meet locals who still uphold age-old practices passed down through generations. From intricate embroidery and weaving techniques to traditional musical instruments, there's no shortage of fascinating local customs to experience.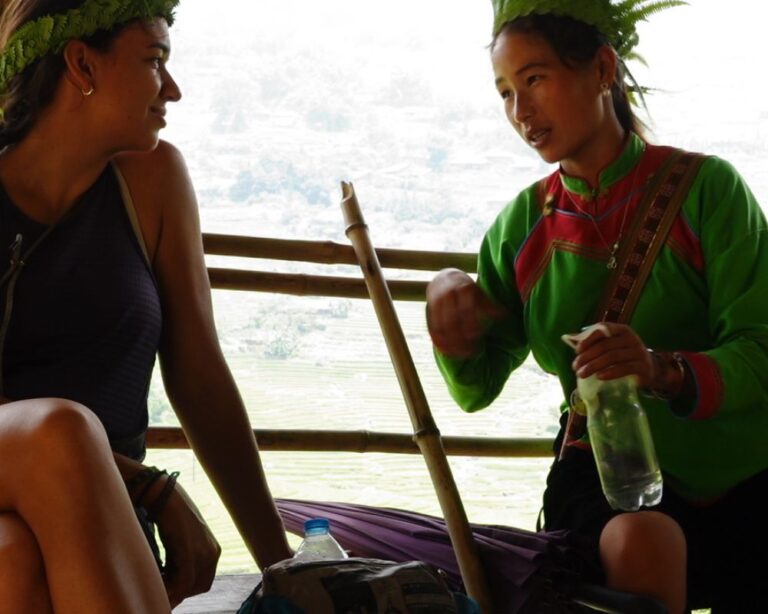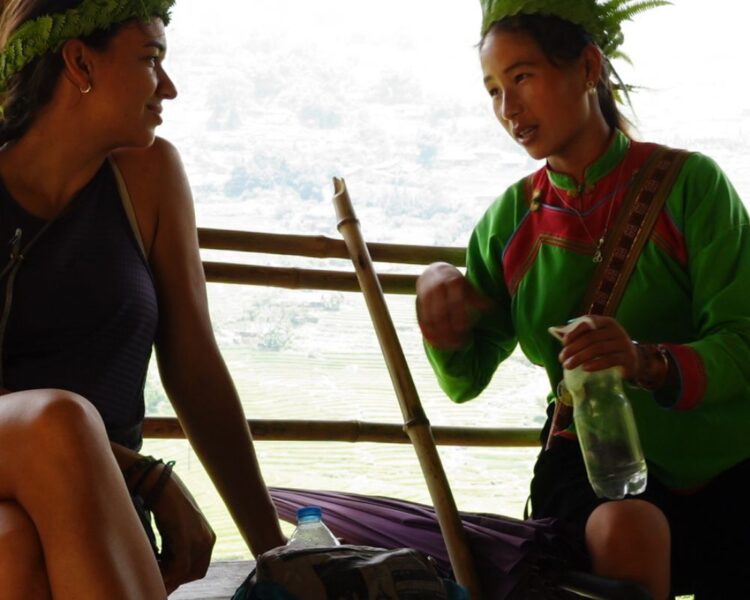 To truly immerse yourself in the culture, consider staying overnight with a local family in one of our homestays. You'll not only gain a deeper understanding of their way of life but also support sustainable tourism efforts within these communities.
Nestled amongst rolling hills and rice paddies are:
The Hmong village of Cat Cat: Here, weavers create intricate patterns on fabric using techniques passed down from their ancestors.
The Red Dao village of Ta Phin: Known for its herbal baths and eye-catching clothing adorned with silver jewelry.
The Tay village of Ban Ho: Home to stunning waterfalls and terraced fields where farmers plant crops like corn and rice.
As we continue on our journey through rural Vietnam, take some time to reflect on the rich cultural heritage of the diverse people who call this land home. But don't worry; there will be plenty more opportunities for relaxation as we make our way toward the heart of the mountains.
Relaxing In The Heart Of The Mountains
After immersing yourself in the rich cultural heritage of traditional ethnic villages, it's time to unwind and relax in the heart of the mountains. Sapa is known for its soothing atmosphere and breathtaking views that will leave you feeling rejuvenated.
One of the best ways to experience this tranquil setting is by taking a stroll through the lush rice fields. As you wander along these picturesque paths, you'll be surrounded by stunning mountain vistas that seem to stretch on forever. To help you plan your perfect day out, here's a table featuring some of our favorite spots!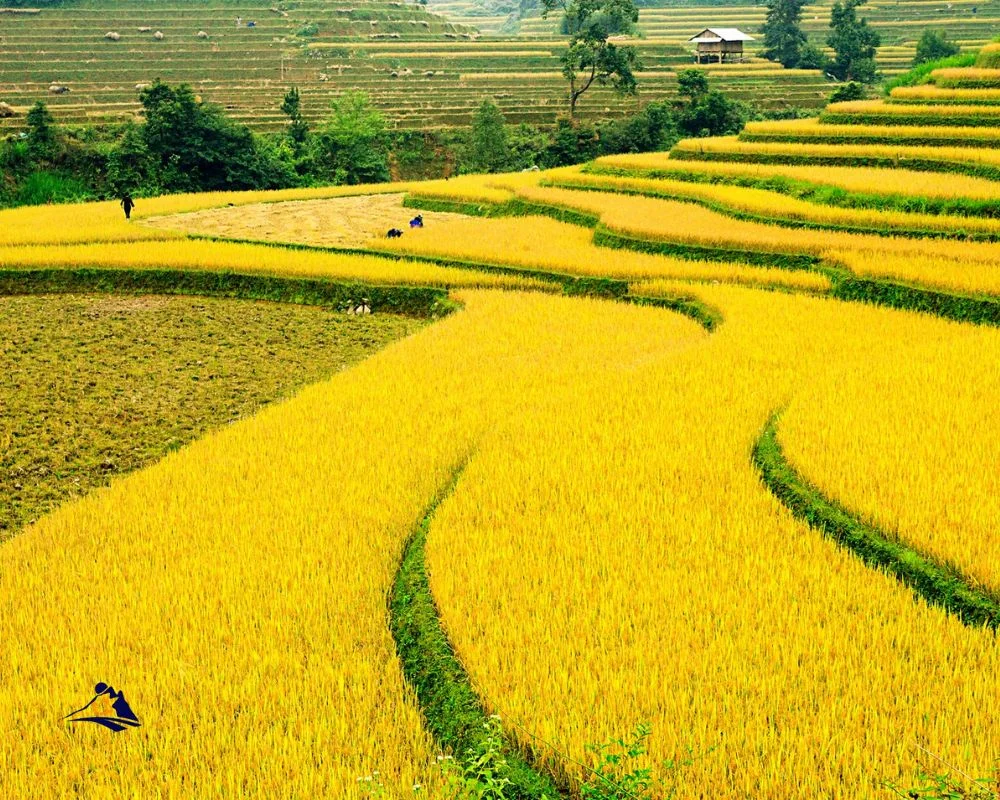 | Destination | Description | Recommended Time |
| --- | --- | --- |
| Muong Hoa Valley | Home to ancient rock carvings and terraced rice paddies | Half-day |
| Fansipan Mountain | The highest peak in Indochina with panoramic views from the summit | Full-day |
| Cat Cat Village | A charming Hmong village with waterfalls and handicraft shops | Half-day |
| Love Waterfall | A serene waterfall is hidden within a verdant forest | Half-day |
In addition to exploring these natural wonders, we also recommend visiting historic landmarks and sites during your stay in Sapa. Get ready for an adventure like no other as we delve into the fascinating history and culture of this enchanting region!
Visit Historic Landmarks And Sites
Let's start with the Cu Chi Tunnels – they're an incredible network of over 200km of underground tunnels constructed by the Viet Cong during the Vietnam War. Then there's the Ho Chi Minh Mausoleum, where you can pay respects to Vietnam's beloved leader. Finally, we'll visit the War Remnants Museum to get a deeper understanding of the war's impact on the country.
Cu Chi Tunnels
As we make our way from Ho Chi Minh City to the Cu Chi Tunnels, you'll feel as though you're traveling back in time. These tunnels were once used by Vietnamese soldiers during the war and have now been transformed into a historic landmark for all to visit. As your Sapa tour guide, I will share with you stories of bravery and perseverance that are deeply rooted in the cultural customs and spiritual beliefs of this region.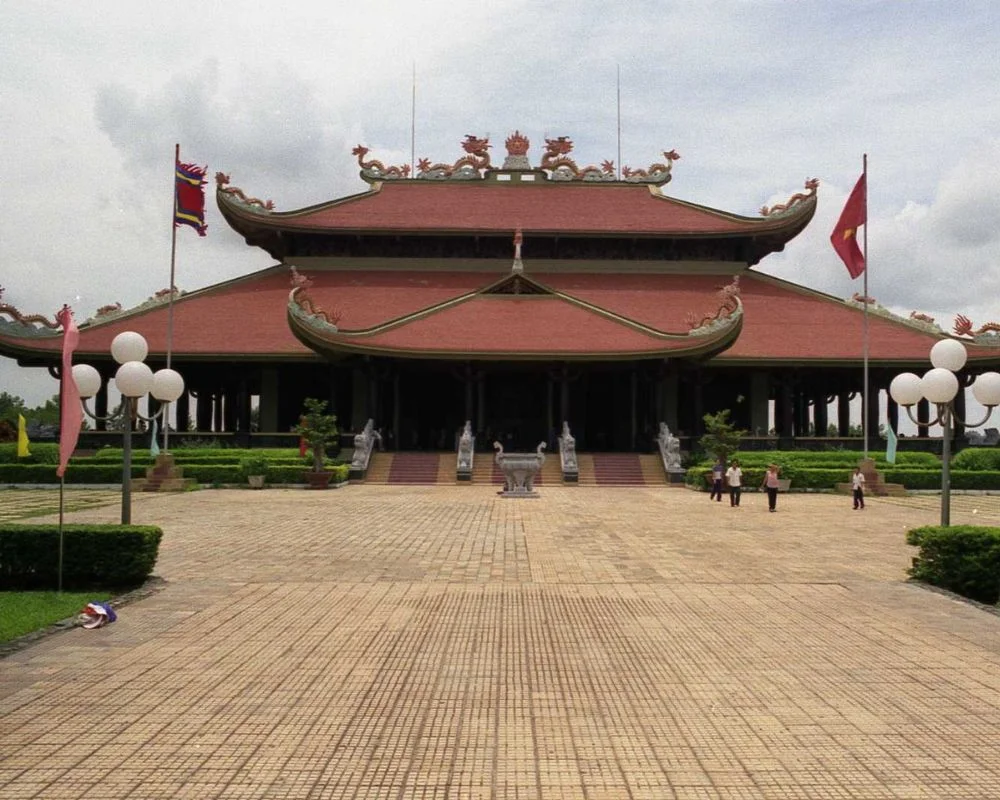 The Cu Chi Tunnels are an incredible feat of engineering, spanning over 250 kilometers underground. You'll see firsthand how these tunnels served as hiding spots, communication channels, hospitals, and even living quarters for soldiers during the war. Crawling through the narrow passages is not for the faint of heart but it's truly an unforgettable experience.
As we explore this site together, you'll gain a deeper appreciation for the resilience of the Vietnamese people and their commitment to freedom. We'll delve into the history behind each tunnel and bunker while also learning about local traditions and customs along the way.
So come on this journey with me and discover more about Vietnam's fascinating past at one of its most iconic locations – The Cu Chi Tunnels!
Ho Chi Minh Mausoleum
Now that we've explored the Cu Chi Tunnels and gained a deeper understanding of Vietnam's history, let's move on to another iconic landmark – the Ho Chi Minh Mausoleum. This site holds significant cultural and spiritual importance as it is the final resting place of Vietnam's beloved leader, Ho Chi Minh. As your Sapa tour guide, I'll lead you through this magnificent structure, which serves not only as a mausoleum but also as a museum dedicated to preserving the life and legacy of Ho Chi Minh.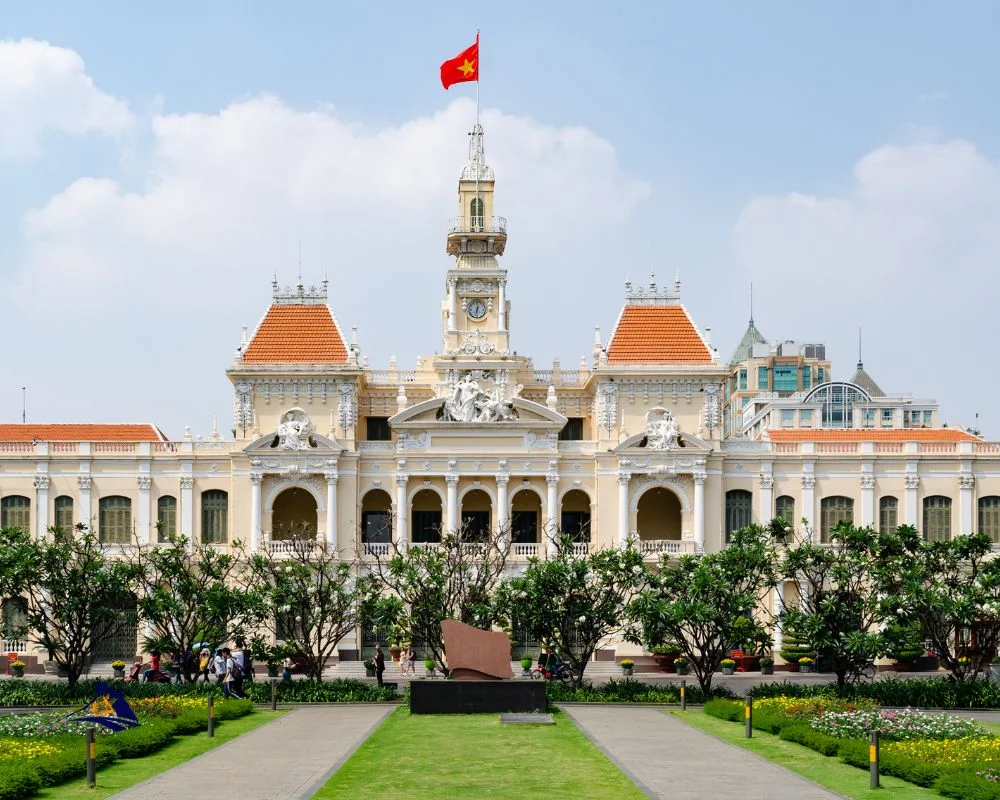 You'll learn about his lifelong dedication to achieving freedom for his people and how he became an important symbol in Vietnamese culture and history. The mausoleum itself is an impressive architectural feat with its grand entrance leading up to a solemn hall where visitors can pay their respects to Ho Chi Minh's embalmed body.
It's truly an awe-inspiring sight that will leave even the most stoic traveler feeling moved by its historical significance. But beyond its physical beauty lies a much deeper meaning – one that speaks to the resilience and strength of the Vietnamese people. The enduring presence of Ho Chi Minh represents hope for those who seek liberty and justice in their own lives.
So join me on this journey as we pay tribute to one of Vietnam's greatest leaders at the Ho Chi Minh Mausoleum – a site rich in both cultural and spiritual significance.
Enjoy Delicious Local Cuisine
Are you ready to experience a gastronomic adventure like no other? Well, hold on tight because our Sapa tasting tours are about to take your taste buds on a wild ride! Contrary to popular belief, Vietnamese cuisine is not just pho and banh mi. There's an entire world of flavors waiting for you in the north.
In addition to the culinary delights, let me introduce you to the cultural festivals that make these dishes even more special. From Tet Trung Thu (Mid-Autumn Festival) to Tet Nguyen Dan (Lunar New Year), these celebrations bring communities together around food. And what better way to immerse yourself in local culture than by indulging in their traditional dishes during such events?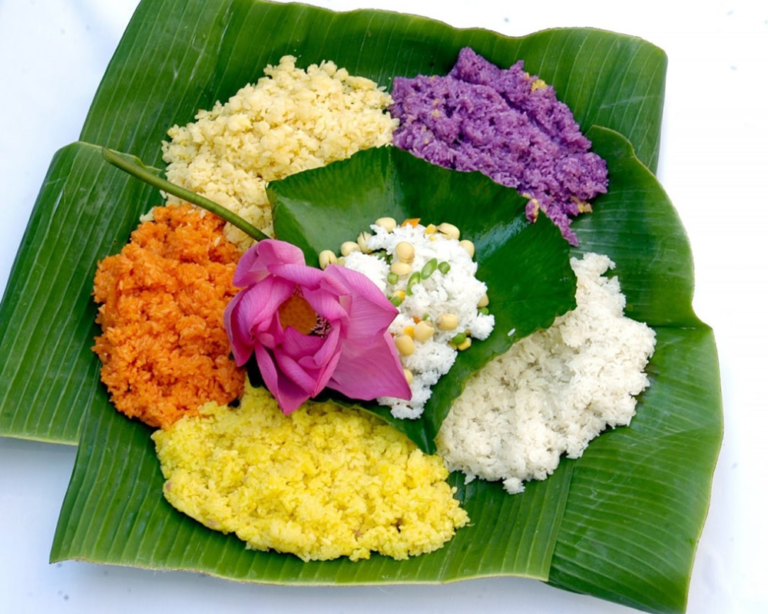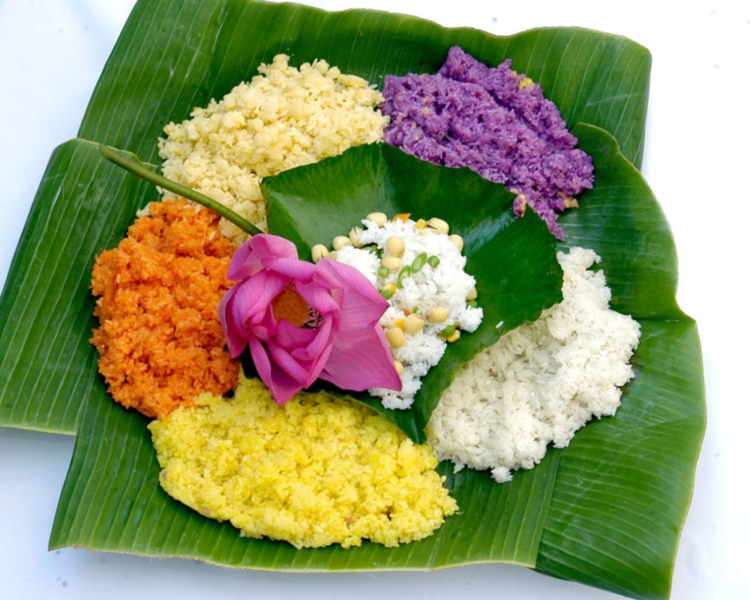 So come along with us and get ready for a feast for all your senses! Here are four must-try foods during your Sapa tour:
Thang Co – A hearty soup made from horse meat and organs.
Xoi – Sticky rice topped with either sweet or savory ingredients.
Banon Cheese – Made from buffalo milk and wrapped in banana leaves.
Black Chicken – A specialty breed of chicken found only in the northern highlands.
Now that we've whetted your appetite, it's time to talk about where you'll be laying your head at night during this delicious journey. Stay tuned for information on authentic local accommodations that will give you a true sense of Vietnam's rich history and traditions.
Stay In Authentic Local Accommodations
When it comes to experiencing the true essence of Sapa, staying in authentic local accommodations is a must. These lodgings not only provide comfort and convenience but also allow for cultural immersion that cannot be found elsewhere. From homestays with local families to cozy mountain cabins, there are plenty of options available for those seeking an unforgettable experience. The beauty of these accommodations lies in their ability to showcase the unique customs and traditions of the ethnic minority groups living in Sapa.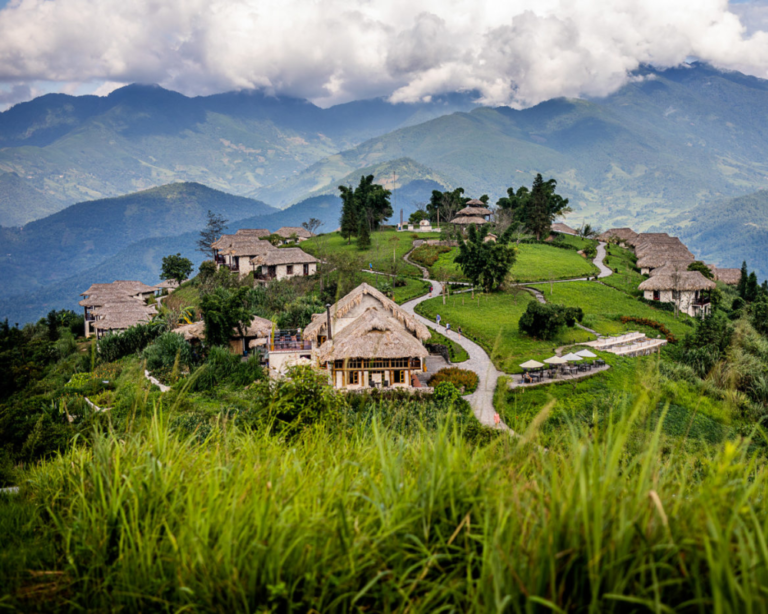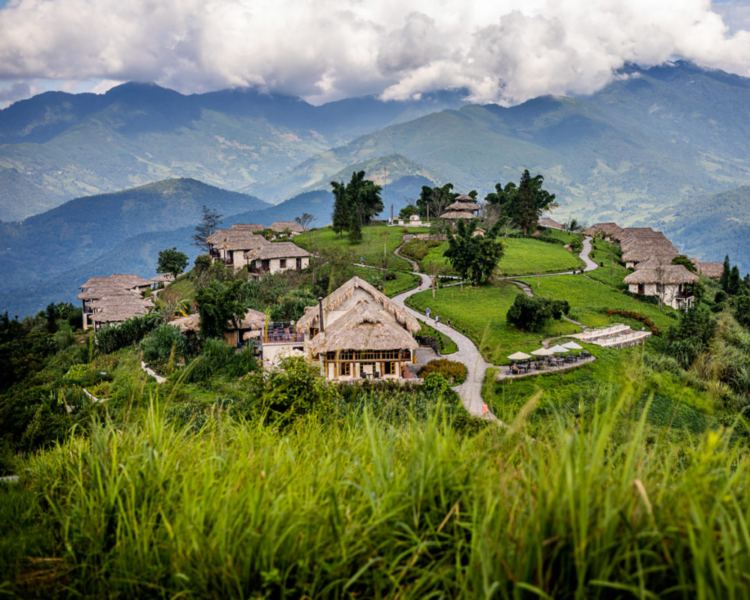 By staying with locals, visitors have the opportunity to learn about their way of life firsthand and gain a deeper appreciation for their culture. Whether it's through shared meals or participating in traditional activities, such as handicraft-making or farming, guests can truly connect with the community they are visiting.
Learn The History And Culture Of Sapa
Welcome to Sapa, a place where the culture and traditions of ethnic minorities are still preserved. As your tour guide, I'm excited to take you on a journey through time and explore the cultural identity of this beautiful region. Sapa is home to various ethnic groups such as the Hmong, Dao, Tay, Giay, and Xa Pho. Each group has its unique customs which have been passed down from one generation to another. You'll see that their traditional clothing is colorful and intricate with embroidery designs that depict stories about their history and way of life.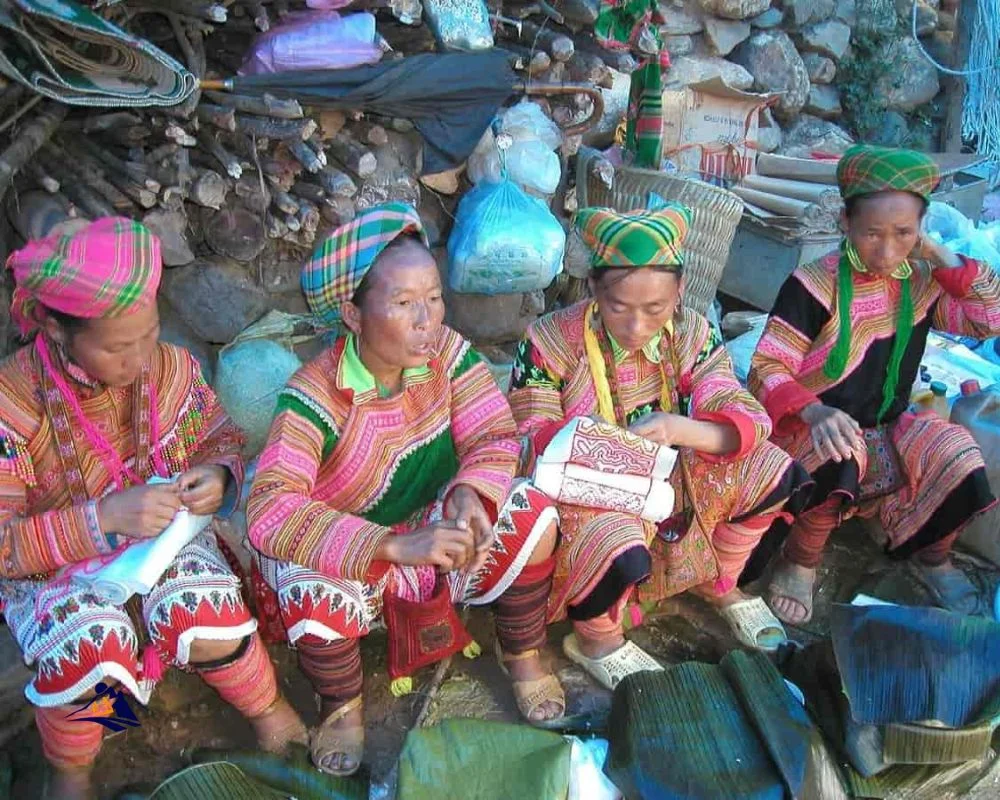 During our tour, we will visit local villages where you can interact with locals and learn more about their way of living. Additionally, we will also witness some traditional music performances by these communities which have become an integral part of their daily lives. It's truly an experience not to be missed!
As we continue our journey exploring Sapa's rich cultural heritage let me tell you why having professional and knowledgeable tour guides like myself for your trip is essential.
Professional And Knowledgeable Tour Guides
Now that we've delved into the rich history and culture of Sapa, let's move on to discussing our professional and knowledgeable tour guides. Our team consists of local experts who are passionate about sharing their cultural insights with visitors from all over the world.
When you book a tour with us, you'll have access to an immersive cultural exchange experience led by our expert guides. Here are just a few things you can expect when touring with our team:
Personalized attention: We keep our group sizes small so you can get the most out of your time in Sapa.
Insider knowledge: Our guides are locals who know the area inside and out, giving you unique perspectives on the region's history, traditions, and way of life.
Tailored experiences: Whether you're interested in trekking through rice terraces or learning how to cook traditional Vietnamese dishes, our tours can be customized to suit your interests and preferences.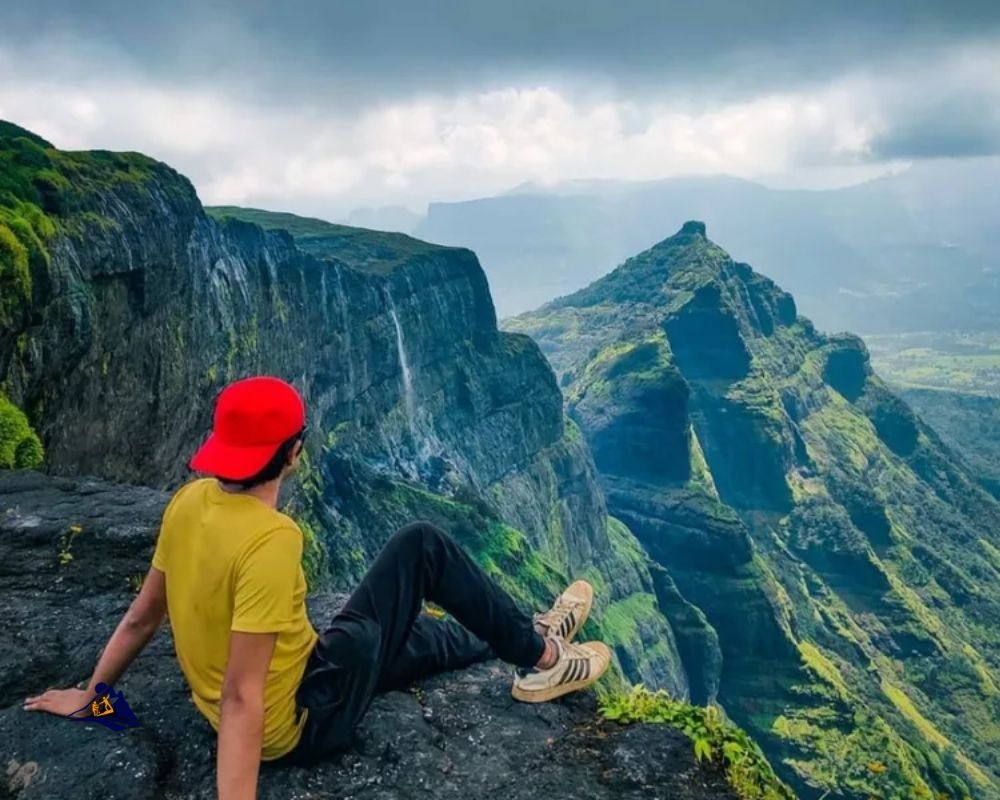 We believe that everyone deserves access to affordable tour packages for all budgets. That's why we offer a range of options that cater to travelers looking for both luxury and budget-friendly experiences alike.
Let's explore what makes each package unique while still providing exceptional value for money.
Affordable Tour Packages For All Budgets
Welcome back, fellow travelers! In the last section, we introduced you to the beauty of Sapa tours from Ho Chi Minh City. Now let's dive into what makes our tour packages stand out – affordability for all budgets. We believe that everyone should have access to a cultural immersion experience without breaking the bank.
To make this possible, we offer various tour packages that cater to different budgets. Whether you're a budget traveler or looking for luxury accommodations, we've got something for everyone. Our affordable tour packages still include all the necessary amenities and activities such as trekking through rice paddies and visiting local markets for a shopping experience like no other.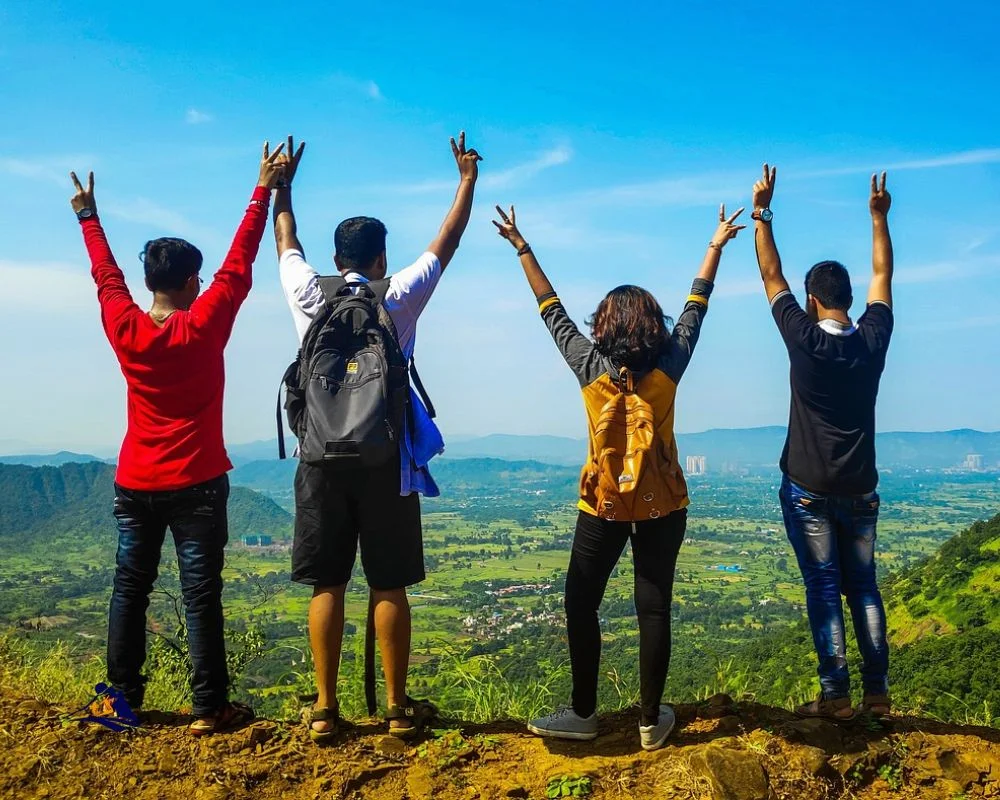 But don't just take our word for it. Take a look at these testimonials from past customers who experienced Sapa with us:
Testimonials
"I couldn't believe how much I learned about Vietnamese culture in just one trip!"
"The views were breathtaking and worth every penny."
"I loved being able to shop at the local markets and support small businesses."
"My budget was tight but I never felt like I missed out on anything during my Sapa tour."
Join us on an affordable journey filled with cultural immersion and unforgettable memories. Book your package today and see why Sapa is a must-visit destination in Vietnam.
Sapa Tours From Ho Chi Minh City Frequently Asked Questions
What Is The Best Time Of Year To Visit Sapa?
When planning a visit to Sapa, it's important to consider the weather conditions. The best time of year to visit is typically from September to November or March to May when the temperatures are mild and there is less rainfall. During these months, you can enjoy breathtaking views of the terraced rice fields without worrying about getting soaked in the rain.
Apart from the stunning scenery, one cannot miss out on trying the local cuisine. From delicious grilled meats and steaming hot noodle soups to exotic fruits like passion fruit and dragon fruit, Sapa has a wide variety of dishes that will tantalize your taste buds. As a Sapa tour guide/expert, I highly recommend exploring the town's markets where you can find an array of fresh produce and street food vendors serving up authentic Vietnamese flavors.
So if you're looking for a destination that offers both natural beauty and culinary delights, plan your trip to Sapa during its peak season and experience freedom at its finest!
Are There Any Specific Cultural Customs Or Traditions Visitors Should Be Aware Of?
Just as the gentle currents of a winding river, cultural customs, and traditions flow through Sapa like an endless stream. As you embark on your journey to this enchanting land, it's important to be aware of the local customs that weave together the fabric of their rich heritage. From partaking in traditional meals that highlight the savory flavors of regional cuisine, to engaging in meaningful conversations with locals for a true cultural exchange – there is so much to experience here beyond breathtaking landscape views.
So let us be your guide as we explore the hidden gems of Sapa together, where freedom lies within immersing oneself in new cultures and ways of life.
How Physically Demanding Are The Treks Through The Rice Terraces?
To fully experience the beauty of Sapa's rice terraces, it is important to be prepared for some level of physical exertion. While the treks are not overly strenuous, there are steep inclines and uneven terrain that may require a bit of endurance.
However, our expert tour guides will ensure that you have plenty of breaks along the way to catch your breath and take in the stunning scenery around you. Additionally, we offer a variety of accommodation options, ranging from traditional homestays with local families to luxury hotels with altitude adjustment amenities like oxygen tanks upon request.
So whether you're an adventure seeker or looking for a more comfortable journey, we've got you covered on your Sapa trekking experience.
Are There Any Restrictions On Photography In The Ethnic Villages?
Many travelers are curious about photo etiquette when visiting the ethnic villages in Sapa. As a tour guide, I can assure you that it is important to be respectful of local customs and traditions when taking photos. While there are no specific restrictions on photography, it is best to ask for permission before snapping pictures of locals or their homes. This not only shows respect but also helps preserve the authenticity of these cultures.
Our tours prioritize responsible tourism and our guides can offer tips on how to take great photos while being mindful of cultural sensitivities. So whether you're a budding photographer or just looking to capture memories, we encourage you to approach with an open mind and heart.
What Options Are Available For Travelers With Dietary Restrictions Or Preferences?
If you're a traveler with dietary restrictions or preferences, don't worry! Sapa has plenty of options for vegetarian and vegan-friendly meals. Our local restaurants offer a variety of dishes that cater to your needs without sacrificing taste. From Pho Chay (vegetarian noodle soup) to Com Chay (vegetarian rice), we have it all.
We also recommend checking out the bustling markets where you can find fresh fruits and vegetables to snack on throughout the day.
So come explore the beautiful landscapes of Sapa without having to compromise on your food choices – we've got you covered!
Conclusion
So there you have it, folks! If you're looking to escape the hustle and bustle of Ho Chi Minh City and immerse yourself in the beauty and culture of Sapa, now is the time to book your tour.
Did you know that over 90% of Sapa's population belongs to one or more ethnic minority groups? These communities are known for their unique customs, traditions, and colorful attire. During your visit, you'll have the opportunity to learn about these fascinating cultures firsthand by interacting with locals and exploring their villages.
As a Sapa tour guide with years of experience under my belt, I can assure you that our treks through the rice terraces are suitable for all levels of fitness. Of course, some trails may be more challenging than others, but we always tailor our tours to meet the needs and abilities of our guests. And don't worry about dietary restrictions – we offer delicious meals that cater to all preferences.
So what are you waiting for? Contact us today to start planning your unforgettable journey through Sapa's breathtaking landscapes and vibrant communities. You won't regret it!