Recently updated on January 7th, 2023 at 02:11 pm
Sapa is a beautiful place that has the most majestic natural scenery in the North of Vietnam. Sapa is a town in Lao Cai province, Vietnam, this is a famous tourist destination from the early 20th century to the present.
Nature favors Sapa with a picture of a landscape that is both romantic and majestic, immense with rolling mountains whirling with clouds to catch the wind, terraced fields as far as the eye can see, watching the rows of pine trees standing low. silently witnessing many stories from Indochina in the heart of the town, … To visit there, you can consider the Orient Express train. Below is some information you should know about it:
Something about Orient Express Train
Fare: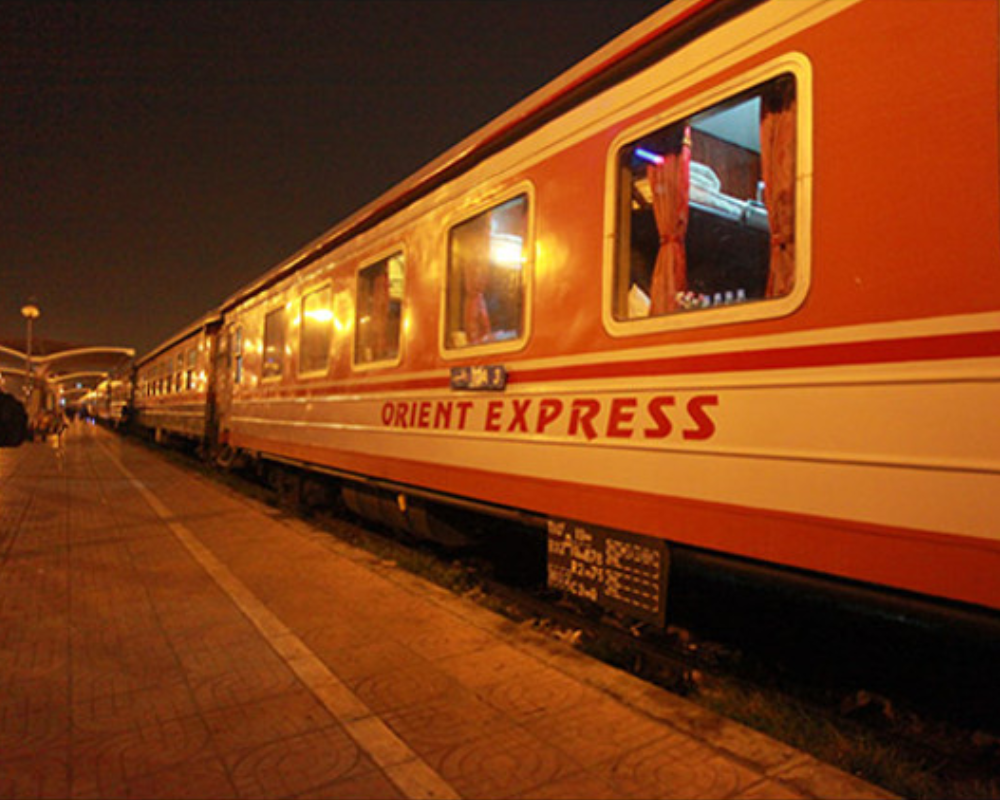 To choose the train to Sapa with safety criteria, beautiful interior, spacious and comfortable cabin, wide bed but similar quality to high-class trains, you just choose Orient Express train, this train meets most of your requirements. traveler.
Ticket price:
One-way ticket price: 33 USD per ticket
Round-trip ticket price: 66 USD per ticket
Note:
– Running times and train schedules are subject to change due to weather.
– Prices are for weekdays.
– The above prices are subject to change from time to time, including VAT, passenger insurance and cleaning service fees) Free lavi water and wet wipes are served.
– Support 16-seat car to pick up and drop off from Lao Cai station, so Sapa hotel 2 USD/ person/ way
– Children under 5 years old or under 1.3 m in height sharing with their parents do not have to buy tickets.
– Children over 5 years old or 1.3 m tall and above are charged the same ticket as adults.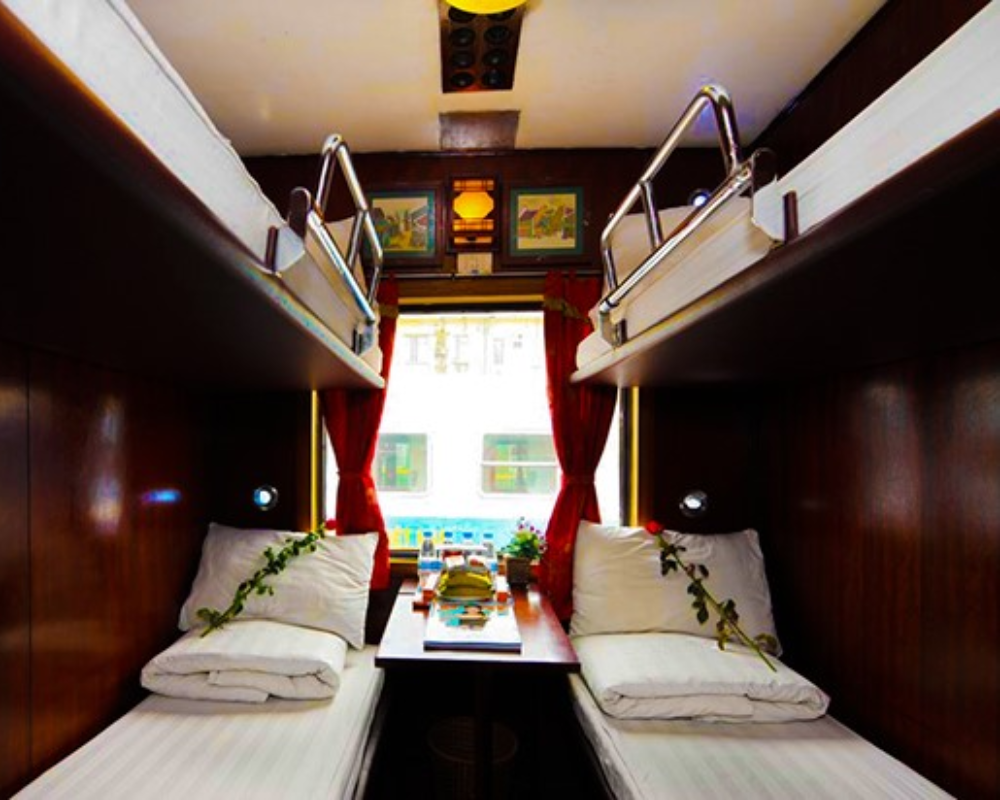 Train schedule
Hanoi – Lao Cai route:
Train name: SP1
Departure time: 21:40
Arrival time: 05:35
+ Pick up/Drop off point in Hanoi: Tran Quy Cap station – Terminal 6 entrance.
+ Pick up/Drop off point in Sapa: 318 Khanh Yen, Lao Cai, 30 meters from Lao Cai station
Lao Cai – Hanoi route:
Train name: SP2
Departure time: 20:35
Arrival time: 04:45
+ Pick up/Drop off point in Sapa: 318 Khanh Yen, Lao Cai, 30 meters from Lao
+ Pick up/Drop off point in Hanoi: Tran Quy Cap station – Terminal 6 entrance.
Cai station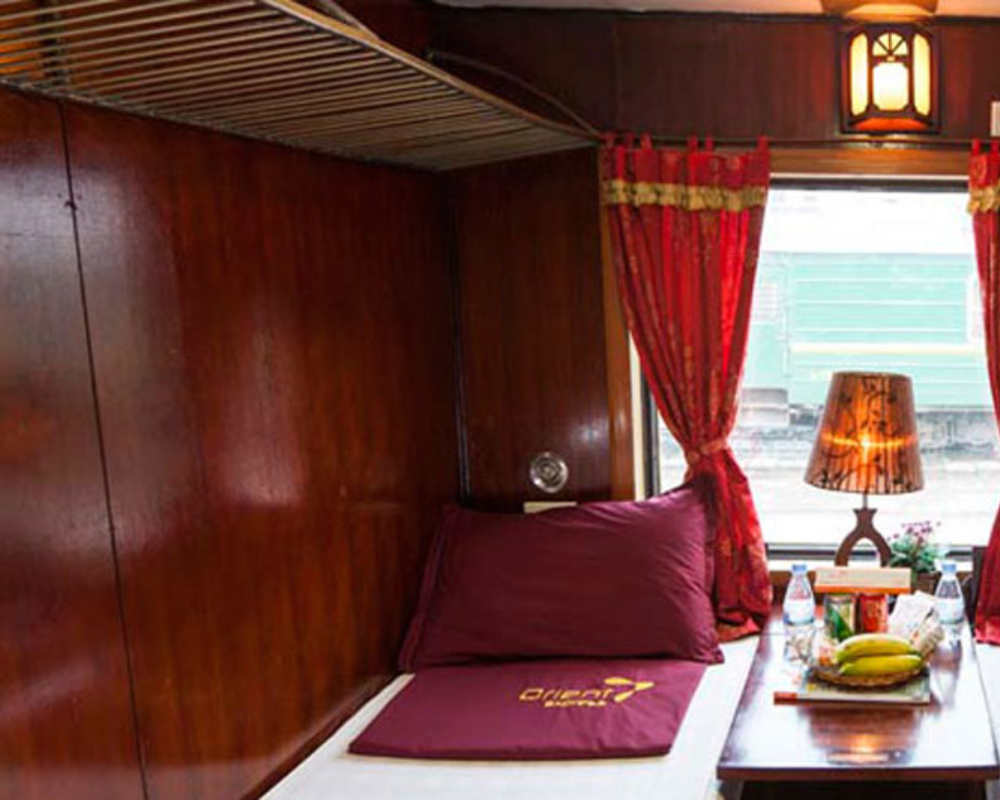 Service on board
A trustworthy company with years of expertise selling train tickets for tourists is Orient Express. Orient offers VIP, premium (DELUXE), 4- or 6-bed cabins at the moment. The train is built in a contemporary manner, and to give passengers a sense of warmth and closeness, the entire wall and cabin are paneled with opulent wood.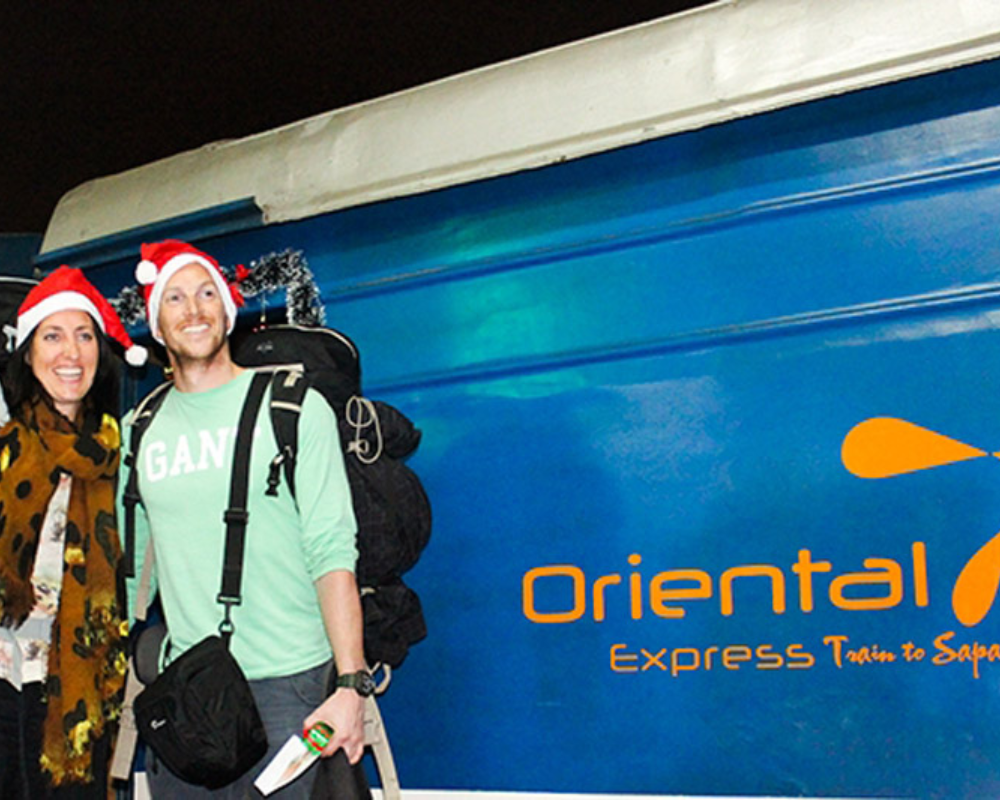 In order to make passengers feel comfortable, the Orient Express train is equipped with soundproofing, a two-way air conditioning system, carpeting throughout the entire car, and auxiliary facilities (toilet and sink) placed at each end of the carriage. Additionally, each cabin has a reading light, a separate drinking station, fresh flowers, and room for each passenger, as well as a very secure door lock system to promote calm.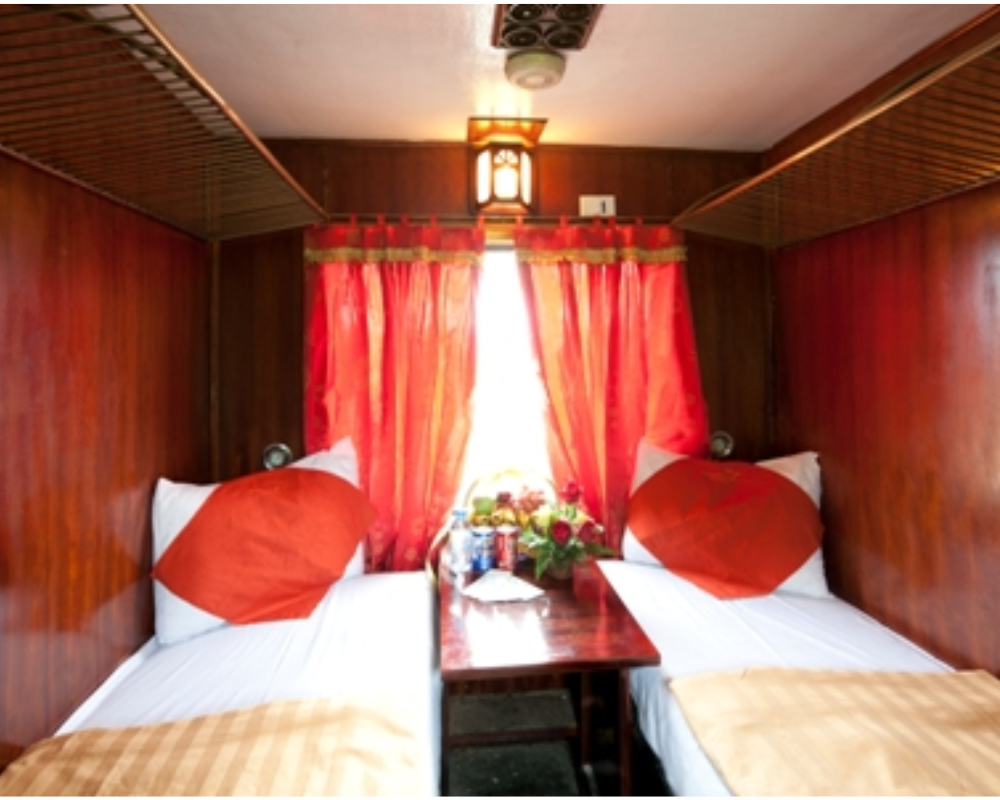 All cabins are wood paneled and equipped with air conditioning to bring fresh air with the right temperature for guests. Water and pastries are provided free of charge to guests, but hot and more complex dishes such as noodles or some fast food are required for an additional fee. There are no toilets per cabin, but public restrooms are located at both ends of each carriage to serve passengers. In all cabins, LCD screens with different channels are equipped for the entertainment of passengers.
Pros and cons of Orient Express Train
Pros of Orient Express
Safety
Because trains travel on separate roads and do not crash with other vehicles, trains in general and the Orient in particular are very safe. Therefore, you should take the train to Sapa if you want to travel safely. There have hardly ever been any accidents involving the railway leading to Sapa in the recent years.
Room that is large and comfy
There are 4 soft beds with a bed size of 80x190cm in each cabin of the Orient train, making them wide enough for rolling and crawling—something you cannot accomplish in a car. Families with young children will benefit from this room's size.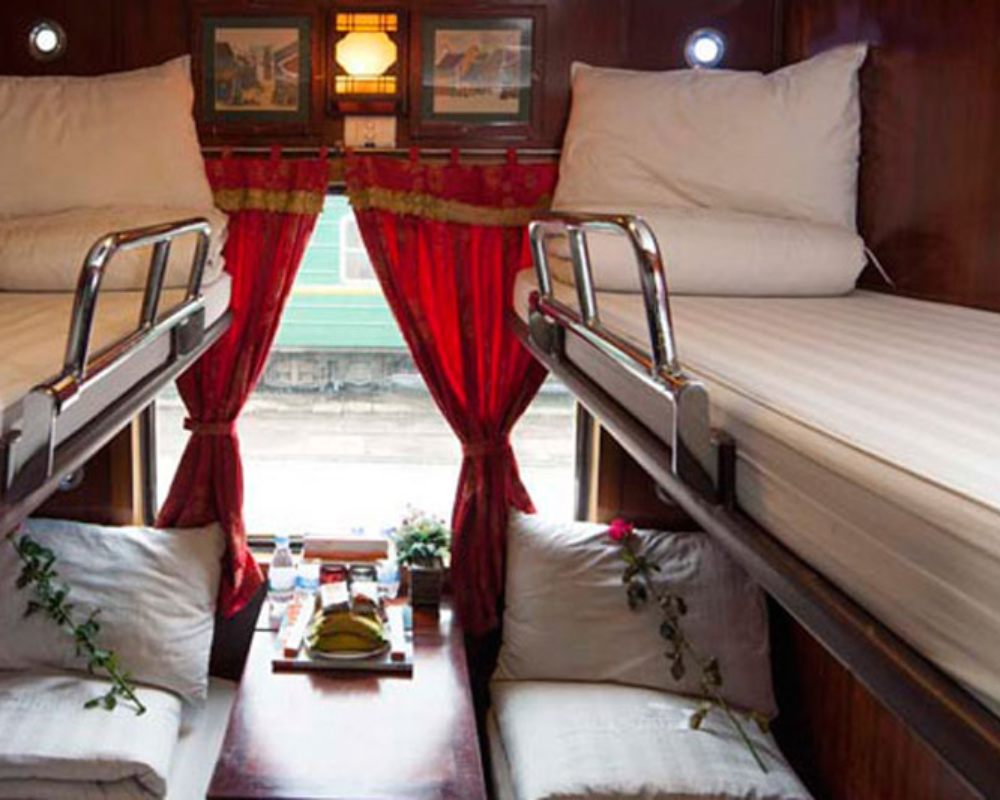 Cheap
Orient Express fares are average in trains to Sapa, while other shipping lines have an average price of 50 USD/ticket, especially some higher quality carriers cost up to 100 USD to 122 USD/ticket and low prices. only 33 USD/ticket. The quality of the room is on par with the high-end ones.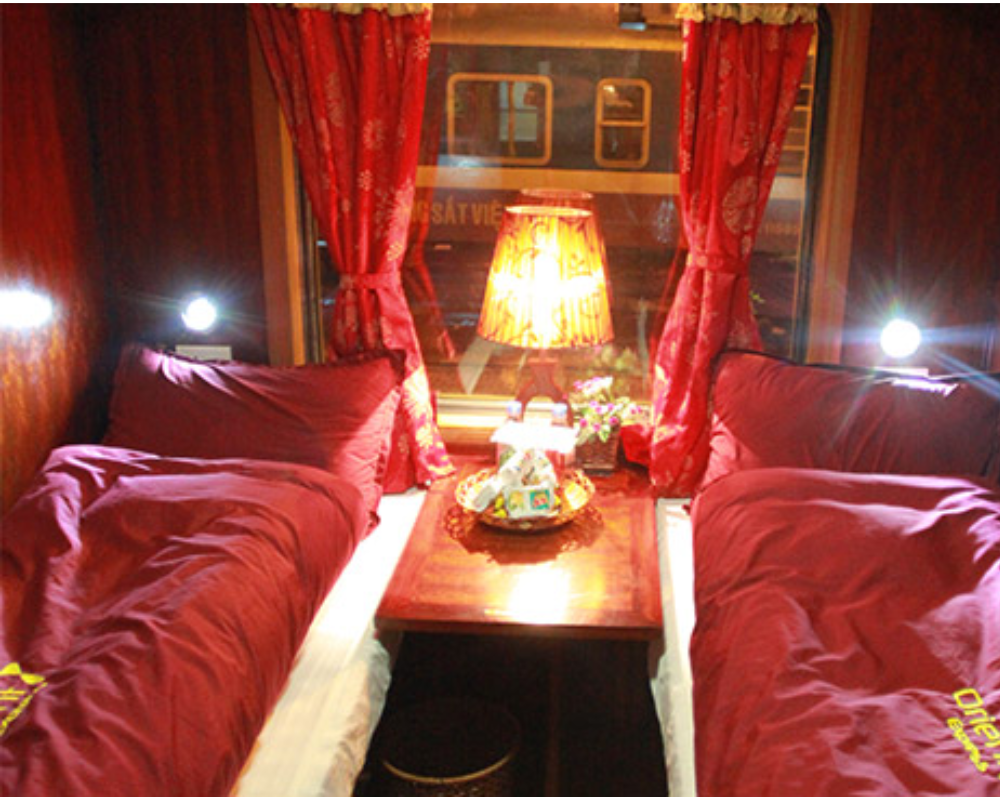 Besides, Orient Express train is one of the quality trains to Sapa, the train goes safely, has many utilities such as cold water, air conditioning, extremely spacious beds, very suitable for groups with children, the elderly, wood paneled furniture, good soundproofing to help guests sleep well. With the safety factor and the comfort and the reasonable price, the Orient train is a reasonable choice to go to Sapa.
Cons of Orient Express
Few departures
Orient Express train has very few departures, every night runs 2 hours at 21:35, 22:00 and currently due to the Covid situation, the train only runs from Hanoi to Lao Cai on Thursdays and Fridays and vice versa. Every Sunday.
The train only goes to Lao Cai station, not directly to Sapa
Since the railway currently only runs to Lao Cai, there is no direct train to Sapa and the Orient Express train is no exception. To get to Sapa, guests must take a bus, coach or taxi from Lao Cai station to Sapa with a distance of more than 30km, time about 1 hour.
Sapa is a tourism destination that attracts a lot of both domestic and foreign tourists, so train agents and travel companies often "embrace" all the beautiful seats, especially on weekends or high season. points, so to get the right seat on the train for a more exciting experience, please contact us through this link right now!
ALL ABOUT ORIENT EXPRESS TRAIN FAQs:
What is the phone number of Orient Express Train?
In case of any information changes or problems, please contact the WhatsApp: +84886766031.
How much does the average Orient Express train fare?
Currently, the ticket price for Fansipan Express Train ranges from 33 to 66 USD
On which routes does the Orient Express train operate?
The routes of Orient Express Train include: going to Sapa – Lao Cai from Hanoi
What time does the Orient depart in Hanoi?
The Orient departs at 21:40 in Hanoi station
What time does the Orient depart in Sapa?
The Orient departs at 20:35 in Hanoi station
Everything you need to know about the Green Express Train – Tips, best price, office, how to buy tickets, train schedule, pros and cons.

Everything you need to know about the Hara Express Train – Tips, best price, office, how to buy tickets, train schedule, pros and cons.

Everything you need to know about the Orient Express Train – Tips, best price, office, how to buy tickets, train schedule, pros and cons.