Recently updated on April 27th, 2023 at 08:46 am
If you're seeking adventure and longing for a taste of freedom, then there's no better place to visit than Sapa. This stunning Vietnamese town is located in the northwest region of the country and boasts breathtaking views of rice paddies, lush green mountains, and cascading waterfalls. But what happens when it's time to leave this picturesque paradise? Fear not, fellow travelers! There are plenty of other incredible destinations waiting just beyond Sapa. From exploring ancient caves to trekking through dense jungles, Vietnam has something for everyone. Whether you prefer secluded beaches or bustling cities filled with cultural landmarks, there's always an exciting new adventure around every corner.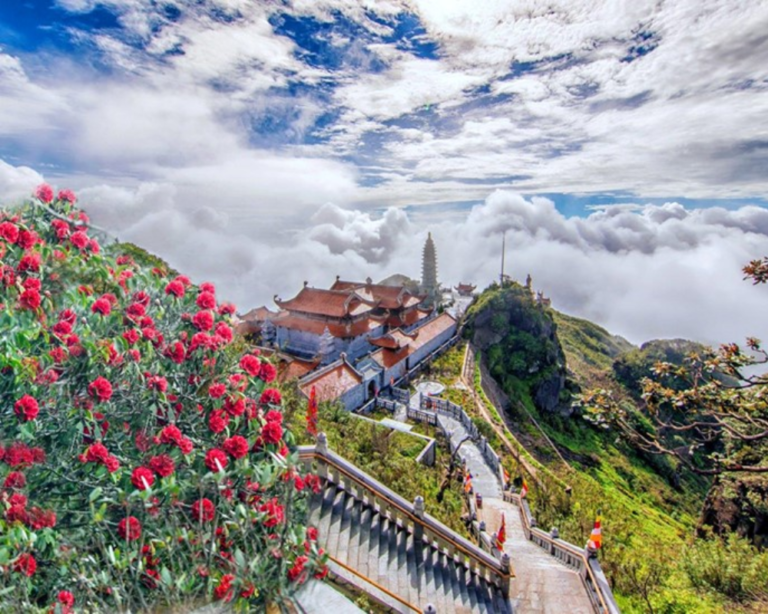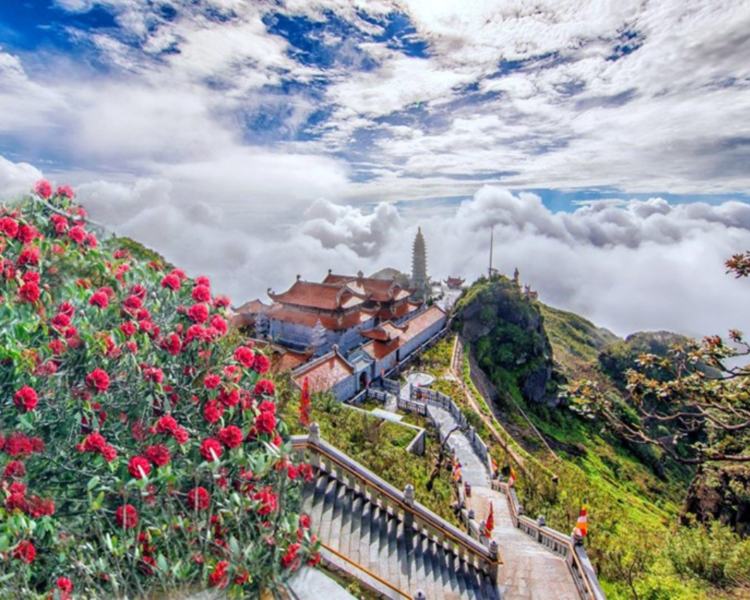 So pack your bags, grab a map, and get ready to embark on a journey that will take you far beyond the borders of Sapa. The possibilities are endless – all you need is a thirst for exploration and a desire to break free from the ordinary.
Halong Bay
Halong Bay is a must-see destination for those looking to explore the natural beauty of Vietnam. With its crystal-clear waters and towering limestone cliffs, it's no wonder Halong Bay has been designated as a UNESCO World Heritage Site. One of the best ways to experience Halong Bay is by kayaking through its winding routes. Paddle your way through hidden lagoons and discover caves tucked away in the cliffside. The calm waters make it easy for even beginners to enjoy this activity. After working up an appetite, be sure to try some of the must-try foods such as seafood hotpot or grilled squid, which can be found at local restaurants along the bay.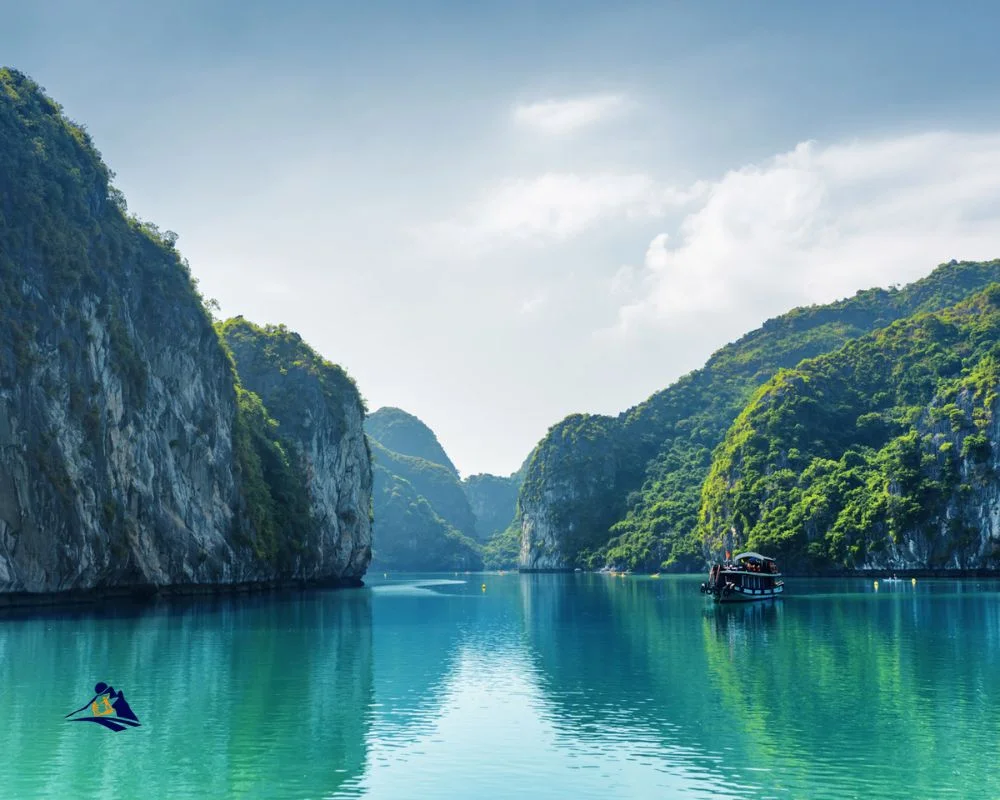 From here, head towards Mai Chau where you'll find even more breathtaking landscapes waiting to be explored.
Mai Chau
After exploring the picturesque landscapes of Sapa, it's time to move on and discover Mai Chau. This charming town is located in Hoa Binh Province and offers a unique glimpse into traditional Vietnamese village life. As you journey through this idyllic region, you'll encounter lush green rice paddies, towering limestone mountains, and friendly locals eager to share their customs with visitors. To make the most out of your trip to Mai Chau, consider adding these four must-visit destinations:
Pu Luong Nature Reserve – A pristine natural wonderland situated between Mai Chau and Phu Tho Province.
Ban Lac Village – The largest White Thai ethnic group settlement in Vietnam.
Mo Luong Cave – An awe-inspiring cave system filled with breathtaking stalactites and stalagmites.
Cuc Phuong National Park – Home to some of the rarest animal species in Vietnam.
From Mai Chau, travel east towards Ninh Binh Province for more stunning scenery such as Tam Coc or Van Long wetland nature reserve before heading north towards Cao Bang where even more adventure awaits!
Cao Bang
Cao Bang is a great destination for travellers looking to explore beyond Sapa. With its city life, Ban Gioc Waterfall, and Nguom Ngao Cave, there's something for everyone. Whether you're looking for a fun city experience or an adventure into the wild, Cao Bang won't disappoint.
Cao Bang City
If you're looking for a destination to continue your adventure after visiting Sapa, consider the mountainous region of Cao Bang. This city is surrounded by stunning natural landscapes and has plenty of cultural experiences to offer. Take a trek up Tay Con Linh, one of Vietnam's highest peaks, for breathtaking views of the surrounding valleys and forests. Another must-see attraction in Cao Bang is Ban Gioc Waterfall, which sits on the border between Vietnam and China. The falls are a magnificent sight with their crystal-clear water cascading down 30 meters into a pool below. In addition to its natural beauty, Cao Bang City also boasts traditional markets and unique cuisine waiting to be explored.
Don't miss out on an opportunity to immerse yourself in this vibrant culture while taking in some of the most awe-inspiring sights that Vietnam has to offer.
Ban Gioc Waterfall
Now, let's talk more about Ban Gioc Waterfall in Cao Bang. This majestic waterfall is a true gem of Vietnam and sits on the border between China and Vietnam. The water source comes from the Quay Son River, which makes its way down from mountainous terrain to create this natural wonder. According to ancient legends, spirits used to come here to play chess and bathe in the crystal-clear waters beneath the falls. Today, visitors can admire these stunning views and even take a dip themselves!
It's no surprise that Ban Gioc Waterfall remains one of the top attractions in Cao Bang for both locals and tourists alike.
Nguom Ngao Cave
Now, if you're looking for a breathtaking underground adventure in Cao Bang, then look no further than Nguom Ngao Cave. This natural wonder is located just 3 kilometers from Ban Gioc Waterfall and can be reached by following the trekking trails that wind through the lush jungle. As you descend into the cave's depths, prepare to be mesmerized by its stunning stalactites and stalagmites formations that have been formed over millions of years. What's more impressive is that this cave also holds historical significance as it was once used as a shelter by ethnic minorities during wartime.
So not only will you get to marvel at nature's beauty, but you'll also learn about Vietnam's rich history along the way.
Muong Hoa Valley
After exploring the stunning beauty of Cao Bang, it's time to head towards Muong Hoa Valley. This picturesque valley is located in Sapa and is a sight not to be missed. Here, you will get to witness some breathtaking views of the verdant rice terraces that are spread across miles.
Muong Hoa Valley is also known for its colorful tribes who reside here. You can interact with them, learn about their culture and traditions, and even buy some souvenirs from them. The valley is perfect for trekking as well, so make sure to pack your hiking boots and embark on a journey through the gorgeous landscape. Trust us; it's an experience unlike any other!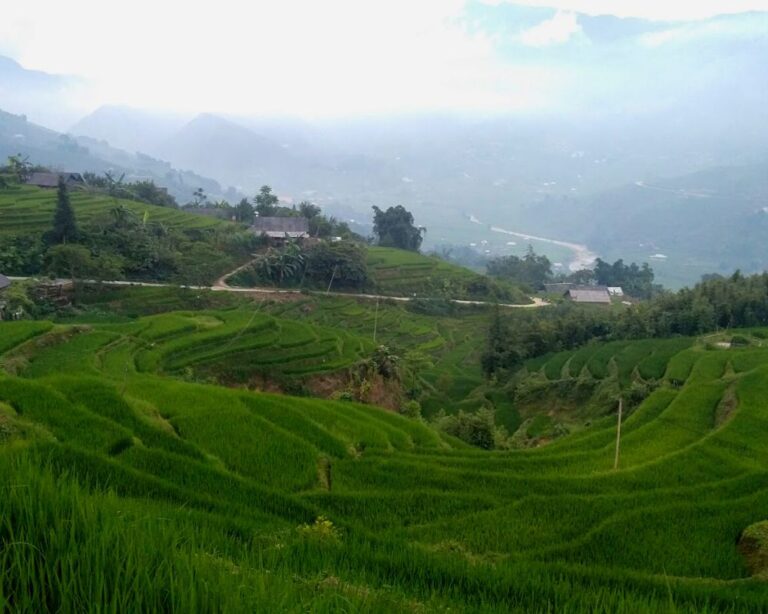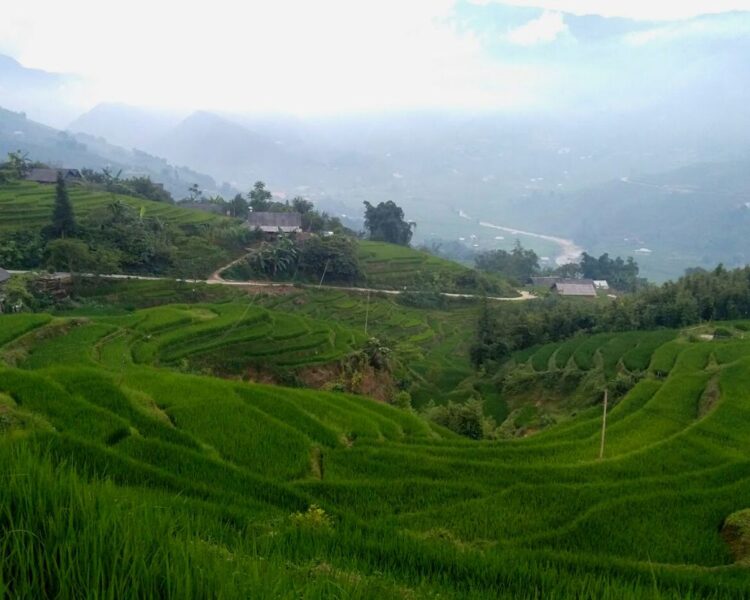 As much as we'd love to stay in Muong Hoa Valley forever, our next destination awaits – Cat Ba Island.
This island located in Halong Bay offers pristine beaches, crystal-clear waters, and plenty of outdoor activities like kayaking and rock climbing. Get ready for more adventures because this island has got everything that you need for a memorable vacation!
Cat Ba Island
After exploring the stunning landscapes and rich culture of Sapa, it's time to head towards Cat Ba Island for a completely different experience. This island is located in Halong Bay, which is known for its breathtaking scenery and crystal-clear waters. It offers plenty of activities like hiking through the national park, kayaking among limestone cliffs, or simply relaxing on the beach. One of the highlights of Cat Ba Island is its night market that comes alive with an array of street food stalls selling local delicacies such as seafood noodles, grilled squid, and Banh Mi – Vietnamese sandwiches filled with meat and vegetables. You can enjoy your dinner while listening to live music performances by locals or purchase souvenirs from the handicraft vendors at affordable prices.
Another must-visit attraction is the Cat Ba National Park where you can take a guided trekking tour through lush green forests inhabited by native wildlife species including monkeys, birds, and butterflies. The park also features some spectacular viewpoints overlooking scenic vistas that will leave you breathless. With so much to see and do on this picturesque island, it's hard not to fall in love with it. But don't worry if you have limited time here because there are many other hidden gems waiting to be explored further down south in Hoi An.
So let's pack our bags and get ready for another adventure!
Hoi An
After exploring the natural beauty of Cat Ba Island, it's time to head further south and discover another gem of Vietnam – Hoi An. This charming little town is filled with colorful lanterns, ancient architecture, and a bustling food scene that will make your taste buds dance. One of the best ways to explore Hoi An is by taking one of the many kayaking trips offered in the area. Paddle through the Thu Bon River while admiring the picturesque scenery around you. After working up an appetite, head to one of Hoi An's famous food markets where you can indulge in some delicious local cuisine such as banh mi or cao lau noodles. Don't forget to try their signature dish, white rose dumplings!
As much as we hate to leave the beauty of Hoi An behind us, there's still so much more to see in Vietnam. So let's hop on a motorbike and venture towards our next destination – Hue. Here we'll get lost in history and culture as we explore the former imperial city filled with temples, palaces, and tombs of past emperors.
Get ready for an adventure like no other!
Hue
Leaving the cool mountain air of Sapa behind, the next destination on your Vietnamese adventure should be Hue. This ancient city was once the imperial capital of Vietnam, and its rich history is evident throughout its narrow streets, traditional architecture, and stunning landmarks.
One must-see attraction in Hue is the Imperial City, a sprawling complex that served as the home of emperors for centuries. Another highlight is the Perfume River, which winds through the city and offers serene boat rides to temples and tombs along its banks. From Hue, you can also take day trips to nearby attractions such as Ninh Binh's picturesque landscape or Phong Nha's vast cave systems. The possibilities are endless in this charming city that promises an authentic glimpse into Vietnamese culture and history.
As much as it may pain you to leave Hue behind, your journey continues southward towards Ho Chi Minh City (formerly known as Saigon).
This bustling metropolis is a stark contrast to the tranquility of Hue but has its own unique charm with lively markets, street food stalls serving up delectable dishes, and iconic landmarks like Notre Dame Cathedral and the War Remnants Museum waiting to be explored.
Get ready for an exciting change of pace as you immerse yourself in all that Ho Chi Minh City has to offer.
Ho Chi Minh City
After immersing yourself in the natural beauty and cultural experience of Sapa, it's time to head south to Vietnam's bustling metropolis: Ho Chi Minh City. Formerly known as Saigon, this city is a vibrant hub of activity that offers endless opportunities for exploration. One of the best ways to discover what Ho Chi Minh City has to offer is by taking day trips outside the main urban center. There are numerous options available, including visits to historic sites like Cu Chi Tunnels or Cao Dai Temple, as well as excursions to nearby beaches or floating markets.
And don't forget about indulging in some local food – street vendors and restaurants alike serve up delicious Vietnamese cuisine that will tantalize your taste buds. From pho and banh mi sandwiches to fresh seafood dishes, there's something for every palate.
So why not take advantage of all that Ho Chi Minh City has to offer?
Where To Go After Sapa Frequently Asked Questions
What Is The Best Time Of Year To Visit These Destinations?
When it comes to visiting travel destinations, timing is everything. To truly experience what a place has to offer, you must consider the seasonal activities and weather patterns that come with each time of year.
The best time to visit any destination depends on your interests and preferences as well as your schedule. Some travelers might enjoy winter sports such as skiing or snowboarding while others may prefer hiking during the warmer months. For those seeking an escape from the hustle and bustle of city life, autumn foliage displays can be breathtakingly beautiful.
Meanwhile, beach lovers would want to plan their trip around summer when they can sunbathe in tropical paradise-like settings. So before booking flights or accommodations to any location, do some research on its seasonal highlights so you don't miss out on anything worth seeing or doing!
Are There Any Specific Cultural Customs Or Etiquette That Visitors Should Be Aware Of?
When traveling to a new destination, it's important to be aware of cultural customs and etiquette to avoid any disrespectful behavior.
Some countries have strict dress codes while others have cultural taboos that should not be broken under any circumstances.
For example, in some parts of the world, showing too much skin is frowned upon and can lead to unwanted attention or even offense.
It's crucial for travelers to research these customs before embarking on their journey.
By doing so, they show respect for the local culture and ensure an enjoyable experience for themselves and those around them.
What Kind Of Transportation Options Are Available Between These Destinations?
Looking to explore more of Vietnam's stunning landscapes after your visit to Sapa? Fear not, as there are plenty of transportation options available for you.
From train travel to bus routes, getting around this beautiful country has never been easier. The train is a popular choice due to the scenic views and comfortable seating arrangements, while buses offer a more affordable option with various stops along the way.
No matter which mode of transportation you choose, traveling through Vietnam will leave you feeling free and liberated as you soak up all the beauty that this enchanting destination has to offer.
Are There Any Must-Try Local Dishes Or Restaurants In Each Location?
Discovering a new place is not just about the sights and sounds, but also about experiencing its culture. And what better way to do that than by trying out the local cuisine?
From savory noodle soups to spicy curries, Vietnam has an abundance of cultural cuisine waiting for you to savor. Each location offers unique dishes that reflect their local customs and traditions.
In Hanoi, try out the famous pho or bun cha. Hue's imperial cuisine boasts of delicate flavors in its banh beo and com hen. In Hoi An, sample cao lau or white rose dumplings made from rice flour. Finally, Ho Chi Minh City will introduce you to street food delights such as banh mi and bo kho.
So make sure to add these must-try local dishes or restaurants on your itinerary when exploring Vietnam beyond Sapa!
Are There Any Unique Festivals Or Events That Occur In These Destinations Throughout The Year?
As travelers, we're always on the lookout for unique and exciting events to experience in our destinations.
From cultural taboos to weather patterns, there are plenty of factors that can influence what festivals and events take place throughout the year.
If you're looking for a way to immerse yourself in local culture and tradition, keep an eye out for unique celebrations like lantern festivals or traditional music performances.
Whether you're exploring bustling cities or peaceful countryside towns, each destination has its own set of festivities to discover – so be sure to do your research before you go!
Conclusion
So, where to go after Sapa? Well, there are plenty of options depending on your interests and travel style.
If you're looking for more stunning mountain scenery, head to Ha Giang or Mai Chau. Both destinations offer breathtaking views and opportunities for trekking and homestays with local ethnic minorities.
If you prefer coastal landscapes, consider visiting Halong Bay or Cat Ba Island. The best time to visit these destinations is during the summer months when the weather is warm and sunny. Visitors should be aware of cultural customs such as removing shoes before entering homes or temples in these areas.
Transportation options between these destinations vary from buses to private cars, but it's always a good idea to research reputable companies beforehand.
When it comes to cuisine, don't miss out on trying traditional dishes like banh cuon (steamed rice rolls) in Ha Giang or seafood hotpot in Halong Bay.
Lastly, keep an eye out for unique festivals and events throughout the year such as the Love Market Festival in Ha Giang or the Cat Ba Island Tourism Week.
No matter where you choose to go after Sapa, Vietnam offers endless opportunities for adventure and cultural immersion. So pack your bags and get ready for an unforgettable journey!