Recently updated on June 5th, 2023 at 04:06 pm
Are you looking for an adventure that will take your breath away? Look no further than Sapa Hanoi, a beautiful mountain town in northern Vietnam. This hidden gem offers stunning views of terraced rice fields, traditional villages, and misty mountains that stretch as far as the eye can see.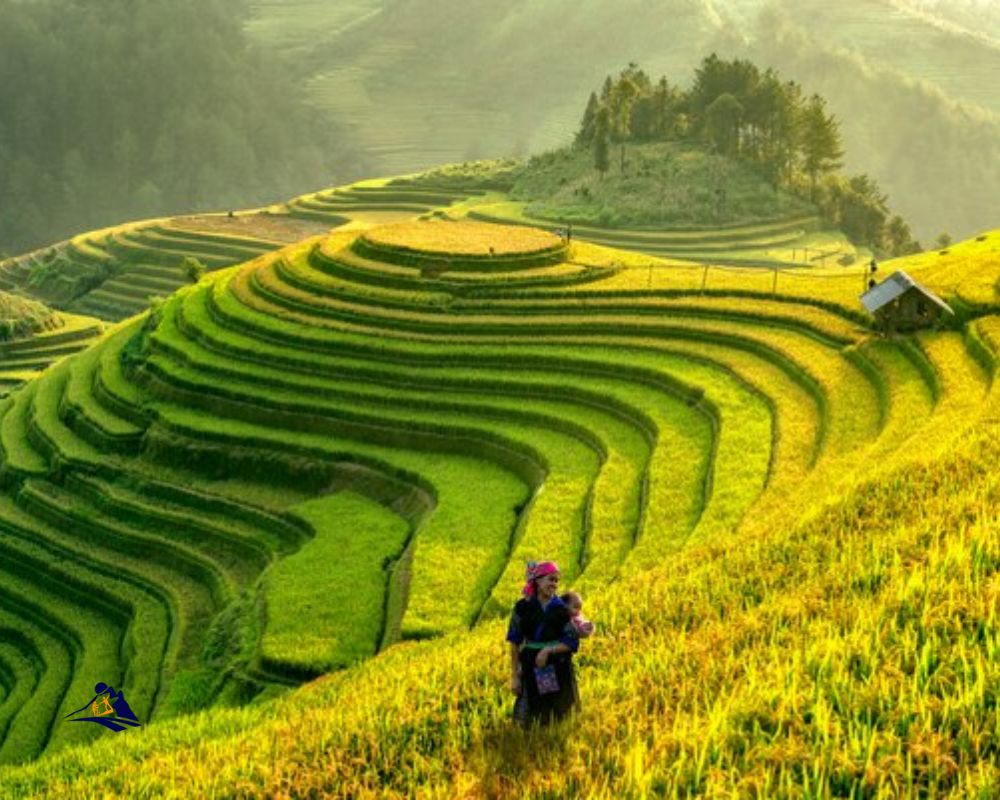 Sapa is perfect for those who crave freedom and adventure. You'll have the opportunity to trek through breathtaking landscapes, meet friendly locals, and learn about their unique culture.
Whether you're looking for a relaxing retreat or an adrenaline-fueled journey, Sapa has something for everyone. So pack your bags and get ready to embark on a trip of a lifetime!
Trekking In The Mountains
If you're looking for an adventure in Sapa, hiking the mountain trails is definitely a must-do. The endless breathtaking views of mountains and valleys make it worth every effort. There are many trekking routes suitable for different levels of fitness, ranging from easy walks to challenging hikes that last several days.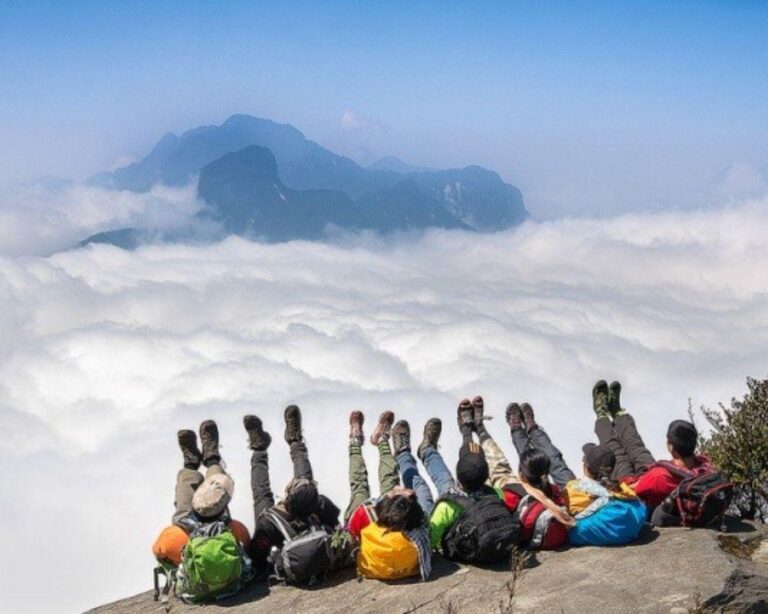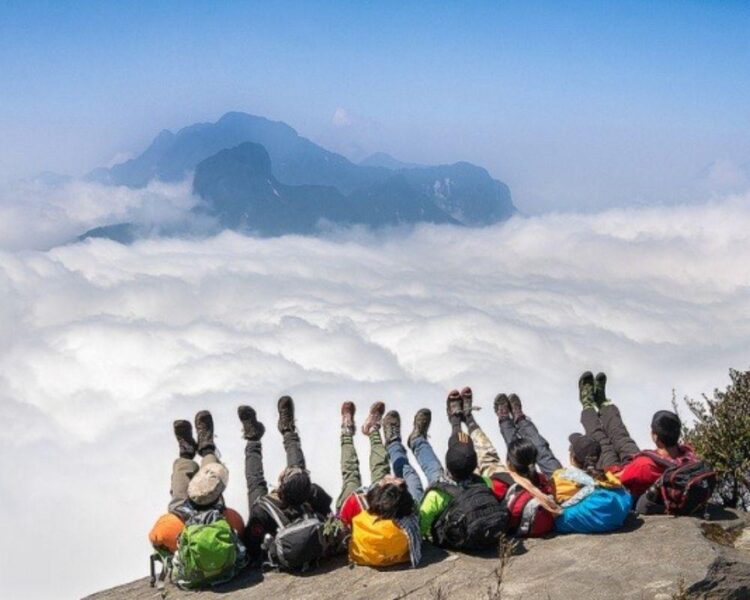 One popular route is the Fansipan Mountain Trail, which leads to the highest peak in Vietnam. It's a demanding trail that requires good physical condition and proper equipment, but the reward is stunning panoramic views at the summit. For those who prefer a less strenuous hike, Cat Cat Village offers shorter trails with beautiful scenery along the way.
Whichever route you choose, be prepared for an unforgettable experience among nature's finest offerings. And after enjoying these spectacular mountain views, let's explore another side of Sapa – its mesmerizing rice terraces!
Exploring The Rice Terraces
Admiring the views of the terraced hillsides that roll out before you is an absolute must when exploring the rice terraces of Sapa, Hanoi. While you're there, you'll also want to take the time to learn about the culture of the local people who have farmed this land for centuries.
Admiring The Views
As you explore the magnificent rice terraces of Sapa, make sure to take some time to admire the breathtaking views. Imagine sunning on rooftops and taking in the stunning scenery around you. The lush green fields against a backdrop of blue skies will leave you speechless. And when night falls, don't miss out on star gazing at its finest – with no light pollution, the stars twinkle like diamonds above the picturesque landscape.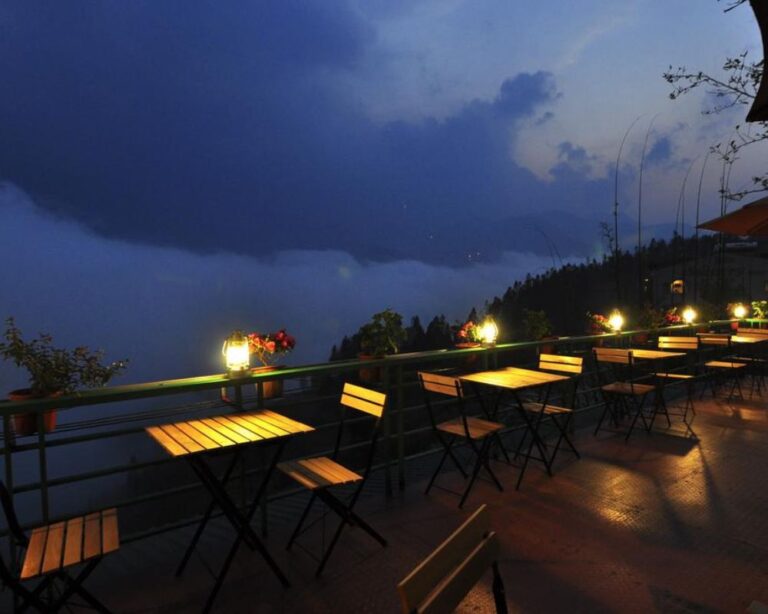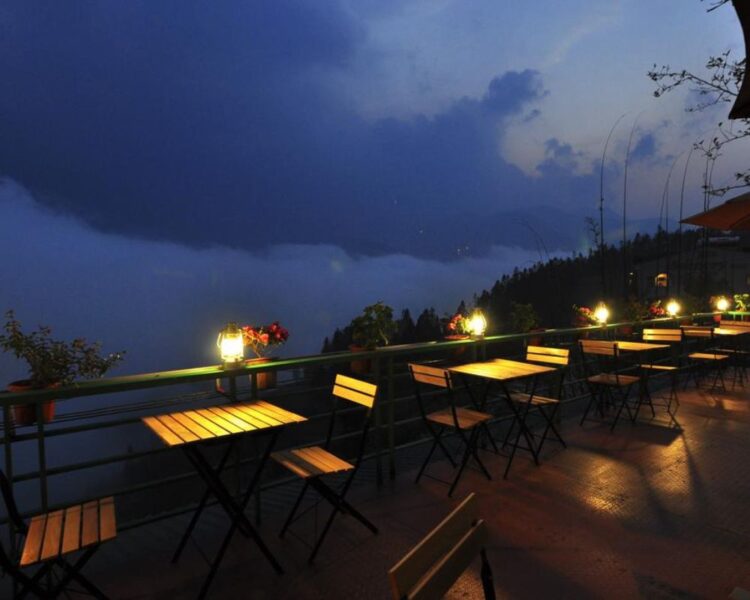 As a travel writer, it's hard not to get lost in this natural beauty that surrounds us. So let yourself be free and indulge in this unforgettable experience.
Discovering Local Culture
Now that you've taken in the stunning views of Sapa's rice terraces, it's time to discover the local culture. Festival hopping is a must-do activity here, as locals celebrate various events throughout the year with vibrant parades and traditional performances. Immerse yourself in their customs and beliefs by joining in on the festivities.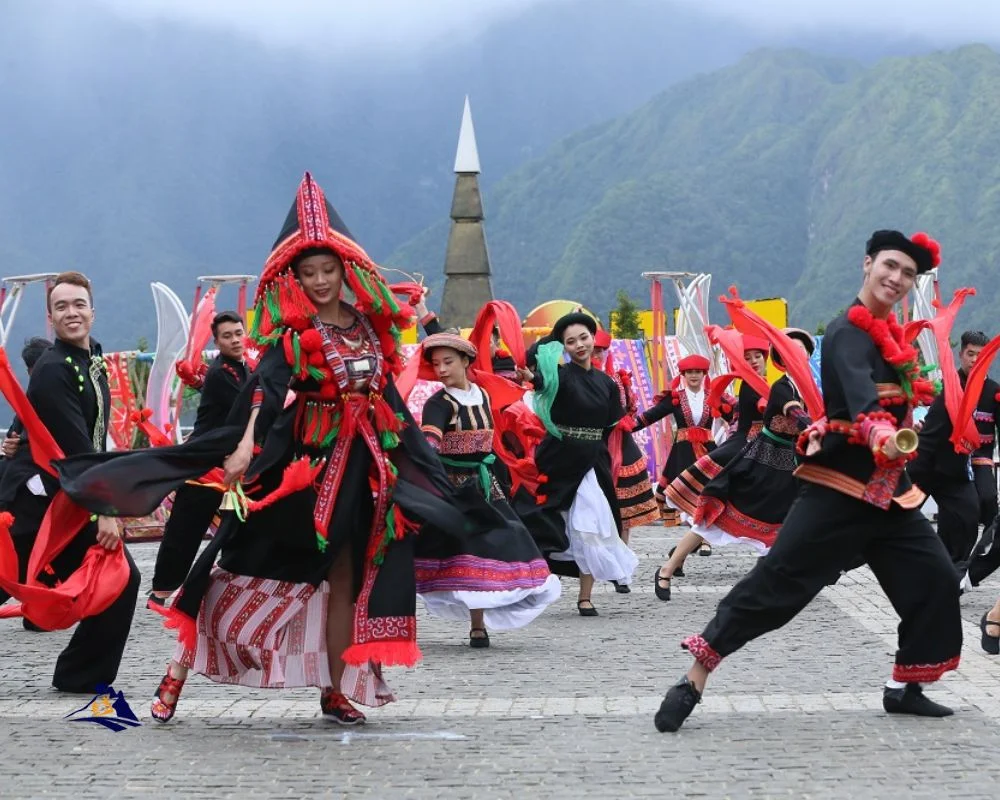 But don't limit yourself to daytime activities – night tours offer a unique perspective on Sapa's culture. Take a stroll through the town at night and witness the hustle and bustle of street vendors selling delicious snacks and handmade crafts.
As a traveler seeking freedom, there's no better way to experience a place than by embracing its local culture. So go ahead, indulge your senses and create unforgettable memories in this magical corner of Vietnam.
Visiting Traditional Villages
After spending some time exploring the stunning rice terraces of Sapa, it's time to dive deeper into the rich culture and traditions that make this region so unique. One way to do this is by visiting traditional villages where you can witness daily life in action and connect with locals.
A visit to a village like Cat Cat or Ta Van will give you an opportunity to experience authentic Hmong culture first-hand. You'll see women weaving intricate textiles on hand looms, men tending to water buffalo in fields of lush greenery, and children playing games passed down through generations. Don't miss out on cultural events such as weddings, funerals, or harvest festivals if they happen to be going on during your stay.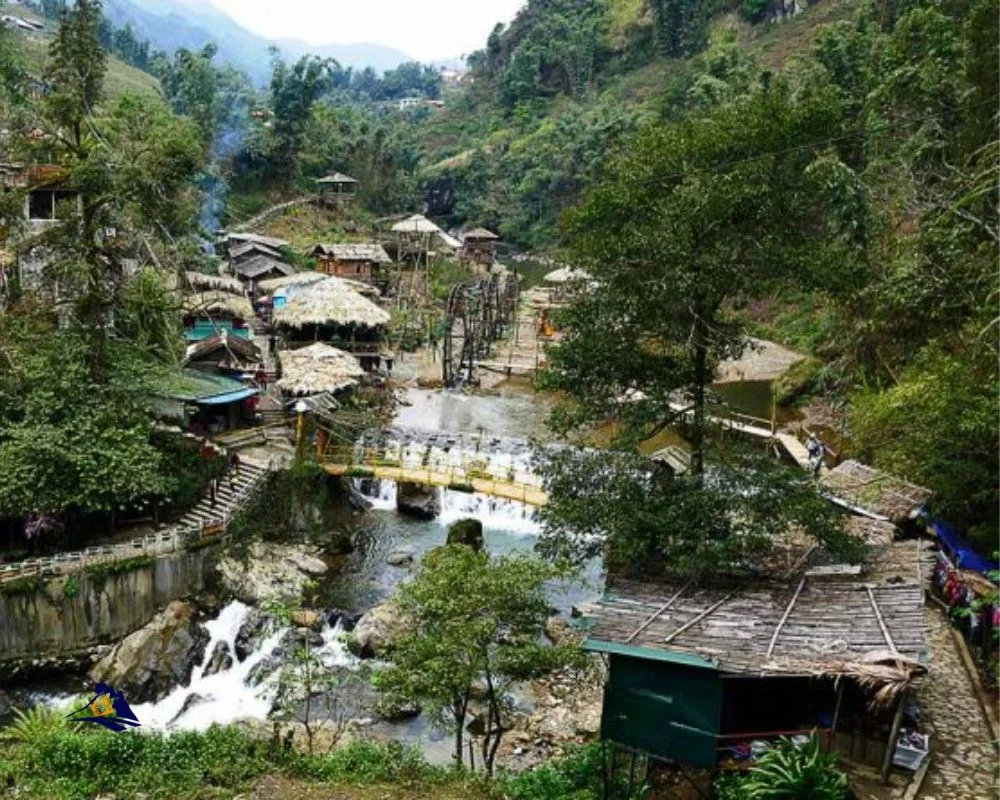 While in these areas one should also explore caves which are fascinating geological wonders formed over thousands of years. If you're looking for even more adventure, consider taking a hike up Fansipan Mountain – the highest peak in Indochina! As breathtaking as it is challenging, this trek takes you through dense forests before rewarding you with panoramic views from the summit. And when it comes time to relax, don't forget about taking a cable car ride high above the mountains for stunning vistas unlike any other.
The beauty of Sapa knows no bounds – there's always something new and exciting waiting around every corner!
Taking A Cable Car Ride
When in Sapa, one must not miss the opportunity to take a cable car ride up to Fansipan Mountain. This excursion promises breathtaking views that will leave you speechless. As they say, 'the proof of the pudding is in the eating,' and indeed it's only when you're on top of this mountain that you'll understand why.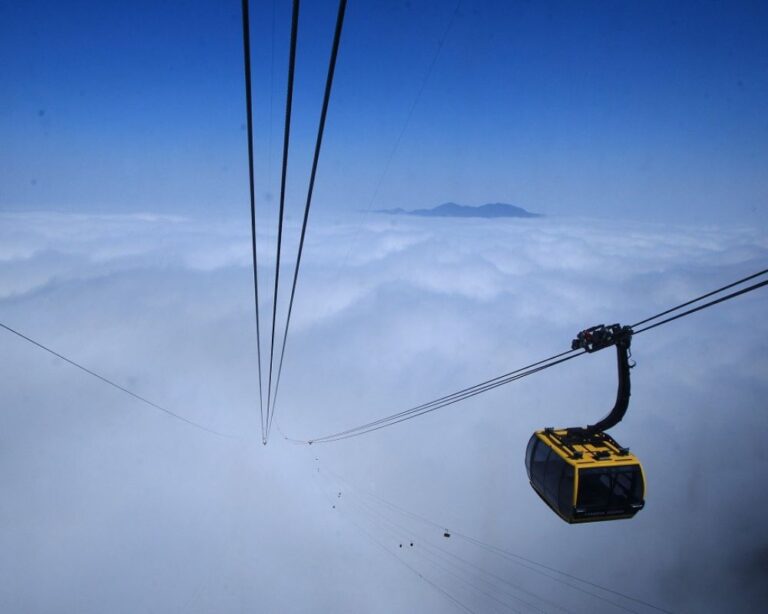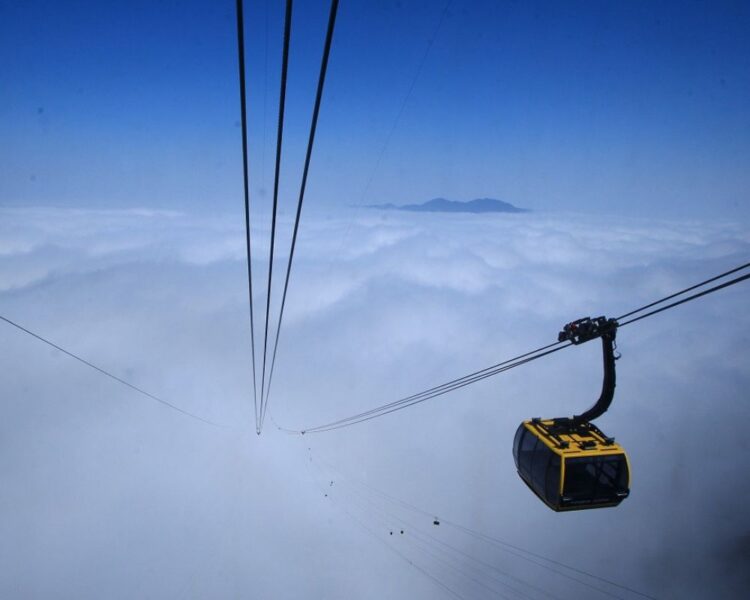 As you ascend higher into the sky, your heart races with excitement as your eyes adjust to the vastness of nature's beauty. You'll be able to admire views of terraced rice paddies, endless mountains stretching across the horizon, and lush green forests below.
If you happen to visit during winter months, don't forget about night skiing under the stars – an experience unlike any other. The cable car ride is worth every penny spent!
With adrenaline still pumping through your veins from taking in such scenic views, there's no better way to relax than by soaking in hot springs. But before we dive into that topic, let me tell you more about what makes Sapa so special…
Relaxing In Hot Springs
Soaking in hot springs is a great way to relax and unwind after spending time exploring the beautiful city of Sapa in Hanoi. The benefits of hot springs can be felt in the form of relaxation, improved circulation, stress relief and improved sleep.
Soaking In Hot Springs
There's nothing like soaking in hot springs after a long day of exploring caves and hiking through the mountains. In Sapa, Hanoi, you'll find several natural hot springs that will ease your muscles and relax your mind. Imagine sitting outdoors surrounded by lush greenery while enjoying the warmth of the water on your skin – it's an experience that can't be missed! With its serene atmosphere and calming effect, hot springs are perfect for those seeking relaxation and a break from their busy lives.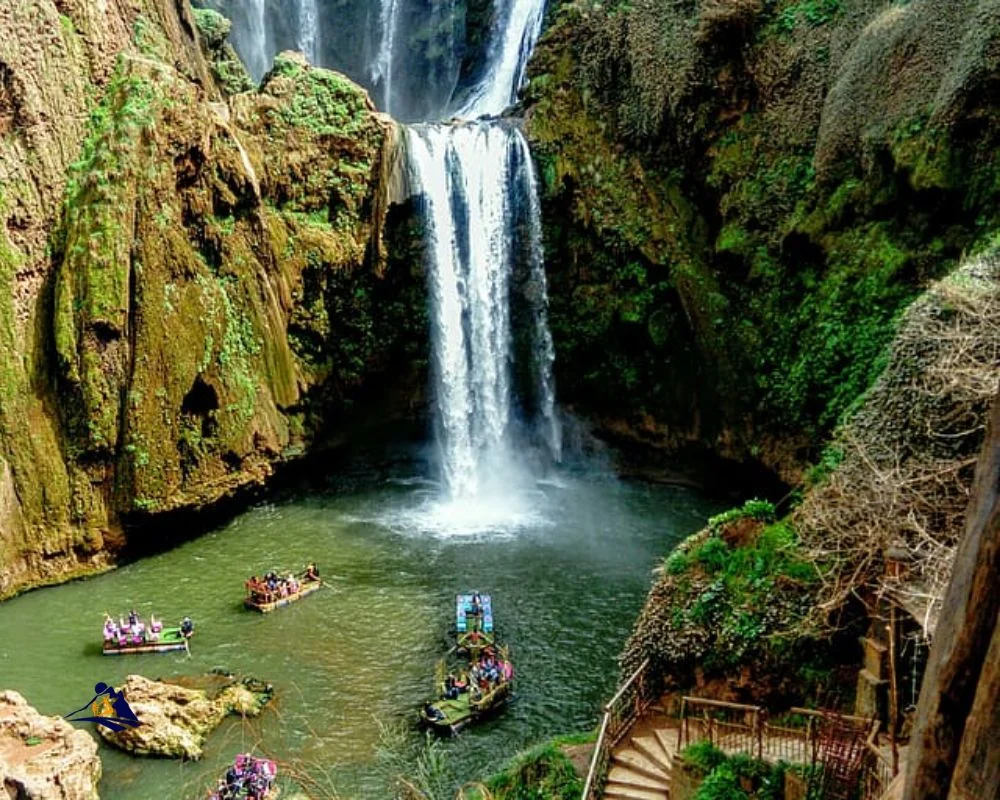 So why not take some time out to indulge in this therapeutic activity during your trip to Sapa?
Benefits Of Hot Springs
Now that we've talked about the joys of soaking in hot springs, let's dive into the benefits. Not only do they provide a relaxing experience for your mind and body, but hot springs also offer numerous health benefits thanks to their mineral content. Soaking can help improve blood circulation, relieve pain and ease muscle tension. The minerals found in hot springs such as calcium, magnesium, and potassium are known to be beneficial for skin conditions like eczema and psoriasis as well.
With all these benefits on offer, it's no wonder why people have been seeking out natural hot springs for centuries!
Shopping In The Markets
After a day of relaxing in the hot springs, it's time to hit the markets for some shopping! Sapa is known for its vibrant markets filled with colorful textiles and unique handicrafts. You'll find everything from hand-embroidered bags to ethnic jewelry, all made by local artisans.
To make the most out of your market experience, brush up on your bargaining tactics beforehand. Prices are often negotiable, so don't be afraid to haggle. Keep an eye out for seasonal deals too – certain times of the year may offer better prices or promotions. And remember, supporting local businesses not only benefits you but also helps boost the community's economy.
Don't miss the Bac Ha Sunday Market – one of the largest and busiest markets in the region.
Check out Cat Cat Village's market for intricate woven fabrics.
Visit Love Market (held every Saturday) for traditional Hmong costumes and accessories.
Swing by Cau May Street Night Market for a lively atmosphere and souvenirs galore.
Shop at Muong Hoa Valley Market for locally sourced fruits and vegetables, as well as handmade crafts.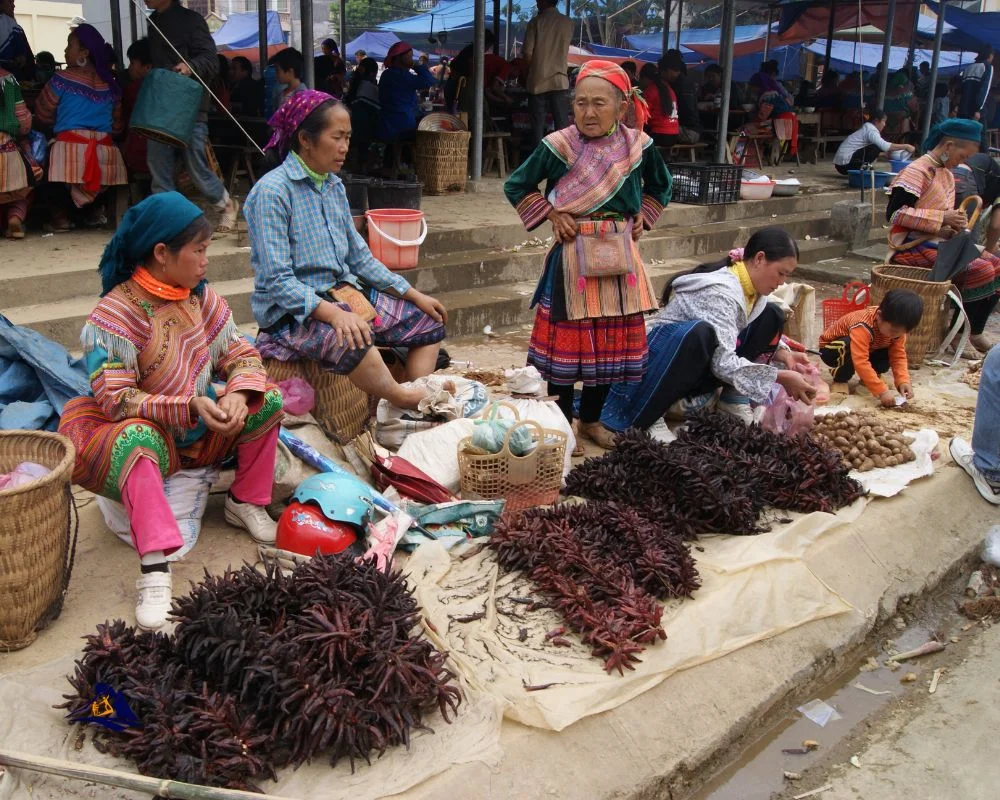 As you navigate through the bustling crowds and peruse the various stalls, take note of how each item tells a story about Sapa's rich cultural heritage. From hill tribe patterns to delicate silverwork, every piece holds meaning and history. So go ahead and indulge in some retail therapy – you might just come away with a newfound appreciation for this beautiful corner of Vietnam.
When it comes to eating authentic local food in Sapa, there are plenty of options available that will tantalize your taste buds. From aromatic pho noodle soup to savory banh mi sandwiches, Vietnamese cuisine offers something delicious for everyone.
But what sets Sapa apart is its unique blend of indigenous flavors influenced by regional traditions. So if you're looking to explore beyond tourist traps and try something new, head over to one of the local eateries and indulge in some traditional Hmong dishes. From steaming hot pots to grilled meats, these hearty meals will fill you up with warmth and flavor.
And don't forget to pair your meal with a cup of fragrant rice wine – it's the perfect way to end a satisfying culinary adventure.
Eating Authentic Local Food
If you're looking to get a real taste of the local culture, trying some street food is a must! Exploring the local markets is also a great way to get an up-close and personal look at the food of the area. Why not even try your hand at learning some of the traditional recipes?
Trying Street Food
You haven't truly experienced Sapa until you've tried the street food. The bustling markets and roadside stalls offer a sensory overload of sights, smells, and flavors that will transport your taste buds to another world. Indulge in a steaming bowl of pho or try some crispy banh mi stuffed with savory meats and fresh herbs. Don't forget to quench your thirst with some locally brewed tea while munching on seafood snacks like grilled squid or fried shrimp cakes.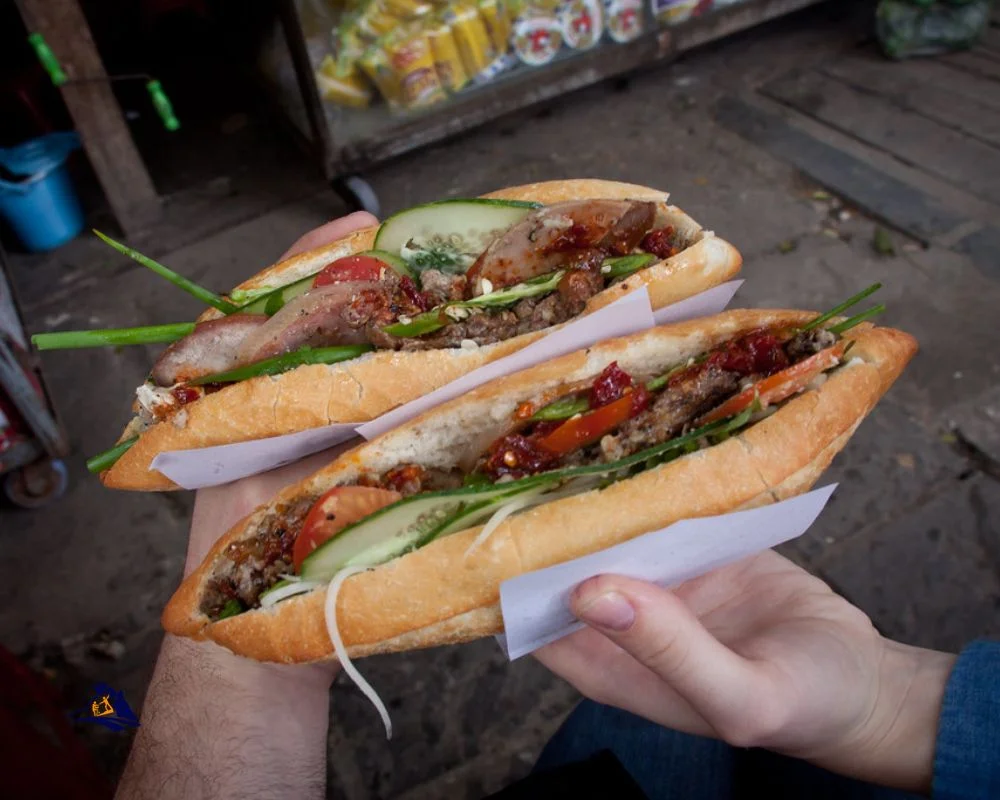 With so many options to choose from, it's impossible not to get swept up in the excitement of tucking into these delicious bites. So go ahead, take a risk and discover what lies around every corner – who knows what culinary delights you'll uncover next!
Exploring Local Markets
Now that you've indulged in Sapa's mouth-watering street food, it's time to explore the local markets. These vibrant hubs are where the heart of the community beats and where cultural influences can be seen through every stall. Here, you'll find a plethora of fresh produce, spices, and handmade crafts all up for bartering techniques with friendly locals – just make sure to bring your haggling skills!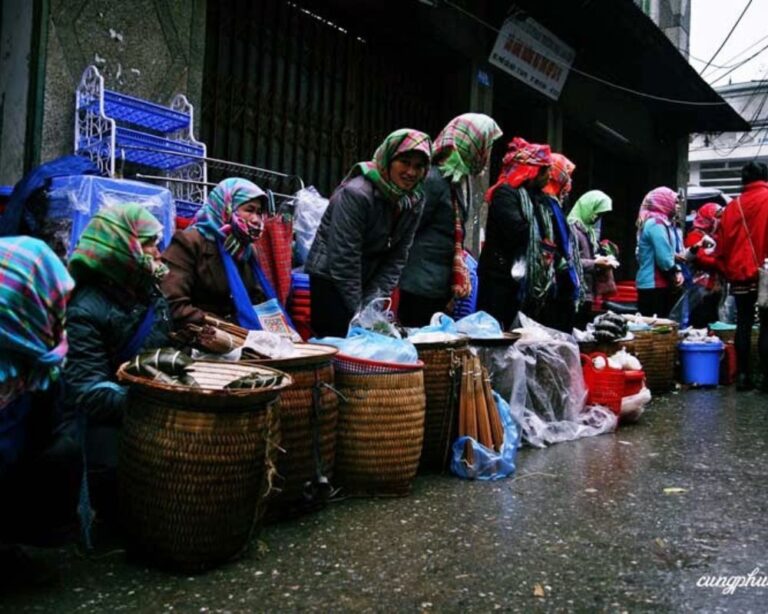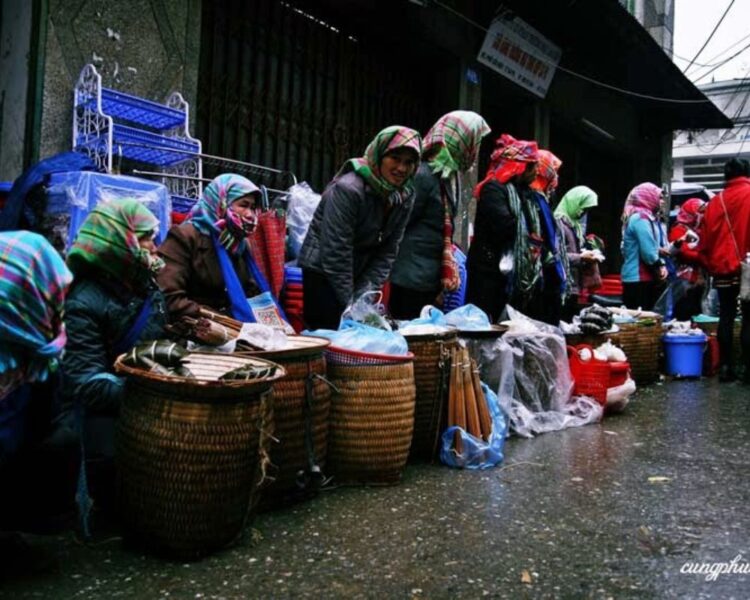 As you wander through the bustling aisles, take in the colorful sights and sounds while sampling some exotic tropical fruits or sipping on freshly squeezed sugarcane juice.
The energy is contagious and there's no better way to experience Sapa's rich culture than by immersing yourself in its lively markets.
Learning Recipes
Now that you've sampled the vibrant street food and explored the local markets of Sapa, it's time to take your culinary adventure one step further by learning how to make some authentic dishes yourself.
Tasting these delicious meals is just half the experience – making them with your own two hands truly allows you to appreciate the traditional cooking methods and unique flavors.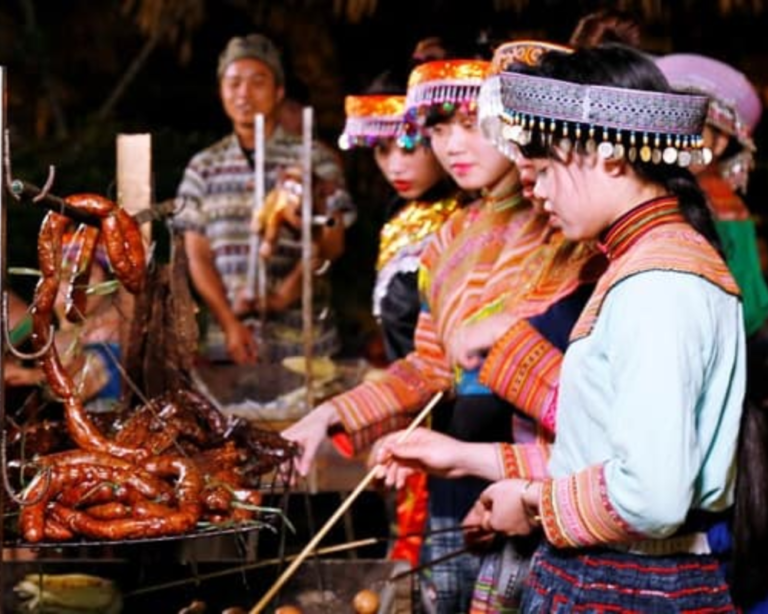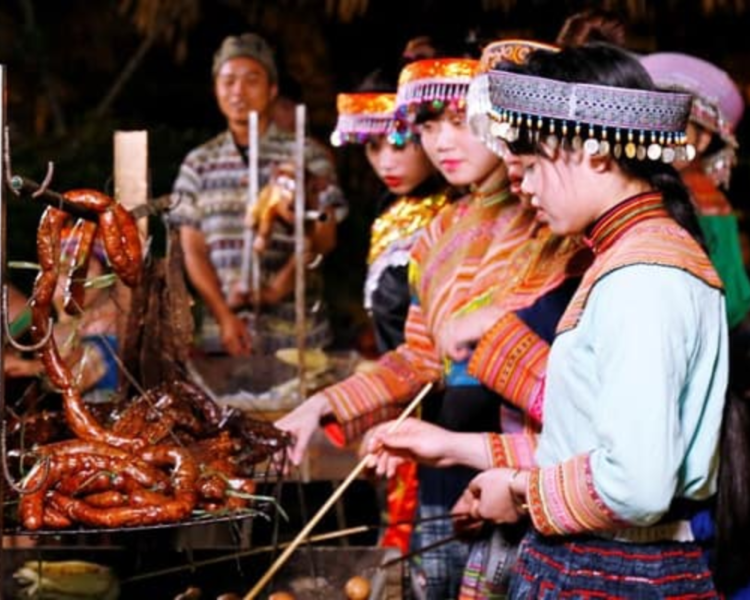 From mastering the art of creating savory sauces to perfecting a favorite noodle dish, there are countless opportunities for you to expand your palate and bring home some new skills.
So why not dive in and discover the joy of cooking like a true local?
Visiting Waterfalls And Lakes
One of the most exciting things to do in Sapa is to visit its breathtaking waterfalls and lakes.
There are several options for exploring these natural wonders, one of which is through kayaking tours. This activity allows you to paddle on calm waters while enjoying the stunning scenery around you. Some popular spots for kayaking include Thac Bac Waterfall (Silver Falls) and Hoang Lien Son National Park's lake.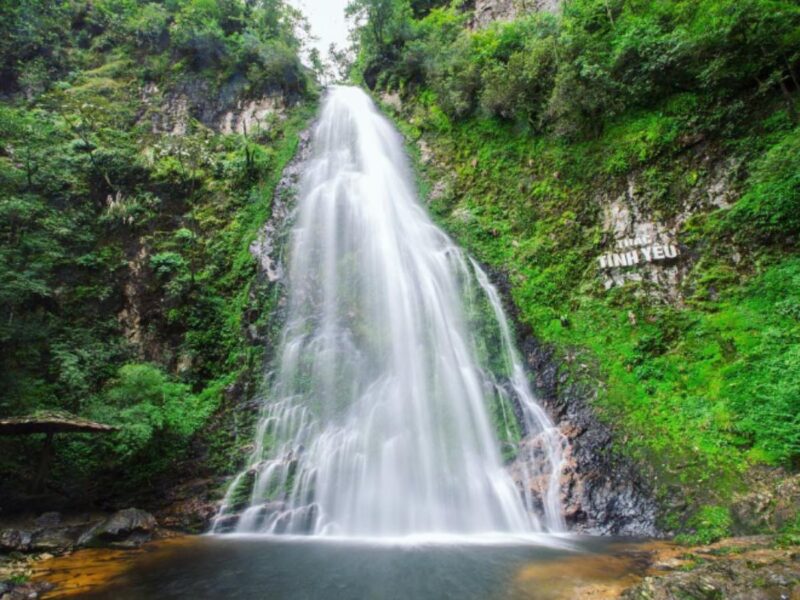 If kayaking isn't your thing, take a night hike instead! Night hikes offer a unique perspective of Sapa's natural beauty as well as a chance to witness nocturnal animals that can only be seen at night. You'll need a guide for this experience, but it's definitely worth it.
The highlight of any night hike is reaching the top and seeing the stars light up the sky above you – an unforgettable moment in Sapa.
Going On A Homestay
Looking for a unique experience in Sapa Hanoi? Why not try going on a homestay! Immerse yourself in the local culture by staying with a family who will welcome you into their home and share their way of life.
There are several options for homestays, ranging from basic accommodations to more luxurious ones with private rooms.
During your stay, take advantage of the many hiking trails around the area. The stunning scenery of rice terraces and lush forests is sure to leave you breathless. If hiking isn't your thing, consider taking cultural tours to learn about the traditional customs and practices of the ethnic minority groups that call this region home.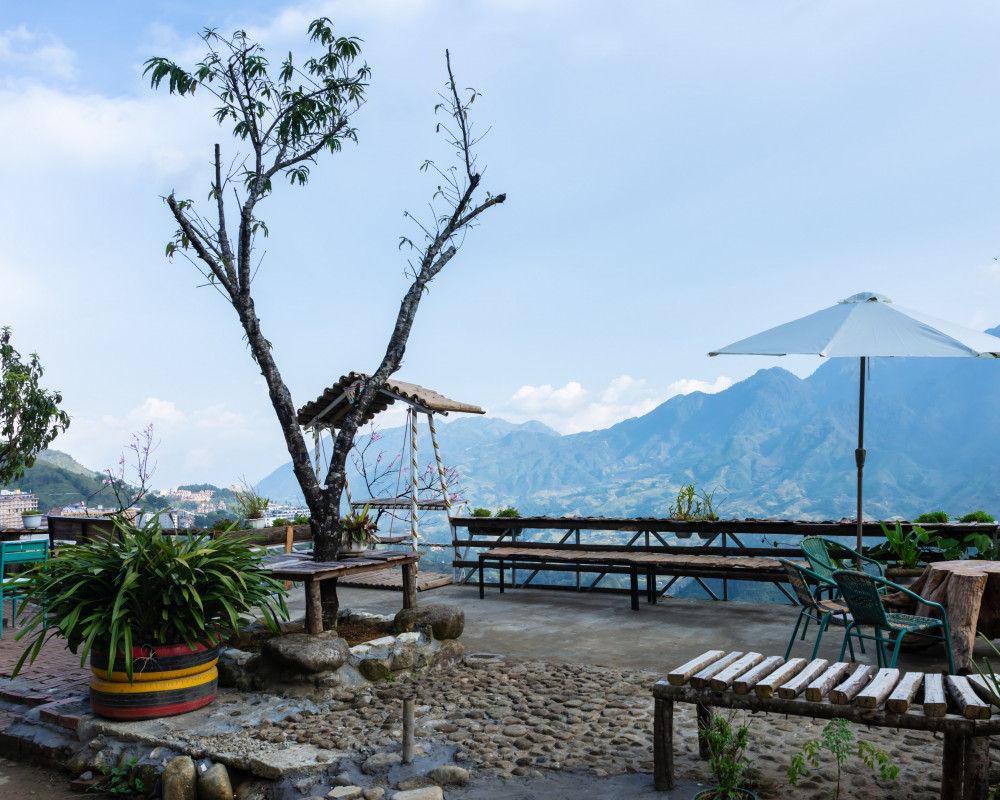 To make the most out of your homestay experience, here are some tips:
Bring warm clothing as it can get chilly at night.
Respect local customs and traditions.
Learn some basic Vietnamese phrases to communicate with your host family.
Don't forget to bring small gifts such as candy or fruit as a gesture of appreciation.
Ready for an adventure? Consider going on a homestay during your trip to Sapa Hanoi!
After immersing yourself in local culture, why not continue exploring by taking a cooking class? Discover how to prepare traditional dishes using fresh ingredients from the surrounding countryside. Come hungry and ready to learn new culinary skills!
Taking A Cooking Class
As you wander through the vibrant streets of Sapa, take a moment to learn about the rich culture that surrounds you. One way to immerse yourself in this unique heritage is by taking a cooking class with local chefs who will teach you how to master traditional dishes using fresh ingredients and authentic techniques.
Not only will you be able to taste the flavors of Vietnam, but also gain an understanding of how food is woven into their daily lives. From sourcing ingredients at the bustling markets to creating complex yet delicate seasonings, every step reveals new insights into Vietnamese cuisine.
So why not treat your taste buds while learning about this fascinating country at the same time?
What To Do In Sapa Hanoi Frequently Asked Questions
How Do I Get To Sapa From Hanoi?
Looking to escape the hustle and bustle of Hanoi for a serene mountain retreat in Sapa? Look no further!
To get there, your best bet is to purchase train tickets from Hanoi Station. The journey takes roughly eight hours but the stunning views along the way make it well worth it.
Once you arrive in Sapa, you'll have plenty of accommodation options ranging from budget-friendly hostels to luxurious resorts. Whether you're looking to trek through rice terraces or relax at a spa with sweeping valley views, Sapa has something for every traveler seeking freedom from city life.
What Is The Best Time Of Year To Visit Sapa?
Sapa is a scenic destination that offers an array of outdoor activities, including hiking trails and mountain biking. But when should you visit this enchanting place?
The best time to explore Sapa would be during autumn, from September to November. The temperature is just right for trekking through the lush green rice terraces while enjoying the cool breeze. You'll find yourself surrounded by picturesque landscapes with stunning views.
There's something magical about being in nature and feeling free – it's what makes Sapa so special! So pack your bags, put on those hiking boots or hop onto a bike, and get ready for an adventure like no other!
Are There Any Cultural Events Or Festivals In Sapa?
If you're visiting Sapa, make sure to check out some traditional cultural events and festivals. These celebrations offer a unique glimpse into the local way of life and can be truly eye-opening experiences for travelers looking to immerse themselves in different cultures.
Additionally, exploring the nearby villages is a must-do activity when in this region. You'll get to witness firsthand how locals live and work, as well as sample some delicious traditional cuisine along the way.
So if you're feeling adventurous and want to experience something new, definitely add these activities to your Sapa itinerary!
Can I Hire A Local Guide For Trekking Or Exploring The Area?
If you're looking to explore the beauty of Sapa, hiring a local guide for trekking or exploring the area is highly recommended. Not only will they be able to show you hidden gems that may otherwise go unnoticed, but it's also considered proper hiring etiquette to support the local economy.
Guided tours can provide an immersive experience into the culture and history of the region while allowing you the freedom to fully enjoy your surroundings without worrying about navigation. So why not take advantage of all that Sapa has to offer by embarking on a journey with a knowledgeable and friendly local guide?
What Are Some Other Nearby Attractions Worth Visiting While In Sapa?
If you're keen to explore the beautiful outdoors around Sapa, be sure to check out some of the nearby attractions.
The hiking trails here are second to none, and offer an unparalleled opportunity to get up close and personal with nature.
From winding forest paths to stunning views over rice paddies, there's something for everyone here.
For a truly unique experience, consider hiring a local guide who can take you off the beaten track and show you hidden gems that few others get to see.
With so much natural beauty on offer in this part of Vietnam, it's no wonder that adventurous travelers flock here year after year!
Conclusion
So, what are you waiting for? Pack your bags and head to Sapa from Hanoi today! With so many things to do and see, this destination is a must-visit for anyone traveling through Vietnam.
Whether you're interested in cultural events or just want to explore the great outdoors, there's something here for everyone.
Getting to Sapa from Hanoi is easy thanks to several transportation options available including bus, train, or private car hire. The best time of year to visit depends on your individual preferences but generally speaking the dry season (October-April) offers the most favorable weather conditions.
For those looking to immerse themselves in local culture, be sure to check out some festivals such as the Bac Ha Market or Flower Festival. Additionally, hiring a guide can give you an even deeper understanding of local traditions and customs during trekking excursions.
Finally, don't forget about other nearby attractions like Fansipan Mountain or Muong Hoa Valley which offer breathtaking views of the surrounding countryside.
So why not make your way over to Sapa soon and discover all that this charming town has in store for travelers like yourself?