Recently updated on January 7th, 2023 at 02:11 pm
The Victoria Express is the best option if you want to take a luxurious train to Sapa so that you may unwind while riding and have time to unwind in the evening while sipping, enjoying food, and drinking coffee at the on-train restaurant. perfect, and you'll be satisfied right there.
Here are some information you should know about Victoria Express Train: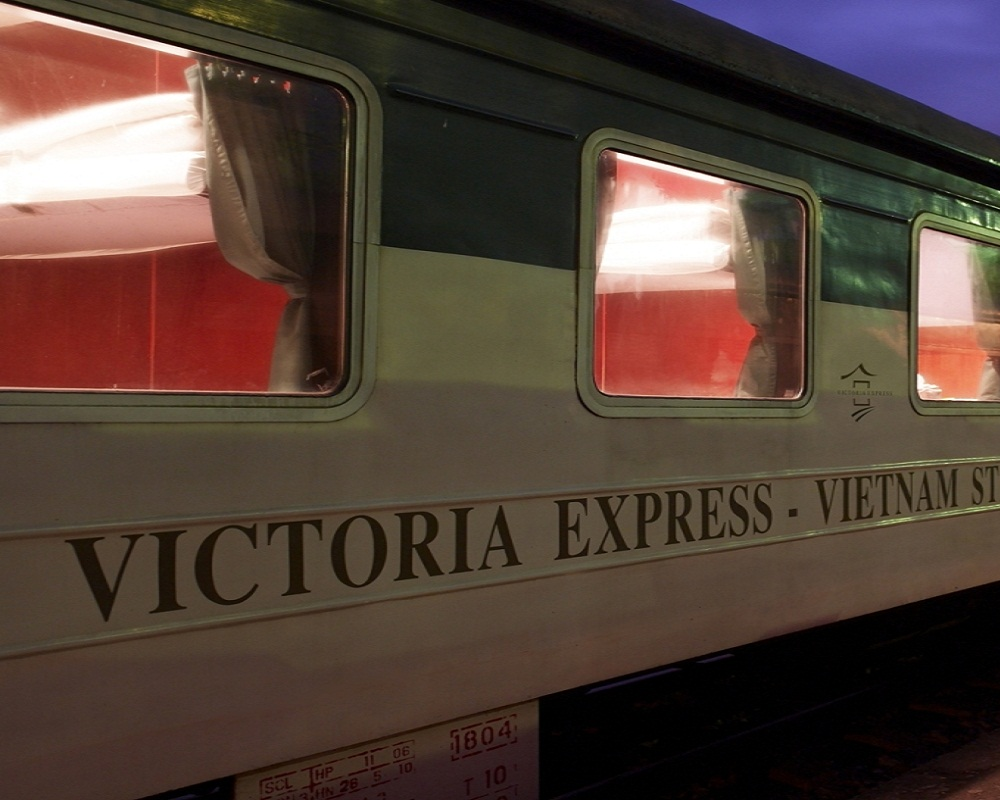 Something about Victoria Express Train
Fare:
There are several different types of train tickets available right now to Sapa. You can pick the best ticket for you based on your budget. There are train tickets issued by travel agencies and tour operators in addition to those supplied by railroads.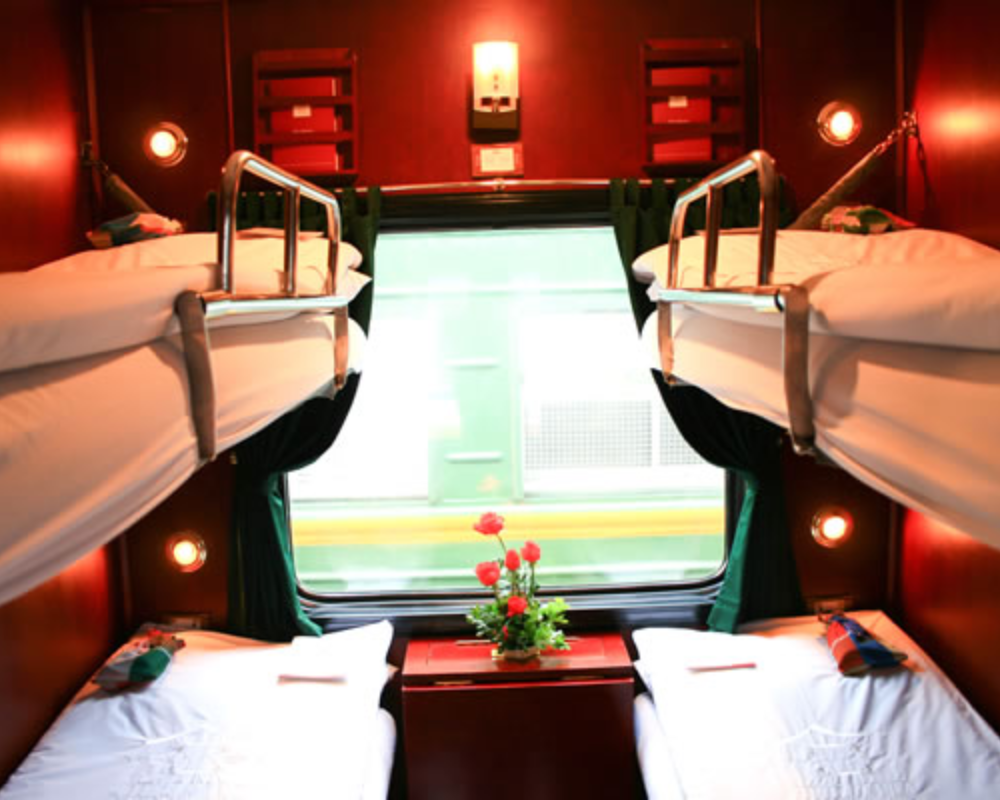 Victoria Express has a total of 03 carriages (of which 02 are guest rooms, 01 is a high-class restaurant) Each carriage has 07 rooms, each room is luxuriously designed with wooden walls to bring tranquility. absolute silence and a large window with a great view…
Tickets price
Superior (4 beds)
One-way ticket price: 121 USD per ticket
Round-trip ticket price: 158 USD per ticket
Soft sleeping compartment with 2 wood-paneled air conditioners
One-way ticket price: 196 USD per ticket
Round-trip ticket price: 246 USD per ticket
Important notes:
– Only guests booking at Victoria Sapa Resort can book Victoria Express train tickets.
– Ticket prices can be changed due to weekends, holidays, Tet…
– The above price is for 1 person including tax and service charge.
– Train time and train price may change according to the actual situation.
– Ticket price does not include food on board.
– The restaurant car has a "buffet" menu or a set menu consisting of 4 dishes. Passengers need to order food at the time of train ticket registration.
– Child price: Children under 05 years old are free of charge; Children from 5 to 12 years old buy 75% of the total fare.
Train schedule
The Victoria Express train departs six times a week, with the SP3 designation, departing from Hanoi station at 21:50 Pm to Lao Cai station with a journey of approximately 8.5 hours on the Victoria Express Train. Victoria Express train with a capacity of up to 52 passengers.
From Hanoi to Lao Cai (SP3): Every day
Departure time: 22:00
Arrival time at 6:10. (except Saturday)
From Lao Cai to Hanoi (SP4): Every day
Departure Time: 21:40
Arrival time: 5:30
Departure / Arrival time is subject to change according to government notice, please contact the hotel for the latest updates.
>> Pick up/Drop off point in Hanoi: Tran Quy Cap station – Terminal 6 entrance.
>> Pick up/Drop off point in Sapa: Lao Cai station
>> Time to travel: 8 hours
Service on board
Victoria Express train is the most luxurious train on the Hanoi – Lao Cai route. The Victoria Express train includes one dining car and two sleeper carriages, with a capacity of 52 passengers. Every carriage in the Victoria Express features seven tastefully constructed rooms with wooden walls to promote quiet, with a total of three carriages—two of which are guest rooms and one of which is a high-class restaurant. completely quiet and a big window with a beautiful view…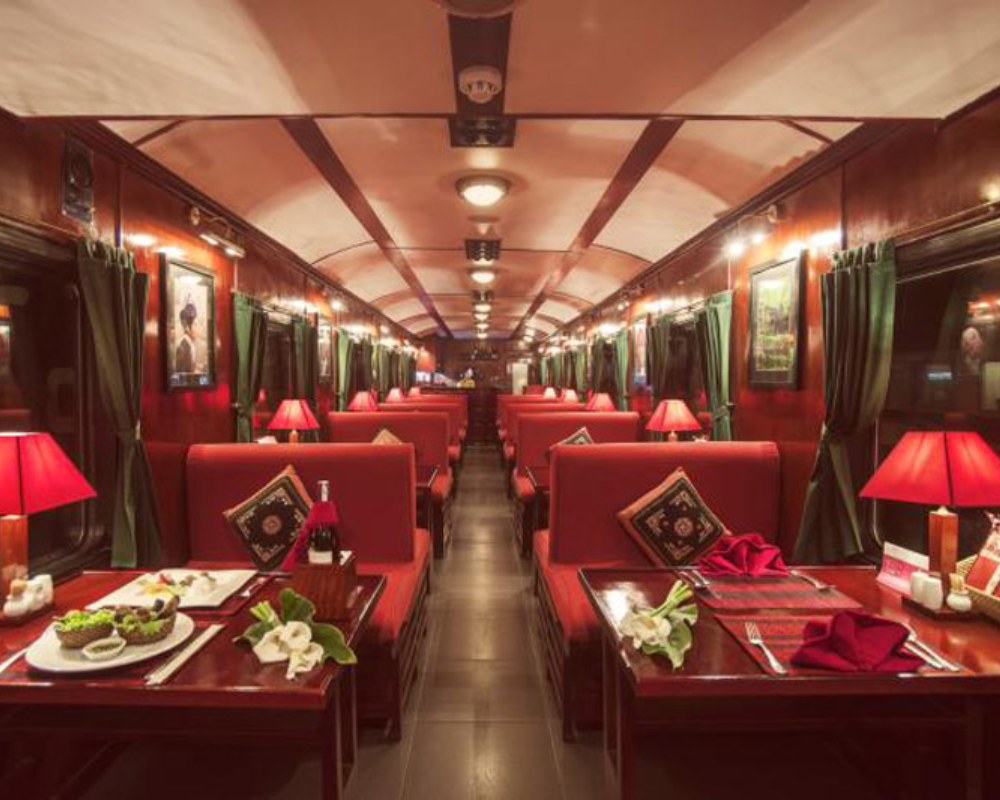 Each vehicle has 1 deluxe cabin (2 beds) and 6 deluxe cabins (4 beds) which can be designed so that the 2 upper bunk beds can be folded up upon request.
The compartments are designed with natural wood paneling with individual reading lights, luggage storage, wooden cabinets, magazines, and a small bag that includes mineral water, toothpaste, and a toothbrush.
Each cabin has a remote control that allows guests to control the temperature of the air conditioner at will. Moreover, on each car, there are two very clean and comfortable toilets and the corridor on the train is quite wide, giving guests a clear view.
In particular, Victoria Express trains have tiled floors, provide room slippers and often have a gift for customers such as a brocade bag.
Pros and cons of Victoria Express Train
Pros of Victoria Express
Elegance
The passenger cars as well as the dining cars of the Victoria Express train are luxuriously and delicately designed with warm tones, and beautiful and eye-catching details to bring satisfaction to visitors.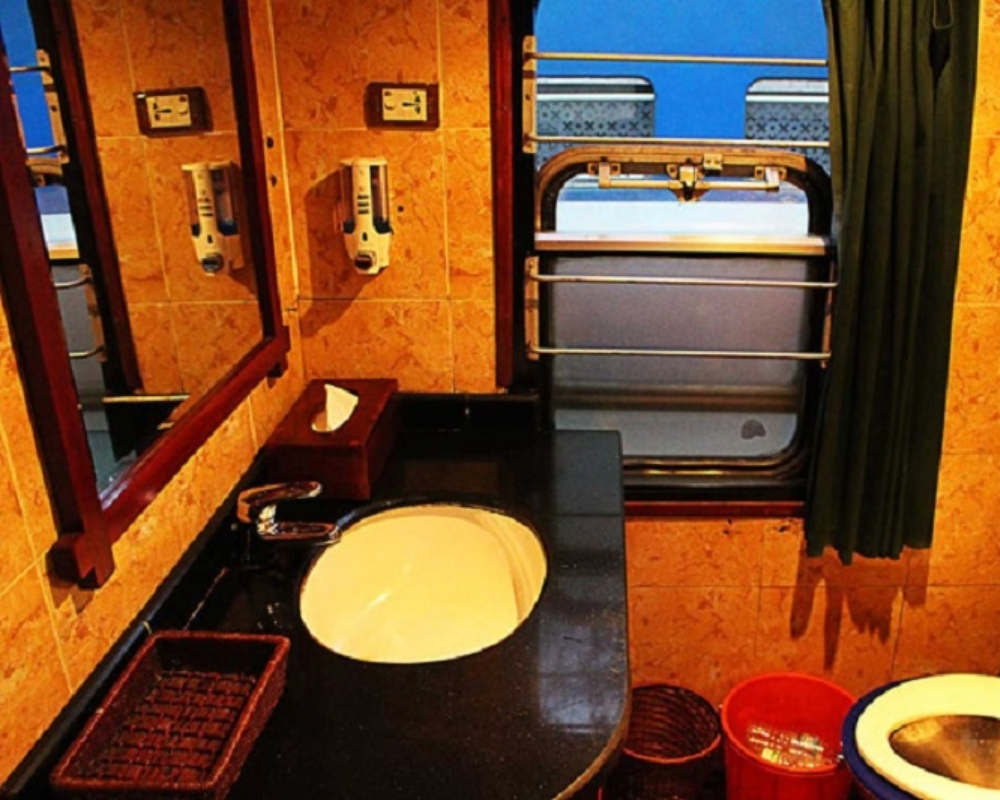 Safety
Trains in general as well as Victoria Express in particular are extremely safe because trains run on their own roads, not being collided with other means of transport. Therefore, if you want the safety of your trip, you should choose the train to Sapa. In the past few decades, there have been almost no accidents related to the railway going to Sapa.
Spacious and comfortable space
In each cabin of the Victoria Express train, there are 4 soft beds with a bed sizes of 80x190cm, quite wide, rolling around on a comfortable bed, something you cannot do when traveling by car. This spacious space is suitable for families with young children.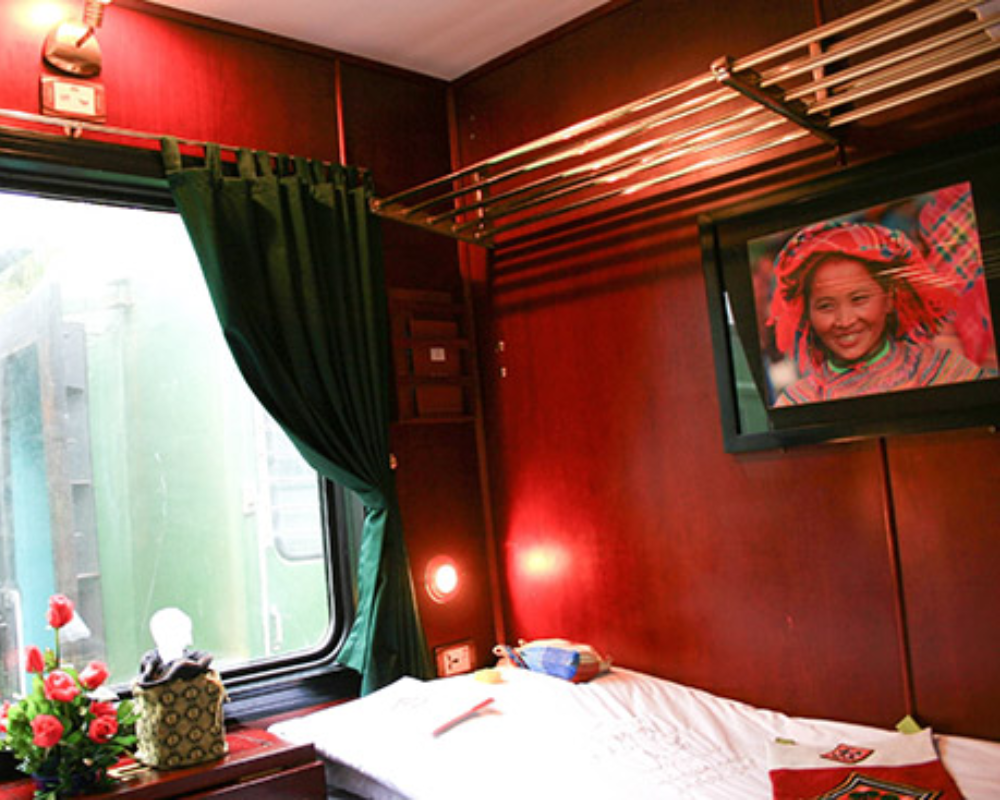 Cons of Vitoria Express
Little departures
Due to the current Covid pandemic scenario, the Victoria Express train only runs from Hanoi to Lao Cai on Thursdays and Fridays, and from Lao Cai to Hanoi on Sundays. The train departs every night at 10 p.m. for an hour. weekly.
The train does not proceed directly to Sapa, it just stops at Lao Cai station.
There is no direct train to Sapa, and the Victoria Express train is no exception, as the track currently only extends to Lao Cai. Visitors must travel more than 30 kilometers (km) by bus, coach, or cab from Lao Cai station to Sapa; the trip takes about an hour.
High price
Since each train can only carry 40 passengers, the ticket price for the Victoria Express is quite high: from $ 121 to $ 246.
Traveling by train is always one of the most enjoyable experiences even though it takes longer than other means of transportation. The scheduled trains not only give you the opportunity to admire the wonderful natural scenery but also recall many old memories. Contact us with this to have the best experience from Hanoi to Sapa by train.
Victoria Express Train FAQs:
What is the phone number of Victoria Express Train?
>> In case of any information changes or problems, please contact the WhatsApp +84886766031.
How much does the average Victoria Express train fare?
>> Currently, the ticket price for Fansipan Express Train ranges from 121 USD – 246 USD
On which routes does the Victoria Express train operate?
>> The routes of Fansipan Express Train include: going to Sapa – Lao Cai from Hanoi
Where is the difference between SP train and LC train?
>> SP train is the travel train, intended for tourists visits Sapa by train.
LC train is the market train.
Where is the Lao Cai station?
>> Lao Cai station is located at Group 26A, Lao Cai city, Lao Cai province.
Sapa 1 Day Tours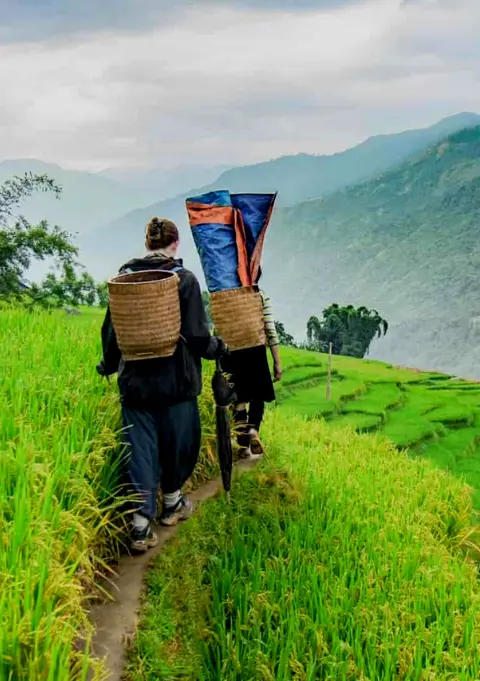 1 day experience
Moderate to challenging
Cultural immersion & active adventure
Rice fields, valleys & villages
​Private tours
Vegan-friendly
Sapa 2 Day Tours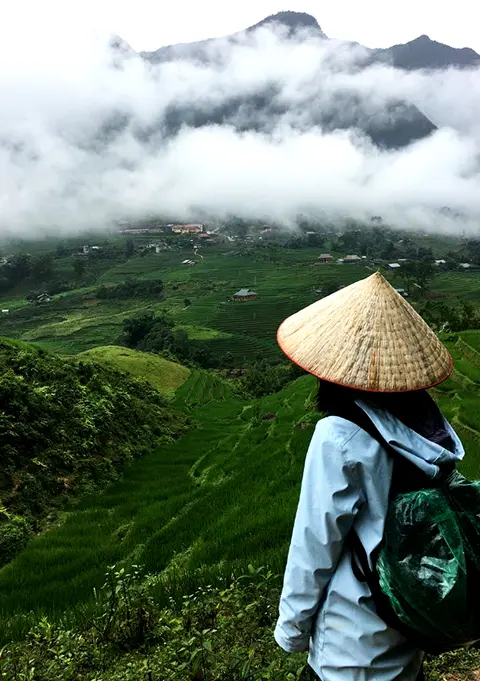 2 days 1 night experience
Moderate to challenging
Cultural immersion & active adventure
Mountains, valleys, rice fields and villages
​Private tours
Vegan-friendly
Sapa 3 Day Tours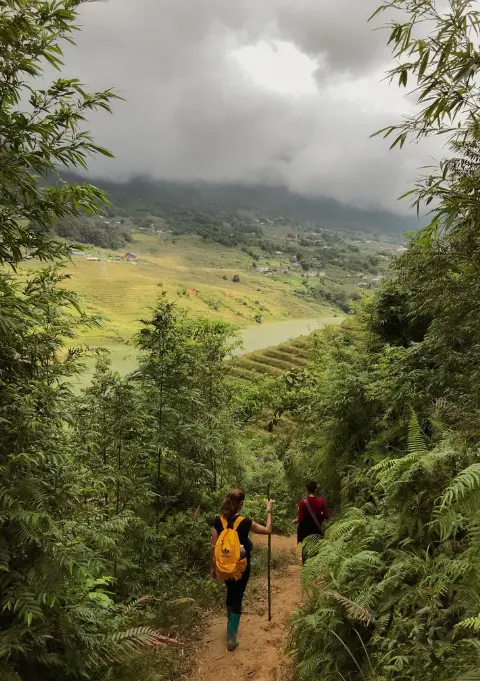 3 days 2 night experience
Moderate to challenging
Cultural immersion & active adventure
Mountains, valley, rice fields & villages
​Private tours
Vegan-friendly
Sapa 4 Day Tours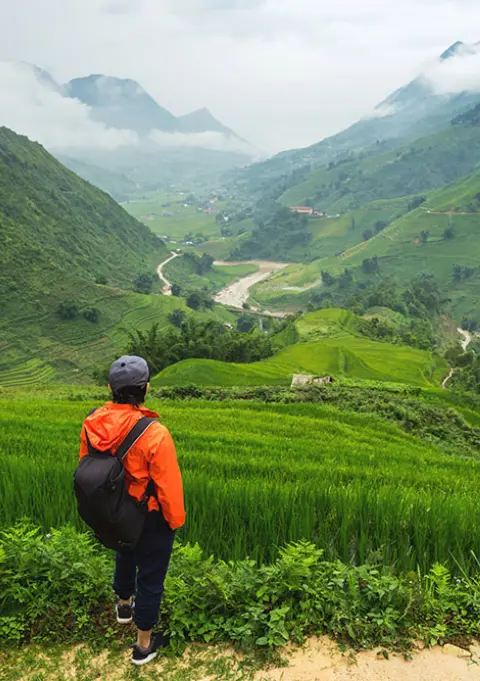 4 days 3 night experience
Moderate to challenging
Cultural immersion & active adventure
Mountains, valleys, rice fields & villages
​Private tours – Less Touristic
Vegan-friendly