Are you looking for a romantic getaway that offers breathtaking scenery and cultural experiences? Look no further than Sapa, Vietnam. Nestled in the mountains of northern Vietnam, Sapa is known for its picturesque rice terraces, stunning mountain views, and diverse ethnic cultures.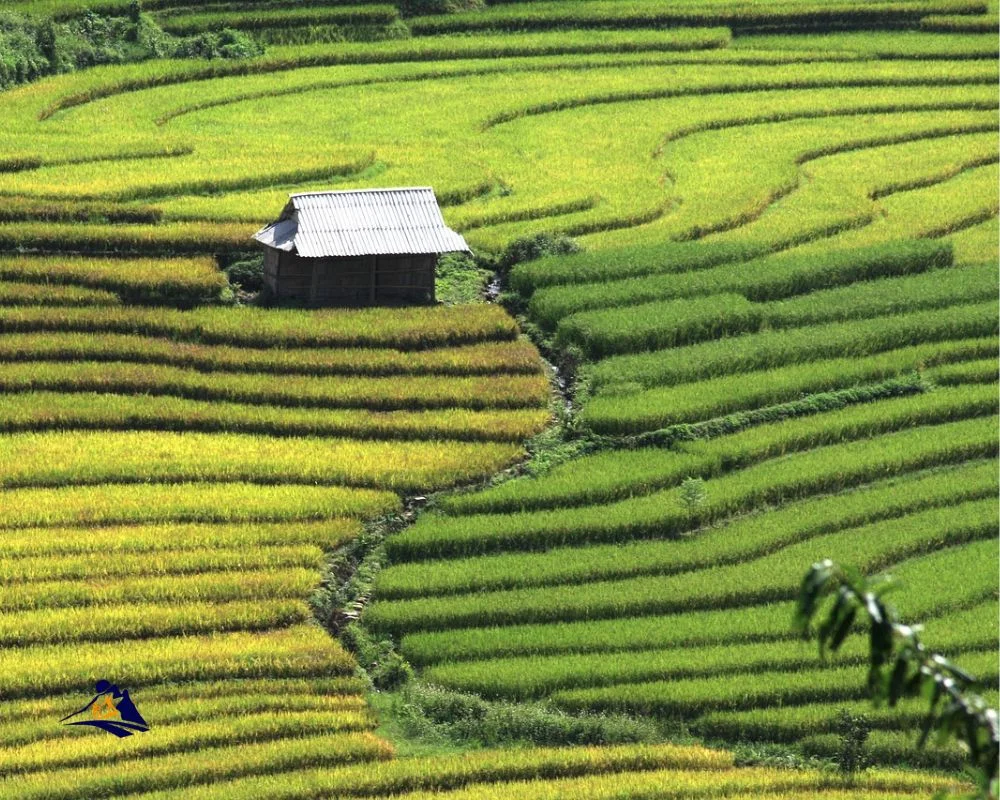 Take a stroll through the town's winding streets and immerse yourself in the local culture. Trek through the terraced fields to experience some of the most stunning views in all of Southeast Asia. Visit Fansipan Mountain, the highest peak in Indochina, and take in panoramic views of the surrounding landscape. For those seeking relaxation, unwind at one of Sapa's many hot springs. With so much to see and do, it's no wonder that Sapa has become a popular destination for couples seeking romance and adventure.
Take a Romantic Stroll through the Town
Take a leisurely walk through the charming town, hand in hand with your loved one, soaking up the sights and sounds of Sapa. As you wander through the streets, take note of the unique blend of Vietnamese and French architecture that makes this town so special. The nighttime ambiance adds to the romantic atmosphere, with dimly lit lanterns casting an enchanting glow over hidden alleys and cozy cafes.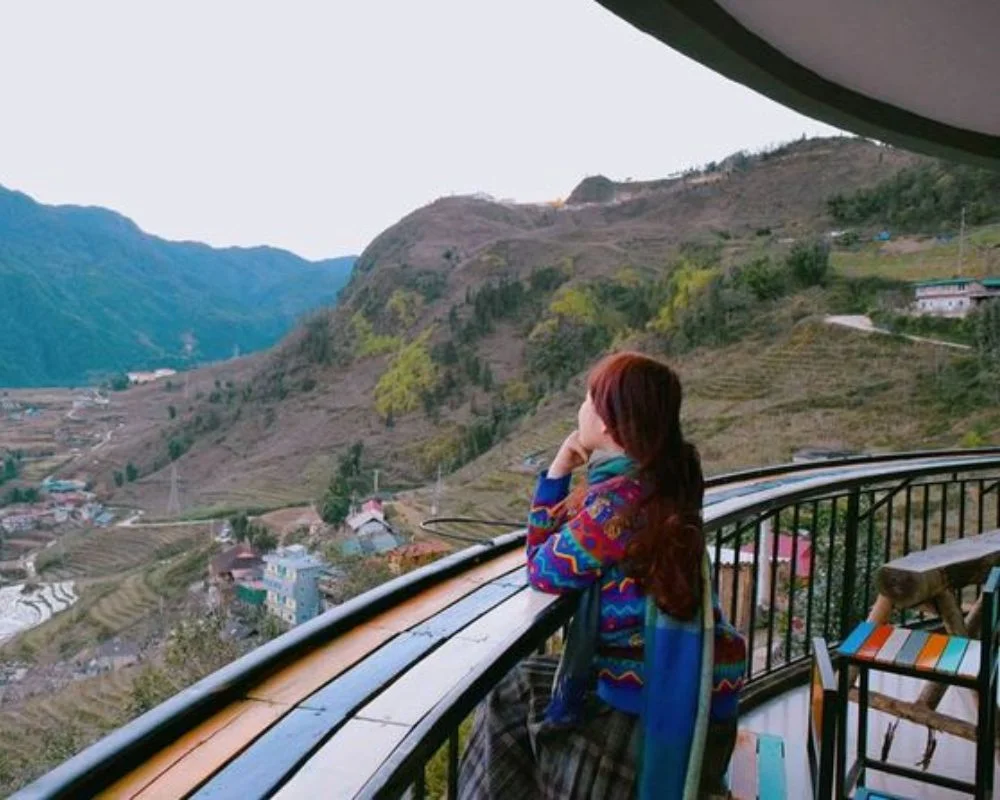 As you stroll through Sapa, don't be afraid to get lost in its winding streets and alleys. You never know what hidden gems you might discover along the way – perhaps a quaint little shop selling handmade crafts, or a quiet temple tucked away from the hustle and bustle of town. When you're ready for a break, stop at one of the many cafes or restaurants for some delicious local cuisine. This peaceful walk is just the beginning of your romantic adventure in Sapa – next up is a trek through picturesque rice terraces!
Trek through the Picturesque Rice Terraces
Trekking through Sapa's lush and vibrant rice terraces is an unforgettable experience. As you walk along the narrow paths, you'll be surrounded by rolling hills that are covered in a sea of green. The beauty of the terraced fields is truly breathtaking, and it's no wonder why so many visitors come to Sapa for this unique adventure. You can capture stunning photos of the picturesque landscapes as you discover hidden trails that lead up to some of the best viewpoints in the area.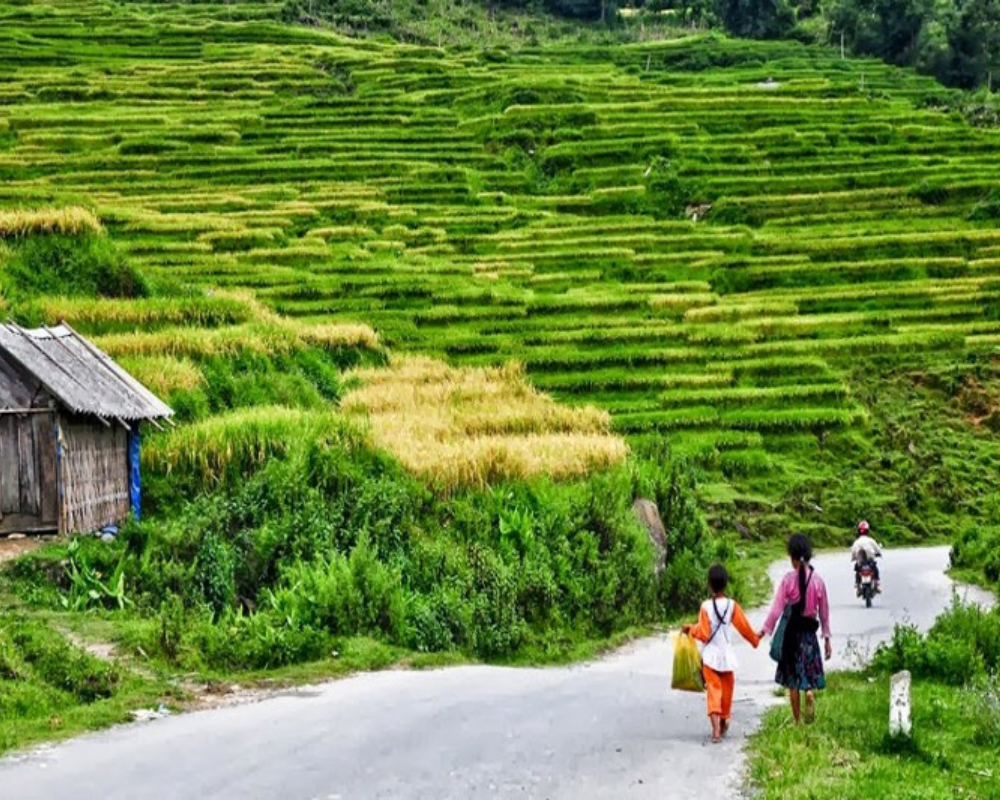 As you make your way through the rice terraces, you'll feel a sense of freedom that only comes from being immersed in nature. The fresh air and serene atmosphere will clear your mind, allowing you to fully appreciate the natural beauty around you. And if you're lucky enough to visit during harvest season (from August to October), you'll get to witness locals working hard on their farms, adding another layer of authenticity to your trekking experience. After exploring the rice terraces, it's time for a new adventure – visiting the majestic Fansipan Mountain!
Visit the Majestic Fansipan Mountain
Visiting the majestic Fansipan Mountain is a must-do for any adventure seeker in Sapa, with its peak standing at 3,143 meters above sea level making it the highest mountain in Vietnam. Climbing Fansipan can take two days and one night, but the breathtaking views of rice terraces and lush forests along the way are worth every step. Once you reach the summit, take a moment to catch your breath and enjoy a well-deserved picnic with your loved one.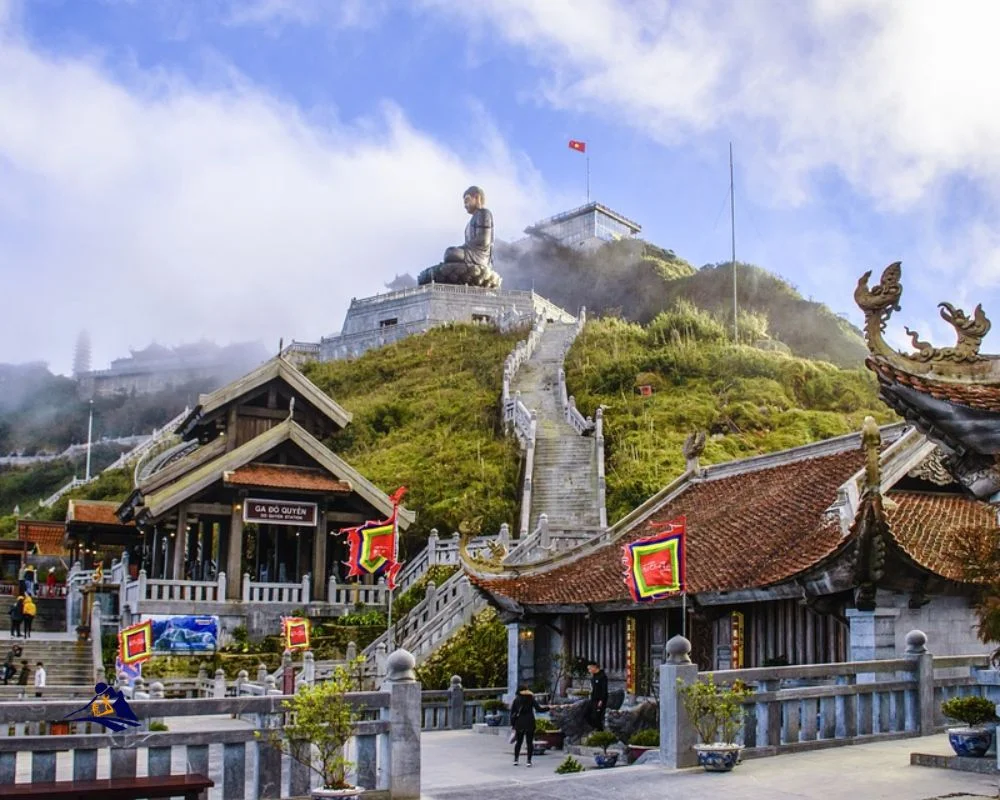 The view from the top is simply stunning, as you'll have an unobstructed 360-degree panoramic view of Sapa's rolling hills and valleys. Whether you're an experienced hiker or not, climbing Fansipan will surely be a memorable experience that will make your heart race with excitement. After this exhilarating adventure, it's time to relax and unwind in a hot spring – another romantic activity that Sapa has to offer.
Relax and Unwind in a Hot Spring
You'll love indulging in the warm and healing waters of Sapa's natural hot springs, rejuvenating your body and mind after your adventurous climb up Fansipan Mountain. Soaking bliss awaits you as you relax in these mineral-rich pools, which are said to have natural therapeutic effects on both physical and mental health. Immerse yourself in the tranquil surroundings, listen to the sound of flowing water and breathe in fresh mountain air.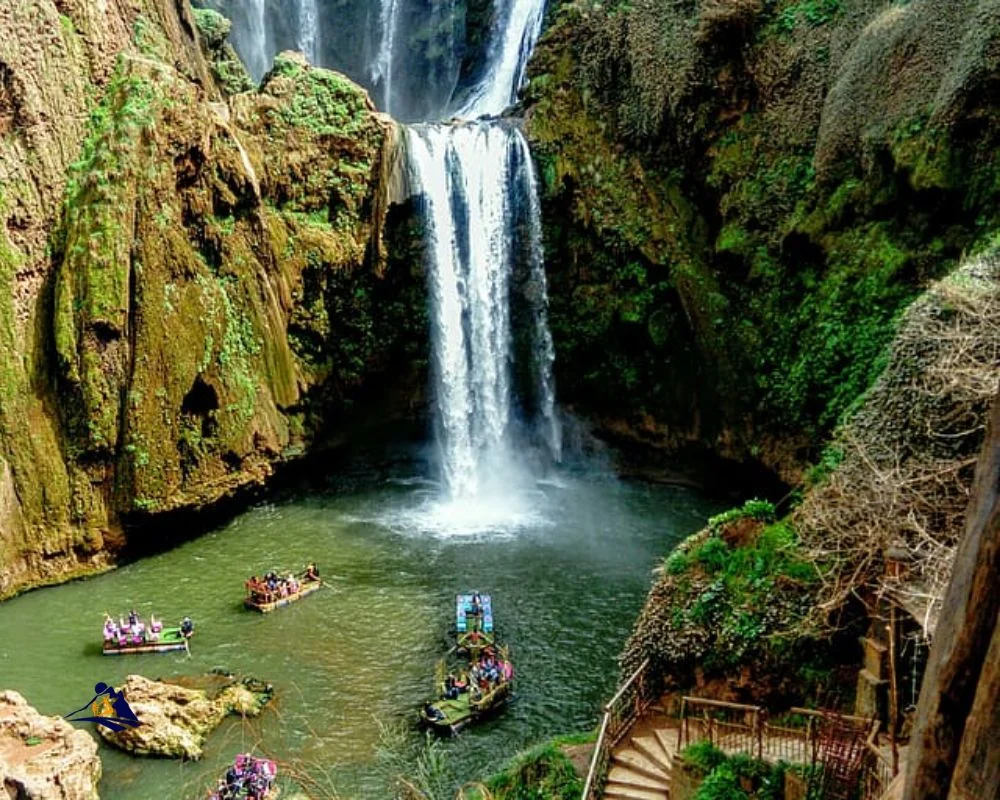 The hot springs are located just a short drive from Sapa town, offering a perfect escape from the hustle and bustle of daily life. Take a dip in one of the several pools set amidst lush greenery while enjoying stunning views of terraced rice fields and rolling hills. This is an experience that will leave you feeling refreshed, renewed, and ready for more adventure. And speaking of adventure, now it's time to explore the local culture!
Explore the Local Culture
Get a taste of the local culture by immersing yourself in the colorful markets and lively streets of Sapa. Attend cultural events that showcase the traditions and customs of the area, such as dance performances, festivals, and handicraft exhibitions. You'll get to witness firsthand how these practices have been passed down from generation to generation, making them an integral part of Sapa's identity.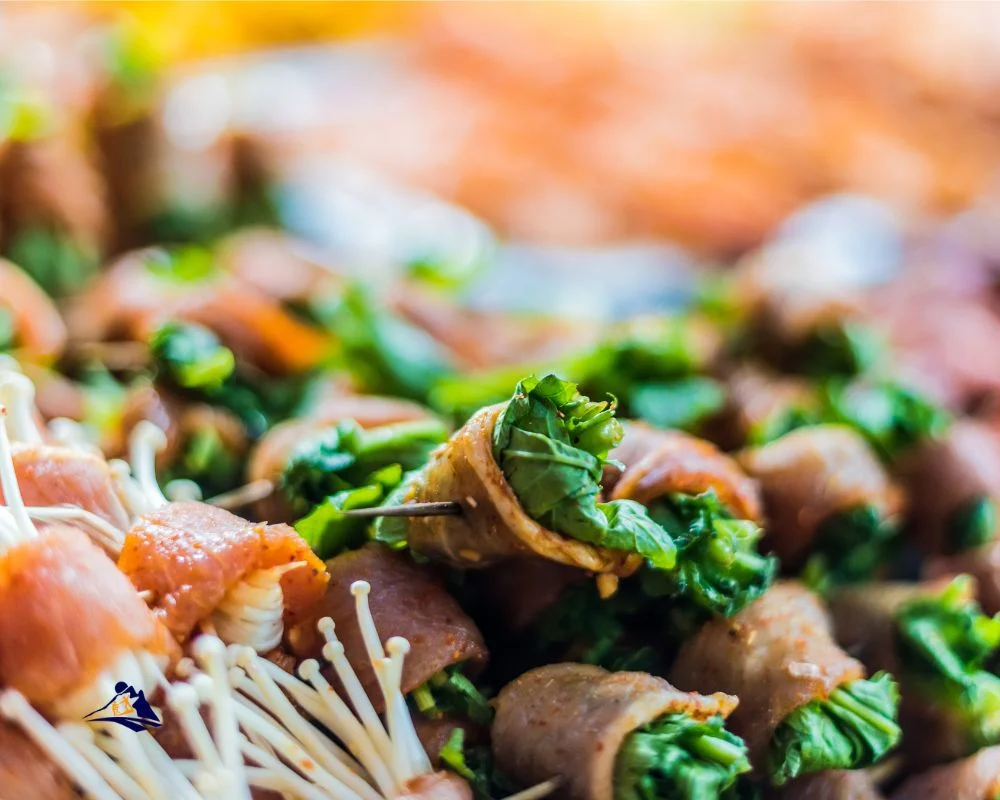 Apart from attending cultural events, you can also try local cuisine. The food in Sapa is heavily influenced by its surrounding ethnic groups, resulting in a diverse range of dishes with unique flavors and textures. Head to one of the many street food stalls or restaurants to try some traditional dishes like thang co (a stew made with horse meat), xoi (sticky rice), or banh mi (Vietnamese baguette). By exploring the local culture through food and festivities, you'll gain a deeper appreciation for Sapa's rich heritage before embarking on your next romantic adventure: taking a train ride through scenic landscapes!
Sapa 1 Day Tours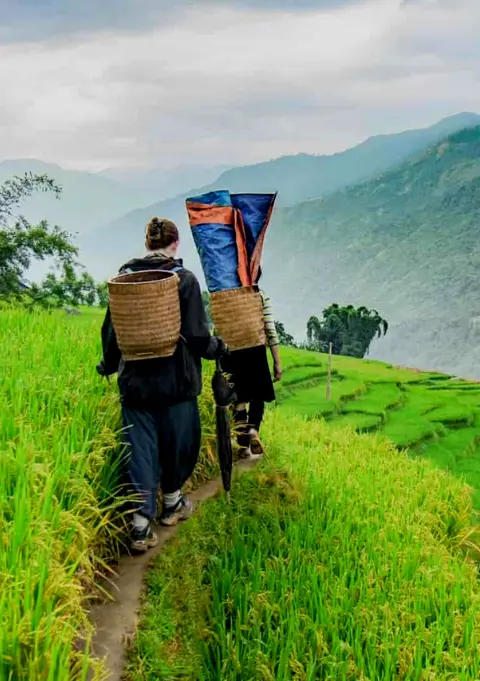 1 day experience
Moderate to challenging
Cultural immersion & active adventure
Rice fields, valleys & villages
​Private tours
Vegan-friendly
Sapa 2 Day Tours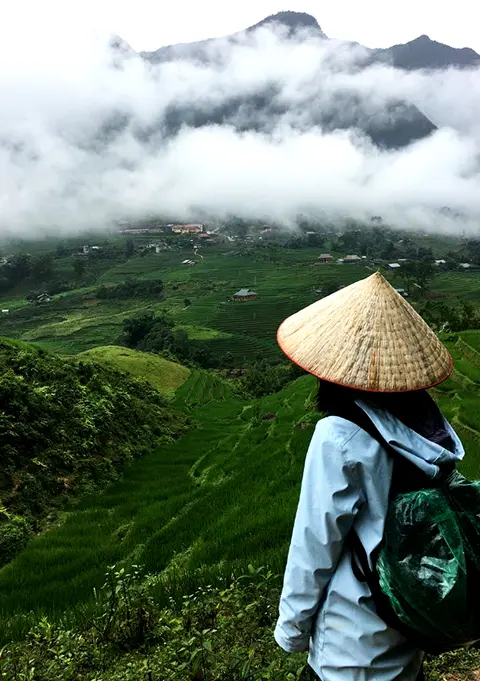 2 days 1 night experience
Moderate to challenging
Cultural immersion & active adventure
Mountains, valleys, rice fields and villages
​Private tours
Vegan-friendly
Sapa 3 Day Tours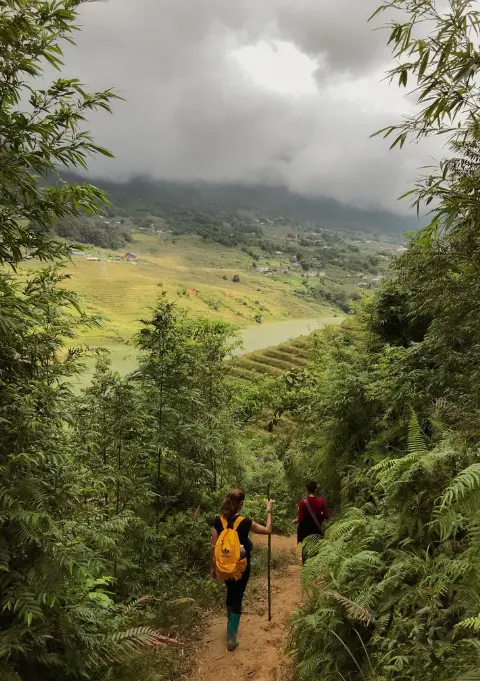 3 days 2 night experience
Moderate to challenging
Cultural immersion & active adventure
Mountains, valley, rice fields & villages
​Private tours
Vegan-friendly
Sapa 4 Day Tours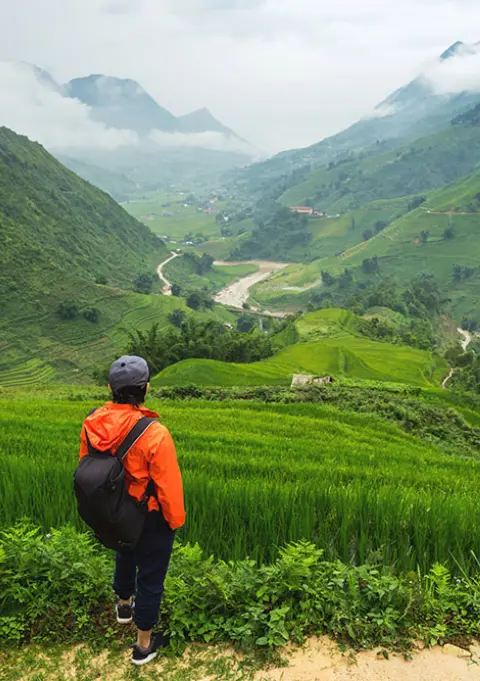 4 days 3 night experience
Moderate to challenging
Cultural immersion & active adventure
Mountains, valleys, rice fields & villages
​Private tours – Less Touristic
Vegan-friendly
Take a Romantic Train Ride
1) If you're looking for a romantic way to experience the breathtaking scenery of Sapa, consider taking a train ride. 2) As the train winds through the mountains, you'll be treated to stunning views of terraced rice paddies and misty valleys. 3) Plus, riding on local transportation is an authentic way to immerse yourself in the culture and daily life of the area.
Enjoy the Scenic Views
Take in the breathtaking views around you as you let your heart be filled with pure awe and wonder. Sapa is a place of natural beauty, where the mountains and rice terraces meet to create a stunning landscape. As you explore this romantic destination, make sure to take time to appreciate the scenery that surrounds you. Whether it's from your hotel balcony, on a hike through the mountains or while enjoying a meal at a local restaurant, there are plenty of opportunities to soak up the picturesque views.
For photography enthusiasts, Sapa offers endless possibilities for capturing beautiful images. The best time to visit is during September and October when the rice terraces turn golden and create an enchanting backdrop for your photos. Don't forget to bring your camera gear and use these photography tips: shoot during sunrise or sunset for warm light, look for patterns in the rice terraces or try playing with depth of field by using a wide aperture setting. With its stunning vistas and photogenic landscapes, Sapa is truly an ideal place for couples who love nature and want to capture their memories forever.
As you immerse yourself in the natural beauty of Sapa, why not experience local transportation?
Experience the Local Transportation
Hop on a motorbike or bicycle and feel the wind in your hair as you explore Sapa's winding roads and immerse yourself in the local transportation culture. There are various ride options available, from renting a bike to hiring a local guide who will take you on scenic routes that showcase the best of Sapa's natural beauty. Here are four ways to experience the local transportation scene in Sapa:
Rent a motorbike: This is an excellent option for those who want to explore at their own pace and have some prior riding experience. Rental shops can be found throughout town, with prices ranging from $6-15 USD per day.
Take a taxi: Taxis are readily available and offer a comfortable way to get around without having to navigate the winding roads yourself. Be sure to negotiate the price beforehand and agree on whether it will be metered or not.
Hire a guide: Local guides can take you on scenic routes while sharing their knowledge about Sapa's history, culture, and traditions. Prices vary depending on duration and itinerary but generally start from around $20 USD.
Ride a bicycle: For those who prefer something more eco-friendly, bicycles can be rented for around $2-5 USD per day. This is an excellent option for short trips or exploring nearby villages.
After experiencing Sapa's local transportation scene, why not rest your weary feet at one of its romantic hotels?
Stay in a Romantic Hotel
You'll fall in love with the quaint and charming hotels that are perfect for a romantic escape. Sapa offers a range of romantic hotel amenities, such as private balconies with stunning views of the surrounding mountains and valleys, cozy fireplaces to cuddle up next to on chilly nights, and luxurious spa treatments that will leave you feeling pampered and relaxed. Some hotels even offer special romantic packages that include champagne, chocolates, and rose petals scattered throughout your room.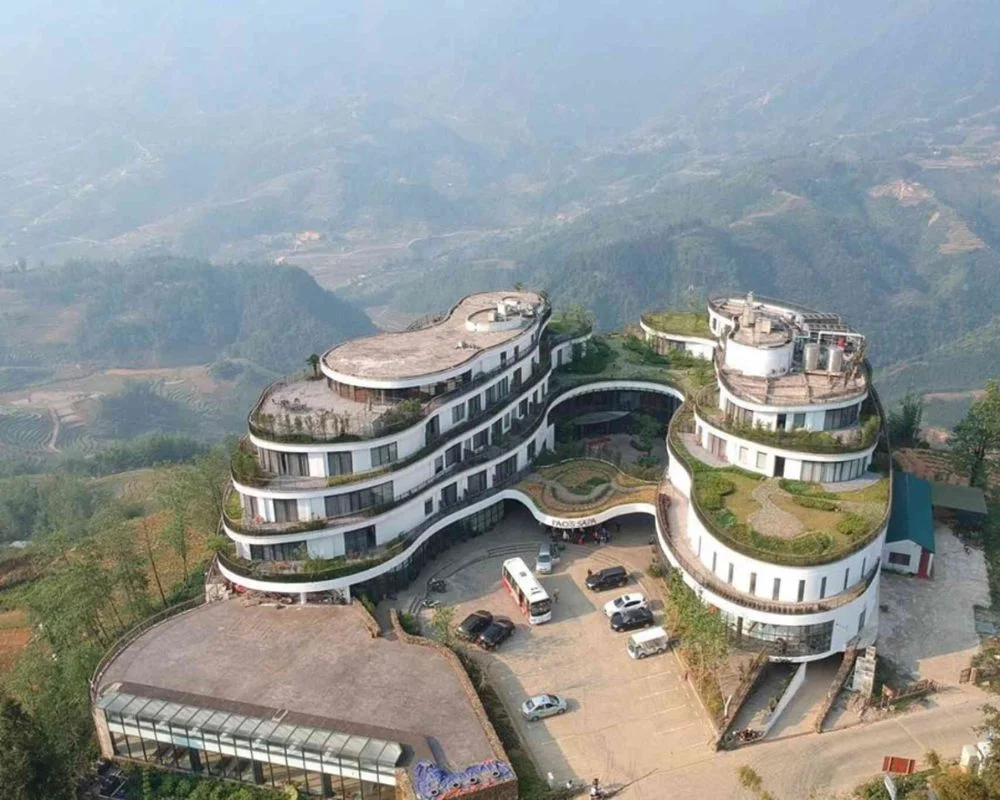 To make the most out of your romantic getaway in Sapa, it's best to book a hotel room during the low season or midweek when prices are more affordable. This also means fewer crowds, allowing you to fully immerse yourselves in each other's company without any distractions. The slower pace of life here gives you time to appreciate each other's presence while enjoying all Sapa has to offer. So why not indulge in some romance by booking a stay at one of Sapa's beautiful hotels? You won't regret it!
The Most Romantic Things To Do In Sapa Frequently Asked Questions
What is the best time of year to visit Sapa for a romantic getaway?
When planning a romantic getaway to Sapa, the best time to visit is from September to November or from March to May. During these months, you can enjoy the most romantic weather with cool temperatures and clear skies. For accommodation options, there are plenty of choices ranging from cozy homestays with local families to luxury hotels with breathtaking views of the mountains. You'll have the freedom to explore Sapa's stunning scenery, indulge in local cuisine, and immerse yourself in the unique culture of ethnic minority groups living in this mountainous region. Whether you're looking for adventure or relaxation, Sapa has something special for every couple seeking romance and unforgettable memories.
Are there any recommended restaurants for a romantic dinner in Sapa?
Looking for a romantic dinner in Sapa? You'll be pleased to know that there are plenty of options available to you. In fact, did you know that Sapa has over 50 restaurants serving traditional Vietnamese and European cuisine? But if you're looking for something extra special, head to The Hill Station Signature Restaurant. This restaurant offers a unique dining experience with its cozy atmosphere and rustic decor. And the food is just as impressive as the ambiance – think slow-cooked meats, fresh vegetables, and homemade bread. It's the perfect place for a romantic evening out in Sapa!
Can you recommend any specific trails or routes for trekking through the rice terraces?
Are you looking for an adventure through the stunning rice terraces in Sapa? Look no further, as we have some top recommendations for trekking routes. Local tour guides can provide invaluable knowledge and insights about the area, taking you to hidden spots that will make your trip unforgettable. As you journey through the terraced fields, be sure to stop at the top photo spots to capture breathtaking views of the landscape. With each step you take, feel a sense of freedom wash over you as you explore this beautiful corner of Vietnam.
What kind of clothing and gear is recommended for trekking in Sapa?
When trekking in Sapa, it's important to have the right Essential Equipment and Recommended Clothing. For footwear, sturdy hiking boots with good traction are a must, as well as waterproof clothing and layers for varying temperatures. It's also recommended to bring a small backpack with snacks, water, sunscreen, insect repellent and a first aid kit. Trekking Tips include staying on marked trails and being aware of changing weather conditions. Additionally, Safety Precautions should be taken seriously by informing someone of your itinerary and avoiding unnecessary risks while on the trail. With these tips in mind, you can experience the freedom of exploring Sapa's beautiful landscape with confidence and peace of mind.
Are there any local festivals or events that are particularly romantic or worth attending for couples?
Looking for some unique and romantic experiences in Sapa? Well, you're in luck! There are several local festivals and events that you and your partner can attend to create unforgettable memories. The nightlife options here are quite minimal, but that doesn't mean there aren't any cultural experiences to enjoy. One popular event is the Love Market Festival, where ethnic minorities gather to sell handmade crafts, traditional clothing, and food. It's held on Saturdays during full moon nights from September to December. Another exciting festival is the Bac Ha Horse Race Festival in June, which showcases horse racing competitions and traditional dances. These events offer a glimpse into the rich culture of Sapa while providing an opportunity for romance. So why not add them to your itinerary?
Conclusion
So there you have it – the most romantic things to do in Sapa. Whether you're looking for adventure, relaxation, or a chance to immerse yourself in the local culture, this beautiful town has something for everyone.
From strolling through the charming streets hand-in-hand with your loved one, to trekking through stunning rice terraces and soaking in hot springs together, Sapa is truly a romantic paradise. So why not book that dream trip now and let yourself fall head over heels for this enchanting destination? Trust us – it's worth it!
Sapa 1 Day Tours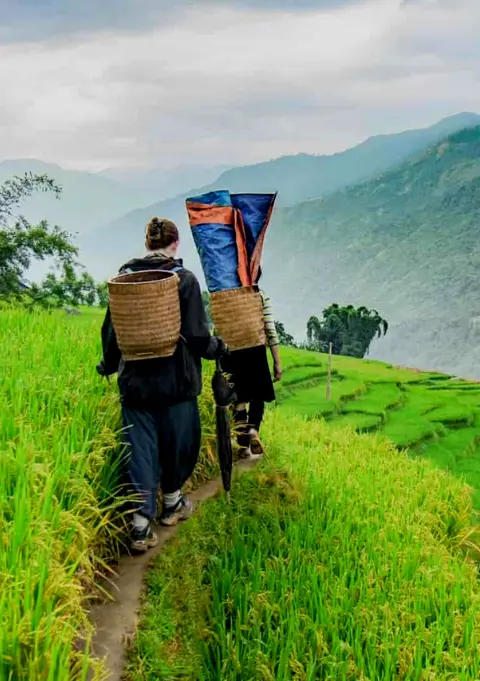 1 day experience
Moderate to challenging
Cultural immersion & active adventure
Rice fields, valleys & villages
​Private tours
Vegan-friendly
Sapa 2 Day Tours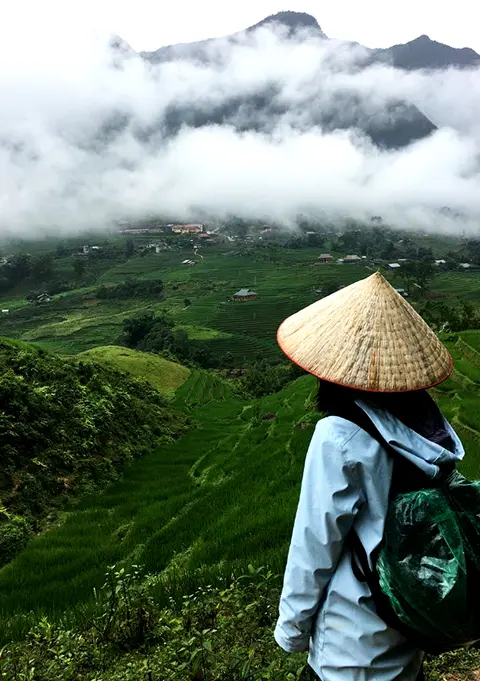 2 days 1 night experience
Moderate to challenging
Cultural immersion & active adventure
Mountains, valleys, rice fields and villages
​Private tours
Vegan-friendly
Sapa 3 Day Tours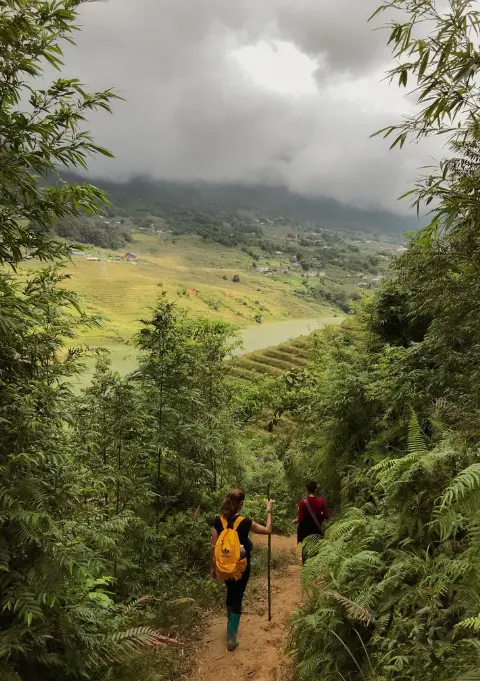 3 days 2 night experience
Moderate to challenging
Cultural immersion & active adventure
Mountains, valley, rice fields & villages
​Private tours
Vegan-friendly
Sapa 4 Day Tours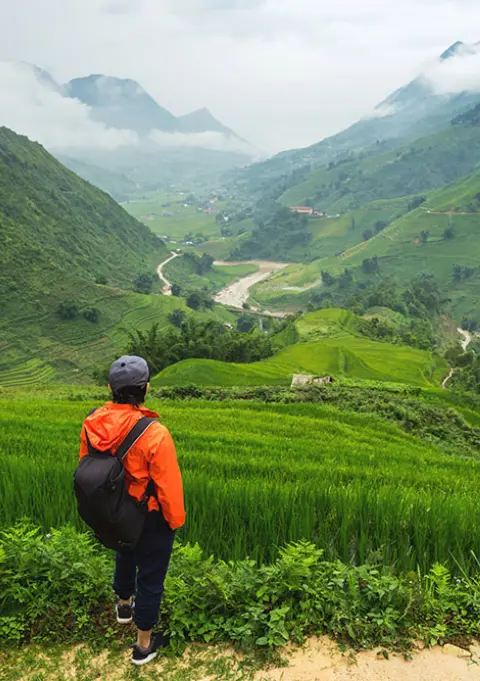 4 days 3 night experience
Moderate to challenging
Cultural immersion & active adventure
Mountains, valleys, rice fields & villages
​Private tours – Less Touristic
Vegan-friendly