You wake up early in the morning to witness one of nature's most beautiful displays – the sunrise. The sun slowly rises from behind the mountains, casting a warm glow on everything it touches. You feel a sense of freedom as you watch this spectacle unfold before your eyes. As you bask in this moment, you realize that Sapa is one of the best places to experience both sunrise and sunset.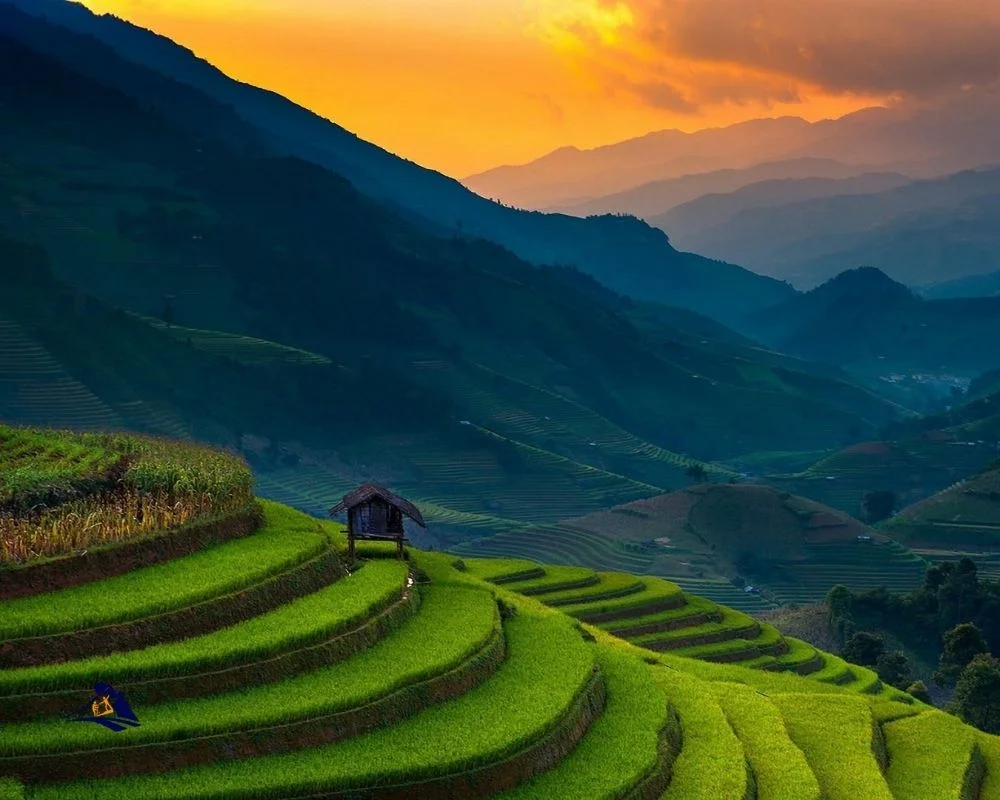 Sapa, located in the northern mountainous region of Vietnam, is known for its breathtaking landscapes and vibrant culture. It's a place where time slows down and nature takes center stage. Whether you're an adventure seeker or a lover of tranquility, Sapa has something for everyone. From towering mountains to cascading waterfalls, Sapa boasts some of the most picturesque spots for experiencing both sunrise and sunset. So pack your bags and join us on a journey through Sapa's best spots for witnessing these natural wonders.
Fansipan Mountain
If you're up for a bit of a challenge, don't miss out on the breathtaking views that await you at the peak of Fansipan Mountain. Standing tall at 3,143 meters above sea level, it is the highest mountain in Indochina and offers stunning panoramic views of Sapa valley. You can choose to take the cable car or hike along one of the many trails to reach the summit.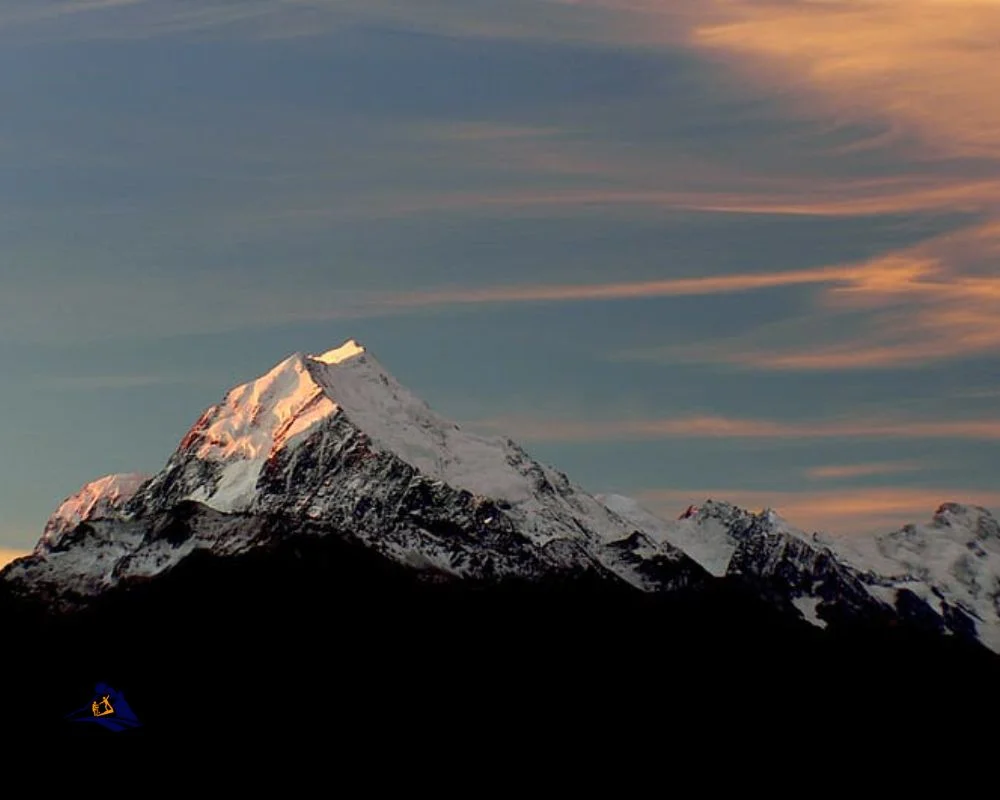 The cable car ride itself is an experience worth having as it takes you through lush green forests and over deep valleys. If hiking is more your style, there are several trails available with varying levels of difficulty. Regardless of how you choose to get to the top, make sure to bring warm clothing as temperatures drop significantly at higher altitudes. After reaching the peak, sit back and enjoy nature's spectacular show as the sun rises or sets over Sapa valley before continuing your adventure down Ham Rong Mountain.
Ham Rong Mountain
Take a stroll through the flower gardens on Ham Rong Mountain and you'll be greeted by an explosion of colors and scents. As you wander through the winding paths, you'll see a variety of flowers native to Sapa, including orchids, azaleas, and peach blossoms. At sunset, climb up to the peak for an unforgettable view as the sky turns shades of orange and pink over the surrounding mountain ranges.
Take a Stroll Through the Flower Gardens
As you stroll through the flower gardens, don't you feel a sense of peace and serenity that only nature can provide? The Flower Gardens in Sapa are a must-visit destination for anyone who loves nature. Here are 4 things to explore when visiting the garden:
Best time to visit: Plan your visit early in the morning or late afternoon as these times offer less crowd.
Popular species: Take a closer look at the beautiful Azaleas, Cherry Blossoms and other flowering plants that grow abundantly in this area.
Photography tips: Get your camera ready and capture stunning shots by playing with different angles and lighting; try taking close-up shots of flowers or panoramic views of the mountains.
Must-see attractions: Visit some of the garden's highlights like the Love Waterfall or Silver Falls, which can be found on walking trails that lead deeper into Sapa's lush forests.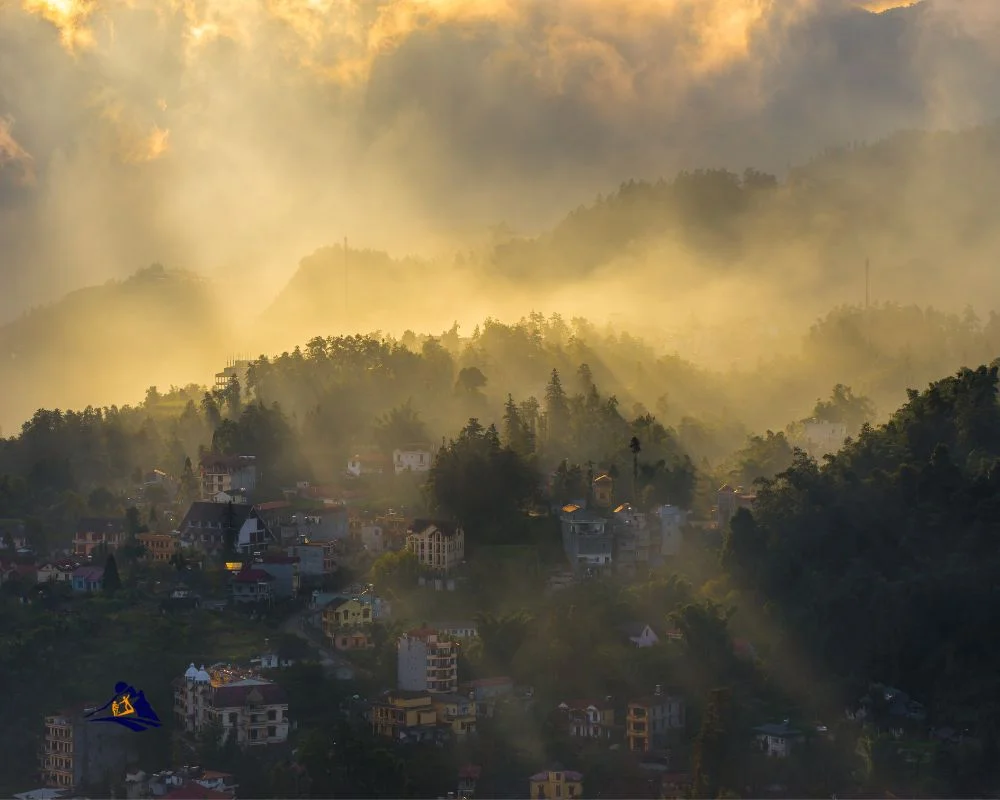 So why not add exploring Sapa's flower gardens to your itinerary while traveling around Vietnam? Witnessing a stunning sunset is next on our list!
Witness a Stunning Sunset
Watching the sky turn into a canvas of warm colors as the day comes to an end is a breathtaking experience that shouldn't be missed while exploring Vietnam's natural beauty. Sapa offers some of the best spots for witnessing a stunning sunset, and it's worth planning your itinerary around catching one during your visit. To help you make the most out of this magical moment, here are some photography tips and recommendations on the best time to visit.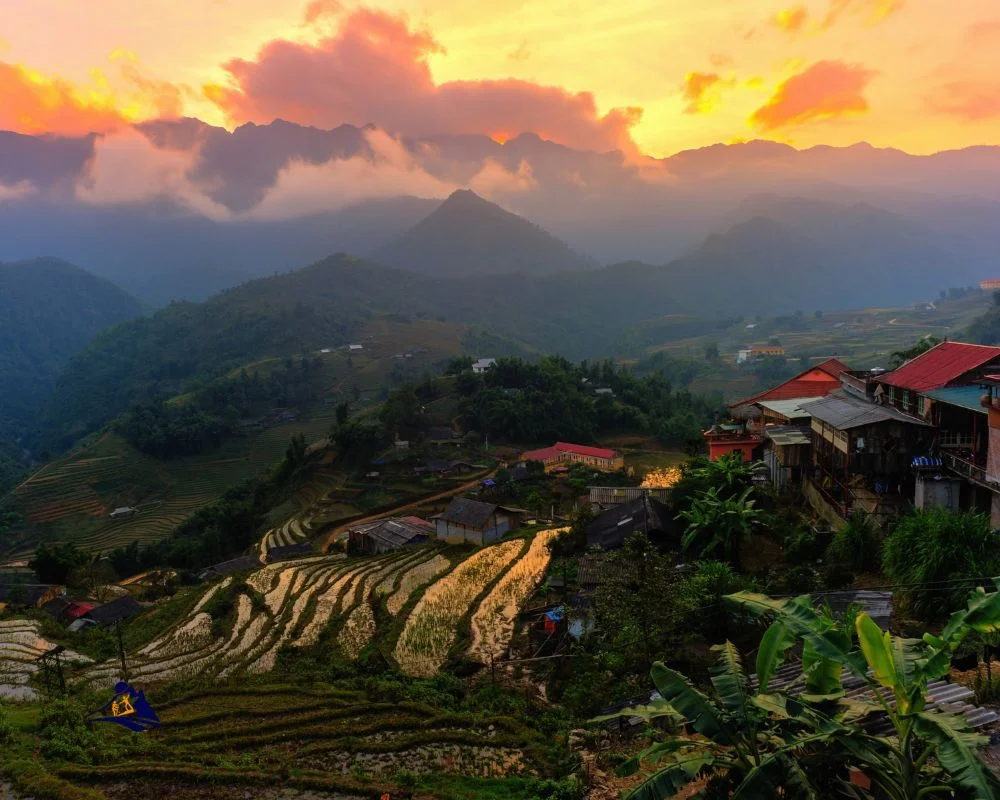 The ideal time to witness a sunset in Sapa is between 5:00 pm and 6:00 pm, depending on the season. During this time, the sky transforms into hues of red, orange, pink, and purple, creating an enchanting scene against the mountainous landscape. Head over to one of these top locations below for unobstructed views of this natural masterpiece.
| Spots | Location | Description |
| --- | --- | --- |
| Ham Rong Mountain | Central Sapa Town | Panoramic view overlooking Sapa Valley |
| Love Waterfall | Tram Ton Pass | Waterfall with scenic backdrop |
| Fansipan Peak | Hoang Lien National Park | Highest peak in Indochina with sweeping views |
Now that you've witnessed a beautiful sunset in Sapa, it's time to explore Cat Cat Village – home to ethnic minorities such as H'Mong and Dao people.
Cat Cat Village
Exploring Cat Cat Village is like peeling back layers of history and culture, revealing the hidden gems of Sapa. As you wander through the winding paths of this traditional village, you'll discover culture at every turn. The Hmong people who call this place home have preserved their heritage for generations, and you can see it in the intricate embroidery on their clothing and the traditional homes that dot the landscape.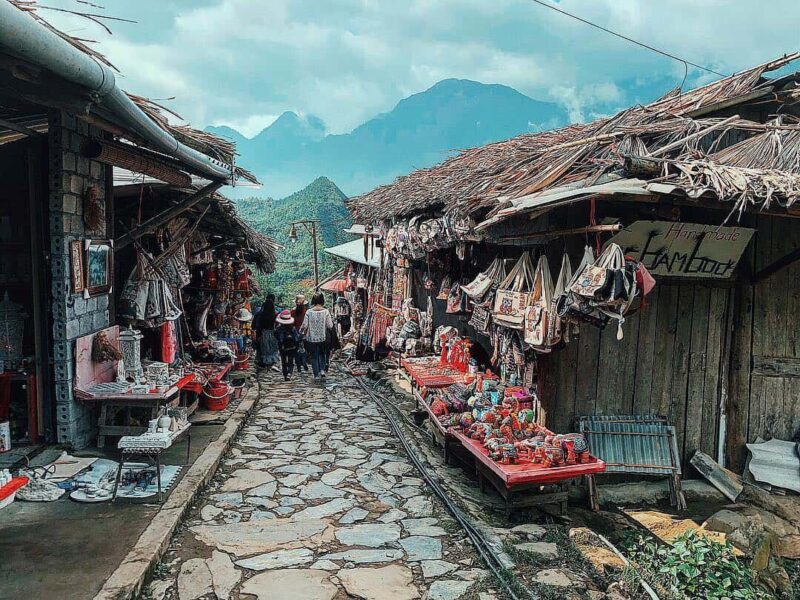 Take your time as you explore traditional Hmong houses made from wood and bamboo. You'll also find local artisans selling handmade crafts and souvenirs that make perfect gifts for loved ones back home. Don't forget to check out the stunning rice terraces that surround the village, which are especially beautiful during sunrise or sunset. From here, head just a few kilometers away to Silver Waterfall for another breathtaking natural wonder.
Silver Waterfall
Admire the majestic Silver Waterfall as it cascades down the mountainside, creating a breathtaking view that you won't soon forget. The rushing water and mist create an immersive experience that will leave you feeling refreshed and invigorated. And if you're looking for the perfect sunrise spot, look no further than the overlook above the waterfall – with expansive views of the valley below, it's an ideal place to start your day in Sapa.
Admire the Majestic Waterfall
Feeling the mist and hearing the roar of the waterfall as it cascades down the rocks is an unforgettable experience that immerses you in nature's grandeur. You can admire Silver Waterfall, located just outside Sapa town, from a viewing platform that provides a sweeping view of this majestic natural wonder. If you're feeling adventurous, explore nearby villages where you can discover hidden waterfalls hidden within lush valleys.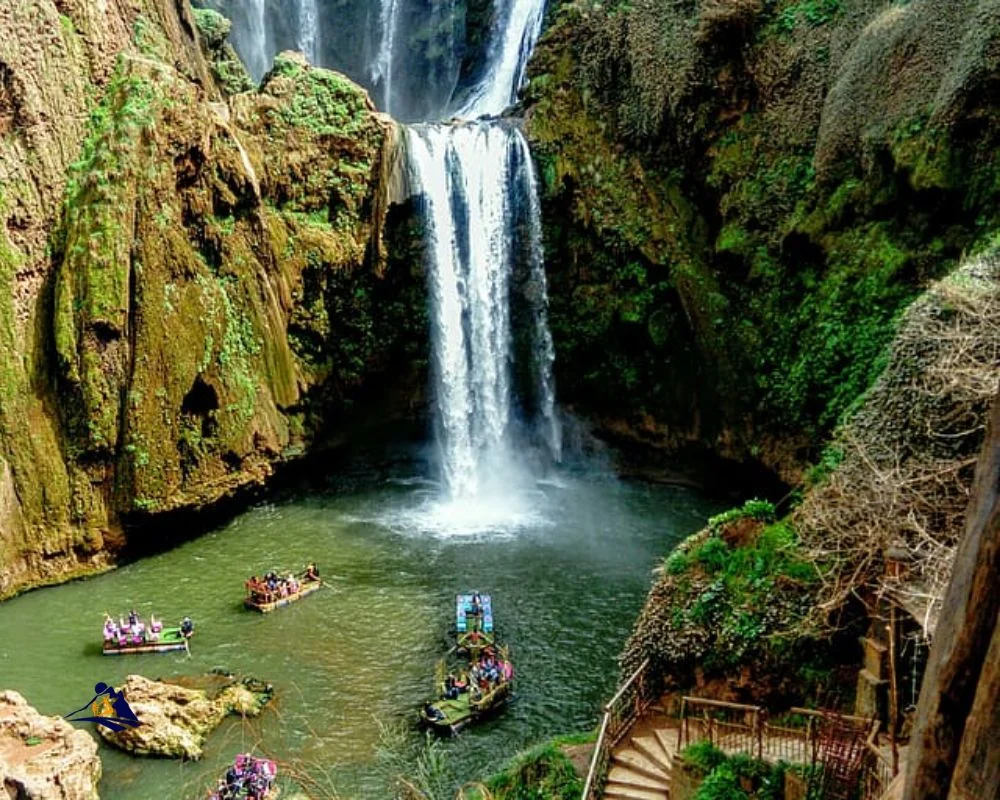 To fully appreciate Silver Waterfall, make sure to take your time and savor the moment. Here are three ways to do so:
Take a leisurely stroll along one of the many trails leading up to the waterfall.
Find a quiet spot near the base of Silver Waterfall and let yourself be mesmerized by its beauty.
Capture stunning photos as you stand on the viewing platform or hike around for different vantage points.
Now that you've experienced Silver Waterfall, it's time to continue your adventure and enjoy the sunrise over the valley.
Enjoy the Sunrise Over the Valley
As the first rays of light peek through the mountains, you'll be awestruck by the breathtaking beauty that surrounds you. There's no better place to experience the breathtaking sunrise than in Sapa. One of the best spots is at Ham Rong Mountain, where you can explore the valley and take in a panoramic view of Sapa town as well as nearby villages.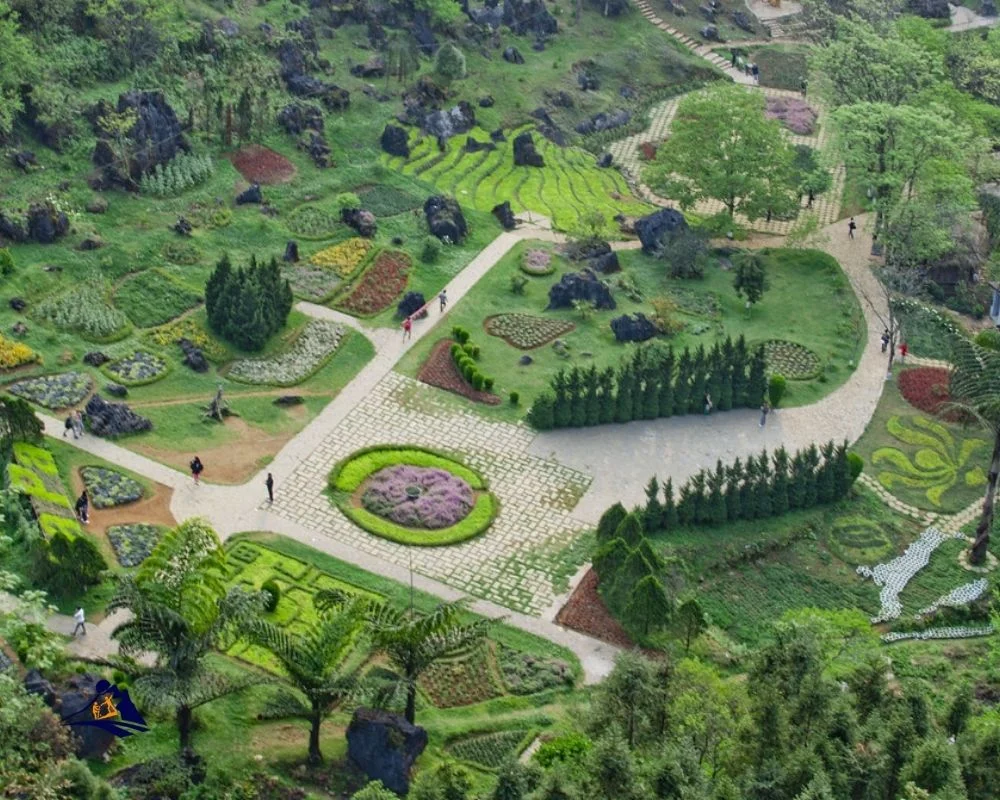 The journey up to Ham Rong Mountain is a bit steep but worth every step. As you make your way up, you'll pass beautiful gardens full of colorful flowers and lush greenery. Once you reach the top, you'll be rewarded with an unforgettable view of the sun rising over the valley below. The colors of orange, pink and yellow blend together creating a picturesque scene that will leave you speechless. After experiencing this glorious sight, head down towards Love Waterfall for another amazing adventure.
Love Waterfall
Take a scenic hike to Love Waterfall and witness the beauty of nature unfold before your very eyes. The trek is not only refreshing but also offers a glimpse of the local culture as you pass by rice paddies, bamboo forests, and Hmong villages. As the day comes to an end, capture the breathtaking sunset over the valley for a truly unforgettable experience.
Take a Scenic Hike to the Waterfall
Head out on a picturesque hike to the Love Waterfall and bask in the beauty of nature's serene scenery. Sapa is home to some of the best trails for scenic hikes, and this one leading to Love Waterfall is no exception. To help you make the most out of your experience, here are some tips to keep in mind:
Best trails: The trek from Tram Ton Pass offers stunning views of Hoang Lien Son Mountain Range.
Essential gear: Wear comfortable shoes with good grip, bring sunscreen and insect repellent, and carry enough water for the hike.
Photography tips: Bring a polarizing filter for your camera lens to reduce glare off water surfaces and enhance colors. Also, use a tripod to capture long exposures of rushing waterfalls.
Safety precautions: Stay on designated paths, avoid climbing rocks near waterfalls as they could be slippery, and always follow park rules.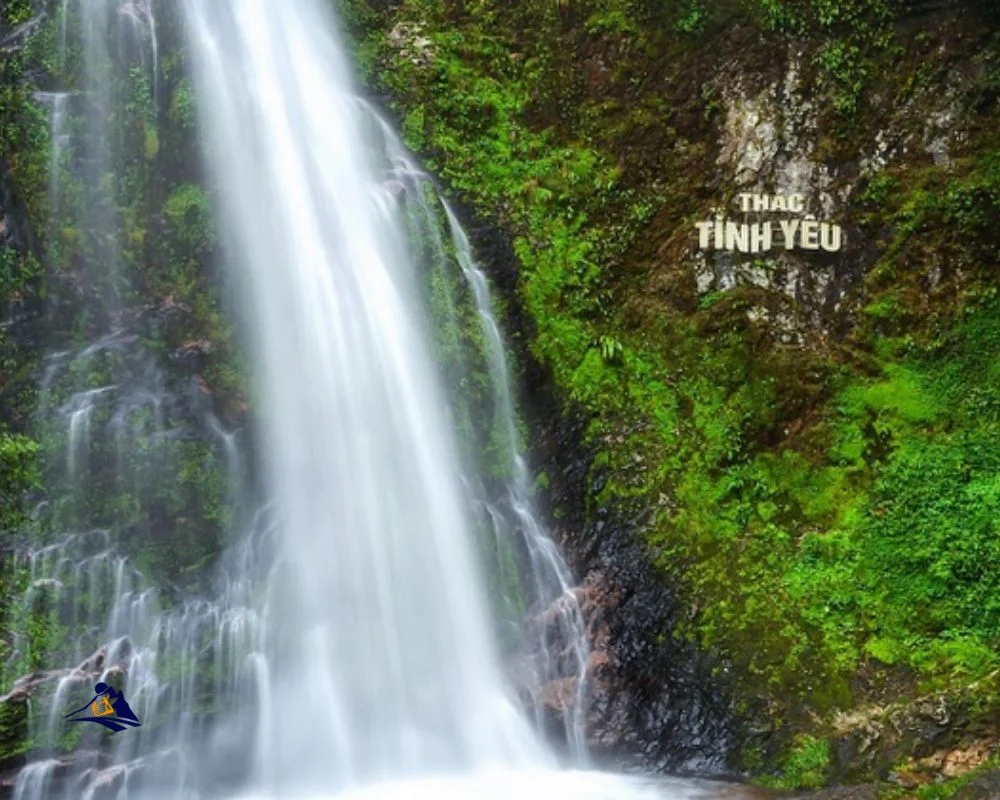 As you arrive at Love Waterfall after an exhilarating hike through lush forests and breathtaking landscapes, take in its majestic beauty. Capture stunning photos with these photography tips while also keeping yourself safe by following safety precautions. With that said, now it's time to head back down the trail so you can capture the sunset over the valley!
Capture the Sunset Over the Valley
You don't want to miss out on catching a breathtaking view of the valley as the sun goes down, so make sure to bring your camera and hike back before it gets too dark! The best time to visit this spot is during the dry season from September to November or in March and April when the weather is clear. As you trek up through the hills, you'll come across stunning rice terraces and local villages that add charm to your journey.
Photography tips: To capture the perfect sunset shot, remember to use a tripod for stability and play around with different angles. Try taking wide shots of the entire valley or zooming in on specific areas for a more detailed image. Don't forget about composition – try including elements like trees or rocks in your shot for added interest. Once you've captured your perfect photo, take a moment to sit back and enjoy one of nature's most beautiful displays.
As night falls, it's time to head back towards Muong Hoa Valley where more adventures await!
Muong Hoa Valley
Trek through the picturesque Muong Hoa Valley to witness some of the most stunning views in Sapa. The valley boasts endless stretches of emerald rice paddies, cascading waterfalls, and verdant hills that seem to go on forever. As you make your way through the valley, be sure to take a moment to watch the sunrise over the rice fields, casting an ethereal glow across the landscape.
Trek Through the Picturesque Valley
As you make your way through the winding valley, the stunning scenery will take your breath away. Trekking through Muong Hoa Valley is an unforgettable experience that allows you to explore the valley's natural beauty and immerse yourself in the local culture. The valley is home to several ethnic minority groups, including the Hmong, Dao, and Tay communities, who have their own unique traditions and lifestyles.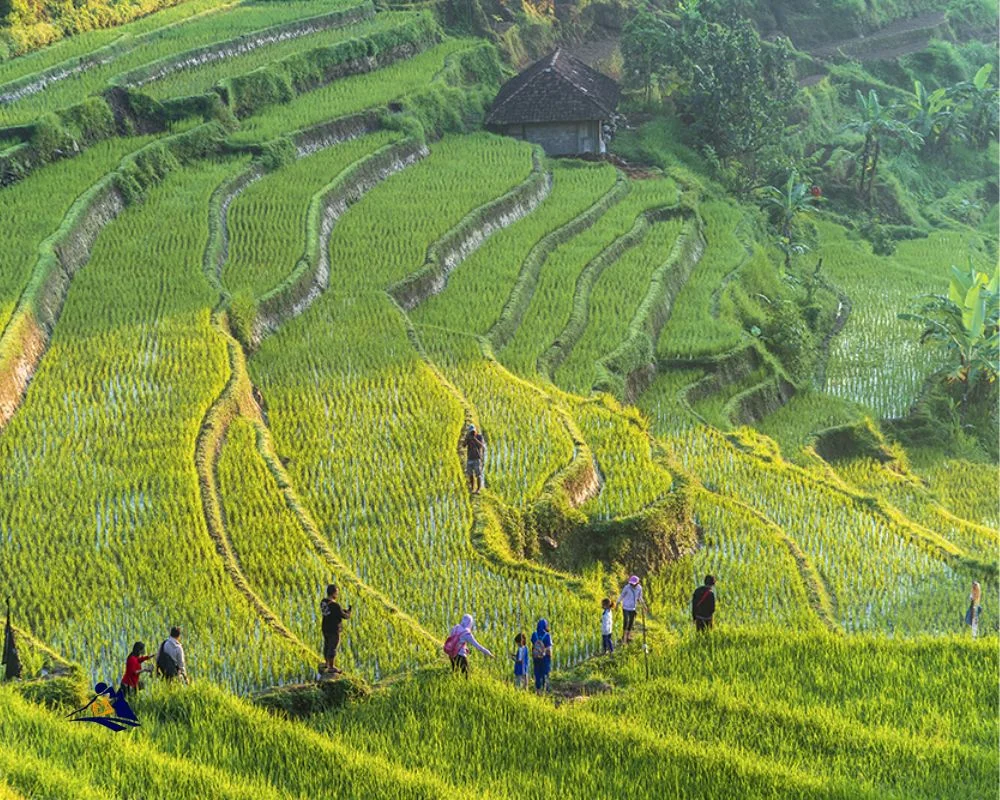 Valley exploration provides a glimpse into their daily lives as you pass by their houses and observe them tending to their crops or animals. Along the way, you'll come across terraced rice fields that stretch out for miles and hillsides blanketed with colorful flowers. The peaceful ambiance of this idyllic landscape is perfect for those seeking solitude or a chance to escape from city life. After trekking through Muong Hoa Valley during the day, it's time to watch the sunrise over the rice fields next!
Watch the Sunrise Over the Rice Fields
Witnessing the dawn break over the lush greenery of Muong Hoa Valley is truly a sight to behold, reminding us that every new day brings with it endless possibilities. The sunrise here is a special experience for any nature lover or photography enthusiast. To make the most of this stunning moment, be sure to arrive at least 30 minutes before sunrise in order to find your ideal spot and set up your equipment.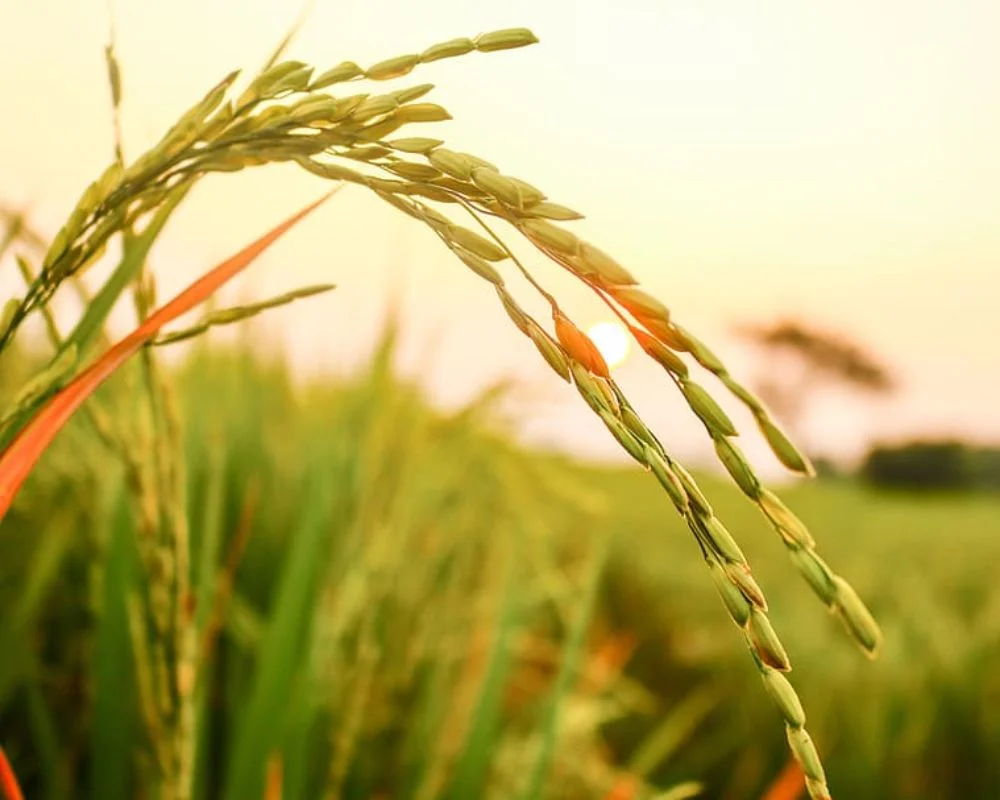 The best time to visit for sunrise is between September and November when the rice terraces are at their most vibrant and golden hue. As the sun rises from behind the mountains, it illuminates the valley with its warm rays, casting long shadows across the rice fields below. Don't forget to experiment with different camera settings such as exposure time and white balance in order to capture that perfect shot! After taking in this breathtaking view, your next destination should be Ta Phin village where you will discover a unique cultural experience unlike any other.
Ta Phin Village
If you're looking for a charming village to experience the magic of dawn and dusk, Ta Phin's got you covered! This small village boasts some of the best spots for sunrise and sunset in Sapa. Located about 12 kilometers from Sapa town, Ta Phin is home to both Red Dao and Black Hmong ethnic groups, offering visitors a unique cultural immersion experience.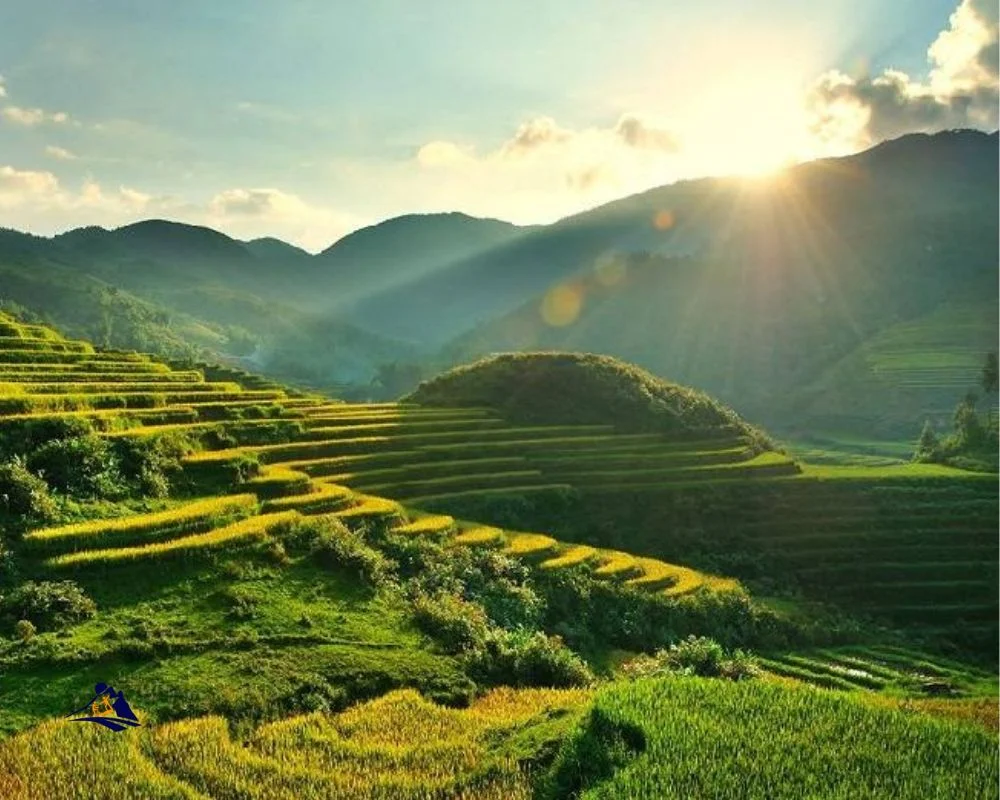 While watching the sunrise or sunset over the rice fields is an unforgettable moment, there's more to Ta Phin than just nature's beauty. The village is known for its traditional crafts such as brocade weaving and silver carving. You can witness firsthand how these skilled artisans create intricate designs with their hands, using techniques that have been passed down through generations. Don't forget to bring cash if you want to purchase any souvenirs – supporting local businesses helps sustain their traditions and way of life.
The Best Spots For Sunrise And Sunset In Sapa Frequently Asked Questions
What is the best time of year to visit Sapa for sunrise and sunset views?
If you're looking for the best photography spots in Sapa to capture stunning sunrise and sunset views, it's important to consider the ideal weather conditions. The best time of year to visit is during the dry season from September to November, when you can expect clear skies and a crisp mountain breeze. During this time, the rice terraces are also at their most vibrant, providing a breathtaking backdrop for your photos. Make sure to pack warm layers as temperatures can drop significantly during early morning or late evening shoots. With Sapa's natural beauty and perfect weather conditions during the dry season, you'll have plenty of opportunities to capture unforgettable moments that will make you feel free and alive.
Are there any special permits required to visit Fansipan Mountain?
Are you ready to conquer Fansipan Mountain and witness its breathtaking views? Before packing your bags, you should know that permit requirements may apply. Getting the necessary permits is crucial for mountain access and ensuring a safe journey. Think of it as a key to unlock the door to adventure. Without it, you can't fully experience the beauty of this majestic mountain. So don't let permit requirements hold you back from reaching new heights and experiencing unforgettable moments at Fansipan Mountain.
Can visitors hike to the top of Ham Rong Mountain?
If you're looking for a great hiking adventure in Sapa, Ham Rong Mountain is definitely worth checking out. With hike accessibility for visitors of all levels, this mountain offers some of the most scenic views in the area. You'll be rewarded with breathtaking landscapes of lush greenery, colorful flowers and panoramic vistas that will leave you breathless. The trail to the top takes about 2 hours, but it's well worth it once you reach the summit. Whether you're an experienced hiker or just starting out, Ham Rong Mountain is a must-visit destination for anyone who loves exploring nature and feeling free amidst stunning scenery.
Is it possible to swim in the Love Waterfall?
Did you know that the Love Waterfall in Sapa is one of the most captivating waterfalls in Vietnam, with a drop of over 100 meters? It's no wonder why so many visitors are drawn to its beauty. However, while it may be tempting to take a refreshing swim in the cool waters below, it's important to note that swimming safety should always come first. To access the waterfall, visitors must embark on a moderate hike and cross through rocky terrain, so proper footwear and caution are necessary. If you're looking for a unique and adventurous experience during your visit to Sapa, visiting Love Waterfall should definitely be on your list – just make sure to prioritize safety above all else.
Are there any local festivals or events that coincide with sunrise or sunset viewing in Sapa?
Immerse yourself in the local traditions and cultural significance of Sapa by exploring the festivals and events that coincide with sunrise or sunset viewing. From the vibrant Flower Hmong Festival to the colorful Bac Ha Market, there are plenty of opportunities to witness traditional dance performances, sample delicious local cuisine, and shop for unique handicrafts. Whether you're a solo traveler seeking adventure or a couple in search of romantic escapades, these events offer a window into the heart and soul of Sapa's rich culture. So why not indulge your subconscious desire for freedom by experiencing something truly unforgettable during your trip?
Conclusion
Congratulations! You now know the best spots for sunrise and sunset in Sapa. Your journey to this beautiful town will never be complete without experiencing these breathtaking views. Imagine yourself standing on top of Fansipan Mountain, the highest peak in Indochina, with the sun slowly rising behind you, painting the sky with a kaleidoscope of colors.
You could also visit Cat Cat Village, where you can witness the sun setting behind the rice paddies and feel like you've been transported back in time. For an even more romantic vibe, head over to Love Waterfall and watch as the sun bids farewell for the day while water cascades down the rocks beside you. So pack your bags, grab your camera, and get ready to capture some unforgettable moments!
One example is when I visited Ham Rong Mountain during my trip to Sapa. As soon as I reached its summit before sunrise, I was immediately mesmerized by what I saw – a sea of clouds stretching out as far as my eyes could see. The feeling was indescribable; it was like being on top of the world! And just when I thought it couldn't get any better than that, out came the sun from behind me – casting a warm glow on everything around me – it was truly breathtaking!