Recently updated on May 16th, 2023 at 12:22 pm
Welcome to Sapa, a picturesque town nestled in the mountains of northern Vietnam. This charming destination is known for its stunning scenery, cultural diversity, and outdoor activities that will appeal to any traveler seeking adventure or relaxation.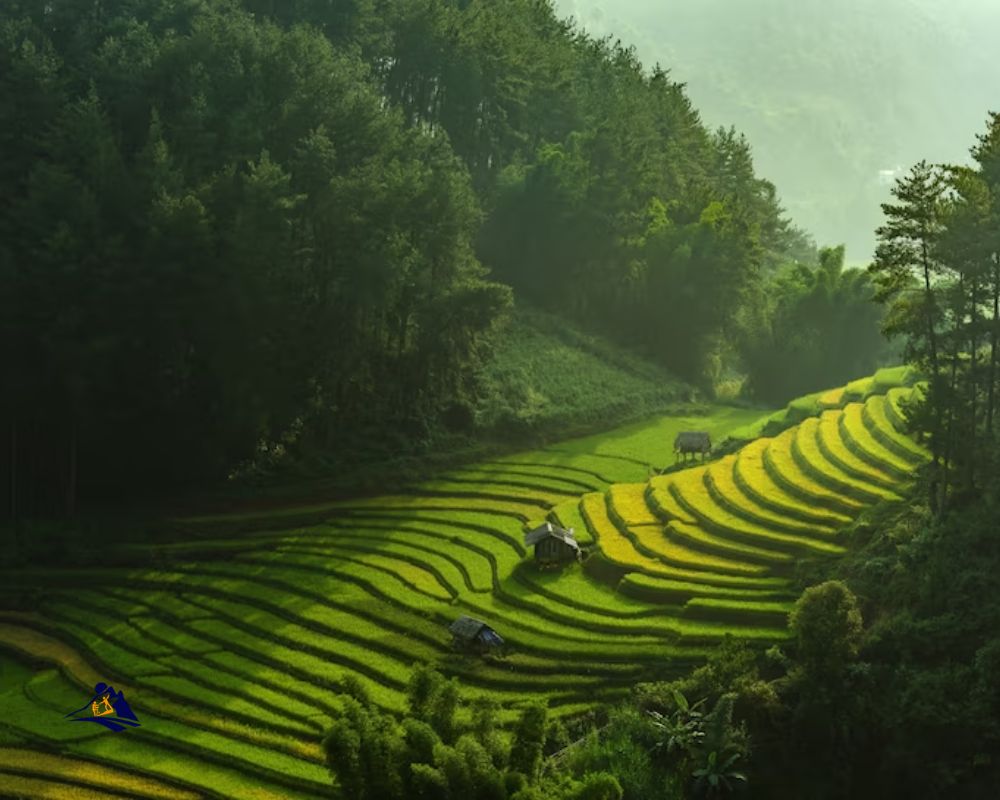 If you're looking for an authentic experience, then consider taking a Sapa tour with a local private guide. By choosing a local private guide, you'll have the opportunity to explore hidden gems that are off the beaten path and learn about the customs and traditions of the ethnic minority groups who call this region home.
Whether you want to trek through rice terraces, visit traditional villages, or sample delicious local cuisine, your knowledgeable guide can help you tailor your itinerary to suit your interests and preferences. So why wait? Book your Sapa tour with a local private guide today and discover all that this captivating destination has to offer!
Exploring The Majestic Mountains Of Sapa
Trekking trails that lead to stunning mountain vistas, and local markets brimming with colorful textiles, and exotic produce – are only some of the highlights that await you in Sapa. Nestled within Vietnam's northwest highlands, this remote region is a paradise for adventurous travelers who crave an authentic escape from the hustle and bustle of city life.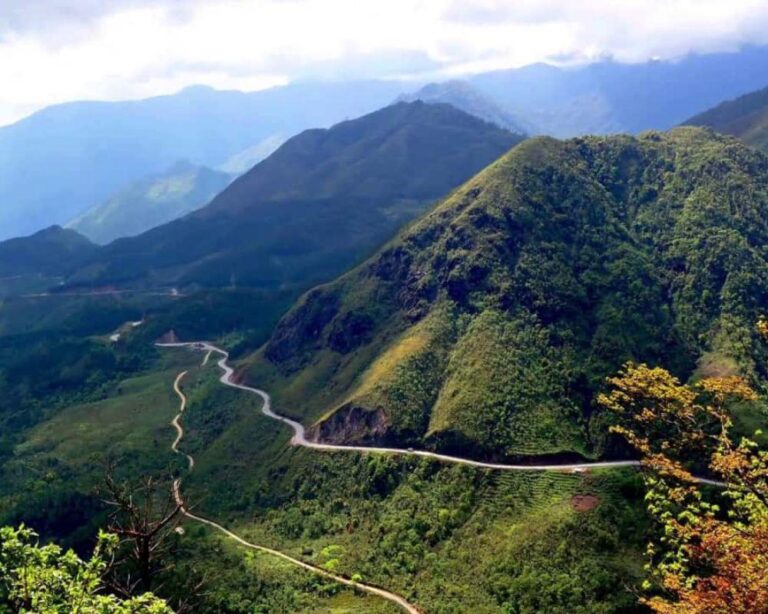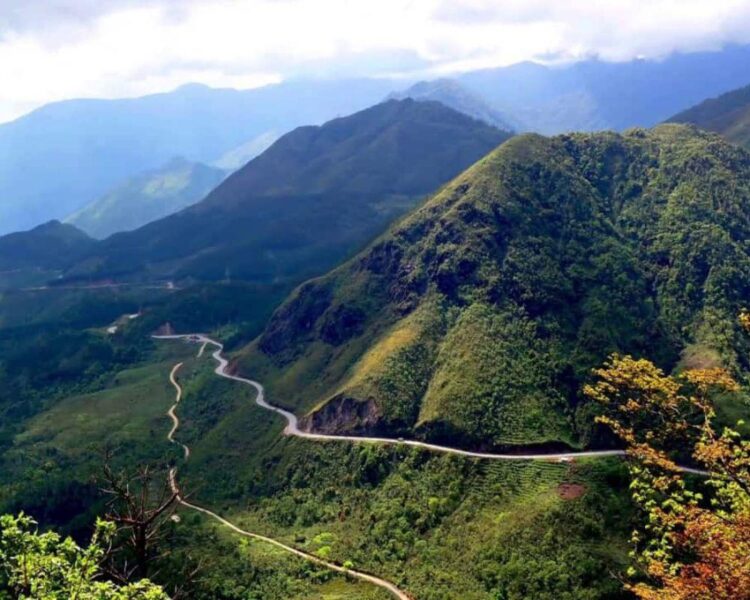 Sapa tours with local private guides offer unparalleled access to the area's natural wonders. Whether you're a seasoned hiker or a casual stroller, there's a trail tailor-made for your pace and preferences. As you wander through verdant valleys and across steep slopes, your senses will be invigorated by the fresh mountain air and panoramic views stretching out before you.
Along the way, stop by bustling local markets where friendly vendors beckon you to sample their delicious wares and chat about everyday life in this unique corner of Vietnam.
Discovering The Culture Of Ethnic Minority Groups
As we leave the majestic mountains of Sapa behind, get ready to immerse yourself in the culture of ethnic minority groups. Our immersive trekking experience will take you through villages where you'll meet locals who have lived here for generations. You'll learn about their daily routines and even participate in some activities like rice planting or weaving.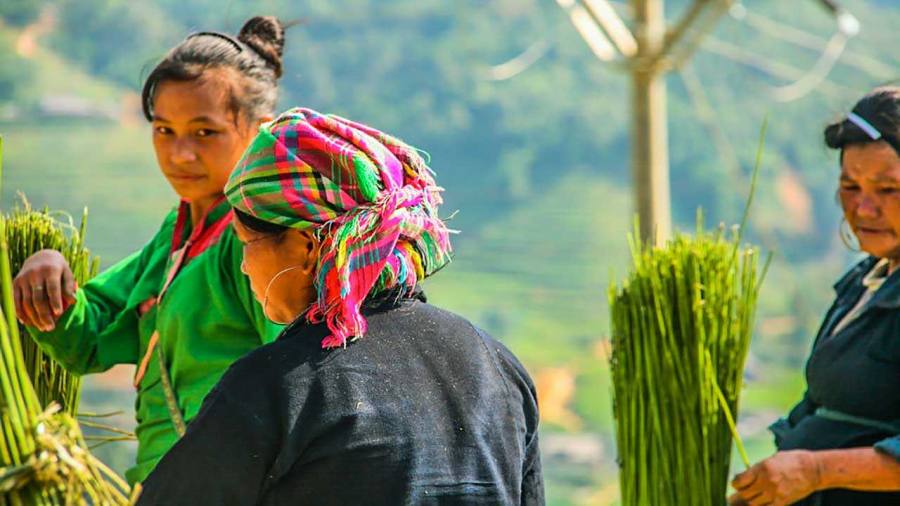 This cultural immersion is a unique opportunity to understand more about the rich history of Vietnam's diverse communities. We believe that getting to know these minorities can only enrich your travels and give you a deeper appreciation of this beautiful country.
So let us take you on an adventure that not only challenges your physical abilities but also opens your mind to different ways of life!
Enjoying The Natural Beauty Of Rice Terraces
As you explore the natural beauty of Sapa, don't miss out on trekking through the rice terraces. These stunning landscapes are a testament to the hard work and dedication of local farmers who have been practicing rice farming for generations.
The trekking trails in Sapa offer an incredible opportunity to witness firsthand how these rice terraces were carved into steep mountainsides. As you walk along the paths that wind their way between the fields, take in the breathtaking views around you. You'll also have ample opportunities to learn about traditional rice farming techniques and even lend a helping hand if you're up for it!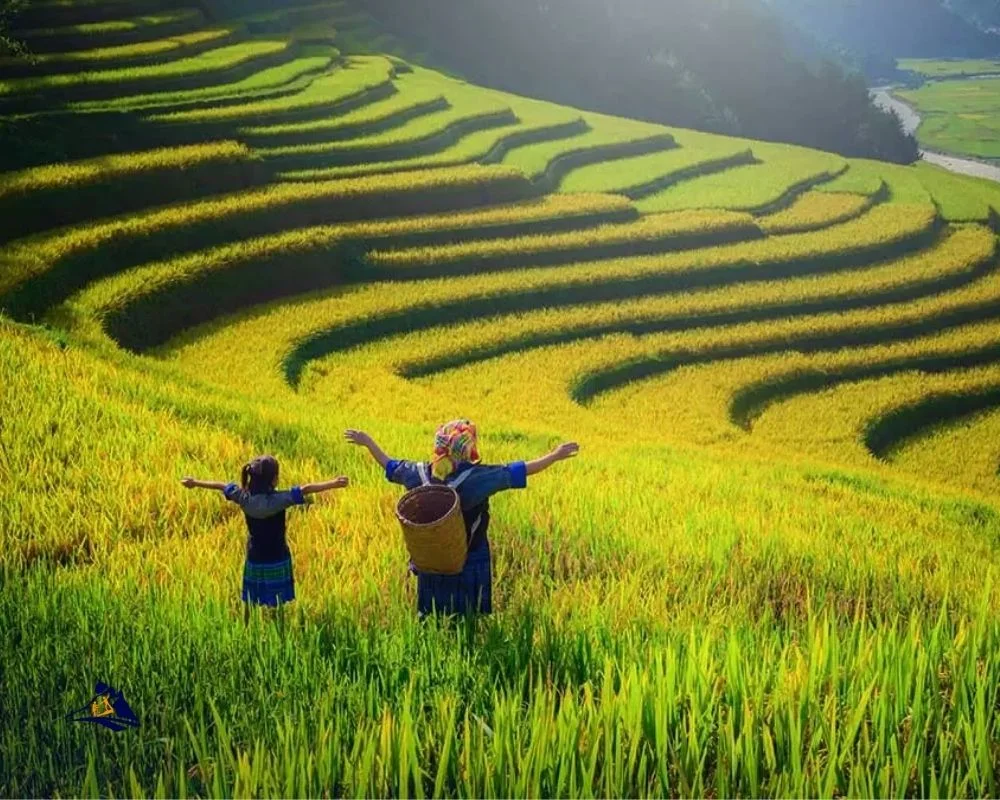 Here are four things you can expect while exploring the natural beauty of Sapa's rice terraces:
A chance to connect with nature: The peace of this area is truly remarkable, allowing you to disconnect from your everyday life and immerse yourself fully in nature.
Learning about unique agricultural practices: Rice farming in Sapa has evolved over centuries, creating a distinct culture that is fascinating to discover.
Meeting friendly locals: You'll likely encounter some locals during your trek who will be happy to share their stories and insights with you.
Unforgettable scenery: From cascading waterfalls to lush greenery as far as the eye can see, there's no shortage of awe-inspiring sights when trekking through Sapa's rice terraces.
As you make your way back down from the hills, remember that there's still so much more to explore in Sapa. Next up? Exploring traditional villages and experiencing local cultures like never before!
Exploring Traditional Villages
Imagine stepping back in time and exploring traditional villages nestled amongst the lush green mountains of Sapa. With our local private tours, you'll have the opportunity to immerse yourself in the rich culture and traditions of Vietnam's ethnic minority groups.
One of the highlights of this experience is visiting markets where locals gather to sell their wares and exchange goods. You'll witness firsthand the vibrant colors and sounds of daily life as you browse through stalls selling everything from fresh produce to handmade crafts. And for those seeking adventure, numerous hiking trails wind through breathtaking landscapes, providing unforgettable views at every turn. Whether you're an experienced hiker or simply looking for a stroll, there's something for everyone on our tours.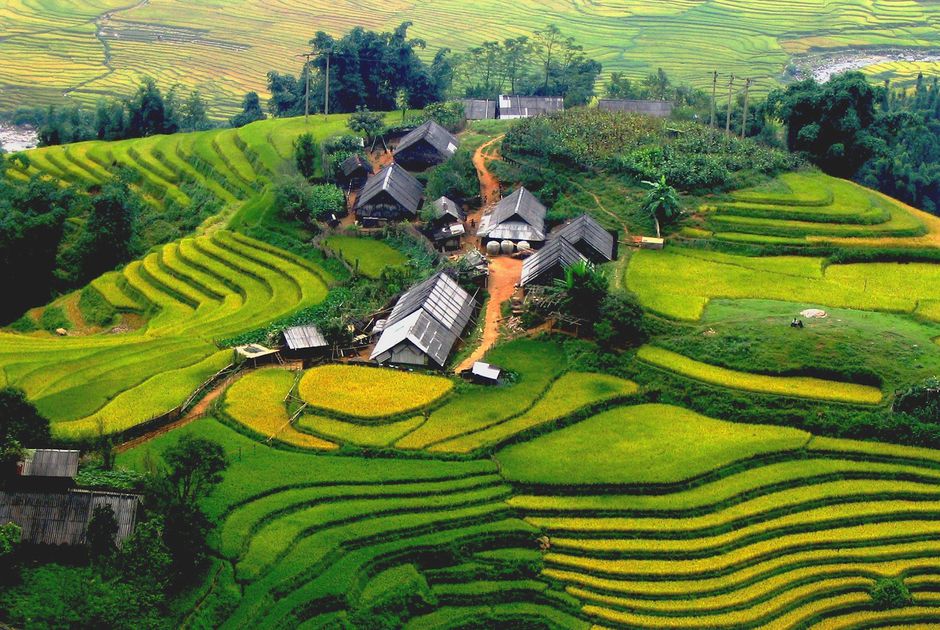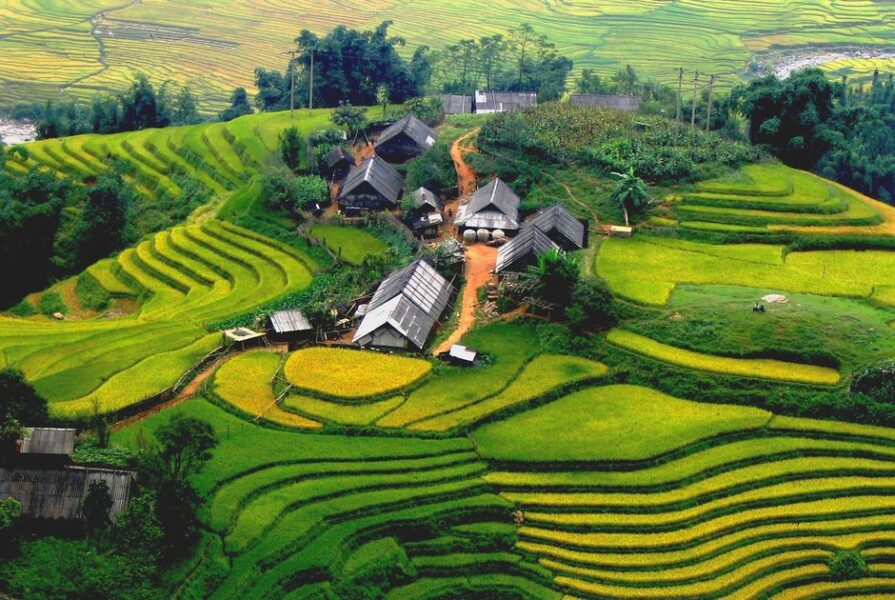 To help plan your journey, we've created a table with some examples of traditional villages you can visit during your tour:
| Village Name | Ethnic Group | Unique Features |
| --- | --- | --- |
| Cat Cat | Black H'mong | Waterfall, rice terraces |
| Ta Van | Giay | Homestays, bamboo forests |
| Lao Chai | Dzay | Stunning mountain views |
As you explore these villages, be sure to take advantage of opportunities to taste delicious local cuisine. From savory stews to sweet desserts made with sticky rice and coconut milk, there's no shortage of culinary delights waiting to be discovered. So why wait? Book your tour today and let us help you make memories that will last a lifetime!
Tasting Delicious Local Cuisine
One of the most exciting things about traveling is trying new foods. And what better way to experience local cuisine than by tasting spices and exploring markets? On our Sapa tours with local private guides, we make sure that you get a chance to do just that. In Sapa, there are plenty of opportunities to sample delicious Vietnamese food. From street vendors selling crispy spring rolls to restaurants serving traditional pho, your taste buds will be in for a treat.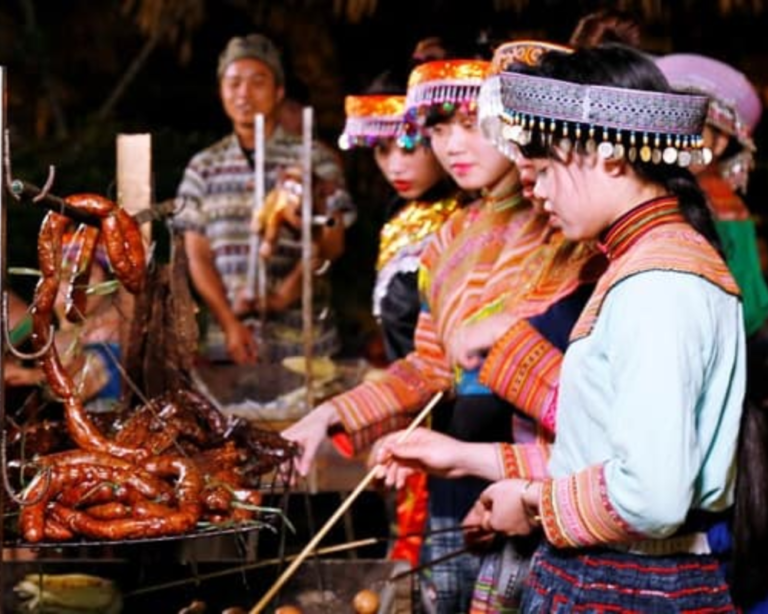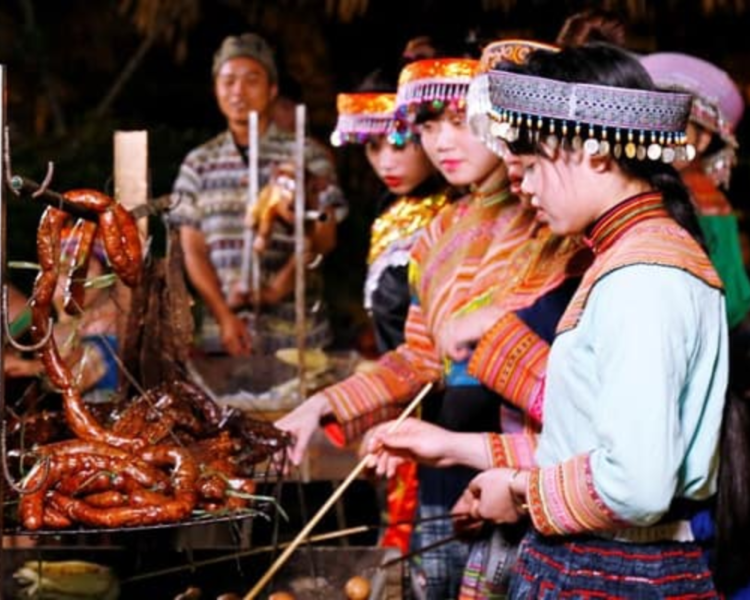 But it's not just about the food itself – it's also about the experience of discovering new ingredients and flavors. During our tours, we'll take you on a journey through bustling markets where you can see and smell exotic spices and herbs up close. It's an immersive way to learn more about the culture and history behind each dish, making every bite even more meaningful.
Finding Unique Souvenirs
After satisfying your taste buds with the mouth-watering local cuisine, it's time to bring home some unique souvenirs that will remind you of your unforgettable Sapa tour experience. Walking through the vibrant markets and shops in Sapa town is a great way to immerse yourself in the local culture and find one-of-a-kind items.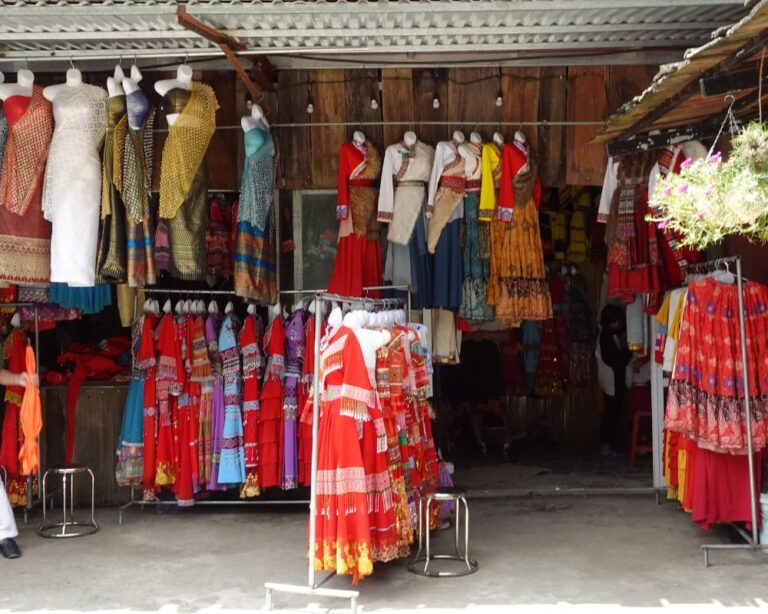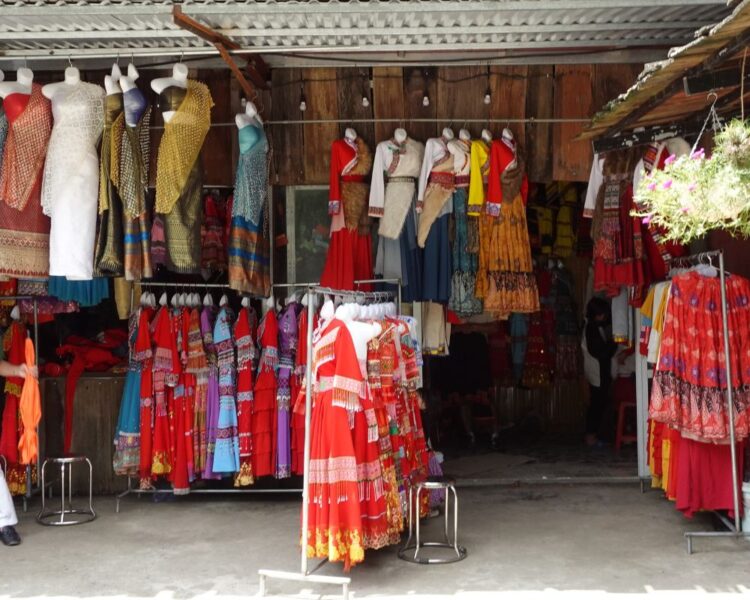 As you browse through the colorful stalls, keep in mind that bartering is considered part of the shopping experience in Vietnam. Don't be afraid to negotiate for a fair price, but remember to do so respectfully and with a smile. It's also important to follow souvenir etiquette by avoiding purchasing items made from endangered animals or plants.
Instead, opt for handmade garments, traditional textiles, locally grown tea leaves, or aromatic spices as reminders of your journey into Vietnam's northern highlands.
Taking Part In Outdoor Activities
Hiking is a great way to explore the beauty of nature and get some fresh air! It's an energizing activity that can be enjoyed alone or with a group. Camping is also a great way to take part in outdoor activities and reconnect with nature. You can find a secluded spot and truly immerse yourself in the natural world. Wildlife watching is also a great way to explore the outdoors and observe the fascinating creatures that inhabit the wild. It's an exciting way to appreciate the natural environment!
Hiking
Are you seeking an adventure that will take you through the rugged wilderness of Sapa? Consider taking part in a hiking tour! Our local private guides will lead you on exhilarating treks through stunning landscapes, where you'll have ample opportunities for photographing wildlife and capturing breathtaking vistas.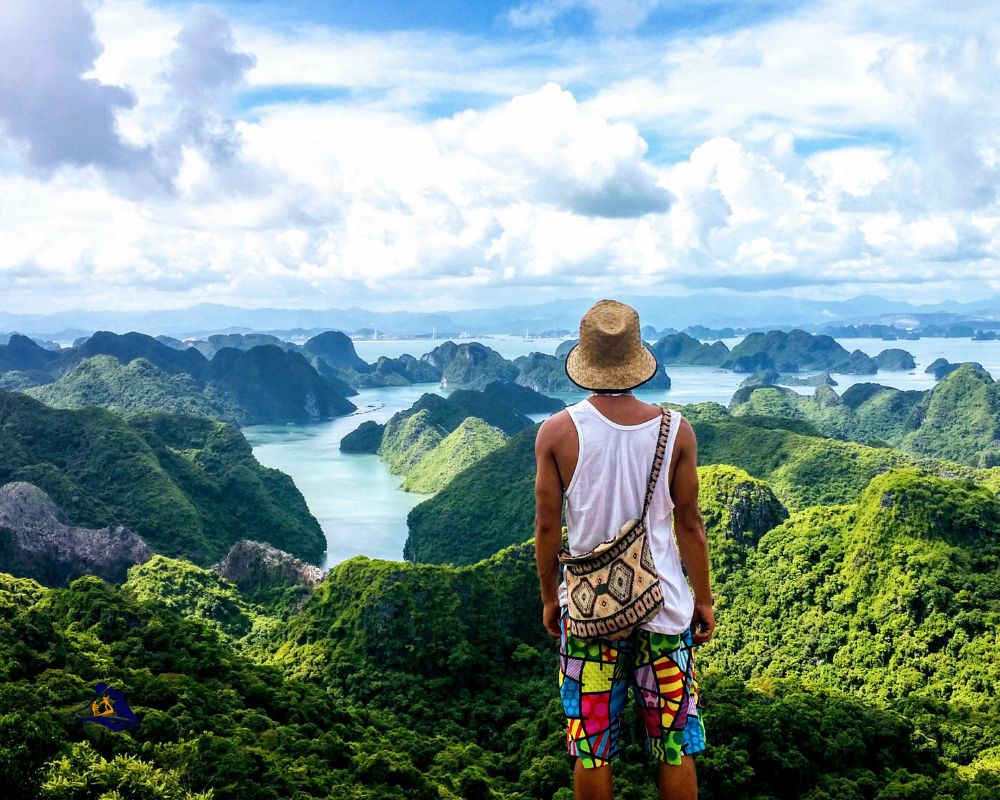 After a long day of exploration, we'll set up camp for the night under the stars, allowing you to truly immerse yourself in nature. With our experienced guides by your side, you can rest assured that every step of your journey will be safe and enjoyable.
Don't miss out on this unforgettable opportunity to experience the beauty of Vietnam firsthand!
Camping
Looking to fully immerse yourself in the great outdoors during your trip to Sapa? Why not take part in a camping adventure? Our experienced guides will lead you on breathtaking hikes through stunning hiking trails, where you can experience firsthand the natural beauty of Vietnam. As night falls, we'll set up camp allowing you to spend an evening under the stars and truly connect with nature.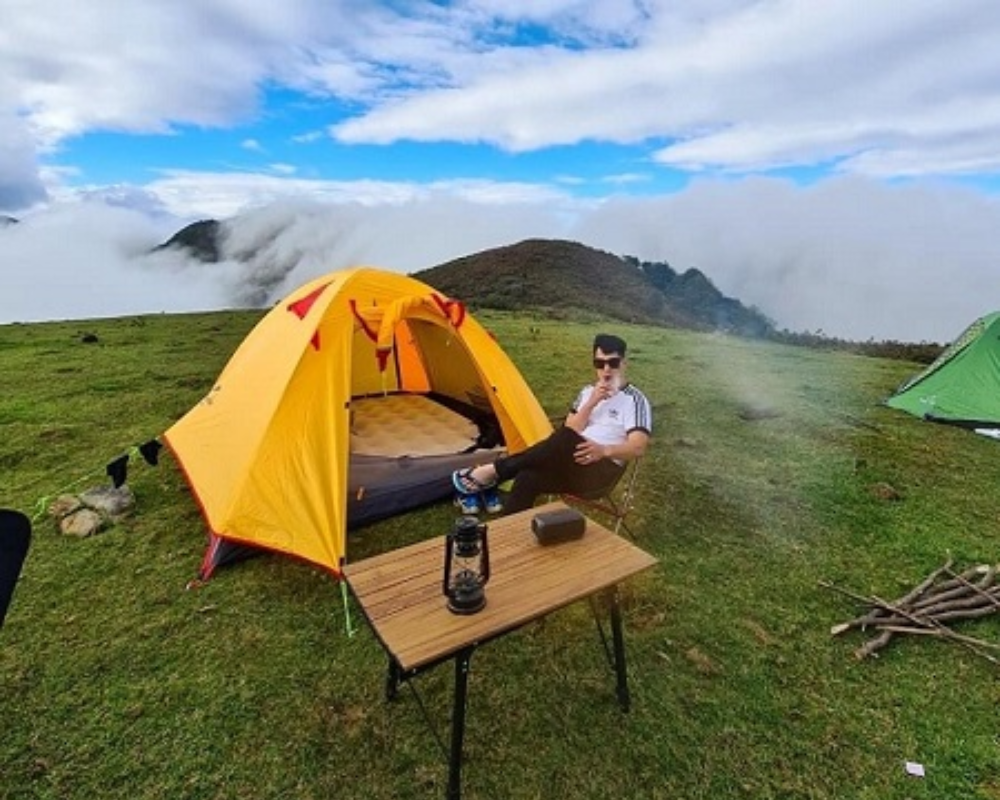 Not only will this give you the chance to escape from city life for a bit, but it's also an excellent way to learn more about the cultural heritage of this remarkable region. So why wait? Book your camping adventure today and start your journey toward freedom amidst the rugged wilderness of Sapa!
Wildlife Watching
Ready to fully embrace the freedom of the great outdoors during your trip to Sapa? Then why not try wildlife watching? Our expert guides will take you on a journey through some of the most stunning natural landscapes in Vietnam, allowing you to spot wildflowers and observe an array of beautiful bird species. With each step, you'll feel more connected to nature, allowing yourself to truly appreciate all that this region has to offer.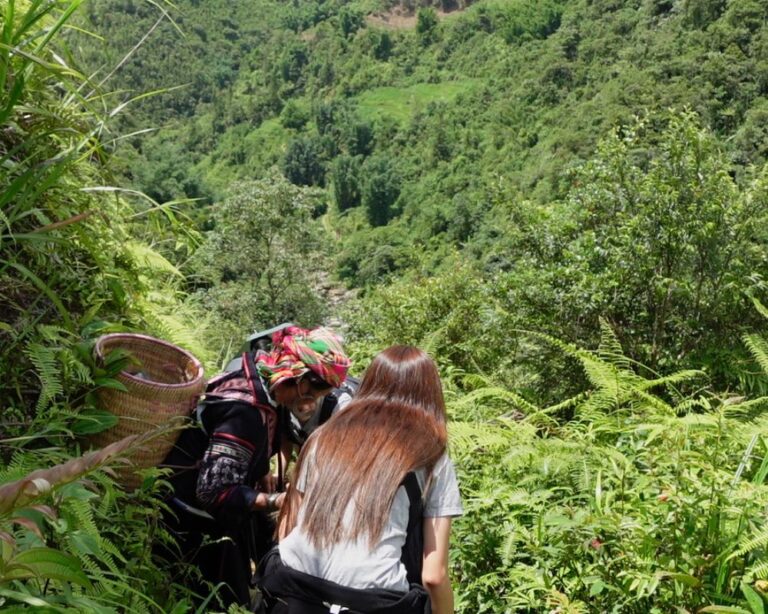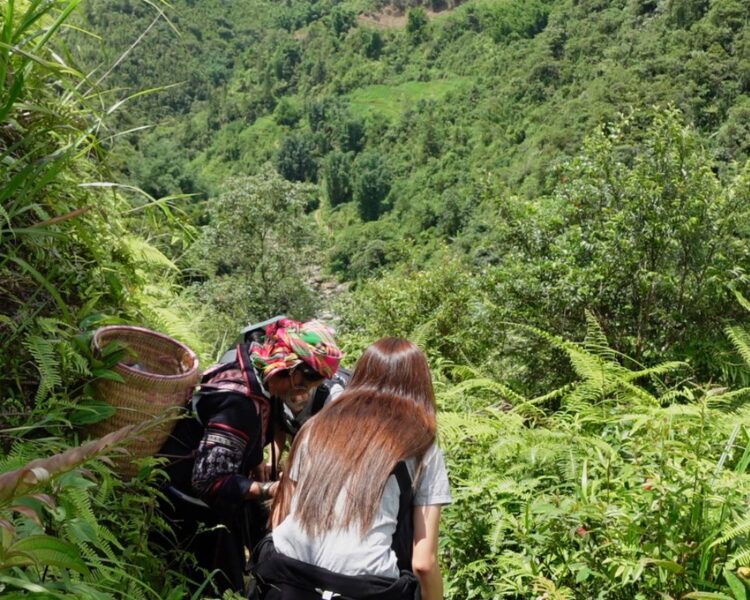 So if you're looking for an unforgettable outdoor adventure filled with breathtaking sights and sounds, book your wildlife-watching experience today!
Taking A Boat Ride On The Muong Hoa River
As you venture through the beautiful landscapes of Sapa, taking a boat ride on the Muong Hoa River is an experience that should not be missed. The river flows gently and its calm waters offer a serene environment to relax and take in the stunning views.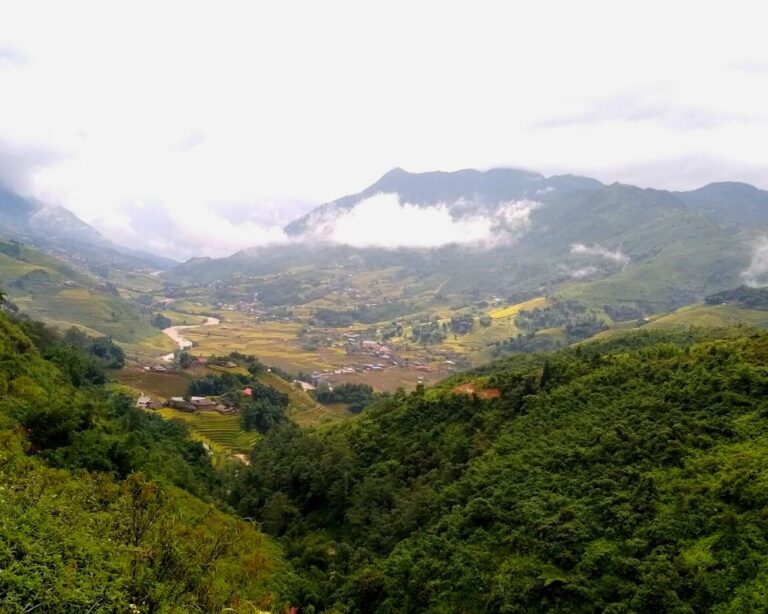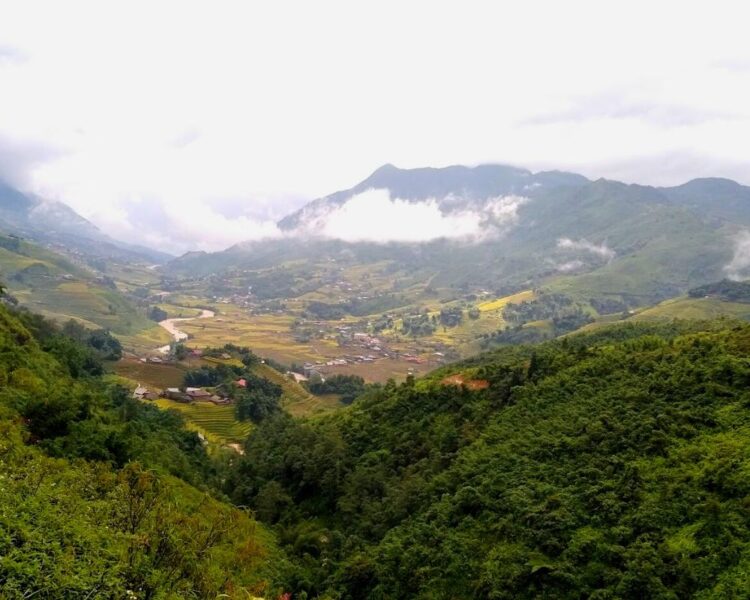 Here are some reasons why you should consider adding this activity to your itinerary:
Admire the breathtaking scenery around you including trekking trails and rice paddies.
Learn about the rich culture and history of the local people who reside along the banks of the river.
Enjoy a peaceful escape from bustling city life as you float down the tranquil waters.
Take amazing photos with unforgettable backdrops to share with family and friends.
Create memories that will last a lifetime while immersing yourself in this unique adventure.
As your boat slowly glides down the Muong Hoa River, it's hard not to feel captivated by all that surrounds you. And if you're looking for another picturesque spot to add to your journey, then admiring the Tây Trà waterfalls is worth considering.
Admiring The Tây Trà Waterfalls
Exploring the trails, admiring the views, and experiencing the culture of Tây Trà Waterfalls is an unforgettable experience that you won't want to miss. You'll love hiking through the jungle, seeing wildlife, and breathing the fresh air of pristine nature.
Exploring The Trails
Are you looking for an adventure? Look no further than exploring the trails around Tây Trà Waterfalls. Our local private guides will lead you through some of the most breathtaking hiking routes and climbing peaks in Sapa. You'll have the chance to witness stunning views, hidden waterfalls, and exotic wildlife along your journey. The best part? We can customize your tour based on your skill level and interests, so whether you're a seasoned hiker or a beginner, we've got something just for you.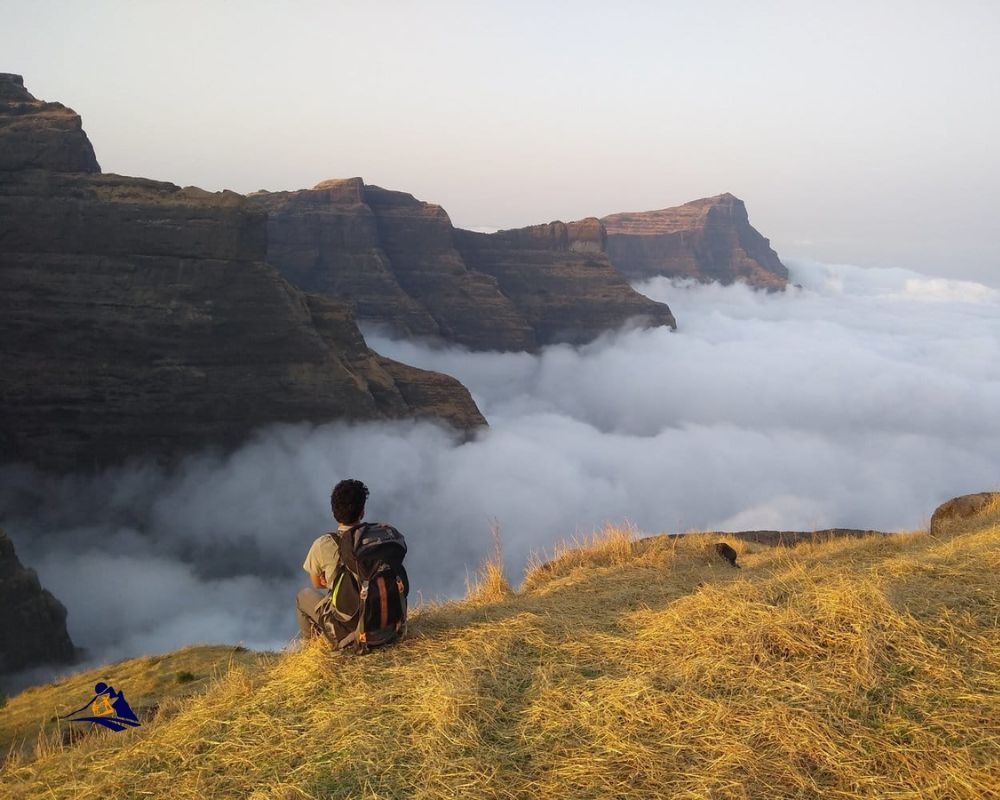 Don't miss out on this unforgettable experience with our knowledgeable guides who know every inch of these incredible landscapes. Come explore with us!
Admiring The Views
Ready to take in the stunning views of Tây Trà Waterfalls? You won't want to miss out on this incredible opportunity. Our expert guides know all the best spots for admiring the scenery and capturing those perfect Instagram shots. Whether you're looking to relax and soak up the beauty, or challenge yourself with a more strenuous climb, we've got you covered.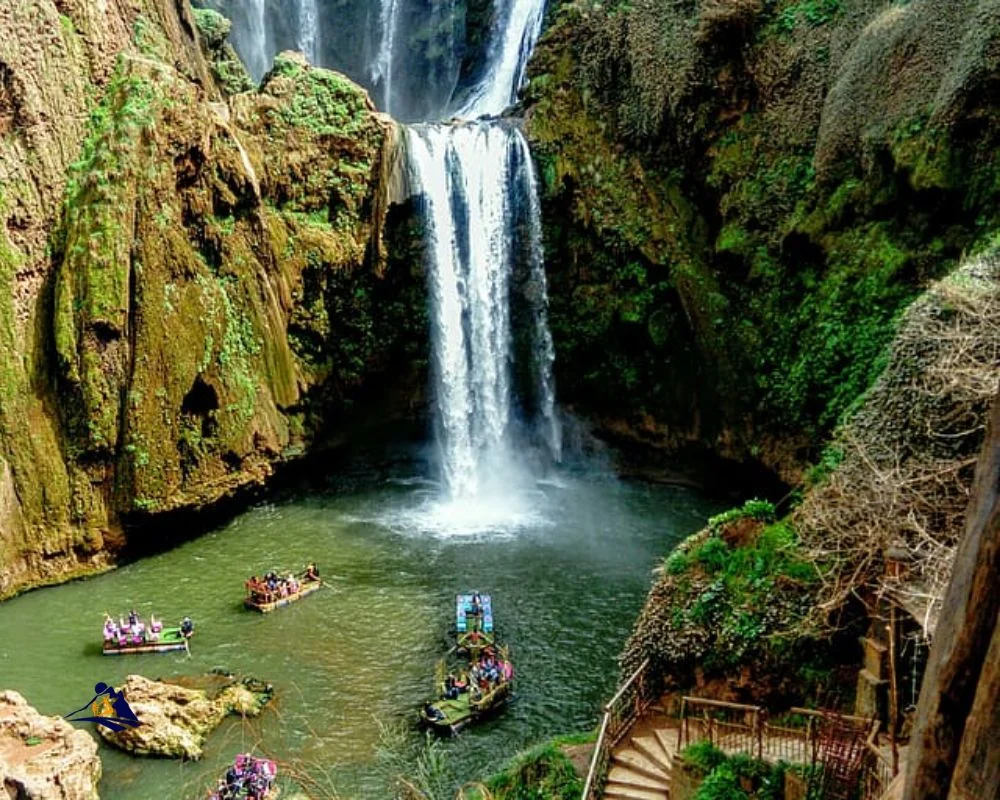 And while you're here, why not take some time to visit nearby temples and learn about local customs? There's no better way to immerse yourself in Sapa's rich culture than by experiencing it firsthand. So what are you waiting for? Let's go explore!
Creating Lasting Memories With Your Private Guide
You may be thinking that hiring a private guide for your Sapa tour is an unnecessary expense, but let me tell you why it's worth every penny. Your private guide will not only provide valuable insight into the local area and culture, but they will also help create lasting memories through immersive experiences that cannot be found in guidebooks or group tours.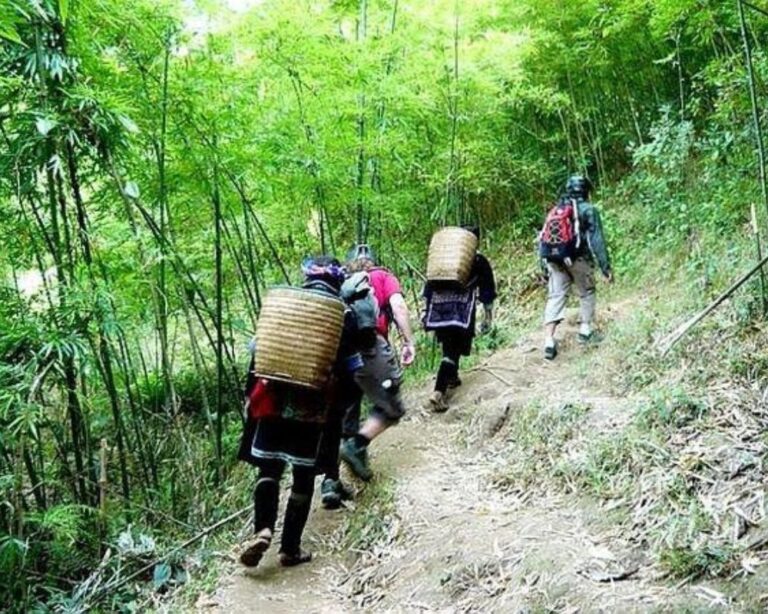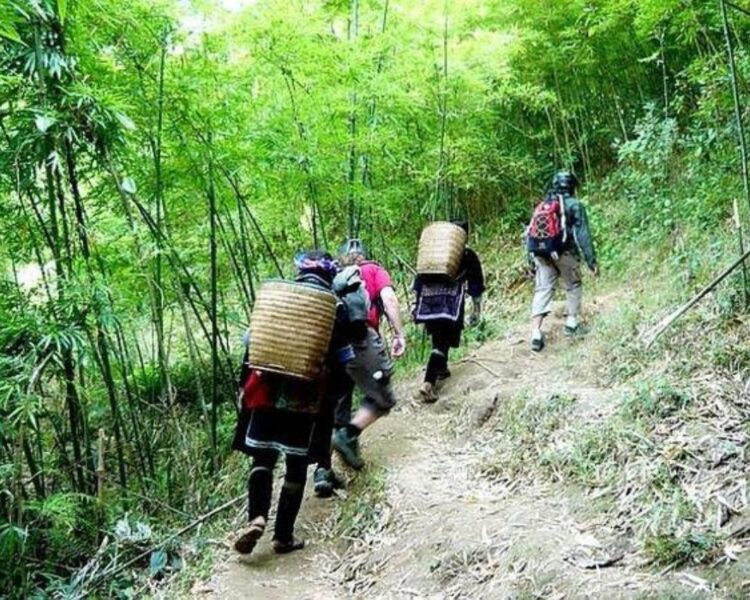 With their expertise, they can take you off the beaten path to hidden gems and share personal stories that enrich your understanding of Vietnam. Imagine hiking through rice paddies with a local farmer as your guide, learning about traditional farming techniques, and enjoying stunning views of the surrounding mountains. Or sitting down for a home-cooked meal with a family in a remote village, sharing stories over steaming bowls of pho.
These are just some examples of the cultural immersion opportunities available with a private guide. Investing in this personalized experience allows you to connect more deeply with the people and places you encounter on your journey, creating unforgettable moments that will stay with you long after returning home.
Sapa Tours With Local Private Frequently Asked Questions
What Is The Best Time Of Year To Visit Sapa?
When planning a trip to Sapa, it's important to consider the best time of year to visit. This will depend on your preferences and interests, as well as the weather conditions in the region. If you're interested in visiting culture-rich villages and meeting local tribespeople, then spring and autumn are great times to go. During these seasons, many festivals take place that showcases traditional music, dance, and crafts.
However, if you prefer cooler temperatures for hiking or exploring the countryside, then winter is a good choice. Just be prepared for chilly nights! Summer can be quite hot and humid in Sapa, but it's also when the rice terraces are at their most lush and green.
No matter what season you choose to travel in, make sure to pack accordingly and bring comfortable footwear for trekking through the stunning landscapes of this incredible destination.
Are There Any Health Or Safety Concerns To Be Aware Of In Sapa?
It's natural to have safety concerns when traveling, especially in a place like Sapa. However, rest assured that the area is generally safe for tourists. Of course, accidents can happen anywhere and it's best to be prepared. Should you require medical attention during your trip, there are hospitalization options available in nearby cities such as Lao Cai and Hanoi.
It's always advisable to check with your doctor regarding vaccination requirements before embarking on any travel overseas. With these precautions taken care of, you can fully immerse yourself in all that Sapa has to offer without worrying about health or safety issues!
What Type Of Clothing And Gear Should I Bring For A Sapa Tour?
Wondering what type of clothing and gear to pack for your upcoming Sapa tour? Layering techniques are key, as temperatures can fluctuate throughout the day.
We recommend bringing:
– Thermal base layers
– Fleece or insulated jacket
– Waterproof outer layer in case of rain
– Comfortable hiking boots with good ankle support for those steep mountain trails!
As a content writer for Sapa Tours, we understand that our audience has a subconscious desire for freedom – which is exactly what you'll experience on our immersive trekking adventures through stunning landscapes and remote villages.
So pack light, embrace adventure, and get ready to discover the beauty of Sapa.
How Long Do The Typical Sapa Tours With A Private Guide Last?
Picture yourself amidst the breathtaking trekking routes of Sapa, with a private guide who offers cultural insights as you explore. Now, one might ask: how long do these typical tours last? Well, it ultimately depends on your preferences and schedule. Our team at Sapa Tours with Local Private customizes each tour to fit the individual needs of our clients.
However, we recommend planning for at least two days to fully immerse yourself in the beauty and richness of Sapa's culture. Whether you're looking for a quick getaway or an extended stay, we've got you covered. So pack your bags, bring comfortable clothing and gear suitable for hiking, and let us take care of the rest!
Can I Customize My Sapa Tour Itinerary With A Private Guide?
Yes, you can customize your Sapa tour itinerary with a private guide!
Our expert guides are locals who know the area like the back of their hand and can tailor your tour to suit your preferences.
Whether you want to immerse yourself in cultural etiquette or explore breathtaking landscapes, we've got you covered. Plus, our team will keep an eye on weather conditions to ensure that you have the best possible experience.
So why settle for a cookie-cutter tour when you can design your adventure?
Book now and discover the freedom of exploring Sapa on your terms!
Conclusion
If you're looking for an authentic and unforgettable travel experience in Vietnam, Sapa should be at the top of your list. With its stunning scenery and diverse ethnic cultures, this mountainous region is a must-visit destination. The best time to visit Sapa is from September to November or March to May when the weather is mild and dry. However, even during the rainy season (June-August), the misty landscapes are still breathtakingly beautiful.
When planning a tour with a private guide, it's important to consider any health or safety concerns such as altitude sickness or slippery trails. It's also essential to pack appropriate clothing and gear for hiking and outdoor activities. Sapa tours can vary in length, but most private guides offer full-day excursions or multi-day packages that include homestays with local families.
One interesting statistic is that there are over 20 different ethnic minority groups living in Sapa, each with their unique customs and traditions. Customizing your itinerary with a private guide allows you to explore off-the-beaten-path destinations and immerse yourself in the local culture. Whether it's trekking through rice terraces, visiting bustling markets, or enjoying traditional meals with locals, a Sapa tour promises to be an enriching experience like no other.