Recently updated on April 27th, 2023 at 08:41 am
Welcome to Hanoi, the charming capital city of Vietnam! If you're looking for a breathtaking adventure that will take you through scenic landscapes and introduce you to the rich culture of this beautiful country, then look no further than our Hanoi to Sapa tour. This unforgettable journey is perfect for those seeking an escape from the hustle and bustle of city life and a chance to connect with nature. Starting in Hanoi, we'll embark on a picturesque drive towards Sapa, located in the northern part of Vietnam along the border with China. Along the way, we'll witness stunning views of terraced rice fields carved into mountainsides, traditional villages nestled among lush greenery, and towering waterfalls cascading down rocky cliffs. Our knowledgeable guides will provide insightful commentary on local customs and traditions as well as historical landmarks that we pass by during the trip.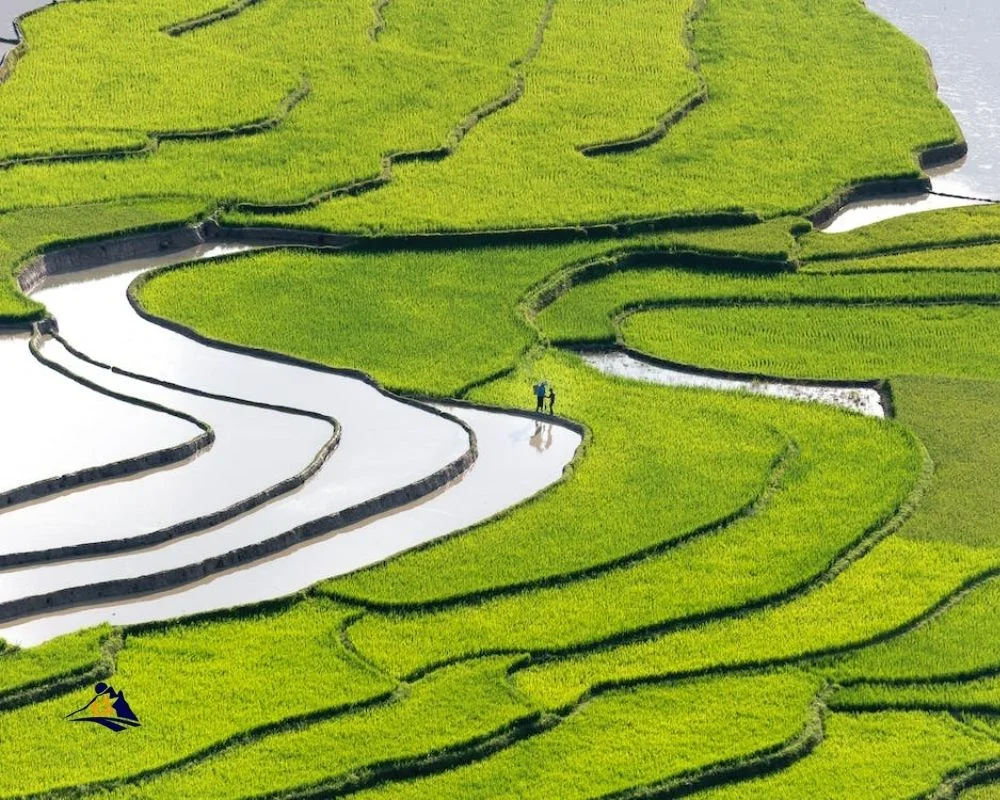 So pack your bags, leave behind your worries, and join us on this once-in-a-lifetime adventure!
Discover The Beauty Of Northern Vietnam
Welcome to the Hanoi to Sapa tour, where we will embark on a journey to discover the beauty of Northern Vietnam. As you leave behind the hustle and bustle of the city, get ready to immerse yourself in nature's serenity while exploring some of Vietnam's most incredible mountainous landscapes. Our adventure begins with an opportunity to explore nature at its finest as we travel through lush valleys surrounded by towering mountains covered in verdant foliage. You'll have plenty of time to hike along winding trails or take a leisurely stroll through picturesque villages nestled amidst terraced rice fields that sway gently in the breeze. Our journey is not just about experiencing stunning natural scenery but also immersing ourselves in local cultures by meeting friendly locals who are happy to share their way of life with us. Get ready for an unforgettable experience!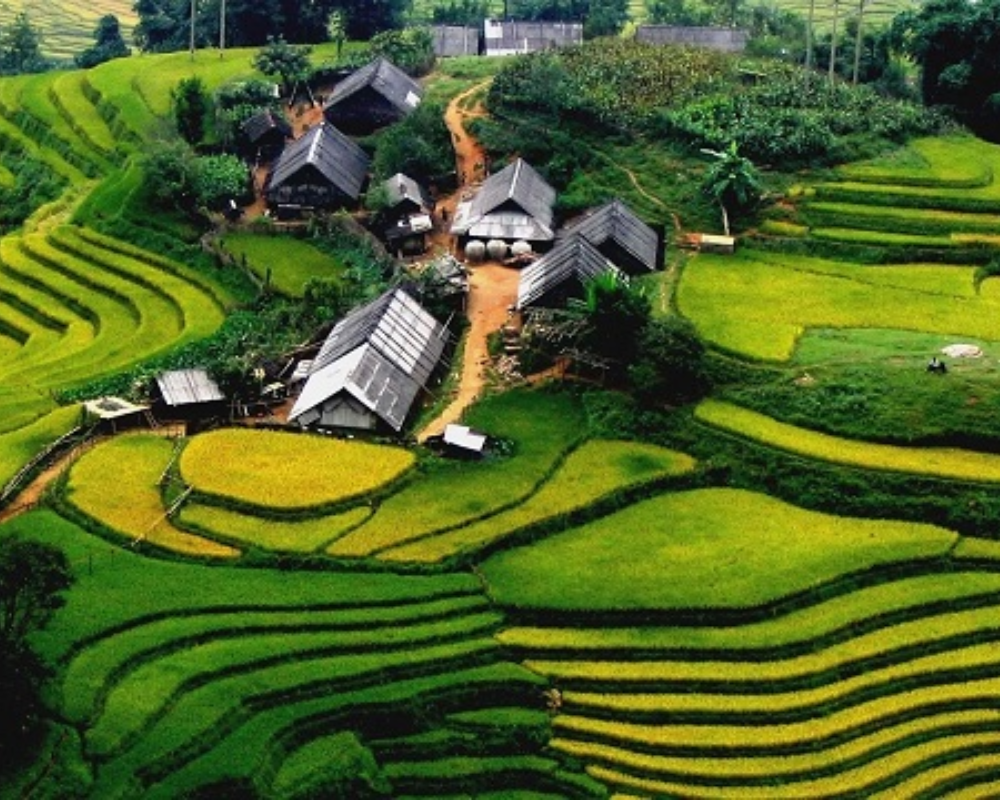 As we end our exploration of nature, it's now time to step back into history and explore Hanoi's famous historical sites.
Explore Hanoi's Historical Sites
Now that we've explored the bustling city of Hanoi, let's dive into its rich history. Hanoi has numerous historical sites that are a treasure trove for those interested in cultural exchange and treasure hunting. First on our list is the Temple of Literature, which was built in 1070 and served as Vietnam's first university. Here, you can admire traditional Vietnamese architecture while learning about Confucianism through the many stone tablets inscribed with the names of scholars who passed their exams here. Next up, we have Ho Chi Minh Mausoleum where visitors pay homage to the father of modern Vietnam. You can also explore his stilt house and museum dedicated to his life and legacy. Lastly, don't forget to visit Hoa Lo Prison Museum – often referred to as 'Hanoi Hilton.' This site serves as a reminder of Vietnam's struggle for independence against French colonial rule.
As we come to an end of our exploration tour around Hanoi's historical sites, it's time to buckle up and enjoy the scenic drive from Hanoi to Sapa!
Enjoy The Scenic Drive From Hanoi To Sapa
Did you know that the distance between Hanoi and Sapa is approximately 380 kilometers? It may seem like a long journey, but trust me when I say that it's worth every minute spent on the road. As we depart from Hanoi, get ready to savor some of the most breathtaking scenery Vietnam has to offer. The drive will take us through winding roads surrounded by lush green mountains, rice terraces, and quaint little villages. As we make our way towards Sapa, be sure to keep your eyes peeled for the surrounding villages. Many ethnic minority groups call these areas home, including the Black Hmong, Red Dao, Tay, and Thai people. You'll see them working in their fields or tending to their livestock along the way.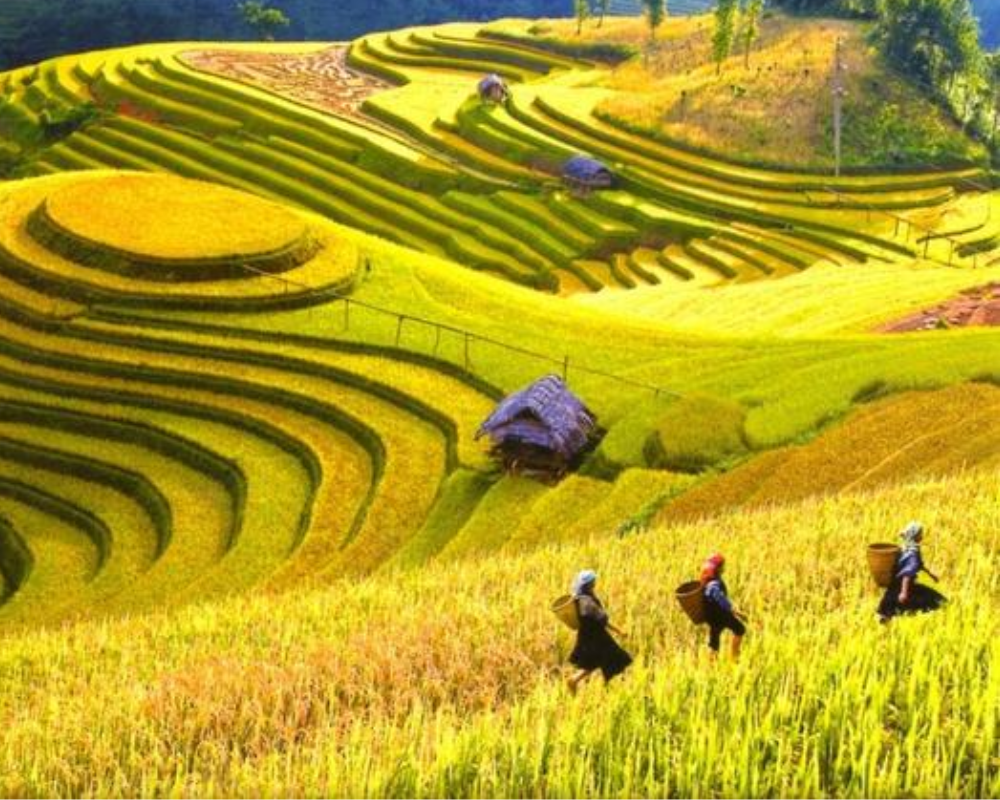 This scenic drive isn't just about admiring nature – it's also an opportunity to experience local life up close and personal. So sit back, relax and let yourself be immersed in this beautiful part of Vietnam!
Experience The Local Culture And Lifestyle
As we continue our journey from Hanoi to Sapa, you'll find that the breathtaking scenery is just one aspect of this Sapa tour package. Immersive activities and cultural exchange are also highlights of this experience.
Our next stop brings us to a local village where you will have the opportunity to meet with members of the community and learn about their daily lives. This unique cultural exchange allows for a deeper understanding of the local way of life. You may participate in traditional activities such as rice planting or weaving, giving you an even greater appreciation for the hard work put into each item produced. This hands-on approach ensures that your memories go beyond just admiring beautiful landscapes but rather take away a richer insight into the people who call these places home.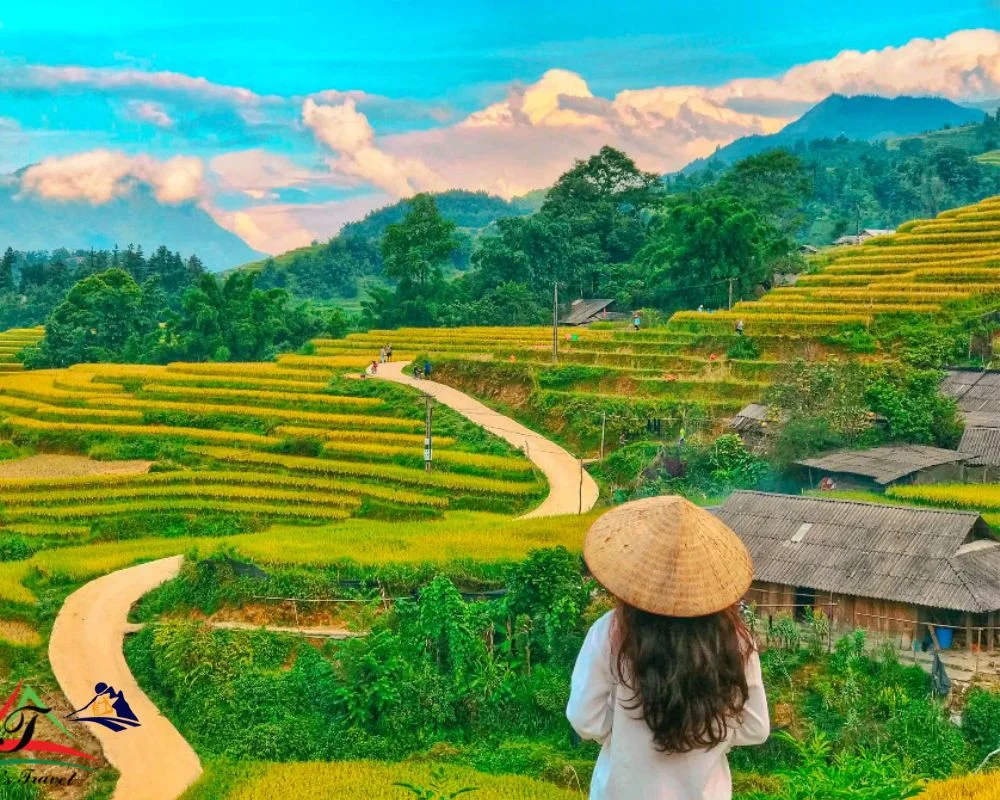 As we bid farewell to our new friends, we make our way towards dinner time. But before savoring delicious local cuisine, let's continue on our path towards further discovery of what makes Sapa so special.
Savor Delicious Local Cuisine
Prepare to have your taste buds blown away as we delve into the culinary delights of Sapa. The local cuisine here is unlike anything you've ever tasted before, and it's sure to leave a lasting impression on your palate.
With an abundance of fresh ingredients and cultural influences from Vietnam's ethnic minorities, every meal is a unique experience that will take you on a journey through the flavors of this region.
To truly get a sense of Sapa's culinary scene, be sure to sample dishes like thang co – a traditional soup made with horse meat and organs – or xoi ngu sac – a sticky rice dish topped with colorful vegetables. And don't forget about the various types of grilled meats, such as buffalo or pork skewers, which are cooked over hot coals for a smoky flavor that will tantalize your senses.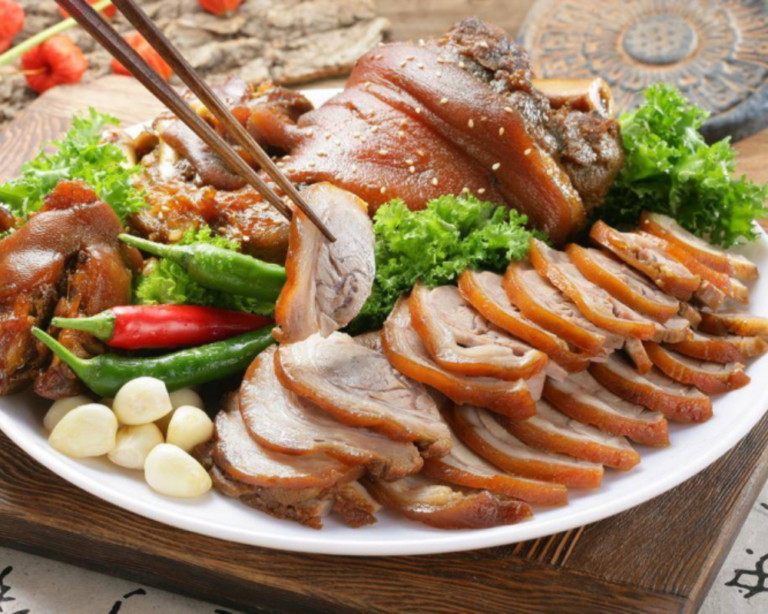 Each bite is packed with bold spices and herbs that reflect the diverse cultures and traditions that make up this beautiful area. As you finish your last bite, take in the scenery around you and appreciate how food can bring people together across different backgrounds.
But our adventure doesn't stop here! We'll soon head out to explore some enchanting rice fields where you'll witness firsthand the beauty of Sapa's natural landscape.
Visit Enchanting Rice Fields
After indulging in the delectable local cuisine, we will now head towards Sapa to witness some of the most captivating views that Vietnam has to offer. The mesmerizing beauty of nature awaits you as we embark on a journey through enchanting rice fields and breathe in fresh mountain air. The picturesque landscapes of Sapa are blessed with verdant hillsides covered with terraced rice paddies, alluring valleys and cascading waterfalls. We will take a leisurely stroll around these stunning rice fields while enjoying the tranquility of the natural surroundings. Soak up the sun's warmth and feel at peace amidst this serene environment.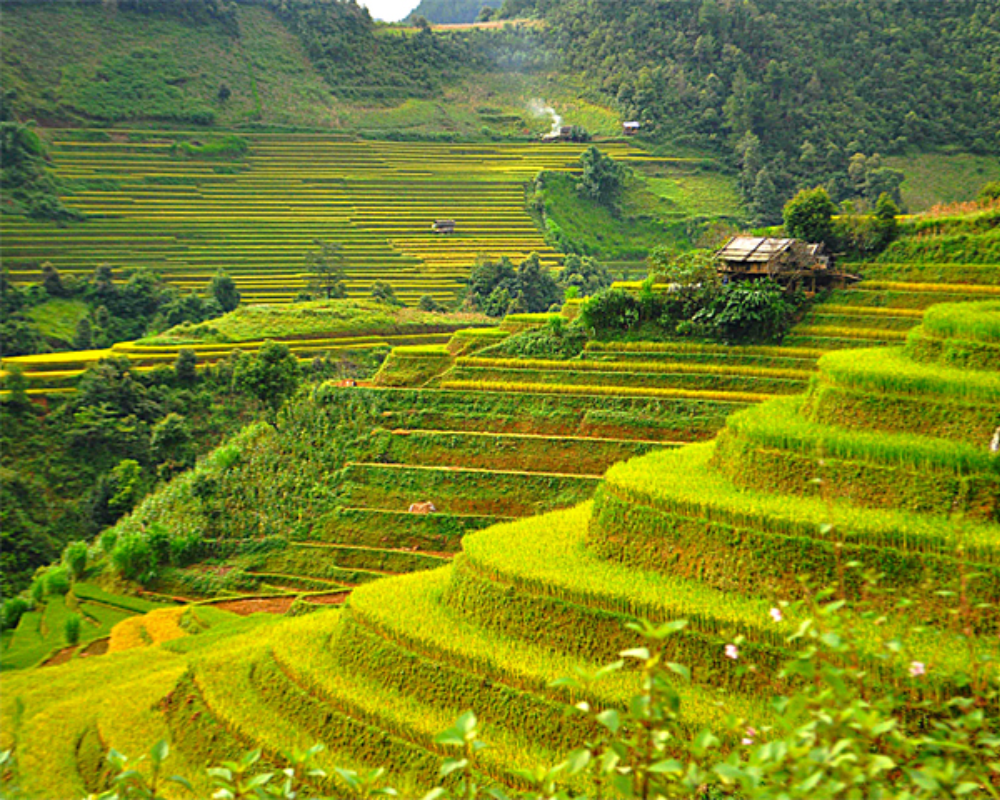 Marvel at the panoramic view from Fansipan Mountain. Trek through ethnic minority villages. Take part in traditional handicraft workshops. Enjoy an authentic homestay experience. Visit magnificent waterfalls. Get ready to be amazed by Mother Nature's wonders as we move forward in our tour to take in the magnificent waterfalls of Sapa!
Take In The Magnificent Waterfalls
Let's start by talking about Ha Long Bay; it's a stunning UNESCO World Heritage Site, and we can't wait to show you its beautiful sights! Then, we'll travel to Ban Gioc Waterfall, which is the largest in Southeast Asia. Finally, we'll explore the Trang An Grottoes, which offer an incredible view and a memorable experience.
Ha Long Bay
Are you ready to witness one of the most stunning natural wonders in Vietnam? Ha Long Bay is a must-visit destination during your Hanoi to Sapa tour. With its emerald waters and limestone cliffs jutting out from the sea, this UNESCO World Heritage site will take your breath away. Hop on board one of our sailing excursions for an unforgettable experience as we cruise through the bay's countless islands and caves. And if you're looking for something extra special, don't miss out on our night cruises where you can marvel at the starry sky above while surrounded by the bay's tranquil beauty.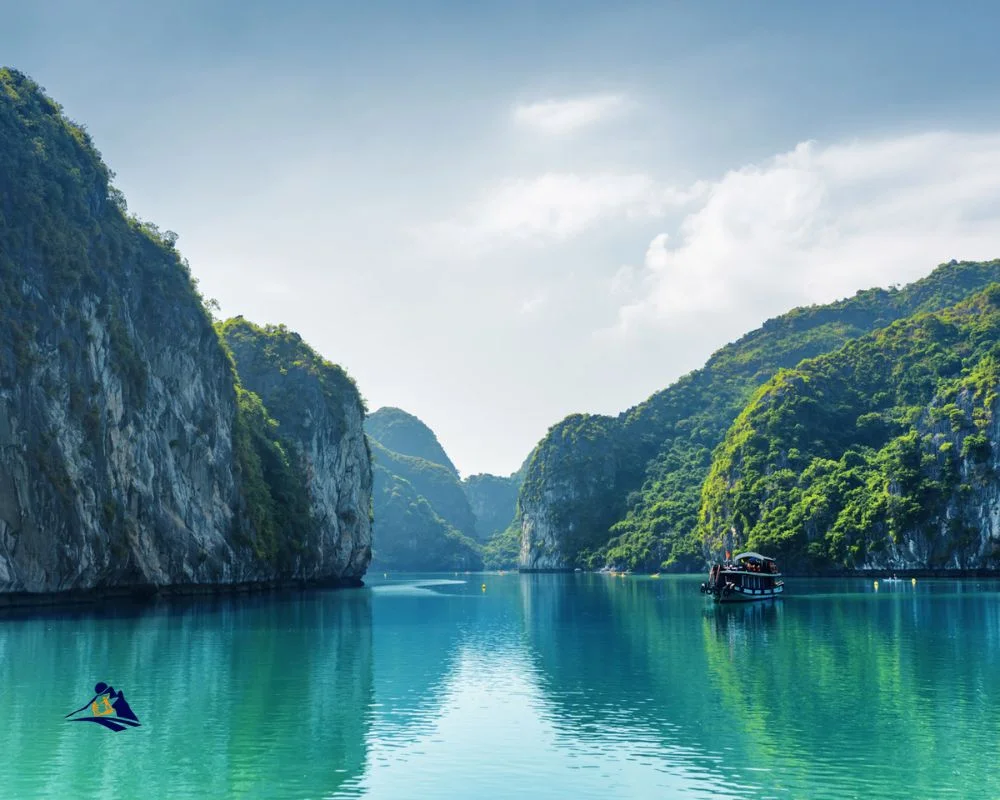 A visit to Ha Long Bay is not just about sightseeing but also about immersing yourself in nature and experiencing true freedom.
Ban Gioc Waterfall
Now that you've witnessed the stunning beauty of Ha Long Bay, it's time to add another natural wonder to your Hanoi to Sapa tour. The Ban Gioc Waterfall is a breathtaking sight located on the border between Vietnam and China. This waterfall not only offers mesmerizing views but also holds cultural significance for both countries. It has been a source of inspiration for poets and artists alike due to its spiritual significance as well. Our tour takes you through winding roads surrounded by lush greenery until we reach this magnificent waterfall where you can feel the refreshing mist from the falls on your face while taking in the surrounding beauty.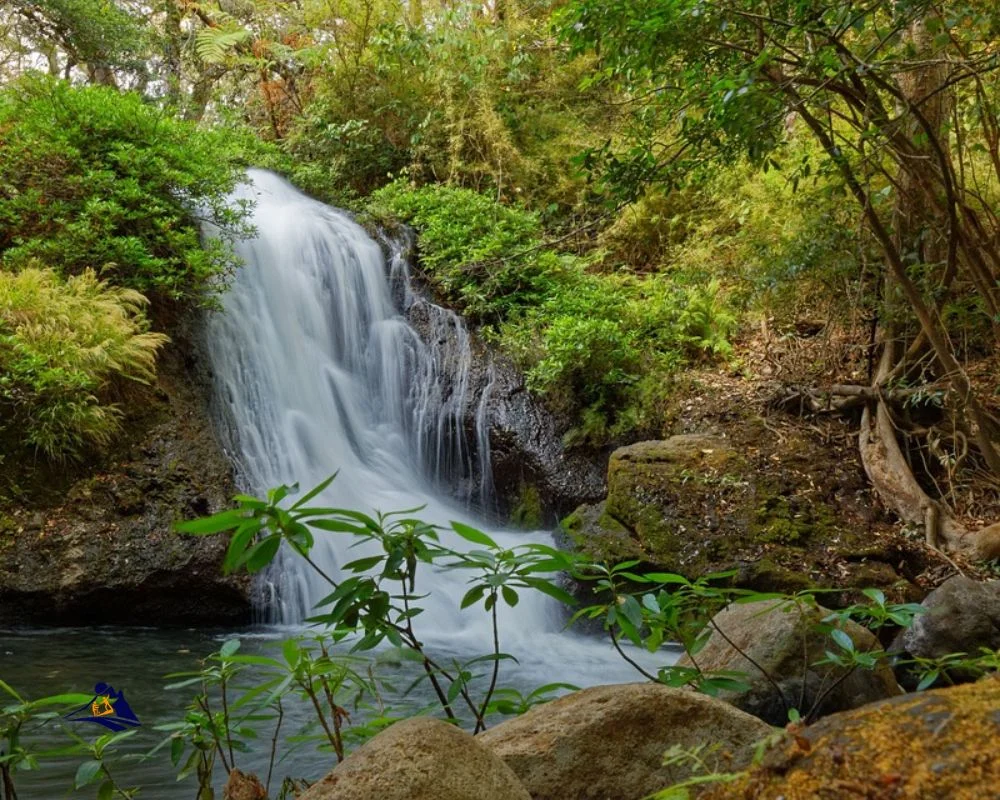 A visit here will bring out your sense of freedom and leave you feeling rejuvenated.
Marvel At Traditional Villages
Did you know that there are over 50 ethnic minority groups in Vietnam? Many of them reside in the mountainous region around Sapa, and their cultural heritage is an integral part of this area's charm. As we continue our journey from Hanoi to Sapa, we will have the opportunity to marvel at traditional villages where locals still embrace nature and maintain their unique way of life. As we explore these villages, you'll notice how different they are from the modern cities you're used to. The houses here are made with natural materials like bamboo and wood, blending seamlessly with the surrounding environment.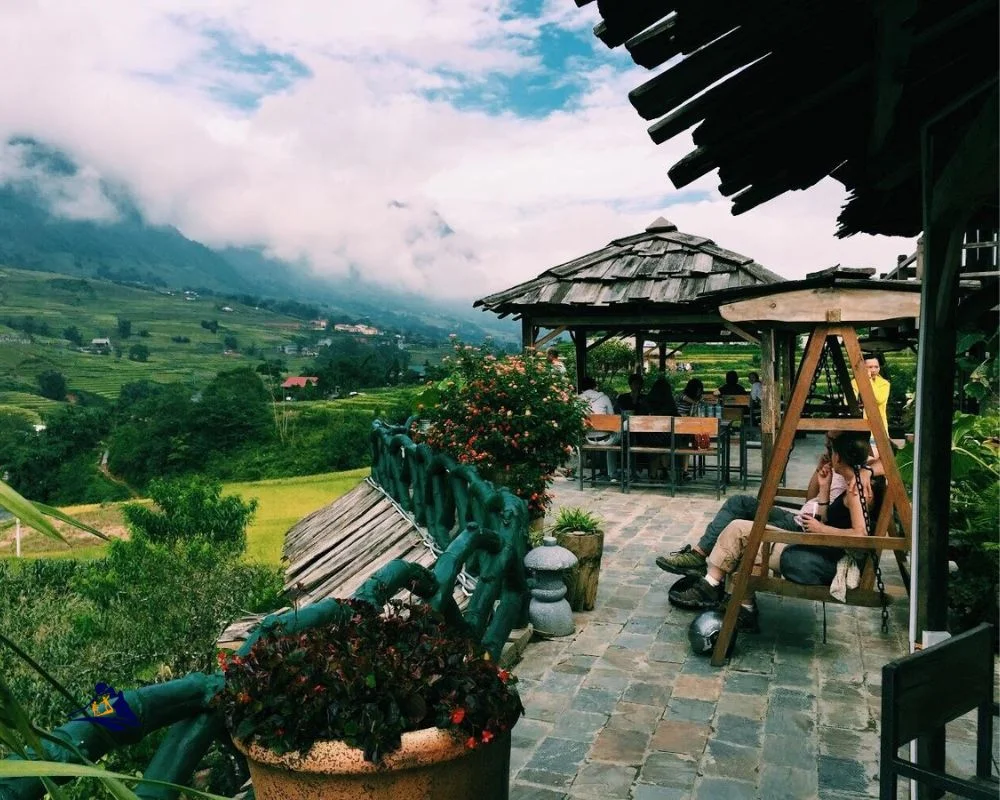 You'll also see how important agriculture is for these communities as they cultivate rice paddies on terraced hillsides. Take a moment to appreciate the simplicity and beauty of life in these small towns while learning about local customs and traditions.
Learn About Local Customs And Traditions
As we journey to Sapa, it's important to learn about the local customs and traditions that make this area so unique. The Hmong people are one of the most prominent ethnic groups in this region, with a rich cultural heritage dating back thousands of years. Their traditional beliefs center around animism and ancestor worship, with a deep respect for nature and all living beings. One fascinating aspect of Hmong culture is their intricate embroidery work, which often features symbols representing fertility, protection from evil spirits, and good fortune.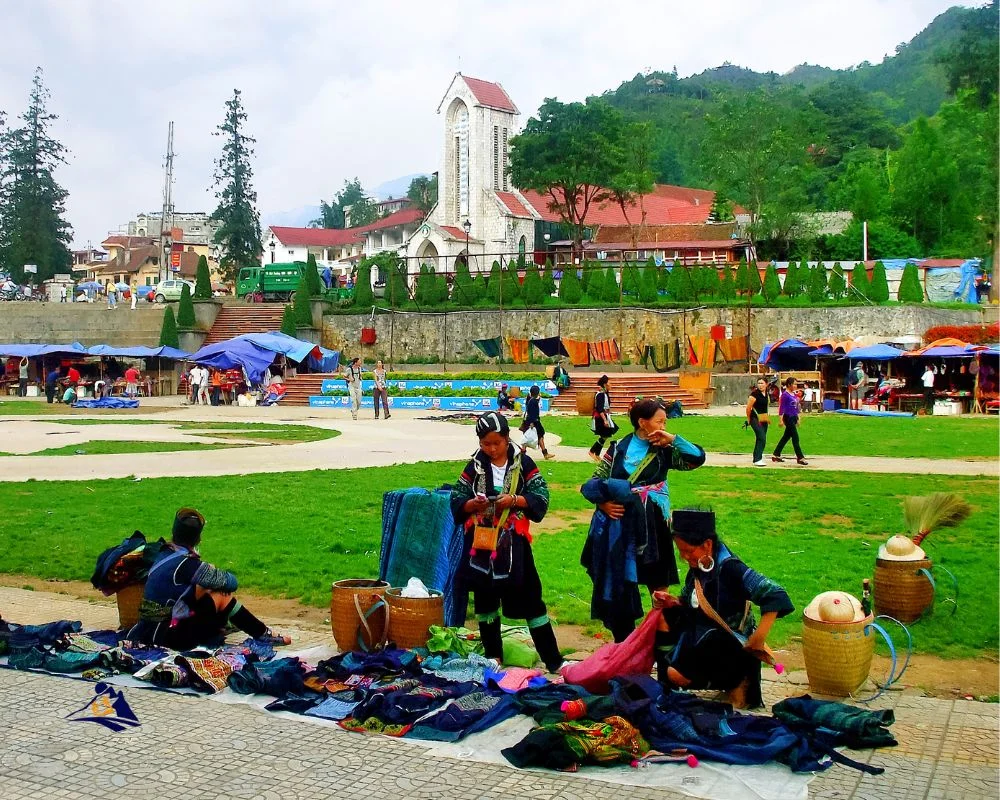 You may have the opportunity to see some of these beautiful works of art during your time in Sapa. It's also worth noting that while many younger generations have embraced modern ways of life, there is still a strong reverence for older traditions among the Hmong people. By learning about their customs and beliefs, we can gain a deeper appreciation for the rich history of this area. Join us on an unforgettable journey as we continue our exploration of Sapa's unique cultural landscape!
Join Us On An Unforgettable Journey!
Welcome aboard our journey from Hanoi to Sapa! We are thrilled to have you join us on an unforgettable adventure. With the stunning natural landscapes and interactive activities, we guarantee that this trip will be one for the books. As we leave behind the hustle and bustle of Hanoi, get ready to unwind in nature. Our first stop is at Hoang Lien Son National Park, where you can take a refreshing dip in the crystal-clear waters of Silver Waterfall. Next up is Fansipan Mountain, also known as 'the roof of Indochina,' where you'll witness breathtaking views atop Vietnam's highest peak.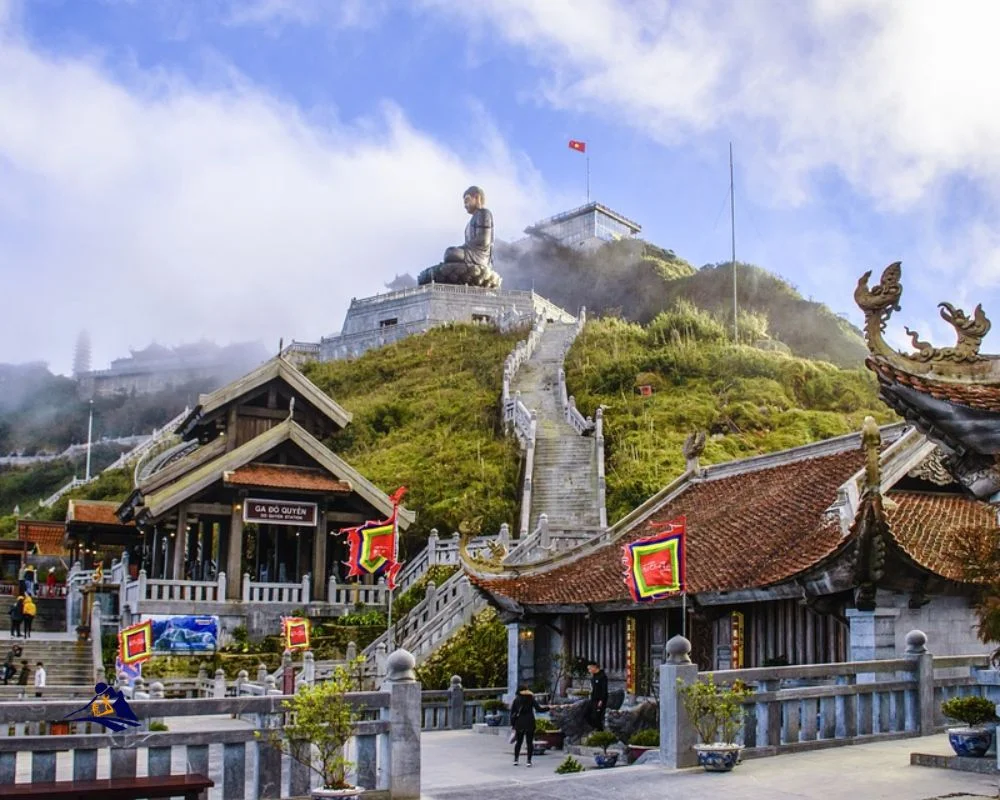 But don't worry if hiking isn't your thing – there are plenty of other ways to experience these gorgeous vistas!
Here are five reasons why our tour promises an unrivaled escape:
Enjoy traditional Vietnamese cuisine with locals during lunch.
Experience local culture through visiting hill tribe villages.
Relax in picturesque homestays amidst serene rice paddies.
Soak away any travel fatigue in natural hot springs.
Learn about Vietnam's history while exploring ancient temples.
Get ready for a thrilling ride full of unwinding in nature and engaging experiences.
Join us on this once-in-a-lifetime Hanoi to Sapa tour!
Hanoi To Sapa Tour Frequently Asked Questions
What Is The Cost Of The Tour?
Hey there, I know you're curious about the cost of this tour but before I dive into that, let me share some helpful packing tips and cultural experiences you can expect on your journey.
Packing light is key for any traveler looking to experience freedom without being weighed down by unnecessary items. As a Hanoi to Sapa tour guide writer, it's my pleasure to recommend bringing comfortable walking shoes, layers for changing weather conditions and a backpack for easy access to essentials during excursions.
Now onto the exciting stuff – cultural experiences! You'll have the opportunity to witness traditional hill tribe villages firsthand while learning about their unique customs and way of life. Additionally, indulge in local cuisine like pho or banh mi from street vendors or sit-down restaurants alike.
Okay okay, enough suspense – the cost of our Hanoi to Sapa tour varies depending on a few factors such as group size and itinerary preferences but rest assured we offer competitive pricing without sacrificing quality experiences.
Are you ready to break free from routine and embark on an adventure? Let's go!
How Long Does The Tour Last?
When you embark on this tour, you'll be thrilled to know that it lasts for a total of two days and one night.
During your time with us, we make sure to take you through the most beautiful and breathtaking sightseeing spots in Sapa.
You will have the opportunity to explore landmarks that are unique to this region while immersing yourself in the local culture.
Our itinerary is carefully crafted to give you enough freedom to enjoy the trip at your own pace while ensuring that you don't miss out on any essential experiences.
From trekking through rice paddies to visiting traditional villages, our Hanoi to Sapa tour promises an unforgettable adventure.
What Type Of Transportation Is Used For The Tour?
Transportation during the Hanoi to Sapa tour is generally by bus, with multiple bus routes available for different preferences and budgets.
Accommodation options vary from basic homestays to luxurious hotels, depending on what kind of experience you're looking for.
Whether you prefer a more rustic or upscale stay, there are plenty of choices to fit your style.
As your guide writer, I want to ensure that you have the freedom to choose the perfect transportation and accommodation options for your ideal trip from Hanoi to Sapa.
Is There A Maximum Group Size For The Tour?
Wow, let me tell you something about this tour! We make sure that every single person who joins us feels free as a bird. That's why we keep our group sizes small and intimate.
Trust us when we say that your experience will be nothing short of extraordinary. And to answer your question, yes, there is indeed a maximum group size for the tour. We believe in quality over quantity so we limit our groups to ensure an unforgettable adventure for everyone involved.
Plus, with a duration of several days filled with stunning landscapes and cultural experiences, you'll want to have plenty of space to fully immerse yourself in each moment. So come join us on this journey and feel the freedom of exploring Vietnam like never before!
Are There Any Physical Requirements For The Tour, Such As Hiking Or Strenuous Activity?
Before embarking on any tour, it is essential to know if there are physical requirements.
Our Hanoi to Sapa tour involves some hiking and strenuous activity, so we recommend guests to wear comfortable clothes and shoes suitable for trekking.
Climbing gear isn't necessary but bringing a light backpack with water bottles, sunscreen, hats, and insect repellent will make the journey more enjoyable.
It's also important to be aware of weather conditions as they can change quickly in the mountainous region between Hanoi and Sapa.
Nonetheless, our experienced guides will ensure your safety while showing you breathtaking views of Vietnam's countryside that will satisfy your subconscious desire for freedom.
Conclusion
Welcome to the Hanoi to Sapa tour! This is an incredible journey that will take you through some of Vietnam's most breathtaking landscapes.
The cost of this tour varies depending on the type of package you choose, but it typically ranges from $150-$400 per person. We have options for both budget and luxury travelers.
The tour lasts about three days and two nights, so make sure you bring comfortable clothing and shoes. During the trip, we use a combination of private car transfers and overnight trains to get around. Our maximum group size is 12 people, which ensures that everyone has a personalized experience.
As far as physical requirements go, there are opportunities for hiking in Sapa, but these activities are optional. If you do decide to participate in them, be prepared for moderate-level physical activity. Don't worry if hiking isn't your thing – there are plenty of other things to see and do in Sapa!
Overall, our Hanoi to Sapa tour promises adventure, relaxation, and unforgettable memories. Join us today for a once-in-a-lifetime experience!