Recently updated on May 17th, 2023 at 03:23 pm
Find The Best Tour For You Through Sapa
Welcome to Sapa, a stunning mountainous region of Vietnam that's quickly gaining popularity as one of the country's must-visit destinations. With its breathtaking rice terraces and vibrant hill tribe culture, there's no shortage of sights and experiences to be had here. But with so many tours on offer, how do you know which one is right for you?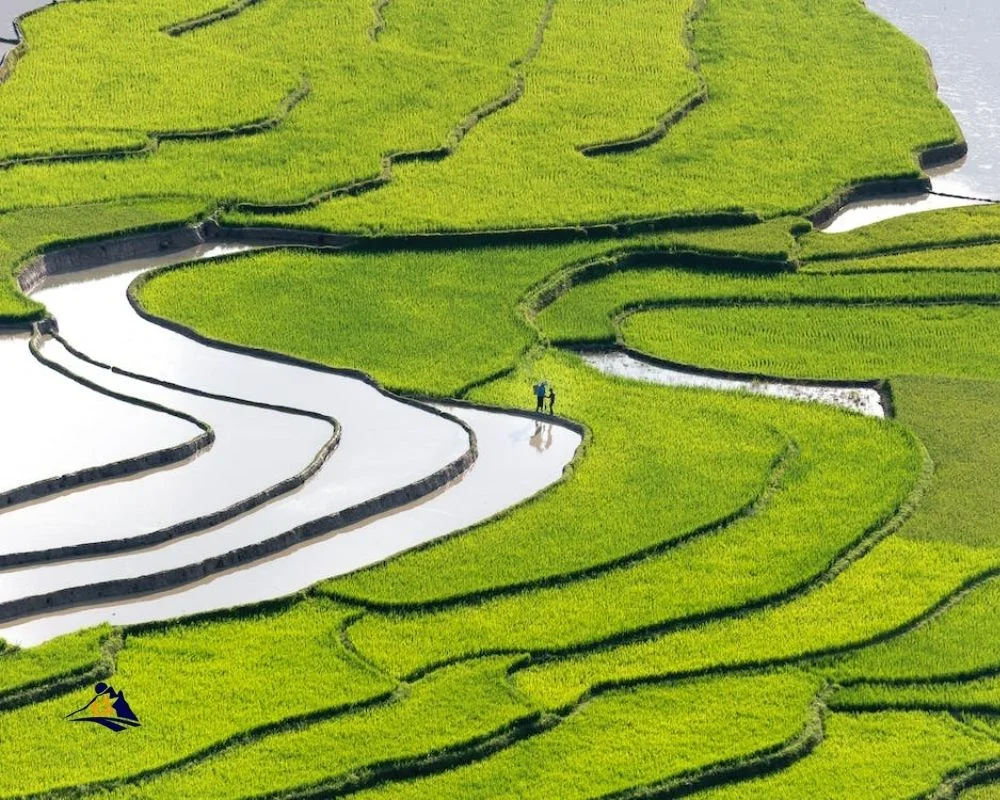 Fear not, intrepid traveler! In this article, we'll help guide you through the process of finding the perfect tour for your interests and budget. Whether you're looking for a leisurely stroll through picturesque villages or an adrenaline-fueled trek up rugged mountain peaks, we've got you covered.
So sit back, relax, and let us show you all that Sapa has to offer!
Trekking Tours
Welcome to Sapa, a beautiful destination in Vietnam known for its stunning landscapes and vibrant culture. If you're looking for an adventure, then our trekking tours are perfect for you. With night hikes and tropical trekking through the lush forests of this region, you'll be able to immerse yourself in nature like never before.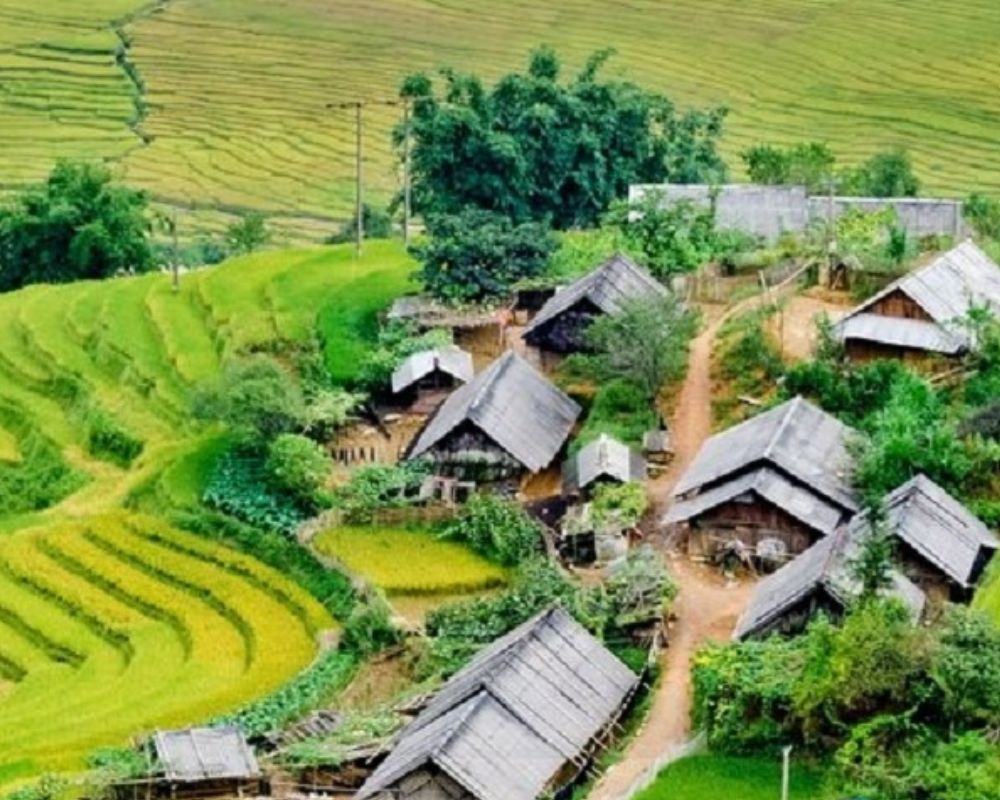 Our experienced guides will take you on a journey that's both exhilarating and educational. You'll learn about the local flora and fauna as well as the customs and traditions of the ethnic communities living here. As you hike along breathtaking mountain trails, you'll witness stunning vistas of rice terraces and valleys shrouded in mist. The night hikes under the starry sky add another layer of enchantment to your experience.
So come join us on one of our trekking tours and discover the hidden beauty of Sapa! And if you're feeling even more adventurous, why not try out our motorbike tours?
Motorbike Tours
Let's talk about motorbike safety: it's important to know the rules of the road, wear a helmet, and drive responsibly. When it comes to motorbike routes, we've got plenty of options to choose from around Sapa. We'll make sure you're comfortable with the route before you set off.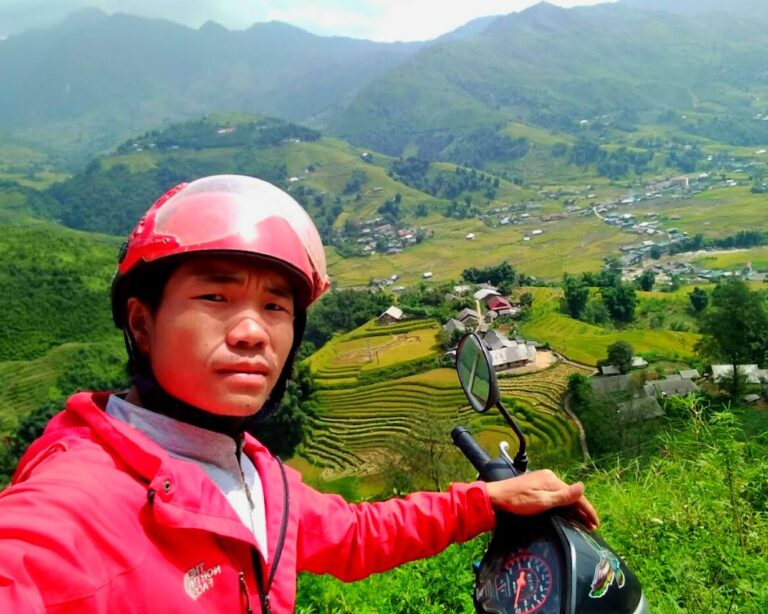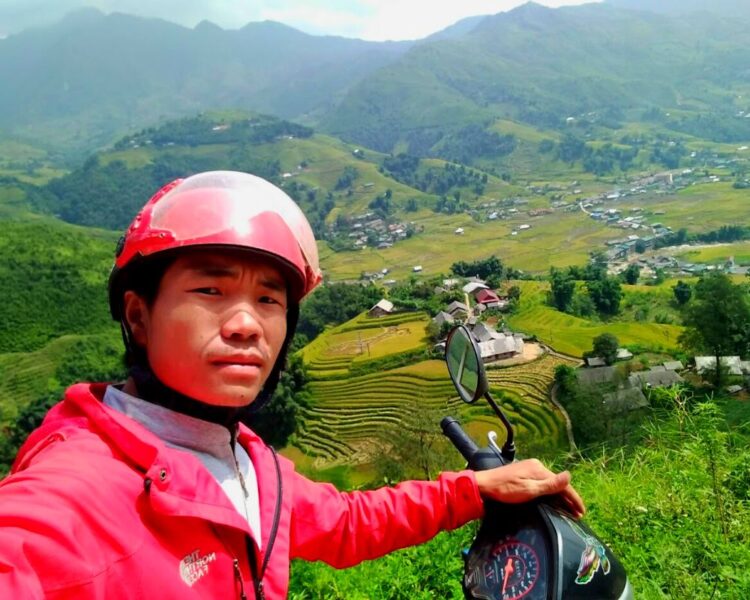 If you're new to the area and don't have your own motorbike, no problem! We've got plenty of rentals available for you here.
Motorbike Safety
Are you ready for an exhilarating adventure through Sapa? Before we begin, let's talk about motorbike safety. As your tour guide, it is my top priority to ensure that you have a fun and safe experience. We recommend wearing helmets at all times and adjusting them properly before hitting the road.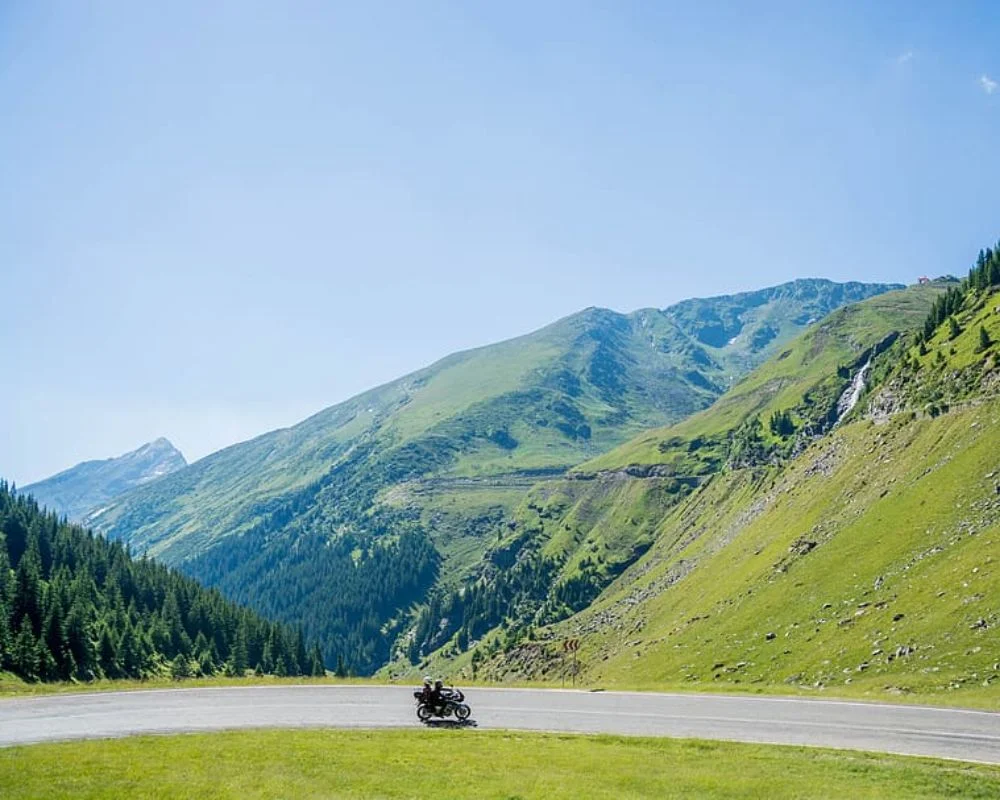 Also, keep in mind that weather can be unpredictable in Sapa, so make sure your clothing and gear are weatherproofed. With our commitment to ecotourism, we also remind you to be mindful of the environment as you ride. Let's get ready for an unforgettable journey through the stunning landscapes of Sapa!
Motorbike Routes
Now that we've covered the basics of motorbike safety, let's talk about some exciting routes you can take on your tour. Sapa offers a variety of scenic roads that will leave you in awe of its natural beauty. You can ride through lush green valleys and terraced rice fields while taking in stunning views of mountains and waterfalls. Our tours also offer opportunities for nature walks so you can fully immerse yourself in the environment.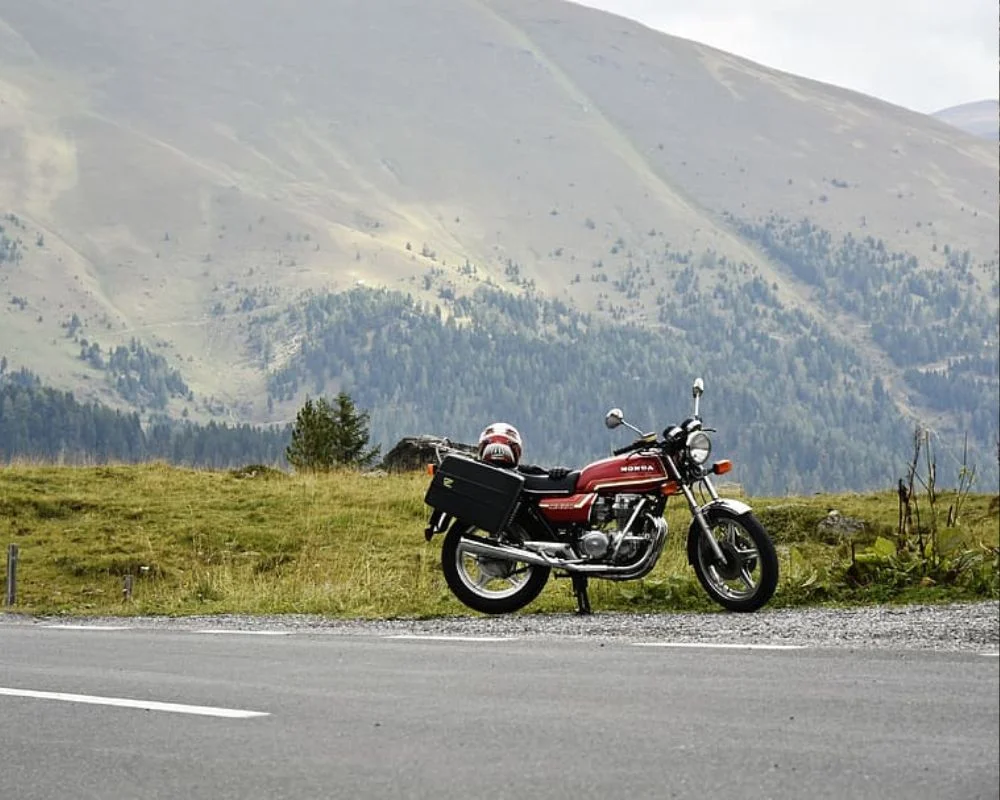 As an eco-tourism destination, it is important to us that we respect and preserve the beautiful landscapes around us. That's why our routes are carefully planned to minimize any impact on the environment. We encourage all our guests to do their part by practicing responsible tourism and leaving no trace behind.
So put on your helmets, gear up, and get ready for an adventure like no other as we explore the breathtaking scenery of Sapa together!
Motorbike Rentals
Now that we've talked about the exciting routes you can take on your tour, let's discuss another important aspect – motorbike rentals. Don't worry if you don't have your own bike or don't want to lug around a heavy one during your trip. We offer lightweight scooters for rent at affordable prices so you can explore Sapa with ease.
Before setting off, our team will provide a quick briefing on safety guidelines and how to operate the scooter. It is essential that you wear appropriate gear such as helmets and jackets, especially given the varying weather conditions in the region.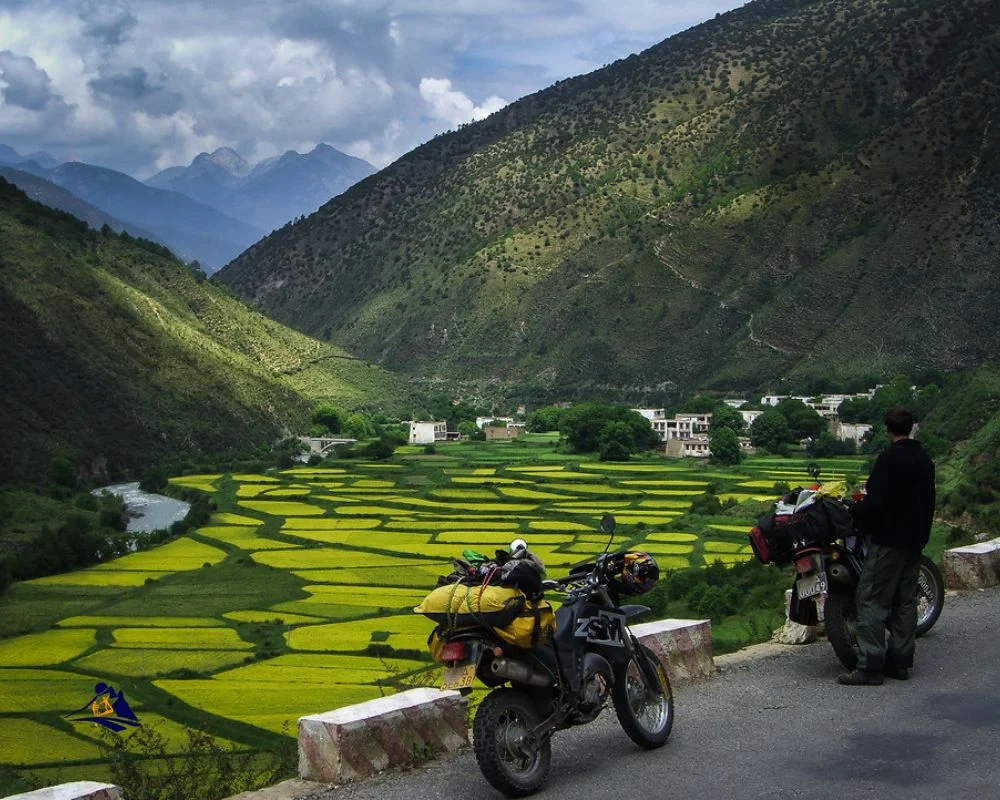 Safety is paramount, but we also believe in fun and freedom! Renting a motorbike not only offers flexibility in terms of route planning but also allows you to experience Sapa like a local. The wind in your hair and open road ahead create an unmatched sense of liberation that shouldn't be missed during any visit here.
So what are you waiting for? Rent a scooter from us today and hit the roads for an unforgettable adventure through lush valleys and terraced rice fields!
Cycling Tours
Did you know that cycling tours are one of the most popular ways to explore Sapa? Not only is it a great way to get some exercise and fresh air, but it also allows you to see the stunning scenery up close. There are plenty of different routes available, depending on your skill level and interests. For those who crave adventure, consider adding on a rafting or zip lining tour. These activities will take you even further into nature as you navigate through rivers and soar over treetops.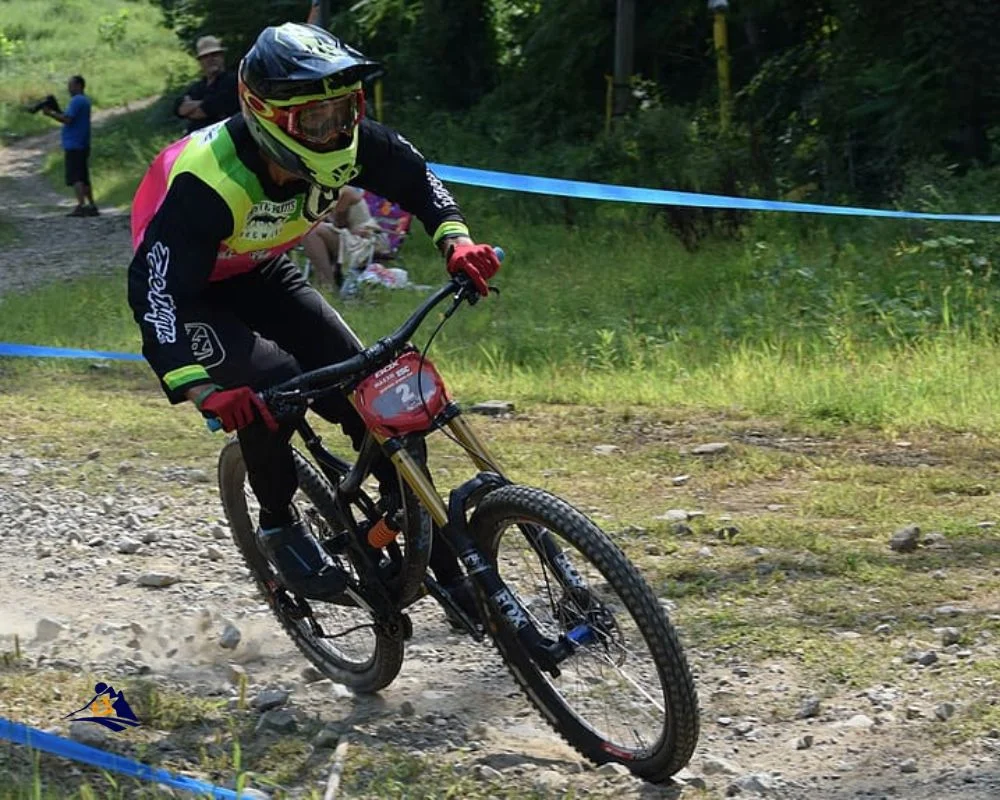 Don't worry if you're not an experienced rafter or zipliner – there are options for beginners as well as more advanced adventurers. So why not add some excitement to your cycling tour with these thrilling additions? As we move onto village tours, prepare to be immersed in the local culture and traditions of Sapa's ethnic minority groups. This is a unique opportunity to witness their daily lives firsthand, from farming practices to traditional dressmaking.
Get ready for an unforgettable experience that will leave you with a deeper appreciation for this beautiful region.
Village Tours
As you venture out to explore the beautiful villages of Sapa, it's important to understand that each village offers a unique experience. Whether you're looking for an adventurous hike or a glimpse into traditional cuisine, we've got you covered. Our hiking routes will take you through some of the most breathtaking landscapes in Sapa. As you hike along the trails, surrounded by lush greenery and cascading waterfalls, your senses are sure to be heightened.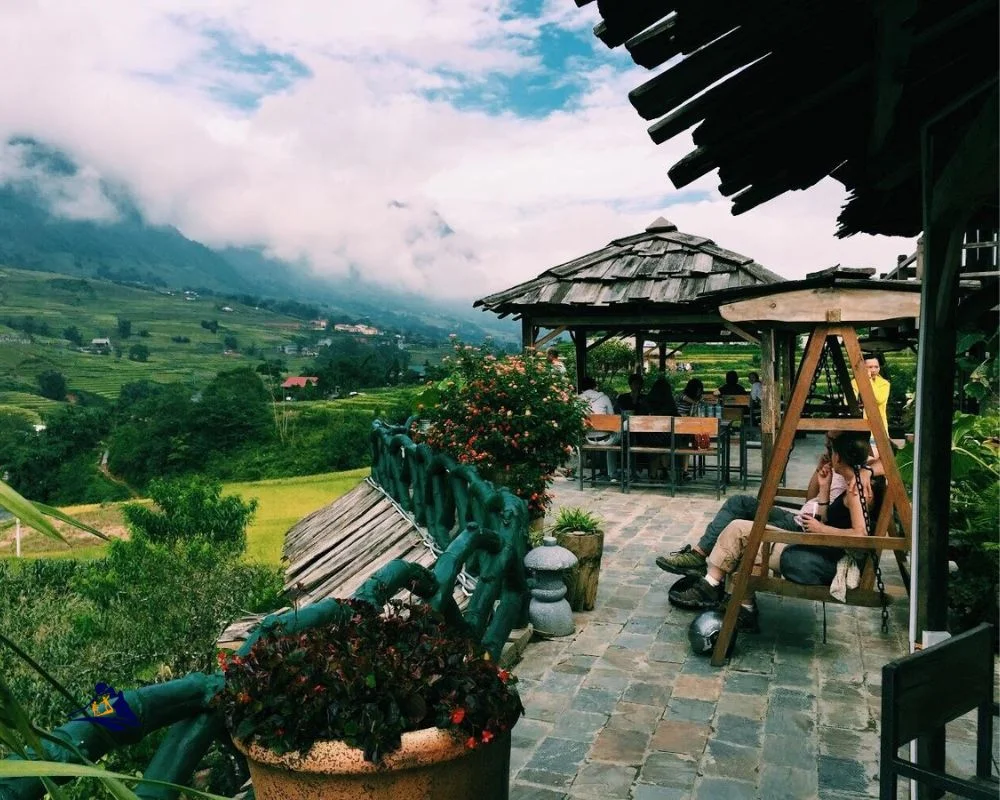 And if food is more your thing, our traditional cuisine tours offer an authentic taste of Vietnam. You'll savor local delicacies prepared with fresh ingredients grown right here in Sapa.
So whether it's adventure or gastronomy that piques your interest, we have something special in store for you. But why stop at just one tour? Why not combine both experiences and fully immerse yourself in all that this beautiful region has to offer?
Up next: culinary tours – another way to indulge in the flavors of Sapa.
Culinary Tours
After exploring the quaint villages of Sapa, it's time to indulge in a culinary adventure like no other. Brace yourselves for an explosion of flavors as we dive into the heart of local cuisine. From spicy soups to succulent grilled meats, you'll be transported to food heaven with each bite. We start our journey by visiting artisanal markets where locals sell fresh produce and exotic spices. Here, you can witness their passion for cooking firsthand as they share tips on how to pick the best ingredients.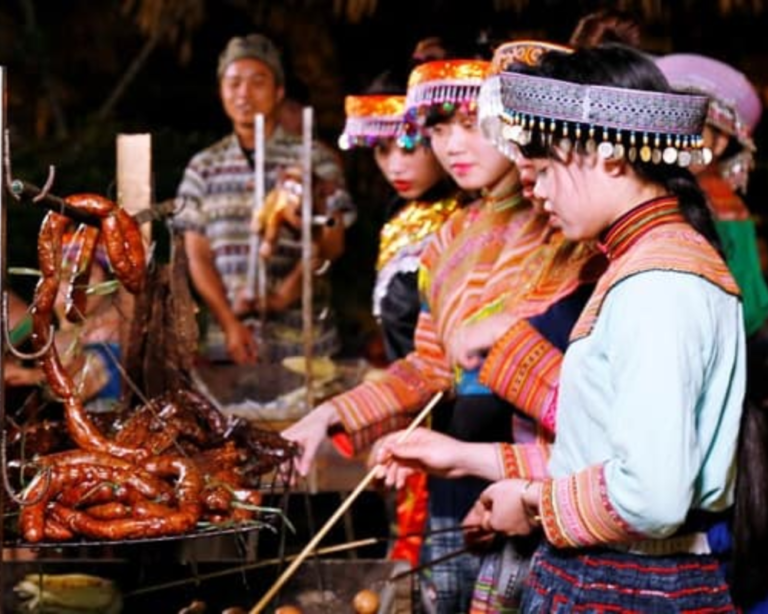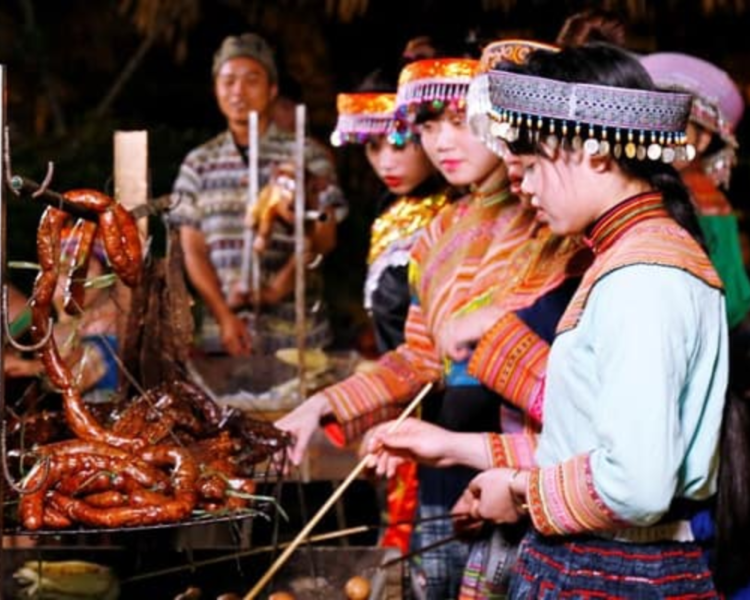 We then head over to some hidden gems known only to the locals, where we'll sample traditional dishes cooked with age-old techniques passed down from generation to generation. You won't find these delicacies anywhere else! So sit back and let your taste buds take center stage as we embark on this gastronomic experience through Sapa's culinary landscape.
As much as we'd love for this tour to never end, there's still one more incredible experience awaiting us – homestay tours. Get ready to immerse yourself in the day-to-day lives of ethnic minorities living in Sapa's surrounding regions while enjoying authentic home-cooked meals prepared just for you.
Trust me when I say that nothing beats experiencing first-hand what it takes to live off-the-grid surrounded by nature's beauty, and sharing stories with newfound friends under starry skies at night.
Are you excited yet? Let's get going!
Homestay Tours
For those seeking an authentic and eco-friendly experience in Sapa, homestay tours are the perfect option. These tours take you off the beaten path and allow you to immerse yourself in local culture by staying with a family in their traditional home.
Homestays offer a unique opportunity to learn about the daily life of ethnic minority groups such as the Hmong or Red Dzao people. You can participate in activities like farming, cooking, and handicrafts while enjoying breathtaking views of rice terraces and mountains. Plus, by choosing a homestay tour, you're supporting sustainable tourism that benefits local communities.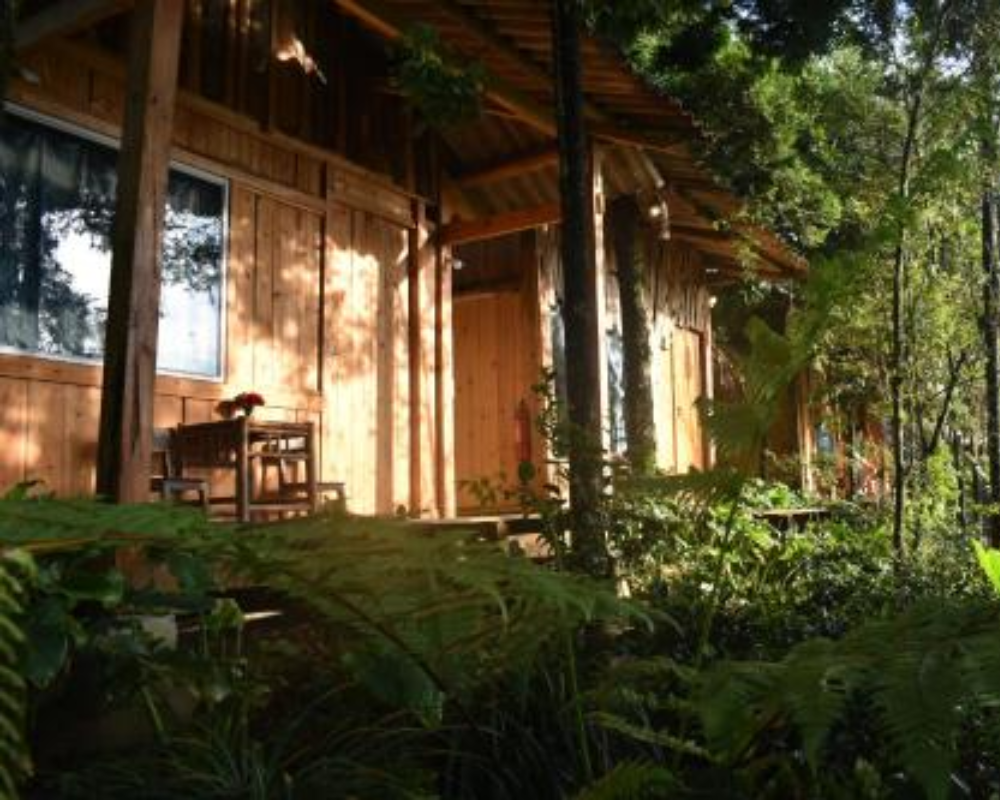 So why not try something different on your trip to Sapa? As you explore Vietnam's northern highlands, don't forget to consider spiritual tours. From Buddhist temples to shamanistic rituals, these tours provide insight into the religious beliefs and practices of Vietnamese people.
Discover hidden gems like Thuy An Pagoda or explore famous sites like Fansipan Mountain – considered sacred by many locals. No matter what your faith may be (or if you have none at all), spiritual tours offer a chance for reflection and appreciation of cultural diversity.
Let's delve deeper into this fascinating aspect of Sapa!
Spiritual Tours
Welcome to Sapa, where breathtaking landscapes and spiritual retreats await you. If you are looking for a journey that nurtures your mind and soul, our Spiritual Tours will take you on mindful journeys through the tranquil beauty of this region.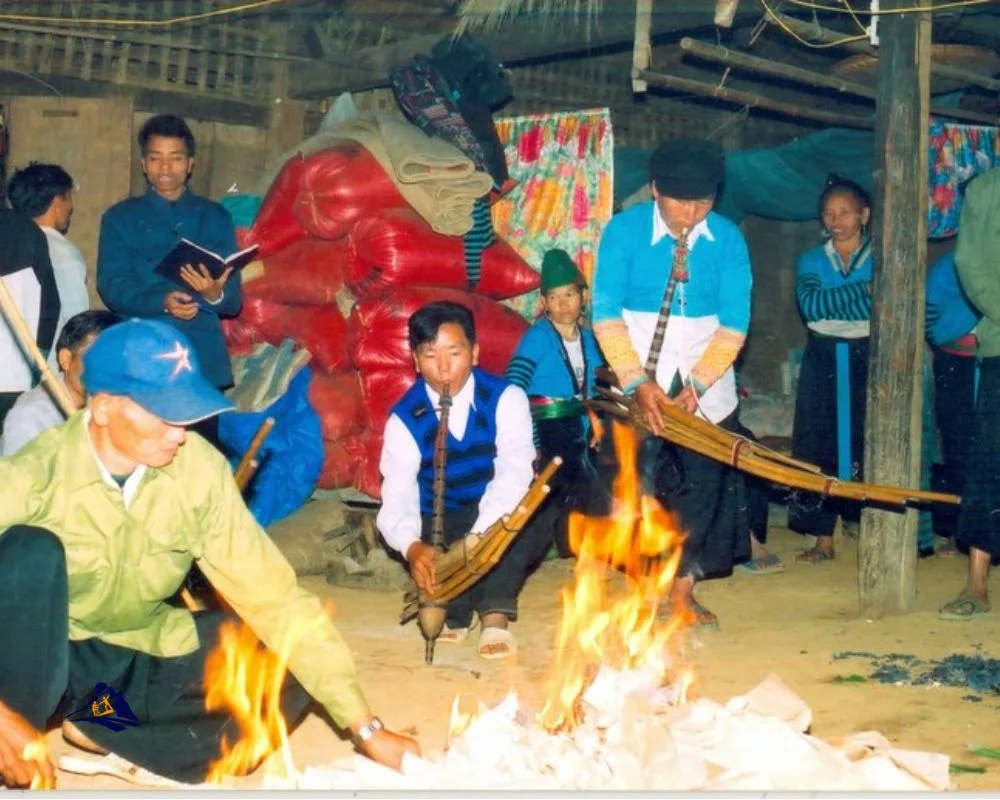 As we embark on these tours, let us first focus on connecting with nature by exploring the following:
The majestic Fansipan Mountain, standing tall at 3,143 meters above sea level
The serene Silver Waterfall surrounded by lush green vegetation
The rice paddies in Cat Cat Village, where one can witness traditional farming practices
Our knowledgeable guides will lead you through guided meditations and offer insights into the culture and history of these sacred places.
Immerse yourself in the tranquility of Sapa's natural wonders while embarking on a journey towards inner peace.
Cultural Tours
As you explore the beautiful region of Sapa, immerse yourself in its rich cultural heritage by taking a cultural tour. These tours provide an intimate glimpse into traditional customs and practices that have been passed down for generations.
One popular option is the H'mong Cultural Experience Tour. Led by local guides from the ethnic H'mong community, this tour takes you to remote villages where you can witness daily life and learn about their unique traditions such as embroidery and batik-making. You'll also get to taste delicious homemade meals and stay overnight in a homestay with friendly locals eager to share their culture with visitors.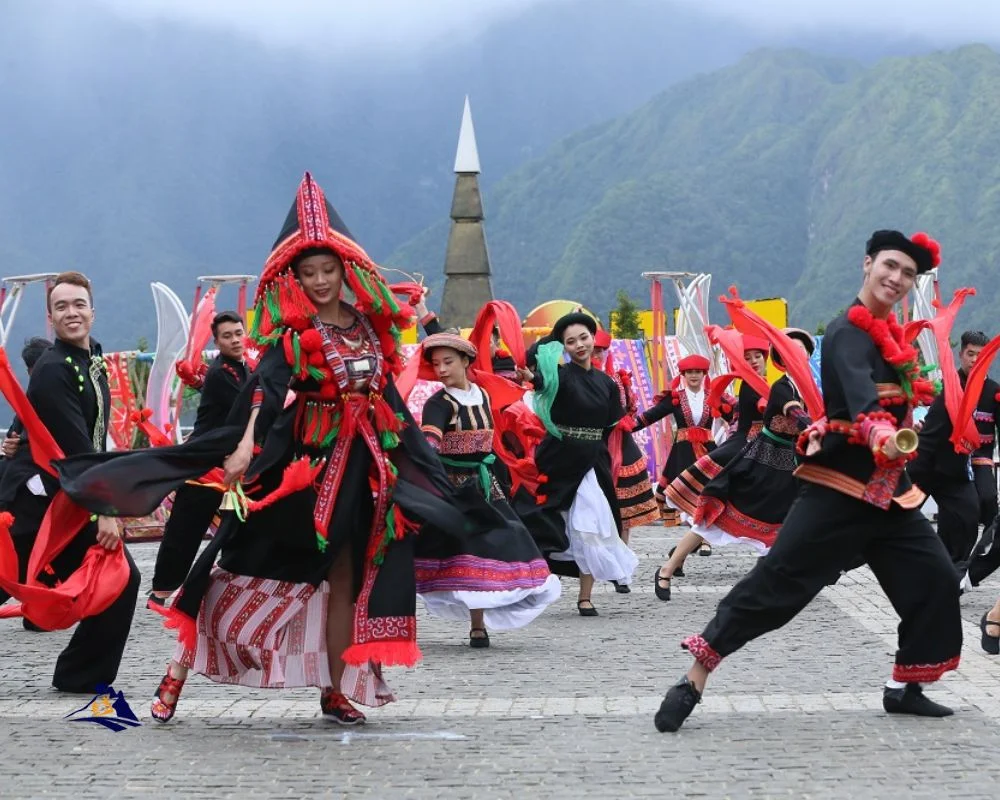 | Activity | Emotion |
| --- | --- |
| Embroidery Workshop | Creative |
| Rice Terrace Trekking | Adventurous |
| Traditional Dance Performance | Enchanting |
| Cooking Class | Delicious |
| Meditation Session | Peaceful |
As you can see, there's something for everyone on a cultural tour of Sapa. Whether you're interested in learning new skills or simply want to relax and enjoy the beauty of Vietnam's northern mountains, these tours offer an immersive experience unlike any other. But if adventure is what you seek, don't worry – our next section will detail some thrilling options for those who crave excitement!
Adventure Tours
As the saying goes, 'Life is either a daring adventure or nothing at all.' If you're looking for a thrill-seeking experience in Sapa, then an Adventure Tour might be right up your alley. These Sapa day tours are perfect for those who want to explore the great outdoors and challenge themselves physically.
One of the most popular types of Adventure Tours in Sapa are eco tours. These tours take visitors on treks through the lush forests and rice paddies that surround the town. Along the way, you'll have the opportunity to learn about traditional farming practices from local farmers and even get your hands dirty helping out with planting or harvesting.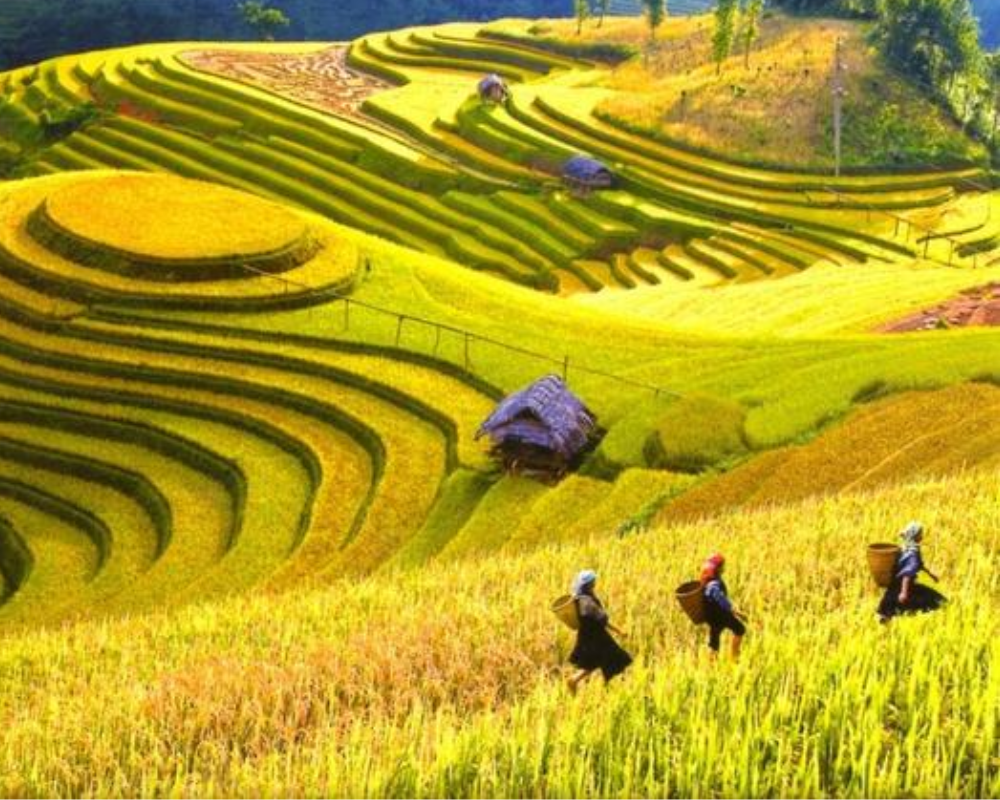 For those who enjoy hiking under the stars, night hikes are also available where you can witness stunning views of Sapa's landscape illuminated by moonlight. Don't miss out on this unforgettable experience!
Eco Tours:
Trek through scenic forested areas
Learn about traditional farming practices
Get involved with planting or harvesting
Night Hikes:
Witness breathtaking views of Sapa illuminated by moonlight
Explore scenic trails after dark
Experience nature in a unique way – Listen to the sounds of nocturnal animals and insects and learn about their habitats and behaviors.
Photography Tours
Now that you've had your fill of thrilling adventure tours, it's time to take things slow and capture the beauty of Sapa through photography. Our photography tours will take you on a journey like no other, where every step is an opportunity to snap breathtaking photos. If hiking safaris are what excite you the most, our guided photo treks are perfect for capturing stunning landscapes while getting some exercise in too. Not only will you get the chance to photograph rice terraces and waterfalls up close, but also immerse yourself in local culture by visiting ethnic minority villages along the way.
And when night falls, we'll take you to secret spots for night photography sessions with expert guidance on how to master long exposures and light painting techniques. With so much natural beauty around, Sapa offers endless opportunities for photographers of all levels. So grab your camera gear and let us guide you through this picturesque region – who knows what magical moments await?
Find The Best Tour For You Through Sapa Frequently Asked Questions
What Is The Best Time Of Year To Visit Sapa?
When planning a trip to Sapa, it's important to consider the best time of year to visit. The weather patterns in this region can be unpredictable and vary greatly depending on the season.
Generally speaking, the best time to travel is between March and May or September and November when temperatures are mild and rainfall is minimal. This will allow you to fully enjoy all that Sapa has to offer without being hindered by extreme weather conditions.
Additionally, visiting during these months provides ample opportunities for cultural experiences such as attending local festivals and interacting with ethnic minority groups.
Whether you're looking for scenic hikes through rice terraces or authentic encounters with Vietnam's indigenous communities, choosing the right time of year can make all the difference in your experience.
So why not embrace your desire for freedom and plan a trip during one of these optimal periods? Your adventure awaits!
What Is The Average Duration Of The Tours Offered In Sapa?
If you're planning on exploring the breathtaking scenery of Sapa, then it's important to know what kind of tours are available and how long they typically last.
The average duration for a tour in Sapa is around 2-3 days, giving visitors enough time to experience the most popular attractions while still allowing them some flexibility in their schedule.
However, be prepared to pay a range of prices as different tour operators offer varying rates depending on the type of services you require.
Whether you want to trek through rice terraces or visit local villages, there's sure to be a tour that suits your interests and budget.
So pack your bags and get ready for an adventure-filled trip!
Are There Any Age Restrictions For The Tours In Sapa?
Oh, age restrictions? Absolutely not! Here in Sapa, we believe that adventure and exploration have no bounds.
Whether you're 18 or 80, our tours are open to all who desire the thrill of discovering new cultures and breathtaking landscapes. And don't worry about breaking the bank either – we offer a variety of tour prices to fit any budget.
But what truly sets us apart is our knowledgeable tour guides who will take you off the beaten path for an authentic experience like no other.
So come on, let's break free from the mundane and explore together!
What Level Of Physical Fitness Is Required For The Trekking And Cycling Tours?
To fully enjoy the trekking and cycling tours in Sapa, it's important to have a good level of physical fitness. The hiking trails can be challenging at times, with steep inclines that require endurance and stamina. In addition, some sections may require climbing gear such as ropes or harnesses for safety purposes.
However, don't let this discourage you from embarking on these adventures! With stunning views of rice paddies, mountains, and waterfalls, these tours offer an unparalleled sense of freedom and connection with nature that will make all your efforts worth it.
So pack your bags, lace up your shoes, and get ready to explore the breathtaking landscapes of Sapa!
Can I Customize A Tour To Include Specific Activities Or Destinations?
Looking for a tour that truly speaks to your heart?
Well, with our private guides and accommodation options, you can customize the perfect itinerary just for you. Whether it's exploring hidden waterfalls or visiting authentic villages, we understand that every traveler has unique desires and interests.
That's why we offer complete flexibility in choosing specific activities or destinations to ensure an unforgettable experience.
So go ahead, let your wanderlust take over! With us as your trusted travel partner, anything is possible.
Conclusion
So there you have it, folks! Sapa is a must-visit destination in Vietnam that offers breathtaking scenery and unique cultural experiences. Whether you're an adventure seeker or simply looking to relax and appreciate the beauty of nature, there's something for everyone. The best time to visit Sapa is from March to May when the weather is mild and dry, making it perfect for trekking and cycling tours. The average duration of tours offered ranges from one day to several days depending on your preference. There are no age restrictions for most tours, but some may require a certain level of physical fitness.
Speaking of physical fitness, don't worry if you're not an avid hiker or cyclist. Most tour operators offer various levels of difficulty for their activities so you can choose what suits you best. And if you want to customize your tour to include specific activities or destinations, just let them know and they'll do their best to accommodate your request. So pack your bags and get ready for an unforgettable journey through the terraced rice paddies, majestic mountains, and colorful hill tribes of Sapa.
Don't miss out on this opportunity to immerse yourself in the rich culture and natural wonders of this hidden gem in Vietnam. Happy travels!